This vegan chocolate chip brioche is perfectly flaky and delicious. Vegan chocolate brioche makes for a delicious vegan brunch or snack with a creamy cup of coffee or hot tea. Chocolate filled brioche is a joy!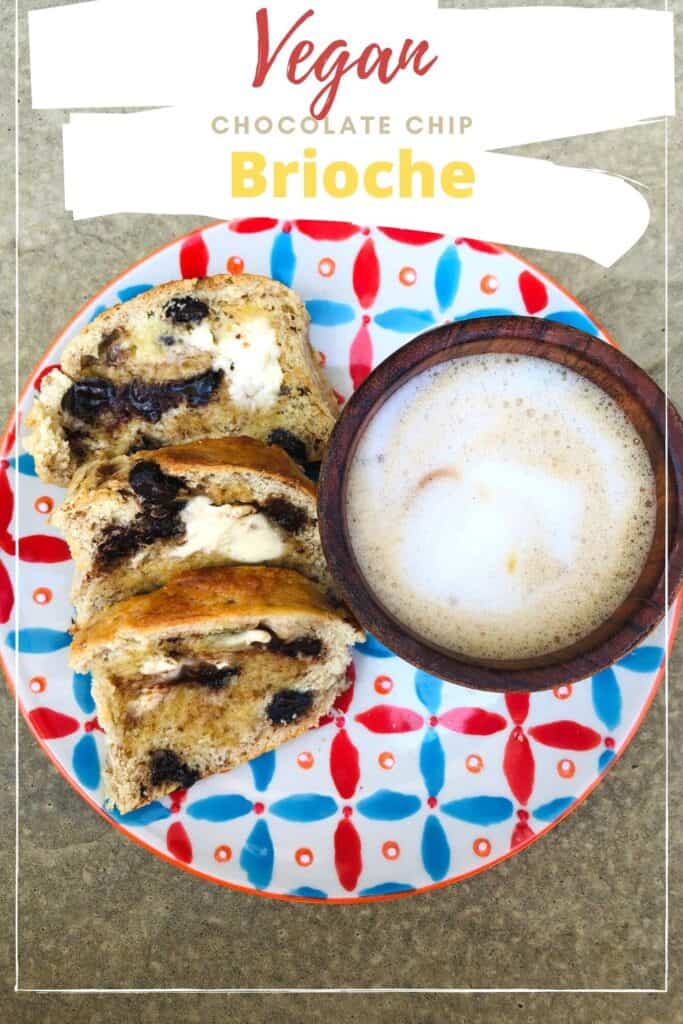 Sure brioche is traditionally made with heaps of dairy butter, however this vegan brioche recipe is sure to satisfy, with a golden taste and beautiful aromas.
This eggless brioche recipe doesn't call for any obscure vegan replacements. Also if you are a soya free vegan, the chocolate brioche buns work well as the only main allergen would be the wheat/gluten.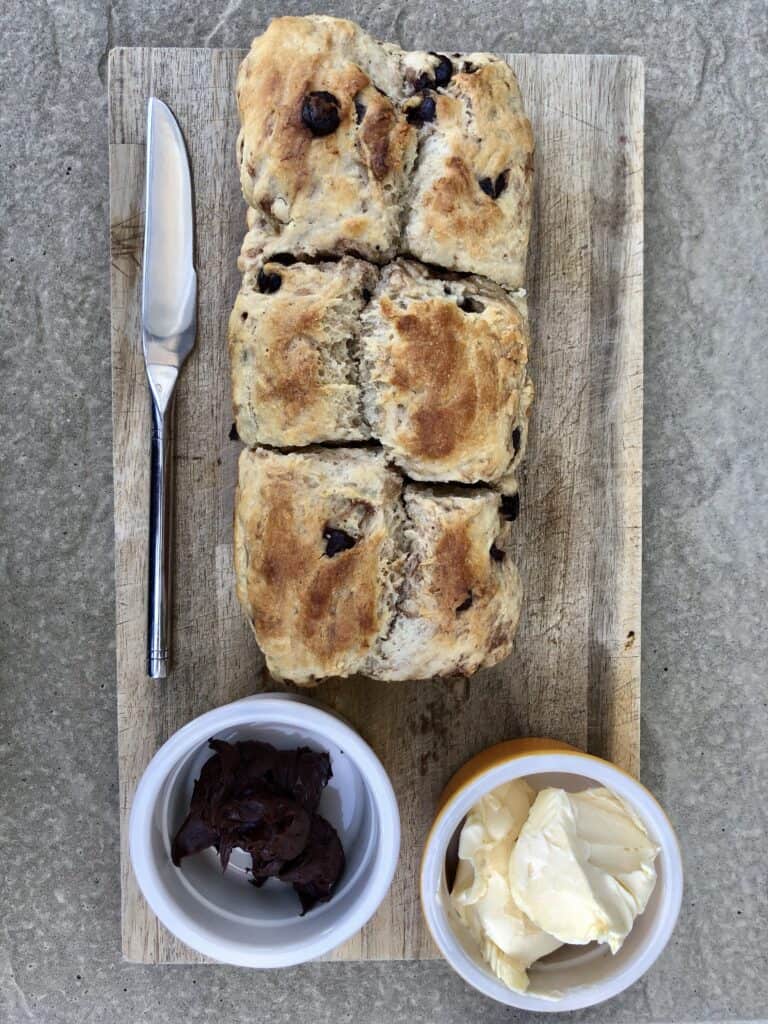 This vegan brioche bread with chocolate chips feels rich and decadent – the perfect vegan brunch to share with loved ones or even a quick snack on the go.
It's an easy to make tear and share vegan chocolate brioche recipe. I love making this when we have family to stay on the weekend or over the holidays.
The kids really love it too! Brioche rolls with chocolate chips are literally a kids dream (and mine) – right? Served warm and fresh it is literally divine!
Its also a great recipe to get the kids baking as they can learn so much from the yeast and rising process.
How to Eat Chocolate Brioche
Its best to eat this chocolate chip brioche freshly baked on the day, like most baked goods. It is perfect with a slab of vegan butter or some extra choclatey goodness with Vegan Hazelnut Spread
.
It can be enjoyed as a shared breakfast/brunch with loved ones, with a delicious hot coffee or as a simple snack to get you though the day.
This chocolate brioche bread is comforting and the perfect pick me up. My personal favourite way to eat this chocolate brioche loaf is chilling with a creamy cup of Oat Milk
latte, with my mini sidekick devouring it with his babycino.
We also have a delicious vegan iced coffee recipe.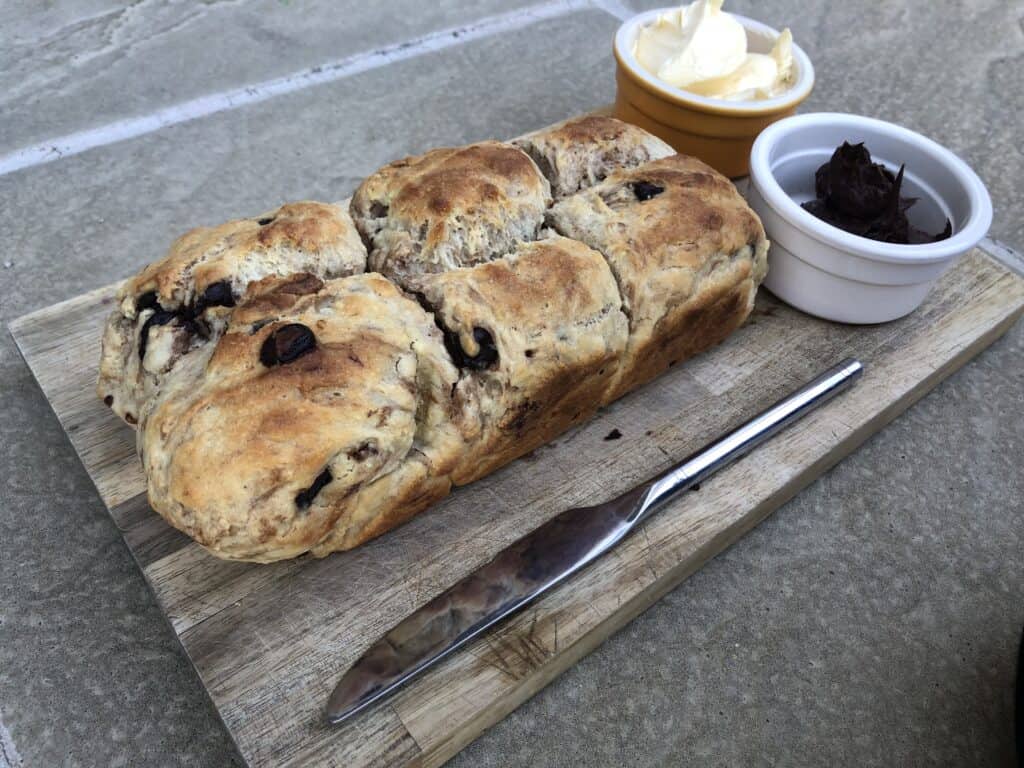 We could really eat a lot of this its so delicious – and it doesn't contain nearly as much sugar a traditional cake would contain (you can totally reduce the sugar content if you are concerned). Vegan brioche rolls are a great hit either way.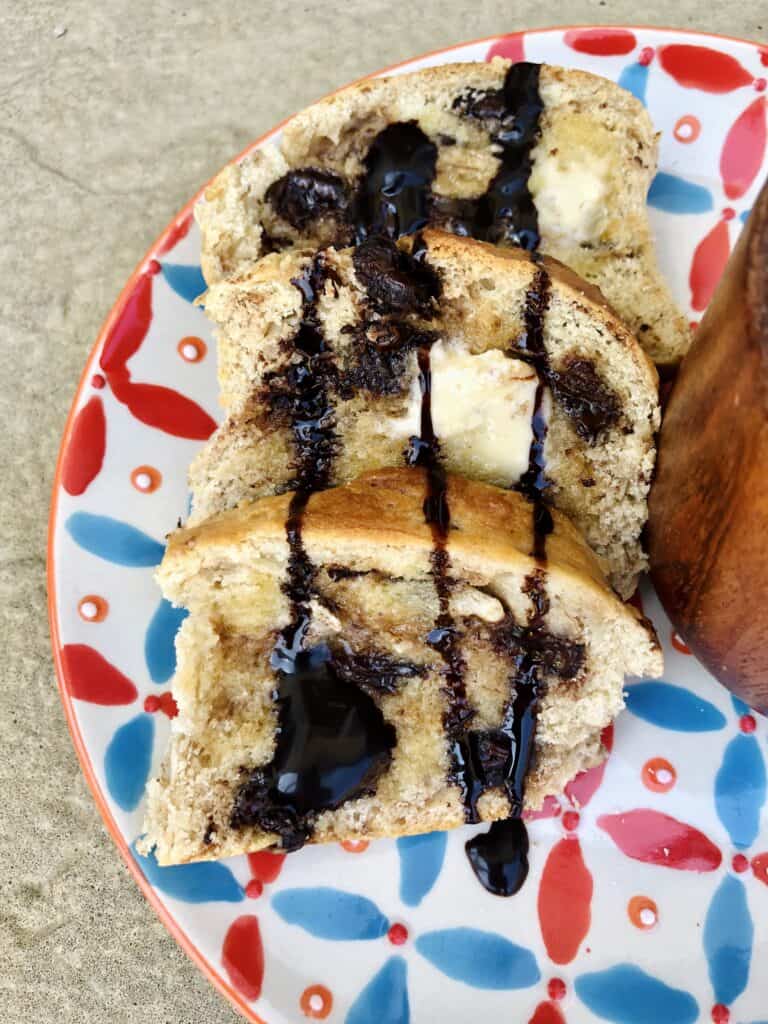 How to Make Vegan Chocolate Brioche
At first I thought it might be tricky to make this chocolate chip brioche loaf. However after much procrastination initially and a few attempts to perfect this chocolate brioche recipe, I feel it is the perfect balance.
It rises beautifully with the help of the active dry yeast, and being allowed to double in size patiently in a warm place. Room temperature is fine, however a spot on the sunny windowsill will always help.
You can most certainly use fresh yeast, however understandably dried yeast is more accessible with a much longer shelf life.
The process of waiting for it to rise was somewhat therapeutic, alongside the kneading process. The longer it is left to rise in the mixing bowl, the fluffier and dreamier it will be.
How to Make Chocolate Chip Brioche Rolls
This vegan chocolate brioche loaf recipe can easily be adapted to make vegan brioche rolls, rather than a chocolate chip brioche loaf.
This recipe is totally adaptable, for instance adding 1 tsp of orange flavour in place of the vanilla essence would give a beautiful chocolate orange brioche bread.
So now if you are wondering how to make chocolate chip brioche – your dreams have been answered! Understandably, French chocolate brioche might be something you miss having gone vegan! Not anymore 🙂 This vegan brioche bun recipe has accessible ingredients, you may even have them in your cupboard at home.
You also don't need any fancy mixer for this chocolate chip brioche recipe. However it is a good idea to use an electronic scales in order get the exact measurements.
No need to wonder how to make chocolate brioche again – it can be a simple and straight forward process, with minimal ingredients.
Checkout more of our sweet brunch treats, like these vegan biscoff brownies vegan pop tarts or this vegan cinnamon bread! and get inspiration from Vegan Kids Lunch Ideas
Yield: 6-8 servings
Vegan Chocolate Brioche Recipe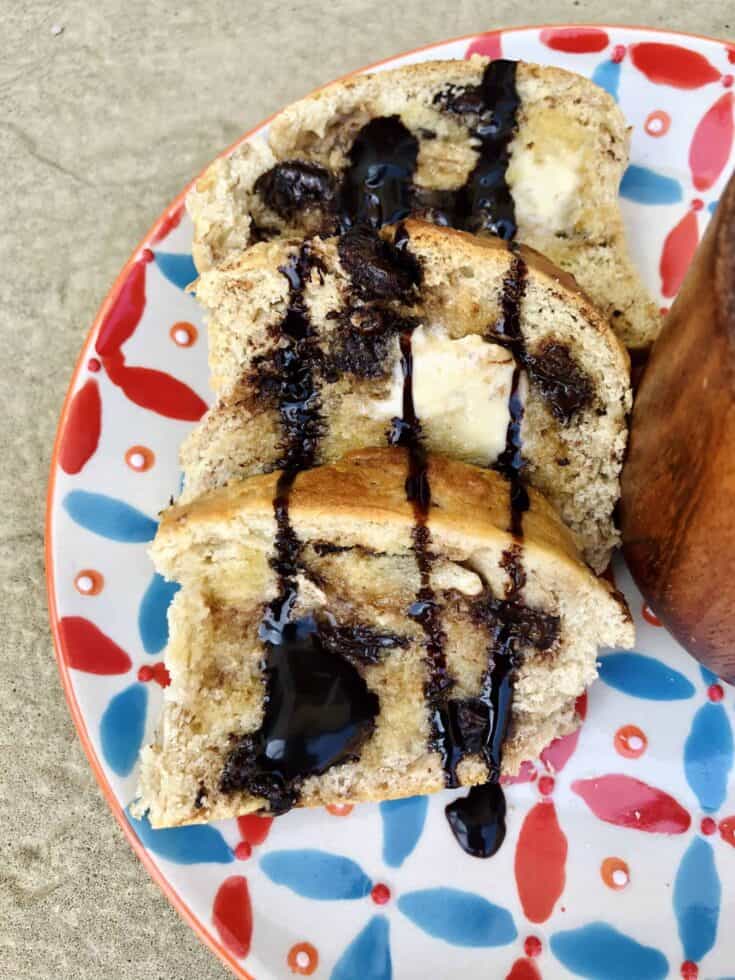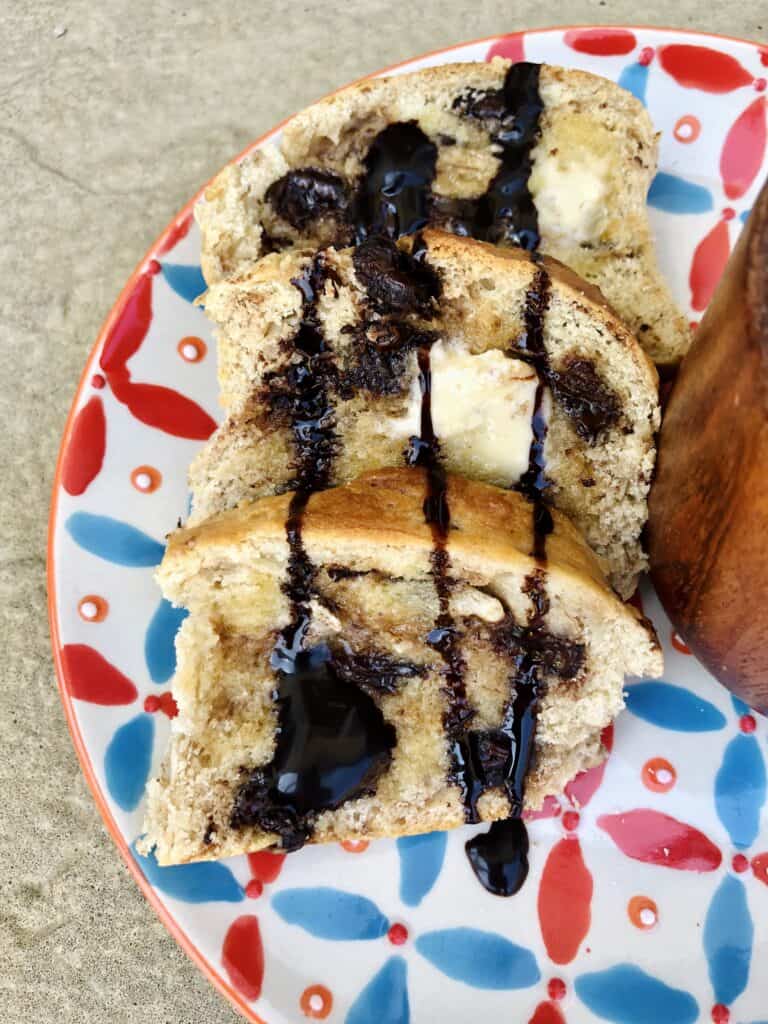 This vegan chocolate chip brioche is perfectly fluffy, light and delicious. Vegan chocolate brioche makes for a delicious vegan brunch or snack with a creamy cup of coffee or hot tea.
Total Time
1 hour
30 minutes
Ingredients
300g plain flour
7g dried yeast
80mls warm water
80mls warm oat milk
60g melted vegan butter
1tsp vanilla essence
40g golden caster sugar
50g vegan chocolate chips
pinch of salt
Instructions
Mix the 7g of dried yeast with 80mls of warmed water. Leave to one side to bubble up.
Sieve 300g of plain flour into a mixing bowl (I used pre-sifted flour), add the 40g caster sugar, pinch of salt and 50g of vegan chocolate chips.
Once the yeast has become foamy, add the 80mls of warmed oat milk and 60g of vegan melted butter and 1 tsp of vanilla essence
Make a well in the dry ingredients then fold in the wet ingredients.
Knead gently to form the dough. Add a sprinkle of more flour if the dough is too sticky. It should be a nice smooth texture.
Leave this dough to rise in a bowl, in a warm place. Put a clean cloth or tea towl over the bowl.
Preheat the oven to 200c/390f/gas mark 6
Once the dough has risen to almost double the size (give about an hour for this) - divide the dough into six balls.
Place them side by side in a lined loaf tin - its ok if they are squished in there as they will form a beautiful textured chocolate brioche loaf. Brush the tops with a little oat milk to give a nice glaze.
Bake for twenty minutes until golden brown and cooked through.
If you would prefer chocolate chip brioche rolls instead of a loaf, divide the mixture into 8 brioche rolls and bake for a little less time, 15 minutes or so until golden brown and cooked through.
Leave to cool on a rack before serving. Enjoy with a smear of vegan butter, vegan chocolate spread and a hot drink - delicious!
Notes
*This vegan chocolate brioche bread is at its best, eaten fresh on the day of baking.
**It will remain fresh for up to 3 days, however will be best eaten having been toasted first. Store in an airtight container.
***Divide the vegan brioche bread into slices and freeze them for future snacks! Simply pop it in the toasted or under the grill to perk up.
Recommended Products
As an Amazon Associate and member of other affiliate programs, I earn from qualifying purchases.
Nutrition Information:
Yield:
8
Serving Size:
1
Amount Per Serving:
Calories:

249
Total Fat:

8g
Saturated Fat:

5g
Trans Fat:

0g
Unsaturated Fat:

3g
Cholesterol:

16mg
Sodium:

68mg
Carbohydrates:

39g
Fiber:

2g
Sugar:

9g
Protein:

5g
this is an estimate