This banana cacao smoothie recipe is absolutely divine and a must try. With simple ingredients, it is a delicious chocolatey treat that is easy to make.
This simple vegan banana and cacao smoothie recipe calls for only four ingredients, which you probably already have at home in your pantry.
It's creamy, satisfying and gives that sweet kick you'd get from a standard milkshake – but only whole foods used here! I make this all the time at home if I am craving a chocolatey drink.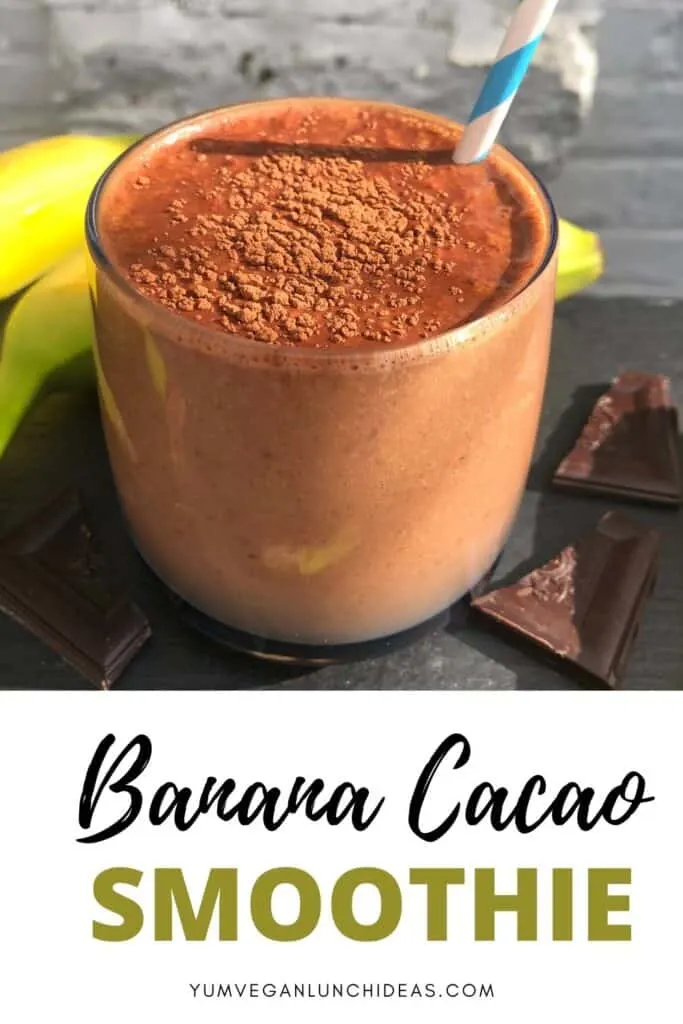 I love making these as my mid-morning snack for brunch or after dinner as a type of dessert. The banana cacao smoothie with almond milk goes down particularly well on hot days!
My kids absolutely love this banana and cacao smoothie. Making smoothies with kids is always a fun activity to do together. Especially when its as delicious as this one!
I love having any type of banana for breakfast as it is nutritious, wholesome and naturally sweet. Particularly in this delicious Banana Bread Chia Pudding.
Why This Banana And Cacao Smoothie is AWESOME
Takes minimal time and effort – like five minutes
Has minimal and simple ingredients. Just four ingredients that are readily available!
Is fairly healthy, with no refined sugars and is low fat.
It tastes absolutely DELICIOUS!
Are you convinced now?
Frozen Banana
Cacao
Plant Milk
Medjool Dates
Banana Cacao Smoothie Benefits
Not only is this chocolate banana smoothie an absolute joy to drink, there are some nutritional benefits too!
This recipe healthy banana cacao smoothie is gluten free and can be made nut free with a nut free milk such as oat or soya.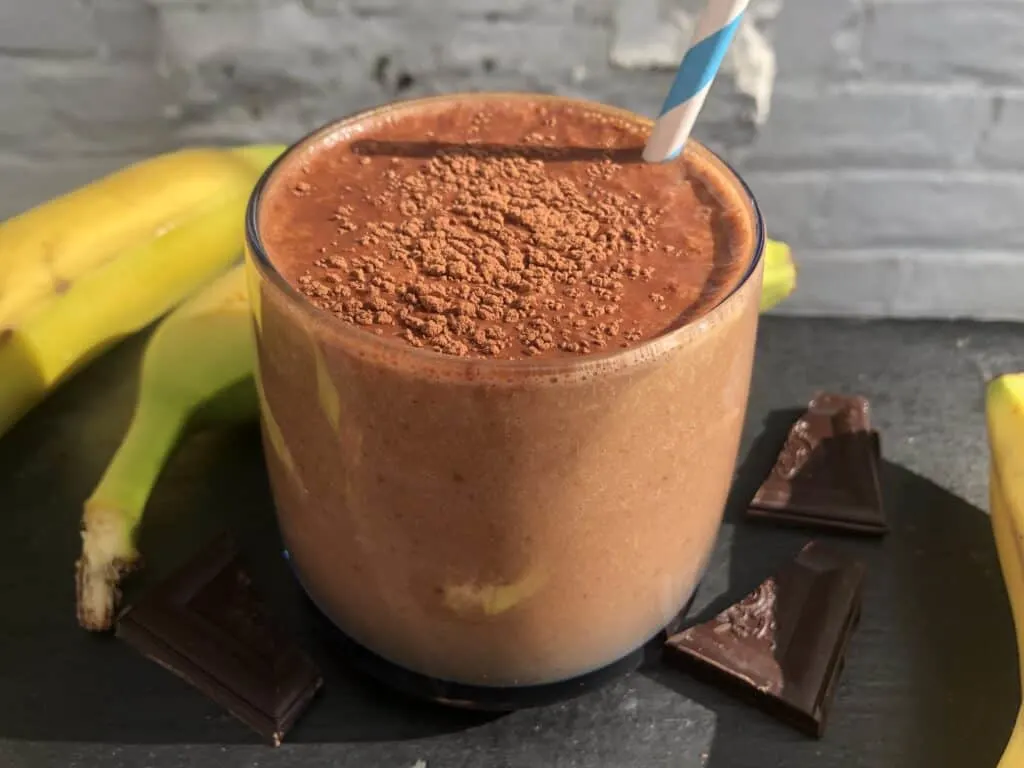 Banana
Banana is an absolute classic base for all vegan smoothies, right? Frozen bananas however are an absolute game changer.
Freezing overripe bananas makes for an incredibly delicious smoothie. It makes this banana cacao smoothie taste like a chocolate milkshake. It acts almost like creamy ice cream.
Bananas are a staple in most households and ordinarily easily accessible. I always try to have at least one frozen banana in the freezer for delicious chilled and creamy smoothies.
However not to worry if you have no pre-frozen bananas. Simply use a fresh one (ripe is better as it gives more flavour), and throw in a few ice cubes for that refreshing kick.
Banana is high in potassium and provides a level of fibre.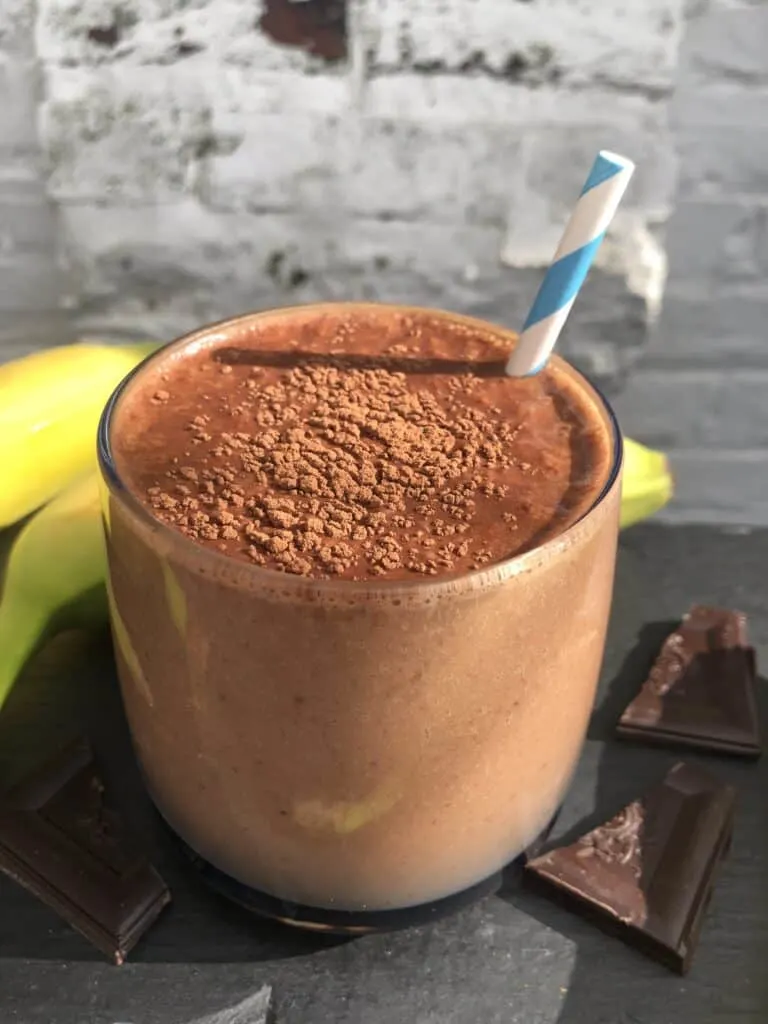 Cacao
Cacao is high in antioxidants, iron magnesium and has been shown to be a good probiotic.
If you are following a raw food diet or prefer raw, whole vegan foods then you will probably already have a preference for cacao powder over cocoa powder. Cacao is often minimally processed with minimal to zero additives.
If you had a chocolate protein powder, this would also work excellent, especially for a post workout smoothie.
The cacao gives a beautiful chocolate taste that isn't too strong or rich.
Plant Based Milk
This recipe has used an almond milk to blend. If you are unsure what plant based milk to choose we have a full guide right here.
Almond milk generally is shown to be the lower fat plant based milk and even better if you can make your own!
To be fair, most plant based milks would work well with this recipe, whether you choose a nut milk, coconut milk or oat milk.
Medjool Dates
The sticky medjool dates gives it a slightly sweeter taste, this is always my preference over liquid sweetener when making shakes and smoothies. You could totally add a drop of vegan honey or maple syrup instead if you dont have any dates at home.
Other optional additions:
Being vegan means its good to be mindful of certain nutrients. Although we have kept this cacao banana smoothie fairly simple, its easy to add more goodness to it if you choose.
Some great additions that won't overly change the flavour:
Hemp seeds
Flax seeds
Chia seeds
Cashew nuts
Peanut butter
Almond butter
Pumpkin Seed Butter
Sunflower seed butter
Crunchy cacao nibs to top!
BEST BLENDER FOR SMOOTHIES
The best blender and my most reliable kitchen companion has been my Vitamix Blender without doubt.
Having used this Vitamix Blender for over five years, I can vouch for its robustness and reliability!
Of course buying a blender on the pricier side means its an investment – we use ours almost daily. We carefully considered it before purchasing having had a much cheaper blender break down on us.
If you don't have room or need for a full sized blender, the ninja seems to be taking over the market as one of the best mini blenders. You can check it out here.
You might also love our Banana Overnight Oats recipe too!
Yield: 1 portion
Banana Cacao Smoothie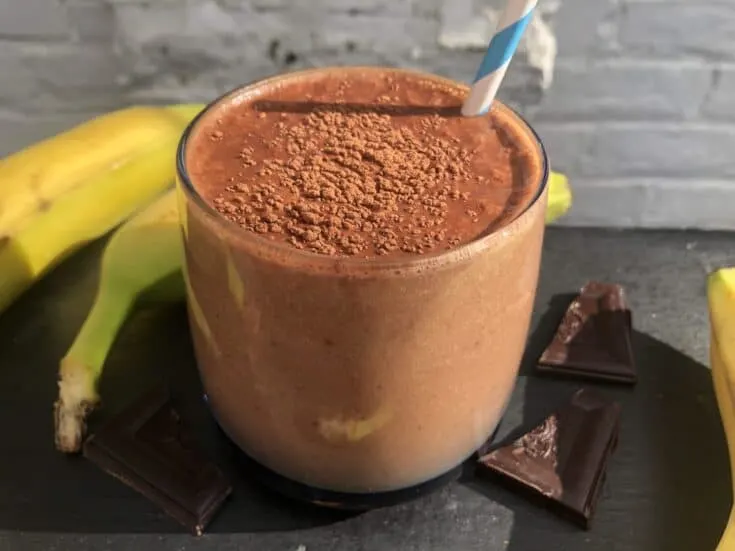 This banana cacao smoothie recipe is absolutely divine and a must try. With simple ingredients, it is a delicious chocolatey treat that is easy to make.
Ingredients
300mls almond milk
1 frozen banana
1 medjool date
1 teaspoon cacao powder
Instructions
Measure out ingredients.
Pop all in a blender and blend until smooth
Serve and enjoy!
Notes
1) If you dont already have some frozen bananas, simply use a fresh one and throw a few ice cubes in to make it nice and chilled.
2) If you don't have cacao you can totally use cocoa, however you may want to only use 1/2 tsp of cocoa as it gives a sronger, richer flavour than cacao.
Recommended Products
As an Amazon Associate and member of other affiliate programs, I earn from qualifying purchases.
Nutrition Information:
Yield:
1
Serving Size:
1
Amount Per Serving:
Calories:

252
Total Fat:

4g
Saturated Fat:

0g
Trans Fat:

0g
Unsaturated Fat:

3g
Cholesterol:

0mg
Sodium:

14mg
Carbohydrates:

57g
Fiber:

6g
Sugar:

40g
Protein:

4g
this is an estimate
Disclaimer: There are affiliate links in this post. By using them, we will get a small commission of the sale at no extra cost to you. It's the little things like this thats keep us afloat. We never recommend something we don't believe in, always tired and tested too