I have been trying out lots of buddha bowl recipes recently. Of course being vegan, it was a no brainer to make a tofu buddha bowl and it turned out delish!
In the last few months I have been watching my carb count so this shows through with the ingredients used in this salad buddha bowl.
Buddha Bowl Tofu
So what are buddha bowl you might ask? Well they are essentially a shallow bowl with a rim high enough to hold together the salad.
The idea behind the buddha bowl is to have lots of little servings of different foods to create an all round balanced and nourishing meal. They are certainly right on trend now, especially in the vegan community.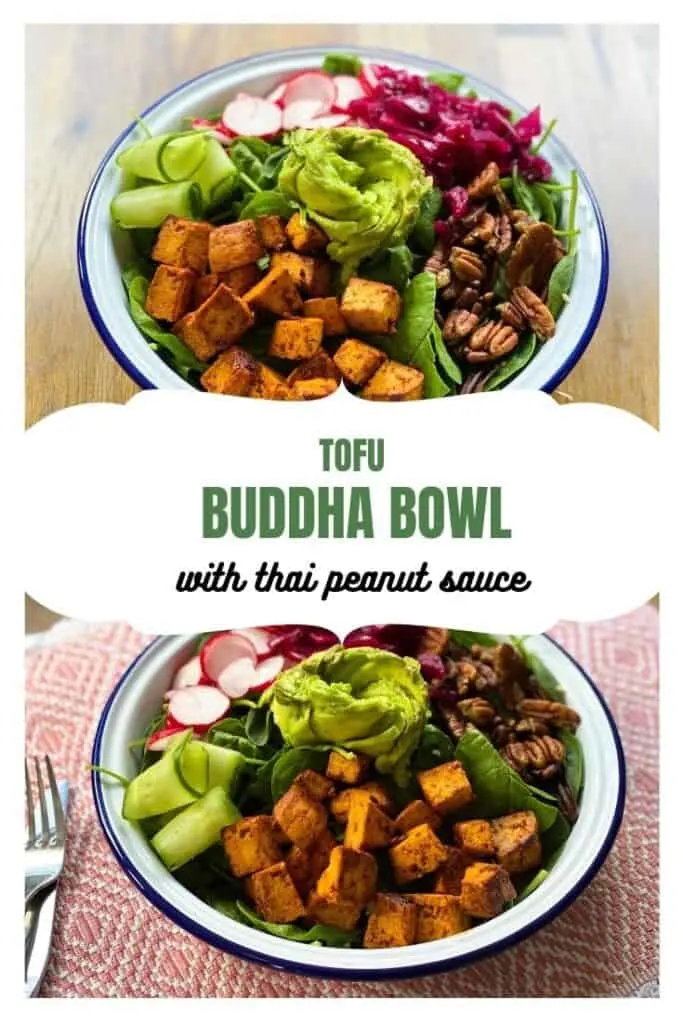 It's thought the idea of buddha bowls originated form the yogi community. Always in search for a spiritual and healthy balanced life.
Buddha bowl are almost always vegan, filled with nourishing foods like seeds, nuts, leaves, greens, vegetables and pulses. It's all about balance! They are perfect for lunch or a light dinner and equally as good for taking to work or school.
Check out our cold vegan lunches for work post.
Buddha Bowl With Tofu
If you are looking for the perfect bowl to serve your tofu buddha recipe, these are perfect. Check out the prices of buddha bowls here.
You can really make the tofu buddha bowl with whatever veggies and other ingredients you have. As mentioned, the main aim is to keep it balanced and healthy.
In general, the bowl will always have a base. This could be spinach, kale, salad leaves or cous cous for example.
For this recipe I used spinach as my base and essentially filled the majority of the bowl with it! Spinach is low in carb but high in iron which is why it's one of my favourite ingredients.
On top of the spinach you can place miniature bites of each ingredient. I used:
Pecans – these nuts are one of the lowest carb nuts. They have so much flavour and are perfect on salads.
Red Cabbage Sauerkraut – I love the tangy flavours of this fermented vegetable. It is a great way to achieve this with limited additional calories that traditional dressings add to the mix. Red cabbage is also incredibly vibrant bringing beautiful colours to create an eye catching buddha bowl. Not to mention that cabbage is also incredibly low calorie.
Sliced radishes- I just love radishes, another low carb vegetable with bright bold edible skin and a crisp white interior. Another eye catching vegetable to add to the mix.
Avocado – these yummy fruit are loved by all, that's for sure. Avocado is high in fat, but lets be honest, it's all good fat. You'll notice from the pictures, that we chopped the avocado into a rose to give the bowl a perfect centrepiece, it's all about presentation too,,, right?!
Diced tofu marinated in sriracha and soy – I used smoked tofu for this!
Cucumber slices – I used the vegetable peeler to peel long slices of cold cucumber. I then rolled them up to make them look super presentable. This added to the overall presentation of this tasty buddha bowl!
Once I placed all of my ingredients on top of the bed of spinach nicely, I dressed it with a drizzle of Thai peanut butter dressing.
To make the dressing is super easy, I mixed together 1 tablespoon of peanut butter, 1 tablespoon of low salt tamari with some warm water until it was smooth enough to drizzle.
The final touch was adding some black sesame seeds to finish the bowl before serving.
Serve immediately with a fork and of course if you want to have it on the go, you could swap the avocado for another ingredient. I don't find avocado travel well once out of it's skin.
Some other options instead of the avocado could be tomatoes for example. Make sure to keep your buddha bowl it in the fridge overnight, it can be in there in an air tight container for up to 2 days.
In this recipe, I used a smoked extra firm tofu. I find it really lifts marinade very quickly and is a very easy tofu to work with. Some tofu's really need a good squeeze to get all of the water out so make sure you try to do that for best texture.
If you don't already have one, this tofu presser is a great affordable and worth while kitchen utensil if you don't already have one. Another awesome tofu recipe is this Thai Basil Tofu.
Buddha Bowl Recipe Books
If you like the idea of buddha bowls, there are a tonne of recipe books entirely dedicated to this concept that are work taking a look at. Here is one you may enjoy.
See the best tofu presser here.
Other Recipes
Before we jump into the recipe, if you liked this one, you may also like to check out the rest of our:
Yield: 1
Tofu Buddha Bowl Recipe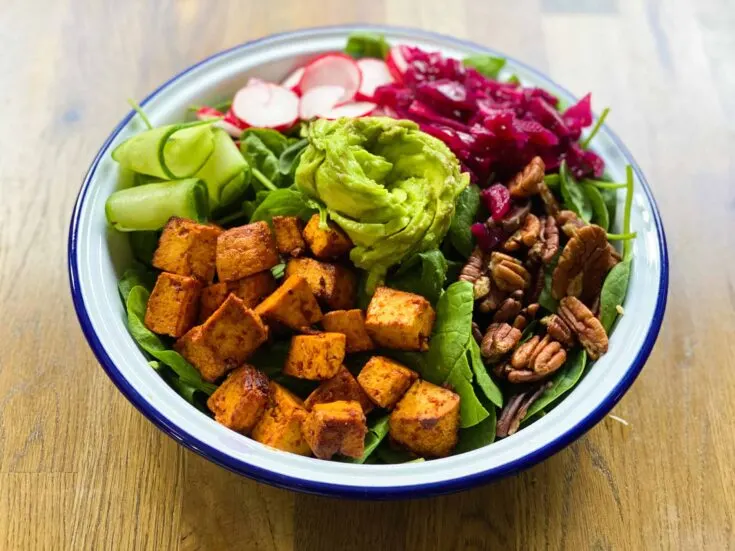 Try this delicious tofu buddha bowl, a perfect low carb meal to nourish the soul. Featuring, smoked tofu on a bed of fresh crisp spianch, pecans, red cabbabge kraut, avocodo and radishes, this is the perfect buddha bowl tofu style! We also have a thai peanut drizzle for the ultimate finish!
Ingredients
1/2 an avocado
1 tbsp of Red Cabbage Sauerkraut
1 cup of spinach
2 radishes finely sliced
2 tbsp of pecans
3 strips of cucumber
1/3 a block of smoked tofu
1 tbsp of sriracha
1 tbsp of low salt tamari sauce
Optional Thai peanut drizzle
1 tbsp of peanut butter
1 tbsp of low salt tamari
1/4 cup of warm water
1 tsp of black sesame seeds
Instructions
Start by mixing the srirarcha and tamari in a bowl. Chop the tofu up into small bite sized chunks after squeezing and preparing it appropriatelty.
Add the tofu to the marinade and ensure to cover all of the chunks well. Leave to one side in the fridge. If you can do this ovenright, that would be ideal to ensure all of the marinade is soaked up!
Add the spinach to your buddha bowl until it's almost full.
Chop the radishes into thin slices and place on top of the bed of spinach in its own little section of the bowl.
Next take 3 lengths of a cucumber with a vegetable peeler and roll it up for the purpose of presentaiton. Place them on top of the bed of spinach.
Strain and spoon the red cabbage kraut onto the bed of spinach.
Slice the avocado and place it in the centre of the bowl.
Next heat a pan with a touch of oil of your choice. Add the marinated tofu on a medium to high heat. Toss and turn continuously for 5 minutes until golden. As they are small chunks, they will cook quickly.
Add the tofu to the spinach bed.
You can at this point serve / eat the dish, or you can add some thai penaut sauce.
To make the sauce mix 1 tbsp of runny peaunut butter with 1 tbsp of low salt tamari. Mix together and add warm water until you get a runny consistency.
Drizzle on top of your buddha bowl and add a sprinkle of sesame seeds for the ultimate finish.
Recommended Products
As an Amazon Associate and member of other affiliate programs, I earn from qualifying purchases.
Nutrition Information:
Yield:
1
Serving Size:
1
Amount Per Serving:
Calories:

494
Total Fat:

33g
Saturated Fat:

4g
Trans Fat:

0g
Unsaturated Fat:

26g
Cholesterol:

0mg
Sodium:

8581mg
Carbohydrates:

29g
Net Carbohydrates:

9g
Fiber:

19g
Sugar:

12g
Protein:

28g