This beetroot coleslaw is a delicious and vibrant vegan salad dish. You will be super glad to have made this beetroot slaw as an alternative to the traditional cabbage version.
Refreshing
Earthy
Crisp
Delicious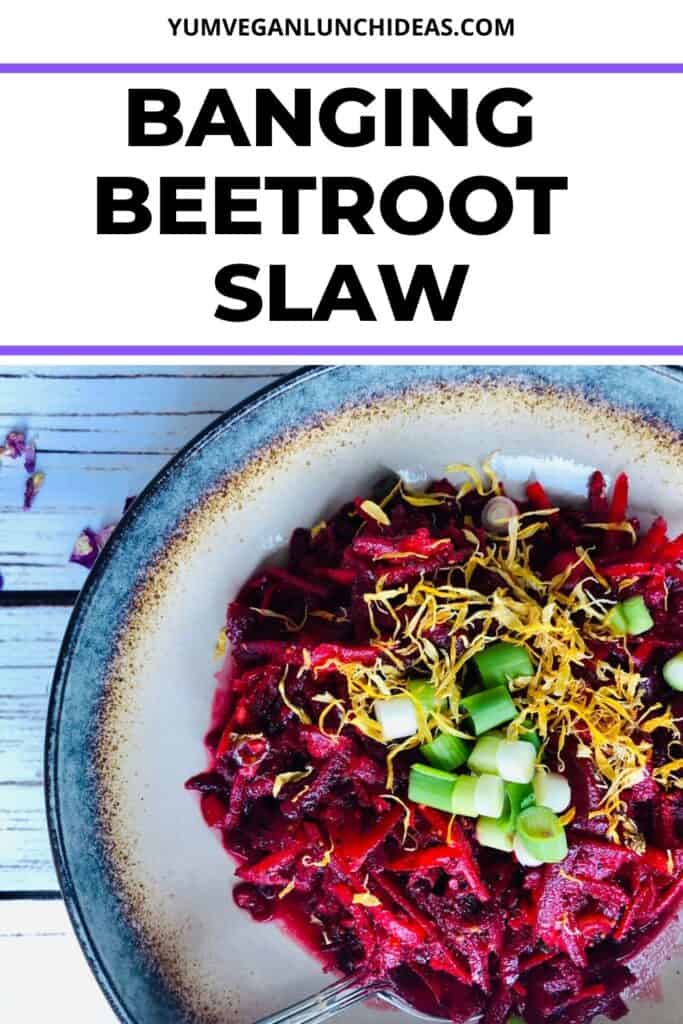 What is coleslaw?
Traditionally, coleslaw is composed of shredded cabbage, carrot, onion and mayonnaise. There are lots of delicious variations to try out which are delicious!
Finding a nice mix of various shredded vegetables for a coleslaw is a great way to mix things up for all of your vegan salad needs.
The best thing about coleslaw is that crisp freshness you get from the crunchy vegetables.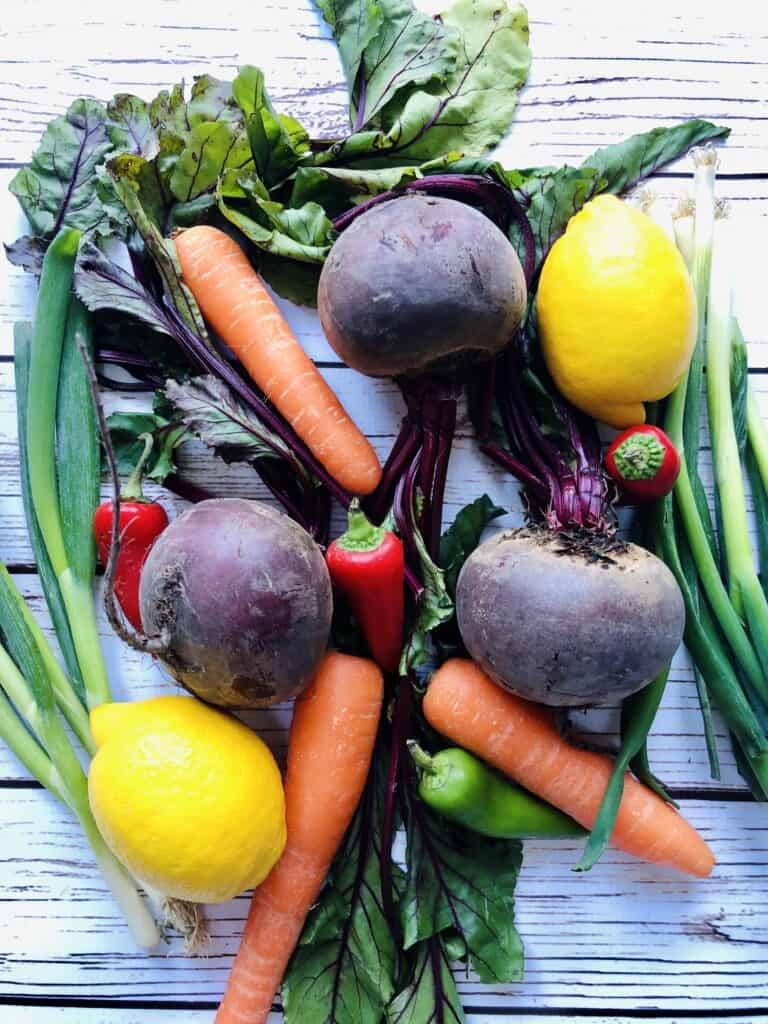 Shredding Vegetables
Of course shredding vegetables for any coleslaw recipe can be achieved by hand with a reliable shard knife or decent hand grater.
However, I would be lost without the shredding function on my food processor that saves a particular mess that comes with shredding juicy, purple beetroot for beetroot slaw!
I can recommend this awesome multi-functional Food Processor.
Beetroot Coleslaw
Beetroot slaw is exactly one of those awesome variations. Raw beetroot salad provides a rich, earthy, crunchy taste. Alongside the shredded carrot, spring onion and chillies.
The beetroot coleslaw dressing here is fairly simple, with an easy mix of mustard, olive oil, lemon juice and Apple Cider Vinegar
.
Using a good quality Extra Virgin Olive Oil
helps the taste of this beet slaw recipe.
The sprinkle of Poppy Seeds
gives this beetroot coleslaw an extra layer and crunch. This beet slaw recipe is perfectly simple yet big on vibrancy and flavour.
Additionally, beetroots are well know for their great nutritional properties.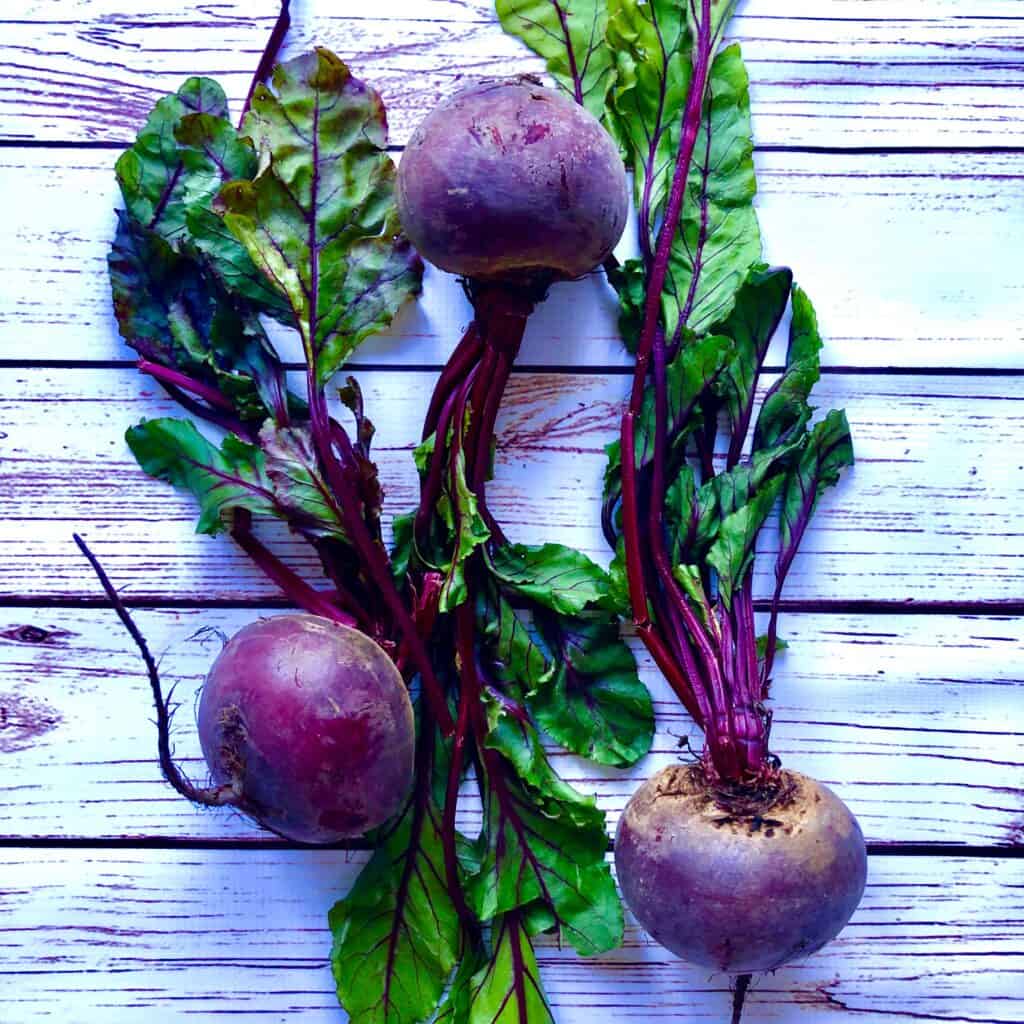 How to serve beetroot coleslaw
Beetroot slaw can be served in various ways. It would make the perfect addition to a salad buffet or mixed salad plate. Beetroot slaw goes amazing on a the likes of burgers, tacos and hot dogs too!
With it's refreshingly, crisp taste, a great time to serve a fresh, homemade vegan coleslaw however is with a vegan BBQ.It adds such a beautiful colour and vibrancy to dishes and there are always clear plates all round.
I chose to garnish this with pretty, Edible Flowers
. The yellow petals are dehydrated marigolds and make a pretty garnish to lots of dishes.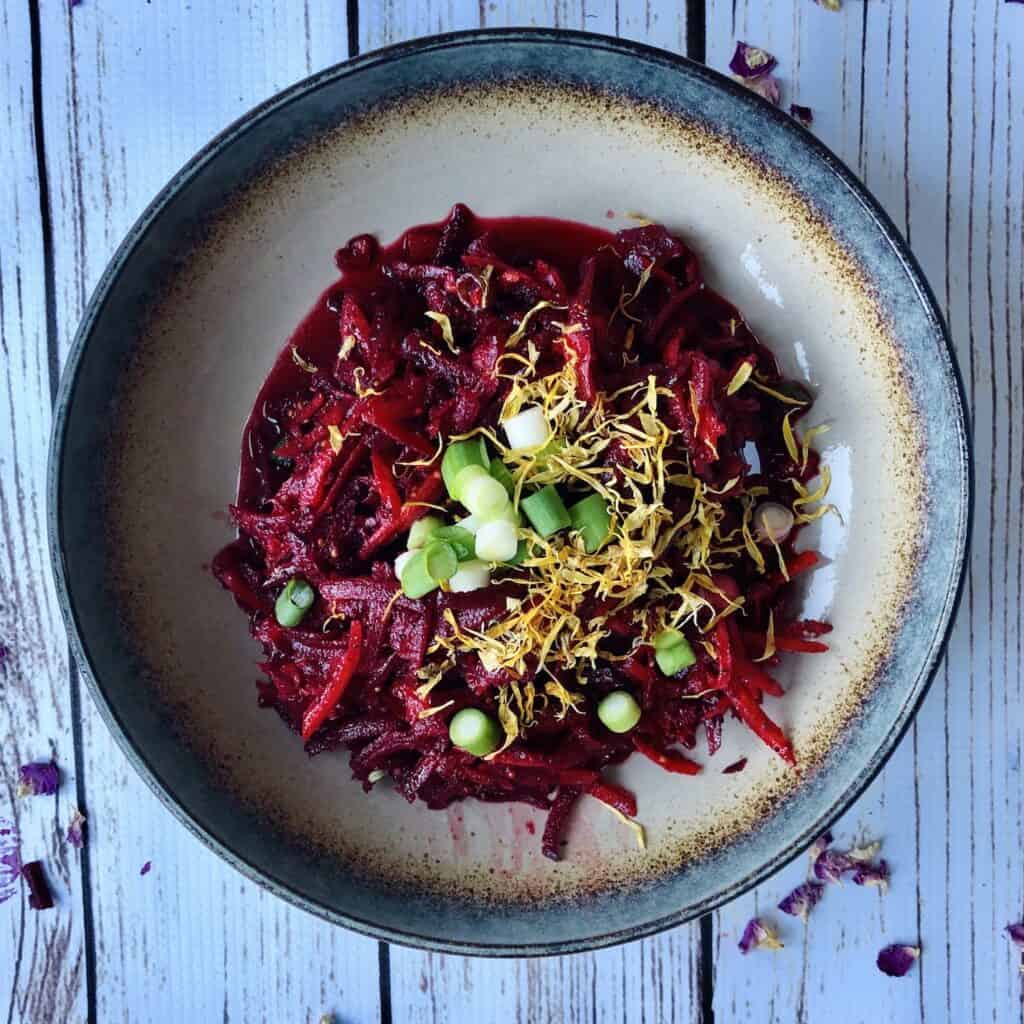 Looking for more bright healthy salads? Check out this crisp broccoli salad, or this orange and fennel salad!
Yield: 6-8 portions
Easy Beetroot Coleslaw Recipe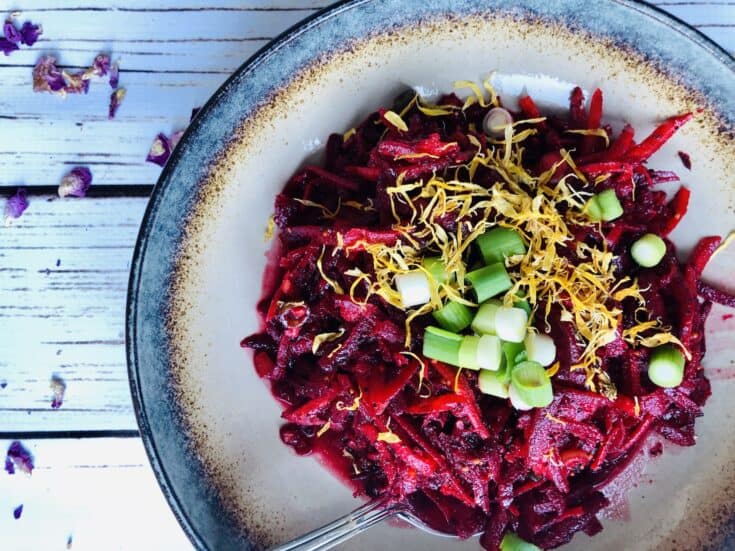 This banging beetroot coleslaw recipe is deliciously crisp & refreshingly earthy. This vegan beetroot salad is the perfect side or show stopping main salad, on burgers, tacos or hotdogs. Speckled with poppy seeds, spring onion and chilli flakes, it is the perfect vegan salad showstopper with it's natural vibrancy.
Ingredients
2 medium sized beetroots (uncooked)
3 carrots
4 spring onions
1 tbsp poppy seeds
1 red chilli pepper
100mls extra virgin olive oil
1 tbsp wholegrain or dijon mustard
2 tbsp lemon juice (or approx half a lemon)
2 tbsp apple cider vinegar
Salt to season
Instructions
Wash and prepare the vegetables. Peel carrots and beetroots if you wish, however i simply scrubbed clean and chopped off any unfavourable parts. Warning - you may want to wear gloves to protect your hands from beetroot juice!
FInely chop and deseed your red chilli pepper and chop the spring onions, save a sprinkle to garnish the dish
Using either a food processor with the thick shredding setting, or a hang grater, begin grating the carrots and beetroot. Using a food processor keeps things contained as the beetroot can seep out a lot of purple beetroot juice in the process and stain hands/worktops!
Drain out any beetroot juice and place the shredded carrot and shreeded beetroot in a mixing bowl
Add chopped spring onions and red chilli pepper - begin mixing gently with two wooden spoons
Begin adding liquid ingredients, including the olive oil, mustard, apple cider vinegar and lemon juice.
Add salt to taste - then serve!
Notes
Wearing gloves protects your hands from getting stained if using a hand grater. Always take cautuon with a food processor. Unless you dont mind the beetroot coleslaw seeping lots of liquids out, do drain following shredding, This beet slaw will stay fresh in the fridge for up to 3 days. Store in an airtight container - do not freeze this beetroot coleslaw as the quality will be lost.
Recommended Products
As an Amazon Associate and member of other affiliate programs, I earn from qualifying purchases.
Nutrition Information:
Yield:
7
Serving Size:
1
Amount Per Serving:
Calories:

143
Total Fat:

14g
Saturated Fat:

2g
Trans Fat:

0g
Unsaturated Fat:

11g
Cholesterol:

0mg
Sodium:

167mg
Carbohydrates:

5g
Fiber:

2g
Sugar:

3g
Protein:

1g
this is an estimate