I absolutely love vegan Caesar salad, it's such a classic recipe with so much flavour. We were having some non-vegan friends over for nibbles. I always have a big tasty salad on the go along with a number of other vegan finger foods. It really is the most crowd pleasing vegan Caesar salad recipe!
Is there anything better than a bowl of fresh crunchy salad drenched in the best vegan Caesar salad you've ever tried? Honestly guys, I needed to put a lock on the fridge after I made it, everyone was picking at it before our guests arrived.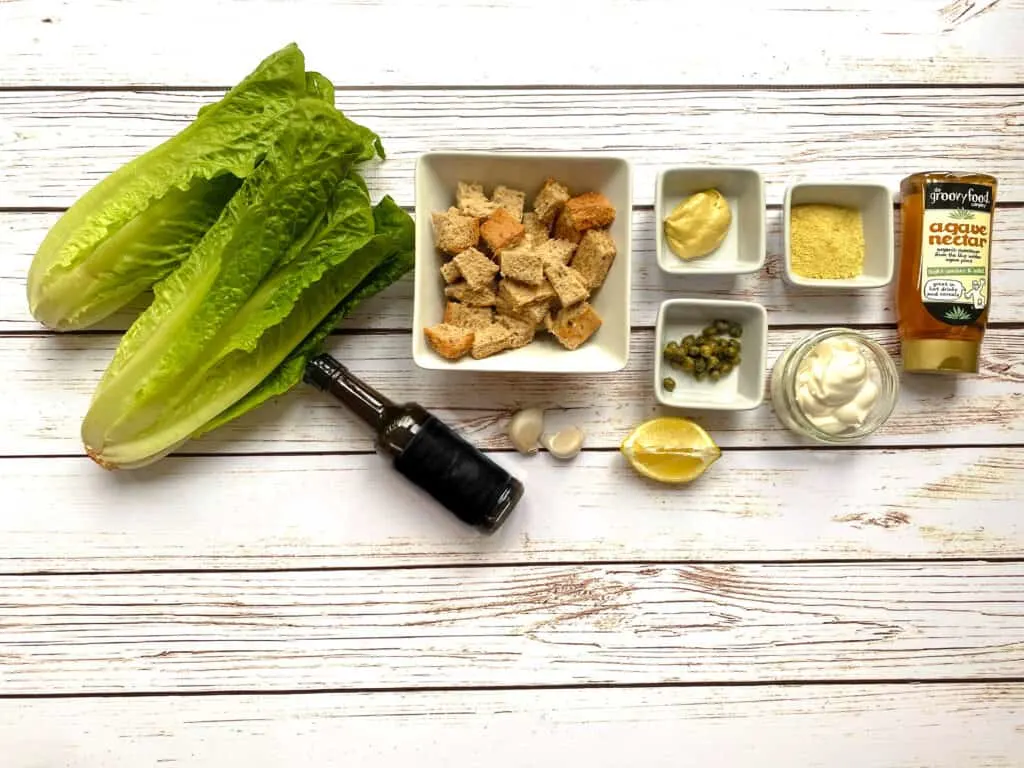 It was devoured in minutes of being put out. This salad is great for a boxed lunch, I was actually hoping there would be some left over for the next day! I've learned my lesson now, I need to hide a little lunch box in the fridge if I plan on having any to take to work!
And if you are in the lucky position to have some left over, it keeps really nicely in a sealed container in the fridge. You can take it to work in a lunch box, for a picnic, or pair it with your dinner!
Crowd-Pleasing Vegan Caesar Salad Recipe
This recipe is so simple to make and only takes a matter of minutes to make. Of course there is no shop bought dressings over here, so this recipe includes making it yourself.
Even with making the dressing, it still only takes a short amount of time to make! If you buy a sliced pan of bread regularly, keep a hold of both crust ends, they are ideal for making the croutons in this recipe.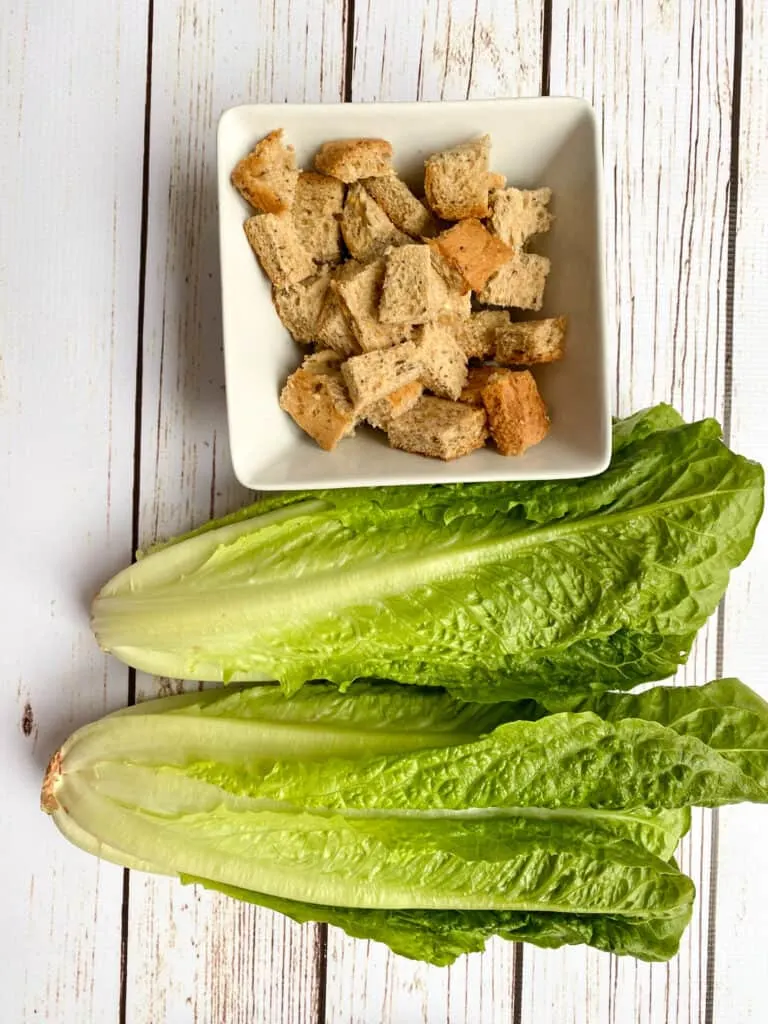 So I know some people reading this will be thinking bread is the devil! I hear you, a great gluten-free alternative could be toasted chickpeas, they make a tasty substitute. But if you're here for the croutons, no judgement obviously!
Once you've chopped up your croutons, pan fry them very lightly until crispy. I did mine in olive oil with 1 crushed garlic clove for flavour, they were divine! Next, roughly chop the romain lettuce.
Easy Vegan Caesar salad Dressing Recipe
The dressing just involves you spooning in the required amounts of each ingredient and blitzing it for a few minutes. The NutriBullet is fantastic for doing salad dressings.
All you need for the dressing is half a cup of mayonnaise, a tablespoon Dijon Mustard, 2 tablespoons of vegan Worcester sauce, a tablespoon of capers, a tablespoon of agave, just blitz them together for a few minutes before drizzling it over your leaves.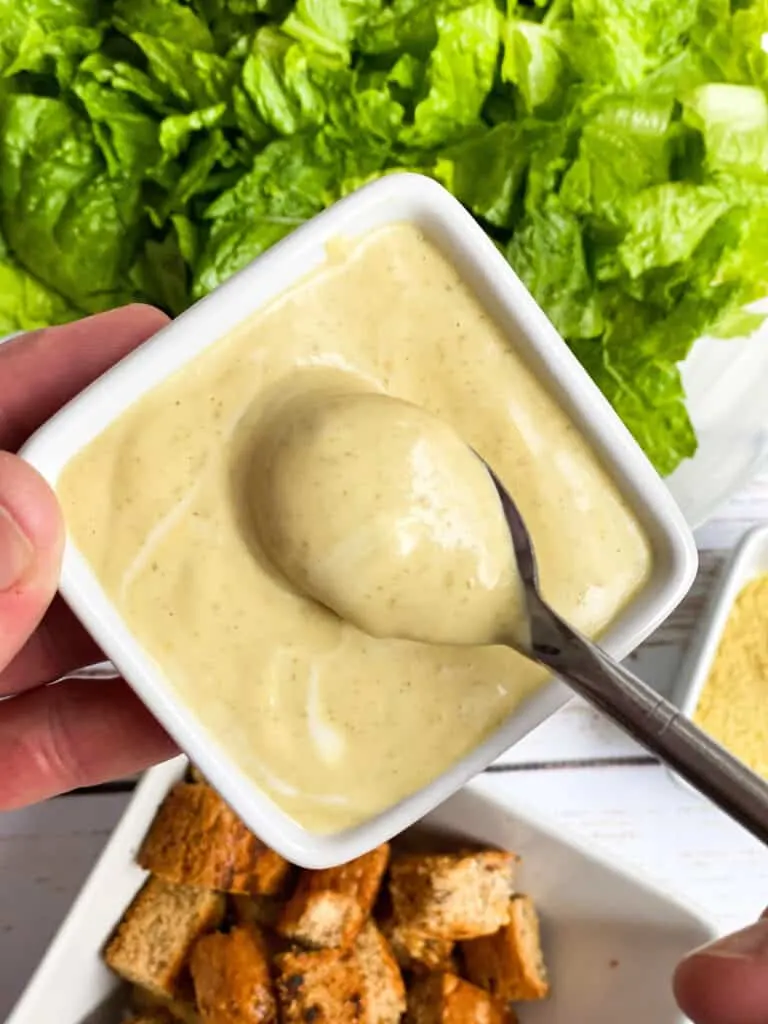 If you have more than you wanted, put it in a bottle for later, it can keep in the fridge for 4 to 5 days.
The final ingredient in making this salad into perfection, sprinkle a big helping of nutritional yeast, it's the ideal replacement for parmesan!
Why not add vegan roast chicken to this recipe?
Before you dive into the recipe itself, make sure to check out some of our other amazing salads and dressings. I bet you'd love Cobb Salad?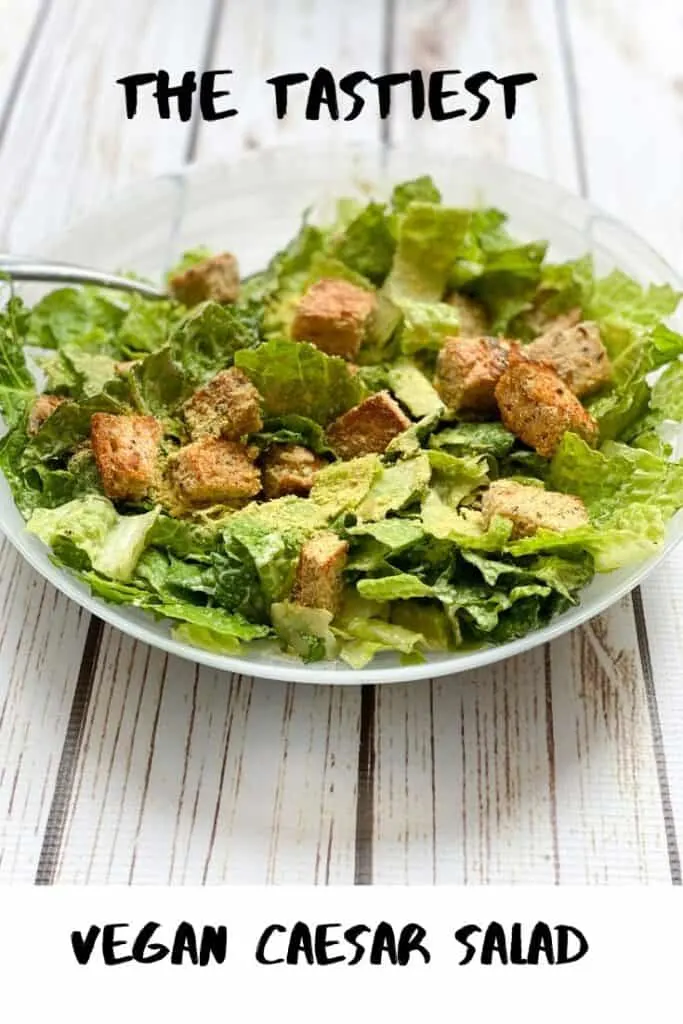 Yield: 6
Crowd Pleasing Vegan Caesar salad Recipe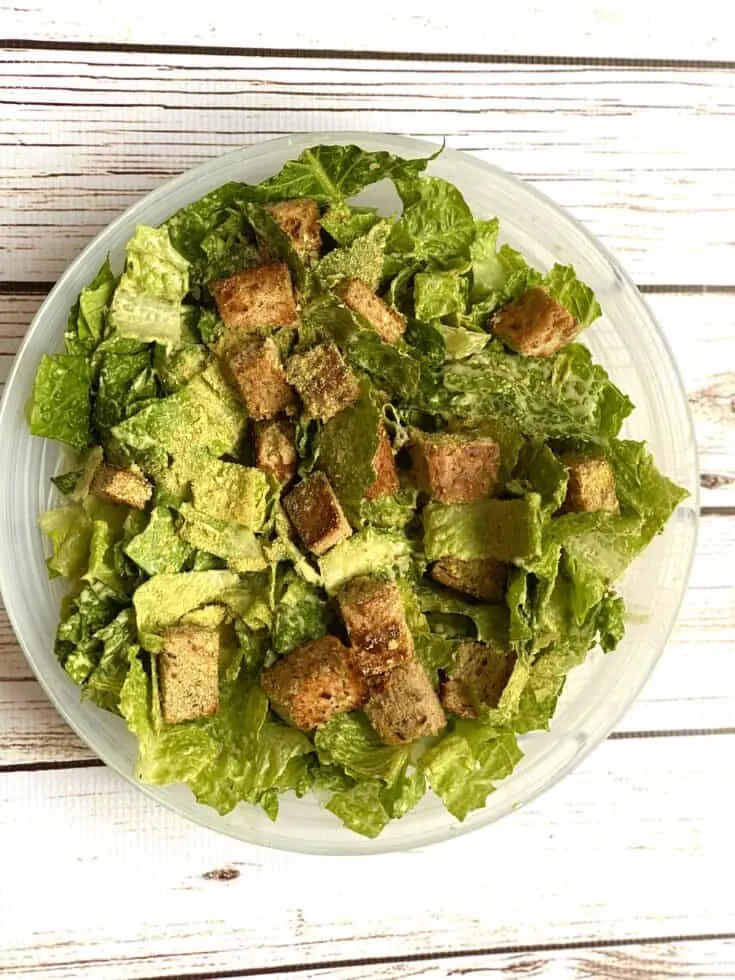 Try this crowd pleasing vegan caesar salad that is packed full of flavour and tastes very similar to the classic recipe.
Ingredients
2 heads of fresh Romaine lettuce
2 slices of bread crust
1 clove of garlic
2 tablespoons of nutritional yeast
1 tablespoon of oil
For the vegan caesar dressing
1 cup of high quality vegan mayonaise
1 tablespoon of Dijon Mustard
2 tablespoons of Worcester sauce
1 clove of crushed garlic
1 tablespoon of capers
1 tablespoon of agave
Instructions
Begin by making the croutons for the salad. I used both crust ends from a loaf of sliced bread. I chopped it into bite sized chunks. Next, put the pan on a medium heat with a dash of oli and 1 crushed clove of garlic. Add the croutons and toss reguluarly until crispy brown. Put the croutons to one side.
Next, begin to prepare the vegan caesar dressing. Put the mayonaise, capers, vegan Worcester sauce, garlic, lemon juice, dijon mustard, nutritional yeast and agave into a blender and blitz. You should be left with a creamy consistency.
Wash the lettuce in cold water and strain, Then, roughly chop the romain lettuce and add to the salad bowl.
Drizzle the caesar dressing over the lettuce generously. Using two forks, gently mix the dressing through, ensuring all the leaves are covered.
Add the croutons and finally add the nutrional yeast flakes on top!
Notes
There are many substitutes you can use in this recipe. If you prefer not to use bread for your croutons, why not try toasted chickpeas instead? They work just as well for the crunch instead of bread and let's face it they are healthier right?
Another sub could be kale instead of the romain lettuce if you prefer.
Likewise there are two subs for the mayonaise in this recipe. You could use plain vegan yoghurt in the same quantity. Or if you want to stick completely 'au natural' you can use 1 cup of overnight soaked cashews nuts.
It really is quite versatile with respect to substitutes.
The nutritional yeast is perfect at mocking the traditional parmesan cheese from the classic recipe.
Nutrition Information:
Yield:
6
Serving Size:
1
Amount Per Serving:
Calories:

357
Total Fat:

31g
Saturated Fat:

5g
Trans Fat:

0g
Unsaturated Fat:

26g
Cholesterol:

16mg
Sodium:

426mg
Carbohydrates:

17g
Fiber:

6g
Sugar:

6g
Protein:

5g
You may also like: