This vegan buffalo chicken sandwich is crispy and delicious. It is made possible with the humble cauliflower. Packed with the right amount of spice, flavour and crunch, this buffalo cauliflower sandwich is one for the favourites.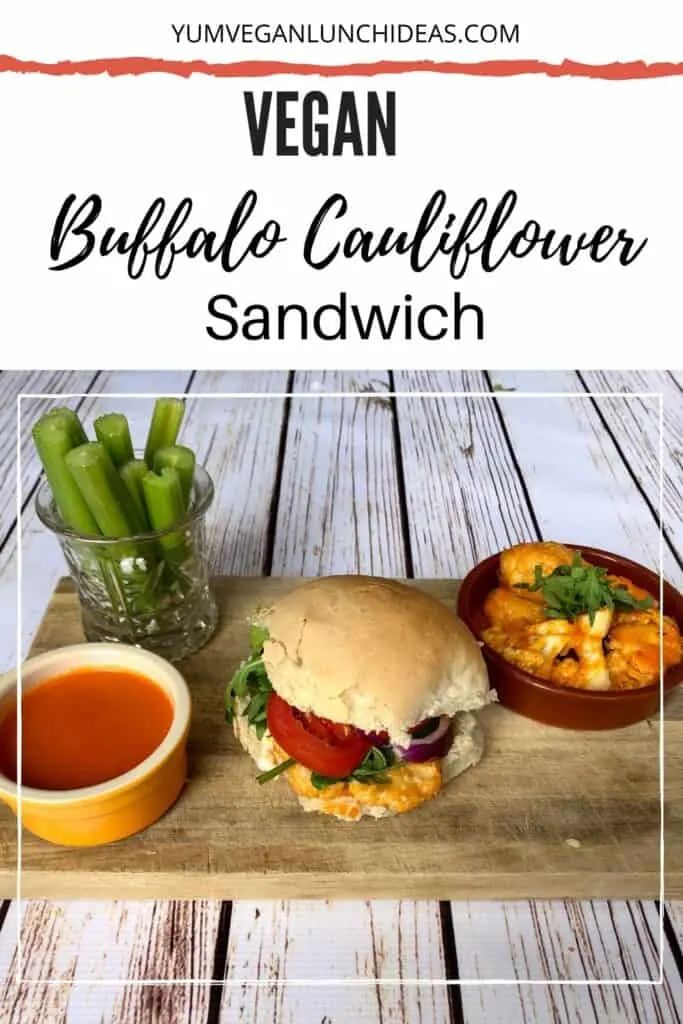 Buffalo chicken sandwiches are reminiscent of game day during superbowl season. After all vegan sliders are a must have for game day right? Thankfully it doesn't need to be game day for these delicious delicious cauliflower sliders.
It has rich creamy ranch dressing alongside a zingy, battered cauliflower steak.
You may have already tried some awesome buffalo cauliflower wings, but this vegan buffalo sandwich takes it up a notch.
Pair this sandwich with boozy fruit salad to finish off your meal with flare!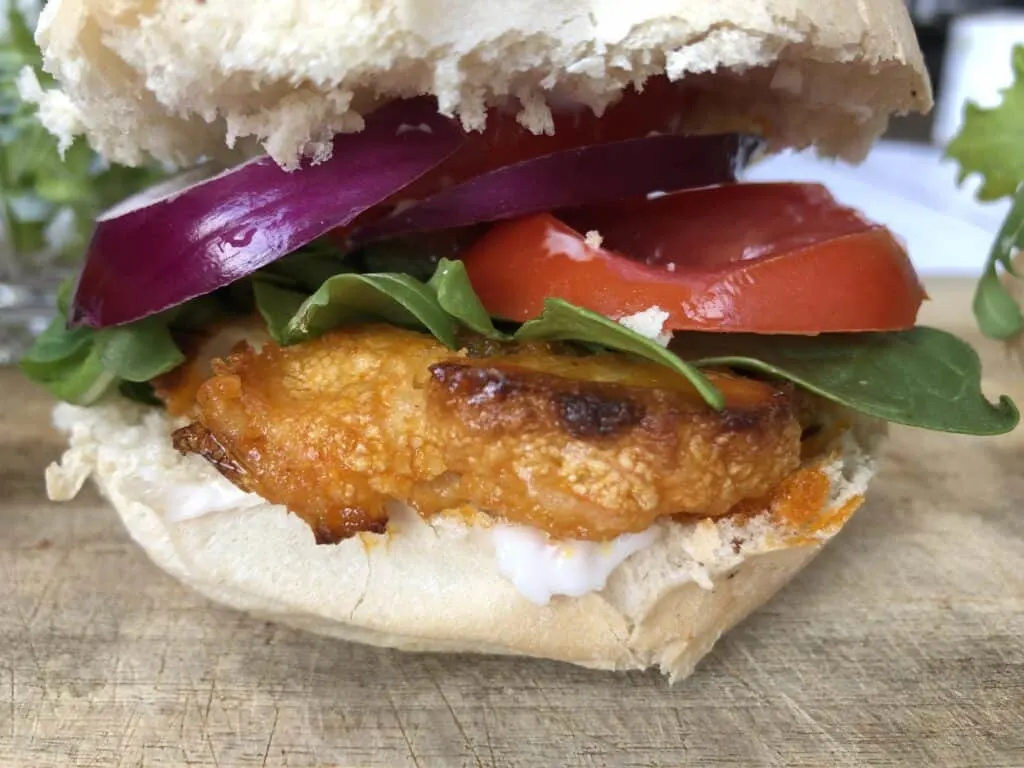 Cauliflower
Cauliflower has made a bit of a comeback in recent years. Gone are the days where people shudder at the thoughts of soggy, bitter cauliflower or a rank form of cauliflower cheese.
Our cauliflower has been transformed into wonderful vegan buffalo chicken patty and packs a punch.
This buffalo cauliflower steak recipe works great straight up on a vegan BBQ, vegan wraps and of course as the vegan buffalo cauliflower sandwich we make here.
Buffalo cauliflower is a great option also for those who are not too keen on mock meats and seitan. It edges more towards a whole food take on the vegan buffalo chicken.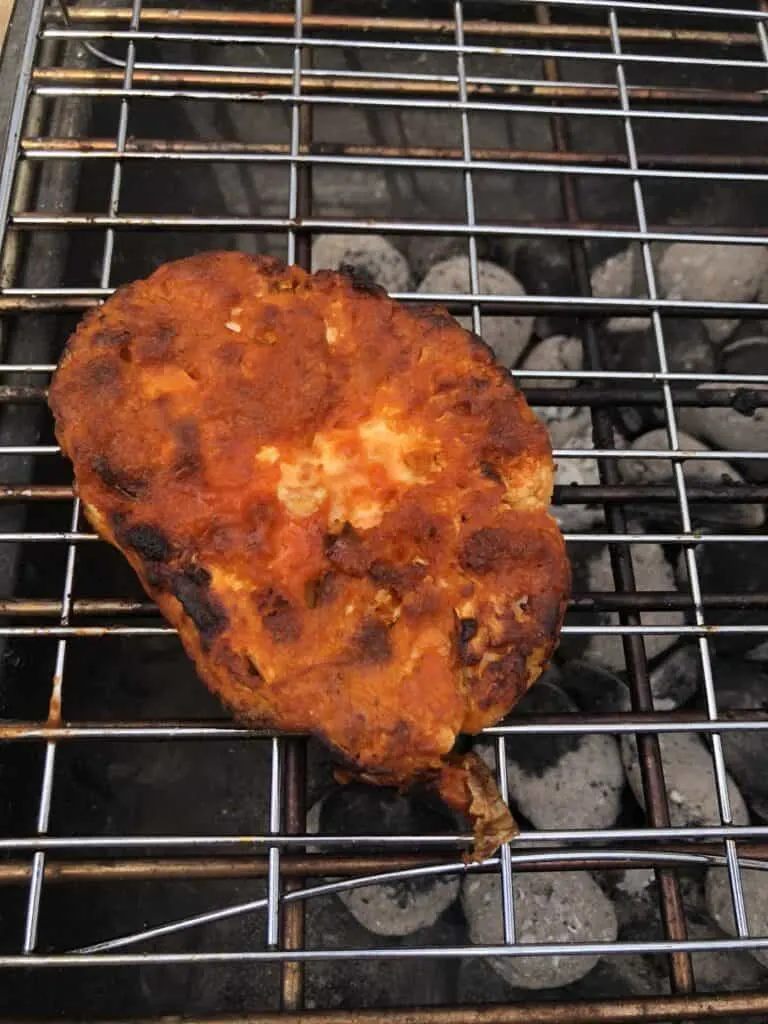 Cooking The Buffalo Cauliflower Steak
We have cooked these buffalo cauliflower steaks in a few different ways to ascertain the best texture. We were keen to have more plant based options for BBQ season (and memorial day!), so finished them off on the BBQ and it just added to the delicious flavours.
Cooking the buffalo cauliflower in the oven or air fryer prior putting it on the BBQ is essential to ensure it is cooked through.
This is because we cut the cauliflower steaks from the centre of the actual cauliflower and we need to make sure it is cooked properly, with the centre being bit tougher due to the stalk.
The air fryer definitely gave the best, crispiest batter in a shorter cooking time. However understandably an oven is far more accessible for most people.
Putting the cauliflower steak on the BBQ is an added bonus for flavour! BBQ cauliflower brings another depth of flavour, alongside the delicious spice.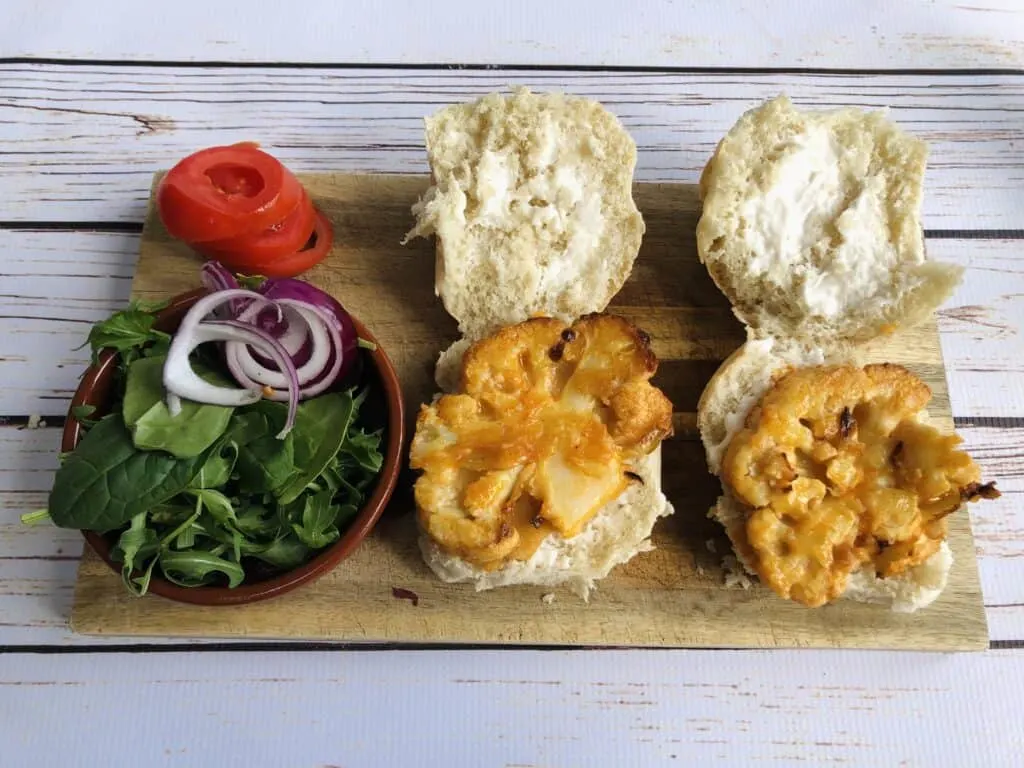 Batter
The cauliflower steak is coated in a batter and cooked for twenty minutes before being dipped in the buffalo hot sauce and cooked again.
This allows for it to crisp up and hold the flavours of the sauce better.
The batter helps create this style of vegan buffalo sandwich – replicating the usual battered buffalo chicken.
Buffalo Hot Sauce
Buffalo sauce is not traditionally vegan, but our very own vegan buffalo sauce is used to marinade the cauliflower steak and take it to the next level.
Franks hot sauce is the winnings addition to make this vegan spicy chicken sandwich.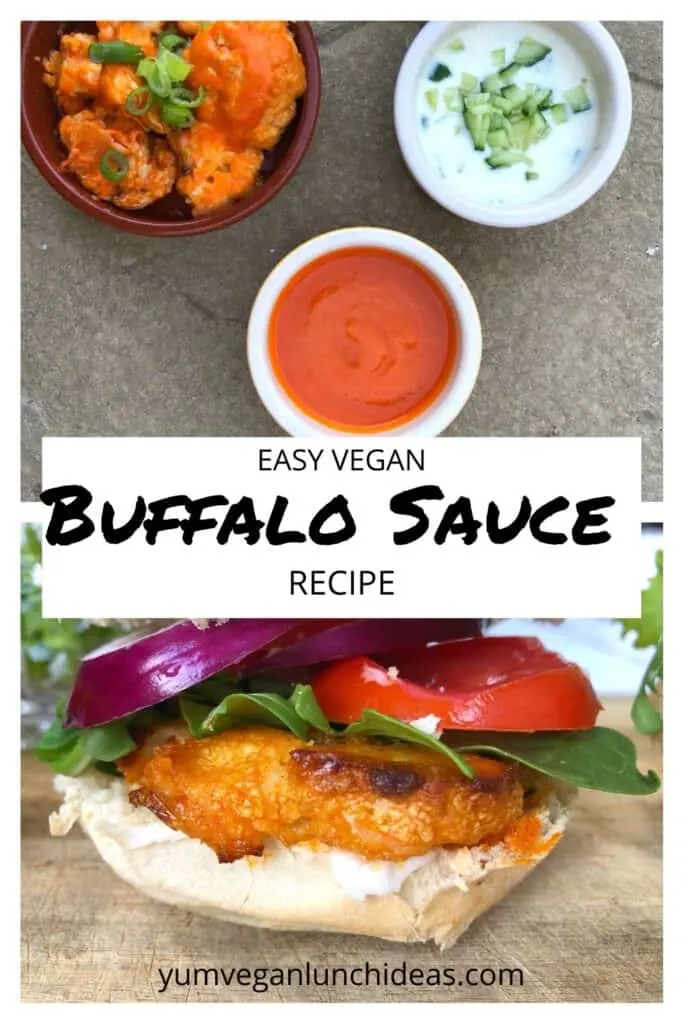 Vegan Ranch Dressing
Our very own cooling and cream vegan ranch dressing is pure perfection to compliment the spicy flavours of this vegetarian buffalo chicken sandwich.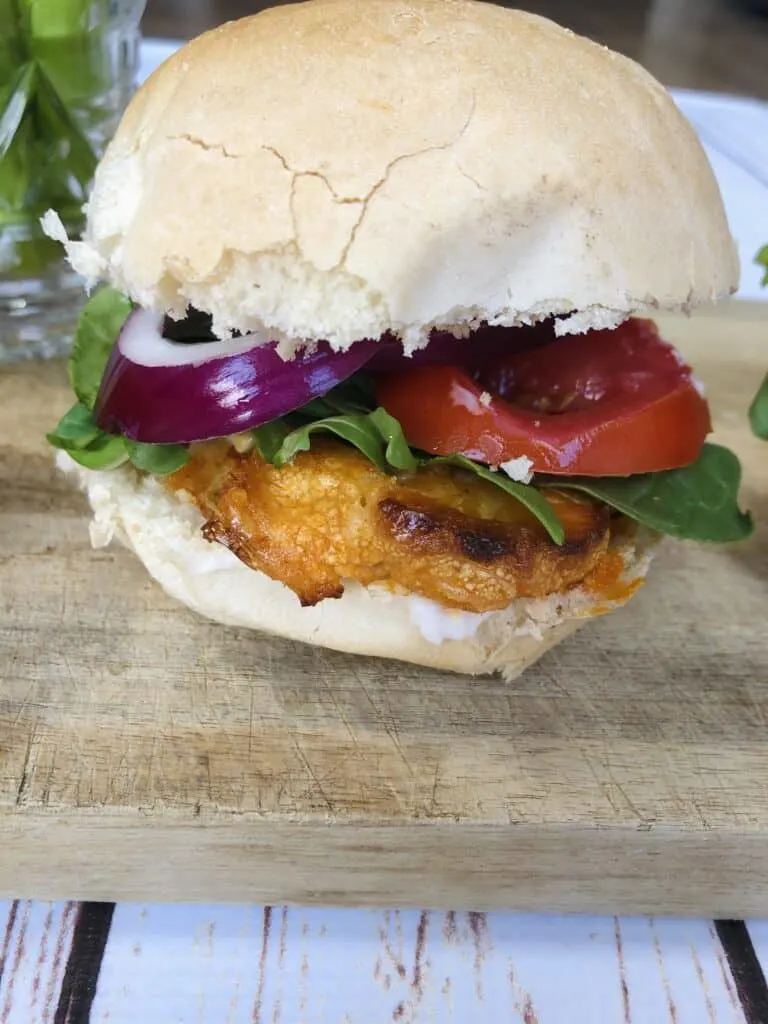 Yield: 2
Vegan Buffalo Chicken Sandwich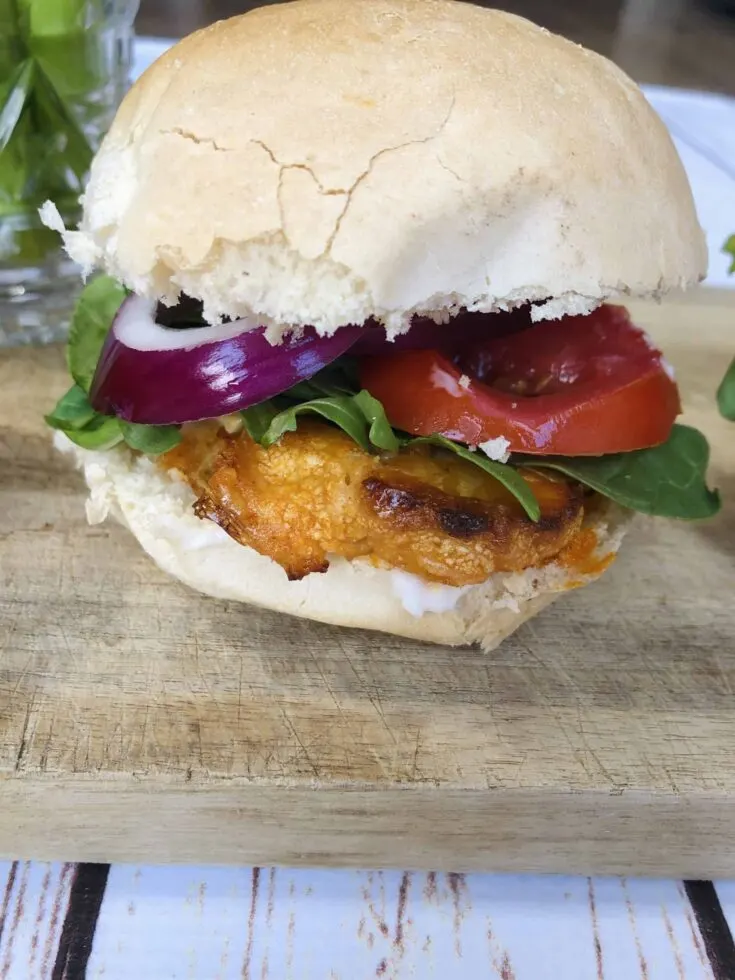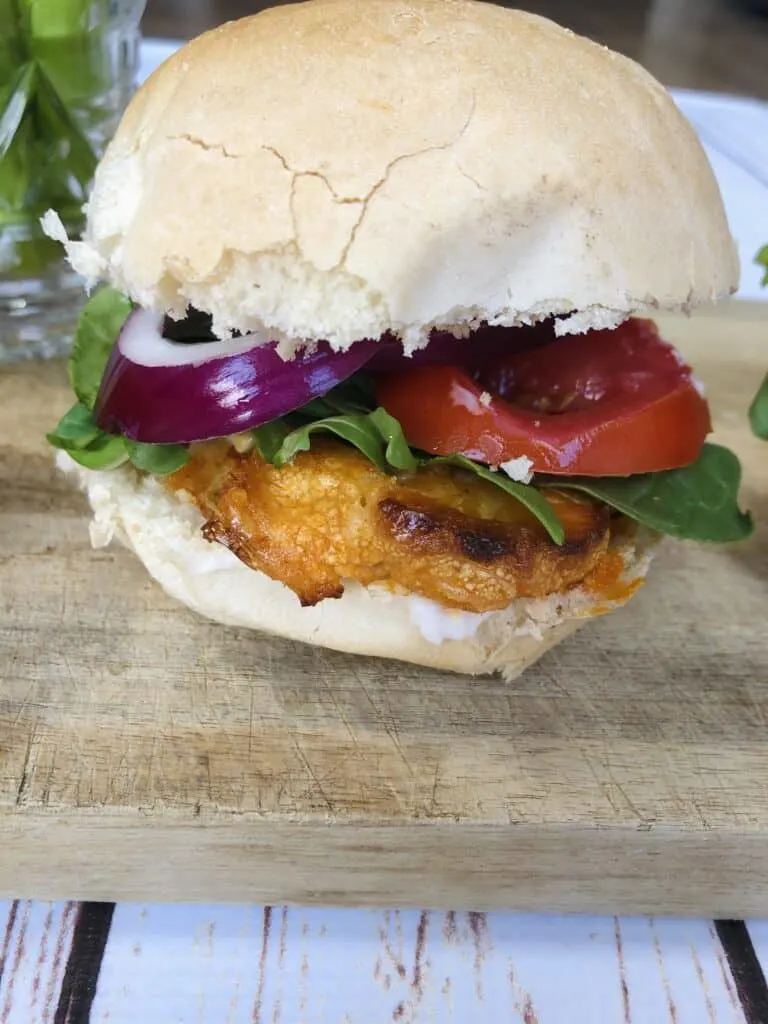 This vegan buffalo chicken sandwich is crispy and delicious. It is made possible with the humble cauliflower. Packed with the right amount of spice, flavour and crunch, this buffalo cauliflower sandwich is one for the favourites.
Ingredients
3/4 cup all purpose flour
1/2 cup non-dairy milk
1 tsp garlic powder
1 tsp onion powder
1 tsp paprika
1 tsp salt
1 head of cauliflower
1/2 cup of vegan buffalo sauce
2 bread buns of choice
2 tbsp vegan ranch dressing
Toppings: red onion, beef tomato, greens
Instructions
Whisk the milk and flour together in a bowl, add all of the spices - this forms the batter
Cut two cauliflower steaks from the middle of the cauliflower
Dip both cauliflower steaks into the batter, ensuring it is completely coated
Place on a lined baking tray and place in the oven to bake for 20 minutes at 180c/356F
After the twenty minutes, remove from the oven and coat in the vegan buffalo sauce
Return to the oven for 15 minutes for further cooking, if you are planning to BBQ then reduce oven cooking time by 7 minutes
Prepare the buns now, add a tbsp of vegan ranch dressing to each bun, dress with toppings of choice - red onion, tomatoe and greens are a classic choice.
Remove cauliflower steaks from the oven and place in buns.
Enjoy!
Notes
* You can easily create a side portion of vegan cauliflower wings or bites with the remaining cauliflower from the head. Simply follow the same steps of coating in batter and then sauce
** This is best eaten fresh but of course the cauliflower steaks can be stored in the fridge for a couple of days for reheating or snacking straight from the fridge!
Recommended Products
As an Amazon Associate and member of other affiliate programs, I earn from qualifying purchases.
Nutrition Information:
Yield:
2
Serving Size:
1
Amount Per Serving:
Calories:

680
Total Fat:

22g
Saturated Fat:

6g
Trans Fat:

0g
Unsaturated Fat:

12g
Cholesterol:

46mg
Sodium:

3223mg
Carbohydrates:

93g
Fiber:

15g
Sugar:

15g
Protein:

32g
This is an estimated calculation
You may also love
Vegan Seitan Burger with Beetroot