These stuffed vegan blintzes are the perfect vegan brunch that will impress. They are versatile and can be made sweet to savoury. These sweet vegan blintzes are stuffed with a sweet vegan cream cheese and topped with a delicious, simple homemade raspberry compote.
These vegan cream cheese blintzes are super satisfying and feel like somewhat of a treat to munch on. This particular vegan blintz recipe calls for buckwheat crepes, with a homemade tofu cream cheese packed in the middle.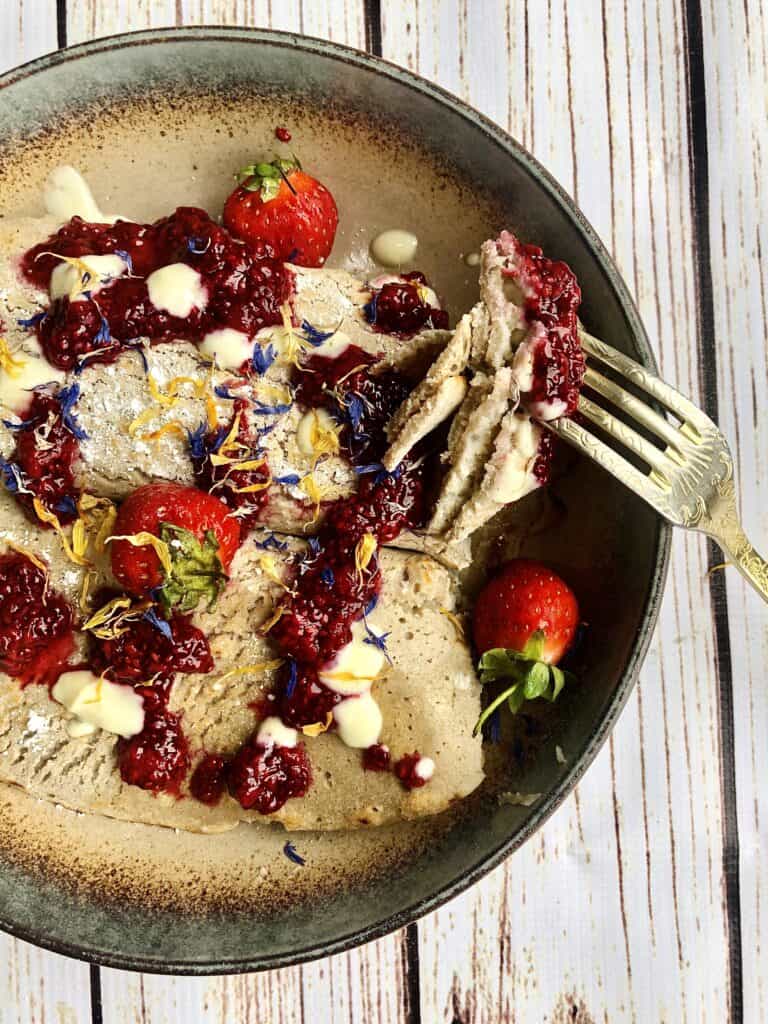 Buckwheat Blintz
Buckwheat is an incredibly nutritious and gluten free flour option. It is made from the buckwheat seed and gives this easy blintz recipe an earthy flavour.
Having a gluten free blintz recipe with buckwheat flour makes it more inclusive to those with specific dietary needs. And lets face it – vegan buckwheat crepes are delicious!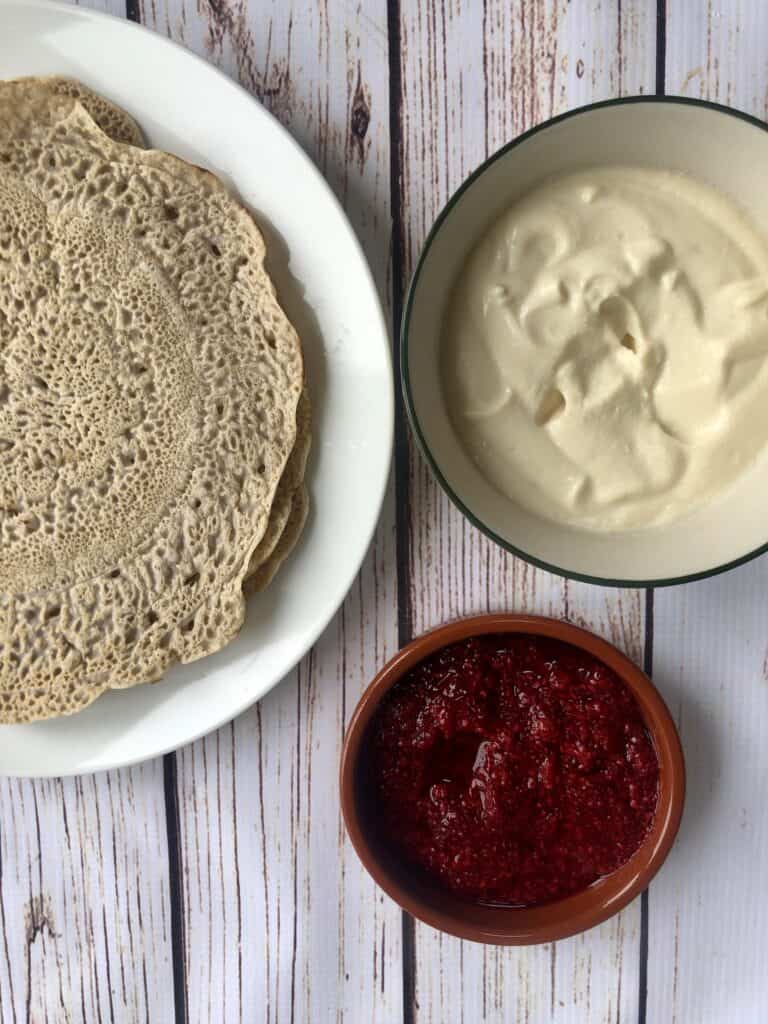 What Are Blintzes?
A blintz is traditionally a Jewish cigar shaped pancake. They are often served during Jewish holidays such as Shavout. Additionally, they have been popularised particularly in New York eateries.
Like most foods, they are usually made with animal products such as milk and eggs. This vegan gluten-free blintz recipe however is not lacking in flavour at all.
Vegan blintzes are a thin crepe, usually stuffed with a vegan cream cheese. They are rich and delicious!
Topping them with berry compote brings all the flavours and layers together. Fresh blueberries are a popular option, however we have used a quick homemade raspberry compote instead. Both work equally as well.
Vegan blintzes are literally so satisfying and you can choose from a range of fillings of vegan cream cheese is not your thing. Blueberry blintz recipes seem to be the most popular.
I first discovered vegan blintzes in a vegetarian cookbook and became hooked! Some even choose to make blintz souffle – however this is not one I've got around to veganising yet!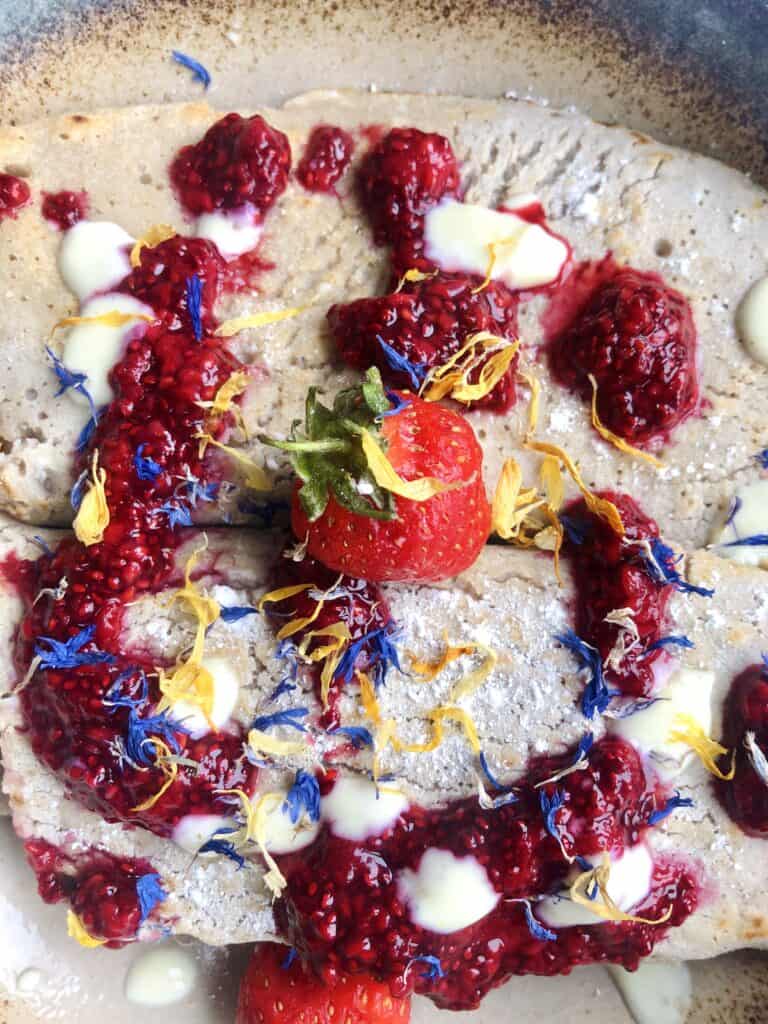 Vegan Cream Cheese
There are some vegan cream cheeses available from the supermarkets, however often this is few and far between, making accessibility difficult for some. More readily available to most people is tofu however.
This vegan cream cheese calls for a few simple ingredients and is largely composed of silken tofu. Preparing the homemade vegan cream cheese ahead of time allows for it to set.
It's almost like a pancake version of vegan cheesecake! This vegan cheese blintz recipe is super easy with a little preparation.
Silken Tofu
Vanilla Extract
Powdered Sugar
Freshly Squeezed Lemon Juice
Apple Cider Vinegar
Vegan Butter
How Do You Make Blintzes?
How to make blintzes is a step by step process. The ingredients for the vegan crepes are fairly simple and straightforward. Keeping the blintz batter fairly basic means it is adaptable to the sweet or savoury palette.
Buckwheat Flour
Baking Powder
Water
Salt
Whisking all the ingredients together and leaving to one side for approx. 20 minutes to achieve room temperature is helpful. However the vegan batter can be made the day before and simply left to achieve room temperature prior to cooking.
This might be one of the best vegan crepe recipes in terms of taste, versatility and reliability for this.
Pre-making the vegan cream cheese will save time and fuss. However if you need to make the tofu cream cheese close to the time you are cooking the buckwheat crepes, simply make it first and place in the freezer to speed up the solidifying process.
The raspberry compote made in this vegan blintz recipe is simple and straightforward and can be made after the home-made vegan cream cheese. It doesn't take long, simply gently simmering some berries, agave, chia seeds and a little water in a pan.
It seems blueberry blintzes are the most popular, so I changed it up a bit and used raspberry compote instead.
How To Cook Blintzes
The buckwheat blintz batter can be cooked in a non-stick pan. Simply rub some oil onto the pan with a piece of kitchen roll or silicone brush with just enough to coat it thinly.
Place pan over a medium heat and divide batter into approx. 100mls measures or one label full. When the batter hits the pan it will start cooking straight away with the batter beginning to firm up.
Try to wiggle the batter around in a circle so it forms a thin crepe rather than a thicker, smaller pancake. We need it bigger and thinner to achieve peak vegan blintz and to fold all the tasty filling ingredients up!
How To Fold Blintzes
Although these vegan crepes need to be thin, they also need to be sturdy enough to fold up into neat parcels.
Dont overfill the vegan blintz, use approximately two tablespoons of filling, fold the bottom up, fold in the sides and then the top.
Place seal down on a flat surface until ready to reheat.
Toppings For Vegan Cheese Blintzes
Berry Compote
Strawberry Sauce or Jam
Fresh Blueberries
Edible Flowers
Powdered Sugar and Freshly Squeezed Lemon Juice
Lemon Zest
Peach Jam
Vegan Honey, Agave, Maple Syrup
Vegan Yoghurt
Savoury Vegan Blintz Fillings
Potato, spinach and mushroom hash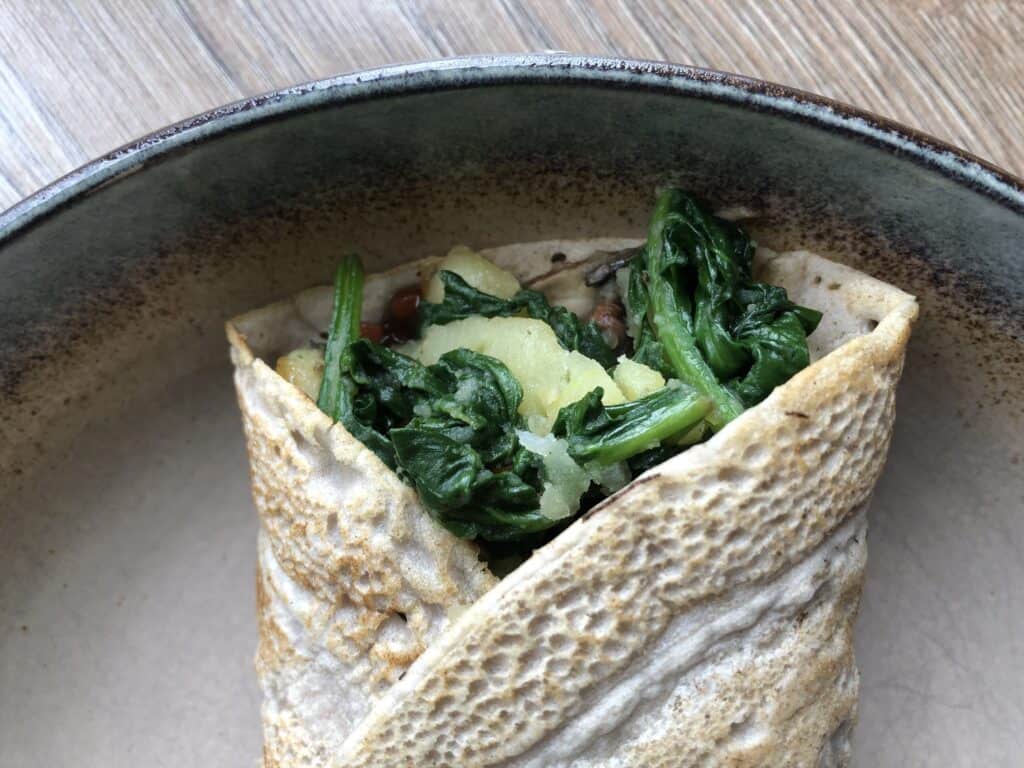 Yield: 6
Vegan Blintz Recipe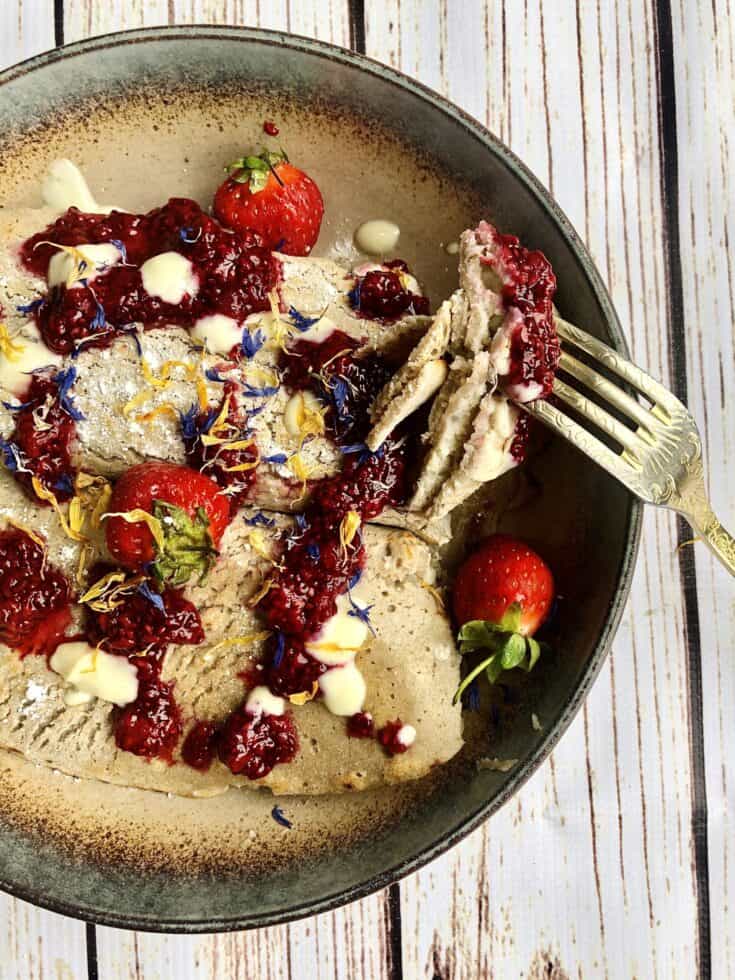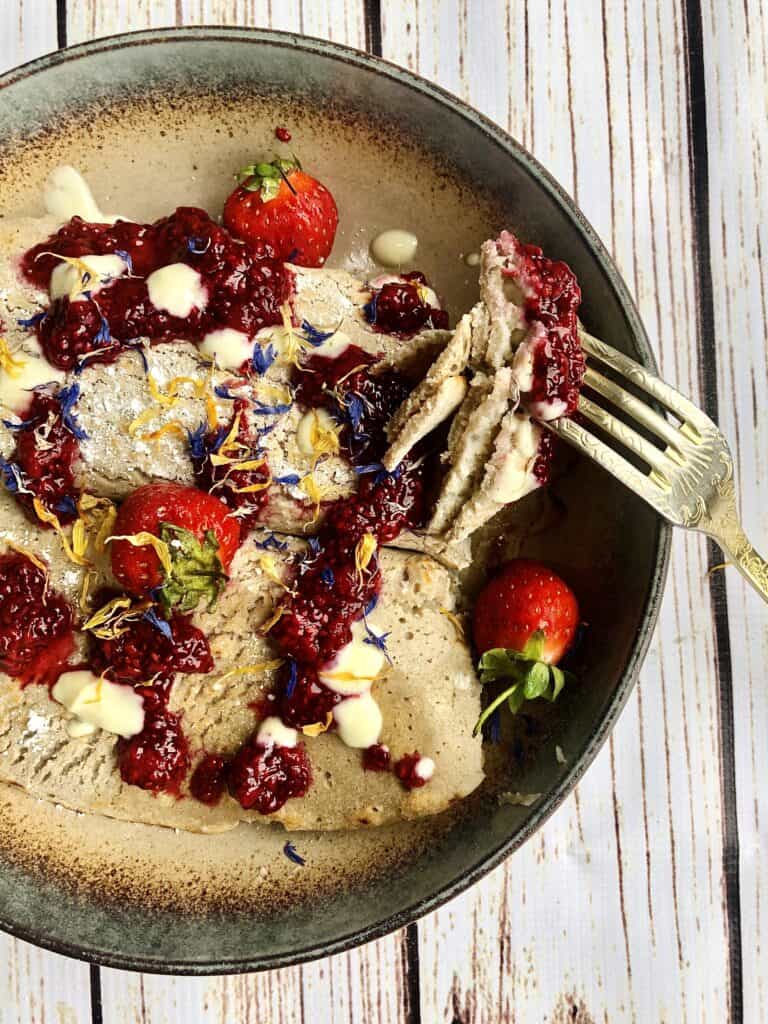 This vegan blintz recipe is a traditional Jewish classic that is sure to impress for a fancy vegan brunch. Stuffed with vegan cream cheese and topped with a delicious berry compote - you will be sure to go for seconds!
Additional Time
10 minutes
Total Time
1 hour
20 minutes
Ingredients
Buckwheat Crepes
220g /2 cups Buckwheat Flour
1 tsp Baking Powder
430mls / 2 cup Water
1/2 tsp Salt
Tofu Cream Cheese
300g Silken Tofu
1 teaspoon Vanilla Extract
3 tbsp Powdered/Icing Sugar
1/2 Freshly Squeezed Lemon Juice
1/2 tsp Apple Cider Vinegar
1 tbsp Vegan Butter
Raspberry Compote
1 cup raspberries (fresh or frozen is fine)
1 tbsp Agave Syrup
1 tbsp chia seeds
1 tsp water
Instructions
To make the tofu cream cheese, place all of the ingredients in a blender and blitz until smooth. You can make this the night before or earlier and place in the fridge to solidfy. If not, simply place in the freezer for about 45 mins approx. to firm up while you make the rest.
On a gentle heat, add all of the ingredients for the berry comptoe into a pan and stir gently. You only need a little water to get things moving and eventually the raspberries form a beautiful compote. Leave to one side to cool.
Add the ingredients for the buckwheat crepes to a bowl and whisk unitl smooth. Place aside to achieve room temperature.
Brush a pan lightly with some oil, use either a silicone brush or some paper towel. Heat pan over a medium heat.
Scoop approx. 100mls of batter or one ladel full of buckwheat batter into the heated pan. Give the batter a wiggle so it spreads out into a thinner crepe rather than left sitting and forming a thick pancake.
Cook on both sides until slightly golder (2-3 minutes each side). Repeat until batter is gone.
Assemble the blintzes! Spoon no more than 2 tbsp of vegan cream cheese in the centre of a crepe. Fold the bottom up, the sides in and then the top down so you have a neat parcel. Place on a flat plate or dish, seam down.
These can be left in the fridge until you are ready to reheat. Or if you are ready to cook - brush the pan with some vegan butter this time on a medium heat. Place the folded and filled vegan blintzes into the pan seam down and cook on each side for approx. 3 minutes. You may be able to fit aorund three blintzes in your pan.
Alternatively, reheat the vegan blintz in a casserole dish in the oven 200c/390f for approx. 20 minutes. This can save some effort of flipping them in the pan.
Once reheated, they are ready to top with your favourite toppings! We chose raspberry compote, some vanilla vegan yoghurt and edible flowers.
Enjoy!
Recommended Products
As an Amazon Associate and member of other affiliate programs, I earn from qualifying purchases.
Nutrition Information:
Yield:
6
Serving Size:
1
Amount Per Serving:
Calories:

229
Total Fat:

6g
Saturated Fat:

2g
Trans Fat:

0g
Unsaturated Fat:

3g
Cholesterol:

5mg
Sodium:

303mg
Carbohydrates:

39g
Fiber:

6g
Sugar:

8g
Protein:

9g
this is an estimate
If you would like a full guide on cooking with buckwheat then click here!