I made this watermelon smoothie bowl on a scorching hot day and it went down an absolute treat. You know one of those days when it's so hot, no amount of water can quench the thirst?
Smoothie bowls have been my go to vegan lunch over the summer. From blue smoothie bowls to cacao smoothie bowls to passion fruit papaya smoothie bowls and everything in between, I have loved creating these pretty and nutritious bowls of heaven!
There is nothing better than a really cold red watermelon straight from the fridge but they are sooo big, so sometimes it's nice to do something different with all that flesh.
Make sure to check out our vegan lunch ideas.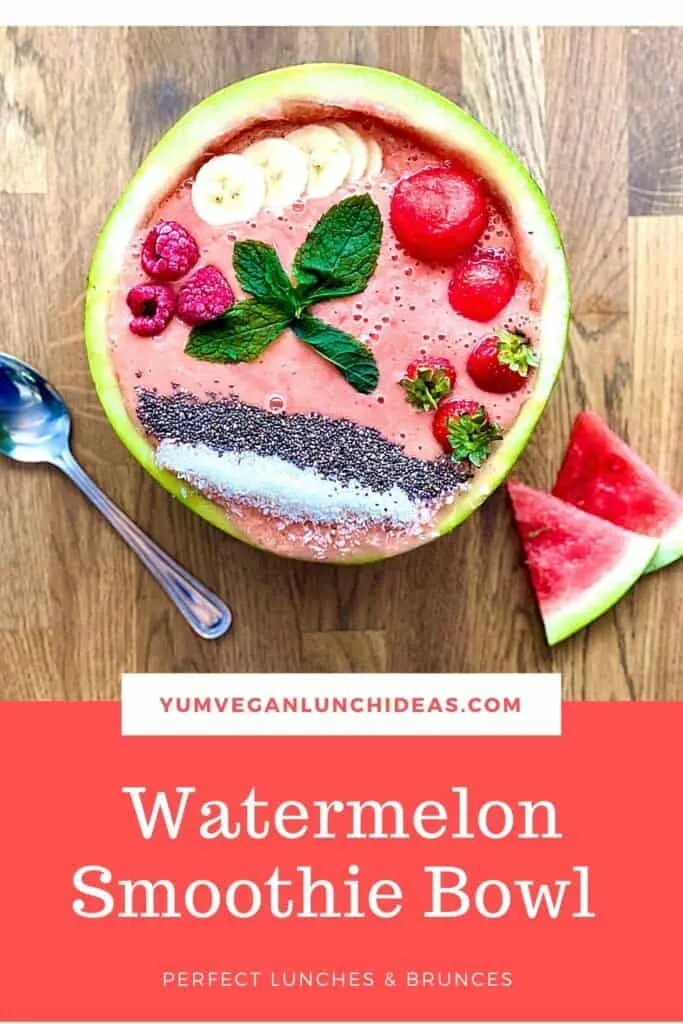 Not to mention giving the outer skin a second use. In this recipe we used the skin as a bowl which I love so it's not just chucked straight in the bin.
Banana & Watermelon Smoothie Bowl
This recipe is really easy, all you need is a nice sized melon and some other every day frozen fruits.
Make sure to shop for a good watermelon, my local health store always have really tasty ones. The inside should be sweet in my opinion, they are the best ones.
For this recipe you will need to cut the melon in half, and using a melon baller
scoop out the flesh of one side. Keep the skin in the fridge so you can convert it into a bowl later.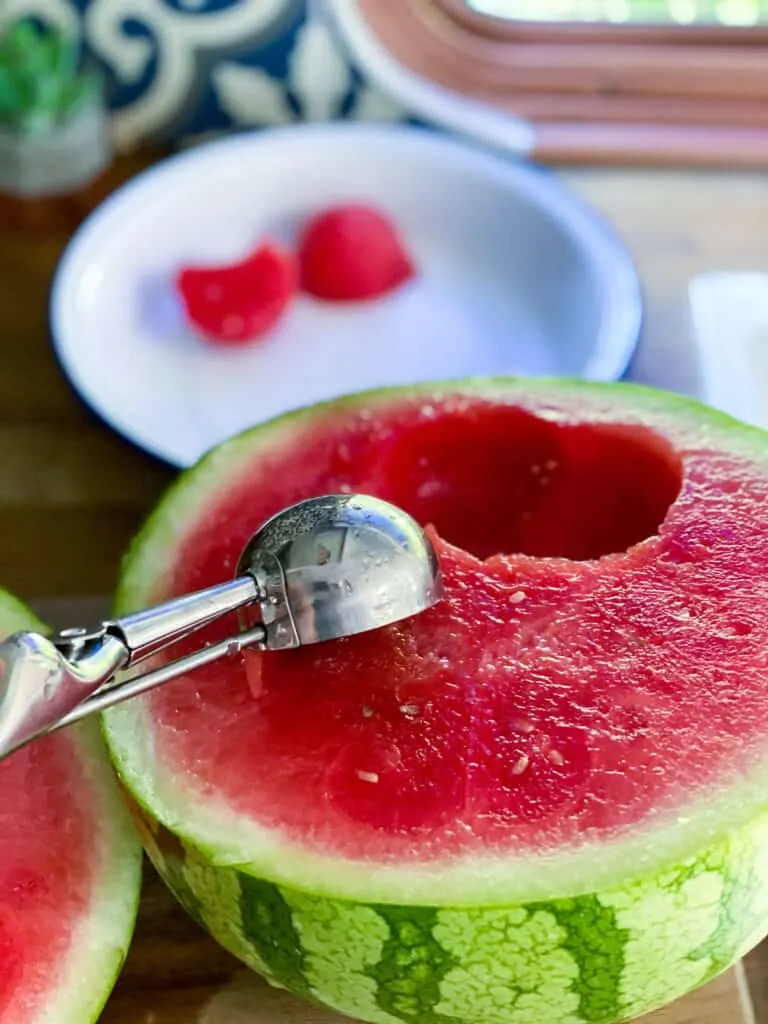 Ingredients
If you also freeze a whole banana and a handful of strawberries along with the melon as these are also in this recipe.
Once all of your fruit is frozen it's just as simple as putting it all in the blender with the other ingredients.
For this smoothie, you'll also need a cup of plant based milk and a tablespoon of maple syrup. Just whizz them all together until silky smooth.
Take the watermelon skin out of the fridge from earlier. Cut a fine slice off the bottom so it won't roll when and will sit nicely on a flat surface.
Pour the smoothie mix into the 'melon bowl'. Depending on the size of your melon, you make have too much mix which is fine, just pop it in the fridge for later in an air tight container or refill if you are still hungry!
Storage
You can store the smoothie mix in an air tight container for 2-3 days. Just give it a good shake as all smoothes tend to separate when still.
Once the smoothie is in the bowl, gently place your toppings. You really want the mix to be quite thick to hold the toppings so they don't sink so you can always add the milk slowly to the blender if you prefer.
Toppings
In this banana and watermelon smoothie bowl pictured in this recipe, I used:
Chia seeds
Coconut flakes
Strawberries and raspberries
Leftover melon balls
Sprigs of fresh mint
Some additional ideas may include:
Nuts
Other seeds
Granola
Lime wedge
Likewise you could add other tropical tasting ingredients to the smoothie mix. You could replace the milk with coconut cream. Replace the banana with pineapple and lime goes incredible well with watermelon too!
Blender
If you don't have a smoothie blender, I can highly recommend both the Ninja and the Kenwood.
I love that you just screw the cup right in there, it's not oversized when it comes to washing up and can be stored in the fridge if you make extra quite easily.
I am all about keeping the washing up to a minimum. Both blenders are pretty strong and will get through the frozen fruit without and issue. At the end, you'll expect to get a relatively thick but creamy consistency to your smoothie.
To check out the Ninja click here here or the Kenwood click here.
Yield: 2
Watermelon Smoothie Bowl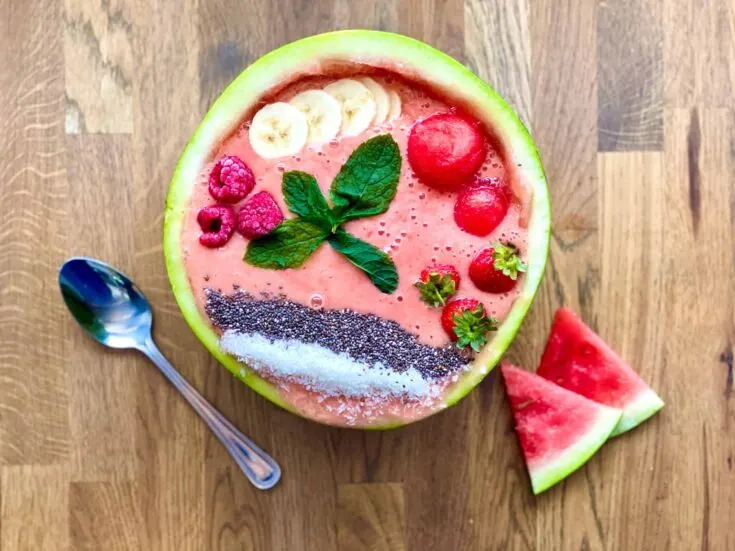 Try this refreshing watermelon smoothie bowl. Featuring frozen fruits and delicious toppings this watermelon and banana smoothie bowl is such a great vegan breakfast, lunch or brunch! YUM VEGAN
Ingredients
1/2 a watermelon
1 cup of unsweetened plant milk
1/4 a cup of frozen strawberries
1 large frozen banana
1 tbsp of maple syrup
Optional toppings
Sprig of mint
2-3 watermelon balls
1 tbsp of chia seeds
1 tbsp of coconut flakes
1/2 a banana finely sliced
1/2 a cup of berries of choice
Instructions
Cut the watermelon in half and scoop out the content of one half with a melon baller. Put the melon balls in the freezer until frozen.
Put the watermelon skin into the fridge so you can use it as a bowl later.
When the watermelon is frozen, you can start making the smoothie.
Add the frozen banana, milk, maple syrup, frozen strawberries and 1/2 of the original watermelon balls into the blender. Blitz until smooth.
Get the watermelon bowl out from the fridge and cut a small amount off the end of it so it will sit flat on a surface. Don't cut too far otherwise you will get a hole.
Once the smoothie is bltized pour it into the watermelon bowl.
Add your toppings of choice.
In this recipe, I added more melon balls, sliced banana, berries, mint, chia seeds and coconut flakes.
You will have some left over melon from scooping it out, just keep it in the frezer or eat it fresh!
Not all melons are good, for a red melon you want sweet and fresh, make sure you inspect it before buying. Always keep it refidgerated before use as it keeps so much fresher!
Notes
You can add mint and lime and lime to the smoothie mix to give it extra zing, this is a really good combo.
You can store the smoothie mix in an air tight container for 2 to 3 days.
Drink the smoothie on the go without the bowl toppings for ease if you need a grab and go option.
You can use a variety of other toppings including granola, nuts and so on depending on what you have available in your pantry.
Recommended Products
As an Amazon Associate and member of other affiliate programs, I earn from qualifying purchases.
Nutrition Information:
Yield:
2
Serving Size:
1
Amount Per Serving:
Calories:

395
Total Fat:

6g
Saturated Fat:

3g
Trans Fat:

0g
Unsaturated Fat:

3g
Cholesterol:

10mg
Sodium:

81mg
Carbohydrates:

84g
Fiber:

9g
Sugar:

54g
Protein:

10g
Disclaimer: There are affiliate links in this post. By using them, we will get a small commission of the sale at no extra cost to you. It's the little things like this thats keep us afloat. We never recommend something we don't believe in, always tired and tested too.