I have been playing with ingredients for a while to come up with the best homemade vegan bagel sandwich! This is such a delicious bagel with vegan lox and cashew cream cheese.
I really love bagels they are such a great ingredient to add to your list of vegan lunch ideas. Is there anything better than a freshly toasted bagel loaded with creamy cheese?
It's such a tasty and warming lunch and something the whole family enjoys. The great thing about this recipe is it can be eaten at brunch.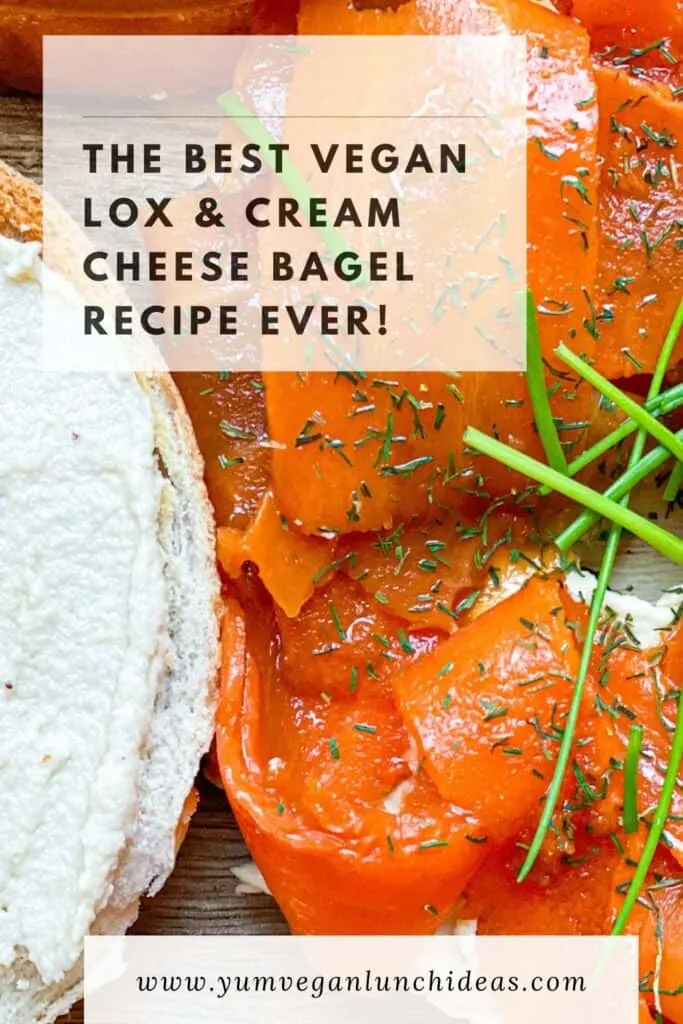 Lox and cream cheese bagels are quite a common brunch item on the menu in Europe and Australia. I know in the US, it's more common to eat sweet brunch meals versus savoury. But hey, it's good to branch out right?
When I was a kid our parents always made lox and cream cheese bagels on Christmas morning. Of course it had real salmon back in those days.
In my pre vegan days I wasn't a huge fan of fishy flavours but I do remember enjoying the smokey flavours.
I love recreating and turning old classics into vegan delights. Especially since I try to encourage my non-vegan husband to go vegan by showing him how easy and tasty it is!
Vegan Lox – Vegan Bagel Toppings
There are so many vegan bagel toppings to choose, from the ultimate tofu loaded bagel to scrambled egg tofu, we have tonnes of ideas to share.
Vegan lox can be made with a variety of different vegetables. Some people use red peppers, others use tomatoes.
However in my opinion carrots work best in terms of flavour, texture and appearance. It's really easy, to make lox with carrots.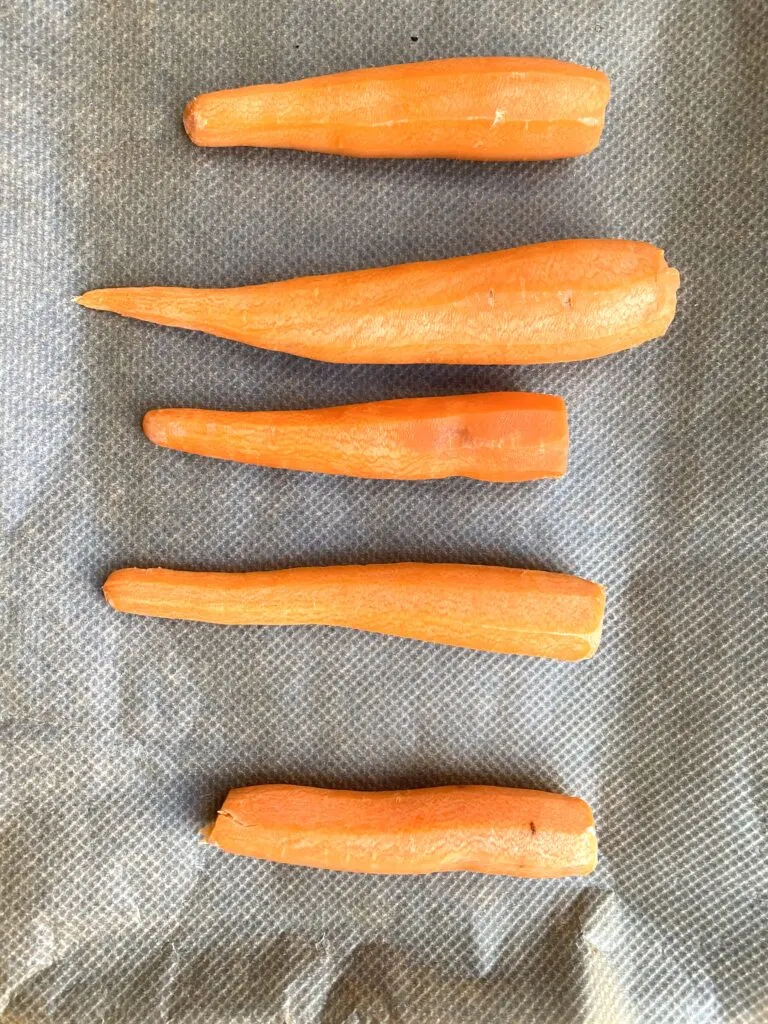 You will need to bake 2-3 whole carrots before letting them cool down and shaving the lox with a vegetable peeler.
Whilst the carrots are cooking you can make the marinade to create the unique flavours of the lox. For this, you'll need:
All you need to do is mix the ingredients together for the marinade and set it to one side.
Once you've shaved the carrots you add the lox to the marinade make sure all of the contents are completely covered and refrigerate for at least 30 minutes! The longer the better!
You can keep the lox in the fridge for up to three days in an air tight container. You can of course have bagels for a few days for your brunch or lunch, or the lox could be added to a salad!
Lox are best served cold on a vegan bagel sandwich and certainly need an hour or two to soak up the flavours of the marinade.
After sufficent time to marinade, the lox should be a deep red / brown colour. I was really impressed with our beautifully deep the colour comes out.
Vegan Bagel Spread
I am a big fan of vegan cream cheese. Sometimes, I buy it, but it's so easy to make at home and probably works out to be more affordable. I find shop bought cashew cream cheese expensive.
This vegan cream cheese is:
Full of flavour
Creamy
Smooth
You will need approximately a cup of raw cashews. The options are, you can either soak them overnight in water, or if you don't have time, with hot water over the period of 2 hours.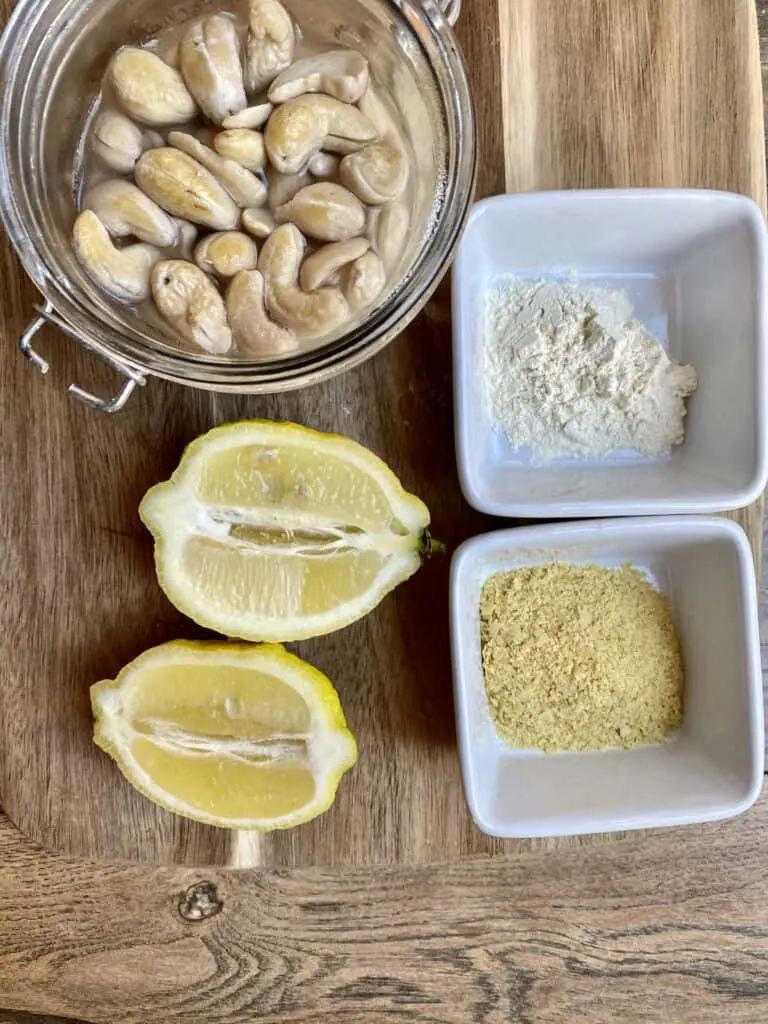 Soaking the cashews allows them to go soft and makes it easier to get that creamy smooth consistency.
You'll need a blender to make the cashew vegan bagel spread. The Kenwood Mini and the Ninja food chopper are awesome for making recipes that involve blending cashews.
Once your cashews are soft, add them to the blender. You will also need:
Add all of the ingredients accept the oat milk to the blender. Blitz until smooth as possible, add oat milk to get the desired consistency, add small amounts at a time until smooth.
You need to be patient when blending cashews into a cream cheese, I would say it takes around ten minutes to get the right consistency.
I added some freshly chopped chives to the cream cheese at the end by folding it in.
I love the extra flavours that come from chives in a cream cheese. It's a classic combo but tastes so good! Put it in the fridge and let it cool and form into the perfect spread.
If cashew allergy is a problem we have an awesome nut free alternative with our Sunflower Seed Cream Cheese Recipe.
Vegan Bagel Brands
Some people are awesome and make their own bagels but in truth, we just bought ours for this recipe!
Most bagel brands are vegan but some do contain dairy. To help you out, we've come up with this list of safe vegan bagels:
In The USA
Dunkin' Donuts Bagels – Plain, Cinnamon Raisin, Everything, Sesame, Multigrain
Sara Lee Bagels- Plain, Onion, Blueberry, Everything
Thomas' Bagels – Plain, Whole Wheat, Plain with Whole Grain, Onion, Everything, Blueberry, Cinnamon Swirl, Cinnamon Raisin
Panera – Plain, Blueberry, Cranberry Walnut, Sesame
Trader Joes – Plain, Whole Wheat
Rudi's Organic Bakery Bagels
In The UK
New York Bakery Co- The Original, Cinnamon Raisin, Sesame, Wholemeal, Red Onion & Chive, including all thin and gluten free products as well!
Warburtons – Sesame, Plain & Cinnamon Raisin. The full range of think bagels are also vegan.
I am sure there are a tonne of others but these are some of the most popular bagels you are likely to come across in the US and UK.
Keep in mind, some of these products may be prepared in a factory with non-vegan products but they do not contain them.
Preparing The Vegan Bagel Sandwich With Lox
Split your bagel in half and toast until warm. Spread the cream cheese on the bottom half.
Top it off with the vegan lox, load it up as much as you like. Put the top on and serve immediately.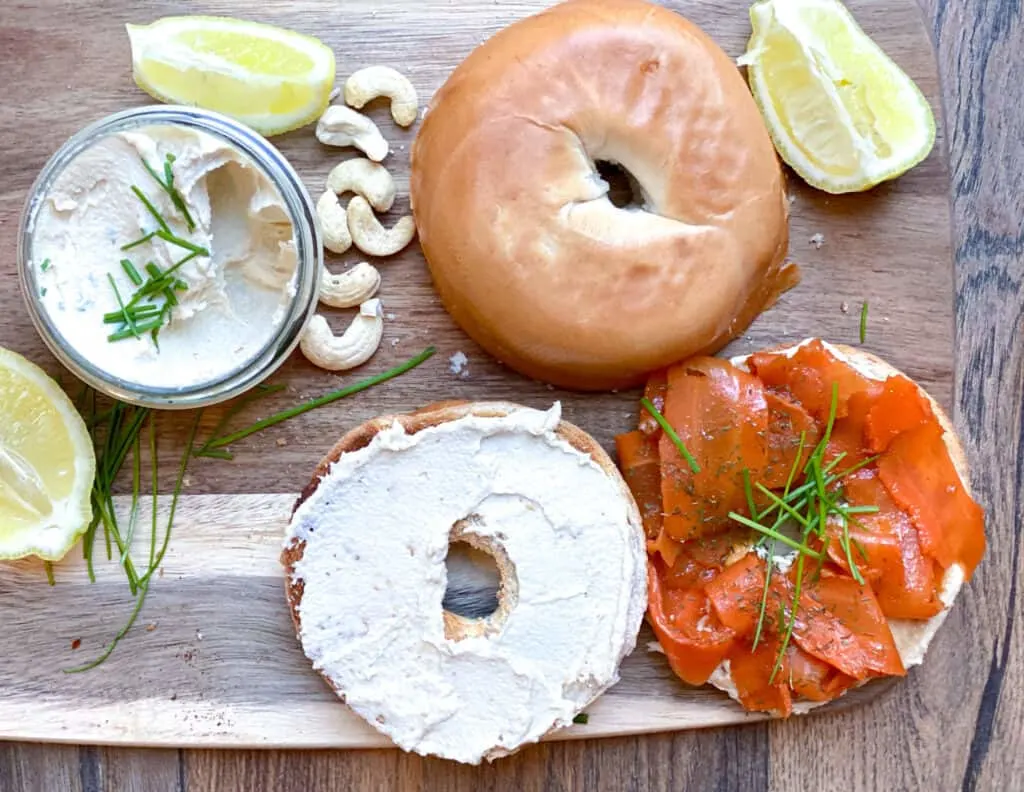 The vegan bagel sandwich is best served straight after preparation. However the lox and cream cheese can be stored for other uses.
For example a vegan lox salad, or vegan cream cheese on crackers as a snack.
If you do want to take it to work for example, bring it unassembled. I love my small stainless stacking lunch box, perfect for lunch that works best when freshly prepared.
If you are a vegan and love all things sandwiches, you may also like:
Yield: 4
Vegan Bagel Sandwich with Vegan Lox & Cashew Cream Cheese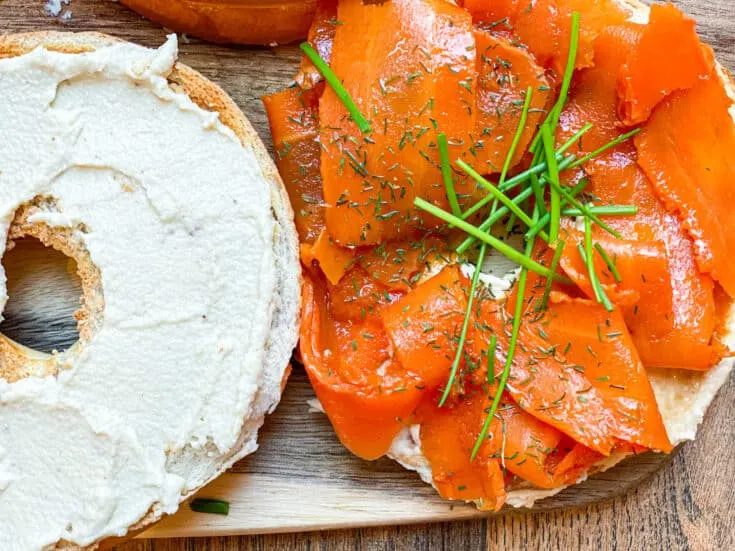 Try this ultimate vegan bagel sandwich recipe loaded with cashew cream cheese and delicious vegan lox. This is one of my favourite vegan lunch ideas. The vegan lox bagel! It's just the same as salmom and cream cheese only its completely VEGAN!
Additional Time
5 minutes
Total Time
1 hour
5 minutes
Ingredients
2-3 large carrots
1 tbsp of liquid smoke
1 tbsp of soya sauce
1 tbsp of vegan Worcester sauce
1 tbsp of lemon juice
1 nori sheet (optional)
Cashew Cream Cheese
1 tbsp of nutritional yeast
1 tsp of onion powder
1 tsp of lemon juice
1 cup of soaked cashews
1/4 a cup of oat milk
For assembly
4 bagels
3-4 sprigs of fresh chives (optional)
Instructions
Start by adding the cashews and soaking overnight in water. If you don't have time add hot water and leave for 1 to 2 hours.
Prepare a baking tray with baking paper and pre-heat the oven to 350 f (180 c).
Add the carrots after washing and sprinkle with salt.
Baked for 30-35 minutes
Turn occasionally
Once semi soft remove from the oven and allow them to cool down.
In a bowl add the liquid smoke, soy sauce, lemon juice and vegan worcester sauce. This is going to be the marinade of the lox. If you like the fishy flavours smash the nori sheet into tiny pieces and add it to the marinade. I am not a fan of this flavour personally.
Once the carrots are cool enough to handle take a vegetable peeler and slowly shave the lox until the carrot is almost gone. Be careful of your fingers!
Add the carrot lox to the marinade and put it into the fridge for a minimum of 30 minutes.
Meanwhile, strain the cashews and add them to the blender with the onion powder, nutritional yeast and lemon juice. You will need to blitz for up to ten minutes.
Add the oat milk to the cashews in the blender to get the right consitency just a little bit at a time.
The consistency shoud be smooth and creamy, make sure to taste test. Once you have it right, (optional) you can add chopped chives by folding it in.
Add the mixture to a pot with a lid and put in the fridge allowing it to form into a spread.
Toast the bagel lightly until warm, add a big dollop of the cream cheese to the bottom and load with the vegan lox you made earlier.
Top with chives if you like and serve immediatelty! Add a wedge of lemon to the plate for garnish!
Notes
You can buy both the cream cheese and the bagels if you want to keep your efforts to a minimum. The main thing you need to do is make the lox at home.
Nutrition Information:
Yield:
4
Serving Size:
1
Amount Per Serving:
Calories:

509
Total Fat:

18g
Saturated Fat:

4g
Trans Fat:

0g
Unsaturated Fat:

13g
Cholesterol:

0mg
Sodium:

728mg
Carbohydrates:

73g
Fiber:

5g
Sugar:

14g
Protein:

18g