I have been wanting to share my vegan cobb salad recipe for so long! It's taken time but I have been perfecting it continuously through discovering different ingredients. In particular, seitan, to mock the sliced chicken!
The Cobb Salad originates from the U.S and is considered a main dish It is one of the most filling salads I've ever had! So I have to agree, you need to be hungry to eat vegan Cobb Salad for lunch or dinner.
Cobb Salad is typically made with pieces of bacon, roast chicken, romaine lettuce, corn, avocado, red onion, tomatoes, eggs and chives. Here at Yum Vegan blog we veganize all of the classics, so you don't have to miss out on the dishes you grew up with!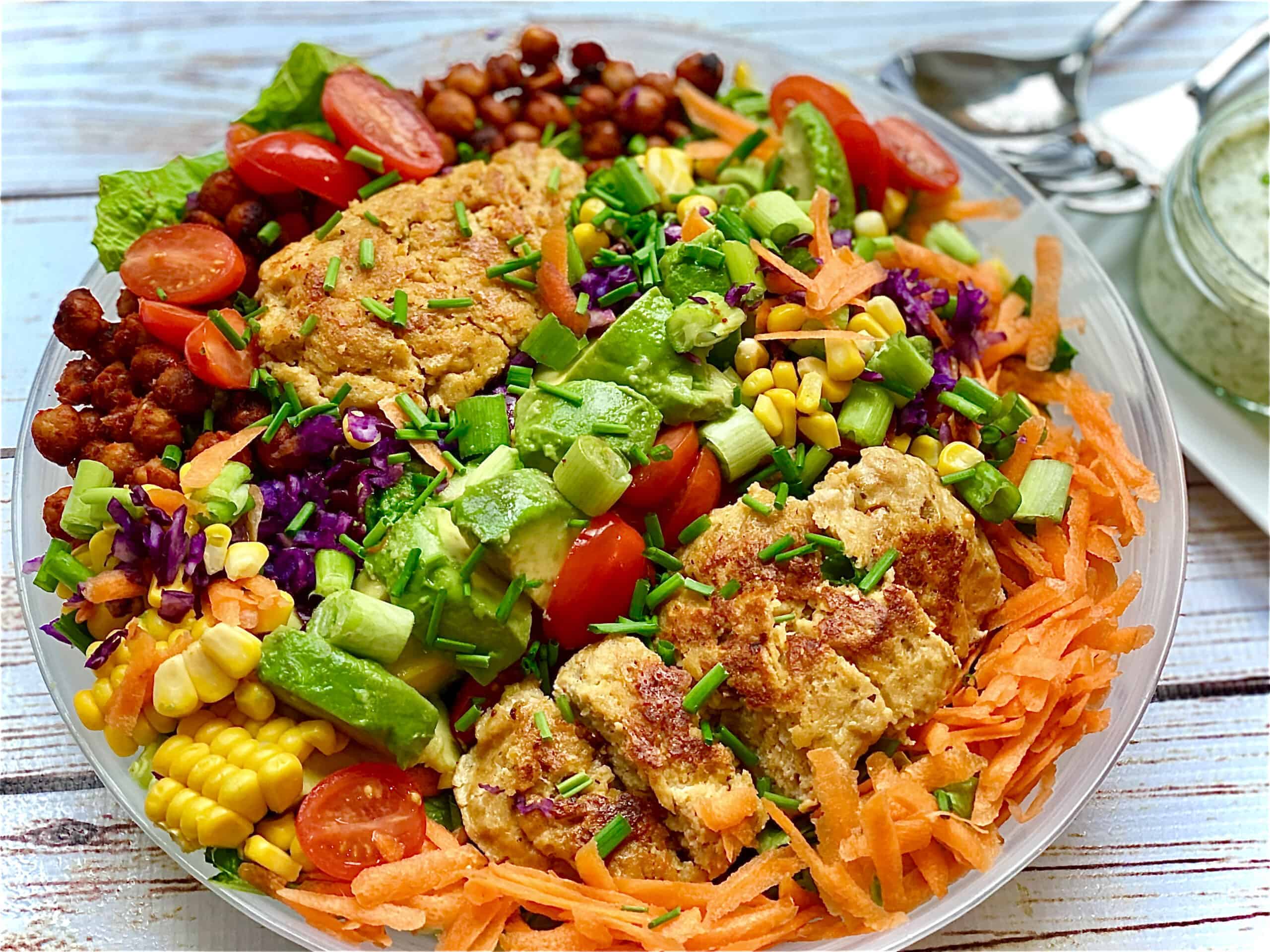 Vegan Cobb Salad Recipe
This recipe takes a little bit of time in comparison to our other quick and easy salads. For example, as our greek salad or our vegan caesar salad. We make everything from scratch and don't compromise on the usual flavours you get in a classic Cobb Salad.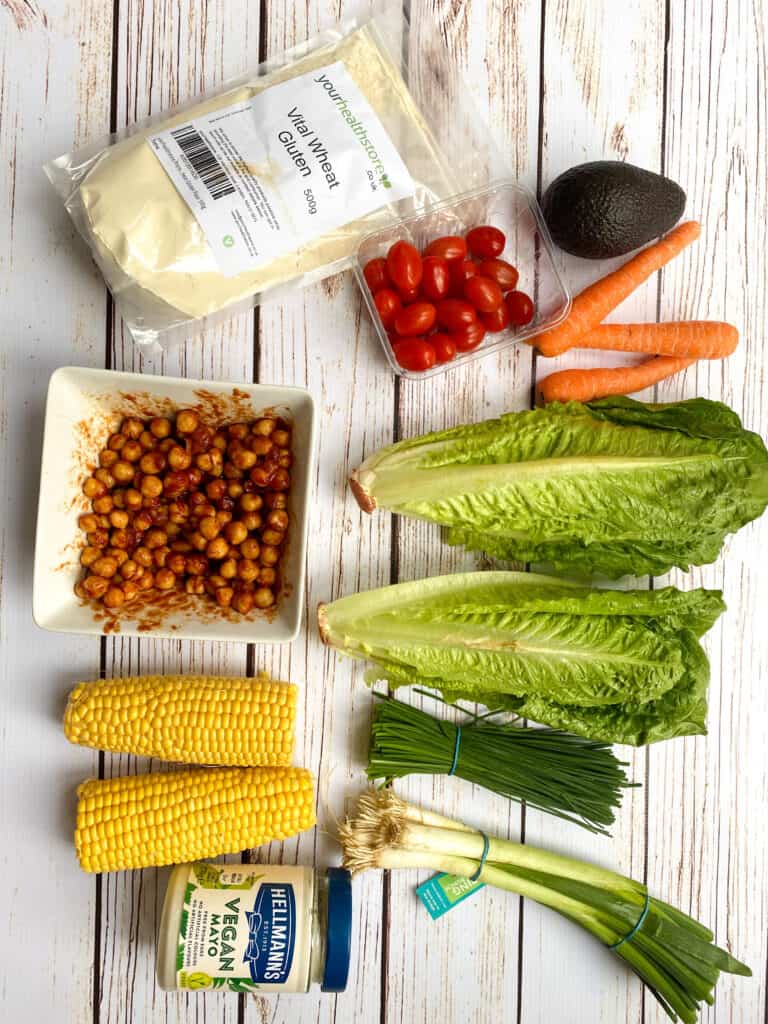 We make roasted vegan chicken from seitan to add to your Cobb salad. I am also going to show you how to make simple roasted bacon flavoured chickpeas and a ranch dressing.
There are a few elements to this, but of course you can pick and choose if you prefer to buy some parts from the store especially if you are time strapped.
There are plenty of nice vegan dressings, mock chicken / bacon if you prefer to keep this simple. That said, we wouldn't be doing our job properly if we didn't show you how to make the whole thing!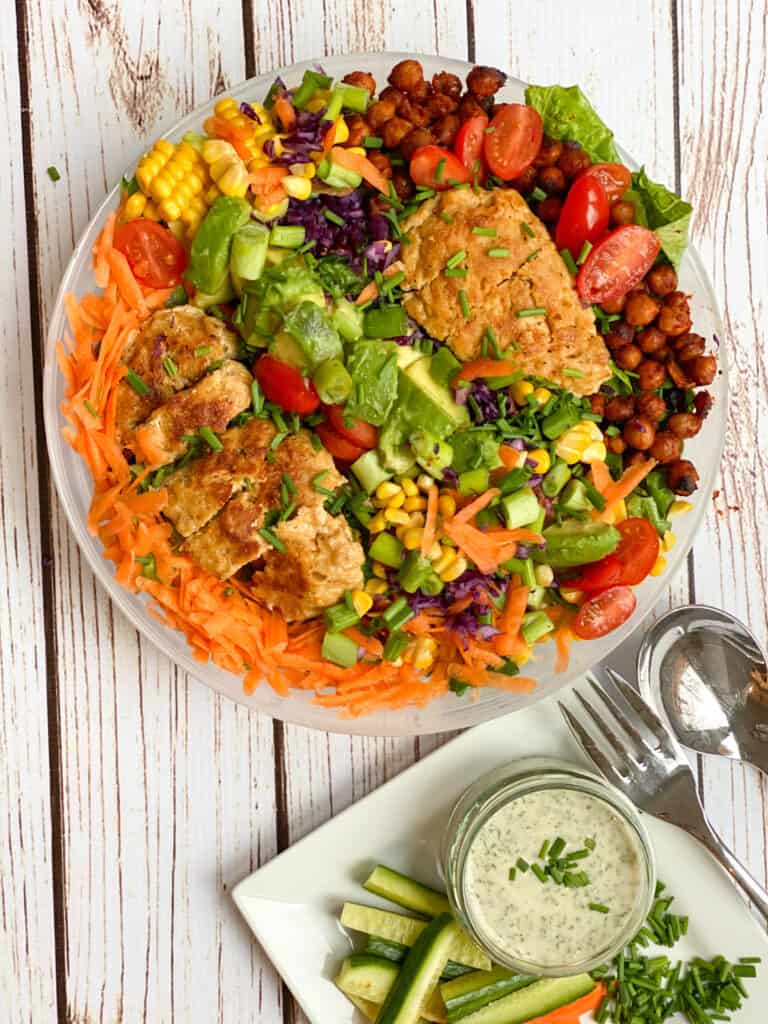 Roasted Chickpeas
Lets start by talking about the roasted chickpeas. The best thing to do strain and wash a can of chickpeas, make the marinade and pop them in the fridge overnight.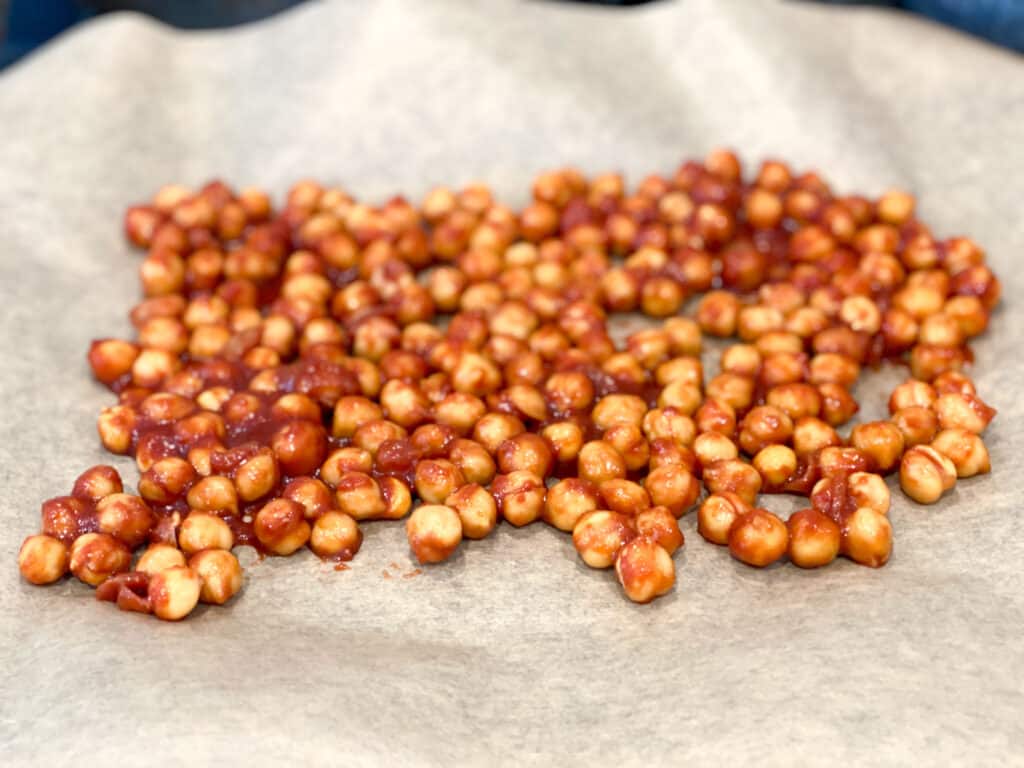 If you forget to marinade, even around 45 minutes in the fridge will do the trick. You only need a handful of ingredients and a tray lined with baking paper.
I made these crispy yum with a splash of vegan Worcester sauce, soy sauce, tomato puree, maple syrup and liquid smoke.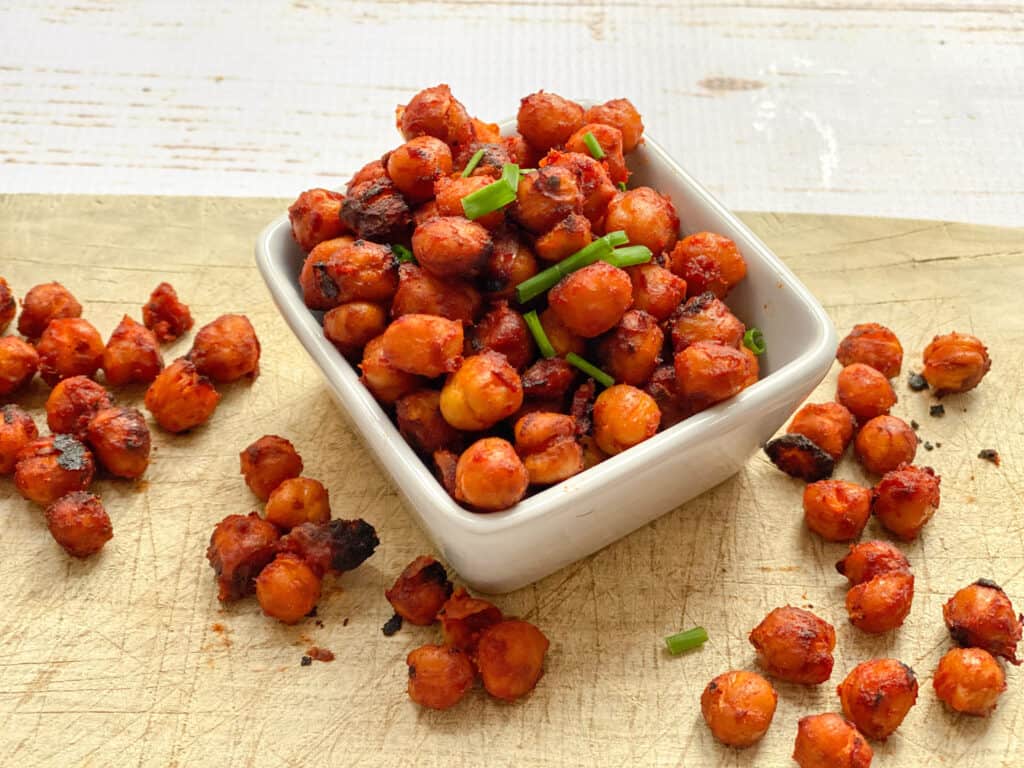 They taste amazing and could also work as a snack on their own. But of course, a Cobb Salad wouldn't be the same without those smoky salty flavours.
Roasted Seitan Chicken
Next up, I made the seitan chicken. This is probably the most time consuming part but definitely worth it, especially if you are feeding an omni loved one – I am all about convincing them with meat-like dishes!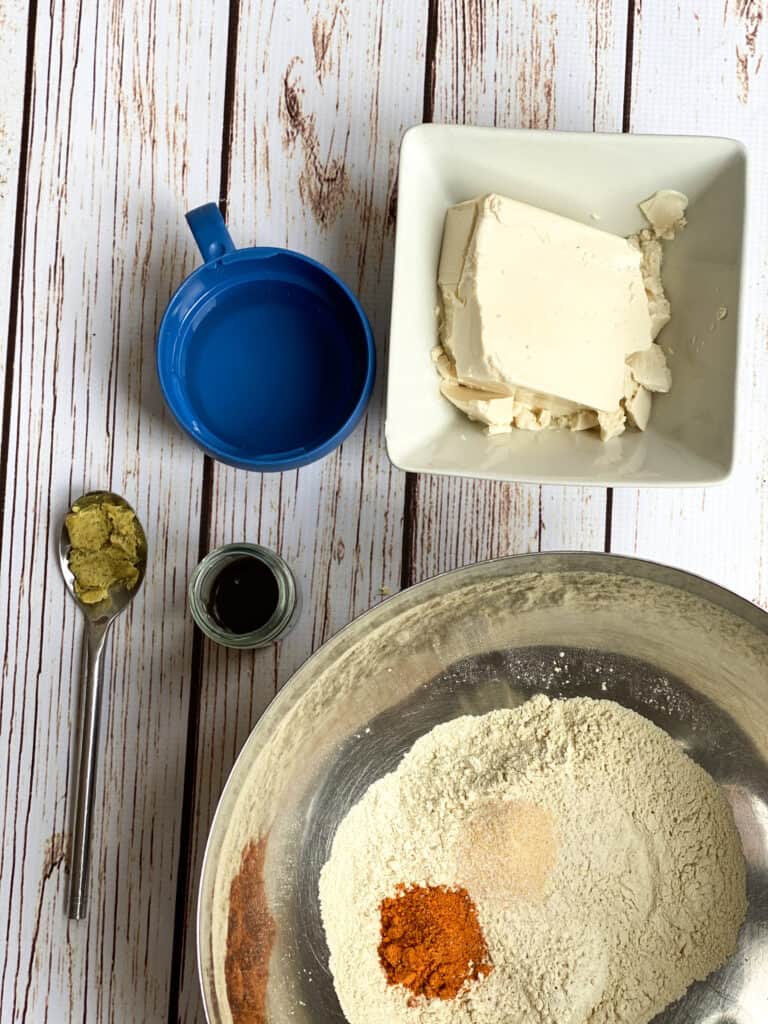 All you'll need here is onion powder, garlic powder, chicken seasoning, no chicken bouillon paste, vital wheat gluten, water, silken tofu and vegan Worcester sauce. Start off by mixing the dry ingredient before adding the wet ones.
The mix should come together like a dough. Knead it until you have a doughy consistency. Add water if it's too dry or add more vital wheat gluten if it's too wet.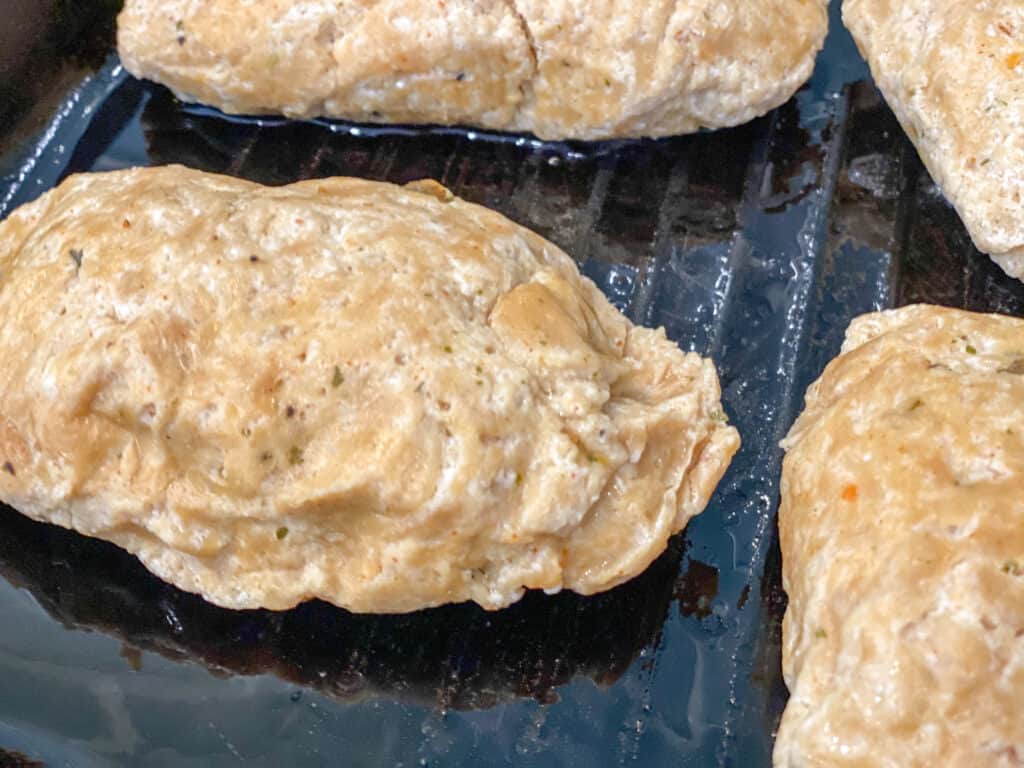 Don't play with the dough, you can make it become too tough and you'll really notice that when it comes to the final product. Next you need to cut the seitan into cutlets, wrap in boil proof tin foil paper and boil for 30 minutes.
Once they are boiled, unwrap the seitan and put on a plate to rest for a moment. They should be soft but formed. The final step in the process, is to decide wether to grill or roast (depending on your preference) until golden.
Once the seitan is ready, you'll just need to start layering the salad. Start with the lettuce, next all of the vegetables as mentioned in the recipe card below, the sliced seitan chicken and the roasted chickpeas!
Why not try vegan BBQ chicken?
Vegan Ranch Dressing
I added a drizzle of the ranch sauce dressing which is also really easy to make. All you'll need here is vegan mayo, oat or soya milk, dill, onion powder, garlic powder, vegan Worcester sauce and fresh chives.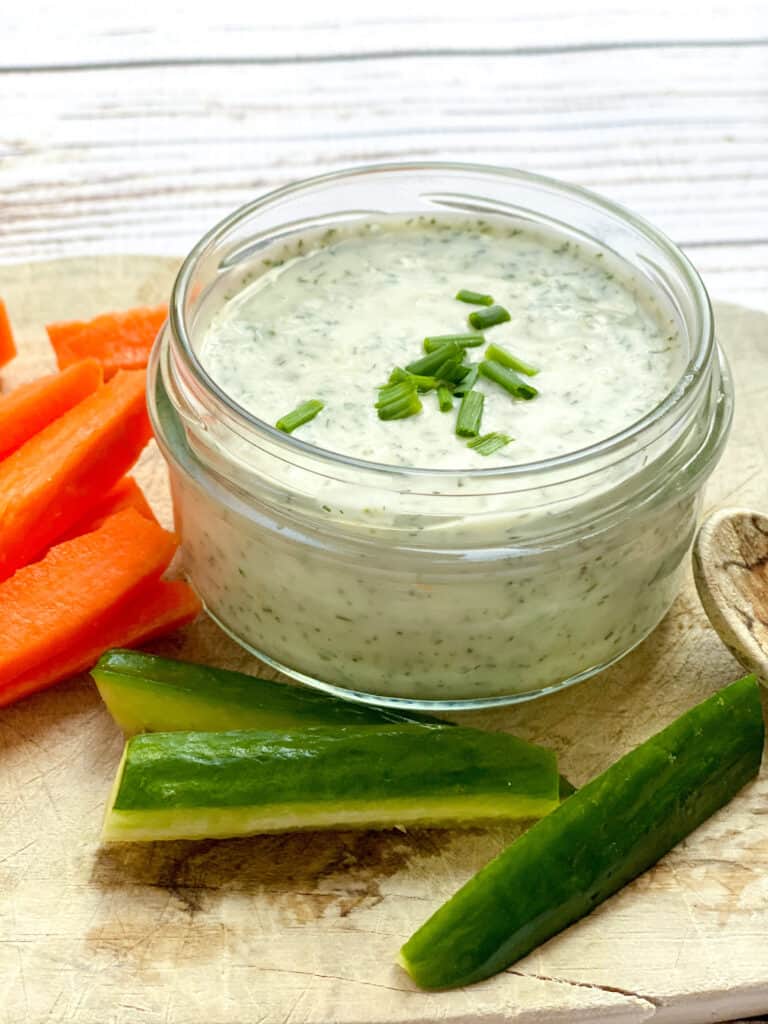 Whizz it all up in a mini blender, and you'll have a ranch sauce! It's as simple as that and if you have leftover, you can use it as a dipping sauce for crunchy veggie sticks, wether it's a snack or nibbles with friends.
If you are not a fan of ranch dressing, why not try vegan aioli or vegan honey mustard dressing.
As I mentioned earlier, you can make each and every step, or you can shop buy some things to make it easier! This is a firm family favourite and definitely fills us all up.
Yield: 4
Vegan Cobb Salad Recipe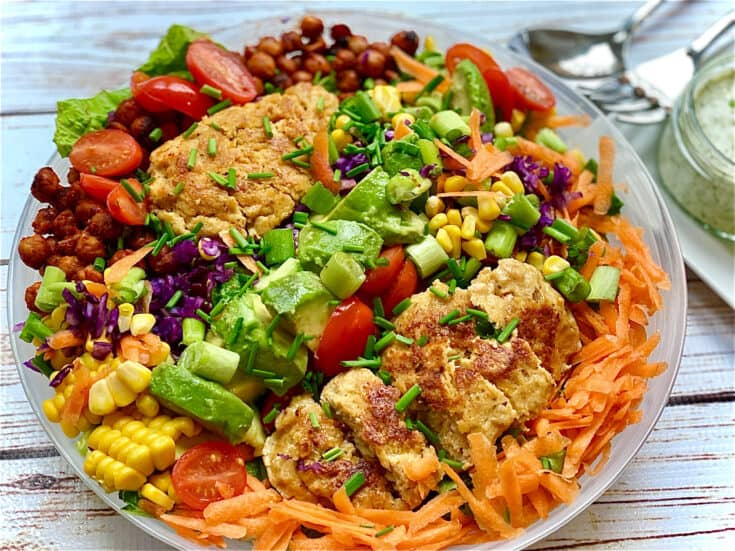 Try this delicious vegan cobb salad recipe. It does not disapoint when it comes to the traditional flavours and textures. Complete with seitan chicken, roasted bacon flavoured chickpeas and ranch dressing, this salad is a hearty meal the whole family can enjoy!
Total Time
1 hour
40 minutes
Ingredients
2 heads of romaine lettuce
2 avocados
2 medium sized carrots
1 cup of cherry tomatoes
1/2 cup of sweetcorn
2 spring onions
1/3 cup of grated red cabbage
Roasted Chickpeas
1 can of chickpeas
1/3 cup of tomato puree
1 tbsp of vegan Worcester sauce
1 tsp of onion powder
1 tsp of maple syrup
1 tsp of liquid smoke
1 tsp of olive oil
Grilled vegan seitan chicken
2 cups of vital wheat gluten
1 tsp of onion powder
1 tsp of garlic powder
1 no chicken bouillon cube
1 tbsp of vegan Worcester sauce
1 cup of silken tofu
1 tbsp of vegan chicken seasoning
Vegan ranch dressing
1/2 cup of vegan mayo
1 tsp of dried dill
1 tbsp of chopped fresh chives
2 tbsp of apple cider vinegar
1/3 cup of oat or soya milk
Instructions
Begin with making the chickpea marinade. Mix all of the wet and dry ingredients in a bowl. Strain the can of chickpeas and rinse them thoroughly with cold water in a colander. Place the chickpeas in the marinade and rerfigerate for as long as possible. Overnight is ideal but if you can't manage that, about an hour is fine.
Next, line a baking tray with paper and cook on aroud 400 F / 205 c for 35 minutes, tossing regularly to avoid burning.
Set your chickpeas to one side and begin to work on your seitan chicken.
Add all of the dry ingredients for the vegan seitan chicken into a bowl and whisk together. Make a well in the centre and add all of the wet ingredients, mix initially until it becomes a dough consistency, then knead with your hands on a surface.
Do not over knead, it will make the seitan too tough. Once your dough is nicely formed, make it into 4-5 cutlets.
Wrap each individual cutlet in tin foil that can be used for boiling. Boil a large pot of water and submerge each wrapped cutled inot the boiling water for 30 minutes.
After 30 minutes take the cutlets out of the water. Leave them to rest for a few minutes. At this point you can either roast, grill or bbq the seitan chicken until golden.
Once your vegan chicken is ready, begin layering the salad. Start with the romain lettuce, wash it first and then chop it into bite sized chunks.
Layer with grated carrot, chopped avoacado, tomaotoes, chopped spring onion, sweetcorn, red cabbage, the chickpeas and slices of the seitan chicken.
The ranch dressing takes only 2-3 minutes to whizz up, literally add all of the ranch ingredients into a blender and blitz until creamy. Drizzle on top or serve on the side.
Recommended Products
As an Amazon Associate and member of other affiliate programs, I earn from qualifying purchases.
Nutrition Information:
Yield:
4
Serving Size:
1
Amount Per Serving:
Calories:

1003
Total Fat:

38g
Saturated Fat:

6g
Trans Fat:

0g
Unsaturated Fat:

28g
Cholesterol:

0mg
Sodium:

388mg
Carbohydrates:

72g
Fiber:

21g
Sugar:

16g
Protein:

104g
You may also like: