This easy yet sensational kiwi smoothie bowl is perfectly delicious and a simple smoothie bowl recipe to make. Blended with fresh kiwi, frozen bananas. mango, pineapple and spinach – you will love this nutritious kiwi smoothie bowl recipe.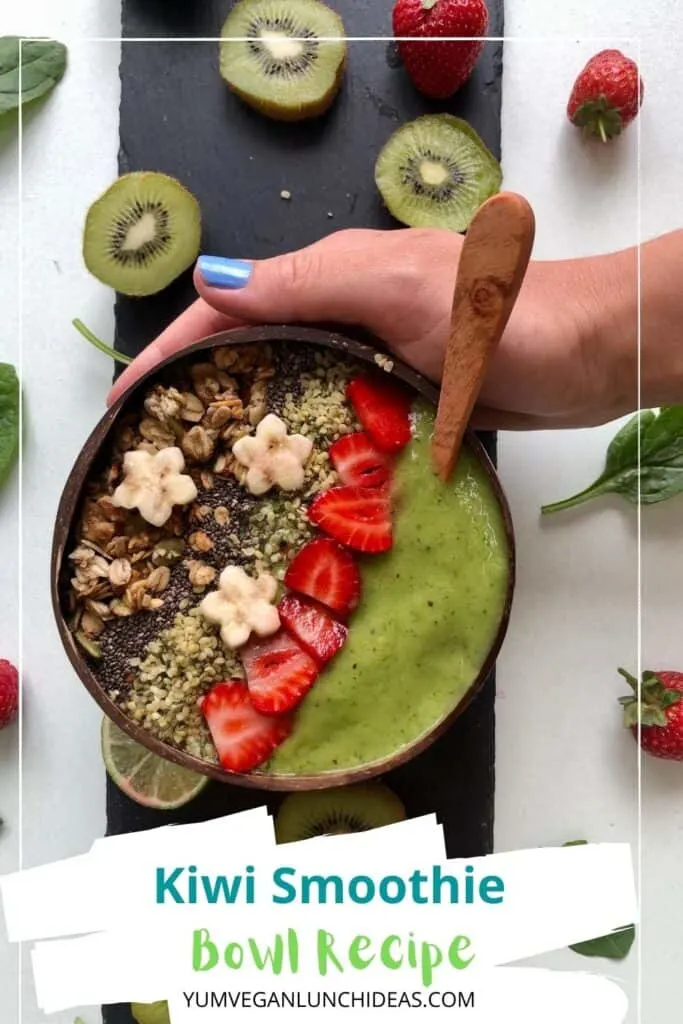 Smoothie bowls make the perfect breakfast, brunch or snack. Even better to make them at home as I feel cafes can overprice them. It's so much more affordable to make them at home!
Smoothie breakfast bowls have become super popular in recent years, especially with food being glorified on Instagram! I must admit I am a big fan of food aesthetics so I am here for all of the tasty, pretty smoothie bowl recipes!
I get super gratified when making gorgeous smoothie breakfast bowl – there's kind of an art to it which I really enjoy. And then you have the added bonus of munching down on it and being wholly nourished!
There is also something more satisfying about eating a meal with a spoon rather than downing a smoothie drink with a straw. It takes me longer to eat a smoothie bowl and really savour it's flavours.
Whereas with a smoothie drink and straw, it seems to be gone in what feels like seconds! I somehow manage to down my smoothie creations so quickly.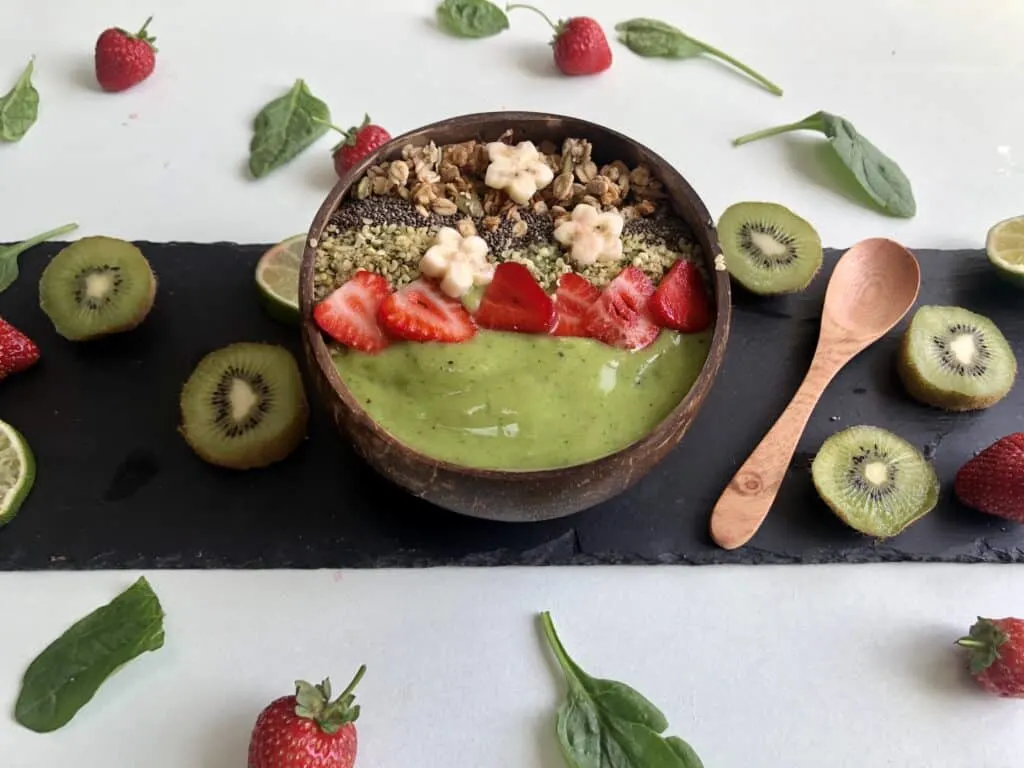 This kiwi breakfast bowl is refreshing and satisfying to eat, especially with all the delicious variety of toppings. It is definitely one of those meals where I eat more mindfully too.
With just a few simple ingredients – all whole foods, vegan and gluten free, you can easily recreate this delicious kiwi smoothie bowl recipe. This recipe is easily paleo too if you simply omit the oat based granola toppings.
Vegan smoothie bowls are so much fun to make as you can change it up all the time.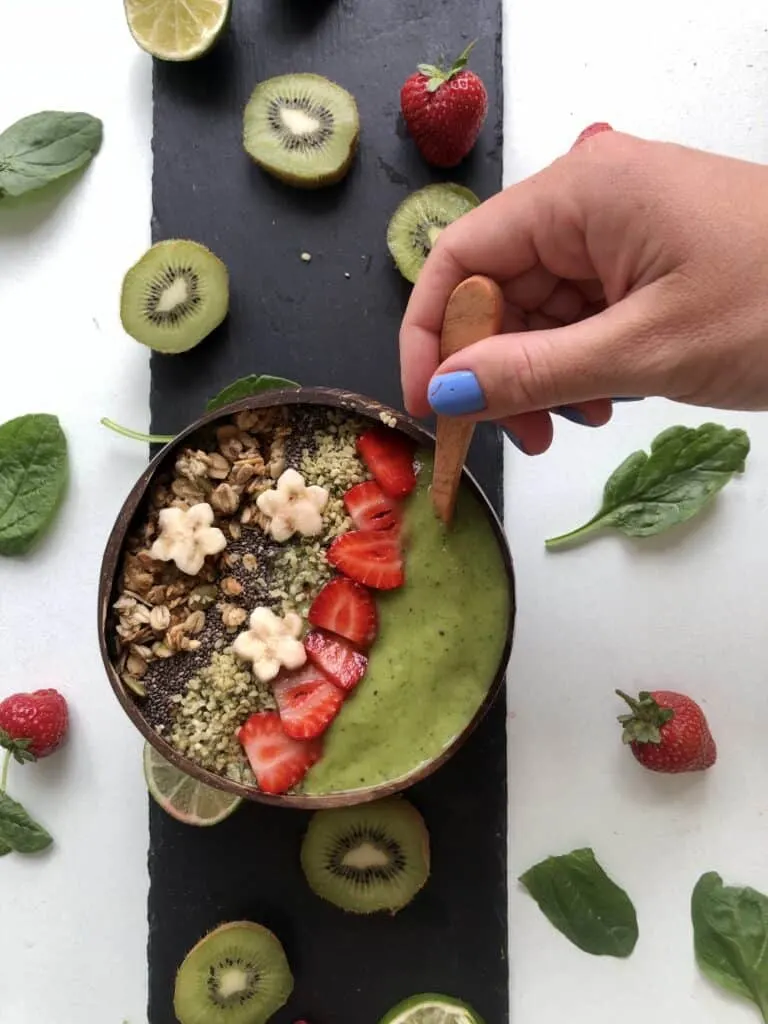 How To Achieve Peak Smoothie Breakfast Bowl
With this simple method you can totally achieve peak smoothie bowl ah home:
Frozen Fruit
Frozen fruit, particularly frozen bananas make an awesome base for smoothie bowls. This is because it gives a creamier, refreshing base while also providing a thickness. The thicker smoothie bowls are a lot easier to eat with a spoon.
Having a thicker smoothie bowl base means the toppings will stay on top too. The thinner the liquid – those toppings are just going to sink to the bottom!
This kiwi smoothie bowl recipe uses a blend of frozen fruit including frozen mango, frozen pineapple and frozen banana.
Liquids
You only need a little liquid to help blend up the frozen fruit. This recipe uses a little coconut milk to help get things going in the blender, however you can choose from any plant based milk, a little water, coconut water or even juice.
I like to help get things going in my blender, even though it is a high powered blender. Many don't need liquids at all and are powerful enough to whip up chunks of frozen fruit.
Toppings
This is the fun part. You can add so many toppings to smoothie bowls to boost its nutritional value while also making it more aesthetically pleasing and delicious!
Just top it with your favourite whole foods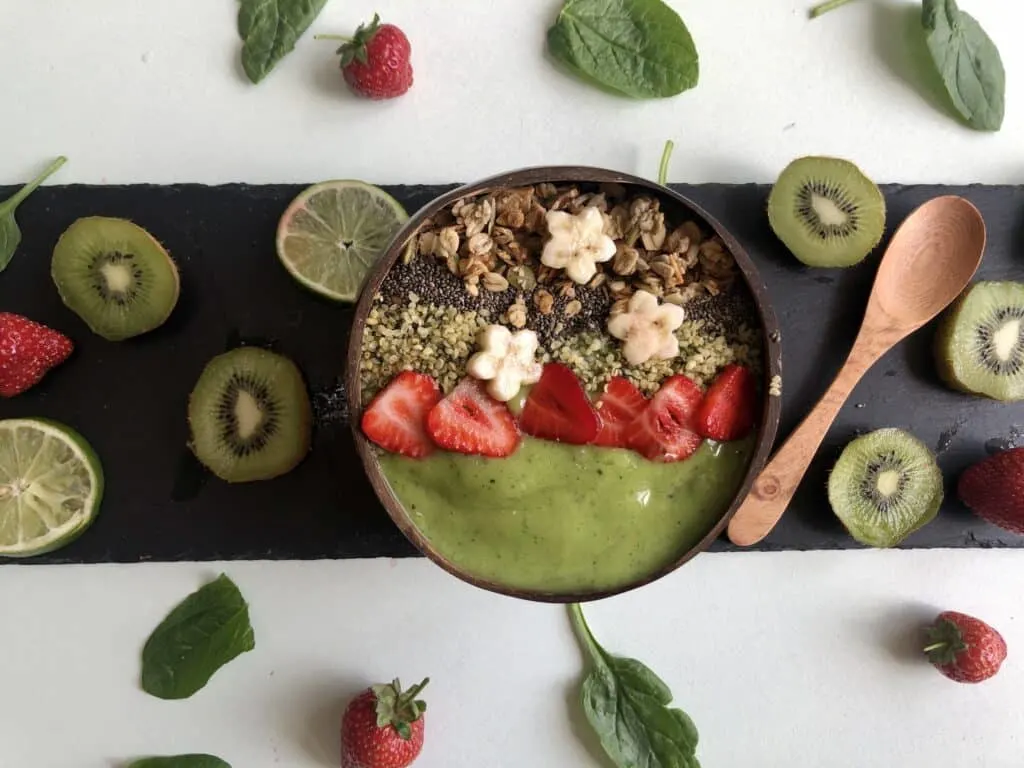 Kiwi
Kiwi was one of my favourite fruits growing up! I used to eat like 3 in a row and sometimes even ate the skin! Needless to say I was excited to make this smoothie bowl.
I had a bunch of kiwis to use up recently as some were going soft – so the perfect opportunity to make this banana kiwi smoothie bowl.
Kiwis pack lots of flavour and pairs well with tropical tastes. It is packed with nutrients, particularly Vitamin C, K, E, folate and potassium. They are packed with antioxidants and provide fibre also.
Making this kiwi mango smoothie bowl was the perfect combination – and a squirt of lime really heightened the flavours.
Spinach
Green smoothies have always been my jam. It's so easy to throw a cup of spinach into smoothies for extra goodness – and it's pretty flavourless too so doesn't mess up the sweet tanginess of the kiwi breakfast bowl.
Adding spinach to this green smoothie bowl makes the colours pop, while more importantly brining a heap of nutrients.
Being a leafy green, spinach is loaded with iron but also comes with lots more such as calcium.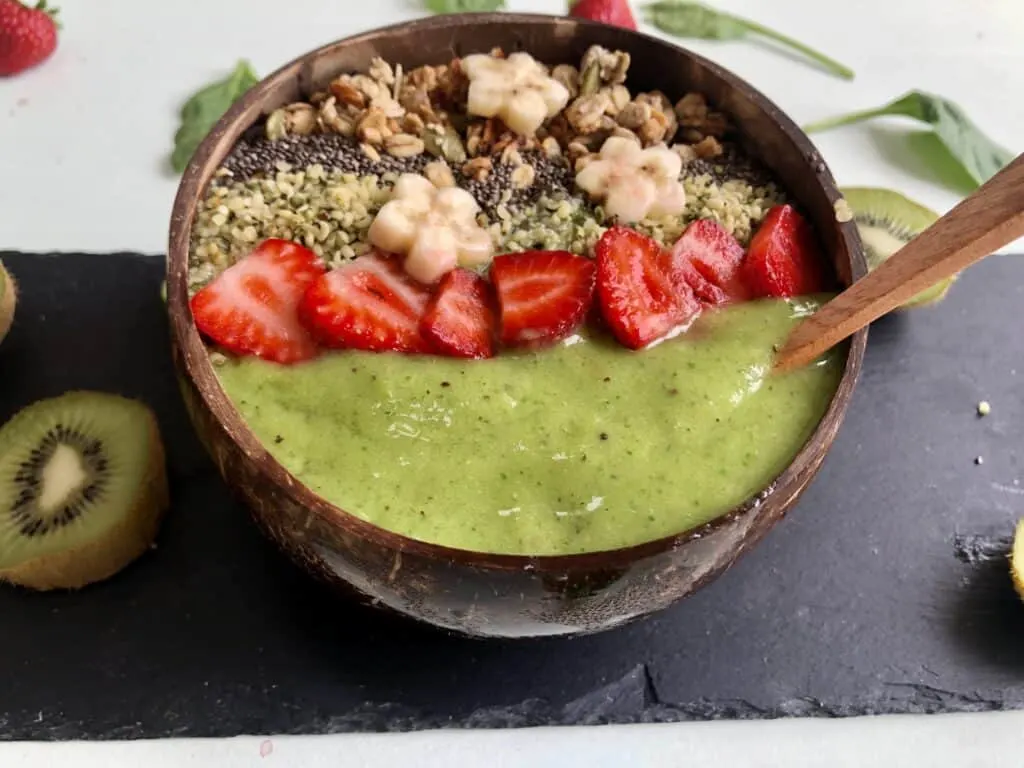 What You Will Need – Kiwi Vegan Smoothie Bowl Recipe
1 cup frozen mango
1 cup frozen pineapple
1 frozen banana
1 cup spinach
1 squirt of lime
4 kiwis
120mls coconut milk
Toppings of choice
Blend all in a high powered blender and serve in cute bowls.
I absolutely love my Coconut Bowls And Wooden Spoons
for smoothie bowl recipes.
These fruit and vegetable shape cutters
are also great! The kids love using these.
BEST BLENDER FOR SMOOTHIE BOWLS
The best blender and my most reliable kitchen companion has been my Vitamix Blender without doubt.
Having used this Vitamix Blender for over five years, I can vouch for its robustness and reliability!
Having had previous blenders break down quickly, this was a real investment we didn't regret.
If you don't have room or need for a full sized blender, the ninja seems to be taking over the market as one of the best mini blenders. You can check it out here.
You can check out heaps of our other delicious and beautiful smoothie bowl ideas here:
Yield: 2 portions
Kiwi Smoothie Bowl Recipe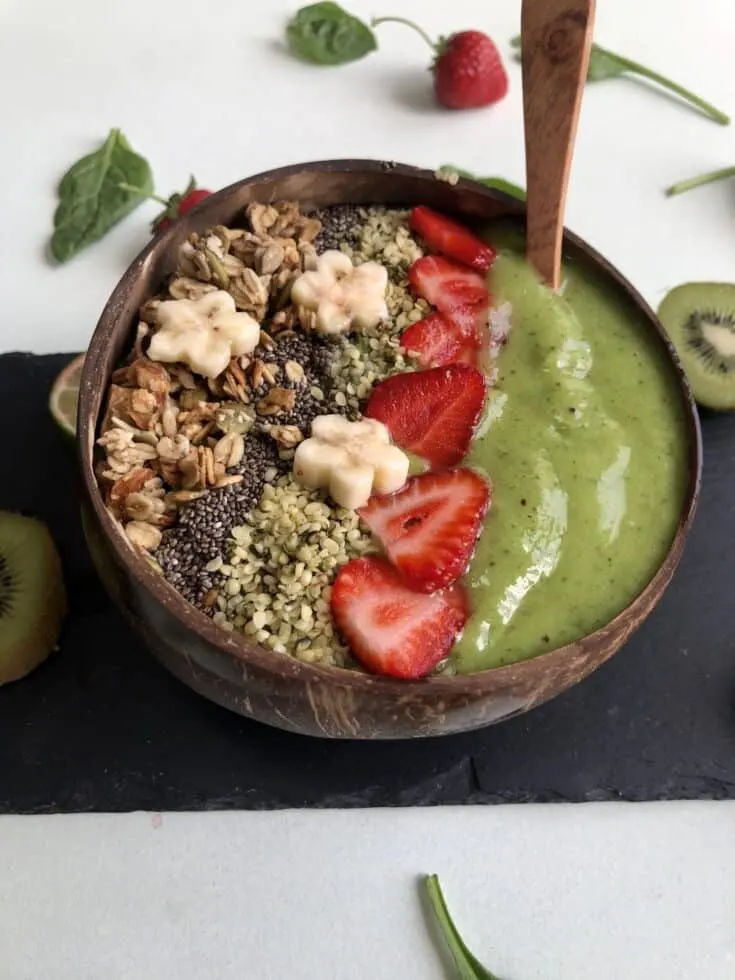 This easy kiwi smoothie bowl is perfectly delicious and a simple smoothie bowl recipe to make. Blended with fresh kiwi, frozen bananas, mango, pineapple and spinach - you will love this nutritious kiwi smoothie bowl recipe.
Additional Time
2 minutes
Ingredients
1 cup frozen mango
1 cup frozen pineapple
1 frozen banana
1 cup spinach
4 kiwis
120mls coconut milk
Toppings of choice
Instructions
Place frozen fruit, coconut milk and spinach into the blender.
Blend until smooth
Pour into your dish of choice
Decorate with your favourite smoothie bowl toppings!
Enjoy eating this gorgeous kiwi smoothie bowl
Notes
1. Using a high powered blender makes things easier
2. Although this smoothie bowk is displayed in one bowl - it is plenty and would easily offer two portions
Recommended Products
As an Amazon Associate and member of other affiliate programs, I earn from qualifying purchases.
Nutrition Information:
Yield:
2
Serving Size:
1
Amount Per Serving:
Calories:

389
Total Fat:

2g
Saturated Fat:

0g
Trans Fat:

0g
Unsaturated Fat:

1g
Cholesterol:

0mg
Sodium:

11mg
Carbohydrates:

97g
Fiber:

11g
Sugar:

70g
Protein:

5g
this is an estimate
Disclaimer: There are affiliate links in this post. By using them, we will get a small commission of the sale at no extra cost to you. It's the little things like this thats keep us afloat. We never recommend something we don't believe in, always tired and tested too.