There are some classics that are hard to let go of for us vegans! Po Boy was an all time favourite treat of mine and I was so surprised at how easy it to make an entirely realistic copy with the same flavours and textures, this Vegan Po Boy is epic!
Po Boy sandwiches are traditionally from the USA, specifically Louisiana. Over the years, the sandwich has spread in popularity. It's safe to say Po Boy sandwiches are a truly American recipe.
So what is a Po Boy sandwich? It's essentially a French bread roll or dog roll sometimes filled with crispy shrimp. Usually the roll is soaked in melted butter and dressed with lettuce, tomato, mayonnaise and pickles.
Geographically across the U.S, the sandwich will vary slightly with some places using hot sauce or creole mustard in place of the mayo.
Make sure to check out our other vegan lunch ideas.
Veggie Po Boy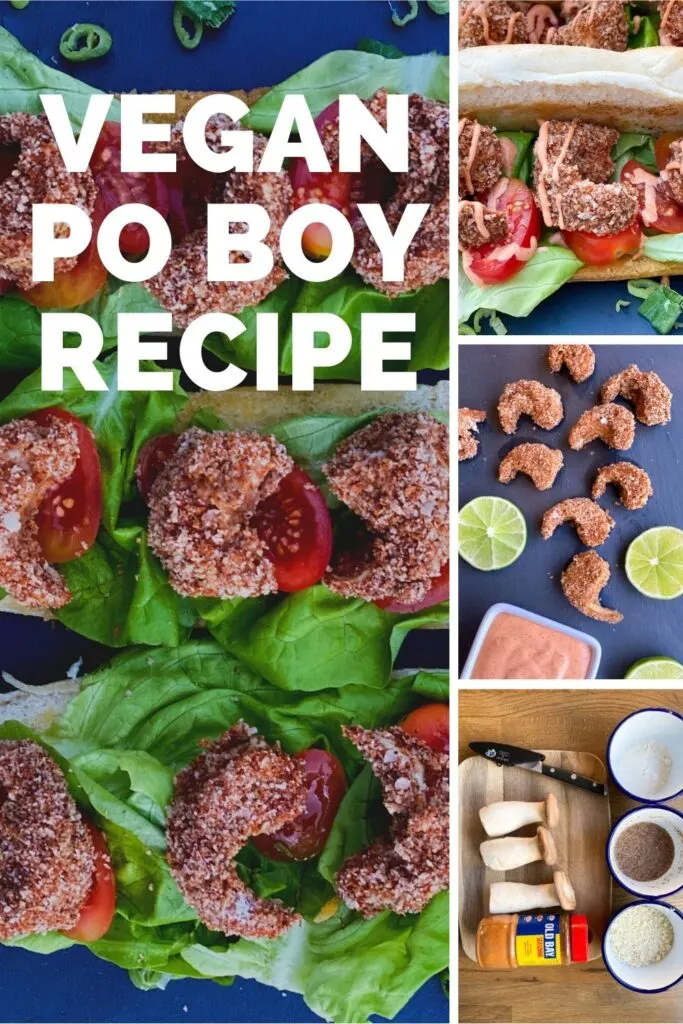 In this recipe the main thing you need to do aside from dressing the sandwich is make vegan shrimp. Surprisingly, the vegan shrimp we use in this veggie po boy sandwich is incredibly realistic.
We use king oyster mushrooms which are well known for their meaty texture. They are really tasty mushrooms and big enough to cut into the shape of 'shrimp'.
If you haven't seen king oyster mushrooms before they are quite tall and fat. The stalks are like a big cylinder.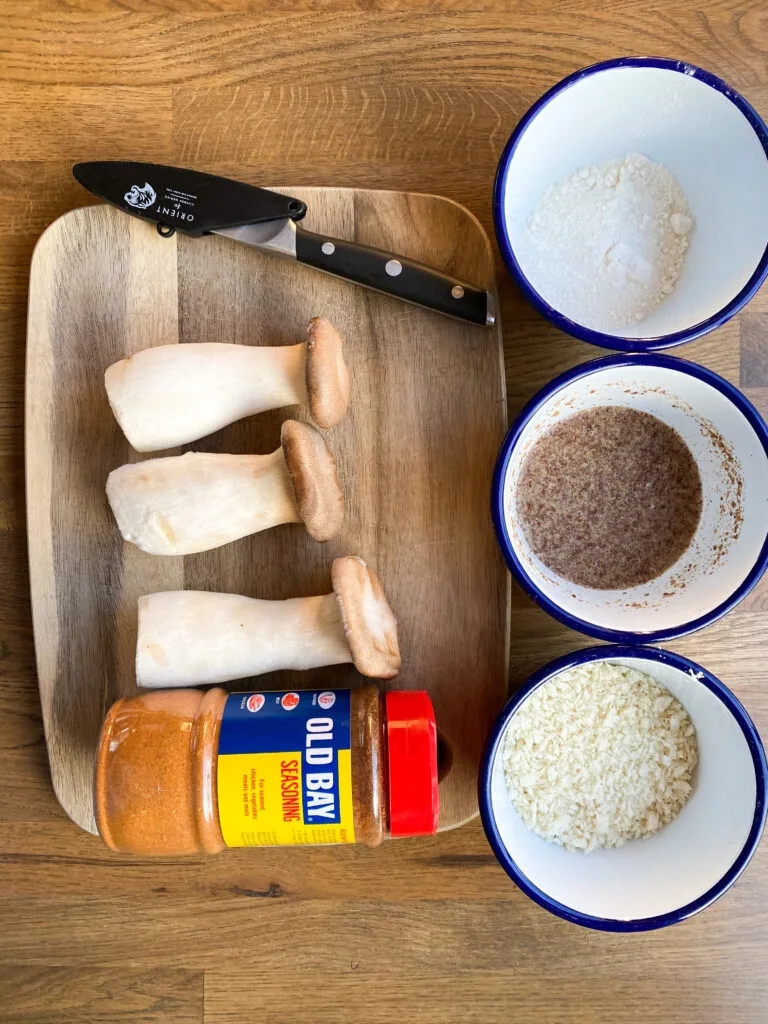 Vegan Po Boy Recipe
What you will need to do is cut thick slices from the stalk, turn it over and through the middle of the circle shaped slice of mushroom, cut an 'S' shape. This will create two vegan 'shrimp' shapes.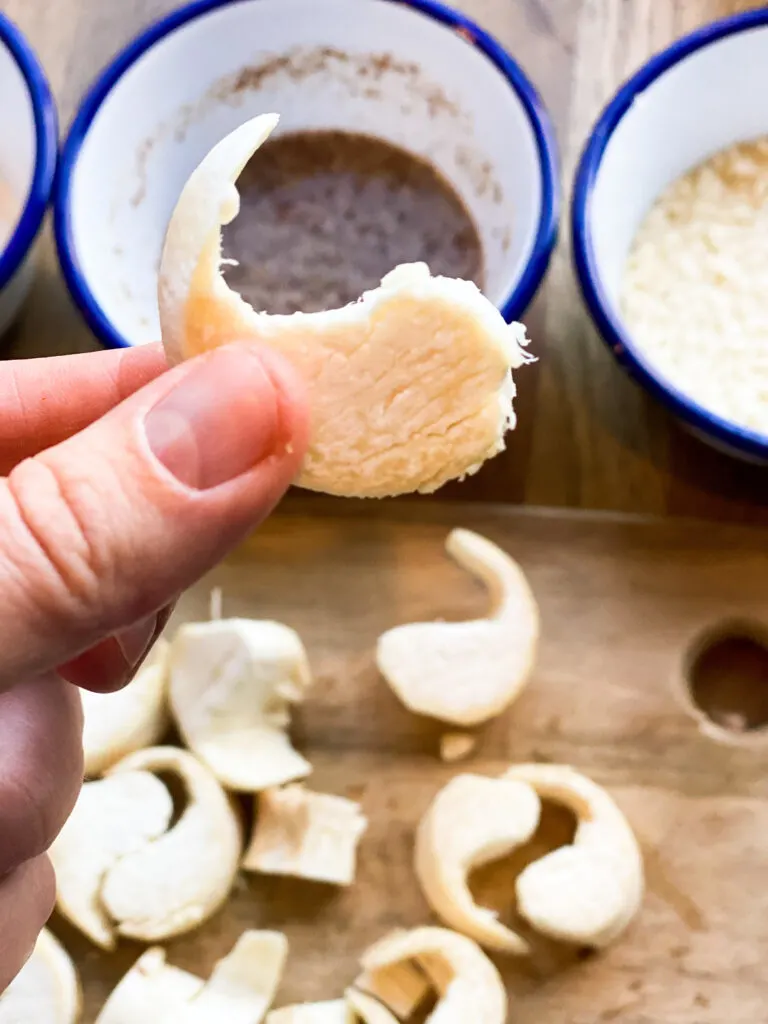 Once you have cut through as many shrimp as you would like to make, the next thing you need to do is bread them!
I lined 3 small bowls up, the first with flour, the second with activated flax seed and the third with my bread crumb mix.
I dipped each shrimp into the flour and then the wet flaxseed. Flaxseed is a binder, just like egg. It works fantastically at sticking everything together. Buy flaxseed here.
Next you need to dip the vegan shrimp for this veggie po boy into the breadcrumb mix. The breadcrumbs mix is super easy to make, Blend some prepared breadcrumbs with Old Bay Seasoning mix.
I used Blue Dragon Panko breadcrumbs to mix with Old Bay Seasoning
. Old Bay has a great flavour, it certainly packs a punch and has a kick to it.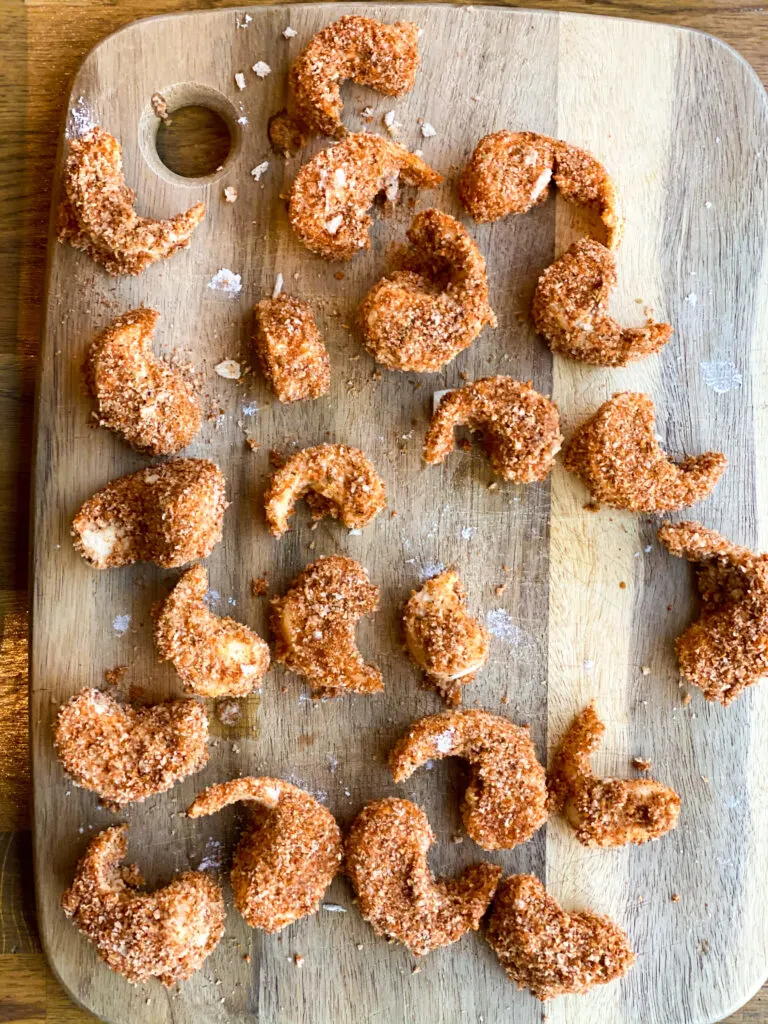 Vegan Shrimp Po Boy
The next thing you'll need to do is bake the vegan shrimp in the oven for around 20 minutes. Meanwhile, you can prepare the rest of the sandwich.
Po Boy sandwiches are typically loaded pretty full so you will need to chop up some tomatoes, iceberg lettuce, pickles and prepare your sauce.
Cut the bread rolls length ways and you can either toast under the grill with butter or put them face down in a pan of butter. Either way works!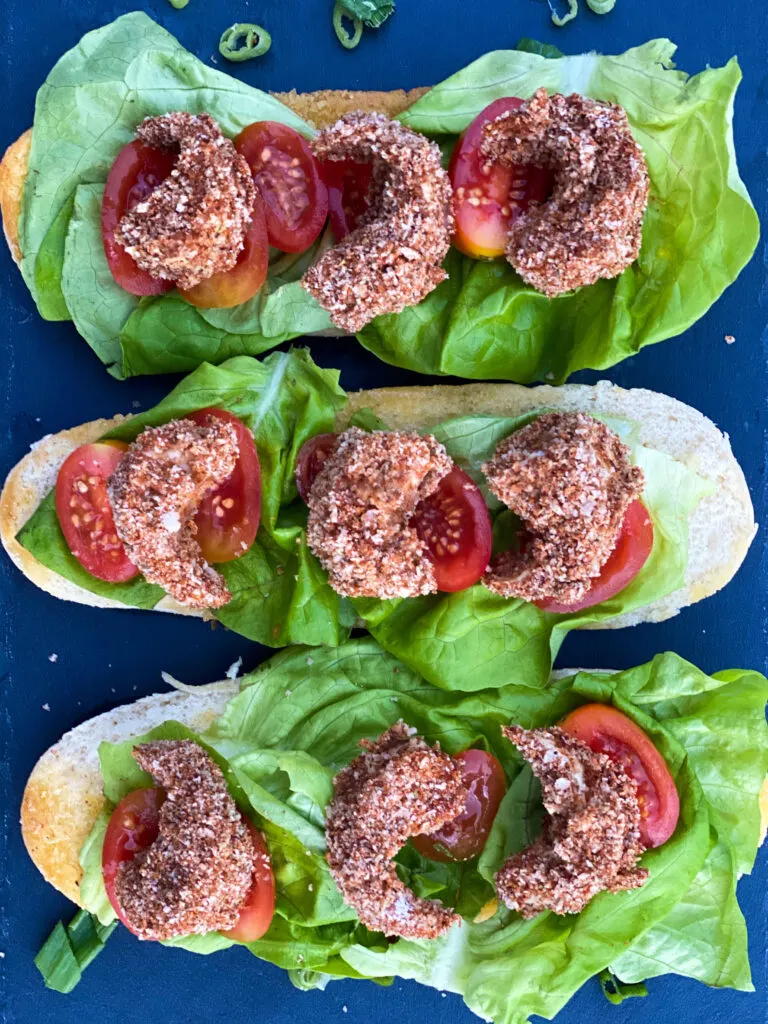 For the sauce, you can use mayonnaise if you prefer but I Iove punchy sauce with this so I made up my own 'hot mayo'. If you want to keep it simple you can buy a shop bought one of course. For example a vegan jalapeño mayo.
However if your keen to make your own keep on reading. For my vegan po boy sauce I used:
Vegan mayonnaise
Paprika powder
Onion powder
Hot sauce
Tomato puree
Cider vinegar
All you need to do is simply blitz these ingredients together and you have yourself an amazing vegan po boy sauce.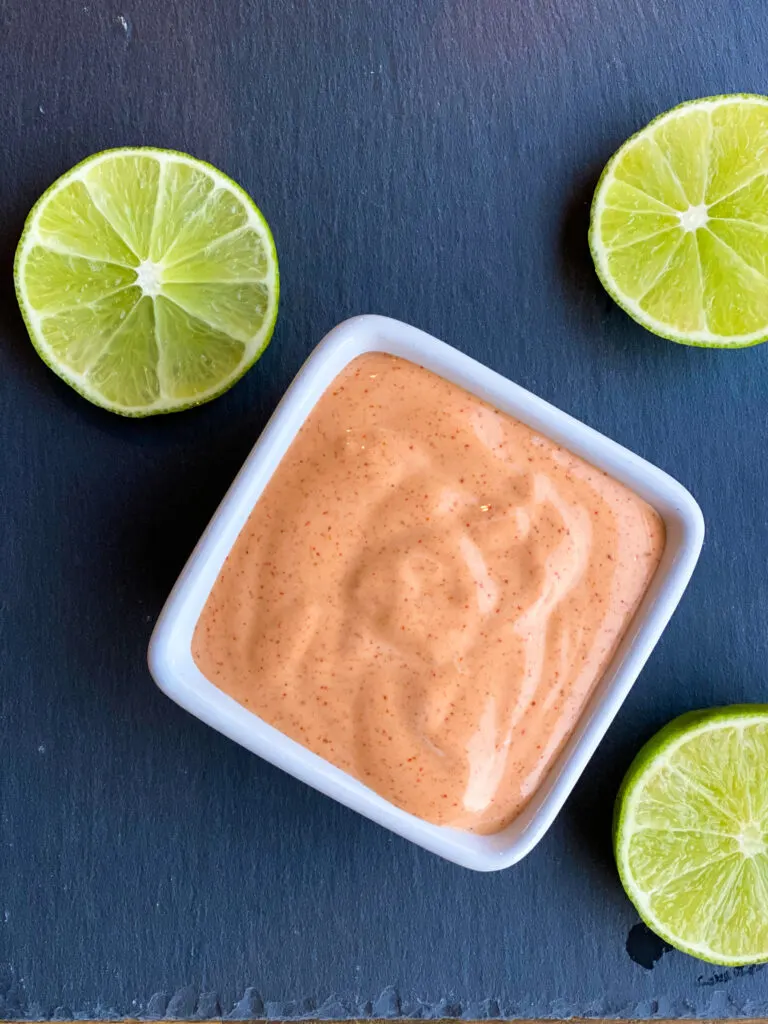 I love to use my little blender to make sauces so I don't loose half the ingredients by covering a big container. Check out the Ninja Food Chopper.
Vegan Po Boy Sandwich Construction
So now you will have all the ingredients ready. You should have toasted your rolls with butter. Layer the sandwich with lettuce, tomato, pickles and the vegan shrimp you made.
Next squirt the vegan po boy sauce as generously as you like. Serve wrapped in sandwich paper so it doesn't get too messy!!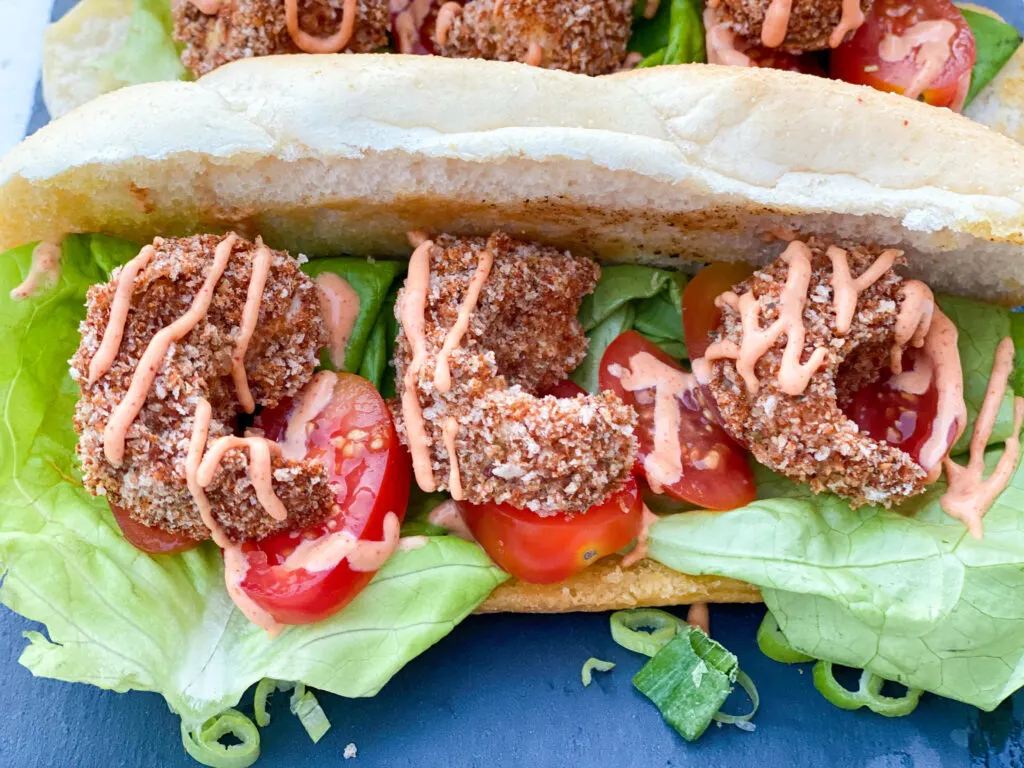 If you want to make extra shrimp or sauce, or maybe you made too much, you can store them independently in an air tight container.
The vegan shrimp can be stored for 2-3 days in an air tight container in the fridge. You can heat them up in the oven. They taste great dipped directly in the po boy sauce without the sandwich too.
The po boy sauce can be stored in an air tight container for 5 -7 days. You can use it for a variety of things, maybe as a dipping sauce for example.
Different Serving Suggestions
I have previously served po boys in mini sliders for Super Bowl Day. Being the ultimate American sandwich, they are the perfect little sandwich to share with friends and family.
Follow all the same steps the only difference is you serve in smaller bite sized rolls. Check out our Super Bowl post here for other ideas.
Check out some of our other classic sandwiches: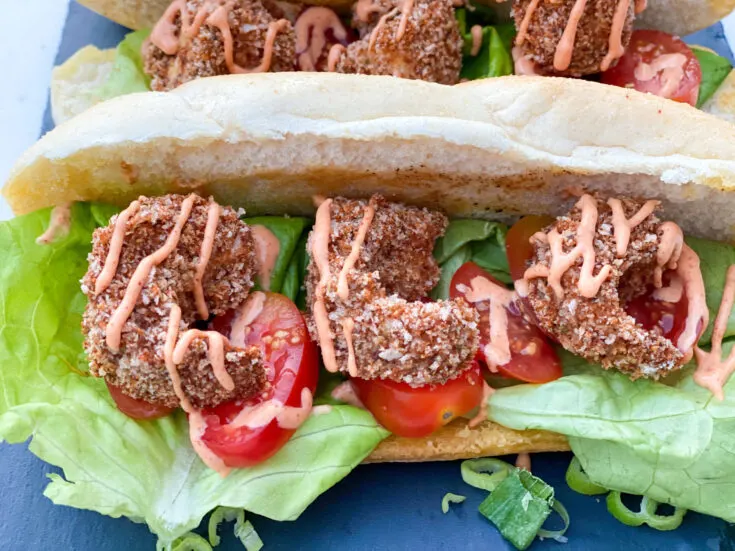 Try this sensational Vegan Po Boy Sandwich that is incredibly realistic. Another typical American classic turned into a vegan favourite. This veggie Po Boy is incredibly tasty, the perfect vegan lunch when you have friends over. You can turn this recipe into sliders for shared food nibbles for events such as superbowl.
Ingredients
3 King oyster mushrooms
2 tbsp of ground flaxseed
3 tbsp of plain flour
1/4 cup of panco breadcrumbs
1 tbsp of old bay seasoning
1/4 cup of melted vegan butter
4 bread rolls of choice
1 cup of iceberg lettuce
1/2 cup of tomatoes
1/4 cup of thinly sliced pickles
Po Boy Sauce
1/2 cup of vegan mayonnaise
1 tsp of paprika
1 tsp of onion powder
1 tbsp of cider vinegar
1 tsp of hot sauce ( or to preference)
1 tbsp of tomato puree
Instructions
Cut the stalks off the king oyster mushrooms. Cut 3-4 ciricle disks from each stalk. Turn the disk over and cut an S through the middle of the disk to create two vegan 'shrimp' shapes.
Once you have cut all of the mushrooms up, prepare your breadcrumb mix.
I used Blue Dragon breadcrumbs, they are the flaky type rather than fine breadcrumbs. I used these so I could blend them with the old bay seasoning and create a realy flavourful crumb. So all you need to do is blend the Old Bay and the breadcrumbs together.
In three bowls, add flour to the first, flaxseed activated with water to the next and your prepared breadcrumbs to the last.
Line a baking tray and preheat the oven at this stage to a medium to high heat.
Next roll each 'shrimp' in flour and get good coverage. Move on to do the same thing with the flaxseed. The flaxseed will bind the breadcrumbs to the vegan shrimp. Finally roll in the breadcrumbs and add all of the shrimp to the baking tray and bake for approx 20 minutes until sizzling hot.
In the interim, cut your rolls lengthways, spread with butter and either grill or put on a hot pan face down. The butter needs to melt and the rolls shoud toast ever so slightly.
Chop up tomatoes, iceberg lettuce, pickles and prepare your sauce. As mentioned previously you can use shop bought vegan mayonnaise or vegan hot mayo. I personally made my own vegan hot mayo sauce for this. If you aren't going to make your own sauce, skip to 10 for the final step.
To make the sauce blend all of the ingredients together. This includes paprika, vegan mayo, cider vinegar, onion powder, tomato puree and hot sauce. Simply blitz and add to a squirty bottle so you can add it to your sandwich.
For the final step layer iceberg lettuce, tomato, pickles and the vegan shrimp on the sandwich . Drizzle with your sauce of choice!!
Serve.
Nutrition Information:
Yield:
4
Serving Size:
1
Amount Per Serving:
Calories:

724
Total Fat:

64g
Saturated Fat:

32g
Trans Fat:

2g
Unsaturated Fat:

28g
Cholesterol:

122mg
Sodium:

1480mg
Carbohydrates:

34g
Fiber:

6g
Sugar:

5g
Protein:

9g
Disclaimer: This post may contain affiliate links. By using them it will not cost you any extra. We will get a teeny commission and are so grateful for the support of our readers. These little commissions help us continue to write lots of yum recipes.