I had not heard of lupin beans (also known as Lupini beans) until very recently! They are not a typically found in the grocery store, instead you'll find lupin beans in the health food store. So why are these beans so special? Well the truth is they are the lowest bean carb content there is! So a lupin salad is a great way to use them!
As a vegan, it can often be hard to balance the protein needs with carbs. I for one certainly put on some weight when I went vegan due to the increased carbs in my protein sources such as beans and legumes.
I was so happy to find lupin beans and I have been experimenting ever since. This week I made this delicious lupin salad and I also made a lupin hummus which was so tasty!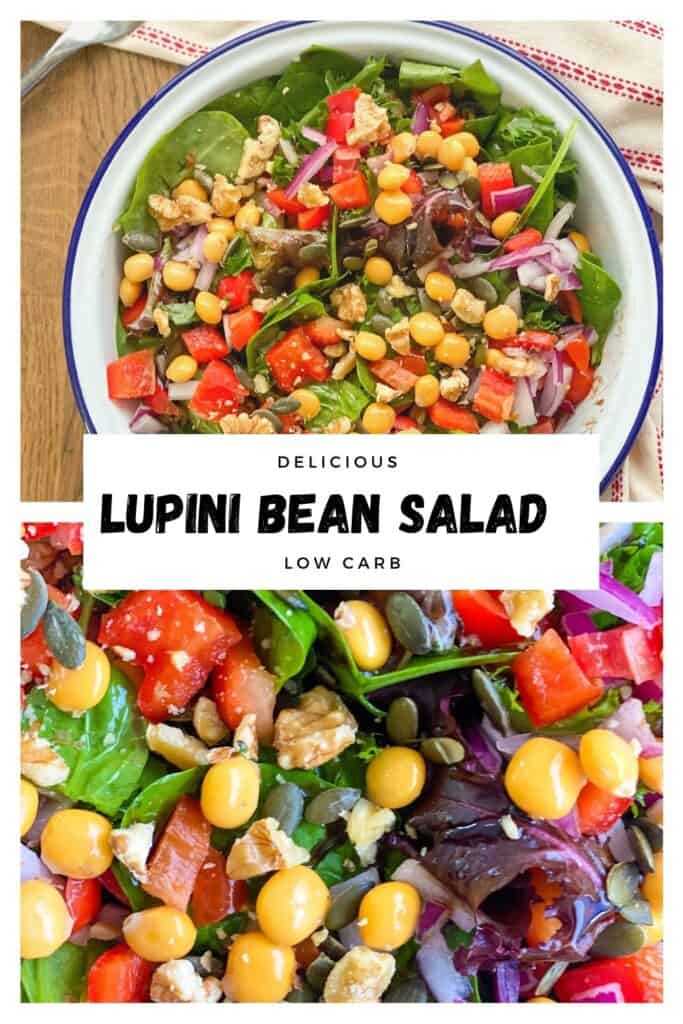 Lupini Bean Salad
Lupini beans are the yellow legume from genus Lupinus. You will find lupin beans traditionally in the Mediterranean, they tend to be quite bitter and are often eaten pickled as a snack in this part fo the world.
Since low carb diets have gained traction, there has been an increase in demand for lupini beans. Rich in protein, these unique beans have very low carb content so are incredible ingredient to include in a vegan diet.
If you love a bean salad, you will adore this flavoursome Cowpeas Salad too.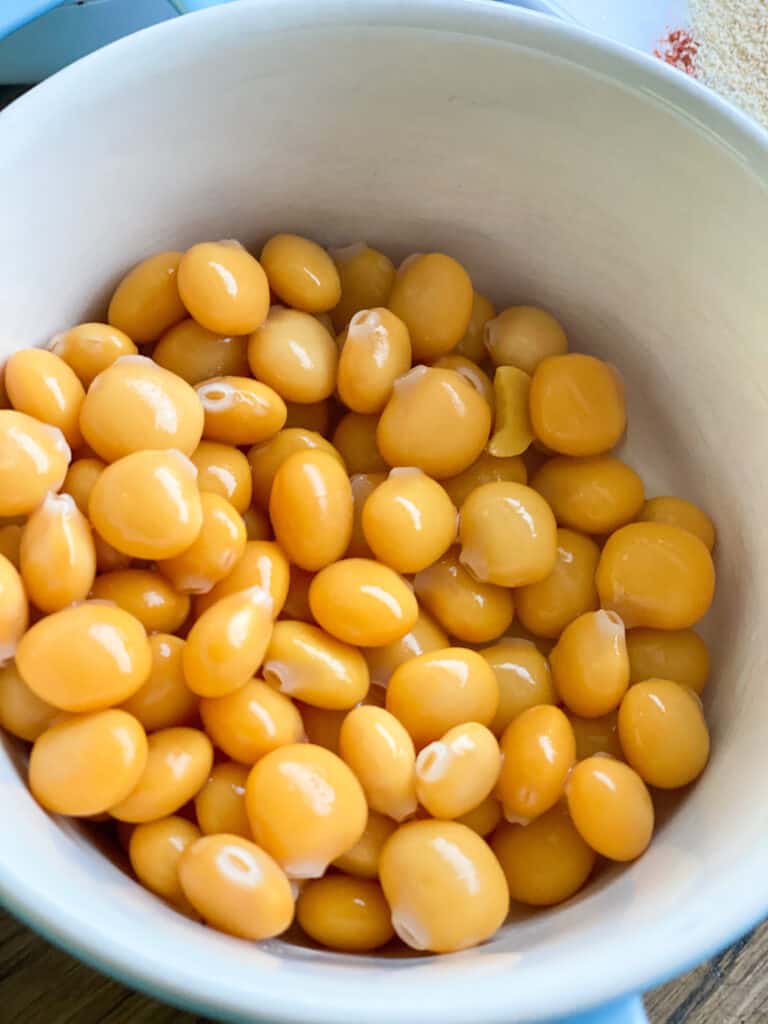 I buy lupini beans in a jar, they come in water and are already prepared. I think it's best to buy these beans already prepared as there are a number of stages to get them right. You can buy lupini beans here.
They have a thin skin which can be removed but it's also fine to eat them intact. in fact the skin has the majority of the protein content so I definitely recommend keeping it on, it doesn't make any difference in terms of taste or texture in this salad.
Lupin Recipes
There is very little preparation required for this recipe. In this salad I used a bed of leaves, if you are keeping your carbs on the lower side choose spinach for this.
I strained the lupini beans first and gave them a rinse in a strainer. Then, I added the prepared lupini beans with some finely chopped tomatoes, red peppers, and red onions. I toasted some walnuts in the oven to add some crunch to the salad.
Likewise, I sprinkled some pepitas (also known as pumpkin seeds) on top to to give the salad some additional texture. Finally, I drizzled balsamic glaze all over the salad. Again if you are watching your carb content, mix balsamic vinegar and olive oil together as an alternative lupini bean salad dressing.
This salad is:
The lupini salad travels well in an air tight container for packed vegan lunch ideas. You can also store lupin salad in the fridge for 2 to 3 days in an air tight container.
Why not serve it at a party or in the centre of the dinner table along with some other mains or sides for example. It really is quite versatile.
You may also like: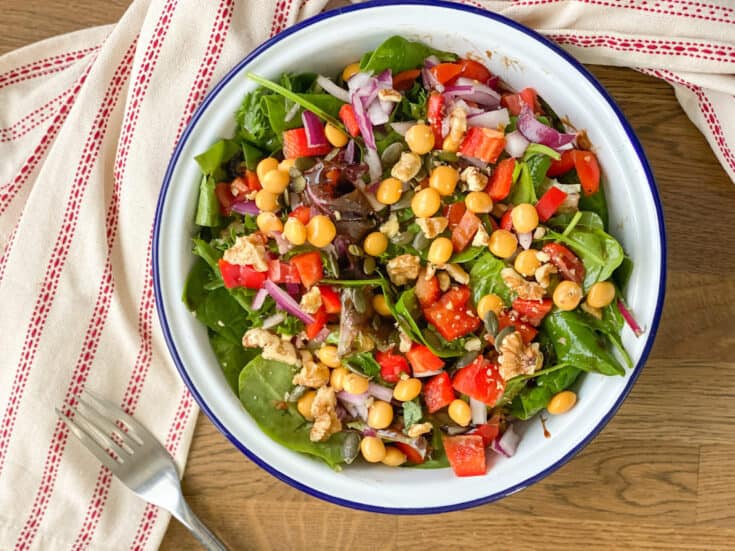 Try this delicious lupin salad recipe, vegan, low carb and healthy. This lupini bean salad is the perfect vegan lunch idea.
Ingredients
1 cup of lupini beans strained and washed
4 cups of spinach or salad leaves
1/4 a cup of finely chopped red onion
1/4 a cup of chopped red peppers
1/4 a cup of toasted walnuts
2 tbsp of pepitas
1/4 a cup of finely chopped tomatoes
4 tbsp of balsamic glaze
Instructions
Add a 1/4 of a cup of walnuts to a lined baking tray and bake in the oven on a medium heat for 15 minutes. Set to one side when ready.
Meanwhile start by adding spinach or salad leaves of choice to your salad bowl.
Strain and wash the lupin beans in a strainer. Drain thoroughly before adding to the salad.
Wash and dry the tomato and red pepper, chop up into small pieces. Add to the salad.
Next finely chop the onion and add to the salad along with the pepitas and toasted walnuts. Mix everything together gently with salad spoons and drizzle with your dressing of choice.
I personally used balsamic glaze, however you could use balsamic vinegar and extra virgin olive oil mixed together as a low carb alternative to glaze. See below in our reccomended products for both options.
Serve!
Notes
- Store in the fridge in an air tight container for 2 to 3 days.
- You can serve this salad as a side or simply fill a lunch box for a packed vegan lunch ideas.
- Alter to imrpove the carb content if you so wish. Remove the tomatoes, trade the red onion for green part of spring onions. Ensure to use spinach for leaves and do not use the glaze option. Instead add balsamic vinegar and olive oil as a dressing. These options provide a really good low carb alternative.
- If you have left over lupin beans, make hummus with it! This is a great low carb dip or spread.
Nutrition Information:
Yield:
4
Serving Size:
1
Amount Per Serving:
Calories:

195
Total Fat:

8g
Saturated Fat:

1g
Trans Fat:

0g
Unsaturated Fat:

6g
Cholesterol:

0mg
Sodium:

22mg
Carbohydrates:

24g
Fiber:

4g
Sugar:

14g
Protein:

10g
Disclaimer: There are affiliate links in this post. By using them, we will get a small commission of the sale at no extra cost to you. It's the little things like this thats keep us afloat. We never recommend something we don't believe in, always tired and tested too.