Cauliflower potato and leek soup has to be my number one winter comfort food. Hilariously the idea for this combo came from baby food I use to make my daughter.
I would find myself eating all of what she had left over and loving the flavour so decided, what the heck, I may as well make this into an adult soup with some extra seasoning and spices!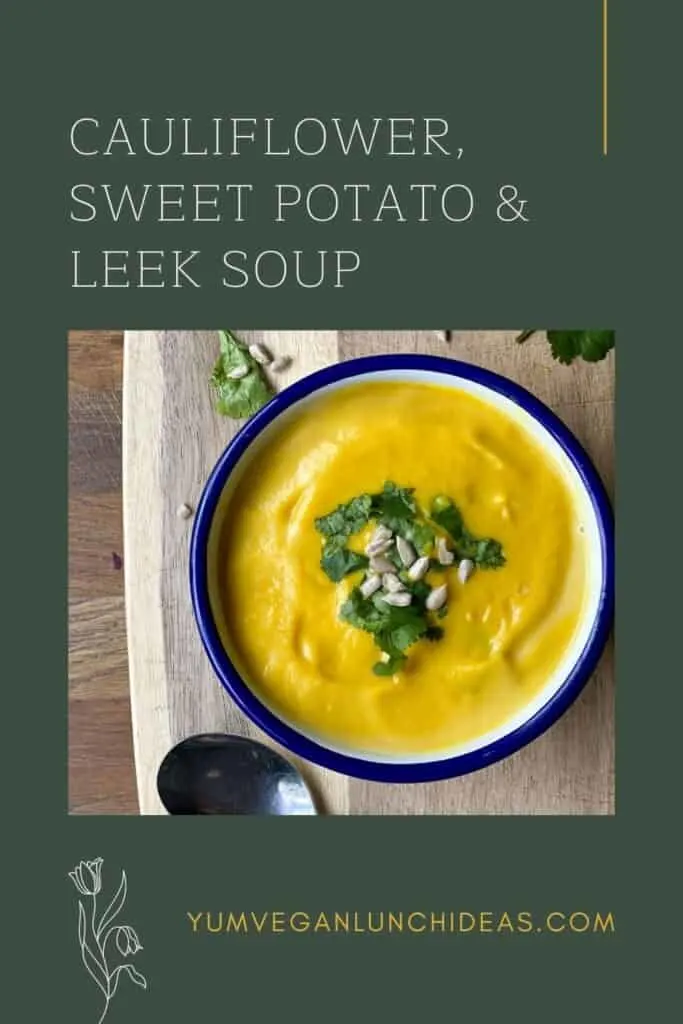 I use sweet potato for this recipe rather than white potatoes. They are less heavy for a soup but still filling enough!
I am all about the soup right now as the cold winter is about to set in. This soup is a perfect vegan lunch and by making a big pot, I save myself heaps of time by batch cooking.
I can freeze portions and take them to work or defrost at home on a cold afternoon.
For another really warming and wholesome meal, try this tasty Vegan Italian White Bean Stew or this vegan asparagus soup.
Make sure to check out our vegan lunch ideas.
Cauliflower Leek And Potato Soup
For this recipe, you'll need a medium sized cauliflower, 2 medium leeks and 3 to 4 medium sweet potatoes.
In terms of flavors and seasoning you'll also need, a clove of garlic, vegetable stock cubes, turmeric, salt and pepper!
Leeks can have some hidden soil / dirt inside so it's best to cut them length ways to get all of that out. Run them under water before to get rid of all the hideaway grit. Once you've washed cut them up finely for cooking!
Sautée the leeks along with the garlic to create a base flavor. Whilst this is happening wash, peel and dice the potato into small chunks and add to the pan with the leeks and garlic for 2 or 3 minutes.
Boil the kettle and melt your vegetable stock cube, add salt, pepper and a teaspoon of turmeric and stir it in well. Add the stock to the pot, make sure to turn the heat right down when you do this to avoid getting back splash when the water hits the oily pan.
Add the cauliflower in small chunks to the top. Everything should be fairly submerged for cooking.
Let everything boil and then allow it to simmer for around 35 to 40 minutes. The vegetables should be soft at the the end of cooking time.
The great thing about cauliflower in soup is it gives it such a nice creamy texture without the need for any other ingredients.
Equipment
You will need a blender to blitz all of your ingredients together. I can suggest the Cuisinart Food Processor. Click Here to Check it Out ! Add the mix and blend until silky smooth. Make sure all the lumps are thoroughly blended.
Serving Suggestions
Serve the soup hot in a soup bowl. You can sprinkle some toasted seeds on top for some different textures and flavors. You could also sprinkle some finely chopped chives or cilantro for presentation.
Fresh crusty bread for dunking in the warm soup is also a lovely side to have if you are not too fussed about calories.
Of course this soup is perfectly filling on it's own but there is something super yummy about fresh warm bread with tasty soup.
I love the little bread rolls that are pre-made but need like 5 minutes in the oven. I love the minimal prep for maximum freshness.
Shopping List
1 head of cauliflower
3-4 medium sized sweet potatoes
2 medium leeks
Vegetable stock cube
Turmeric powder
Salt / pepper
Storage and Freezing
You can store the soup in the fridge for two to three days in an air tight container. If you want to freeze the soup for later, separate it into portions.
As mentioned previously you will want to ensure the soup has been thoroughly blended to a smooth consistency for freezing.
Separate into freeze-safe storage boxes. You can defrost over night or add the frozen soup to a pan for a quicker method of defrosting.
If you like taking soup out for a picnic or to work for lunch, we love this flask
that keeps our soup warm. It comes with a little cup and spoon making it perfect for days on the go.
You may also like:
Yield: 6
Cauliflower, Potato and Leek Soup Recipe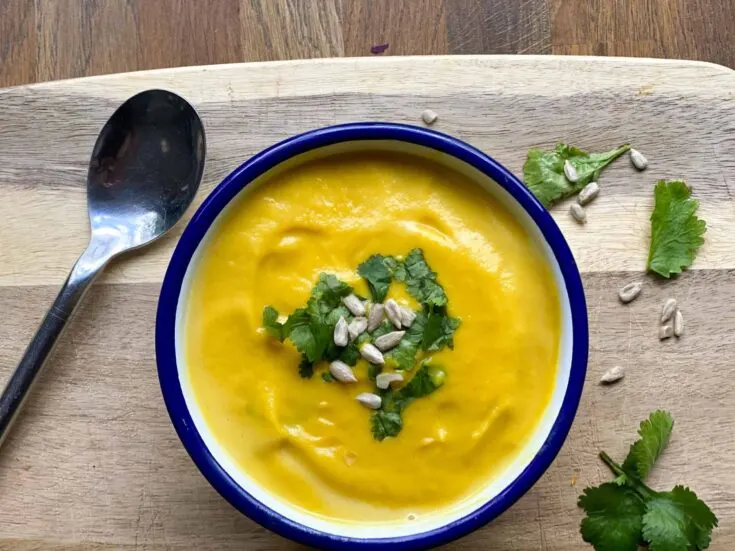 Try this Cauliflower Potato And Leek Soup for the soul. It's a perfect vegan lunch for a cold day and also really good in a flask on the go. At only 132 calories per serving this soup is super filling and kind on the waste line.
Ingredients
1 medium cauliflower
3-4 medium sweet potatoes
2 medium leeks
1 clove of garlic
olive oil for cooking
1 tbsp of turmeric
1 vegetable stock cube
Optional toppings
1 tsp Toasted pepitas or sunflower seeds
Instructions
Chop the leeks length ways and rinse under the tap. Chop finely once clean. Peel and crush the garlic.
Saute the leeks and garlic until golden.
Wash, peel and chop the sweet potato into cubes and add to the pan, stir and fry for 2 - 3 minutes.
Boil the kettle and add 1 litre of water to the vegetable stock cube. Stir and allow it to melt. Add the turmeric, salt and pepper to the stock and stir in before adding to the pan.
Make sure to take the pan off the heat when you add the stock to avoid splash back.
Finally wash and cut up the cauliflower into small pieces and add to the pot. Put the lid on, bring to the boil and then simmer for 35 minutes.
If you feel there is not enough water to submerge the vegetables, add a little more boiling water.
When the vegetables are soft and well cooked, blitz all of the mix including the stock in a blender or food processor until silky smooth.
Taste test for seasoning purposes. Add salt and pepper as desired.
Serve hot topped with toasted pepitas. Optional add crusty warm bread on the side for dunking!
Notes
You can store in the fridge for 2 to 3 days in an air tight container. Alternatively freeze in portions in the fridge for up to one month.
Bring to work or on a picnic in a thermos flask.
You could use butternut squash in replacement of the sweet potato if you don't have any. White potatoes are a little too heavy for this soup in my opinion.
Nutrition Information:
Yield:
6
Serving Size:
1
Amount Per Serving:
Calories:

132
Total Fat:

3g
Saturated Fat:

0g
Trans Fat:

0g
Unsaturated Fat:

2g
Cholesterol:

0mg
Sodium:

159mg
Carbohydrates:

25g
Fiber:

6g
Sugar:

8g
Protein:

4g
Disclaimer: There are affiliate links in this post. By using them, we will get a small commission of the sale at no extra cost to you. It's the little things like this that keep us afloat. We never recommend something we don't believe in, always tired and tested too.