Vegan meal prep can absolutely be a life saver. So often life gets too busy to wing it, whether you are busy with a job, parenting, or just binge watching tv. Enter meal prep.
Even if you are not too busy to cook your meals, being prepared with a meal plan can be a very effective tool for weight loss, ensuring you have healthy options at hand when you get hungry.
By spending a few hours on a Sunday (less or more depending on how fancy you want to get), you can prepare your entire weeks meals, or at least get to a place where you have food ready within ten minutes.
You can take it however far you want to go with it, from having every days vegan meals prepacked and ready to go, to just being prepared with the ingredients for a quick and easy vegan dinner.
Check out our 'must have' vegan kitchen appliances.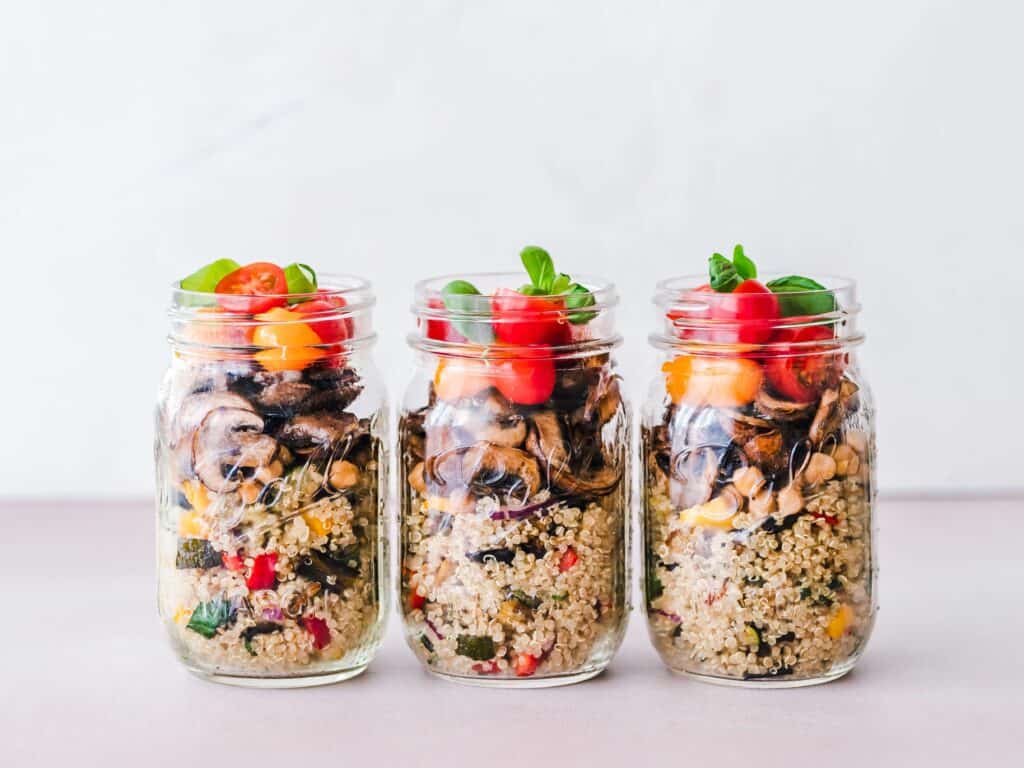 I'm going to start out by walking you through some strategies to properly plan and prepare food so that you have things easily on hand and so that you aren't throwing away unused food at the end of the week.
After that I'm going to direct you at some really easy recipes that are great for vegan meal prep. I'm also including a printable sheet for meal planning that I find incredibly helpful.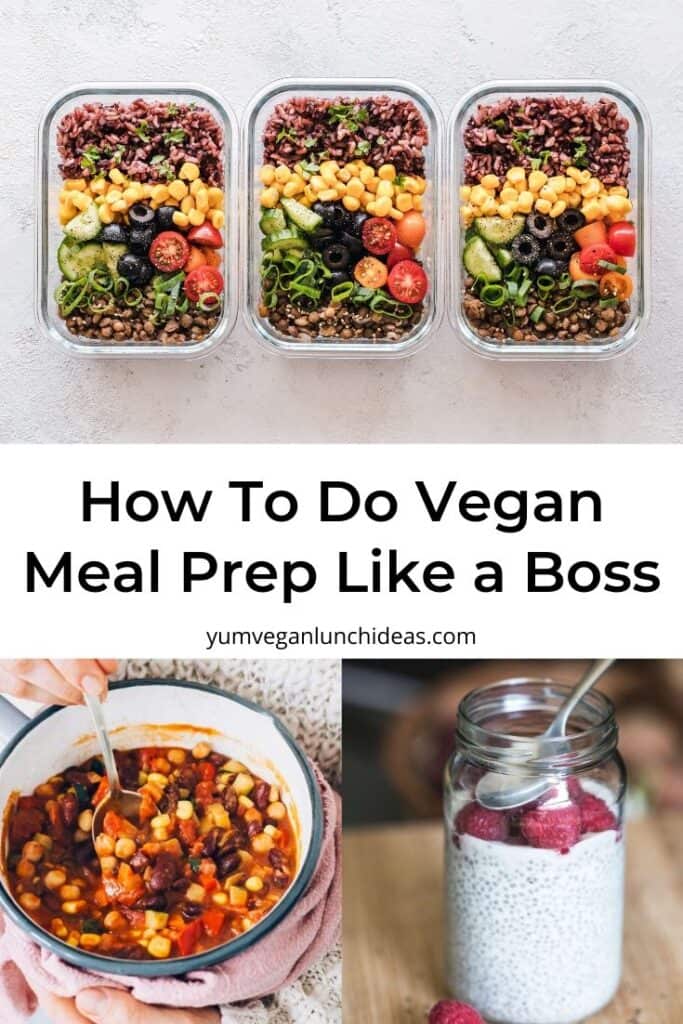 Choosing Your Vegan Menu
The first step of effective meal planning, is sitting down and writing what you want to make and eat that week. Figure out what you will have time to cook, how long the ingredients will stay good for, how far in advance can it be made, etc. It is also worth first considering what ingredients you already have on hand and any leftovers or leftover ingredients that need to be used up.
If you want to offload the meal planning, be sure to check out our free four week vegan meal plan here. You can also order premade vegan meals here, to take some of the stress out of your day.
I like to have a mix of recipes made with fresh ingredients with short shelf lives (usually for the beginning of the week), meals that can be grabbed from the freezer and/or easily frozen, and meals with shelf stable ingredients.
If you will be able to reheat meals for lunches, or if you need easy cold lunch options is also something to take into consideration.
Types of Vegan Recipes
That might seem intimidating, so I'm going to break it down. Fresh ingredient recipes would be things like fresh salads with roasted veg, zoodles, stir fries with fresh veg, etc. Because these ingredients have short shelf lives, I try to schedule it so that most of these things fall towards the beginning/middle of the week.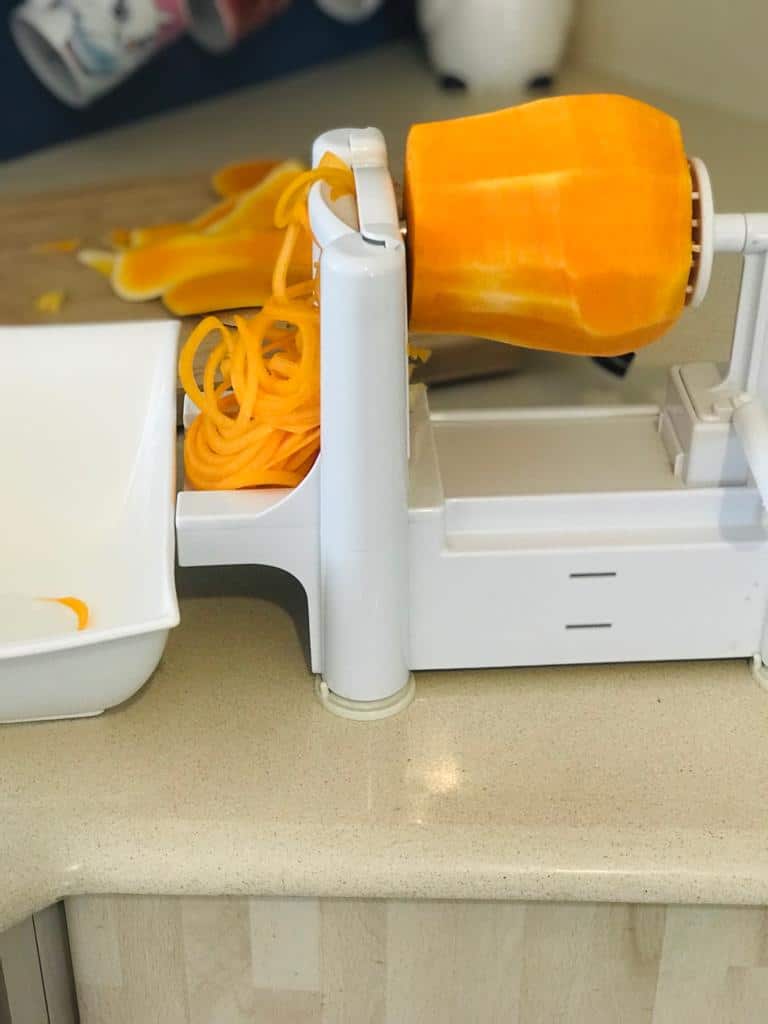 Freezer meals can either be premade frozen vegan products, or it can be homemade food items that freeze well. Things like beans, waffles, casseroles and soups all freeze really well so when you cook them, you can make big batches and freeze into serving size portions.
I especially like to cook meals that lend themselves to freezing because we tend to decide to eat out on the spot, or make last minute plans that lands us with too many leftovers. If I can freeze the leftovers, then they don't go in the garbage.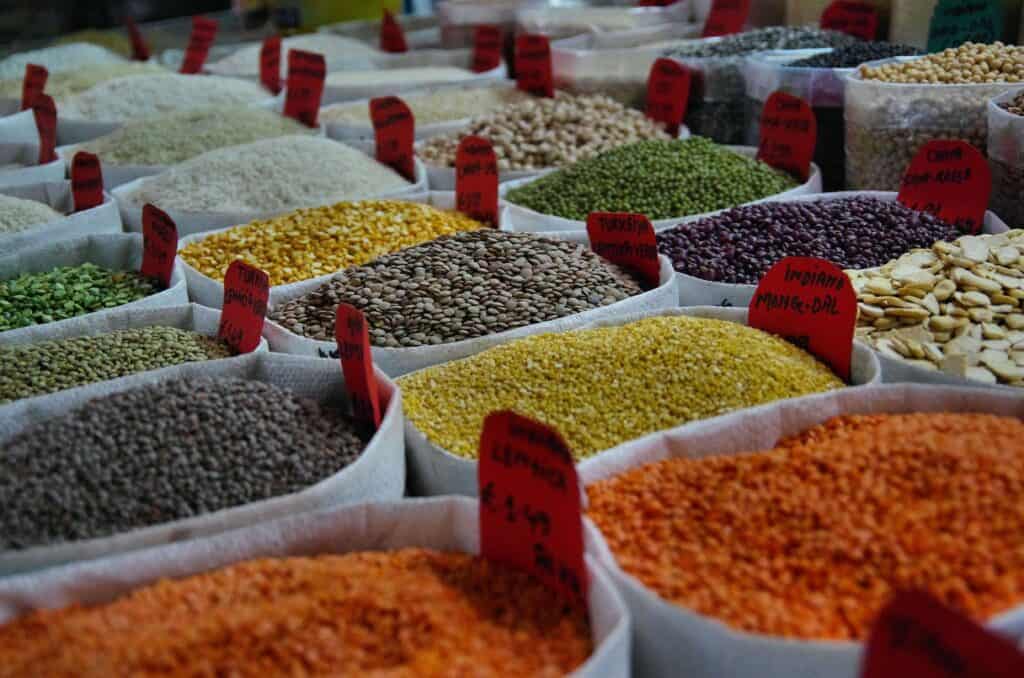 Recipes with shelf stable ingredients are things like pasta, rice, frozen vegetables, dry beans and legumes, canned goods etc. Even some vegetables are remarkably shelf stable like potatoes, carrots (in the fridge), cabbage, squash. These are all really good veg to have on hand for quick meals at the end of the week.
Using Versatile Ingredients for Vegan Meal Prep
The easiest way to save time on cooking, is to make things that can be used and repurposed in many different ways. For example, you could choose to make a big batch of chickpeas that throughout the week you can add to your green salads, turn into a curry, make quick chickpea tuna out of it.
You could also choose that this week is a spiralizer week (after all who wants to keep washing those things on repeat). On Sunday, spiralize a whole bunch of veg like zucchinis, sweet potatoes, veg for salads, and then use it throughout the week with different sauces and dressings.
I usually make a big container of salad dressing, a tray of roasted vegetables and some sort of legume, like lentils or chickpeas, that can all be used in salads, grain bowls, as side dishes and more.
Make Your Plan With Our Free Printable Meal Planner
This is a planner I find incredibly useful. As you choose recipes, put them down on the days you want to eat them. If you need any ingredients add it to your shopping list.
Any recipes that require additional notes (like to soak the beans ahead of time, remember to take out of the freezer the night before etc) drop in the notes section. It's as simple as that!
Remember to take note of ingredients shelf lives as you make your plan, scheduling it so that the more temperamental ingredients get used up first.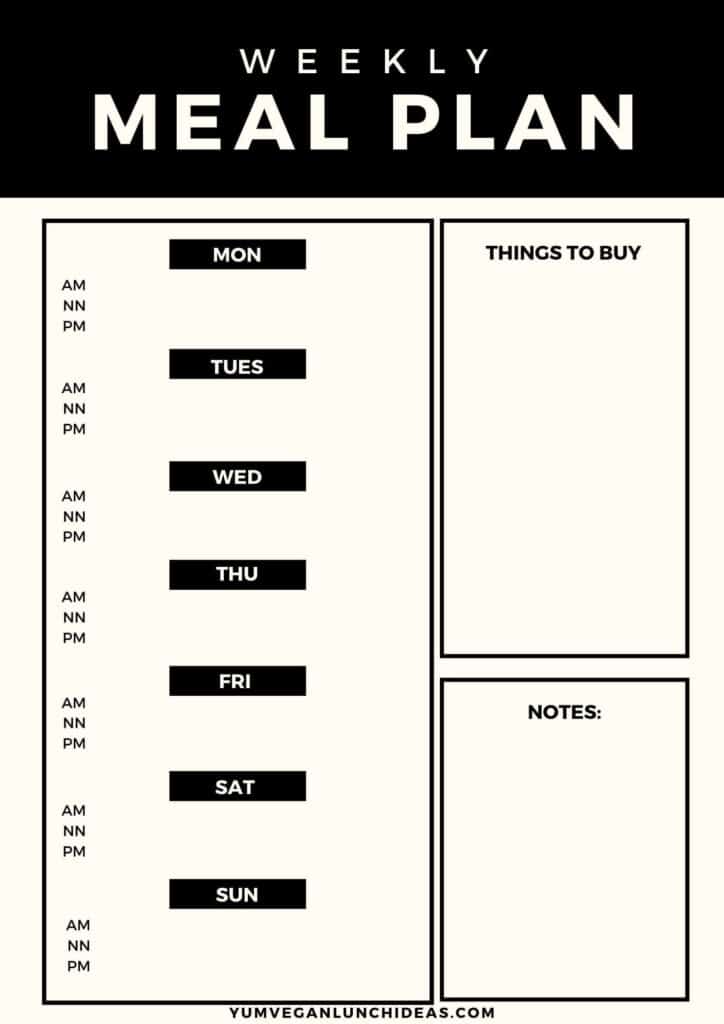 Shopping Effectively
I'm the first to admit, I'm not always the best shopper. I love to buy based on what produce looks beautiful and amazing, but that sometimes ends with me throwing out wasted produce that I just didn't have time to use up.
However that doesn't mean you have to give up shopping with your eyes. It's great to buy foods that inspire you, it means you will enjoy your meals more.
What you should do, is head into the grocery store knowing already what you will be making for the week. Bring your meal plan and shopping list with you. If you see something that looks amazing, or is on sale, spend a minute figuring out what you will do with it, and what meal you can swap it with on your existing list.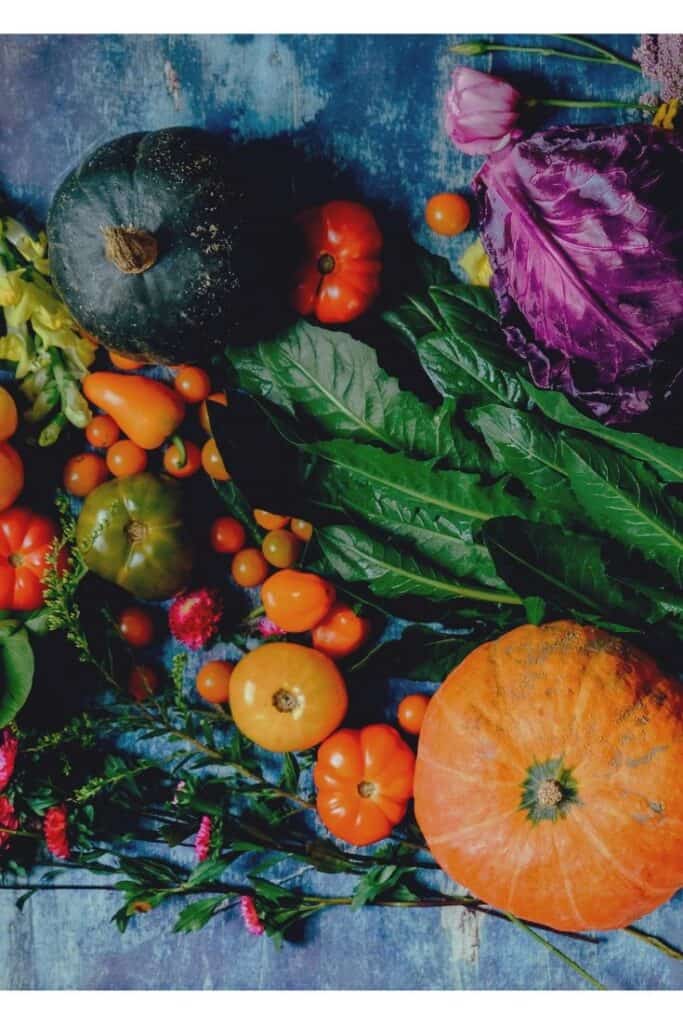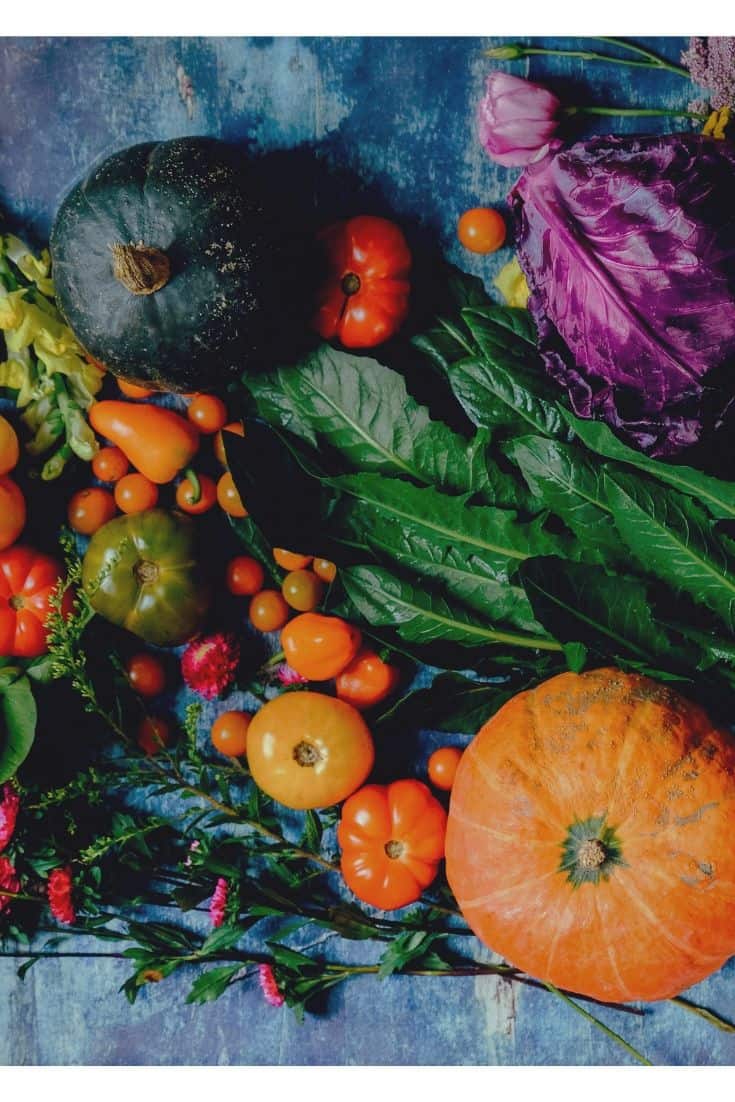 It may take a few weeks to nail the proportions down, after all, you have to get to know how much of each thing you actually enjoy eating.
Feel free to stock up on shelf stable products. I like to always have on hand different types of frozen vegetables like broccoli, green beans and brussel sprouts. We also always have a bag of, admittedly not so healthy, vegan hot dogs in our freezer for my picky toddler.
You can easily buy grains and pasta in bulk to save on cost and it shouldn't be a problem to store them for a while. Just make sure to keep them in airtight containers so that greedy bugs don't come a calling.
Meal Prep Containers
To prep all these foods ahead of time you are going to need a set of containers. We prefer to use glass containers as they are better for the environment and your health.
Rubbermaid sells a great set of varying sizes so you have some for all your needs. The tops are plastic and seal tightly so that liquid wont get out but the bottom is glass and microwave safe!
Check out the Rubbermaid Set Of Containers Here
.
I'm also slightly obsessed with collapsible containers. While it's not as eco friendly, this salad container has special compartments to hold your salad dressing and different ingredients that you don't want touching until it's eating time. Plus when you are done, it collapses down to a much smaller size!
Check out the Collapsible Salad Bowl here.
Vegan Recipes for Meal Prep
Below you'll see a collection of recipes, and meal ideas simple enough to not need a recipe, for you to start trying out your vegan meal prep skill with. Have a look, see what appeals to you, and feel free to get creative!
If you are looking to lose weight, you can also check out this roundup of low calorie vegan recipes, most of which are great for meal prepping!
Vegan Breakfast
Whether you want something that is literally zero effort, no recipe needed, or something with a health boost that can be prepped in advanced, there are lots of great meal prep vegan breakfast options.
Recipe Free Breakfast Options
There are some extremely obvious breakfasts that you don't even need a recipe for to make breakfast effortless.
Boxed Cereals
There are lots of vegan cereals on the market now from granola options to a whole bunch of sugary kids options. These by far aren't the only ones but if you want some suggestions of great vegan options, check out PETA's roundup of the best vegan cereals.
Oatmeal Packets
Another easy ready made breakfast option are oatmeal packets. Make it quickly at home or bring it with you to eat at work. Many of the mainstream options like some of the quaker oat packets are vegan but if you want to skip reading labels just grab a brand specifically marketed for vegans, like this one.
Toast
Toast is one of my favorite breakfast options. It takes no forethought and you can keep it fresh with whatever toppings you have on hand. Some of my favorite toppings are:
More Meal Prep Breakfasts
If you want some more creative options for make ahead breakfasts here are some great ones.
Smoothies and Smoothie Bowls
You can make sure these are ready ahead of time by filling cups (the ones you will use to drink it) with the ingredients of the smoothie. Cover the cups and store in the fridge until you are ready. Then all you have to do is drop it in the blender in the morning and you'll be good to go!
We've got tons of smoothie options to start your morning off right. Be sure to check out some of them: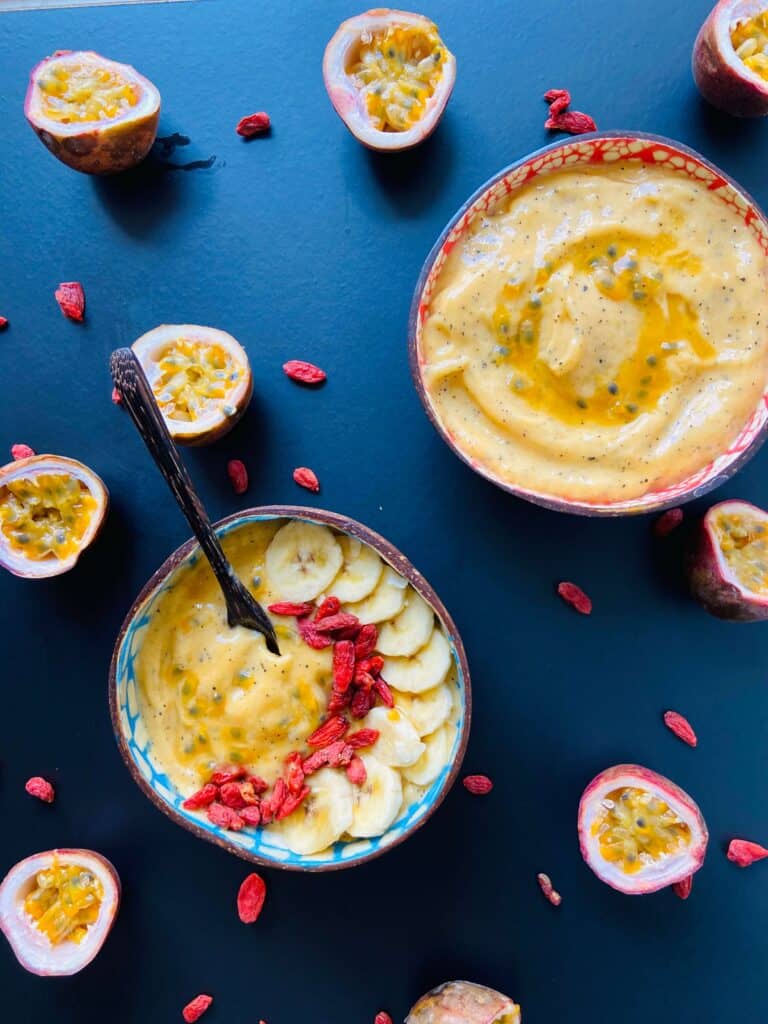 Chia Pudding
Chia pudding can be made in the beginning of the week and used for around 4-5 days after that for an grab and go breakfast.
Just combine 2 cups dairy-free milk, 1/2 C chia seeds, a few tbsp of sweetener, and a splash of vanilla extract. Mix it all in a container and leave in the fridge for at least six hours.
You can eat it like this but I prefer to blend it at this point to give it a nicer consistency. You can also get creative with it, make it chocolate by adding cocoa powder, serve with berries, nuts, etc. You can check out my favorite strawberry chia pudding recipe here.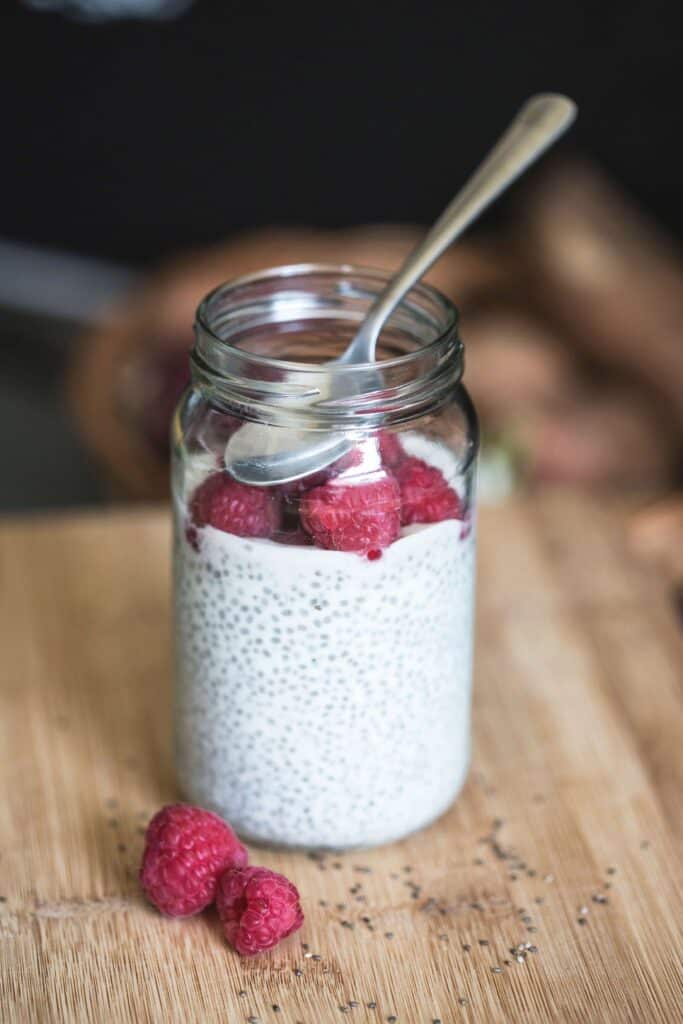 Parfait Cups
Parfait cups are perfect for meal prep, both because it only takes minutes to assemble, and because you can make them ahead of time, directly in the jar that you'll grab and go!
Check out our strawberry banana chia parfait cups here! Or try out our vegan yogurt berry parfait.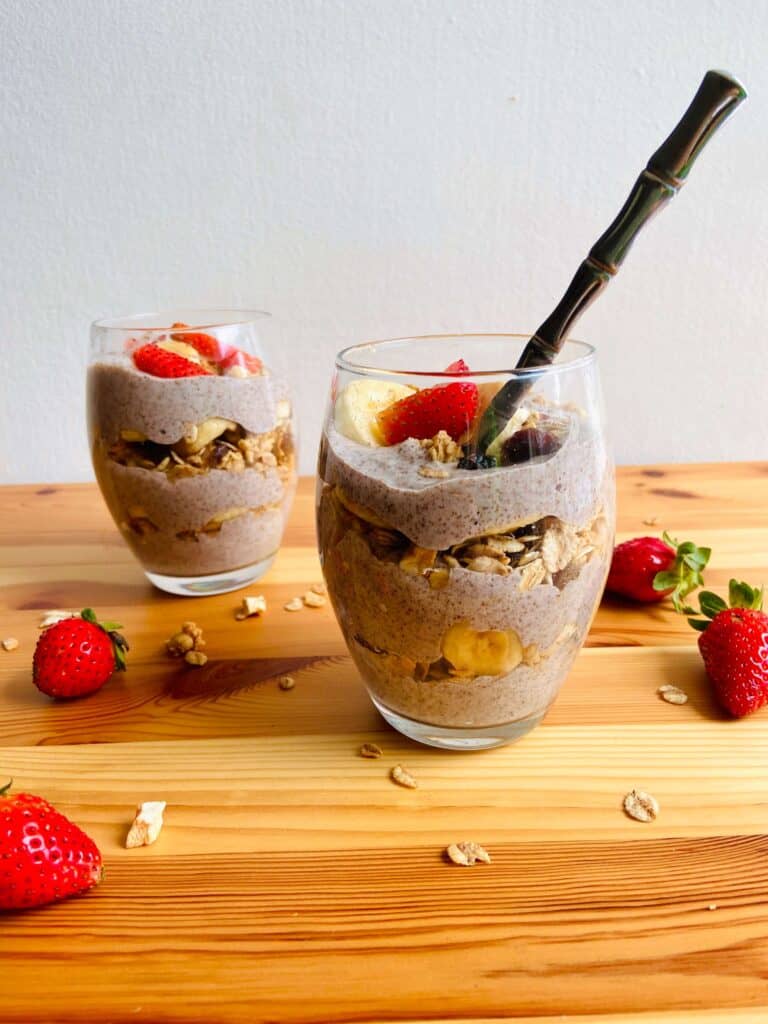 Tofu Scramble
Tofu scramble is a really fast breakfast and it can also be made ahead of time and reheated. Throw it between two slices of toasted bread for a really yummy sandwich. You can check out our recipe for tofu scramble here.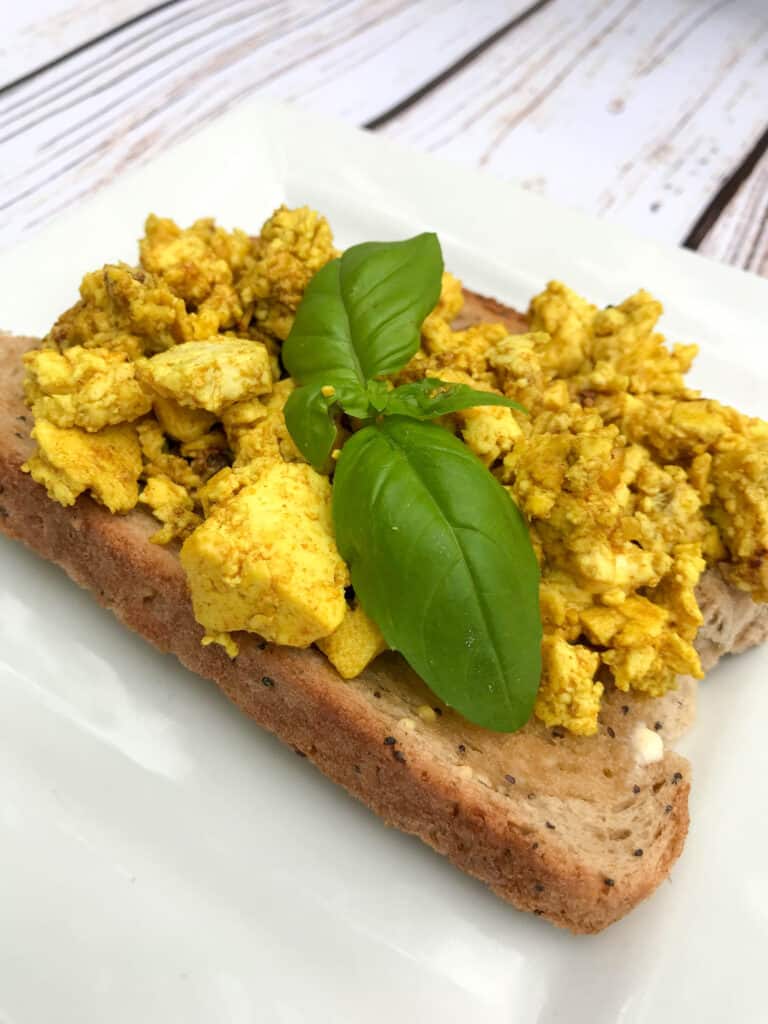 That recipe is for a basic tofu scramble but feel free to customize by throwing in your favorite spices, veg or even beans. I personally love adding spinach to mine. Click here to get the full recipe!
Pancakes and Waffles
Pancakes and waffles might sound time intensive but there are plenty of simple recipes and they freeze beautifully.
I like to do a nice Sunday breakfast with these sweet potato waffles and double the batch so that I can have them all week long. See the recipe for freezing and defrosting instructions.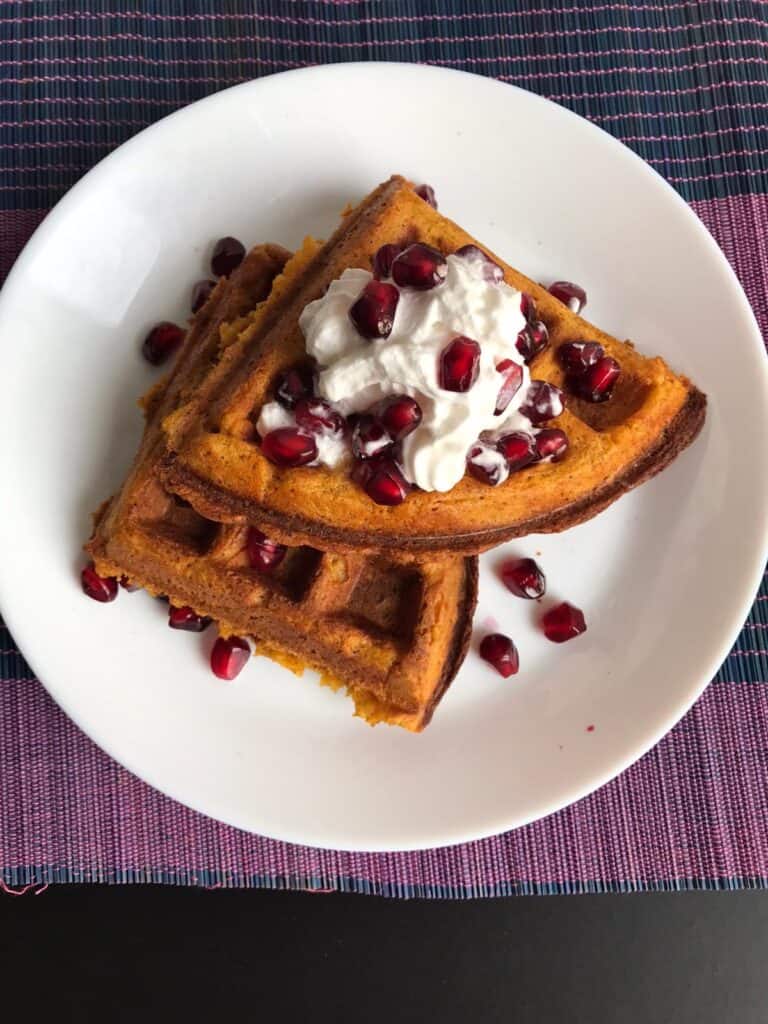 If you prefer a more classic waffle you can also check out these Belgian waffles. Or try out these healthy buckwheat pancakes!
Click here to get the full sweet potato waffle recipe. Need a waffle iron? You can grab one for under 20$ on amazon!
Muffins
Muffins are great for meal prep. They freeze beautifully and can be popped into the microwave for a 30 second breakfast. They also will last most the week on the counter or fridge if stored properly. You can grab a boost of nutrition with these sweet potato muffins.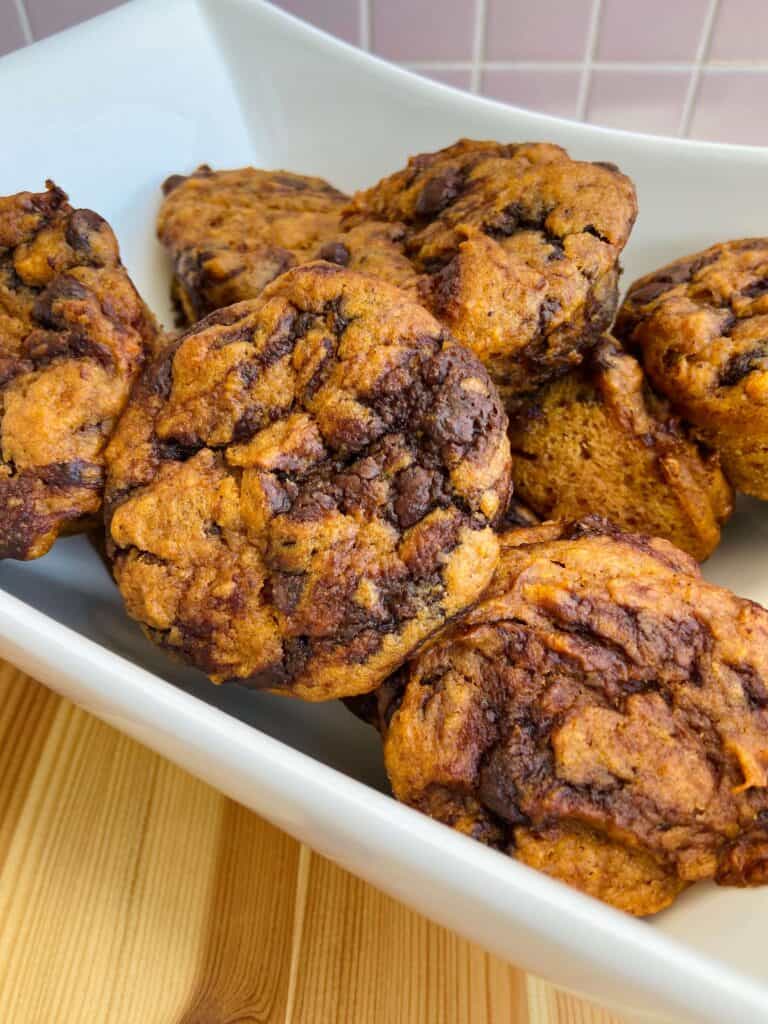 You can also check out these delicious vegan raspberry muffins with vegan cream cheese drizzle for a fun treat.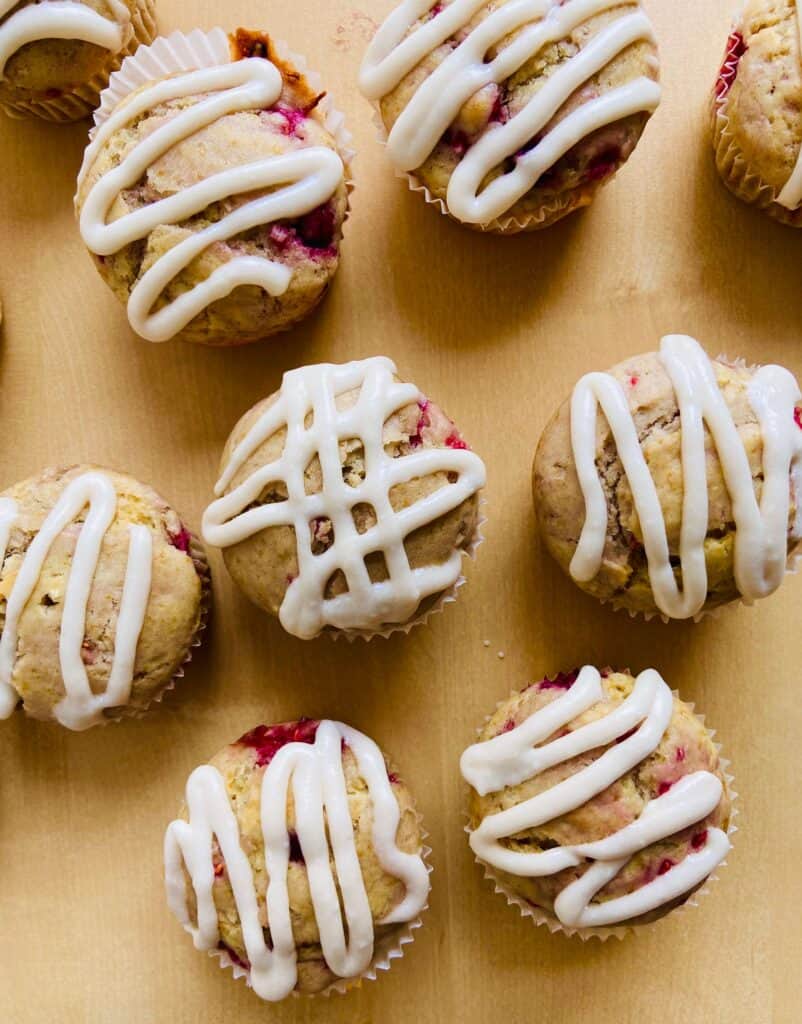 Don't like a sweet breakfast? Try out these savory muffins!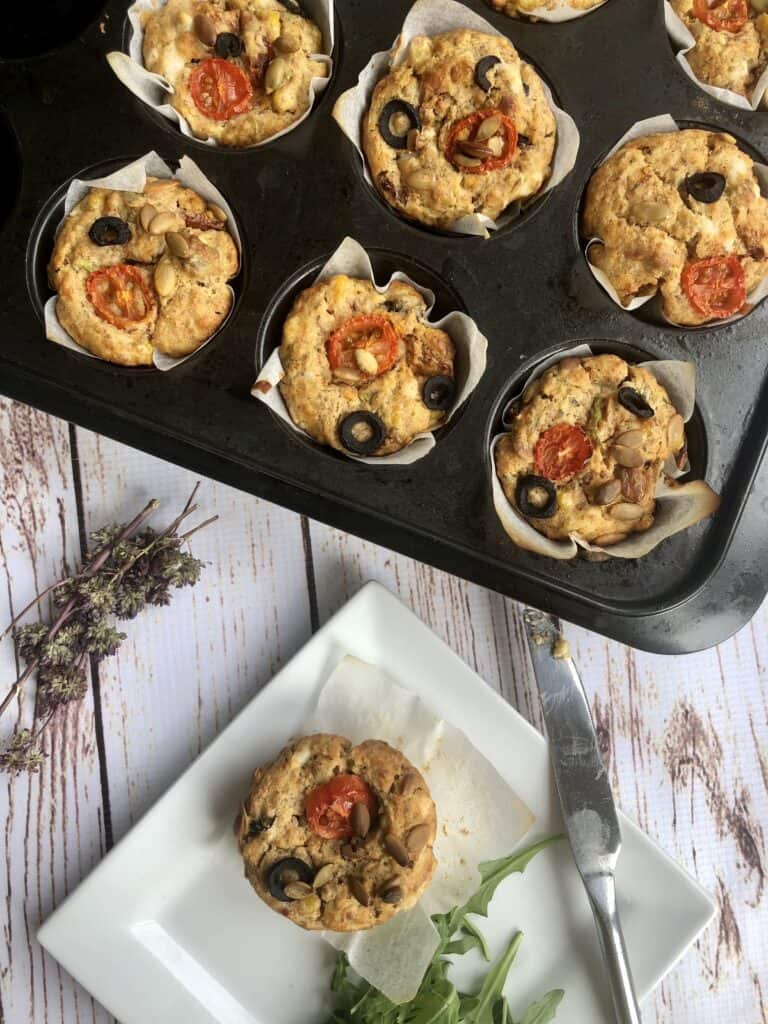 Scones
Similar to muffins, scones are great made ahead of time in big batches to enjoy throughout the week. You can try out these awesome corn and cheese scones and spread them with vegan butter, pesto or any of your other favorite toppings! Get the recipe here.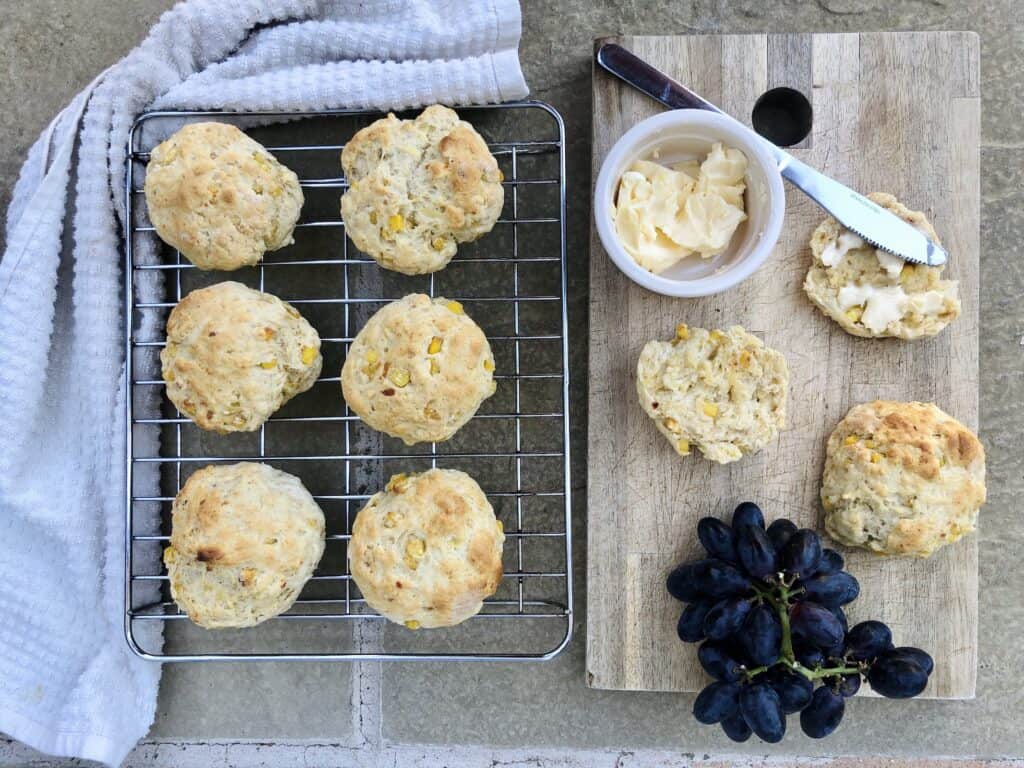 Vegan Lunch Ideas
The simplest vegan lunches to prep are things you can make big batches of and mix and match to makes salads and bowls. I always make one versatile salad dressing to have on hand throughout the week. My current favorite is this vegan honey mustard.
I also usually make a tray of roasted vegetables to throw into salads and grain bowls for a mix of lunches. My favorite is to cube sweet potato and beets and throw them in a roasting pan with a little bit of oil, salt, and garlic powder and take them out when they are soft inside and a bit crispy on the outside.
You can do it with which ever vegetables you are feeling this week. Broccoli, brussel sprouts, green beans, you can't go wrong. Switching up the vegetables from week to week will help keep you enthusiastic about your salads as well.
Vegan Lunch Recipes
Salads
You don't need a recipe for a salad, although there are certainly plenty of great ones out there. To keep things creative, mix up which greens you will use, try new salad dressings, and switch up your add ins. Use different roasted vegetables, seeds (sunflower, pumpkin, etc), protein sources like lentils, tofu, chickpeas and more.
You can prep all the ingredients ahead of time and have the salads in individual servings, ready to go in the fridge, but keep your salad dressing and any liquidey (tomatoes included) ingredients separate so that the greens don't get soggy. You can buy special salad containers with pouches for the dressing like this one.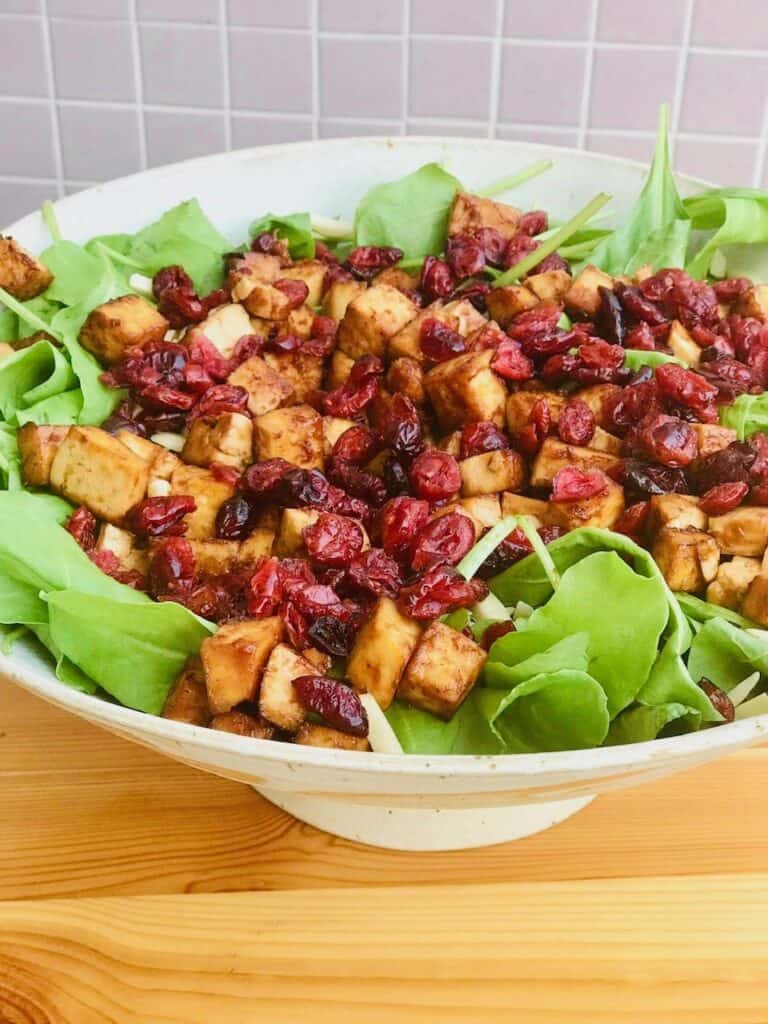 If you want a more specific salad recipe to get started, try out this spinach salad with BBQ tofu, our awesome chickpea avocado salad or checkout our full guide to creating the best salads here. Bonus tip: Make extra of the tofu from the spinach salad and throw it into grain bowls or serve for dinner with rice and broccoli.
Grain Bowls
A grain bowl is, in my mind, basically a salad, you just switch out the greens for grains! You can use quinoa, rice, farro, couscous, bulgur or whatever else you like as the base and then add in toppings like a salad (avocado, roasted veg, legumes, tofu) and drizzle with some dressing. Done!
One of my favorites is this teriyaki tempeh bowl. It comes together in twenty minutes and it's great for dinners and lunches!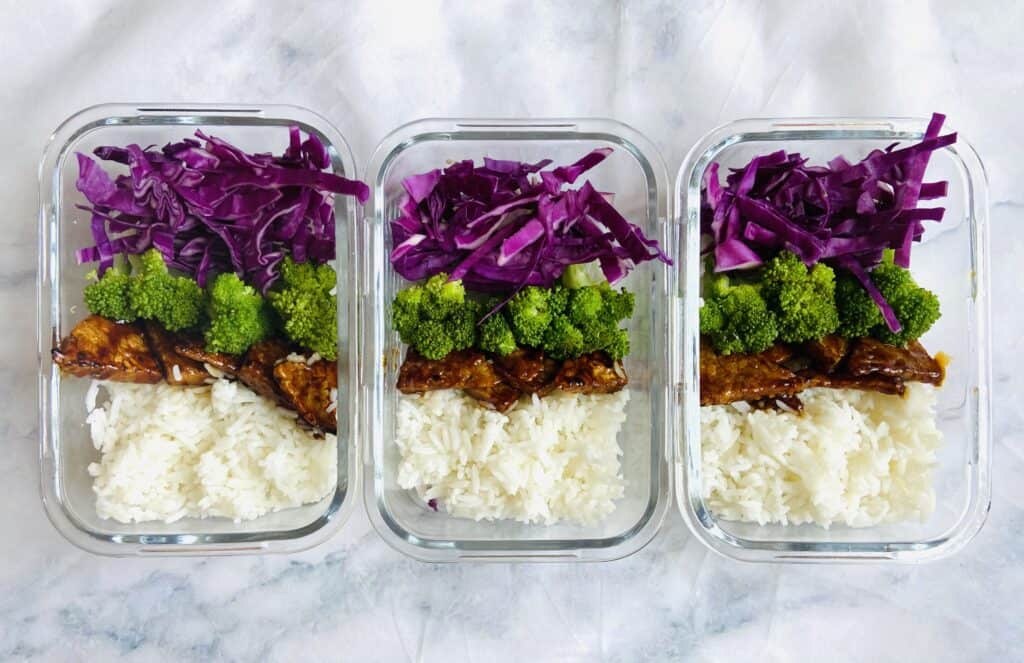 Chickpea Tuna
This is a great recipe to make a huge batch of for the week. If you enjoy eating the same thing every day you can easily make sandwiches out of it for each day and be done, or you can turn it into some different types of meals; a tuna melt, mixed with cooked pasta for a pasta salad, etc.
Check out our Chickpea Tuna Salad Recipe here.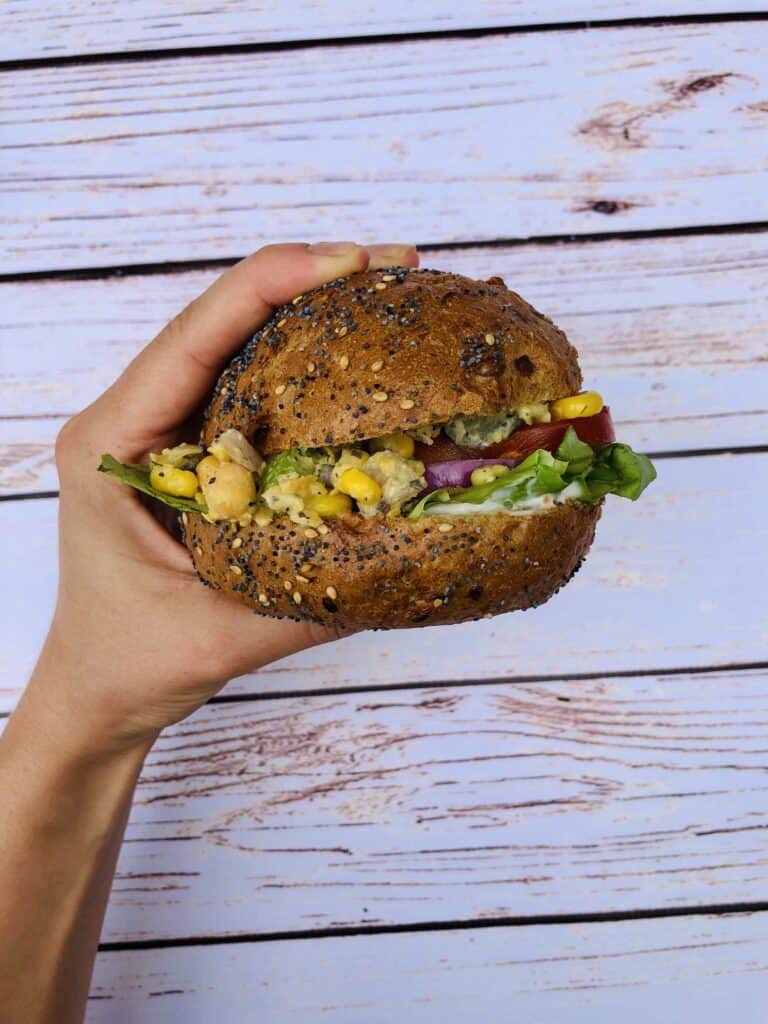 Vegan Egg Salad
This is another 5 minute recipe that you can make a large batch of and have sandwiches for the week. It is toddler approved as well (at least my toddler likes to eat it by the spoonful).
Check Out The Vegan Egg Salad Sandwich Recipe Here.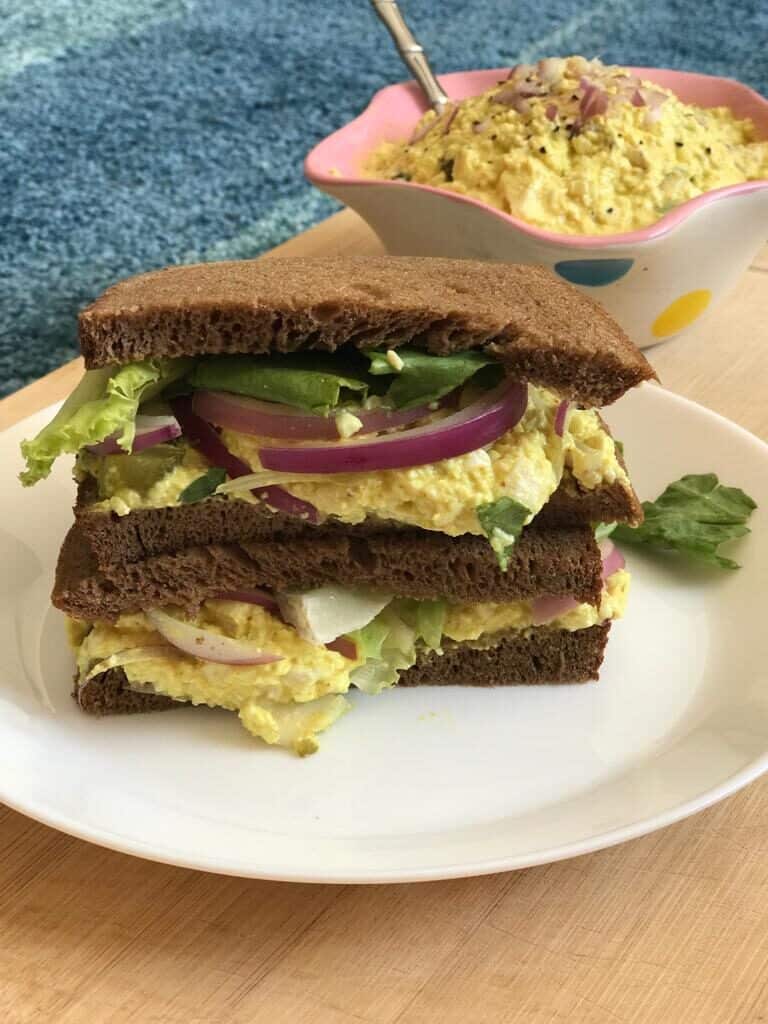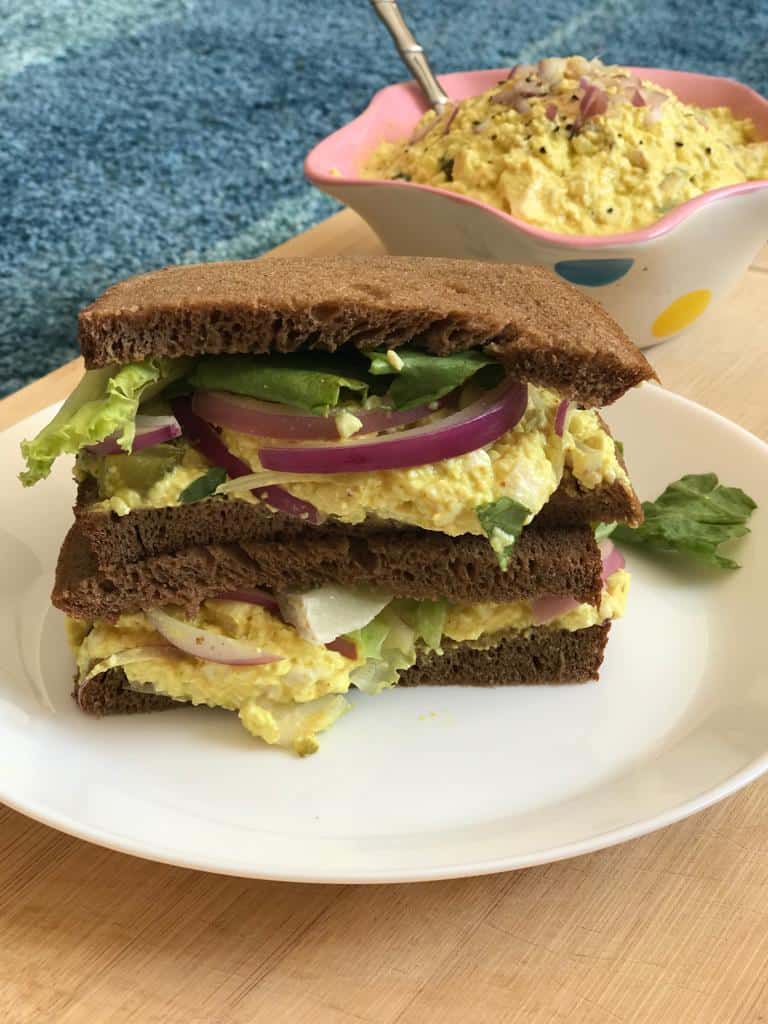 TTLA Sandwich
This is a copycat recipe for the TTLA Whole Foods vegan sandwich! This sandwich features crisp butter lettuce, juicy tomatoes, tangy tempeh bacon, creamy avocado, and zesty garlic aioli in a pressed ciabatta roll.
The tempeh bacon can be made up to five days in advanced so you can make a big batch of it at the beginning of the week and use in your sandwiches throughout the week. You can also make extra of it to sprinkle into salads and grain bowls throughout the week.
Middle Eastern Vegan Eggplant Sandwich
This sandwich was made for meal prepping, it was originally designed exactly for that purpose. Make the eggplant slices and vegetables ahead of time and assemble either right before eating or the morning of. Try out the vegan sabich recipe.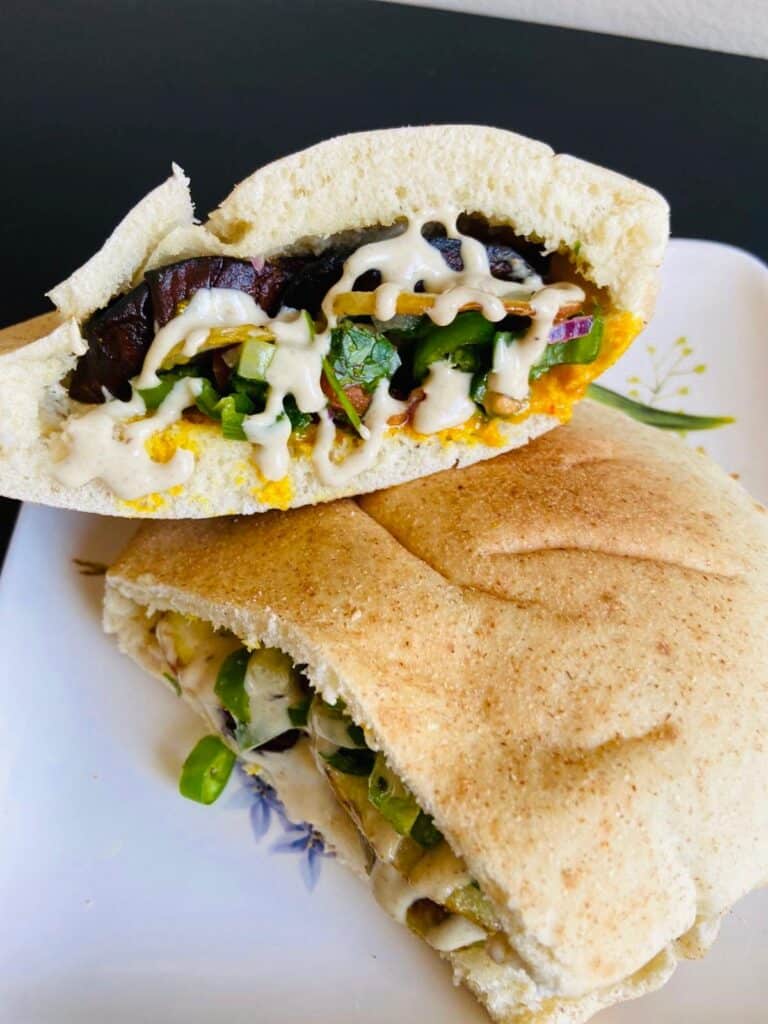 Healthy Potato Salad with a Protein Twist
This vegan potato salad has many veggies and is covered in a delicious, healthy white bean dressing. It keeps well in the fridge for up to a week, so it's great to make ahead for lunches!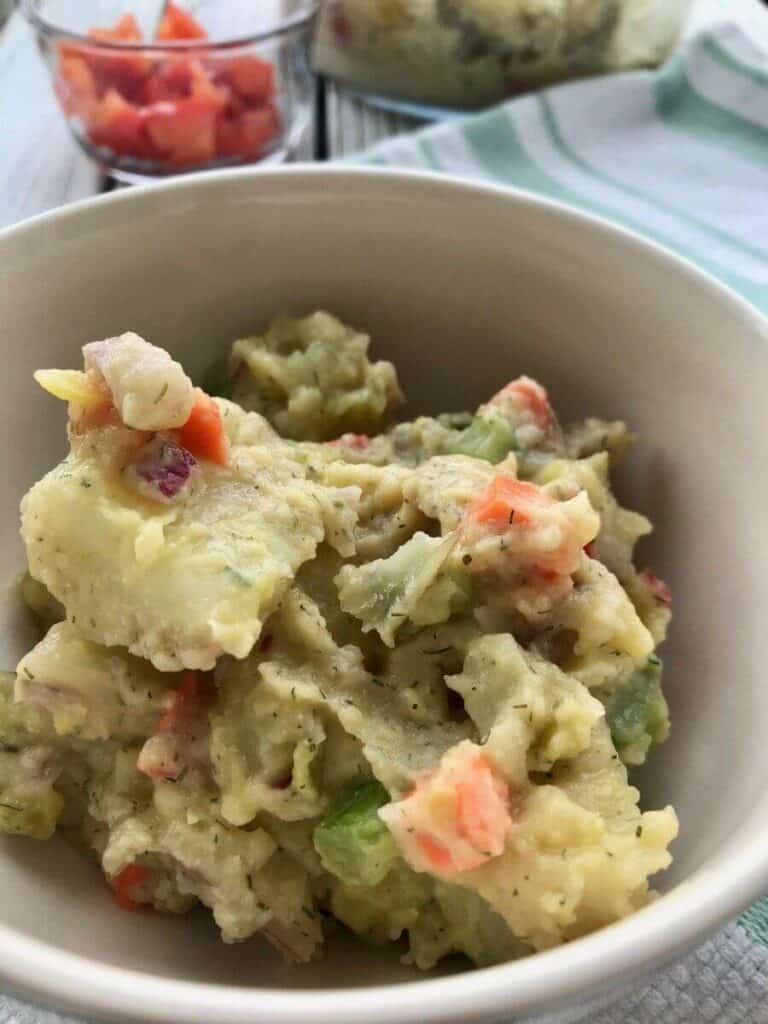 Miso Tempeh Wraps
These wraps are easy, quick, and the ingredients can be prepped ahead of time. Assembly only takes a minute and can be done the night before. Try these delicious wraps here!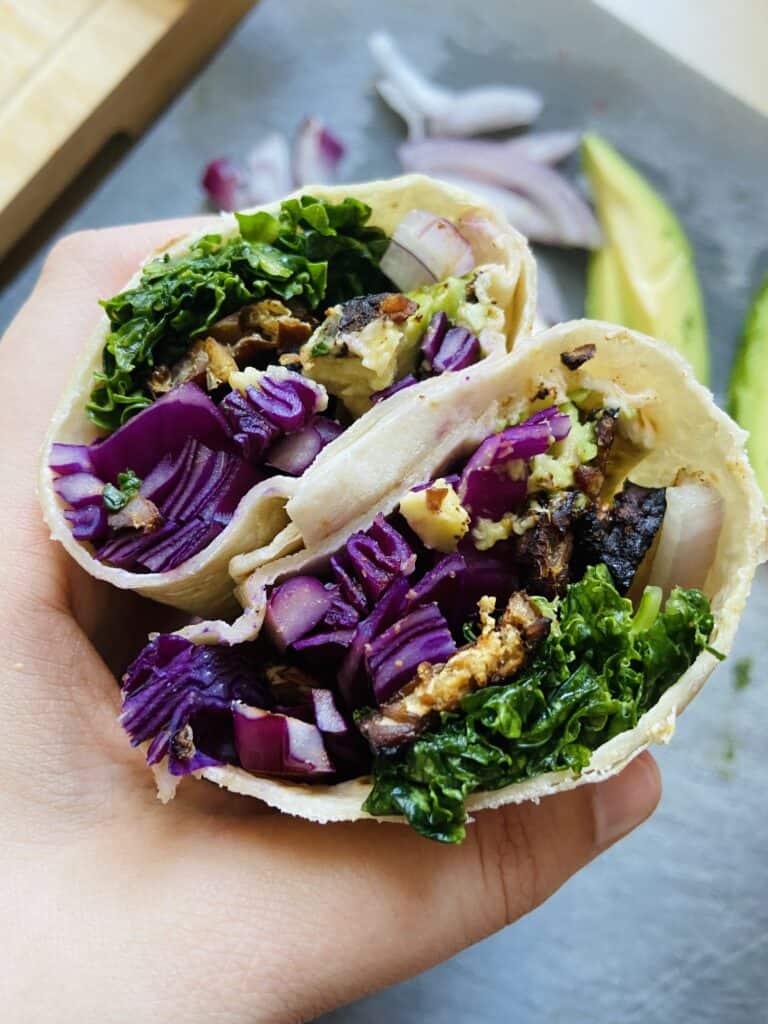 Simple Vegan Sandwiches
I know we've already named a fair few sandwiches but some other extremely easy ones include: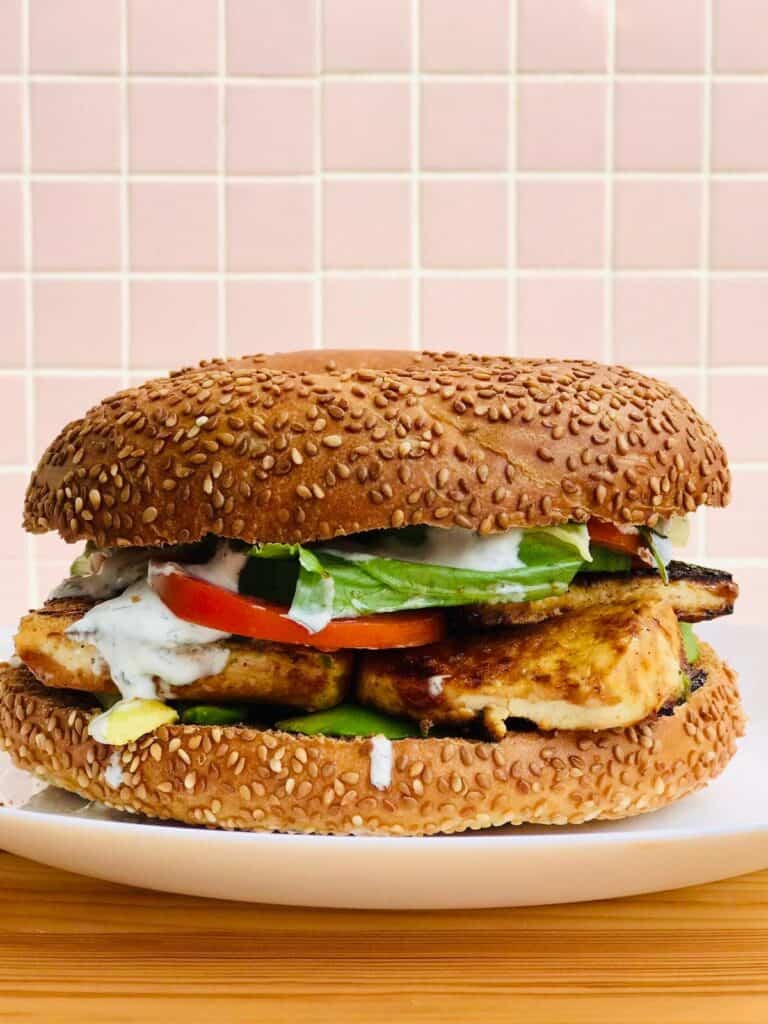 Leftovers
If you work in an office with a microwave or you'll be at home, take advantage. My favorite lunch is usually just dinner leftovers!
Quick Vegan Dinner Recipes
I don't usually have preportioned dinners waiting in the fridge but I am a huge fan of ten minute dinners, whether they come out of the freezer (having been made on a weekend) or are just generally quick. Here are some of my favorites.
Rice and Beans
My husband is Brazillian and I quickly learned that no matter what else was on the table, they usually eat rice and beans twice a day. My mother in law taught me how to make and it's incredibly easy and they freeze extremely well. I make a huge batch every few months and keep it in containers in the freezer.
The recipe is like this. Soak the pinto beans over night, then rinse them off. Cook in boiling water, enough to cover the beans by a few inches, with a few bay leaves (depending on how much beans you are making) and salt.
Once they are soft, chop a ton of onion and garlic and brown them in oil. Add the beans with their cooking liquids, and simmer until the cooking liquid thickens a bit more (around 10 minutes). Done! Freeze containers for months and just let them defrost in the fridge the day or two before you plan to eat it. Cook up a pot of rice to serve with.
Burritos
Burritos are a great way to use up any extra ingredients you have. I usually use any extra beans and rice, add in some guacamole, leafy greens, salsa, sometimes even some vegan sour cream. They best part of burritos is that it freezes really well, so sometimes I make them to use up any extra ingredients, wrap individually in tin foil and freeze.
When you are ready to eat it, just throw it in the oven until its piping hot. Just note that if you are freezing, don't include salsa, tomatoes or leafy greens, they don't defrost well.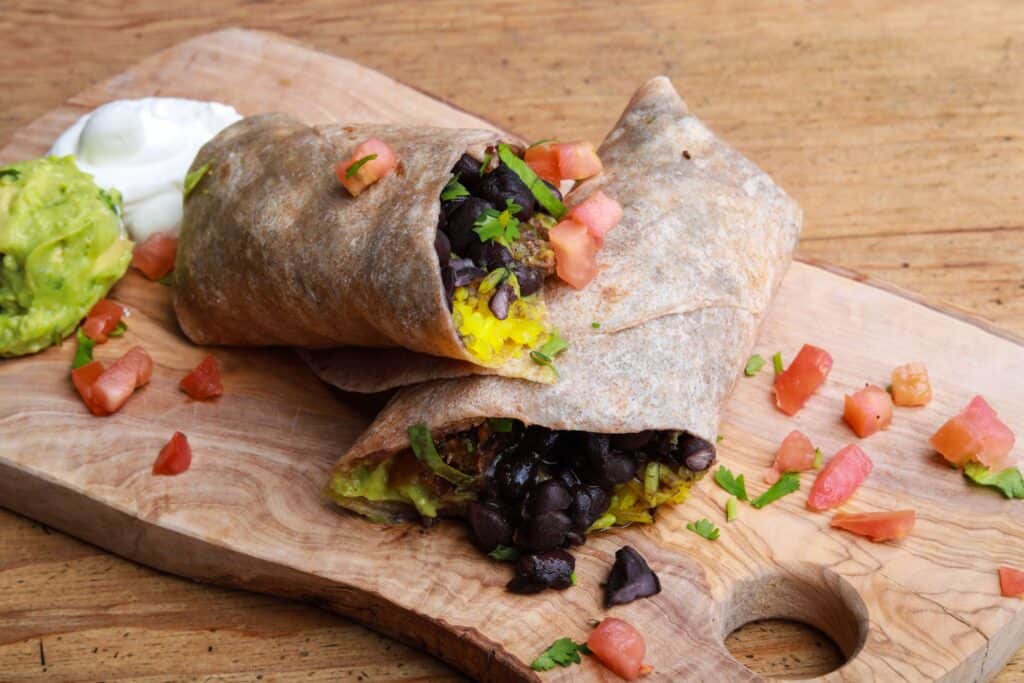 Tofu
There are a million ways to use tofu. You can make a big batch of BBQ tofu (like in the recipe mentioned above in the salad section) and warm it up with rice and some green vegetables, or you can make a five minute stir fry by throwing tofu in a pan with whatever veg you have on hand (frozen or fresh) and some soy sauce, sesame oil, and garlic.
Baked Potatoes
My favorite way to eat a baked potato is with a can of baked beans in tomato sauce, because that's how I grew up eating it. It's a completely effortless dinner since all you have to do is bake or microwave the potatoes until soft and cover in the canned beans. For bonus points, sprinkle with nutritional yeast!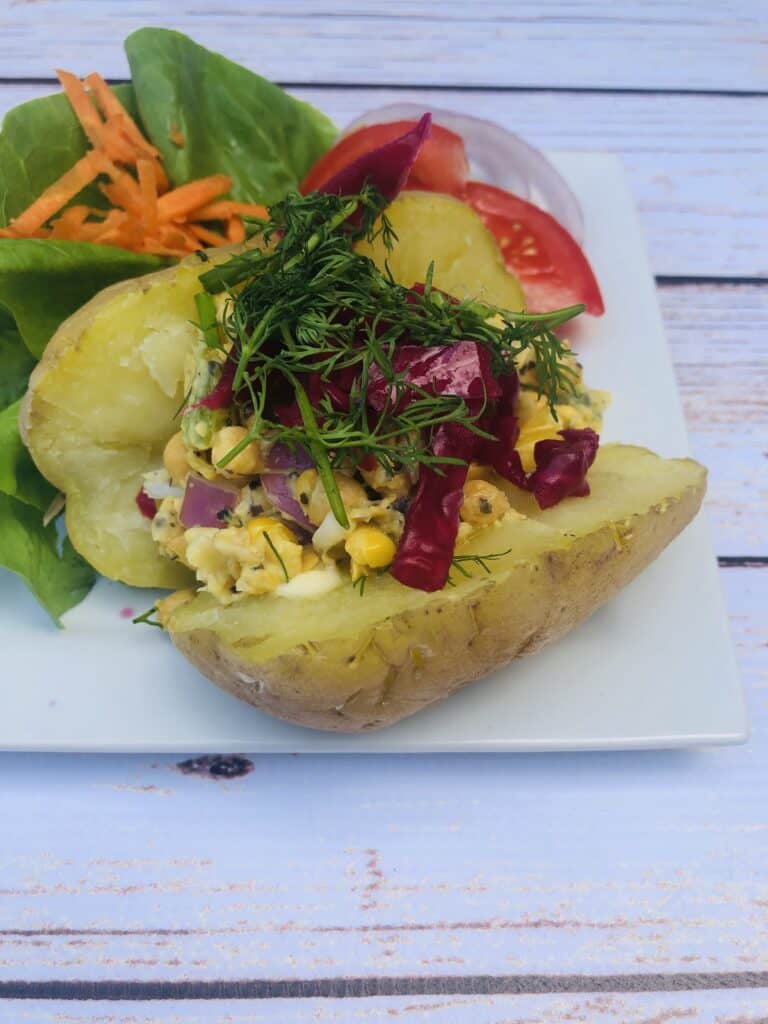 If you want another baked potato option, check out this jacket potato recipe with chickpea tuna recipe. The topping can be prepped ahead of time so that dinner is still just a matter of throwing some potatoes in the oven.
Seitan
Seitan can seem intimidating if you've never made it yourself, but in simple recipes it actually only takes about ten minutes of hands on time to make and you can freeze the leftovers very easily. You can throw it into stir fries or really anything that you would put meat into.
One of my favorite ways to prepare it is the seitan ribs from our tortas recipe. You can make a triple batch of it, cut it into whichever way you prefer and freeze for easy meals. Get the recipe here.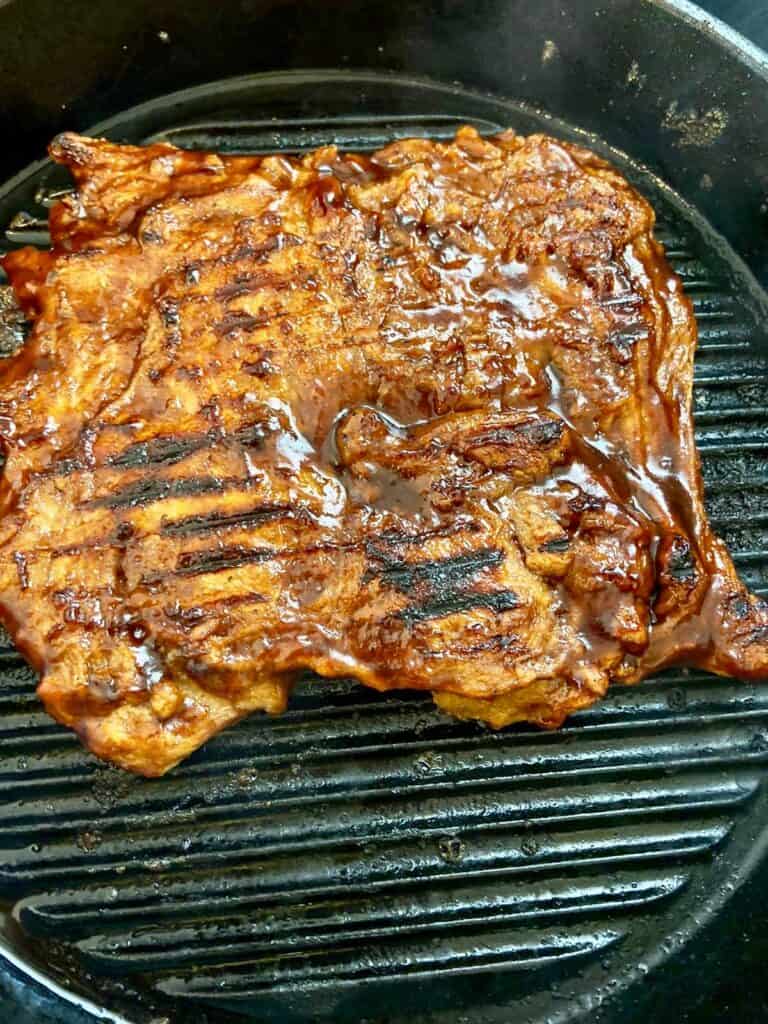 Satay Skewers
These vegan satay skewers are perfect for meal prep. It only takes 10 minutes to get together and then it just has to marinate. You can leave it marinating overnight, or even for a few days so that you have an easy meal on hand when you are ready for it!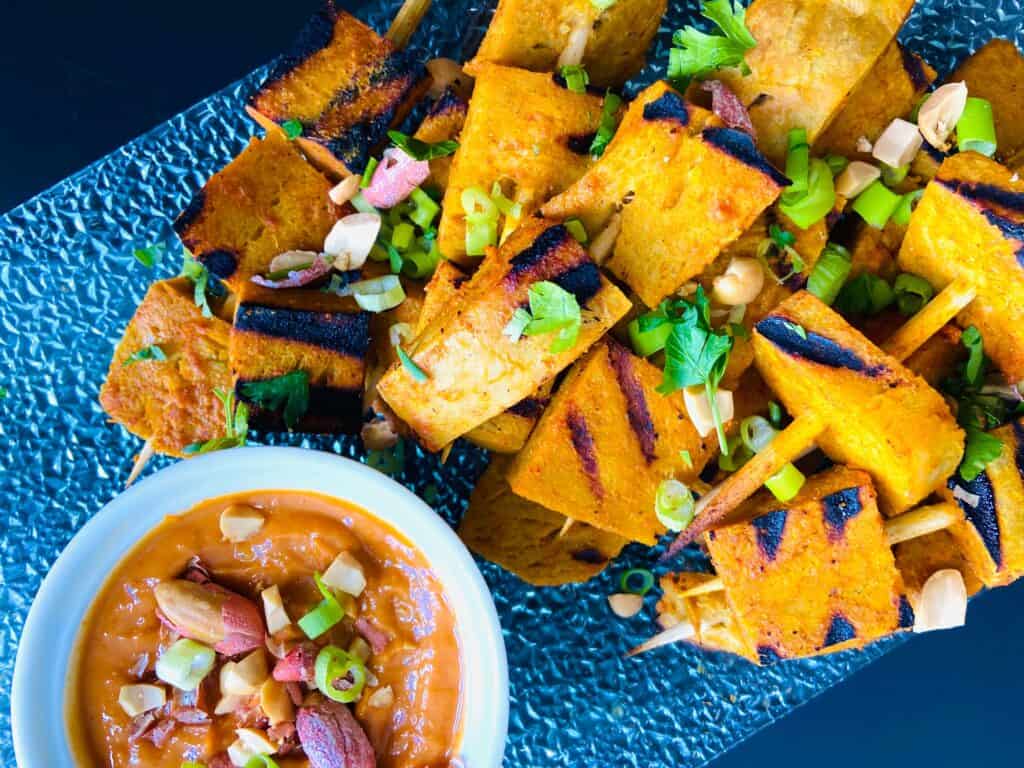 Finishing it up on the day you are ready to enjoy it only takes 10 minutes. Serve with rice or another grain for a well rounded meal. Get the full recipe here.
Soups, Curries and Chilis
Soups, curries and chilis reheat and freeze incredibly well, so it's always a good option for making a huge batch and having on hand for whenever you need a quick meal. Here are some good options for soups and chilis you can get started with: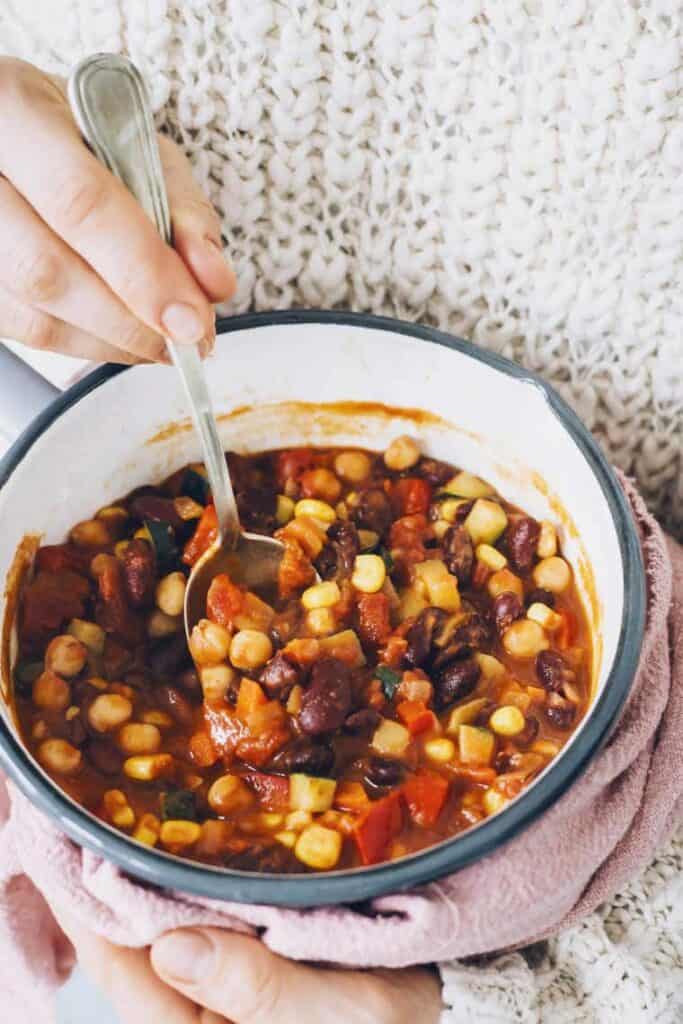 Portobello Burgers
This vegan portobello burger is perfect for meal prep. The condiments come together in minutes and can be made ahead of the time, and you can even marinate the mushrooms ahead of time so that all you have to do at dinner time is throw them into a pan. Get the full recipe here.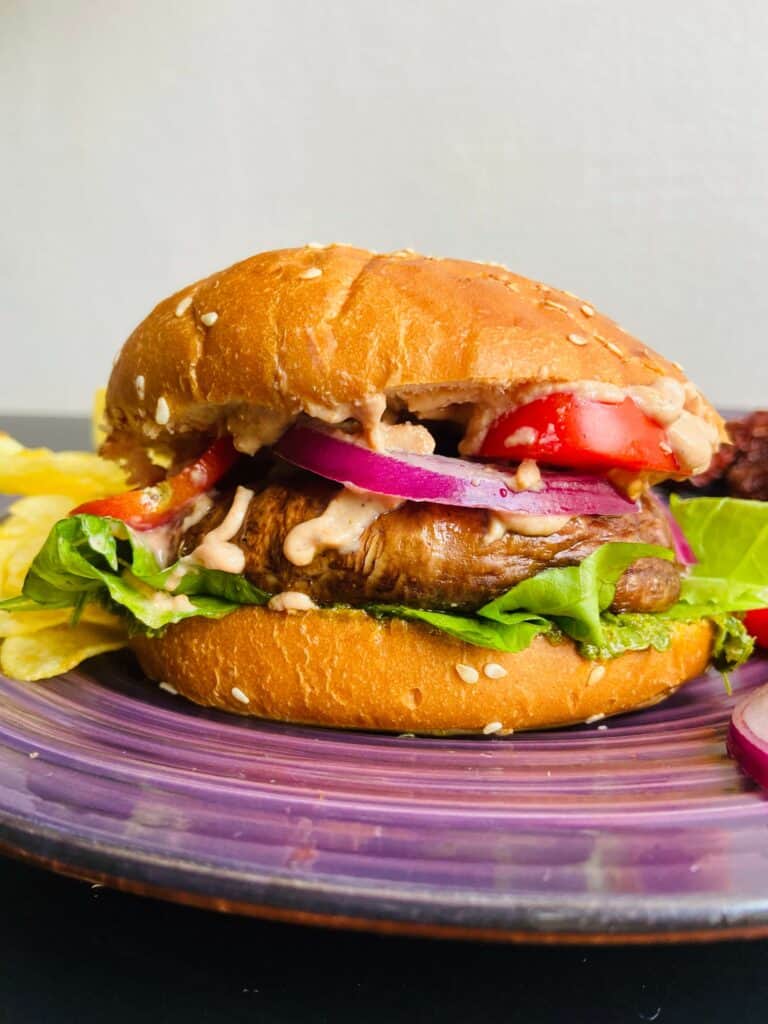 Pasta
Pasta is such a quick and easy meal. We always have some tomato sauce and a sprinkle of nutritional yeast on hand for a quick dinner. You can also get more creative with your sauces, making a big batch at the beginning of the week, and freezing any extras. Some of our favorites are potato carrot cheese and pesto.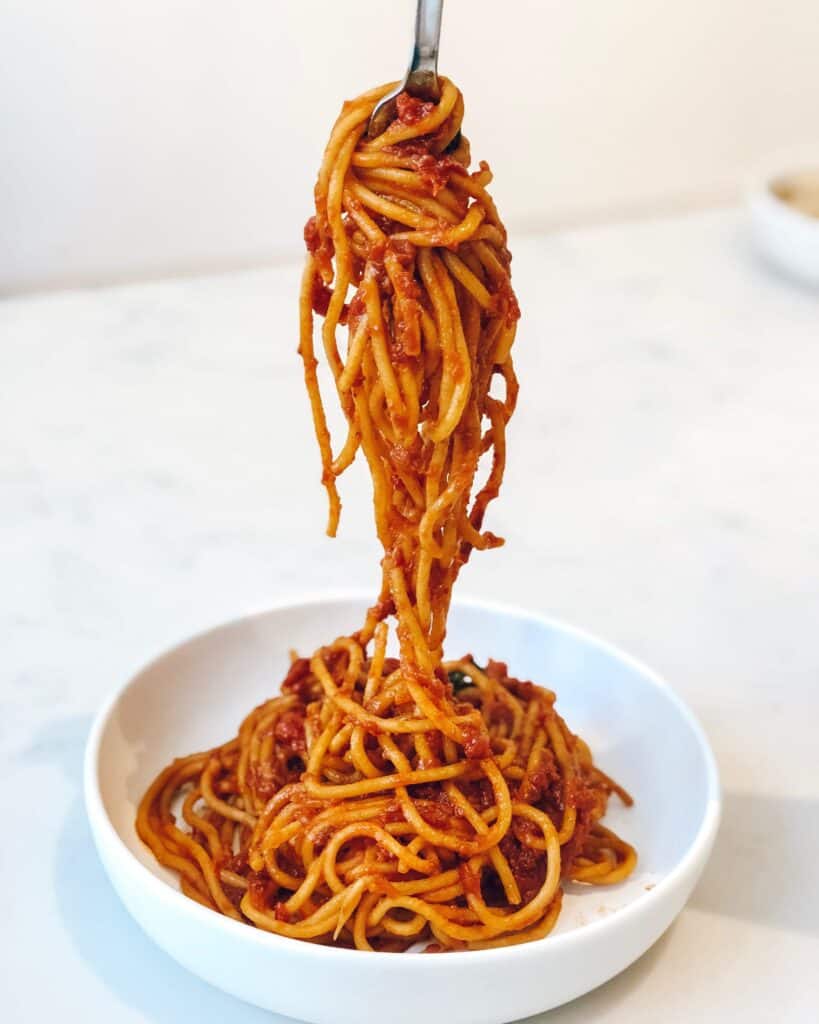 Vegan pesto pasta is a super easy dish to make. It feels like a fancy option but it takes almost no effort to throw together. Just drop your ingredients in the food processor and you are done.
Get our easy vegan pesto pasta salad here. You can also use leftovers to spruce up sandwiches and salads.
You May Also Like:
How to Make Any Destination Vegan Friendly
Don't Forget to Pin This Post For Later!