Since becoming a vegan there is no doubt I am doing a lot more home cooking and making things from scratch. Here's the thing, you can go vegan and end up consuming so many calories through the processed options.
Having some decent vegan kitchen appliances gives you the control on what exactly you are eating by having the ability to prepare beautiful meals.
Here at Yum Vegan Blog we pride ourselves on easy recipes for brunch and lunch, wether you want something 'on the go' or a little more tasty for the weekend, we've got your back. That said, we wanted to equip you with all of the necessities through this buying guide.
We don't expect you to buy everything in this post but obviously we want to put a few cool things on your radar!
Maybe you can forward this to a family member to pick something for an upcoming birthday or holiday gift?
We have a broad price range of products, each will compliment your vegan kitchen appliances well!
So whether you want something cheap and cheerful, or a product that is a little more high end, we've got you!
Vegan Kitchen Utensils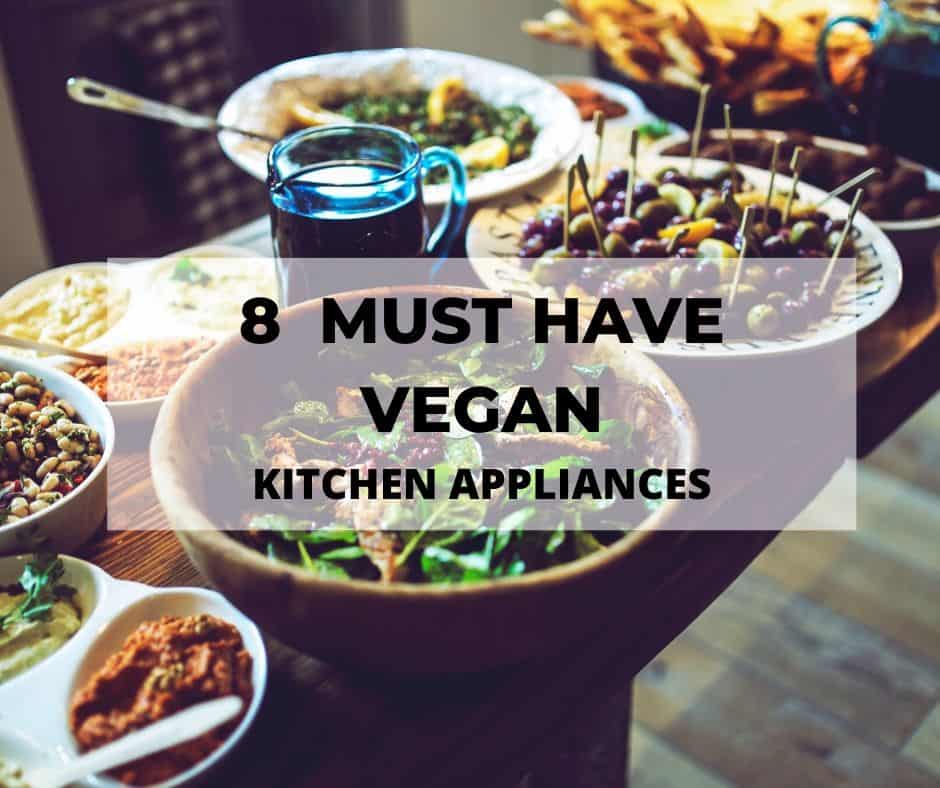 Air Fryer
Air fryer's are taking the market by storm at the moment! I can't tell you how many people I've seen ask questions about air fryer recipes after the Christmas period. It seems so many people received one as a gift! What a thoughtful and perfect gift for a vegan!
I mean it says it in the name, it's essentially a fryer without the oil! Who doesn't love French fries and all other things that are traditionally cooked in a deep fat fryer? I really like the sound of frying something with air.
There is definitely no additional calories in air!
To be more precise, an air fryer is essentially a min convection oven as it uses the convection mechanism to cook the food.
It creates a crispy layer on food and most air fryers have a temperature and timer for precise cooking.
You can make delicious recipes such as air fryer buffalo cauliflower, potato wedges, crispy Brussel sprouts, falafel and roasted chickpeas to name a few.
It really is the future of cooking with plants without adding oils to your food.I see so many people looking for oil free recipes nowadays. The air fryer is literally an essential piece of equipment to kick the oil.
In terms of brands, there are a tonne out there so you'll need to decide on your budget. The Innsky Airfryer is a really good price and has 7 cooking settings and has excellent reviews. You can check it out here.
Whilst the Innsky is fabulous and a great budget friendly option, there is another FANTASTIC air fryer that has more functions. Here at Yum Vegan Blog, we are big fans of slow cookers.
Slow Cooker
As three mums with busy jobs, little kids and so on, there is nothing better than chucking spices and veg into a slow cooker and coming home to a warm home cooked meal at the end of the day.
For some reason, everything that comes out of a slow cooker tastes better! So wether you want a nice casserole, curry, dhal, or tasty soup, a slow cooker is the way forward.
So with that in mind, it brings me back to the air fryer. I was blown away when I discovered the Ninja Foodi 7-in-1 is not only an air fryer but also a slow cooker and a pressure cooker. In fact it has several other functions too.
The Ninja Foodi 7-in-1 is every foodie persons dream kitchen appliance, especially if you are vegan! I love that it has several functions and my favourite two are obviously the air fryer and the slow cooker.
Check out prices of the Ninja Foodi 7 in 1 here.
Tofu Presser
Are you even vegan if you don't love tofu? Here at Yum Vegan Blog we absolutely love tofu. Wether we are making eggless scramble, or a yummy bagel sandwich, it is one of our favourite ingredients to work with!
We know so many people find it difficult to get it 'right'. I feel the rookie mistake is always to do with the water in tofu! It has GOT to be pressed out with a tofu presser
to get your texture and consistency right.
Tofu holds so much water, and if you aren't squeezing it out before cooking, the likely hood is you're not getting the best out it! Make sure to buy a tofu presser, they are not expensive and will really help you perfect all of those tofu dishes.
Check out the prices of our favourite tofu presser.
Mini Chopper
Okay, I am not going to lie, my favourite vegan kitchen utensil is my Kenwood Mini Chopper! I literally use it every day to make hummus, salad dressings and so much more.
The reason I love this product so much is because, it's tiny and doesn't take long to clean after use. The washing up can fit in the palm of one hand. Who wants to take out their massive blender to make a dressing or blend cashews?
If you've been vegan for a while, you'll know soaked cashews feature in many recipes. Blending small quantities in a big blender just doesn't work! Most of it just ends up sprayed across the surface of the container.
Check out the prices of the Kenwood Mini Chopper.
It's my number 1 must have vegan kitchen appliance!!
Vitamix
We spoke previously about 'big blenders' and the Vitamix certainly fits that category. Unfortunately my Kenwood mini chopper can't do big volumes, so the Vitamix is the perfect alternative.
The Vitamix is possibly one of the most popular blenders on the market. It really gets you an absolute puree consistency on your foods such as smoothies and soups. Whats more, it can actually heat soups whilst it is blending it, making your meal ready instantly.
So wether you are a lover of smoothes, frappe lattes, soups or vegan cheese sauce, the Vitamix is amazing. I've even heard you can make dough in it!
Check out the prices of the Vitamix.
Waffle Iron
A waffle iron is by no means a kitchen necessity, but is there anything better than fresh off the iron fluffy warm waffles? We are big fans of waffles over here and guess what, you can make healthy waffles too!
We have a sweet potato waffle recipe and if you are feeling naughty vegan Belgian waffle recipe here. In general waffle irons are inexpensive but can make such a huge difference to the array of things you can make from the comfort of your own home.
Check out the prices of our recommended waffle iron.
Ice-Cream Maker
Again, an ice-cream maker is not a necessity, but how nice is it to make your very own vegan ice-cream, frozen yoghurt or sorbet?
I don't know about you, but the man in my life is not vegan so I am always trying to keep him satisfied with vegan food without him feeling like he's missing out!
He really does have a sweet tooth so having an ice-cream maker keeps him super content. Cuisinart is one of our favourite appliance brands so I can recommend the ICE-21R.
Check out the prices of the Cuisinart Ice Cream Maker.
Measuring Cups
We love our measuring cups, they come in so handy when we are perfecting recipes. Before I had these, I had such a bad habit of guessing measurements and just chucking in what I thought!
Needless to say, that didn't always go to plan. I'm pretty happy with these little handy tools, I am definitely making a success of more of my vegan experiments.
Check out the prices of these measuring Cups.
Mini Pancake Pan
My kids love a mini pancake, I could never get them out quick enough before I bought a mini pancake pan. They are amazing! in a matter minutes, you can produce 7 mini pancakes for the hungry little (or not so little) people in our lives!
Check out the prices of this mini pancake pan.
I hope you've found this article useful. Do you have that one item in your kitchen you couldn't live without? Let us know in the comments, we love hearing from you!
Disclaimer: This post has affiliate links, by using them it does not cost you any extra, we get a very small commission. We thank you for your support.