Vegan pesto sauce is the perfect condiment. It's packed with flavor, quick to whip up, and amazing on sandwiches, pesto pasta salad, or really anything you can think of. I especially love it in this pesto avocado sandwich.
The food processor really does all the work so there is no excuse not to have fresh homemade vegan pesto around the house. If you don't have a food processor you can even use a blender or do it the old fashioned way with a mortar and pestle.
Especially in summer when bright, happy looking basil is popping up all over the place, I love to have some pesto around. I love to grow the basil on my balcony – it's one of the few plants I haven't managed to kill.
If you think it's complicated to make a nut free, dairy free pesto, think again. It's just a matter of using some easy alternatives, in this case nutritional yeast and sunflower seeds.
So grab your basil and get to making this easy vegan nut free pesto!
Ingredients for Nut Free Vegan Pesto Recipe
The ingredients for this vegan basil pesto are pretty easy. If you don't have a shop that carries sunflower seeds or nutritional yeast on hand, click on the link on the ingredient – it will take you to where you can purchase it for a good price on amazon.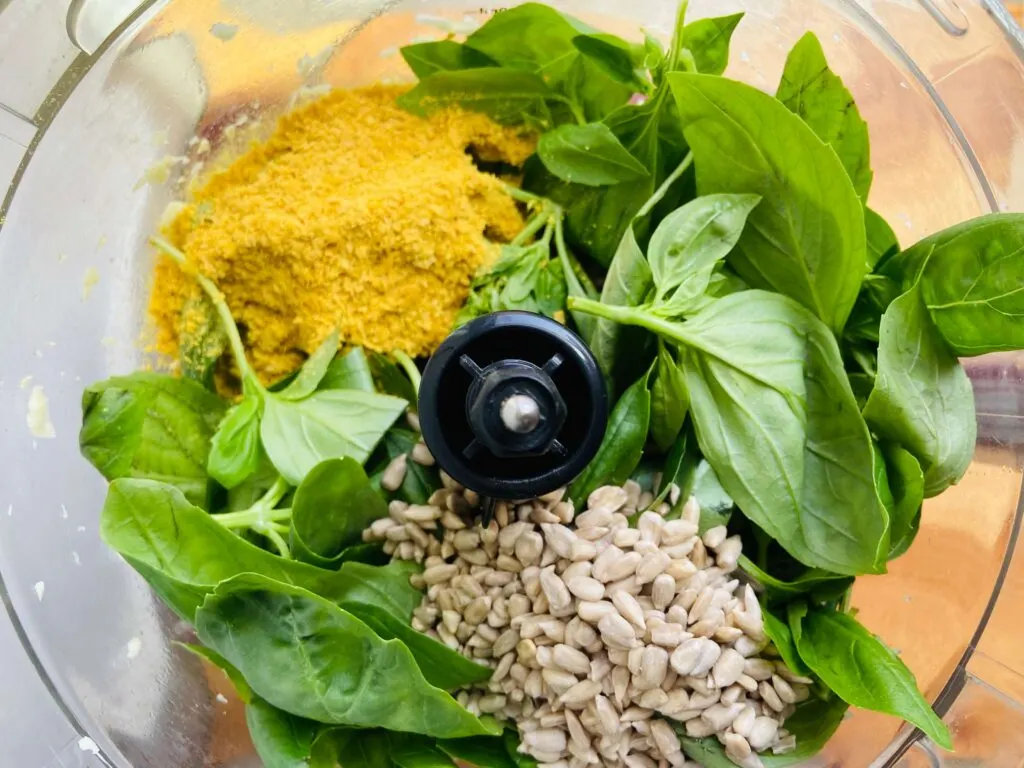 The ingredients are:
How to Make Vegan Pesto
It's really easy to make vegan pesto. In your food processor, chop the garlic, basil, sunflower seeds, nutritional yeast. Drizzle in the olive oil while the food processor is on. Take out your pesto and season with salt and pepper and enjoy!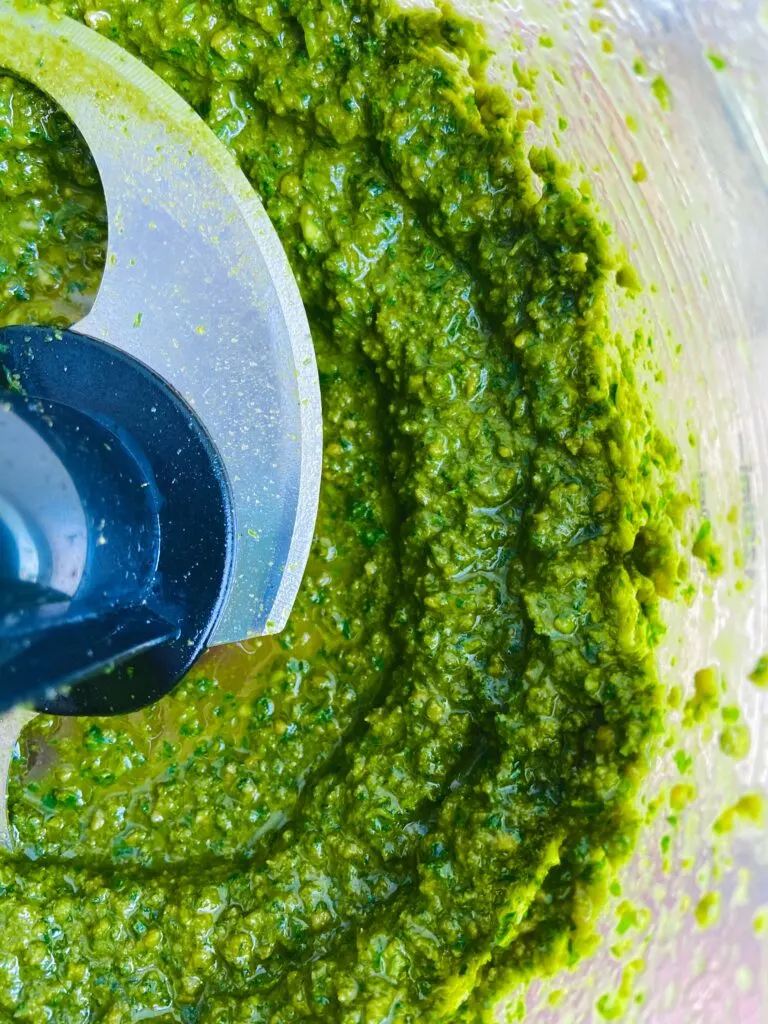 Basil Pesto Vegan Variations and Substitutions
You can easily adapt this recipe in a variety of ways. If you don't have any issues with nuts, you can use pine nuts or walnuts, which are usually used. I like sunflower seeds just as much and they are cheaper anyways, so it's a personal preference.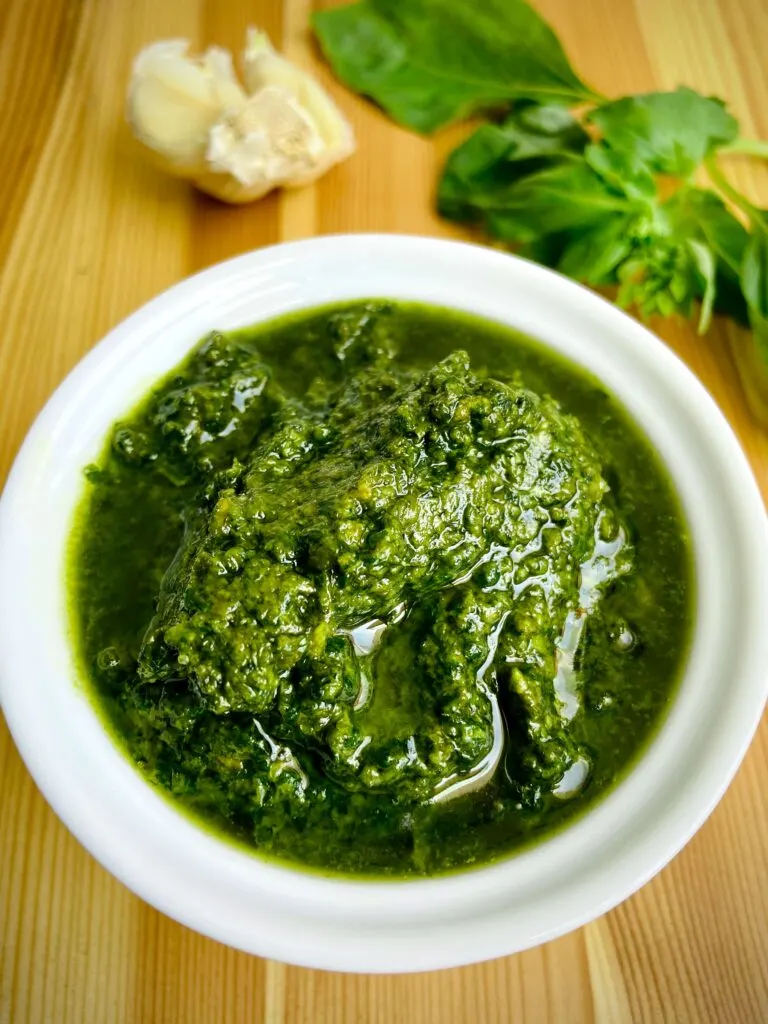 You can also sub in a grated vegan Parmesan for the nutritional yeast if you want.
If you want to turn this into and awesome vegan kale pesto or vegan spinach pesto, just sub out half the basil for any other greens of your choosing. Spinach, kale, arugula, parsley – they each give the pesto a unique and fun taste, plus it's a good way to get some extra power foods in your diet.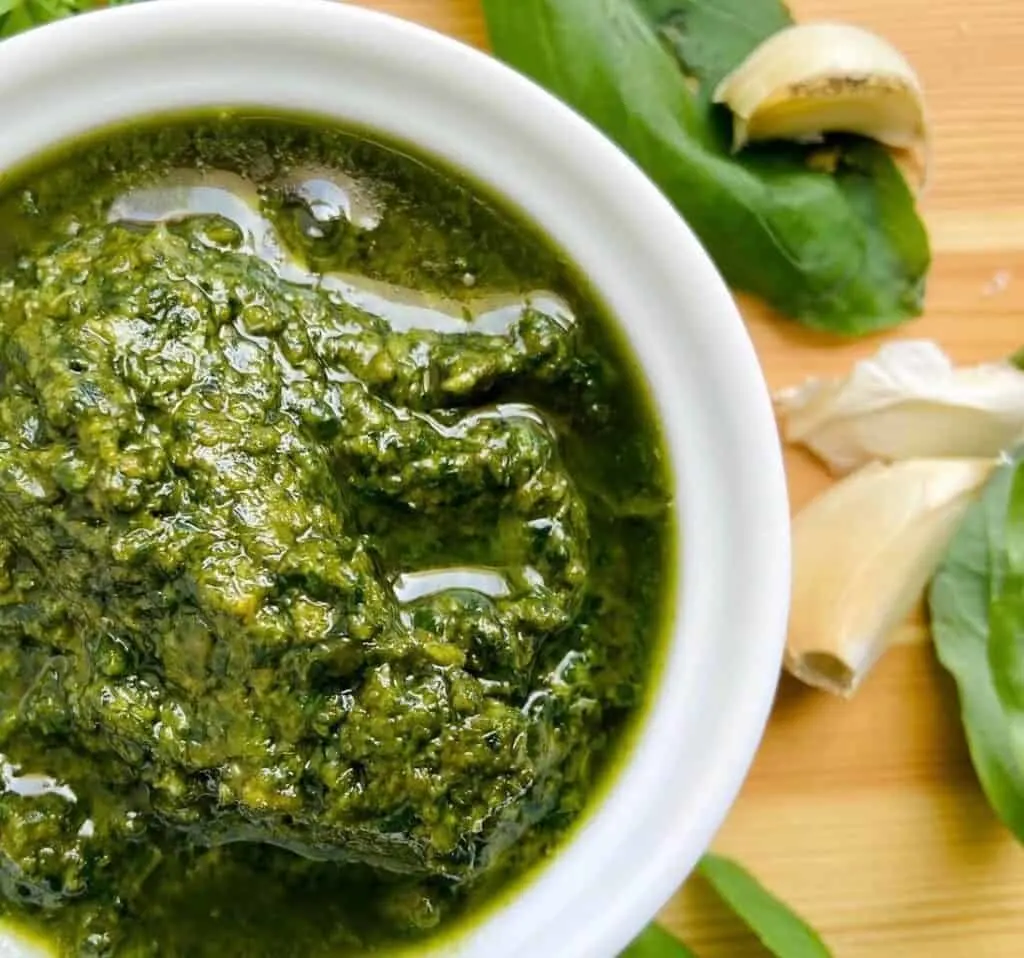 Easy Vegan Pesto If You Don't Have a Food Processor
If you don't have a food processor, there are other ways to make it. However, I love my food processor it makes chopping things so much quicker and you can find highly rated ones for pretty affordable prices tags. You can check out some of them here.
If you don't want to invest in more kitchen equipment, you can make this in a blender or with a mortar and pestle. When you are using a blender, make sure to watch what your doing carefully so you don't over process and end up with a liquid consistency, otherwise it should be fine.
If you are using a mortar and pestle, just grind together the garlic, basil, and sunflower seeds. Then stir in the nutritional yeast, oil, salt and pepper.
Storing Vegan Nut Free Pesto
Homemade vegan pesto will store in the fridge for 4-5 days. However, the top will change colors, the more air it's exposed to. To keep it as fresh and presentable as possible make sure to cover it tightly.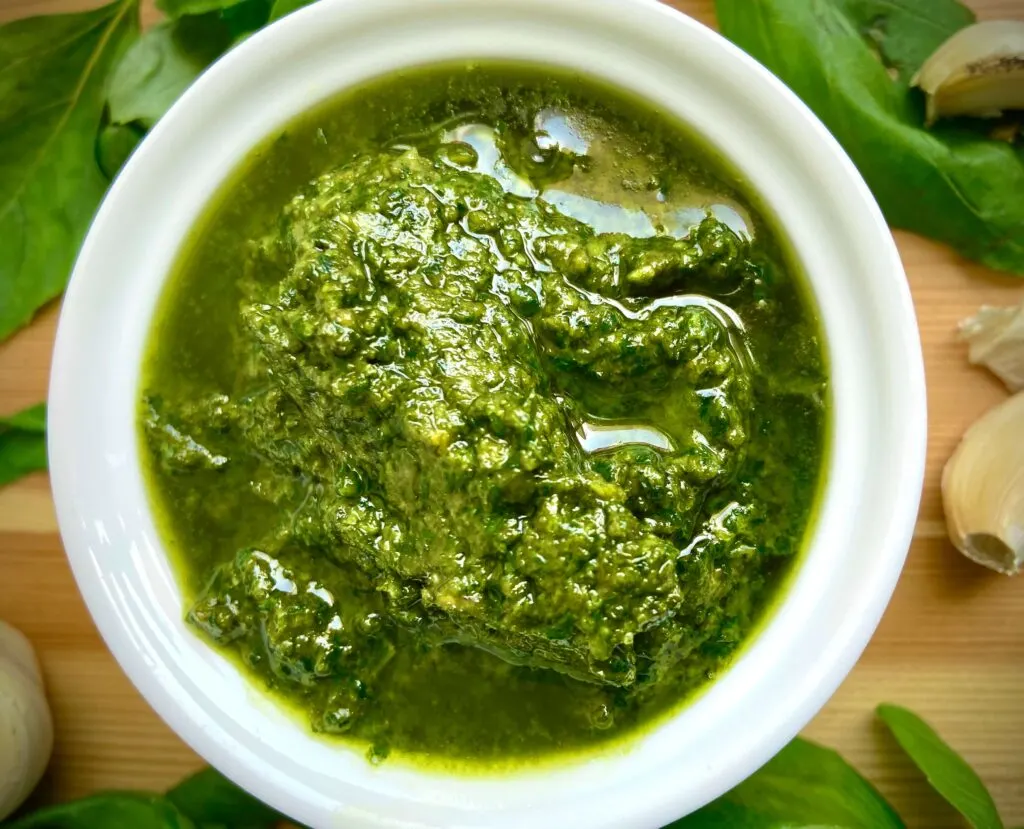 If using plastic wrap, it helps for the plastic wrap to be touching the top of the pesto in a flat layer, to keep as little air as possible touching it. You can also add a bit of olive oil to create a layer on the top to accomplish the same thing.
Pesto can also be frozen, but the texture will be a little bit different when you defrost it. For optimal taste and texture, defrost and use within a month or so. You can still use it for much longer after that, but the taste and texture will degrade the longer it's stored.
Don't Forget to Pin This Post For Later!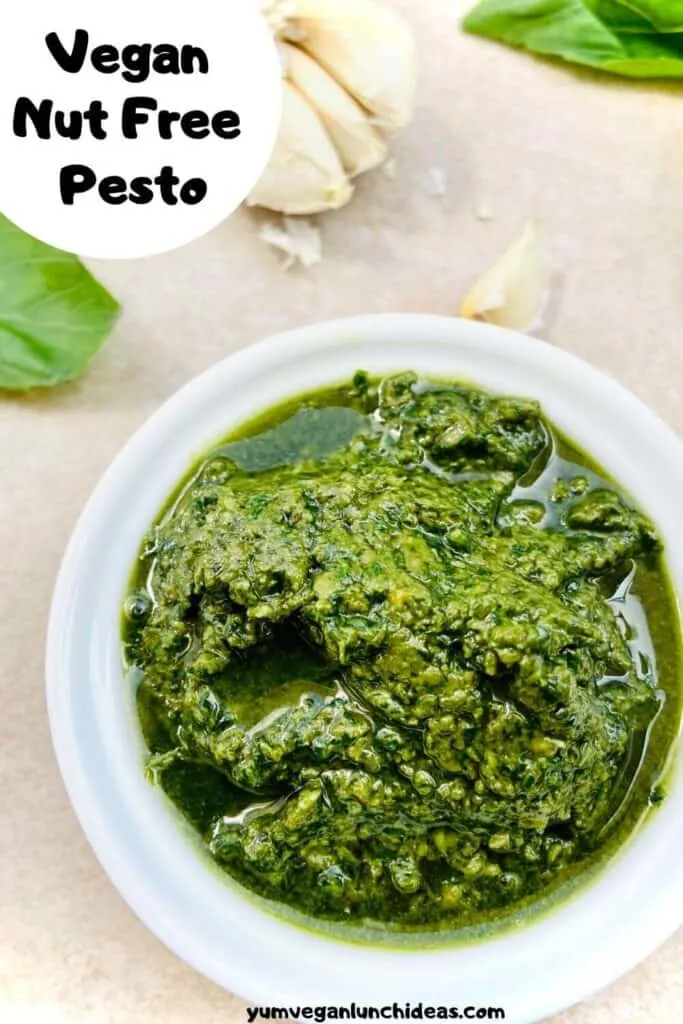 Yield: ~ 1 Cup
Vegan Nut Free Pesto Recipe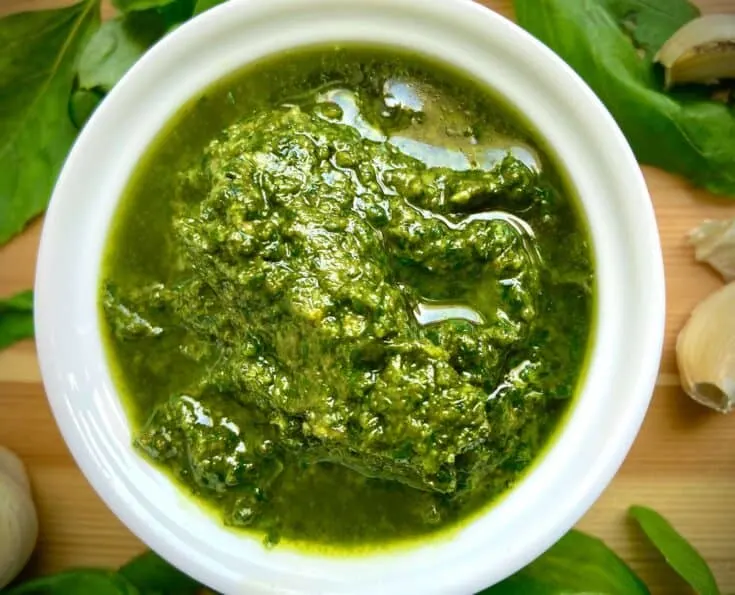 This vegan nut free pesto is quick and easy and incredibly delicious! Just throw all the ingredients in the food processor and the vegan pesto is done.
Dairy free, nut free, and zero effort, this homemade vegan pesto is perfect in vegan sandwiches, for vegan pesto pasta, and more!
You can easily adapt this nut free, dairy free pesto so that it suits what you have on hand or what you are in the mood for by swapping out half the basil for spinach, kale, parsley or any other greens.
For more details on variations and storage for nut free vegan pesto, see the post above!
Ingredients
3 Garlic Cloves
2 Cups Basil
Salt and Pepper To Taste
Instructions
Process the garlic cloves until broken down. It's important to do them before the rest of the ingredients, otherwise I find I sometimes end up with some raw garlic chunks.
Add in the basil, sunflower seeds and nutritional yeast and process until thoroughly broken down. You may need to open the food processor and scrape down the sides with the spatula so nothing gets stuck on the sides.
Through the pouring spout on the top of the food processor, drizzle in your olive oil while the food processor runs. After a minute, your pesto should be the perfect pesto texture.
Open it up and stir in salt and pepper to taste. I used around a tsp of salt and a dash of pepper. I like things on the saltier side though.
Enjoy on your pasta, on bread, or anything else you are eating!
Notes
Calorie count is for 1 Tbsp of vegan pesto.
Recommended Products
As an Amazon Associate and member of other affiliate programs, I earn from qualifying purchases.
Nutrition Information:
Yield:
16
Serving Size:
1
Amount Per Serving:
Calories:

37
Total Fat:

2g
Saturated Fat:

0g
Trans Fat:

0g
Unsaturated Fat:

2g
Cholesterol:

0mg
Sodium:

180mg
Carbohydrates:

2g
Net Carbohydrates:

0g
Fiber:

1g
Sugar:

0g
Sugar Alcohols:

0g
Protein:

3g
You May Also Like: