This super tasty pear blueberry smoothie is a must try! With simple ingredients, it tastes absolutely delicious and will soon be a firm favourite for your vegan smoothie recipes.
This blueberry pear smoothie works great for breakfast, snacks, brunch or just a little refreshing drink throughout the day. Both myself and my kids absolutely love this smoothie.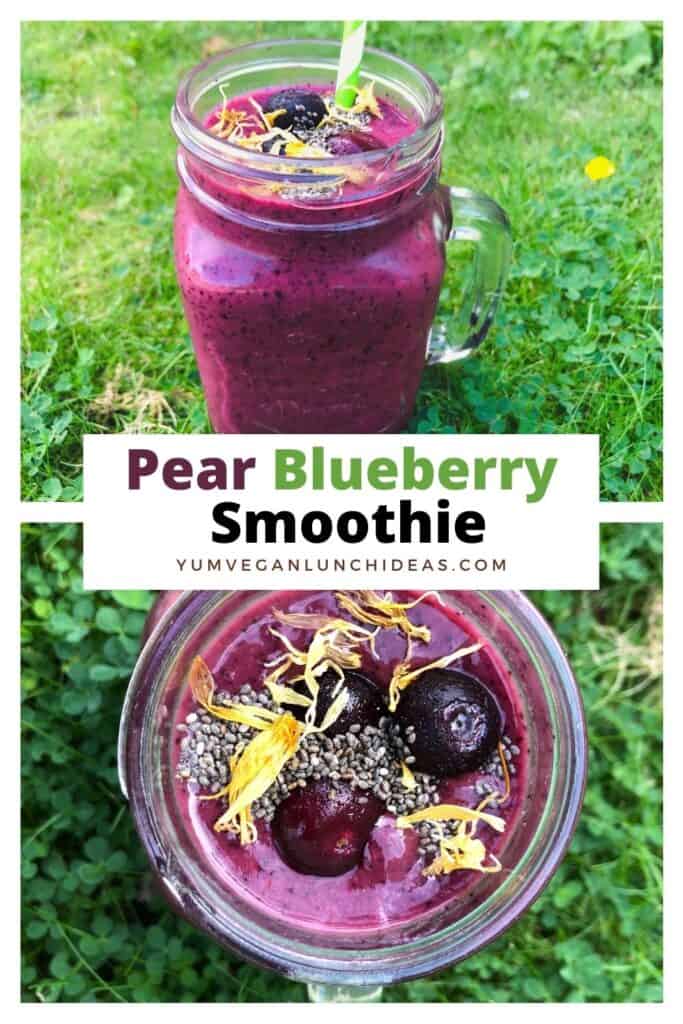 Pear
Pear is fast becoming a firm favourite staple in my smoothie recipes. I've converted to using pear primarily over banana being the favourite.
There is just something distinctly delicious about fresh, ripe pear taste. They are just so delicious and juicy once they have ripened nicely.
Blueberries
This blueberry pear smoothie uses frozen blueberries. The frozen berries gives the smoothie a delicious, refreshing taste.
However you can totally use fresh blueberries if you prefer or that is what you have on hand. It will still taste great. You can always throw in a couple of ice cubes if you would like a chilled taste.
I usually opt for frozen blueberries additionally as it allows for easier access to them when they are out of season.
Blueberries are a must in our household and great for nutrition. They act as an antioxidant and are loaded with vitamin C, vitamin K, mineral manganese and potassium.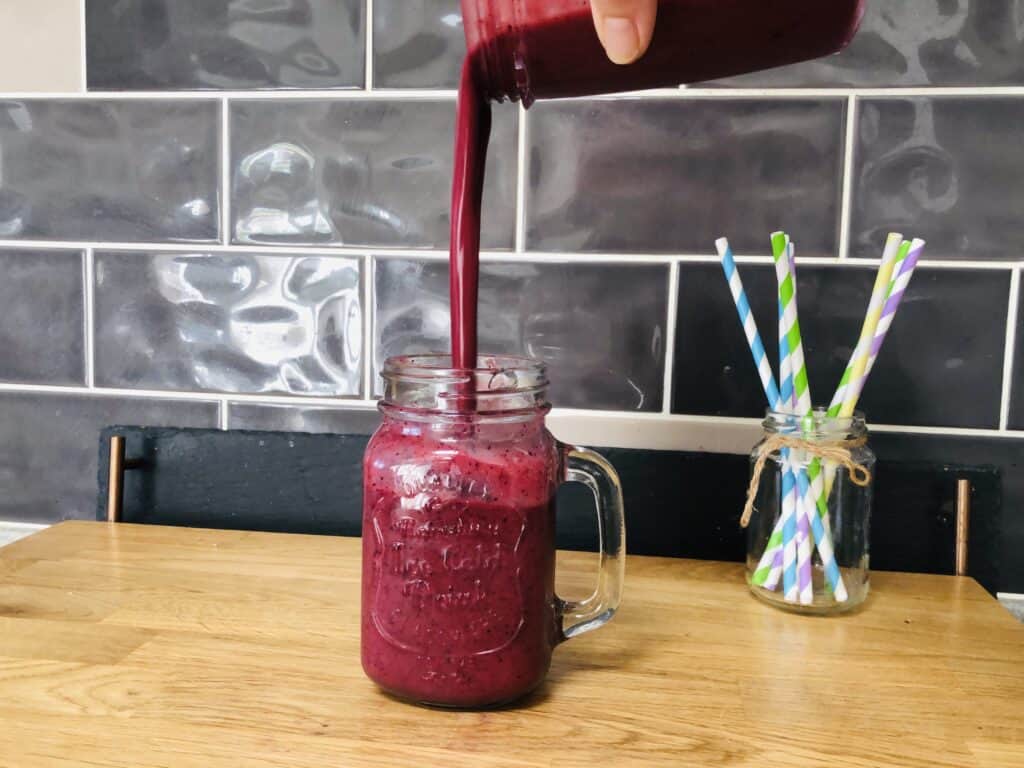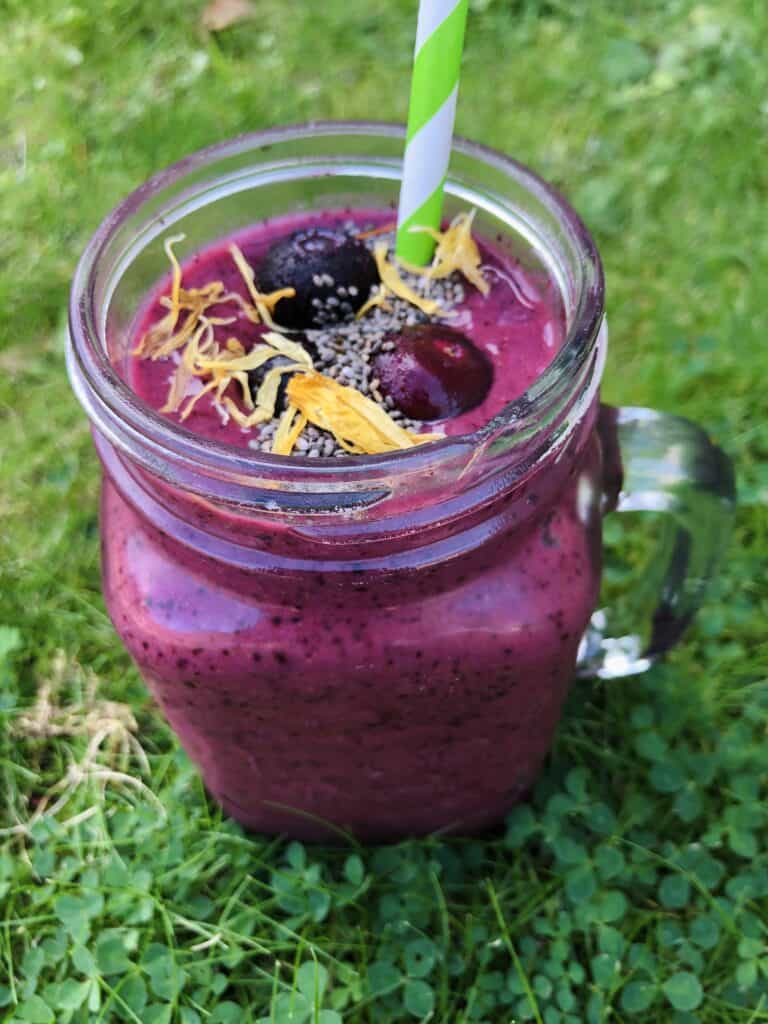 Plant Based Milk
Lets face it – we all have our favourite plant based milk! Whether its taste preference, preferring to make your own or dietary needs.
I used oat milk in this recipe as it's all we use at home with my childs multiple food allergies. However in saying that I'm sure this pear and blueberry smoothie would taste great using almond or coconut milk too!
We have a really great guide on plant based milks if you need help choosing.
Vegan Honey
We were recently gifted a delicious pot of homemade vegan honey – made from dandelions! So clever.
This gave a beautiful sweet taste – although this can be entirely optional if you prefer not to add extra sweetness.
Vegan Honey
is readily available in specialist health stores or online.
Other great vegan sweetening options: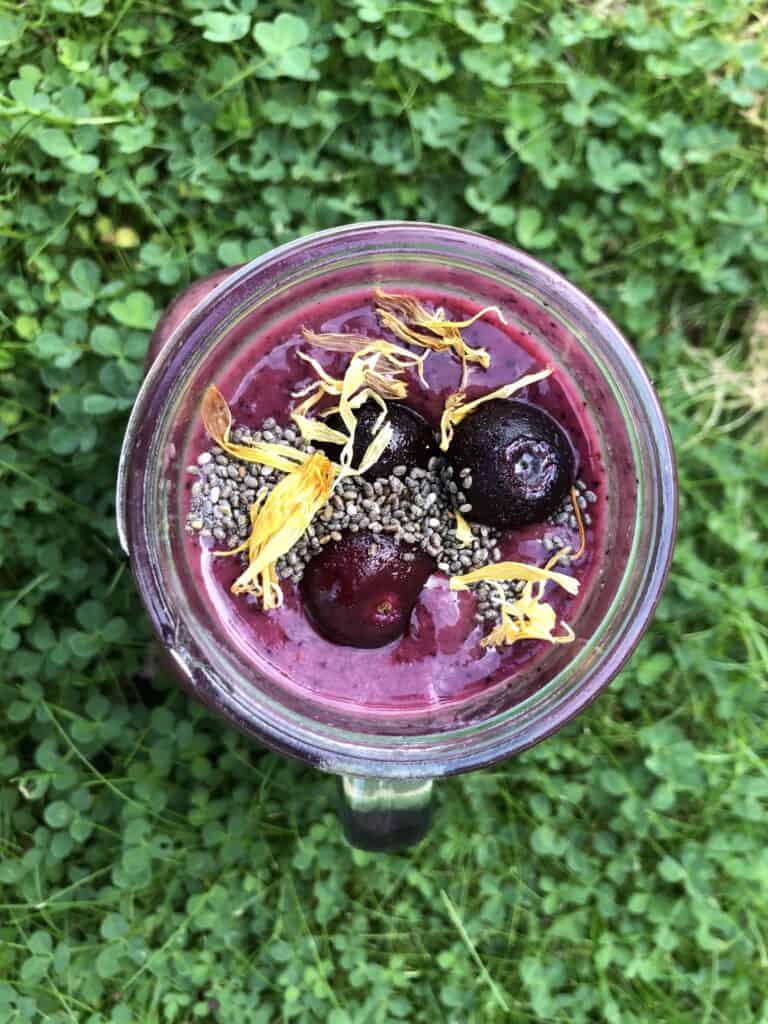 BEST BLENDER FOR SMOOTHIES
The best blender and my most reliable kitchen companion has been my Vitamix Blender without doubt.
Having used this Vitamix Blender for over five years, I can vouch for its robustness and reliability!
Of course buying a blender on the pricier side means its an investment – we use ours almost daily. We carefully considered it before purchasing having had a much cheaper blender break down on us.
If you don't have room or need for a full sized blender, the ninja seems to be taking over the market as one of the best mini blenders. You can check it out here.
I often use reusable Stainless Steel Metal Straws
which give cold smoothies that extra refreshing kick.
You may also love:
Yield: 1
Super Tasty Pear Blueberry Smoothie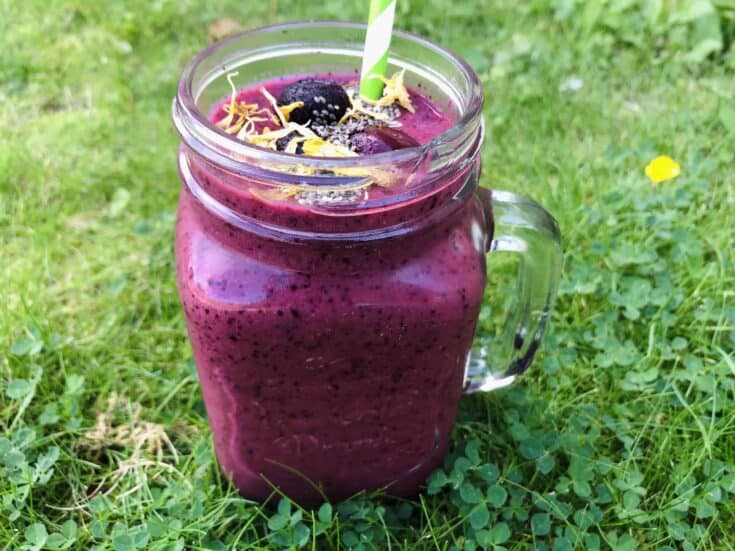 This super tasty pear blueberry smoothie is a must try! With simple ingredients, it tastes absolutely delicious and will soon be a firm favourite for your vegan smoothie recipes.
Ingredients
1 medium ripe pear
1 cup frozen blueberries
200mls oat milk (or plant based milk of choice)
1 tsp vegan honey
Instructions
Chop the ripe pear into bitesize pieces
Place all ingredients into a blender
Blend until smooth
Pour into your favourite glass and enjoy!
Notes
1) You can use fresh blueberries if you prefer. You can always add some ice cubes for a refrshing, chilled taste
2) You can omit the vegan honey if you prefer your blueberry pear smoothie less sweet
Nutrition Information:
Yield:
1
Serving Size:
1
Amount Per Serving:
Calories:

312
Total Fat:

2g
Saturated Fat:

0g
Trans Fat:

0g
Unsaturated Fat:

1g
Cholesterol:

0mg
Sodium:

12mg
Carbohydrates:

76g
Fiber:

11g
Sugar:

52g
Protein:

3g
This is just an estimate
Disclaimer: There are affiliate links in this post. By using them, we will get a small commission of the sale at no extra cost to you. It's the little things like this thats keep us afloat. We never recommend something we don't believe in, always tired and tested too.