This pumpkin seed butter recipe is simple to make and absolutely delicious. Packed with nutrients, it is a must try. It has a beautiful earthy, deep, toasted taste.
Homemade seed butter is an absolute favourite of mine. I tend to lean towards it come autumn time and make it continuously through the winter.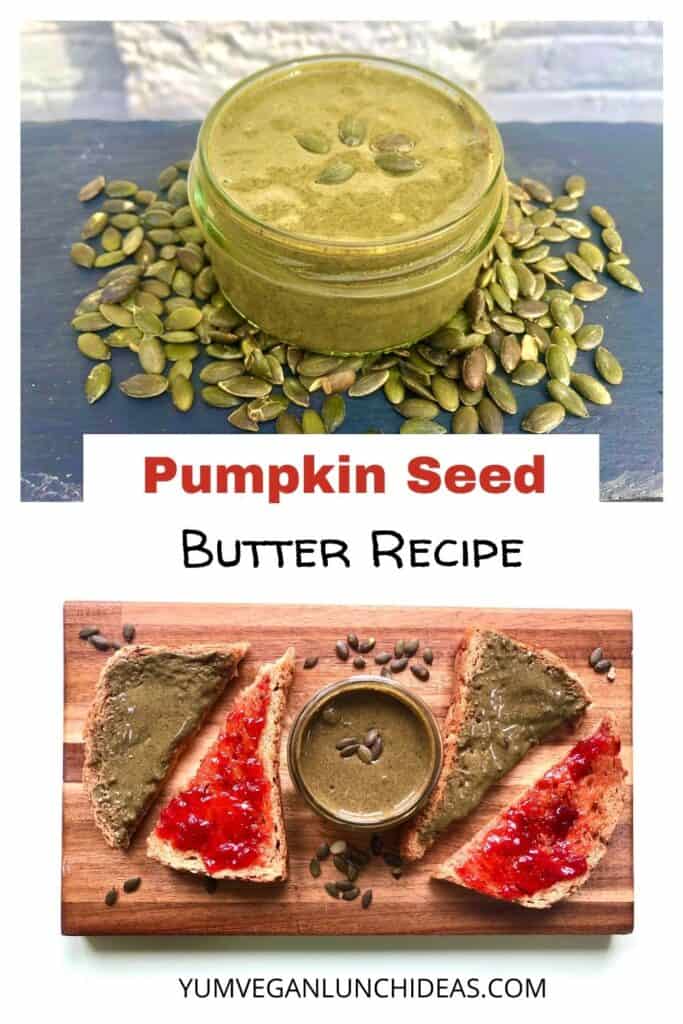 I just adore the deep, roasted flavour of this gooey, creamy pumpkin seed butter. The vibrant green colour is so good too and reminds me I'm eating so much goodness!
Creamy
Gooey
Earrhy
Toasty
Tasty
Seed Butters V Nut Butters
It goes without saying that home-made seed and nut butters are good for our health. They contain varying levels of nutritional benefits depending on what nut or seed is used.
However obviously nut allergies are a big issue for many people. My son has multiple food allergies, including peanut and all tree nuts. It is for this reason we use a lot of seeds at home, especially pumpkin seeds.
Being vegan with a nut allergy can be particularly difficult as nuts are in so many food replacements already.
It is hard to come by a seed butter in mainstream stores at times. And when we do they often have a "may contain" label due to manufacturing methods.
We often make our own sunflower seed butter, hemp seed butter and of course this glorious green pumpkin seed butter at home. It's a fun activity to do with kids as there are a number of steps they can get involved in. My son loves to help push the button on the processor and lick the spatula when we are done!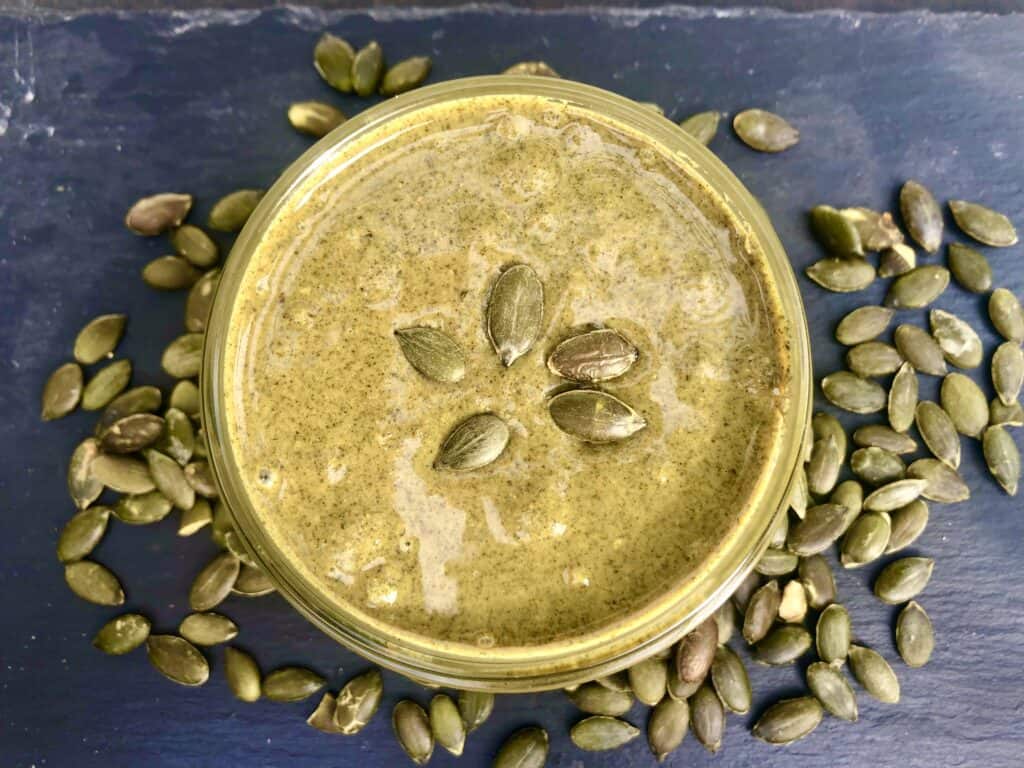 Pumpkin Seed Benefits
Pumpkin seeds, also known as "pepitas" in North America are incredibly nutritious. It is the edible seed of pumpkin or some variety of squashes.
They come in a thin white husk and inside are the small green oval shaped seed. They may be small – but packed with goodness!
Pumpkin seeds are particularly high in protein, including tryptophan which can help alleviate stress and improve sleep.
Pumpkin seeds are packed with good fats, magnesium and zinc. They also contain other essential nutrients such as iron, vitamin K and manganese.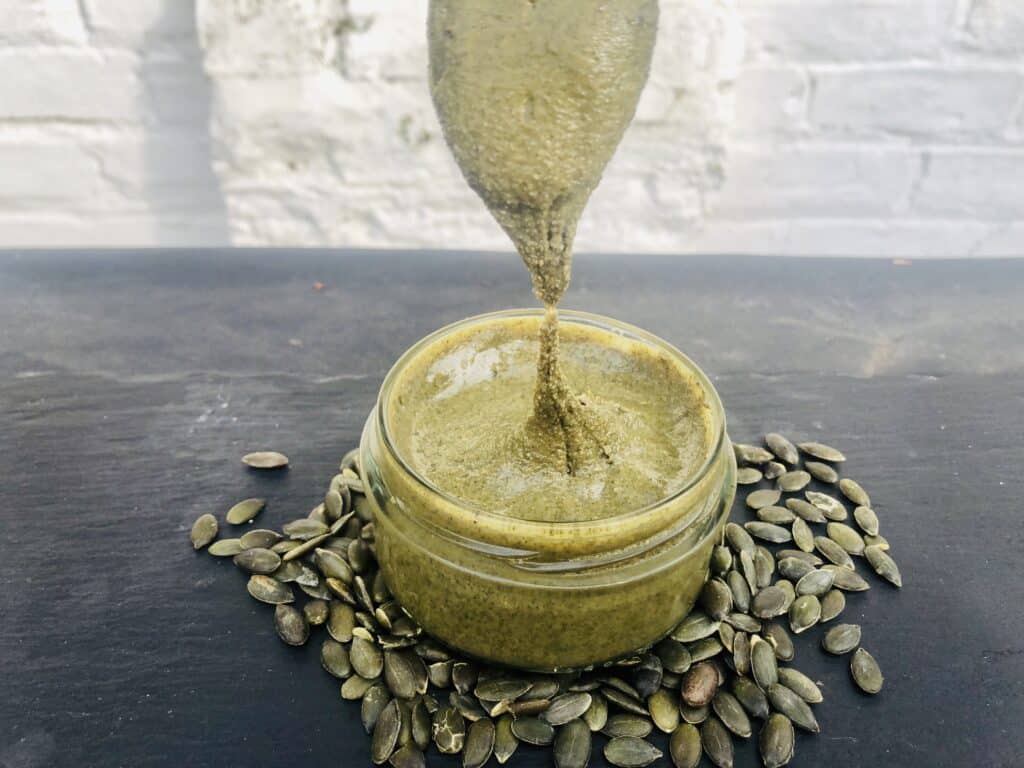 Magnesium is a particularly important nutrient that is often lacked in the western diet, in which pumpkin seeds are rich in.
Magnesium is important for blood pressure and heart health. This is as well as regulating blood sugar levels and contributing to bone health.
Magnesium is also important and linked to good sleep.
Pumpkin seeds contain antioxidants additionally, with carotenoids and vitamin E. They contribute to good health and can aid a reduction in inflammation in the body when included in our diets.
Pumpkin seeds are a great source of dietary fibre! This is super important for optimal bowel movement.
There are so many pumpkin seed butter benefits. They are super easy to add to your diet to gain these amazing nutritional benefits. And even more so with this delicious pumpkin seed spread which can go on your toast or blended in a smoothie.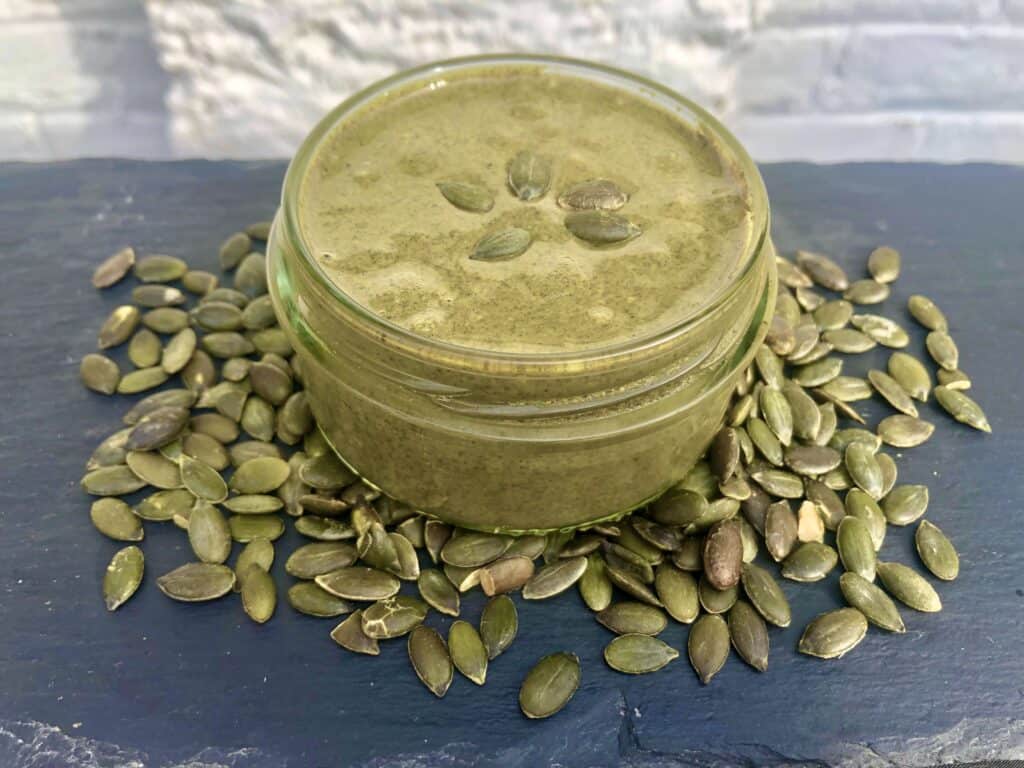 How to make pumpkin seed butter
Its so easy to make with just a few simple steps.
Lightly toast pumpkin seeds in the oven
Leave to cool slightly
Add a little salt
Blitz in a food processor, scraping down the sides intermittently.
It will eventually form a gooey, green seed butter!
We do not want to over roast the pumpkin seeds as they may lose some of their nutritional properties.
Ingredients for pumpkin seed butter
250g of raw Pumpkin Seeds (approx 1.5 cups)
1 teaspoon of Himalayan salt
Equipment needed to make this seed butter
Baking tray
Food processor
Spatula
Clean jar
It is best to use a high speed, strong blender when making seed butters. This ensures optimal blending for a creamy pumpkin seed butter.
We can recommend this Ninja Food Processor
which we absolutely adore. It's sturdy and reliable for blitzing down nuts and seeds.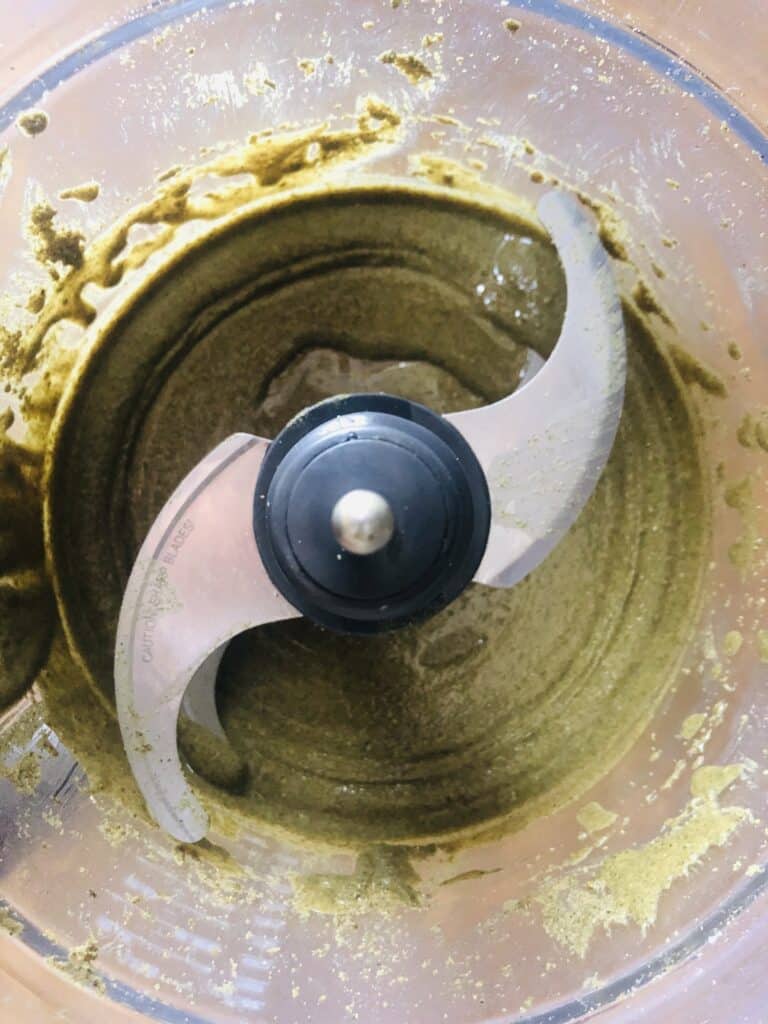 Can you use shelled pumpkin seeds?
Although shelled pumpkin seeds are edible and increase the fibre content of the seed, it would not work for this pumpkin butter recipe, unless of course you remove the shells.
However, if you wish to use some shelled pumpkin seeds up, for instance if you are cooking with a pumpkin at home, the best way to get the seeds away is to remove the stringy insides of the pumpkin in a colander and rinse under the tap.
The shelled seeds should fall away under the running water. Then, boil a pot of water and place the shelled pumpkin seeds inside for approximately five minutes. Eventually the little green pumpkin seed will leave its husk. Remove the seeds from the heat to maintain their integrity.
Another method to remove the shells is to lay all of the shelled pumpkin seeds on a flat, hard, clean surface. Take a rolling pin and gently put force by rolling over the shells, taking care not to damage the seed inside.
Some people like to shell their pumpkin seeds by hand, by simply gently folding the shell in on itself. However this would be a laborious process for this recipe as it requires so many seeds!
However, this recipe uses the ready to go unshelled Pumpkin Seeds
– this is what was easy for me at the time!
How to store pumpkin seed butter
This recipe will last in the cupboard for a few weeks. However if you feel you won't get through it then feel free to refrigerate early on. This is because the fats in the seed butter can go rancid. This recipe also is only a small batch so will be easy enough to use up!
How to eat pumpkin seed butter
We have lots of used for this delicious homemade pumpkin seed butter at home.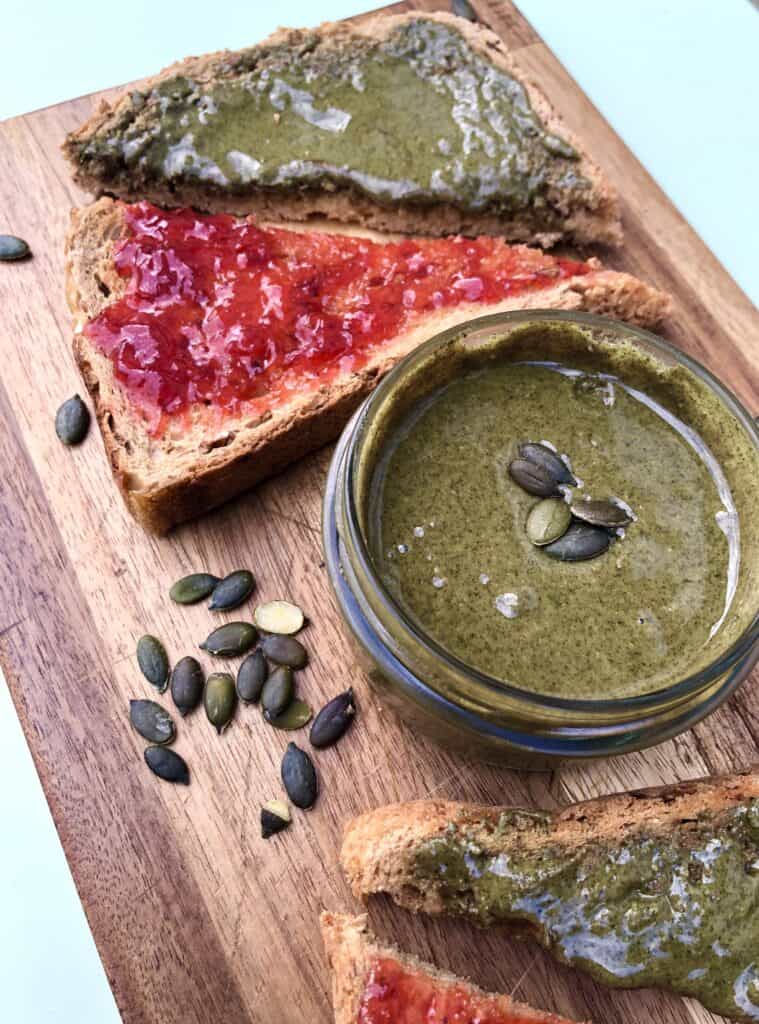 Pumpkin seed butter uses
Pumpkin seed butter with jam/jelly on toast
Stuffed medjool dates with pumpkin seed butter
Oatmeal with pumpkin seed butter, berries and maple syrup
Green smoothie with pumpkin seed butter
Pumpkin seed butter dressing
Pumpkin seed butter cookies
On apple or banana slices with cinnamon
Straight up on a spoon!
Make pumpkin seed butter today and you will not be disappointed!
You may also love our Pumpkin Seed Clusters and Sunflower Seed Cream Cheese Recipe.
Yield: 250g
Pumpkin Seed Butter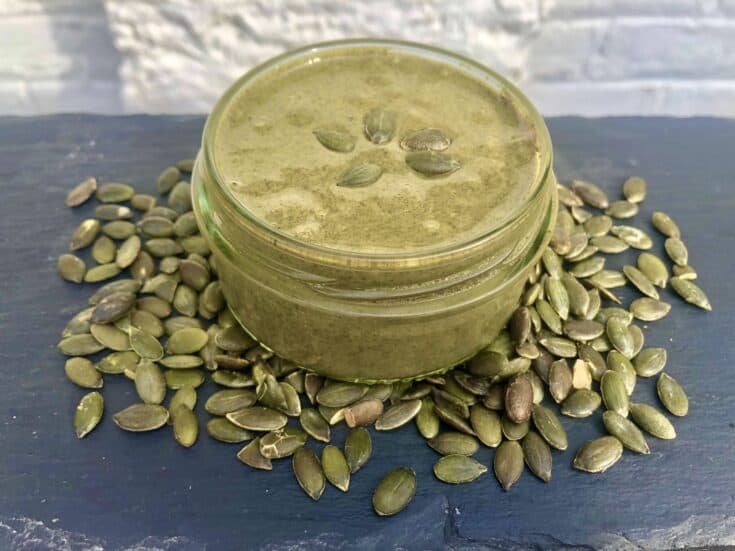 This pumpkin seed butter recipe is simple to make and absolutely delicious. Packed with nutrients, it is a must try. It has a beautiful earthy, deep, toasted taste.
Additional Time
10 minutes
Ingredients
250g pumpkin seeds (approx. 2 cups)
1 tsp salt
Instructions
Spread all of the pumpkin seeds out evenly onto a baking tray
Place in the oven on a low heat (approx. 170c) and lightly toast for approximately 15 minutes, keep an eye they are not burning and move around if necessary.
Once toasted, leave to cool slightly, for around 10 minutes, but ensure they are still warm for the blending process - this makes it easier to turn the seeds into a seed butter!
Place the seeds into a food processor. Add the salt and start to pulse.
Scrape down the sides and begin blending. You will need to stop every so often to scrape down the sides of the food processor. It will look quite gritty initially - however after the continuous process of blend/scraping you will gradually see the pumpkin seed butter forming. This may take around ten minutes or more depending on your type of food processor.
Decant into a clean jar, ready to consume!
Notes
1) You could make a raw pumpkin seed butter by using the same method - minus the oven roasting. Doing this will preserve some nutrients, however you will lose the delcious deep toasted taste.
Recommended Products
As an Amazon Associate and member of other affiliate programs, I earn from qualifying purchases.
Disclaimer: This post may contain affiliate links. By using them it will not cost you any extra. We will get a teeny commission and are so grateful for the support of our readers. These little commissions help us continue to write lots of yum recipes.