These Thai seitan satay skewers are so packed with delicious flavors, and easy to put together! They are great for bbqs, but you can also cook them in a pan for a delicious and fast dinner.
Dunked in creamy satay sauce, this vegan satay feels indulgent, tasty and exotic.
If you are looking for more vegan bbq options, check out these vegan yakitori skewers, or our colorful seitan kebabs!
Vegan Satay Ingredients
To make the satay as flavorful as it is, it does require a few ingredients that you may not have on hand. However, we use red curry paste and curry powder, both of which are great shortcut ingredients. They are fantastic blends that already bring most the flavors we want, so we don't need a million spices and ingredients.
The ingredients for the skewers
are: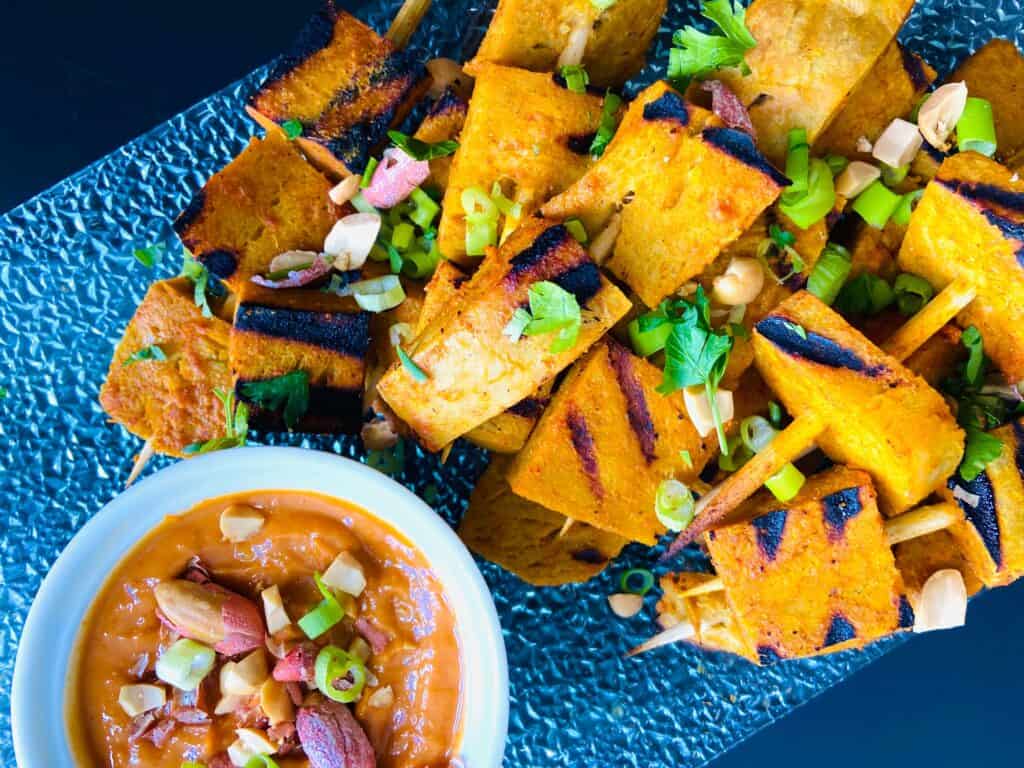 The ingredients for the Thai peanut sauce are:
Seitan
You can definitely use store bought seitan for this recipe, I have and it came out really well. However, I do always recommend making your own seitan. Homemade seitan has better texture and flavor.
If you choose to use store bought seitan, try to find one that is chicken style.
If you are going for homemade we have a great chicken seitan recipe here that you can use. Just follow the recipe until it's been boiled, and stop before basting it in bbq sauce.
Seitan – Where to Buy
You can find seitan in many regular supermarkets, as it is becoming more popular. It is usually stocked next to the tofu. If your local supermarket doesn't carry it, try to find the closest health food store.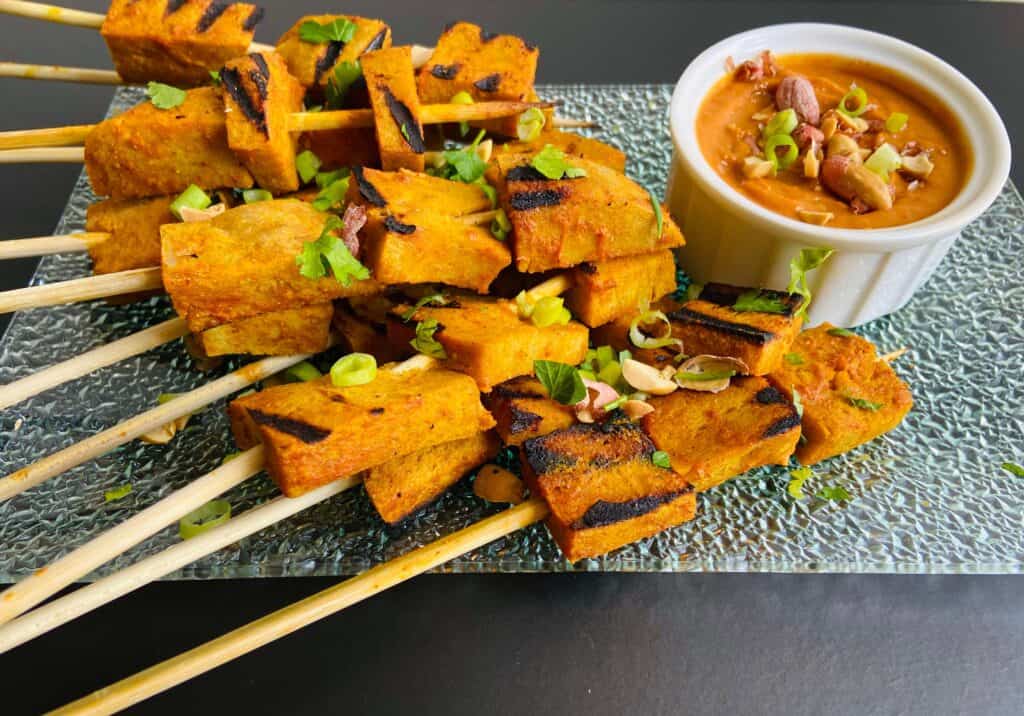 Health food store almost always have seitan, whether you are shopping in a small store, or in a large chain like Trader Joe's or Whole Foods.
Seitan Benefits
If you don't know much about seitan, it's time to befriend this awesome vegan food. Seitan is a really great option (unless you have issues with gluten) because it's high in protein and low on calories.
It's also got tons of great vitamins and minerals and absolutely no cholesterol. Aside from the great health benefits, it's also incredibly versatile so you can use it in a ton of great dishes, whether that be throwing in a stir fry, or a seitan barbecue.
If you are looking for more easy seitan recipes, check out our Korean Seitan sandwiches or vegan bbq chicken.
Coconut Milk
I use the low fat variety for a lower calorie count, but any variety will work, with varying levels of creaminess in the results. You can find it in many regular grocery stores, Asian grocery shops, natural food shops, and here on amazon
.
Red Curry Paste
Red curry paste is an important ingredient in flavoring these vegetarian satay skewers. Don't try to substitute it.
If you are worried about having extra red curry paste that you don't know what to do with, I like to just mix it with coconut milk as an incredibly easy curry sauce. You can throw the curry sauce on pastas, spiralized sweet potato noodles, or any mix of vegetables you like.
You can also freeze extras so you don't have to worry about using it all up at once. Separate it into smaller amounts before freezing it so that you can defrost as needed.
You can buy red curry paste here.
Curry Powder
Different curry powder
blends provide different flavors. Thai curry powder blends have always been my favorite. In general, it's good to find a blend you like. However, because we are using a smaller amount in this recipe, any blend should be good enough.
How To Make Seitan Satay (Vegetarian Satay)
Making the satay is as easy as whisking the ingredients for the seitan marinade together. You slice your seitan into rectangles and cover it in the marinade. Then you just need to set it aside for a few hours to soak up flavor.
You can also set it up with the marinade the night before so it's ready to go. The longer it sits, the more it will soak up.
Try to cut the seitan into thin rectangles. Satay is usually made with thin pieces of chicken or meat threaded onto the skewer. Just don't cut it too thin that you wont be able to stick the skewer through.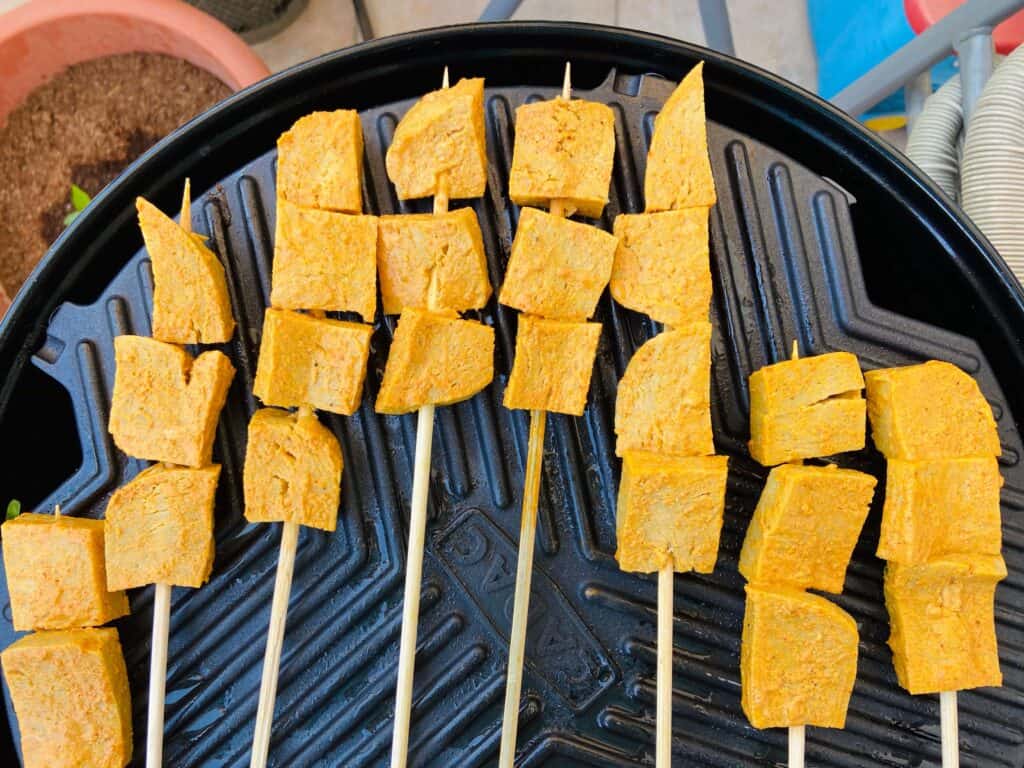 It's also good to soak the skewers for at least a half hour before using them so that they don't burn during the cooking process.
The recipe for satay peanut sauce is also really easy. You put all the ingredients into a pan and just mix it over the stove top until it's thick and creamy. This takes around 5 minutes.
If your peanut sauce comes out too thick, just mix in some extra water, a tablespoon at a time, until you get to the right consistency.
Prepping Seitan Satay Ahead of Time (Meal Prep)
The peanut sauce will last in the fridge for around a week, so you can easily make it ahead of time.
The seitan can also be prepped ahead of time and stored in the fridge, sitting in the marinade so that when you are ready to cook them, all you have to do is thread them onto skewers and cook them. Cooking them only takes 5-10 minutes, so it's a really good option for meal prep.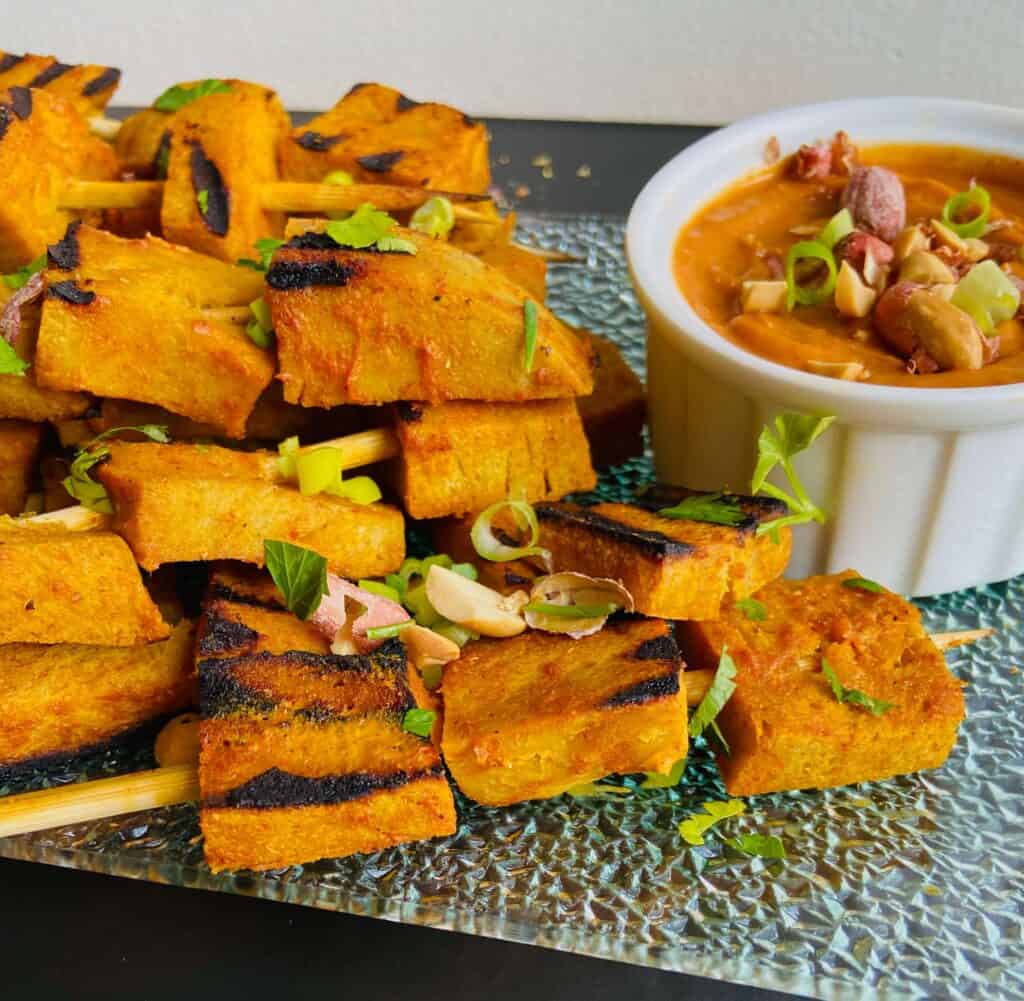 You can also cook them up and store leftovers in the fridge for a few days and then reheat when you want to eat them.
How to Eat Vegan Satay
You can enjoy this as is, but if you want to eat it as a dinner, it goes really well with rice. Some good options are sticky rice and coconut rice but plain rice works as well.
You could also just accompany it with a Thai cucumber salad or take the seitan cubes off the skewers and use it as a protein on your favorite salad.
You can also make delicious wraps with the leftovers for lunch. Stuff the wrap with the seitan cubes, peanut sauce and some fresh veg like shredded cabbage.
Don't Forget to Pin This Recipe For Later!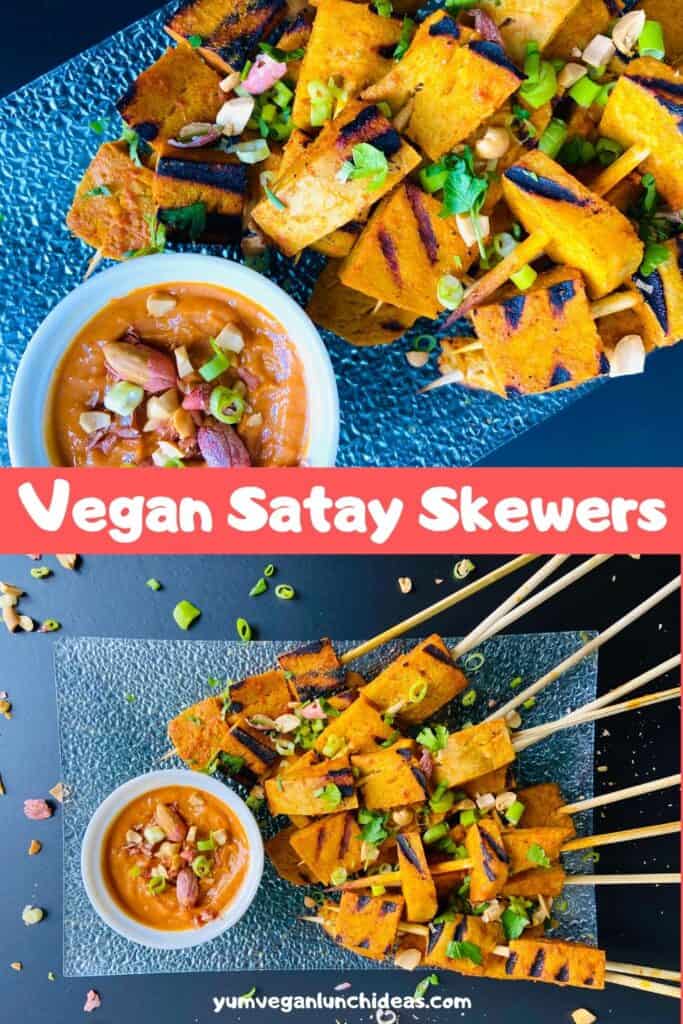 Yield: 12 Skewers
Seitan Satay - Vegan Satay Skewers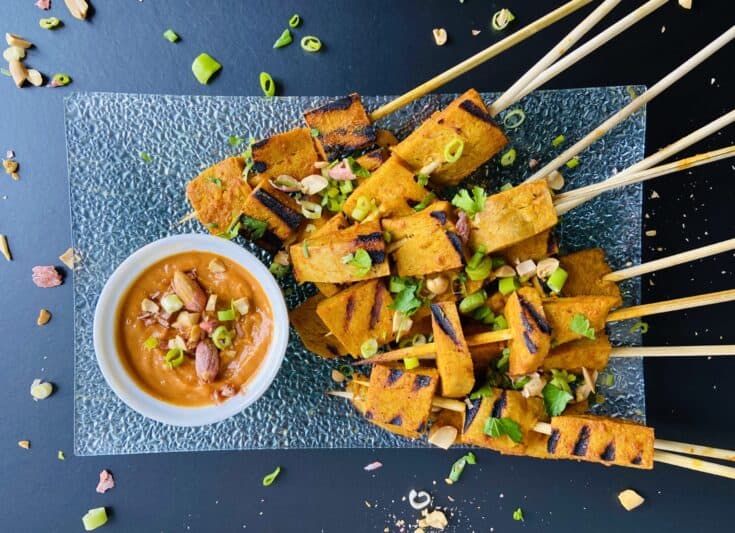 These vegan satay skewers are perfect for your next bbq, or you can cook them on the stove top for an easy dinner.
Seitan satay is filling, delicious, and packed with Thai flavors. Combined with the creamy peanut satay sauce, the skewers are taken to the next level.
Re purpose leftovers by topping salads and stuffing wraps with the cooked seitan cubes.
Total Time
3 hours
20 minutes
Ingredients
17oz Seitan (500g)
1 tsp Sugar
1/2 tsp Salt
Spray Oil
Peanut Dipping Sauce
1/3 Cup Water
2 Tbsp Sugar
1/2 tsp Salt
Red Pepper Flakes (Optional)*
Instructions
Cut seitan into thin rectangles, as thin as you can while still thick enough to put onto your skewers.
Mix together the marinade ingredients until well combined.
Add in the seitan and make sure all the pieces are coated in the marinade.
Cover and put it in the refrigerator to marinate for at least 3 hours. Overnight is fine as well.
Assemble your skewers with 3-4 seitan piece each. Save any leftover marinade.
Heat your grill with a light coating of spray oil. If you are pan cooking, you will need a little extra oil to ensure it doesn't stick (around 1 tbsp).
Once it is hot, cook the skewers around 3-5 minutes until the seitan is browned on the bottom.
Flip skewers and brush with the leftover marinade. Continue cooking for a few more minutes until the bottoms are browned as well.

Peanut Sauce:
Combine all ingredients in a sauce pan and simmer until well combined and thick, around 5 minutes. If it's too thick add more water a tablespoon at a time until it's a good consistency.

Notes
* Add a pinch of red pepper flakes to the peanut satay sauce if you like a bit of spice.
Recommended Products
As an Amazon Associate and member of other affiliate programs, I earn from qualifying purchases.
Nutrition Information:
Yield:
4
Serving Size:
1
Amount Per Serving:
Calories:

440
Total Fat:

25g
Saturated Fat:

10g
Trans Fat:

0g
Unsaturated Fat:

12g
Cholesterol:

0mg
Sodium:

1033mg
Carbohydrates:

22g
Fiber:

3g
Sugar:

9g
Protein:

37g
You may also love