**This post contains affiliate links and I will be compensated if you make a purchase after clicking on my links.
There is a lot of talk about how if you go vegan or whole foods plant based the weight will just fall off. In my experience, that's not actually true for a lot of people.
The basic principle of weight loss is that your calorie intake needs to be less than what your body is burning throughout the day. For people who eat a lot of junk, the switch to a healthy diet will probably be enough.
However, if you are like me and have a problem with overeating, you'll need to focus on eating low calorie vegan food so that you can eat larger portions and still lose weight! In comes these awesome low calorie vegan recipes.
If you are looking to get some ready made, nutritious and low calorie vegan meals, veestro has some great options that they deliver straight to you. You can check it out here.
If you know someone having the opposite problem, of not being able to get enough calories, send them over to our roundup of delicious high calorie vegan foods.
Are you getting enough Vitamin B12?
Building Healthy Weight Loss Habits
If you need help managing your overeating or any other negative eating habits, I highly recommend the diet program noom. It's all about building healthy eating habits and it works in conjunction with any way of eating you choose as long as you are willing to log what you eat, whether you are vegan or plant based.
I personally used it with great success and am about to sign up again! If you are interested in checking out Noom, you can do so here. It comes with a free 14 day trial so nothing lost if it doesn't work for you.
Lots of people rate drinking nutrient dense juices additionally.
You may also like our article on The Best Vegan Protein Powders.
Low Calorie Vegan Meals
Don't Forget To Pin This Post For Later!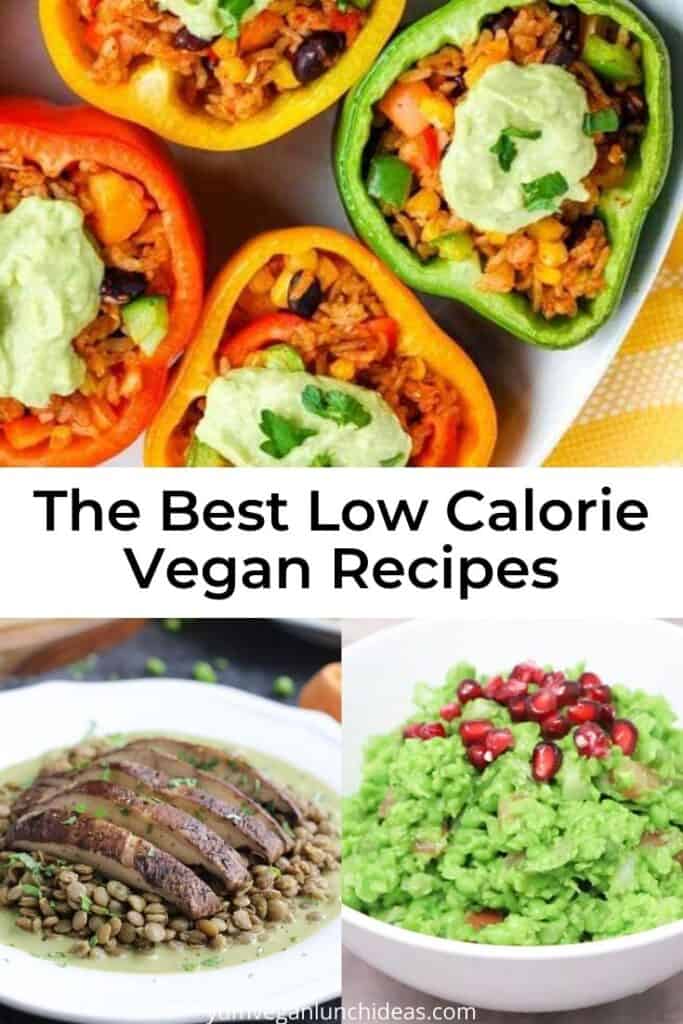 Low Calorie Vegan Recipes
Here are 30+ fantastic low calorie vegan recipes that you can enjoy large servings of. We've included a whole variety of low calorie vegan meals including low calorie vegan breakfast, lunch, dinner and even dessert!
We've included lots of well rounded meals where you will get a good balance of carbs, proteins and fats. We also tried to make sure most the recipes are quick and easy, because eating healthy shouldn't mean hours spent in the kitchen!
Disclaimer:
This post contains affiliate links. This means we get a small cut of the profits if you buy through our links at no additional cost to you. However, we only recommend products that we believe in so if you have a bad experience with something we recommend, please let us know!