Does anyone else buy grains and legumes from the bulk bins, convinced that you'll use them because they look interesting?
Well my cabinet is full of jars of different fun things that I bought six months ago and haven't looked at again.
And that is this split pea hummus recipe's origin story. I pulled out a bunch of jars of things I needed to use up, with no actual clue what I should do with all of them.
My green split peas ended up in the food processor with tahini and lemon juice and everything you need to make an awesome hummus.
It came out so good that I felt dumb for spending all this time thinking that hummus had to be made with chickpeas. Why can't we mix it up?
Be sure to check out 50 amazing hummus recipes!
I also love this variation because I eat a lot of chickpeas. It seems to be the go to bean for the vegan crowd, from hummus to chickpea salad to vegan tuna salad.
Don't get me wrong, I'm not hating on all the chickpea-centric dishes, I just think the key to getting all your nutrients is variety. It's good to rely on more than one bean.
In any case, whether you are looking to mix up your nutrients, or just enjoy a fun twist on a classic hummus, this green split pea recipe is a winner.
It's really good in sandwiches like this vegan sabich (eggplant sandwich) or just as a dip for your veggies!
How To Cook Split Peas
Cooking split peas is actually quite easy, you don't even need to soak them! All you need to do is combine the dry split peas with around three times the amount of water in a pot and bring to a boil. Once it's boiling, reduce the heat and cover it.
The split peas will be finished cooking after around 30 minutes. Make sure to check on it towards the end of cooking to check the water hasn't been completely absorbed, which will cause it to start burning. When it's finished the split peas should be soft but still maintaining their shape.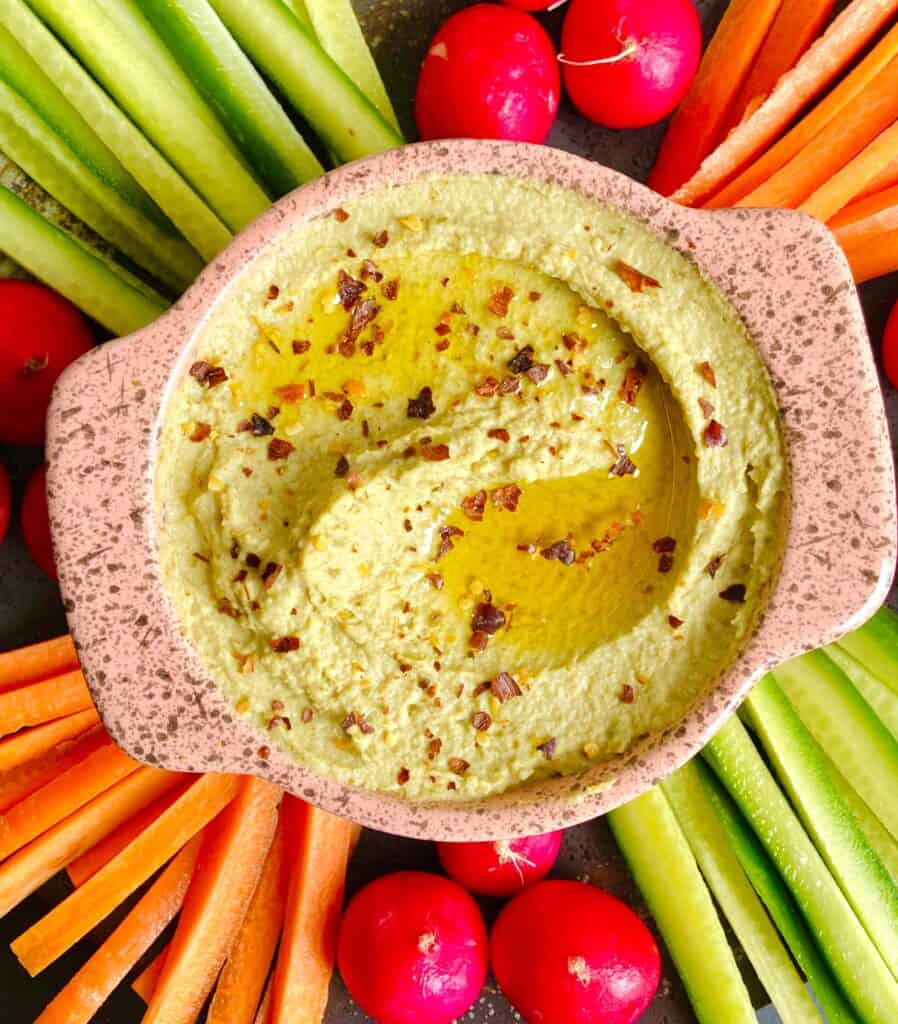 If you want to use them for a split green pea recipe where you won't be mashing them you can add a bit less water. If you want the split peas to have more flavor you can cook them in broth instead of water. Alternatively you can throw a bay leaf and some salt in.
Split Pea Hummus Ingredients
The ingredients for this split pea recipe are the same as you'll find in a regular hummus, just with split green peas instead of chickpeas. The ingredients are:
How To Make Vegan Split Pea Dip
Making split pea hummus is really quick and easy. Once your split peas are cooked, it's just a matter of throwing everything in the food processor.
I highly recommend processing the whole garlic cloves before the rest of the ingredients. Otherwise you might end up with large chucks of unprocessed garlic.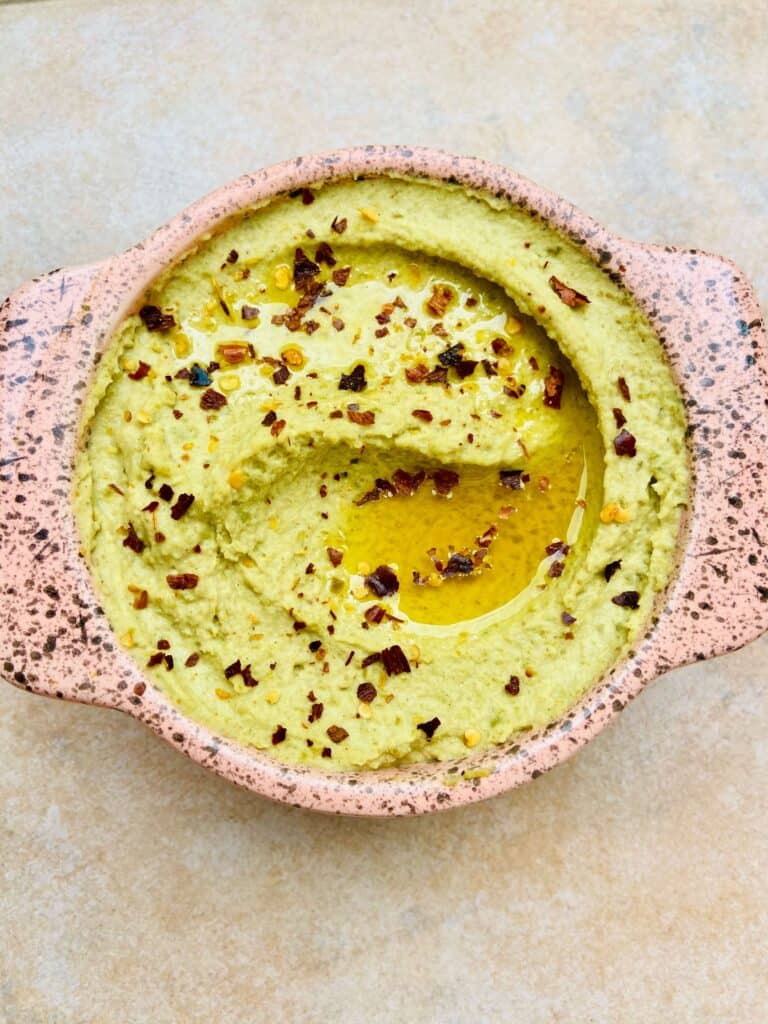 If your split peas ended up a little under cooked, you may need to add water to thin out the hummus and help it blend. Add it in gradually until you achieve the consistency you like.
Storing the Hummus
This hummus can be kept in an airtight container in the refrigerator for around 4-7 days. I haven't tried freezing it but I've been told hummus can be frozen, if for some reason you haven't eaten it all by then.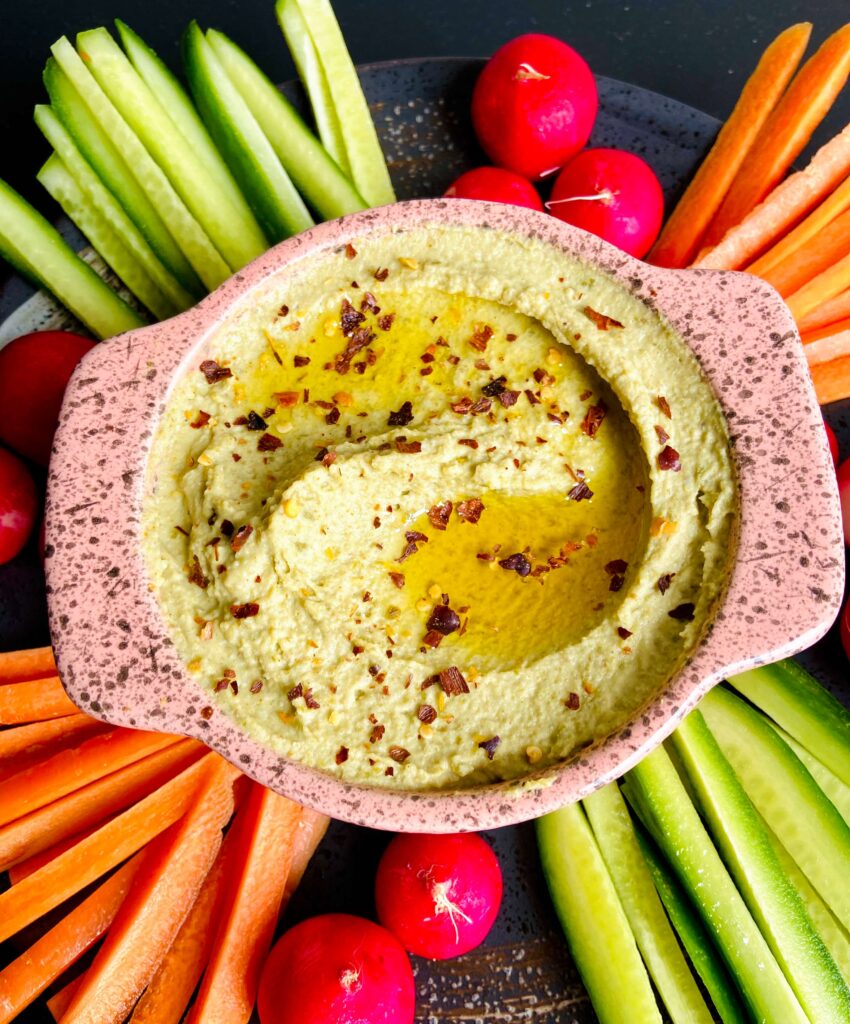 Split Pea Nutrition
Split peas are powerhouses when it comes to nutrition. There are so many split pea benefits for your health.
These tiny green peas are filled with soluble fiber. One cup of split peas will give you sixty five percent of your daily fiber need!
They are also packed with protein, B vitamins, iron, magnesium, zinc and phosphorous. Not to mention the phytates and isoflavones in peas, which are both linked to lowering the chances of certain types of cancer.
Don't Forget to Pin This Post For Later!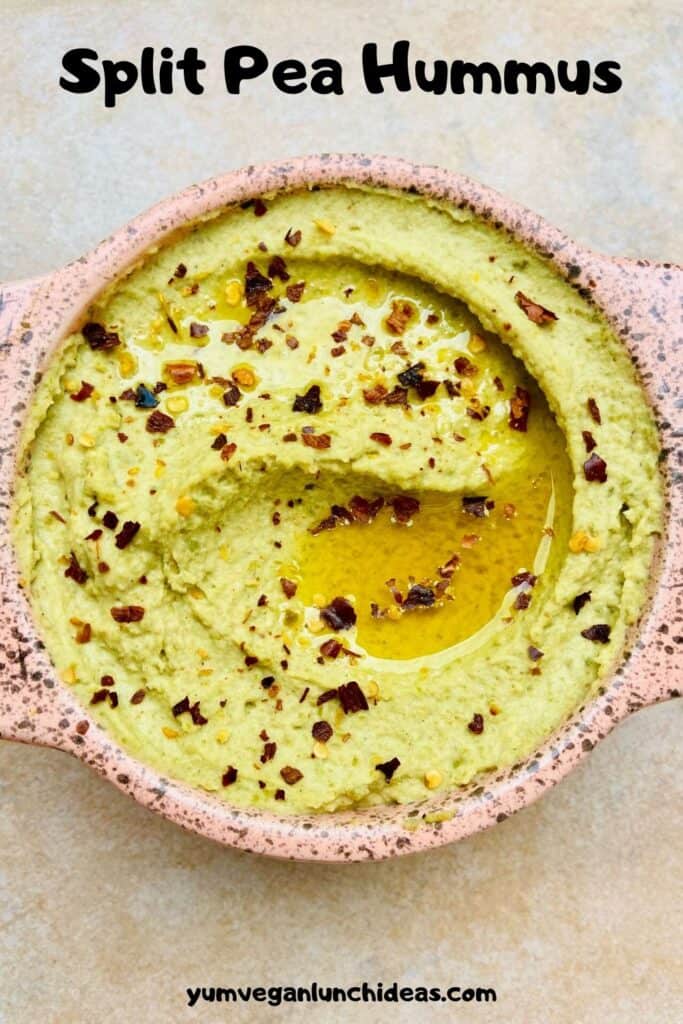 You May Also Like:
Yield: 2 Cups
Delicious Split Pea Hummus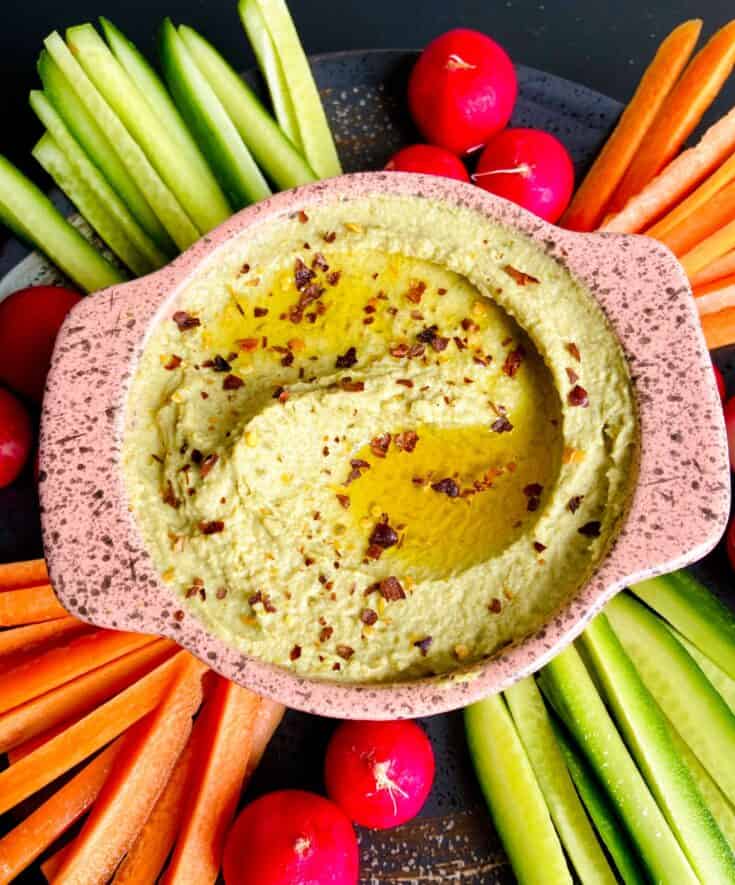 This easy split pea hummus recipe is a delicious, creamy alternative to a classic hummus. With dried green peas as the base, it's cheap to make, filled with nutrition and addictive to eat!
Try out this green split pea recipe and watch as it becomes a staple in your house as sandwiches, dips and more.
Ingredients
2 Cloves of Garlic
1 tsp Salt**
Dash of Pepper
Instructions
Cook your dry split peas in a covered post with 3 times the amount of water. It takes roughly 2/3 a cup to create 2 cups cooked split peas, but it will depend on the type of split peas you use. For more detailed instructions on how to cook split peas, read the post above.
Peel your garlic cloves, put them in the food processor, and pulse until it's in small pieces.
Add in the 2 cups of cooked green split peas, tahini, lemon juice, cumin and garlic powder and process until smooth.
Add in salt and pepper to taste. I used around a teaspoon of salt and a big dash of pepper but add it in gradually until you achieve the saltiness level you like. If you like a bit of spice, you can also add in a pinch of red pepper flakes.
If the hummus isn't blending well or is too thick, you may need to add in a bit of water to thin it out. This usually means your split peas came out a bit under cooked, but it's not a problem other then the thicker consistency. If you overcooked the split peas and the hummus is coming out too liquidy, just add in a bit more tahini.
Once you've achieved the consistency you like, enjoy with warm pita, cut veggies, or just by the spoonful!
Notes
*Different varieties of split peas yield different amounts of cooked. For this recipe I used 2 cups cooked which was around 2/3 cup dry. If you end up with extra split peas, just sprinkle them over the top as a garnish or throw into a salad.
** I used a teaspoon of salt but this may be a little salty for some. Add in gradually and taste as you go.
Recommended Products
As an Amazon Associate and member of other affiliate programs, I earn from qualifying purchases.
Nutrition Information:
Yield:
16
Serving Size:
1
Amount Per Serving:
Calories:

48
Total Fat:

2g
Saturated Fat:

0g
Trans Fat:

0g
Unsaturated Fat:

1g
Cholesterol:

0mg
Sodium:

149mg
Carbohydrates:

6g
Fiber:

2g
Sugar:

1g
Protein:

3g