Vegan muffins have to be one of my favorite foods. Grab them on the go for breakfast, lay them out for a fancy vegan brunch, eat it as a snack, dessert, bring them camping, on road trips and more!
They are so versatile, meal prep friendly and delicious that you need to have a good vegan muffin recipe in your arsenal.
These vegan raspberry muffins are a particular favorite of mine. Really any vegan berry muffins tend to be my favorite but these ones are super light and delicious with the bright flavors of the raspberries just popping through!
I also love to top them with a drizzle of cream cheese frosting for some extra decadence. Plus, I can pretend that the vegan cream cheese makes it a perfectly acceptable, healthy vegan breakfast muffin.
Whether or not you decide to include the frosting, these raspberry muffins (vegan, egg free, dairy free) are bomb, (and IMO, they are the best vegan muffins!), so let's get to it.
Loving these muffins? Check out some of our other sweet treats, like these vegan pop tarts!
Raspberry Vegan Muffins Ingredients
The ingredients for these easy vegan muffins are:
For the vegan yogurt you are going to want a plain variety. We are already adding sugar so unless you've got an intense sweet tooth, you aren't going to want any sort of sweetened yogurt. We have a super easy recipe for vegan yogurt you can make yourself with almost no effort.
The lemon juice gives a nice subtle tartness that goes well with the raspberries and balances out the sweetness. I only use the juice from the lemon because I like things easy, but if you want to give the muffin a little extra flare, you can also throw a bit of lemon zest into the batter.
Seltzer (carbonated water) is a great egg replacer in these muffins. It acts as a rising agent to help you get nice, fluffy muffins.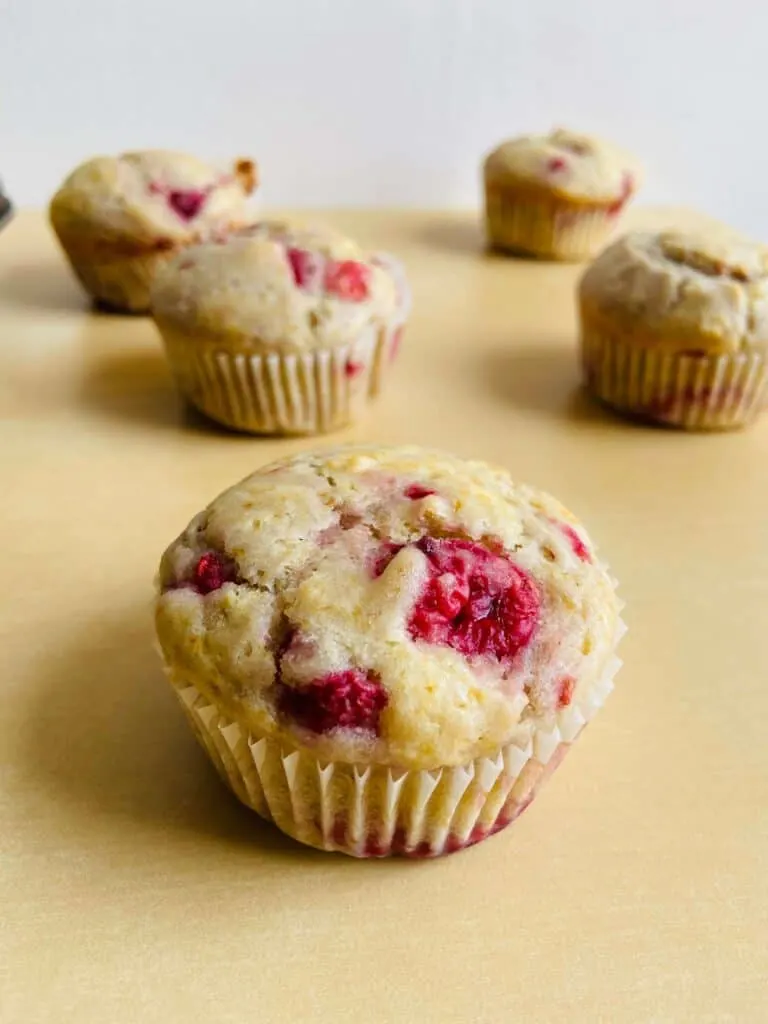 For the raspberries, you can use fresh or frozen. If you use frozen raspberries, it's best to partially thaw them out, but not completely.
This is because when the raspberries are fully thawed, the juice will bleed through the batter and your entire muffins will be red. However, if you don't thaw it at all, they may stick together and be a little hard to evenly distribute throughout the batter.
Vegan Cream Cheese Frosting Ingredients
The vegan cream cheese frosting is really simple to make. All you need is: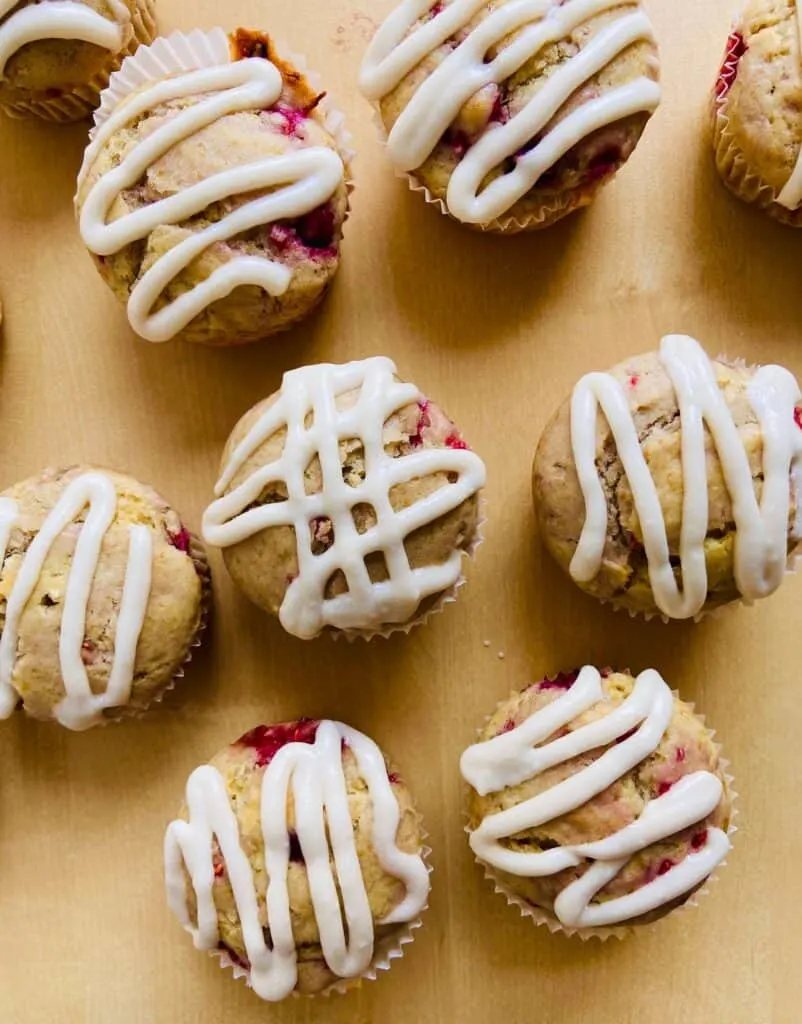 For vegan cream cheese frosting, I've only ever used tofutti cream cheese. It has almost the same consistency as dairy cream cheese, if a little on the thick side. Brands that make a thinner cream cheese may not work because they may end up making the frosting too loose.
How To Make Raspberry Muffins (Vegan)
Making the raspberry muffins is quick and easy. Prepare a muffin tin
with lightly greased muffin liners
or just by lightly greasing the pan as is.
Next you are going to mix together the dry ingredients in a large bowl. Then, mix together the wet ingredients (minus the seltzer), and then combine the two of them.
Once you've mixed together the wet and dry ingredients, it's time to pour in the seltzer. It's important to put the seltzer into the batter as close to the time of baking as possible, because it starts reacting with the other ingredients as soon as they touch.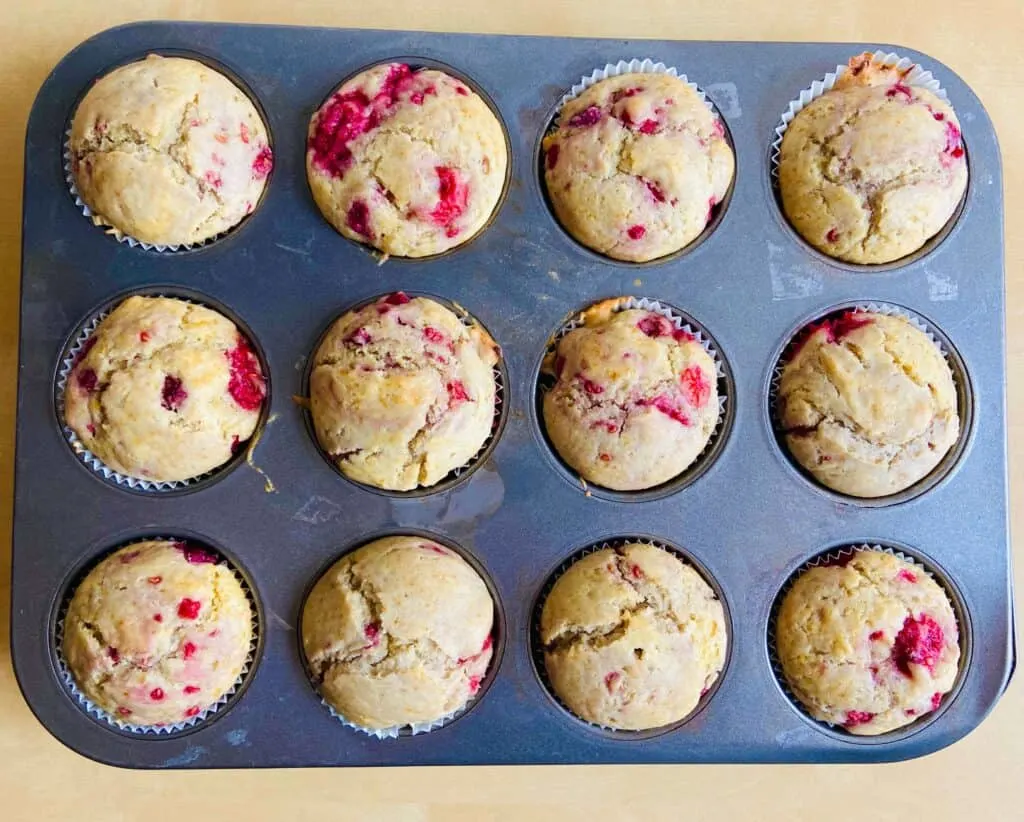 Mix the seltzer in and whisk until combined, try not to over mix. Fold in the raspberries and then pour the batter into the prepared muffin tray.
Bake for around 20 minutes, or until you can stick a toothpick in the center and have it come out clean.
How to Make Cream Cheese Frosting for Vegan Berry Muffins
These lemon raspberry muffins are amazing with or without the frosting, so feel free to enjoy either way. If you are going to make the frosting for a bit of extra pop and flavor, you can get to it while your muffins bake.
To make the cream cheese frosting, your beaters or mixer will do all the work. Your vegan butter should be brought to room temperature and then you can add it to the mixer with the cream cheese.
Beat them together until they are smooth and combined. You may need to keep a spatula on hand to scrape down the sides once or twice.
Add in the vanilla extract and powdered sugar and beat for another minute or two until fluffy and well combined.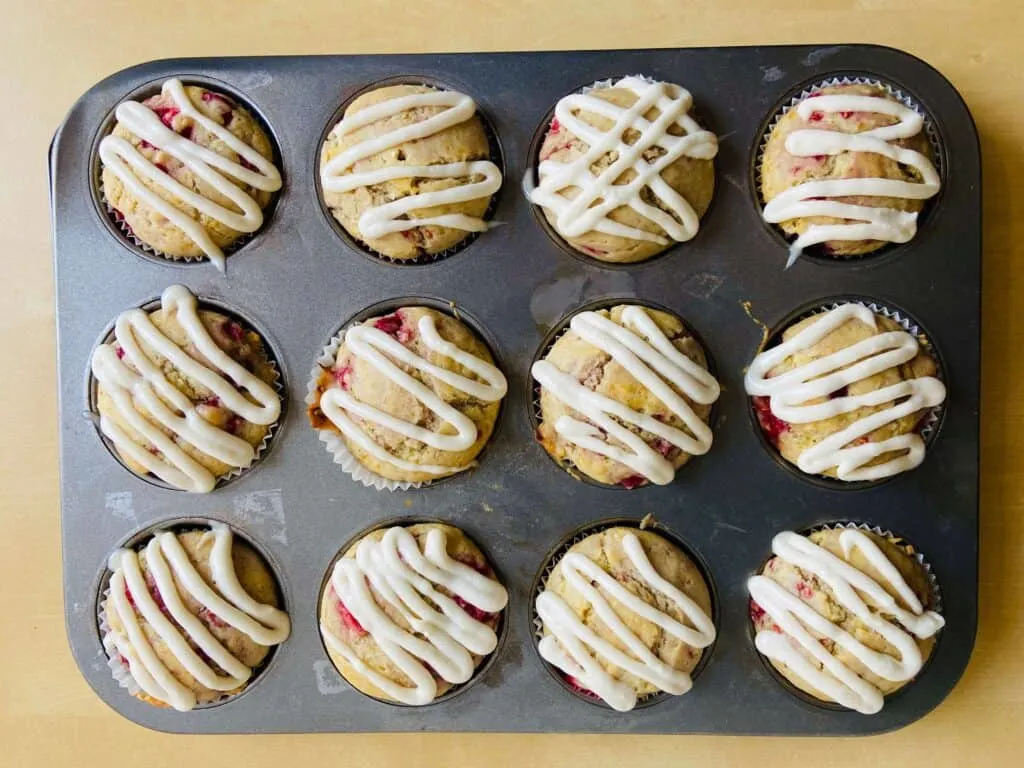 It's okay if the frosting is on the lighter and softer side, we are just draping a thin layer on the muffins so it doesn't need to be super stiff and standing on it's own.
Do not frost your muffins until they have cooled down. If the frosting goes on a muffin hot from the oven it will melt and you'll have a bit of a mess on your hand. A tasty mess, but a mess all the same.
If you don't have a frosting bag, you can put your frosting into a zip lock and snip off a corner. Then, just make some zigzagging frosting lines across the tops of your muffins.
Making Vegan Raspberry Muffins Ahead of Time (Meal Prep and Storage Instructions)
If you are big into meal prep, or you want to make these ahead of time for a get together, you've chosen the right food. Muffins are fantastic for make ahead cooking.
Storing in the Refrigerator
To make sure your muffins stay as fresh as possible, cool them down completely and store in an airtight container, lined with paper towels, in the fridge. The paper towels are crucial to ensuring your muffins don't get soggy since they absorb the moisture that threatens your muffins during storage. You can store them this way for up to four days.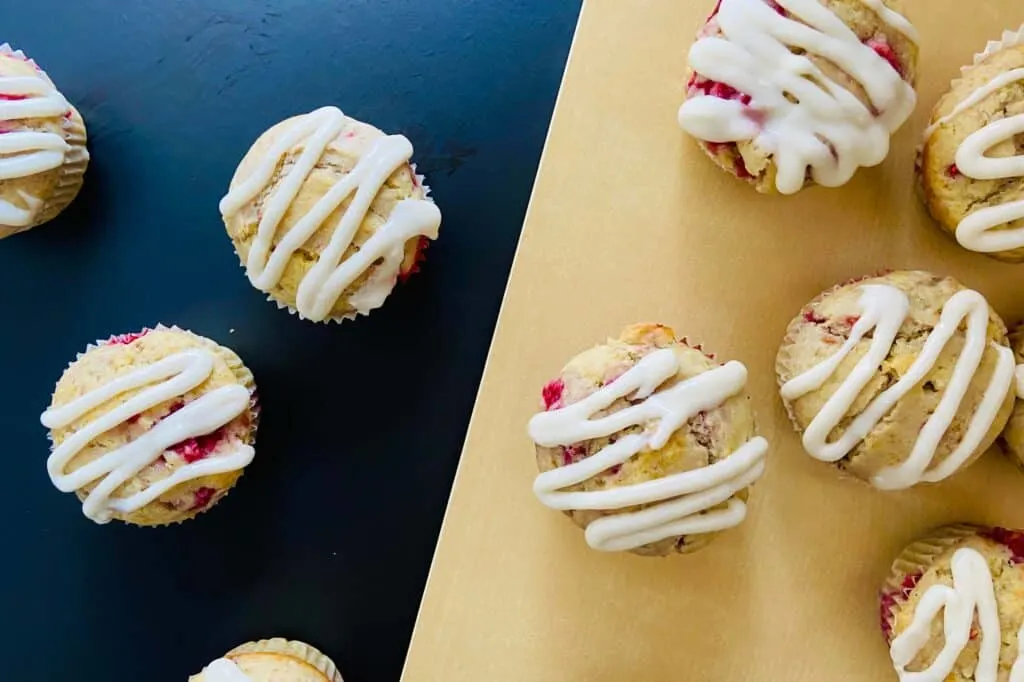 Freezing Before Baking
If you'd like to really get ahead of the game you can also freeze these muffins. You can freeze them before or after baking them.
To freeze before baking them, fill the muffin liners in the tin and place it, as is, into the freezer for a few hours, until they are frozen enough that if you turn them sideways they won't spill or move. Then take them out of the muffin tin and put in a freezer bag or container and freeze for up to two months.
When you are ready to eat them, take out however many muffins you want and bake them. It should take around 5-10 extra minutes of baking time.
Freezing After Baking
To freeze the muffins after they have finished baking (but without the frosting), first you need to let them cool completely.
Next you have two choices. You can put the whole tray in the freezer for a few hours until they are pretty solid and then transfer them to a large freezer bag or container for storage. Alternatively, you can individually wrap them in heavy duty foil, a freezer bag, or freezer wrap and freeze them like that until you are ready to eat them.
Once you are ready to eat them, you can defrost them at room temperature or unwrap them and use the microwave. It should only take a minute to microwave it.
You could also rewarm it in the oven by baking at 350 for 10 minutes. Make sure no to forget to remove any plastic wrap you may have used if you plan to heat it in any way.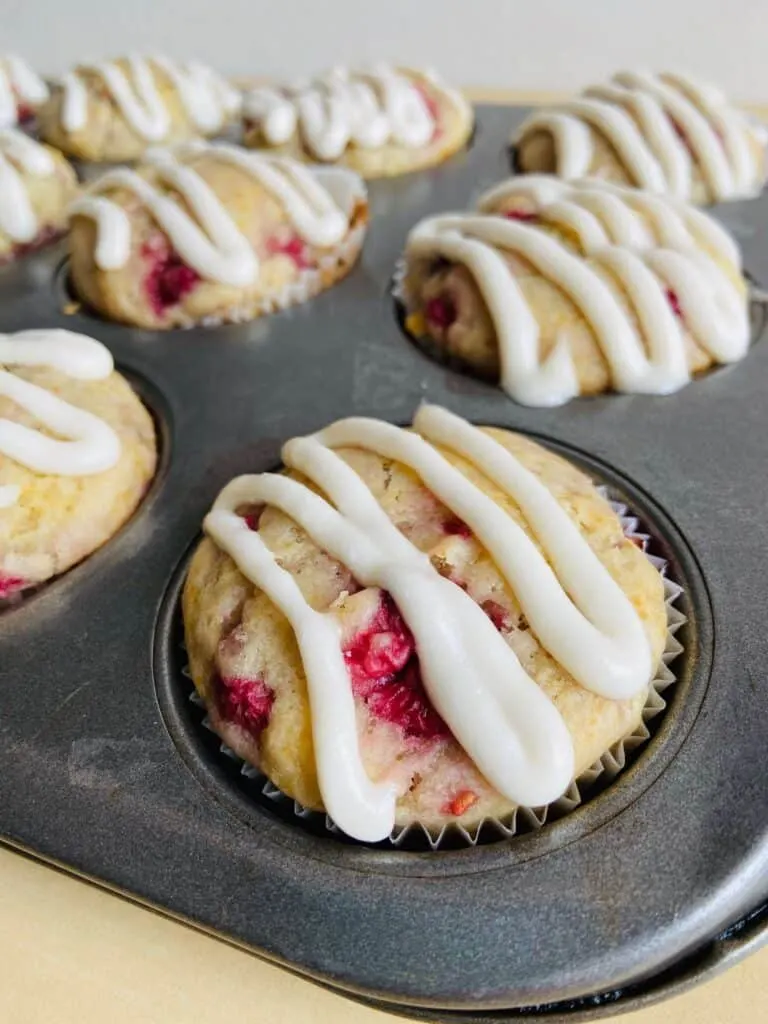 Preparing Vegan Cream Cheese Frosting Ahead of Time
The cream cheese frosting should not be frozen on top of the muffin but it can also be frozen. Frozen cream cheese frosting will last a few months in the freezer and should be defrosted by placing in the fridge overnight.
It can also be made ahead of time and stored in the fridge up to two weeks in advanced.
Vegan Berry Muffin Variations
There are a few way to switch things up in this recipe, whether it's because you have other ingredients on hand or just for variety. Feel free to swap in other berries like blueberries, strawberries or anything else you like.
If you can't find vegan yogurt, you can get away with using a non dairy sour cream instead.
If you want things to be really cream cheese flavored, you can actually fill the center of these with a layer of cream cheese. Take a small scoop out of the center of the muffin and put in a bit of plain cream cheese or the cream cheese frosting.
If you plan to fill the muffins with the cream cheese frosting, I would use less powdered sugar in the frosting so that the sweetness doesn't become overpowering.
Don't Forget to Pin This Post For Later!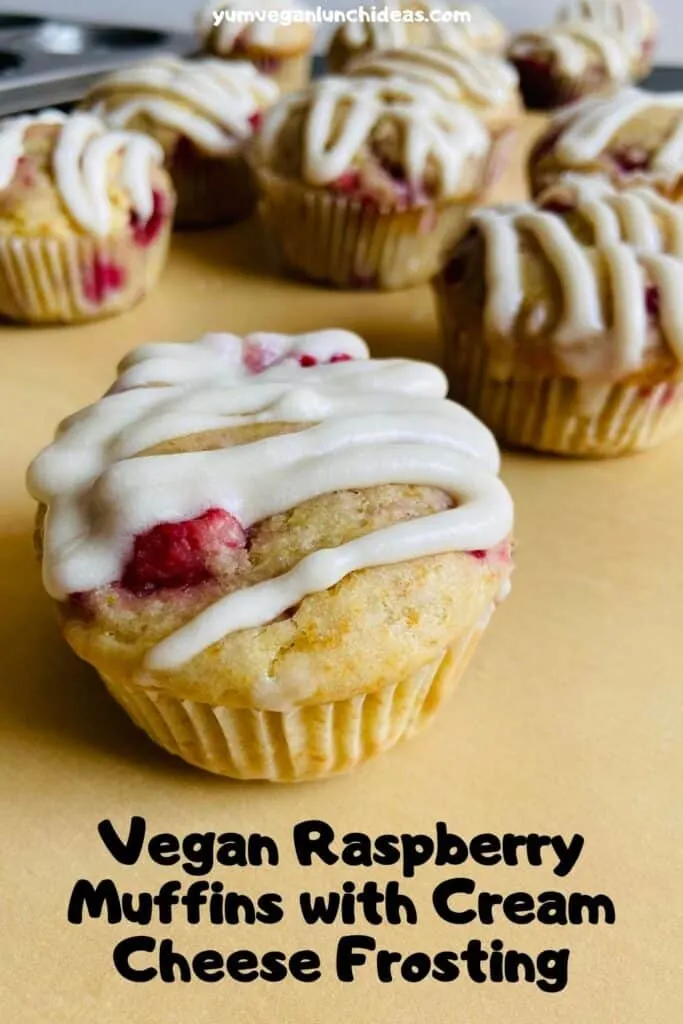 Yield: 12
Vegan Raspberry Muffins with Cream Cheese Frosting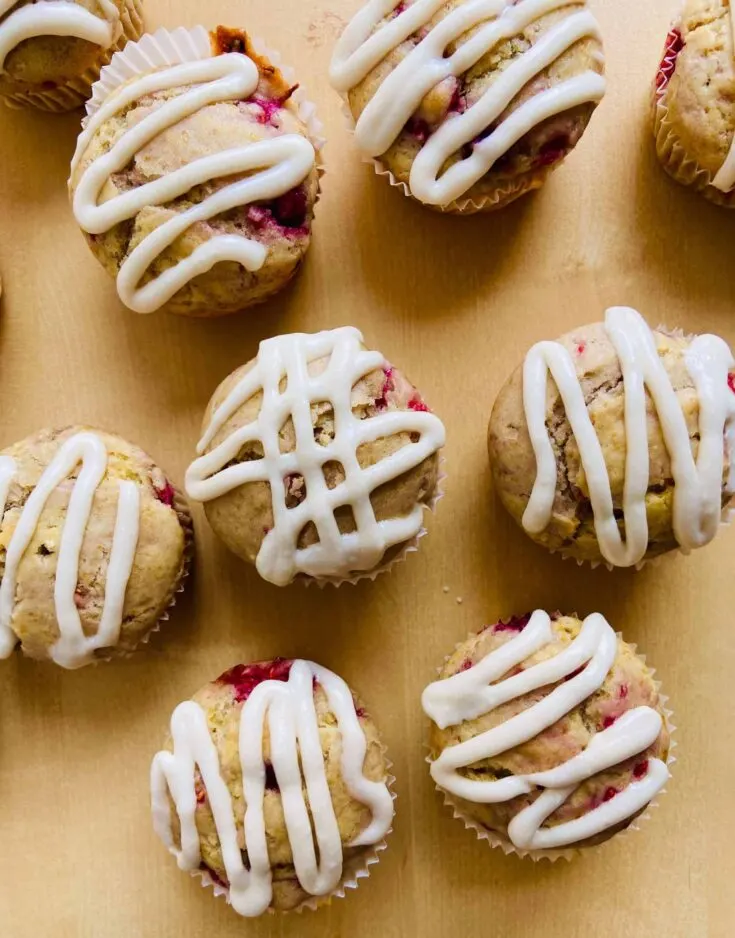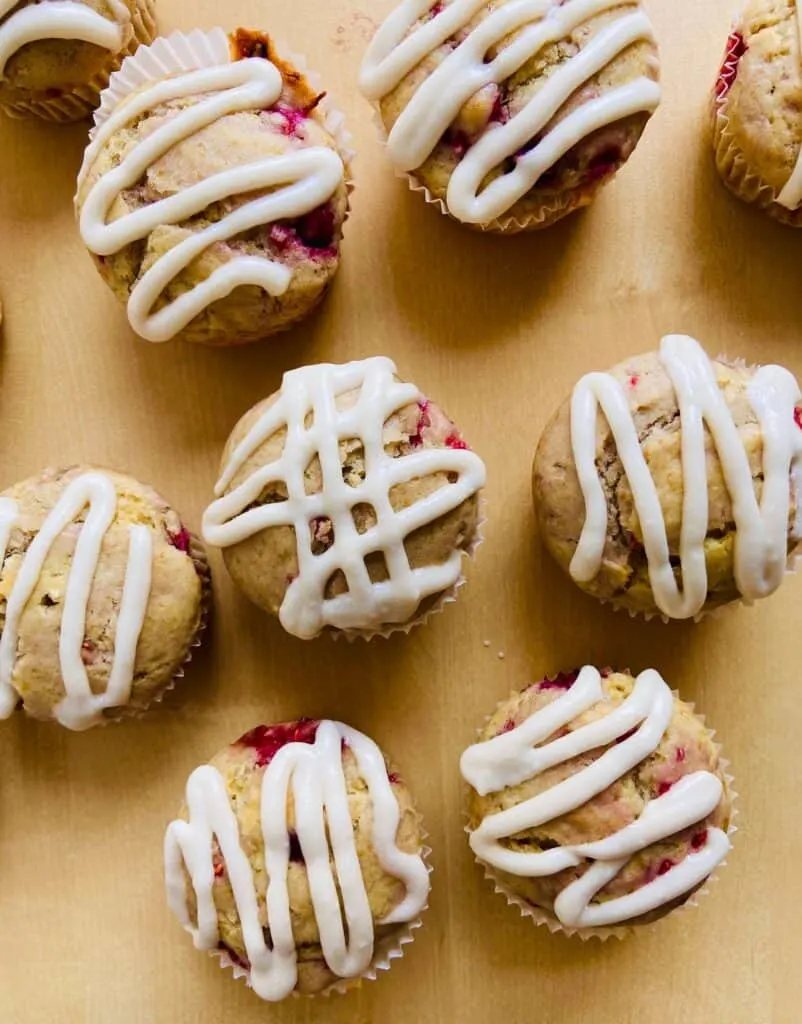 These delicious vegan raspberry muffins, optionally drizzled with a vegan cream cheese frosting, are light and fluffy and bursting with delicious raspberry lemon flavors.
These vegan muffins are perfect whether you are looking for a vegan breakfast muffin, vegan brunch, on the go snack, or even a dessert! They are also perfect for vegan meal prep, see full post for make ahead instructions.
Ingredients
1 1/2 tsp Baking Powder
1/2 tsp Baking Soda
1/3 Cup Unsweetened Plain Vegan Yogurt
1 1/4 Cup Raspberries
Cream Cheese Frosting
2/3 Cup Vegan Cream Cheese*
2 1/2 Tbsp Vegan Butter at Room Temperature
Pinch of Salt
Instructions
Vegan Raspberry Muffins
Preheat the oven to 375 degrees. Prepare your muffin tin with muffin liners or by lightly greasing the tray.
In a large bowl, mix together the dry ingredients (flour, sugar baking soda and baking powder).
In a medium sized bowl, whisk together the canola oil, vegan yogurt, lemon juice and vanilla extract.
Pour the wet ingredient mixture into the dry ingredients and mix until combined. It will be on the dry side but try to incorporate the ingredients.
Pour in the seltzer and mix just until combined, try not to over mix.
Fold in the raspberries.
Pour batter into prepared muffin tin and bake for around 20 minutes or until you can stick a toothpick into the center and have it come out clean.
Vegan Cream Cheese Frosting
If you plan to serve with the cream cheese frosting you can whip it up while the cupcakes bake.
Using a mixer, beat together the vegan cream cheese and room temperature vegan butter until smooth and combined.
Add in the powdered sugar, vanilla extract and powdered sugar and beat until fluffy and combined.
Taste test to decide if you want it a little sweeter (add more powdered sugar) or a little less sweet (add a pinch more salt or a drop of lemon juice to cut through the sweetness).
Once the muffins are cooled, add a drizzle of the frosting to each muffin in zigzags on the top.

Notes
*I recommend using tofutti brand cream cheese.
Recommended Products
As an Amazon Associate and member of other affiliate programs, I earn from qualifying purchases.
Nutrition Information:
Yield:
12
Serving Size:
1
Amount Per Serving:
Calories:

265
Total Fat:

16g
Saturated Fat:

4g
Trans Fat:

0g
Unsaturated Fat:

11g
Cholesterol:

7mg
Sodium:

169mg
Carbohydrates:

27g
Fiber:

1g
Sugar:

12g
Protein:

4g
You may also like:
Disclaimer: This post contains affiliate links.