This vegan guacamole is literally delicious and the perfect condiment for all your Mexican eats! It can also be used as a vegan sandwich filling, dip or just eat it straight out of a bowl with a spoon!
I find homemade vegan guacamole so much more tasty and has a far better texture than the shop bought version. I prefer when guacamole is a little chunky and not too blended.
This recipe is super easy to make and you will only need a handful of ingredients. There is no cooking involved, just a little peeling, chopping and mashing and you have an incredible guacamole!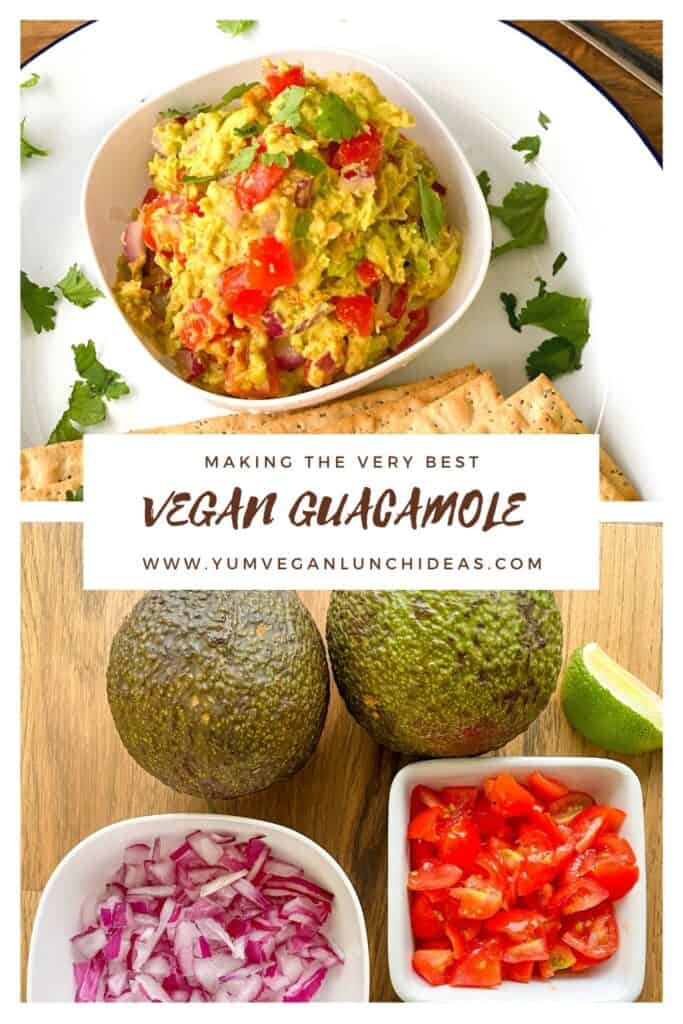 Vegan Guacamole Recipe
Being from Ireland myself, I feel I only came to discover Guacamole in my 20's when I moved to London. The variety of different cuisines was vast in comparison to my home country.
That said, guacamole has been around since the 14th Century and is such a stable in Mexican cuisine. The Aztec people in South Mexico are thought to have discovered avocados tasted great mashed! Traditionally it was mashed with a stone petal and mortar.
Back then the Aztec people did not add other ingredients, guacamole has evolved over the years and has hugely increased the sales of Avocados in America.
Take for example super bowl day and Cinco De Mayo, guacamole with tortilla chips are a staple!
There are tonnes of variations of guacamole these days, some including chopped jalapeños, sea salt and even sour cream.
That's why it's important as a vegan to check the ingredients. You wouldn't necessarily think guacamole would have dairy but rest assured, this recipe is all plants and all the more reason not to buy the shop bought version.
How To Make Vegan Guacamole
There are no fancy ingredients here, just plain oul red onion, tomato, avocados, salt and lime/lemon depending on what you have available. I do also like to add some cayenne pepper but this is not essential if you don't already have it at home.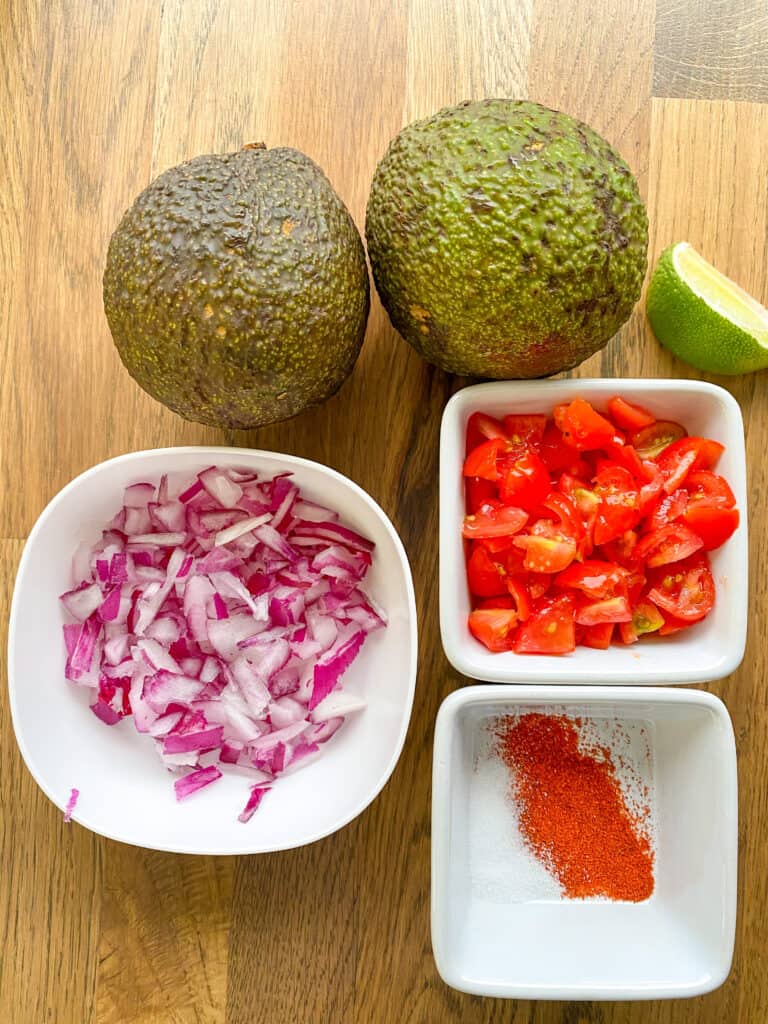 The main thing with guacamole is to not let the beautiful green avocado flesh go brown! In general, it tends to start discolouring soon after it's peeled. This is due to the enzyme polyphenol oxidase in the flesh that causes browning.
My number one tip to prevent this from happening is to squeeze the juice from either the lemon or lime onto the avocado and mash it through immediately.
The acidity from the juice preserves the flesh and slows down the discolouration significantly.
Vegan Guacamole Recipe
In terms of the other ingredients all you need to do is finely chop half a red onion and 1 medium sized tomato into tiny pieces. You will need a good knife to chop it up small.
When peeling the avocado, slice it down the middle to the stone, gently wriggle the two halves apart.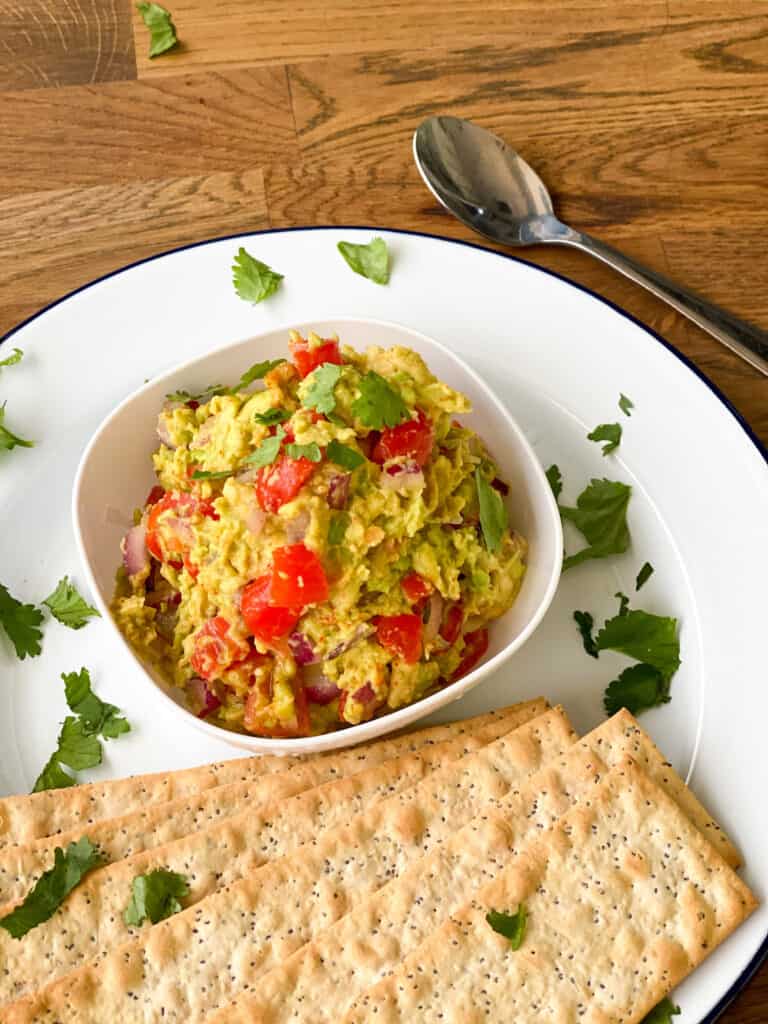 I have an avocado tool which is fabulous for preparing avocados. It allows me to pull the stone out from the middle really easily and separate the skin from the flesh perfectly too. See the amazing avocado tool here.
Next, add the avocado flesh with the lime or lemon juice to a bowl, gently mash with a fork before stirring in your chopped tomato, red onion and salt. Remember the cayenne pepper is optional if you like a little kick.
Add the guacamole to a bowl and either serve or refrigerate in an air tight container. If you plan to refrigerate, add an extra squeeze of lemon to the surface, ensuring to cover it well to maintain the green colour.
Serve on toast, in a sandwich as a dip or just eat it with a spoon! Whatever you prefer. Don't forget avocados are super low carb so this could also be considered a keto guacamole if you watch your carbs.
Before we dive into the recipe card, you may also like:
Yield: 2
Vegan Guacamole Recipe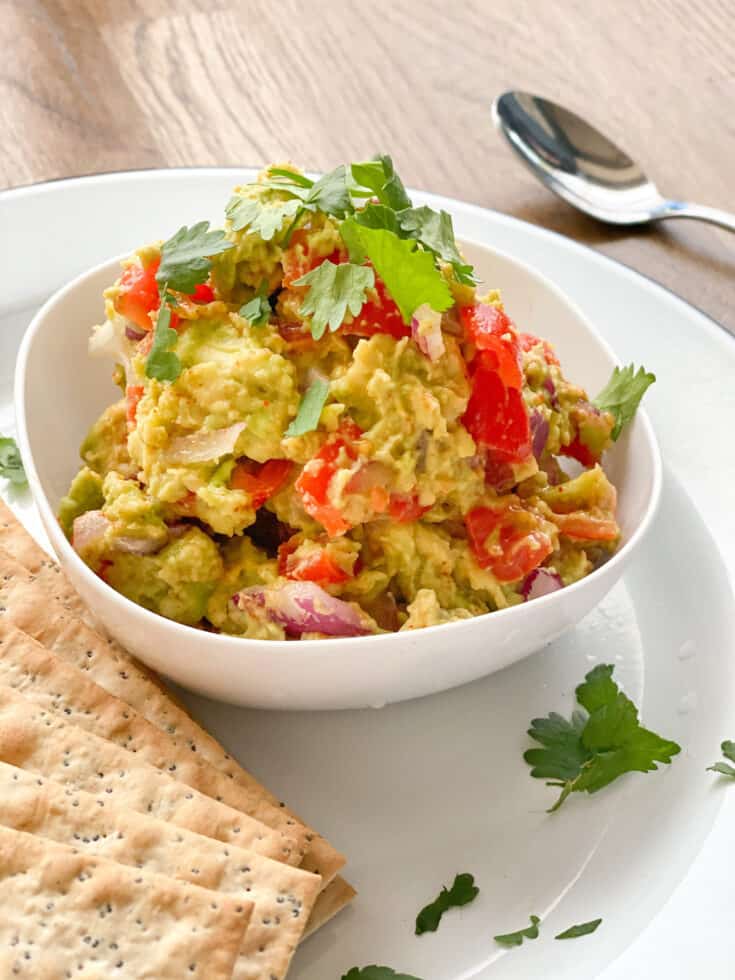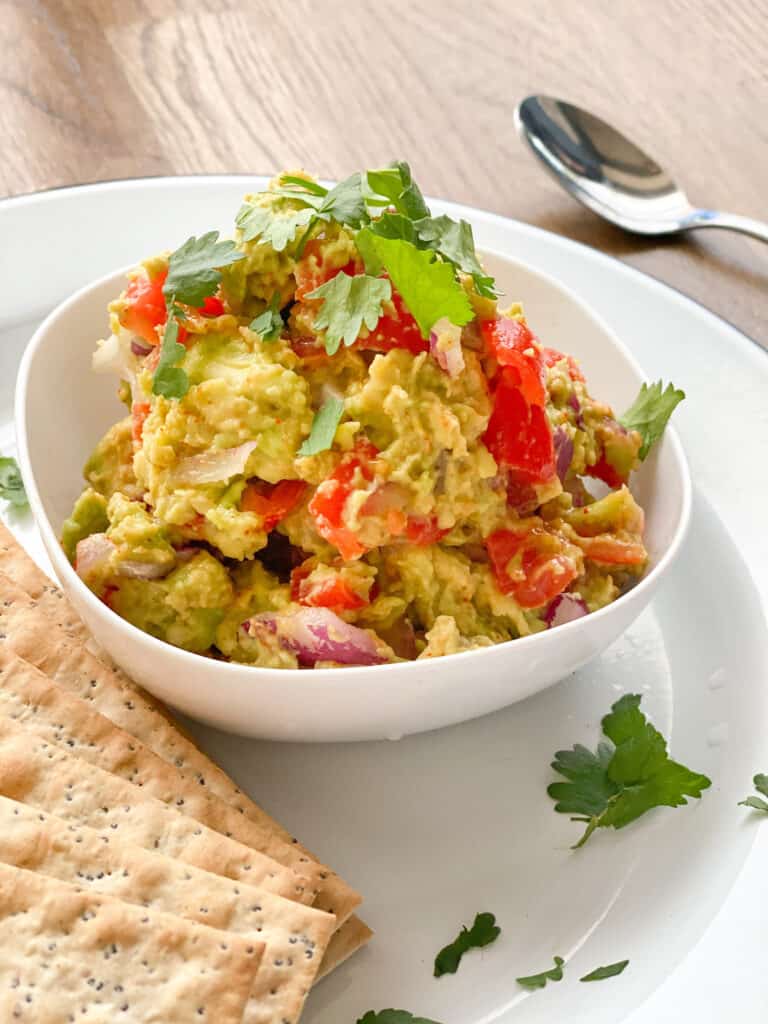 This vegan guacamole is literally delicious and the perfect condiment for all your Mexican eats! It can also be used as a vegan sandwich filling, dip or just eat it straight out of a bowl with a spoon! Do try to make your own homemade vegan guacamole, it only takes 5 minutes fo your time!
Additional Time
5 minutes
Ingredients
2 ripe avocados
1 medium tomato
1/2 a red onion
1/2 a juiced lime or lemon
A pinch of salt
1/2 tsp of cayenne pepper (optional)
Cilantro for garnish
Instructions
Wash and dry your tomato. Peel the onion and cut in half. Keep the other half for another recipe. Chop the tomato and onion into tiny pieces and set to one side.
Chop the avocado in half, pit and peel. Add the avocado flesh to a bowl, or a pestal and morter if you have one. Immediately add the lime or lemon juice to avoid the avocado flesh discolouring. Lightly mash with a fork.
Add the tomato, onion, salt and optional cayenne pepper to the mix, gently mix in without mashing the avocado too much.
Garnish with chopped cilantro, serve in a bowl or on a sandwich, the options are endless see notes below for further ideas.
Notes
Store in an air tight container in the fridge. Add extra lemon or lime to the surface to keep it fresh.
Serve with tortilla chips, use as a dip, add to sandwiches as a filler or eat it with your mexican recipes, the options are endless. Another great idea is to add it your buddha salad bowl to add another dimension to your lunch.
You can also freeze guacamole. Add it to a freezer bag, make sure to expell all air from the bag in a ziplock bag. Keep in the freezer for up to one month. Again add extra lemon as the acididty helps to preserver the green flesh coloiur. It can otherwise go brown quickly making it less appetizing.
Nutrition Information:
Yield:
2
Serving Size:
1
Amount Per Serving:
Calories:

359
Total Fat:

30g
Saturated Fat:

4g
Trans Fat:

0g
Unsaturated Fat:

24g
Cholesterol:

0mg
Sodium:

86mg
Carbohydrates:

27g
Net Carbohydrates:

9g
Fiber:

16g
Sugar:

5g
Protein:

5g
Disclaimer: There are affiliate links in this post. By using them, we will get a small commission of the sale at no extra cost to you. It's the little things like this thats keep us afloat. We never recommend something we don't believe in, always tired and tested too.