As three vegan mamas we are big fans of wasabi hummus over here. It's always a win for lunches, sharing platters, sandwiches and so on.
Hummus is so versatile and can be flavoured to your taste and preferences. Traditionally hummus is made with garlic but we've stepped it up a notch with this beetroot and wasabi hummus recipe.
Hummus is traditionally used as a dip or spread and more often than not is made with chickpeas. It's incredibly popular in Middle Eastern and Mediterranean cuisine and over recent years can be found in every shop pre-made across the US, UK and other Western countries.
Psssst… check out these 50 amazing hummus recipes!!
With such a huge vegan movement and people looking to find staple proteins in pulses and legumes, I think it's safe to say hummus is a reliable staple for most vegans. Although in some cases cream is added so be sure to always check.
Coming back to our beets and wasabi hummus, to say this is the best hummus I've ever had is an understatement! This is bowl licking, delicious and addictive to say the least.
Although this recipe is made of chickpeas, you don't always have to use them as the base ingredient, did you see our green split pea hummus? Or our baba Ganoush is also really good!
Wasabi Mustard Hummus
This recipe is packed full of goodness and needs little to no seasoning as it oozes flavour and taste. Not to mention just how healthy beetroot and wasabi is!
They both contain a multitude of antioxidant, antibacterial and anti-inflammatory properties making them superfoods!
Funnily enough, beets is also referred to as beetroot in England. This can be sometimes confusing but rest assured when we say beets or beetroot we are referring to that yummy pink root vegetable that we all love.
Have you ever used wasabi outside of Japanese cooking before? I absolutely love that zing mustard gives you in your nostrils. It's like spice but different if that makes sense.
Other Ingredients In This Recipe
If you haven't heard of wasabi before it's a Japanese mustard that is green in colour. It's often served with sushi in small quantities as it is an incredibly pungent condiment.
In its rawest form, the plan looks like a really fat asparagus and is often shaved onto dishes in posh restaurants. Of course in this recipe we are using pre-made wasabi paste
and it is just as effective in terms of flavour.
Another important ingredient in this recipe is tahini. No hummus is right without tahini in my opinion.
This beets and wasabi hummus recipe only take a few minutes to make and just a handful of ingredients. Namely chickpeas, tahini, lemon, beetroot and wasabi mustard.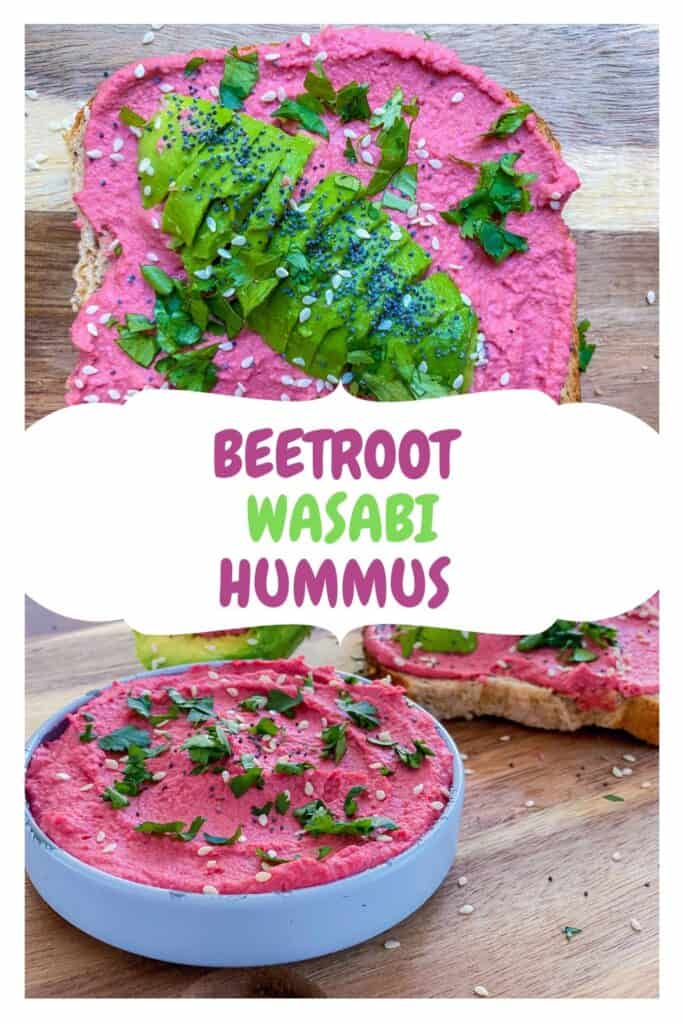 It's just a matter of blitzing everything in the blender. When I'm working with small amounts of ingredients, I love to use my mini chopper, it's great so you don't end up loosing half the content by spraying it all over the inside of the blender.
I can highly recommend either the Ninja or the Kenwood mini, both are fab options and really worth having if you regularly make hummus or other condiments and dips. Check out the Ninja here
and the Kenwood here
.
This recipes is:
Quick and easy
Creamy and smooth
Has a kick to it
Healthy
perfect for lunches and sharing platters
Storing Beetroot and Wasabi Hummus
You can store the beets and wasabi hummus in an air tight container in the fridge. It will keep for 3-4 days.
Uses for Beets & Wasabi Hummus
We love bringing a small pot to work in a lunch box full of this hummus. It works perfectly as a cold lunch on the go with vegetable batons or bread sticks.
At home, I serve it with warm pita bread, salad and falafel, it always goes down a treat.
We love a good sharing platter when we have visitors. The vivid pink colour of this hummus make it a true centre piece when we serve nibbles.
Yield: 4
Beetroot & Wasabi Hummus Recipe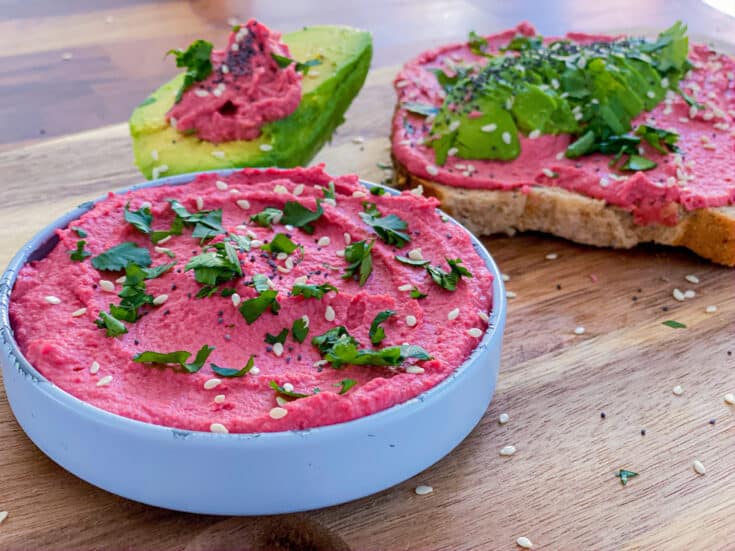 Try this delicious beetroot and wasabi hummus aka mustard hummus. It's smooth and tasty with a light kick from the wasabi. Perfect on toast, with crackers or it can be used as a dip with chips and veg sticks! It's ideal for lunches or sharing platters.
Ingredients
1/2 a can of chickpeas
1 large cooked beetroot
1 tbsp of wasabi
3 tbsp of lemon juice
pinch of salt
1 tbsp of tahini
Drizzle of oil or aquafaba for consistency
Instructions
Strain the can of chickpeas, keep the aquafaba for other recipes.
Add to the blender along with the beetroot, wasabi tahini, lemon and a pinch of salt.
Blitz and add the aquafaba or oil to get the consistency of your preference. Taste test as you add.
Once your happy with the consistency and flavours, serve on toast, with crackers or as part of a sharing platter.
Recommended Products
As an Amazon Associate and member of other affiliate programs, I earn from qualifying purchases.
Nutrition Information:
Yield:
4
Serving Size:
1
Amount Per Serving:
Calories:

109
Total Fat:

7g
Saturated Fat:

1g
Trans Fat:

0g
Unsaturated Fat:

6g
Cholesterol:

0mg
Sodium:

216mg
Carbohydrates:

11g
Fiber:

2g
Sugar:

3g
Protein:

3g
We love hearing from you at Yum Vegan Lunches HQ, make sure to leave a comment or rate the recipe if you try it and love it!
Disclaimer: We use affiliate links in this post. By clicking on them we will make a very small amount of commission on the sale at no extra cost to you. This really helps us continue writing amazing vegan recipes.
You may also like: