This vegan tuna sandwich is the perfect vegan twist of a classic – fishes of course! With creamy chickpea tuna and a crusty bun, you will want to try this out regularly.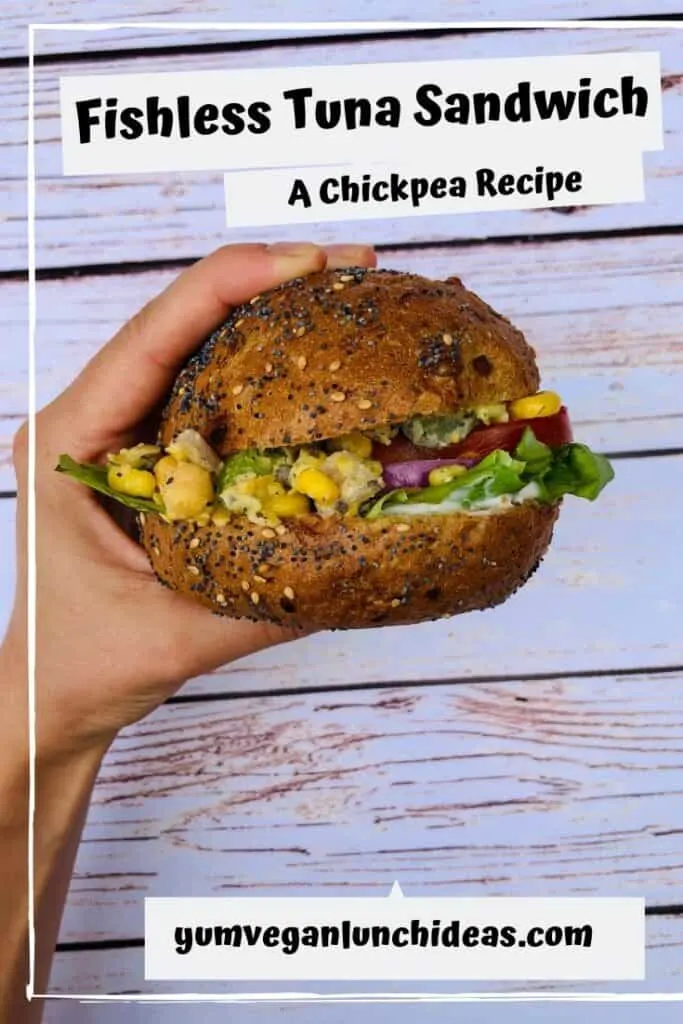 Tuna sandwiches seem to be so popular, they are literally the usual standard alongside ham/cheese, egg mayonnaise and banh mi.
But imagine if we could just replace them all with vegan chickpea tuna and we would all be happy and satisfied and overfish our oceans.
This vegan tuna sandwich recipe is the bomb and loaded with iron rich, chickpea protein. It's also the perfect packed lunch. It doesn't need to be reheated and travels well.
If you are looking for more vegan sandwiches that travel well check out this avocado, pesto, sun-dried tomato sandwich. Or if you specifically need more cold lunch options check out our roundup of the best vegan cold lunches here!
What makes it a vegan tuna sandwich?
Chickpea vegan tuna fish is a perfect alternative, and its actually pretty mind-blowing how similar it can be to regular tuna fish.
When chickpeas are mashed and creamy vegan mayonnaise stirred through, it makes the perfect tuna mayonnaise like texture. With a little helping of nori flakes to add notes of a real marine flavour.
Textured
Creamy
Tasty
Zingy
Crunchy
Satisfying
Versatile Chickpea Tuna Recipe
I advise making a batch of this and try the vegan tuna in a few different dishes. This was the quickest and most accessible as its just filling up a sandwich on your bread of choice. Making a batch of this vegan chickpea tuna can be used in various other dishes.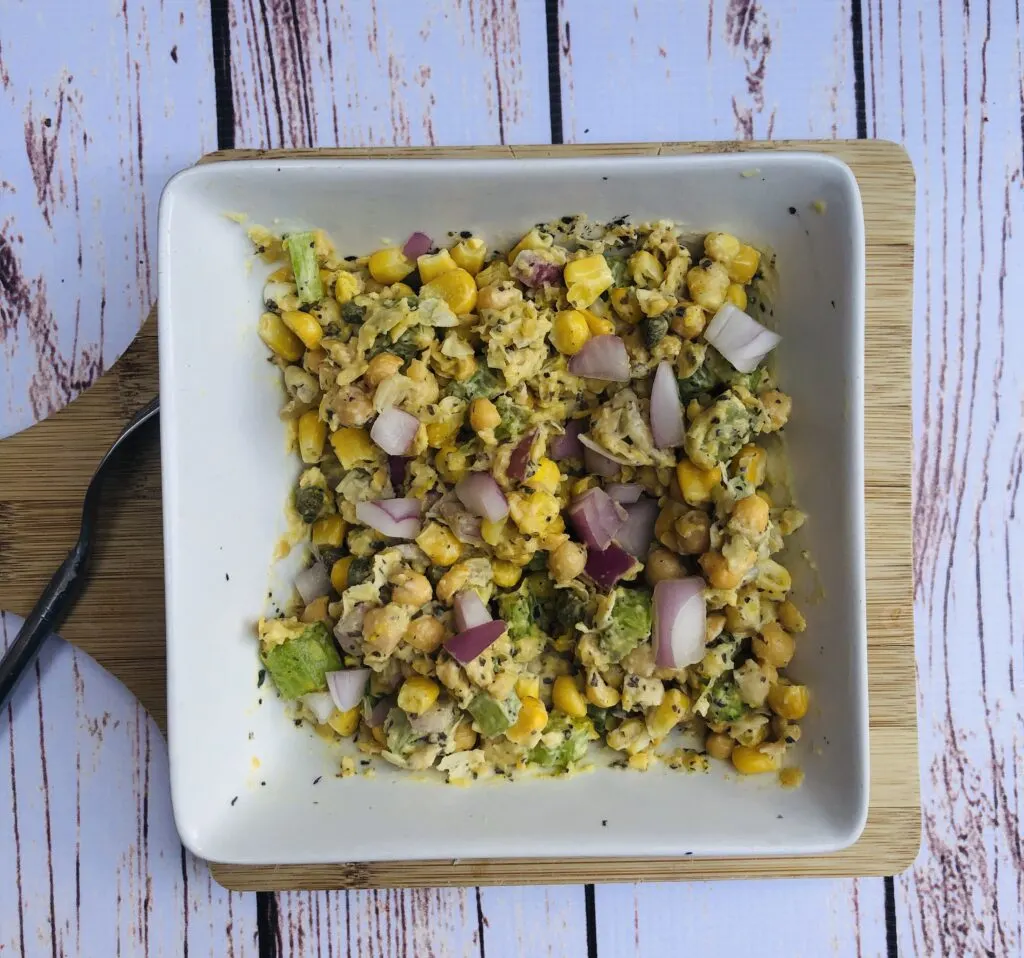 Another one of my favourites is vegan tuna melt. You can also add whatever your favourite essentials are to your vegan tuna sandwich.
And of course whatever your bread of choice may be. I love a crusty, fresh bread roll, but it would work just as good smushed between fresh sliced bread or stuffed into a wrap.
I love the look of this creamy chickpea tuna sandwich also!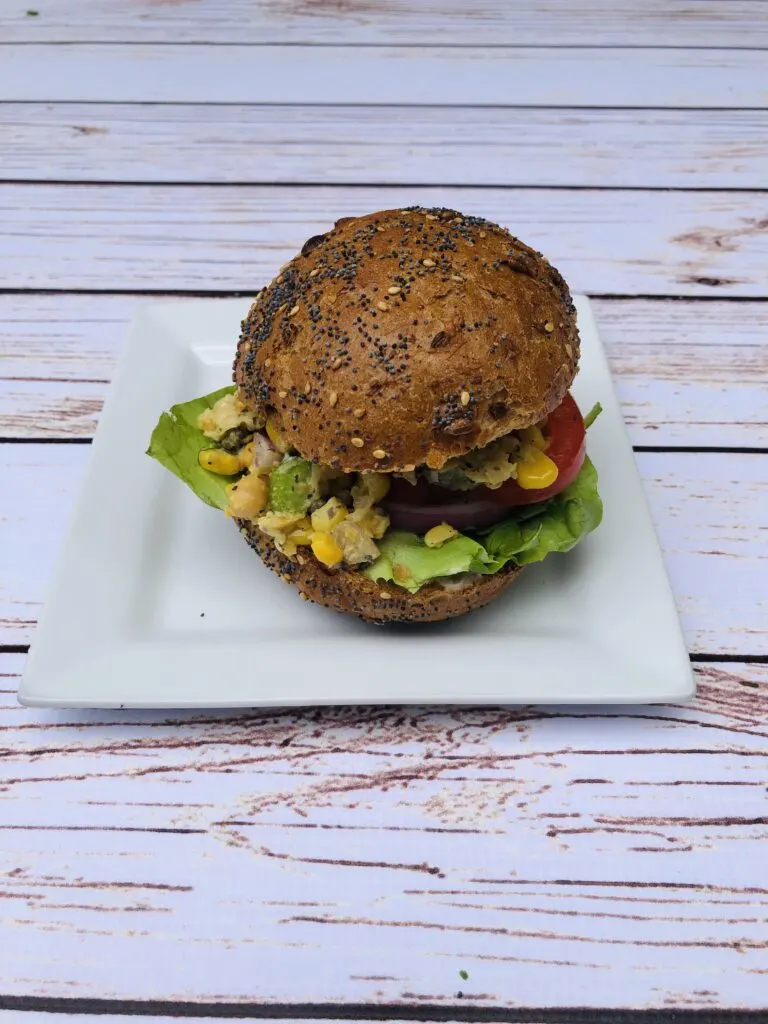 Essential Ingredients
When making this vegan tuna sandwich – there are a few key ingredients that will help make the winning combination.
Vegan Mayonnaise
There are literally so many vegan mayonnaise brands out there now, which is awesome as it gives us a lot more choice.
I personally love Just Mayo
as they are a fully vegan company. For the ultimate creamy and delicious vegan mayonnaise, perfect for this recipe, buy Just Mayo
here.
Chickpeas
Chickpeas are the clear winner in this recipe which help create the perfect texture. Alongside being rich in iron and protein – these highly nutritious legumes are a staple.
Understandably, we don't always have time to soak and cook them from dry. So I often use canned ones. These Eden Organic Garbanzo Beans
are certified organic and cooked in purified water.
Yield: 2-3 servings
Vegan Tuna Sandwich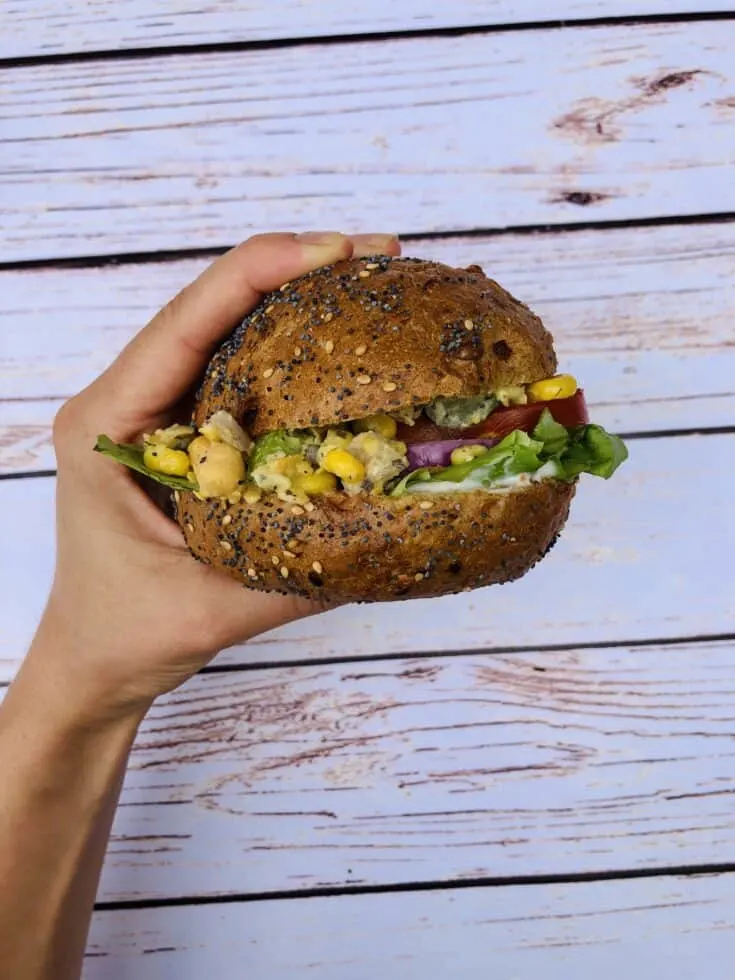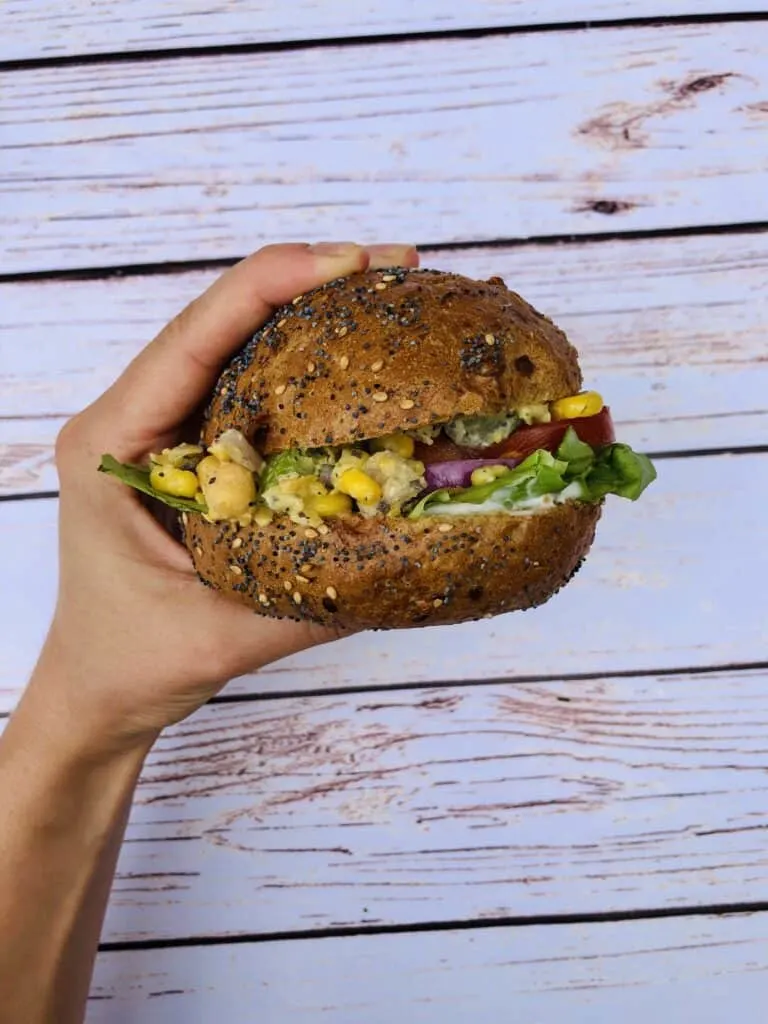 This vegan chickpea tuna salad is a light and refreshing lunch option. Making the base can lead to lots of other dishes. The creamy vegan chickpea tuna filling is stand out in a sandwich. Making the base can lead to lots of other dishes. The vegan tuna salad is crramy and satisfying, with the smashed chickpeas making the perfect texture. The addition of nori flakes gives this recipe an authentic marine like taste. The zingy capers give it a tasty twist.
Ingredients
One can of chickpeas, drained
80g corn (about a handful)
1 small stick of chopped celery
20g chopped red onion
3 tbsp vegan mayonnaise
1 teaspoon dijon mustard
1 tbsp capers
1 tsp garlic powder
Fresh dill
1 tsp nori flakes
Squirt of lemon
Salt and pepper
Bread of choice (seeded bun, sub, sourdough, wrap)
Instructions
Add drained chickpeas to a bowl and mash well
Add the corn, chopped celery, red onion and seasoning
Add mustard and vegan mayonaise to your desired consistency
Assemble your sandwich on bread of choice
Add fresh dill for garnish.
Notes
This recipe yields around 2-3 portions. The vegan tuna salad will remain fresh in a sealed container in the refrigerator for around 3-4 days. I have not attempted to freeze this, but probably wouldn't attempt as the vegan mayo may not freeze well. This would be a great take away sandwich for work or school.
Nutrition Information:
Yield:
2-3
Serving Size:
1
Amount Per Serving:
Calories:

411
Total Fat:

14g
Saturated Fat:

2g
Trans Fat:

0g
Unsaturated Fat:

10g
Cholesterol:

0mg
Sodium:

515mg
Carbohydrates:

68g
Fiber:

10g
Sugar:

29g
Protein:

11g
You May Also Like: