I'm loving vegan sweet potato recipes lately, they've been the star of my kitchen lately. From vegan sweet potato waffles, to vegan sweet potato casseroles, they are so versatile and delicious.
These sweet potato vegan muffins started out as an experiment, I wasn't sure how they would turn out. They ended up getting rave reviews from everyone who tried them, including my non vegan friends!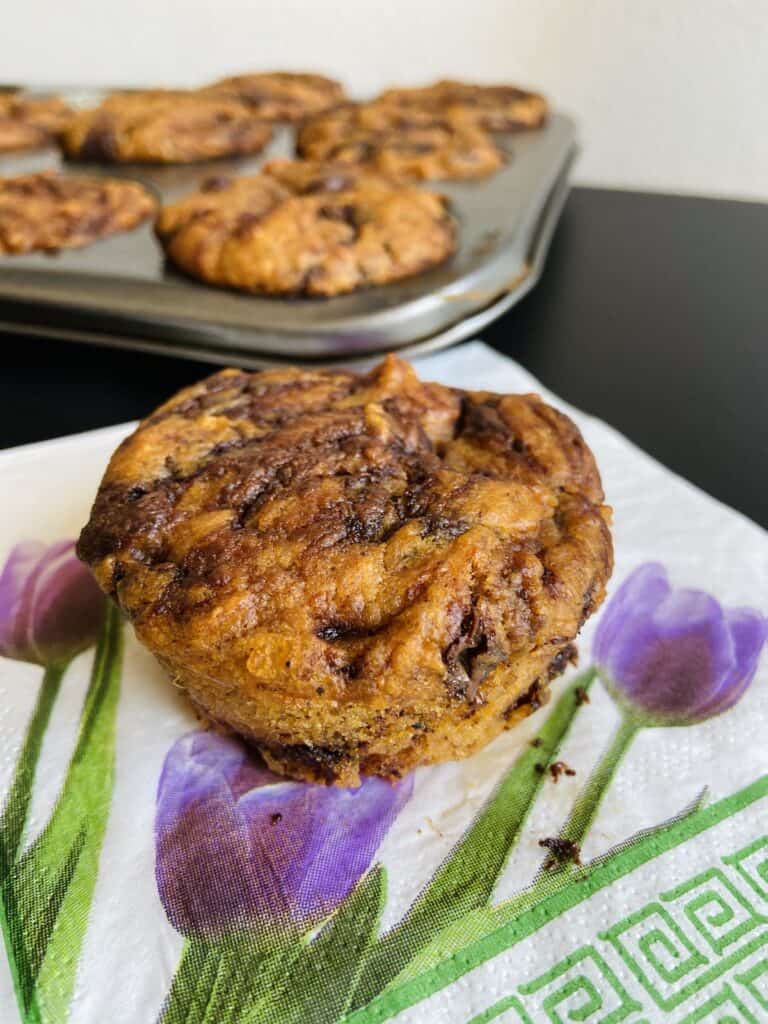 Not only are these vegan sweet potato muffins super yummy but they also pack a nutritious punch. If you didn't realize it yet, sweet potato is a pretty awesome vegetable, filled with tons of essential nutrients. They also are filling since they have double the fiber of a regular potato!
I'm a huge fan of sweet vegan breakfasts and brunches and these sweet potato chocolate chip vegan muffins really hit the spot. They pair perfectly with a large cup of cold brew coffee!
If you want more vegan brunch recipes and inspiration we've got plenty of sweet and savory options here. If you love muffins, you definitely won't want to miss out on our raspberry muffins with a cream cheese frosting drizzle.
Sweet Potato Muffins (Vegan) Ingredients
The ingredients of this vegan muffins recipe are pretty standard pantry items and easily whipped together. They are: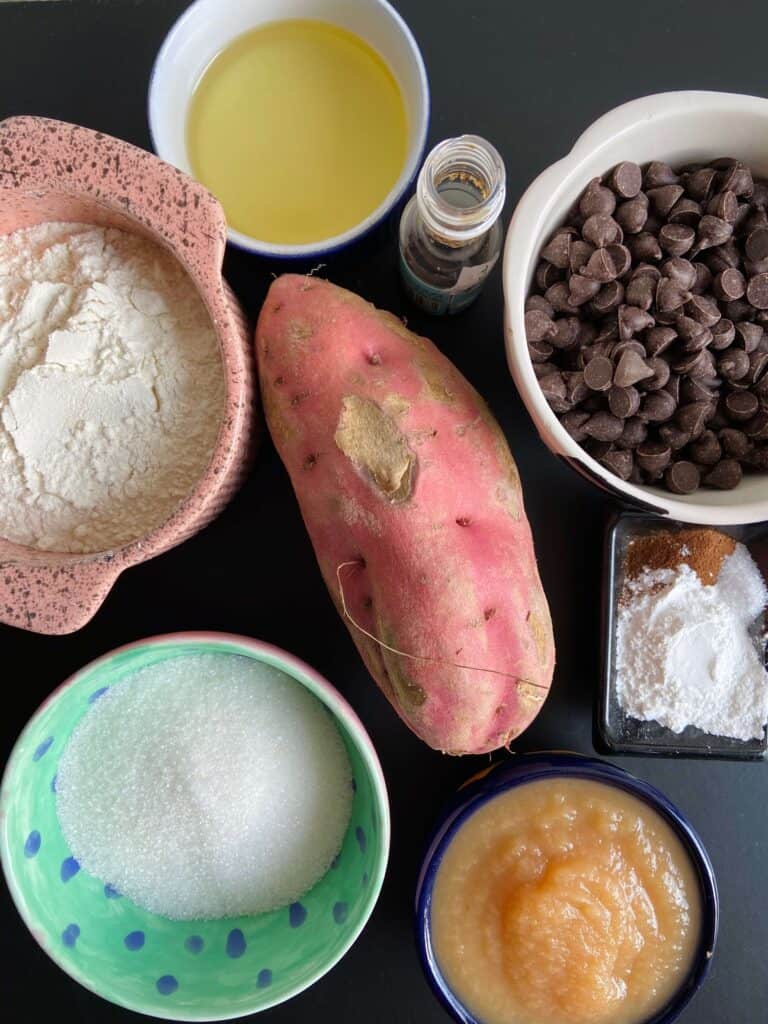 How To Make Vegan Sweet Potato Muffins
Cooking the Sweet Potato (Vegan Recipes)
These muffins are actually a great way to use up leftover cooked sweet potatoes. I like to put cooked sweet potato into things like my spring rolls or homemade sushi, so I always seem to have some leftover.
To get the sweet potato ready for use in this recipe, all you need to do is poke a few holes in it, wrap it in tin foil and bake it in the oven until its soft. How many you need will depend on how large your sweet potatoes are, but I found that it's roughly 1.5 large sweet potatoes that make enough mashed sweet potatoes.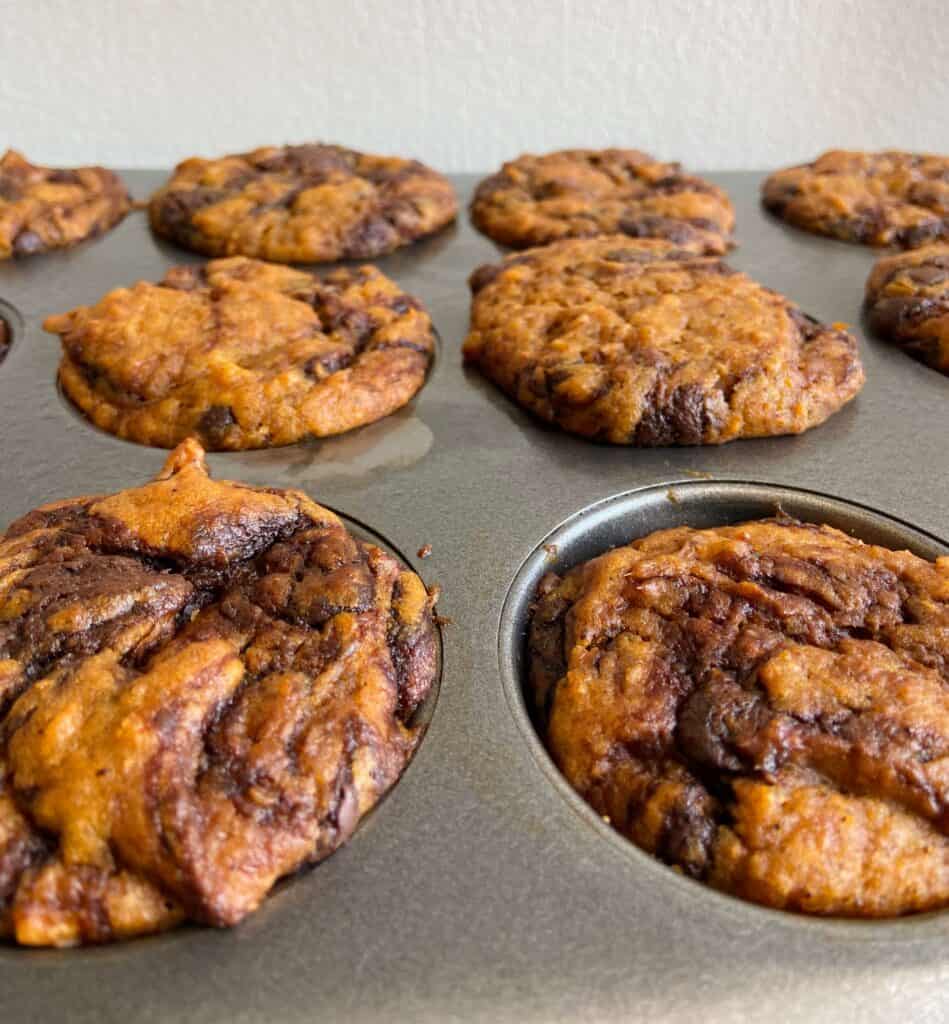 Once they are cooked, unwrap and let it cool until you can handle it enough to peel of the skin. This should be really easy to do with your hands once its cooked.
Once that is done, mash the sweet potato and set it aside. You can do this ahead of time, or immediately before making the muffins.
Making the Batter for the Sweet Potato Chocolate Muffins
Once you've got your cooked sweet potatoes, making the batter is really simple. Whisk together the flour, baking powder, baking soda and salt.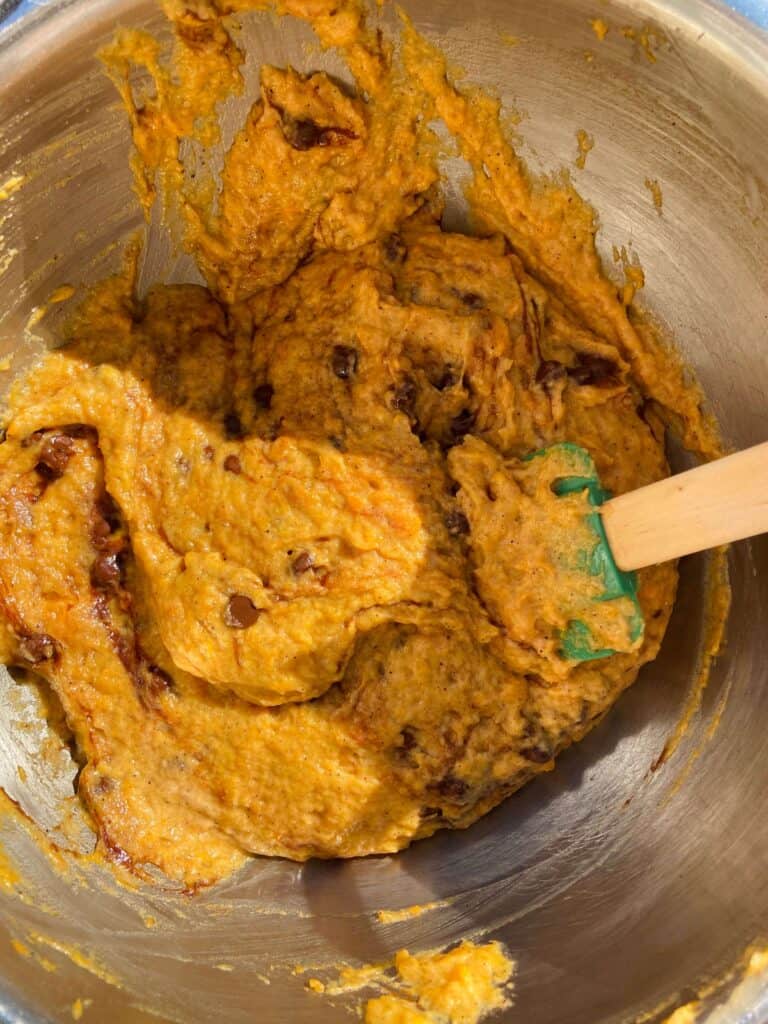 In a separate bowl, whisk together the sugar, oil, applesauce and vanilla. Next you just whisk the wet ingredients into the dry ingredients and then mix in the sweet potato and chocolate chips.
Getting a Marbled Top on Your Sweet Potato Vegan Muffins
You might have noticed in the pictures that my muffins came out with a marbled look. This was actually a happy accident.
When I was making my muffins, it was so hot out and I left my chocolate chips sitting in the sun that they were a bit melted already. The batter was also on the warm side, so when I mixed in the chocolate chips, they swirled into the batter leaving it marbled.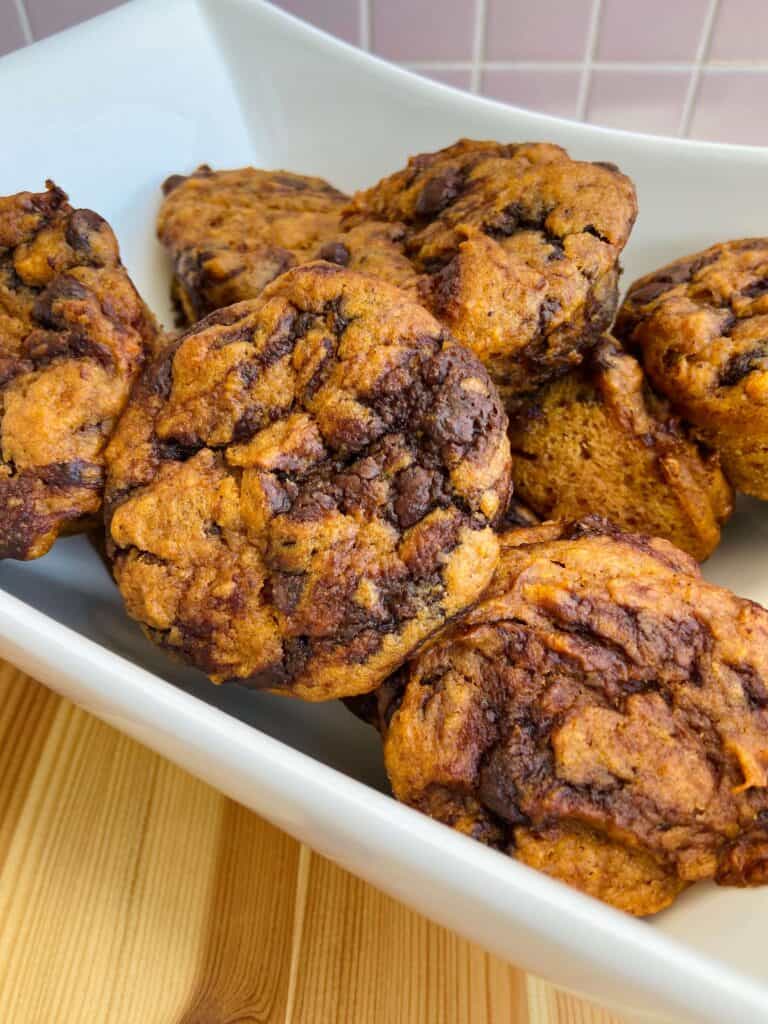 I really like how this turned out looking, so if you wanted to replicate you could easily warm your chocolate chips up a bit before adding to the batter. Don't completely melt them though or you'll have a hard time mixing them in.
You also don't need to have the marbled top, they will taste just as good if you just throw the chocolate chips in the old fashioned way.
Bake and Enjoy!
Once the batter is done, pour them into a greased muffin tin and bake. Once they are finished baking, let them cool before trying to remove from the muffin tin. If you need a new muffin tin, this one has good reviews and is a really good price
.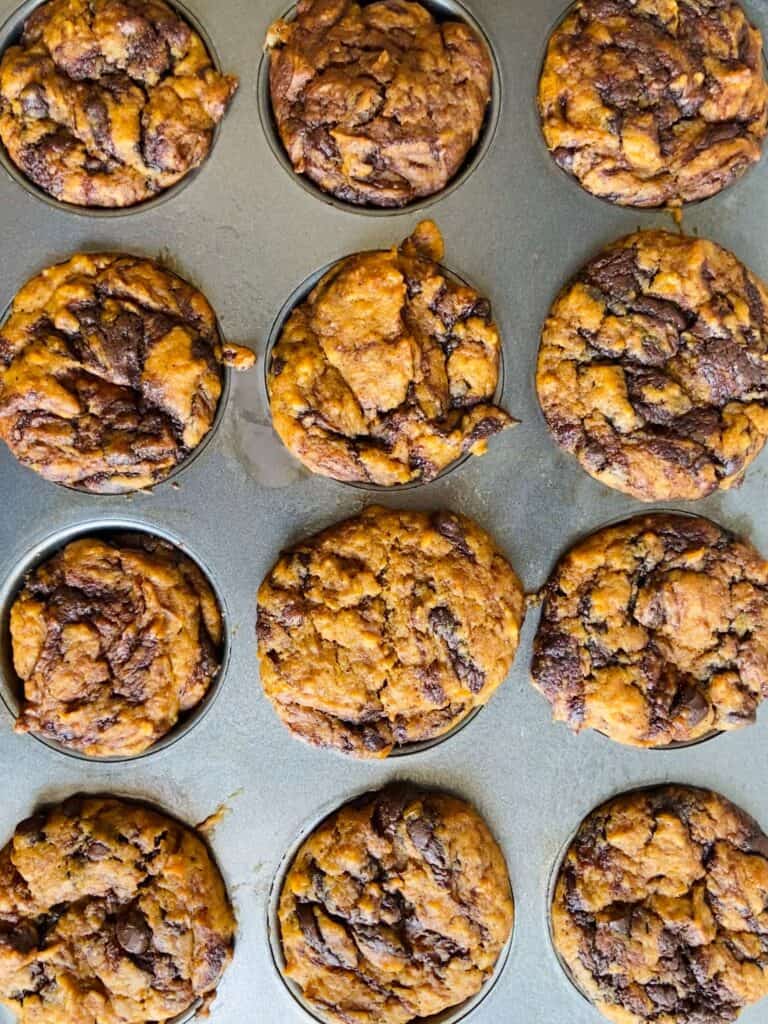 Sweet potatoes bring a ton of moisture to this recipe, which is awesome but it also means that the texture is on the looser side, so you definitely want them to be able to cool before you get them out.
Storing the Sweet Potato Muffins
Sweet potato muffins can be stored in a container for the week or in the freezer. Either way you need to make sure they are 100 percent cooled before storing them so that they don't get soggy.
To store in a container, add in a few layers of paper towels underneath the muffins to catch any released moisture. The container should be airtight.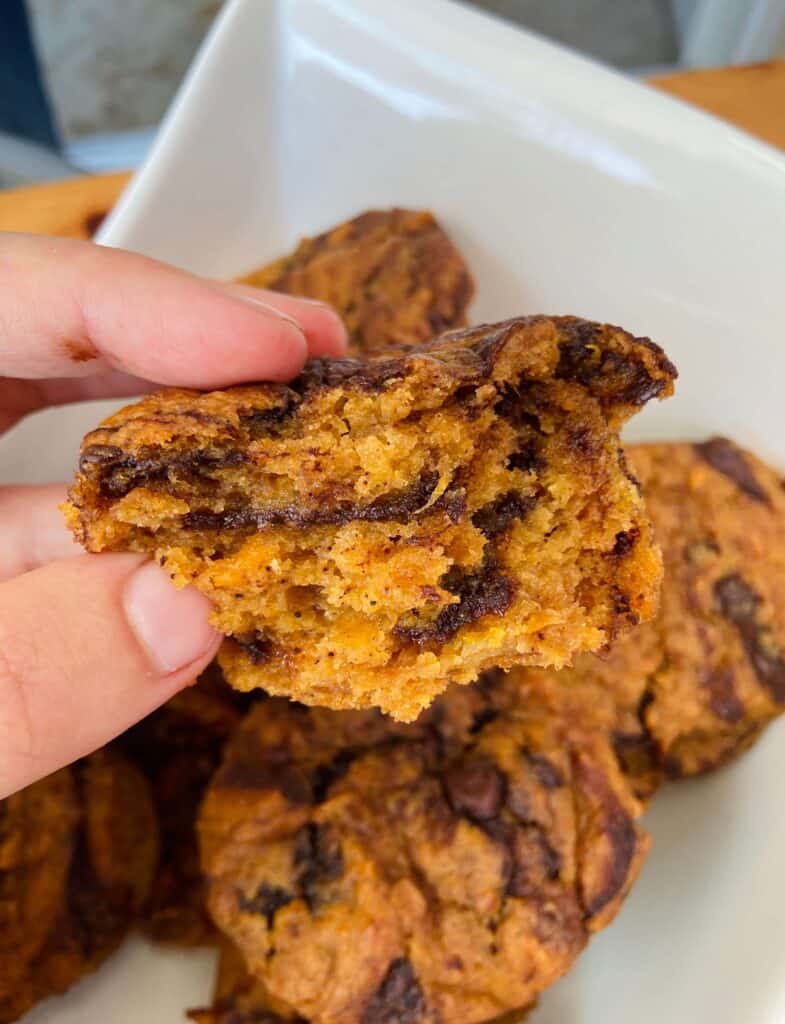 To store in the freezer, place in a freezer bag or airtight container. When you are ready to eat them you can either put them on the counter to defrost or put it in the microwave or oven until it's warm.
Easy Vegan Muffins Variations
You can get creative with these if you like and customize them to your taste. Add in whichever toppings and fillings you like whether it be nuts, dried fruit, seasonal spices like nutmeg, etc.
If you don't have a strong sweet tooth, you can also leave out the chocolate chips.
You could also coat them in our delicious hot, silky vegan custard!
You May Also Like:
Vegan Apple Cinnamon French Toast Casserole
How to do Vegan Meal Prep Like a Boss
Don't Forget To Pin This Post For Later!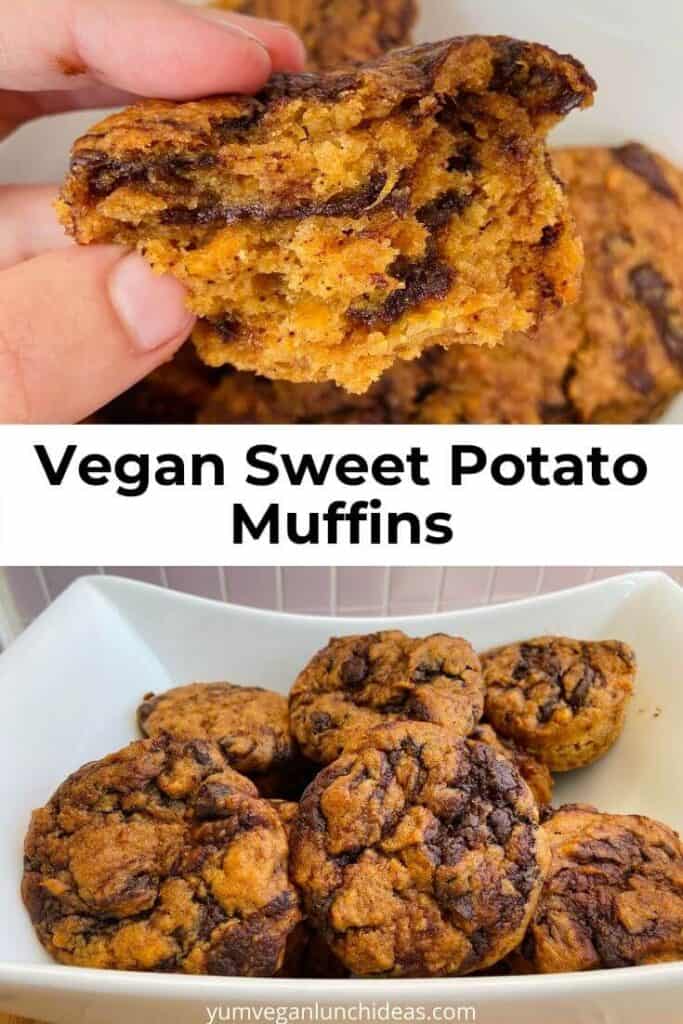 Yield: 12 muffins
Sweet Potato Vegan Muffins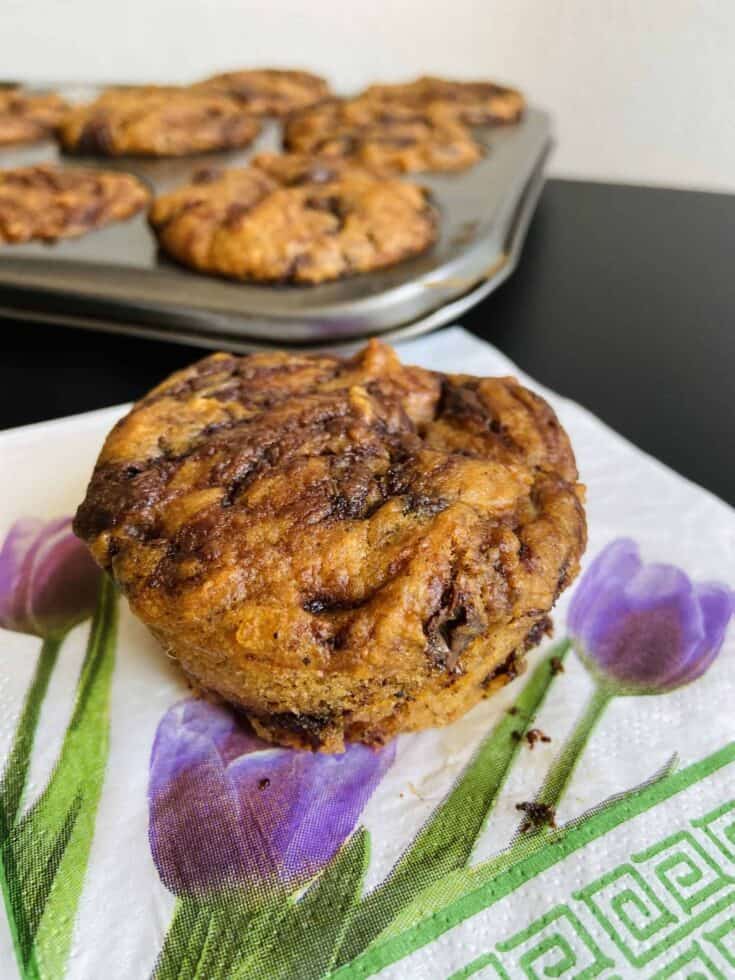 These sweet potato vegan muffins are crazy moist and studded with chocolate chips for a delicious vegan breakfast on the go or relaxed vegan brunch.
They are very easy to whip together and only use standard pantry ingredients so you don't need to hunt for any special ingredients.
Feel free to customize to your tastes with any fun toppings or add ins you may like. You may want to make a double batch since these will get gobbled up, and even if they don't they freeze beautifully, making vegan sweet potato muffins an awesome option for meal prepping!
Ingredients
1.5 Cups Mashed Sweet Potato*
Pinch of Salt
Instructions
Preheat the oven to 325 F and lightly grease a muffin tin.
In a large bowl combine the flour, baking powder, cinnamon, baking soda and salt.
In a separate bowl, whisk together the sugar, oil, applesauce and vanilla.
Mix the wet mixture into the dry mixture.
Add the mashed sweet potato and mix until combined.
Fold in the chocolate chips.
Pour the mixture into the muffin tins and bake for around 30 minutes.
Notes
* Time estimation does not include cooking the sweet potato
*I found that it was a bit less than one and a half large cooked sweet potatoes. If you are using smaller ones you may need to cook more of them.
*** You can swap these out for any other fillings you like (nuts, dried fruit etc.) or just leave out if you prefer
Recommended Products
As an Amazon Associate and member of other affiliate programs, I earn from qualifying purchases.
Nutrition Information:
Yield:
12
Serving Size:
1
Amount Per Serving:
Calories:

245
Total Fat:

13g
Saturated Fat:

4g
Trans Fat:

0g
Unsaturated Fat:

8g
Cholesterol:

5mg
Sodium:

149mg
Carbohydrates:

33g
Fiber:

2g
Sugar:

18g
Protein:

2g