Who doesn't love a vegan brunch feast? Whether it's for a Sunday funday or a special occassion, brunch is the perfect way to start out a day on the right foot!
We are definitely big fans of vegan brunch foods! If you are looking for a cold summer option, a warming casserole, savory, sweet, or anything in between, we've got amazing vegan brunch recipes for you. Check out which ones look the most interesting to you to make an awesome vegan brunch menu.
If you are looking for any specific vegan brunch ideas we haven't yet covered, or if you try out and love one of these recipes, please let us know in the comments!
Vegan Brunch Recipes
Smoothie Bowl Bar
One of the simplest vegan brunch items you can throw together and still feel as though you are indulging is a smoothie bowl bar.
If you missed the smoothie bowl trend that's been going on for a while now, just think of them as improved smoothies! The base is much thicker than a regular smoothie and you can put an array of colorful, fun toppings to enjoy it with!
Not only are these great for cooking for one, and as a vegan gluten free brunch option, but also for a crowd when you make it a 'build your own bowl' style meal.
Make a big batch of you favorite smoothie bowl base, as well as a colorful spread of optional toppings so that everyone can add their favorites. It's sure to be a hit!
Check out some of our favorite smoothie bowls:
Cacao Smoothie Bowl
This cacao smoothie bowl is rich in antioxidants, magnesium and flavor. Plus, who doesn't want to start the day with a bowl of chocolate?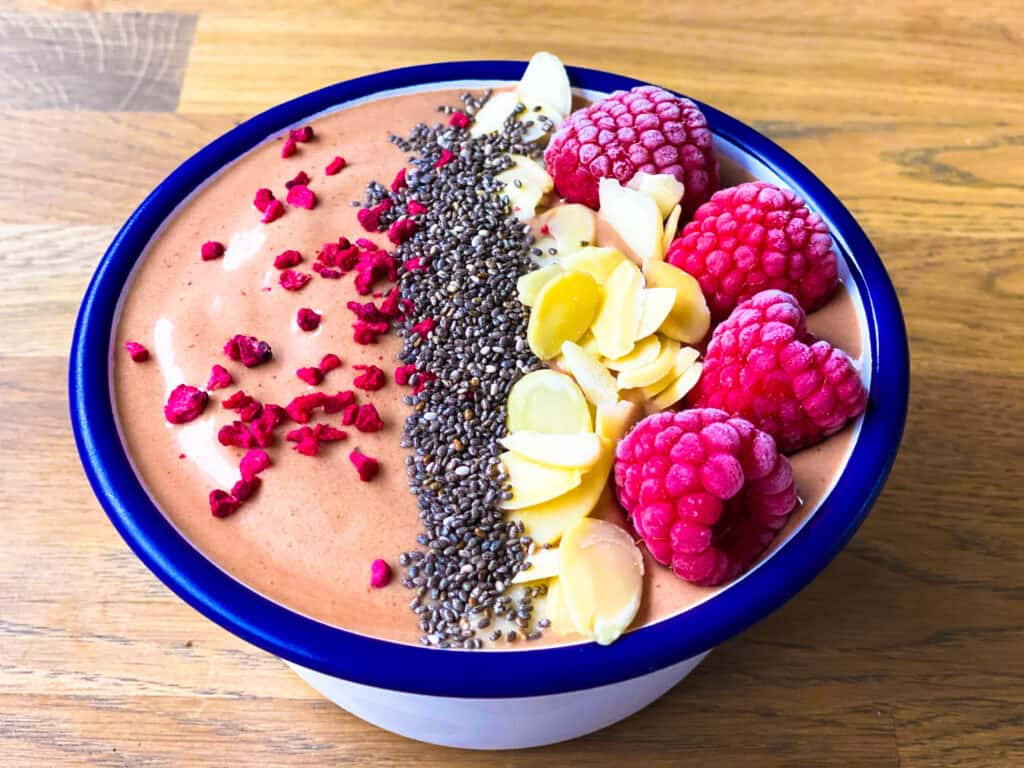 Peanut Butter Acai Bowl
Try this delicious and nourishing vegan peanut butter acai bowl. It's packed full of taste and goodness, absolutely perfect for kids and adults! Check it out here.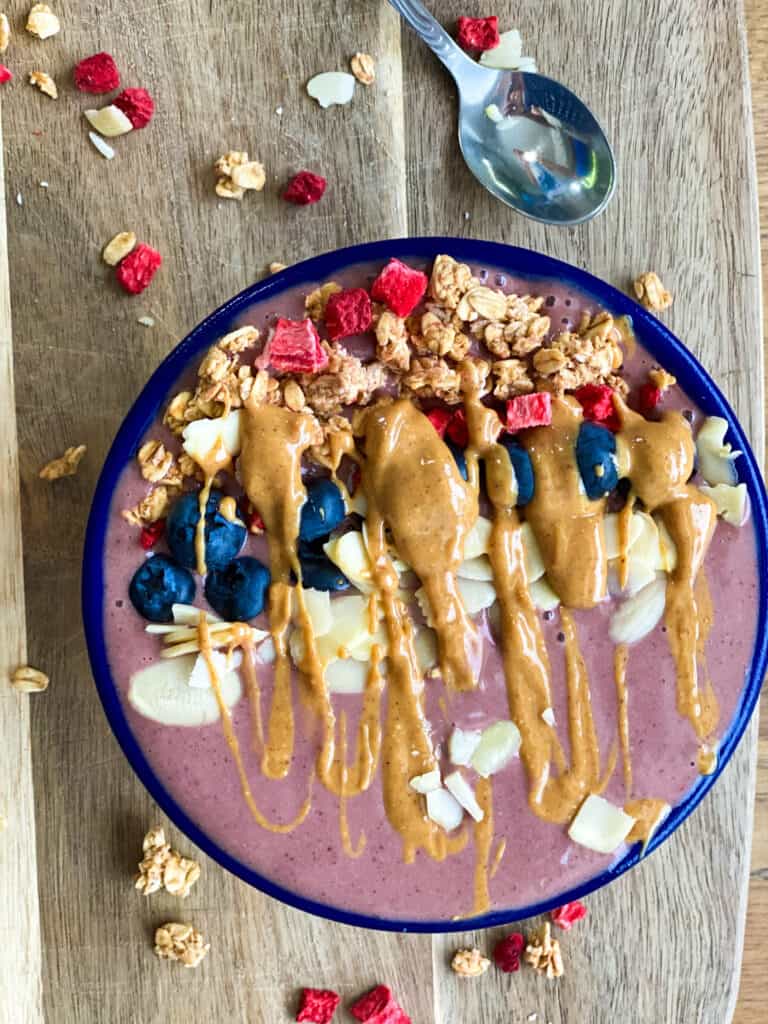 Blue Spirulina Smoothie Bowl
Try this delicious and healthy blue smoothie bowl, packed full of goodness, no sacrifice on taste! This spirulina bowl is bright & bold with yum toppings that can be adapted to your taste and preferences.Get the recipes for the blue smoothie bowl here.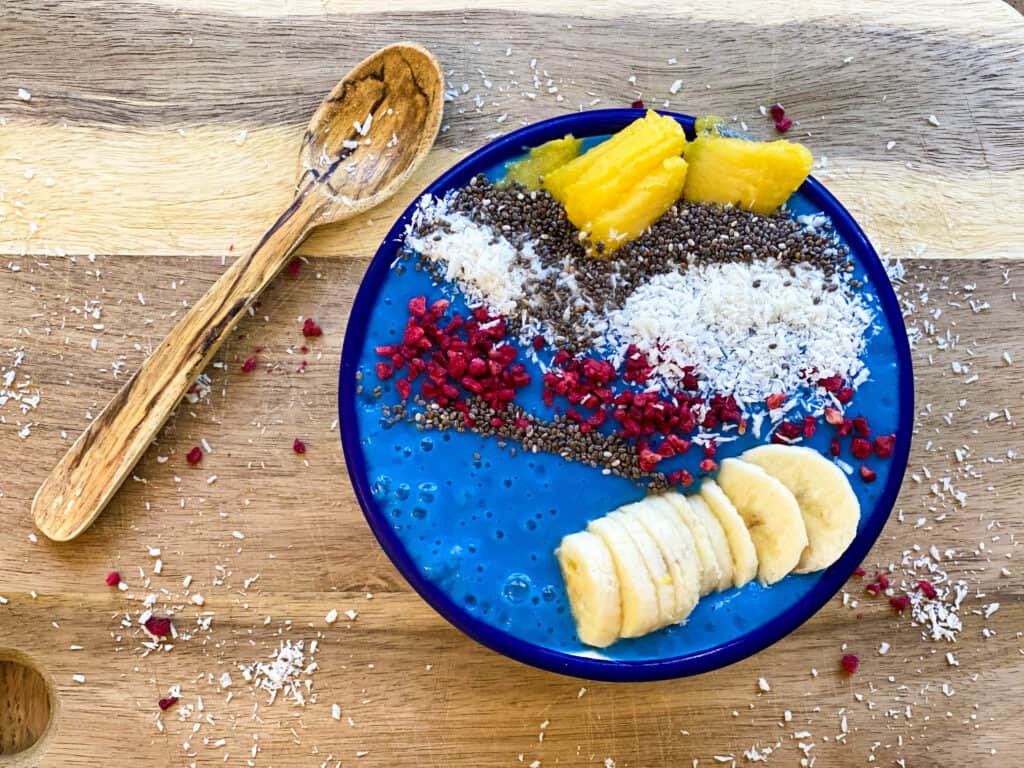 Passion Fruit Papaya Smoothie Bowl
If you are looking for a tropical, delicious smoothie bowl that is also packed with nutrients, this smoothie bowl might be the right choice! With passion fruit, papaya, banana and coconut, your mouth will be transported to the beaches of Brazil. Get the full recipe here.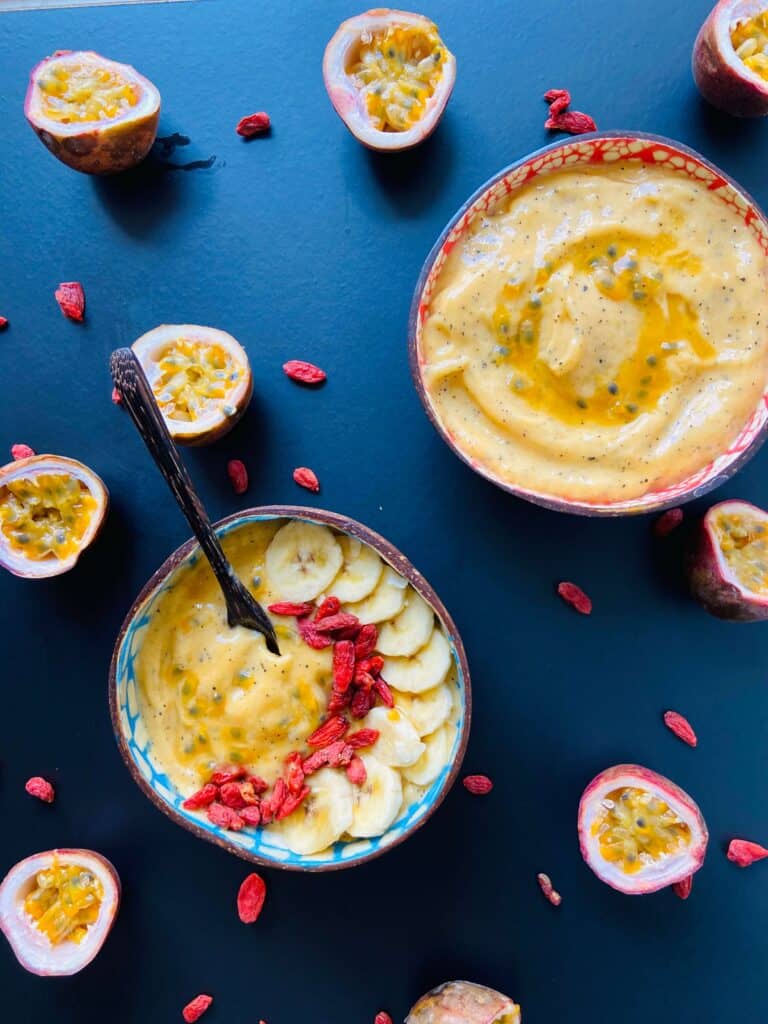 Parfait Cups
Vegan parfait cups are another bright, summery, pretty vegan brunch option. You can pre-assemble some mini parfait cups for your brunch spread, or do it 'make your own' style, like the smoothie bowls above.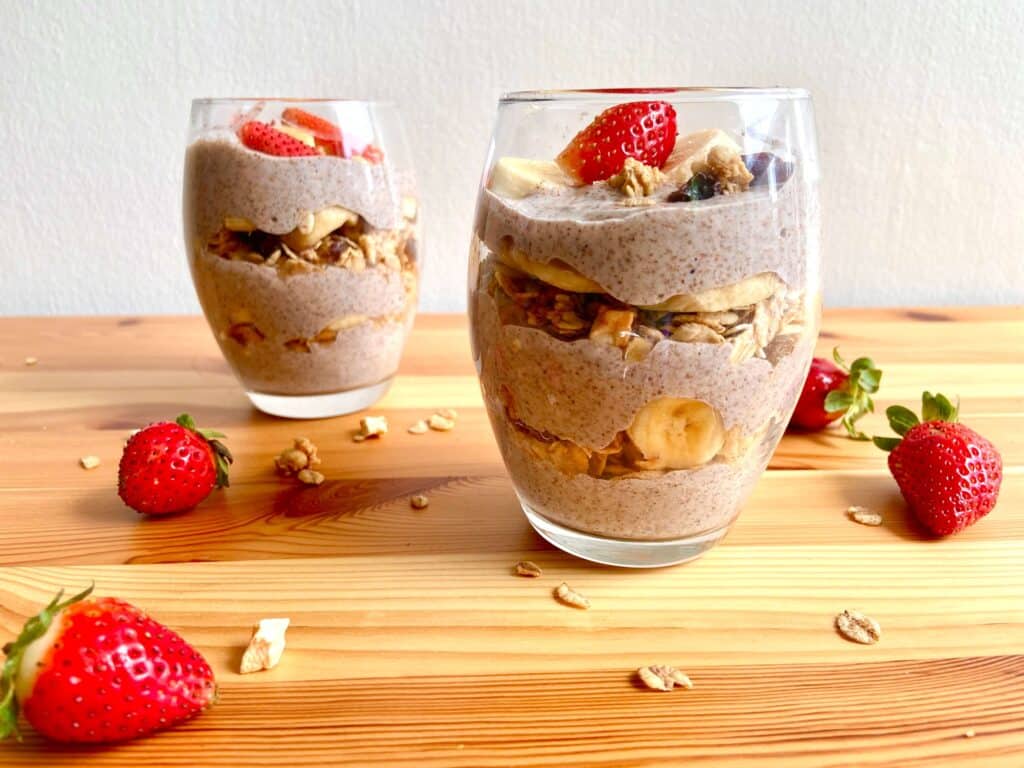 My favorite parfait base is chia pudding, but you can also use vegan yogurt as the base. Check out our strawberry banana chia pudding cups here.
If you prefer yogurt as a base, be sure to check out our easy homemade vegan Greek yogurt here.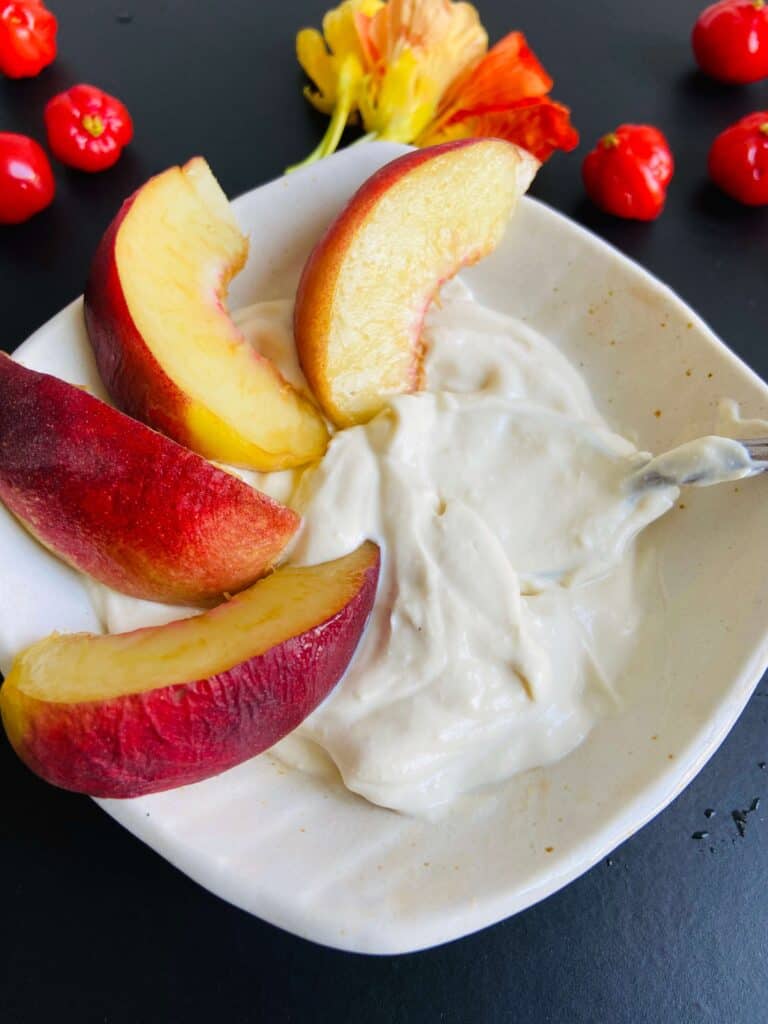 Vegan Pancakes
Is this even a brunch roundup if we don't mention pancakes? For me, pancakes are the ultimate lazy Sunday food.
If you are health conscious, don't worry. We've got some great, pack some health in, pancakes options for you.
Buckwheat Pancakes
These delicious vegan buckwheat pancakes are so easy to make and versatile with variations such as vegan banana buckwheat pancakes. Buckwheat and chia seeds are the two key ingredients, both super healthy and nutritious.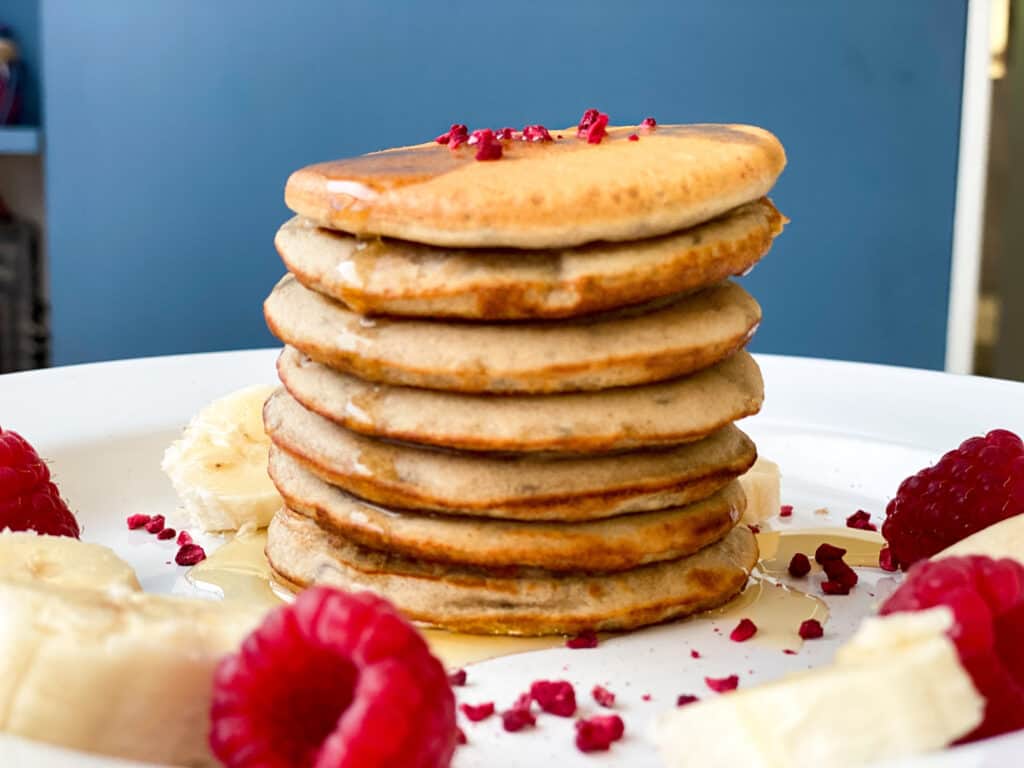 Buckwheat is also such an amazing flour to work with. It is so easy to get the consistency right for pancakes! Not to mention how healthy buckwheat is in comparison to other flours. Try out the pancakes here.
Coconut Flour Pancakes
Try these delicious vegan coconut flour pancakes. They are low carb and keto vegan pancakes that are the perfect brunch if you are on a low carb diet. Try them out here.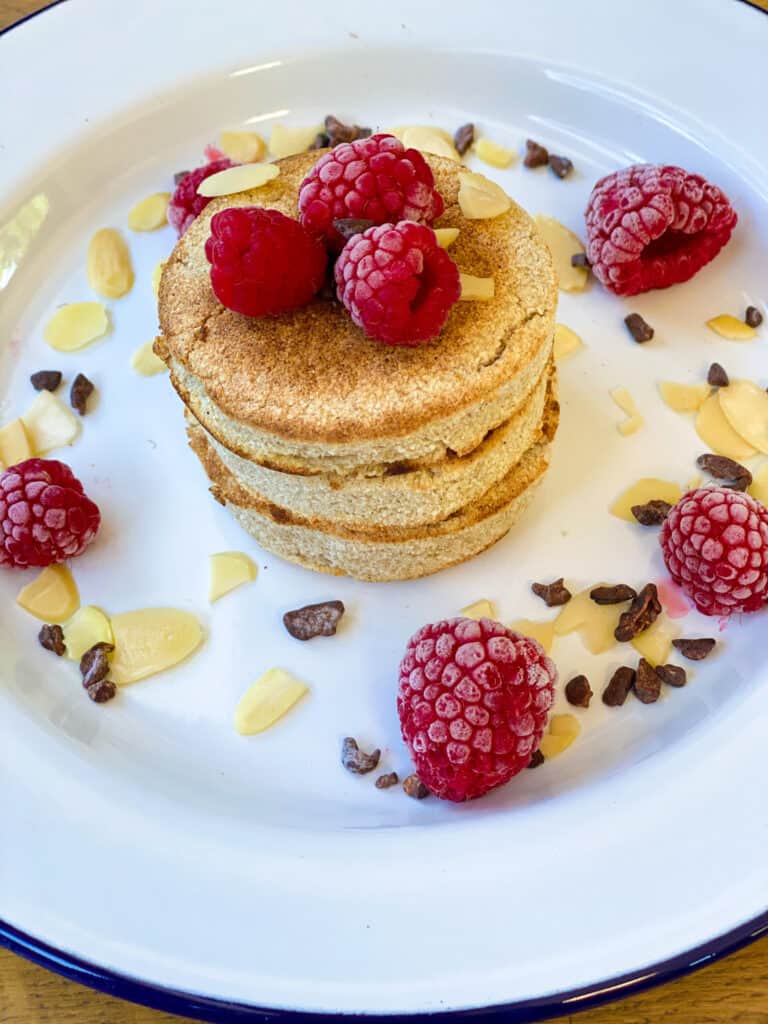 Vegan Salami
Our vegan salami is awesome, easy and so versatile. You might not think of it as a brunch food, but I'm here to tell you it really is. Fry up slices of it and pair it with tofu scramble, or slice it up and serve it with your favorite vegan cheeses as a charcuterie board.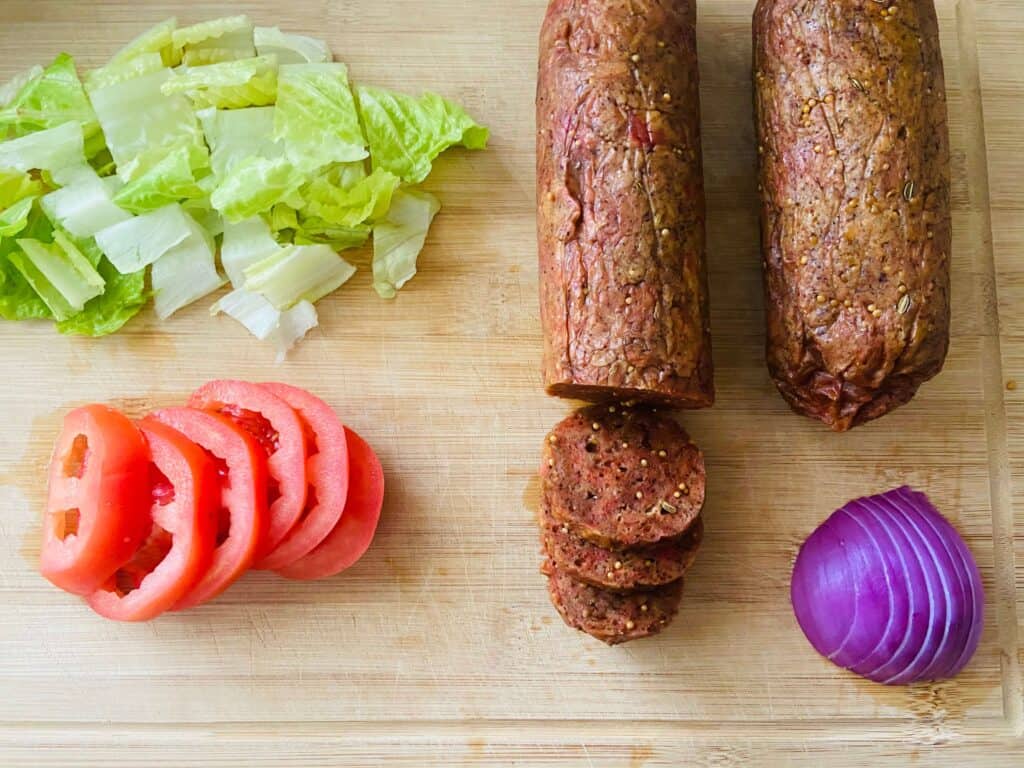 Avocado Peanut Butter Toast
This peanut butter avocado toast is delicious and nutritious, packed with protein and good fats, it is sure to satisfy. Don't hesitate to try this creamy combination – it works deliciously together and you wont look back! This is an easy, satisfying toast topper that is vegan, nutritious and filling.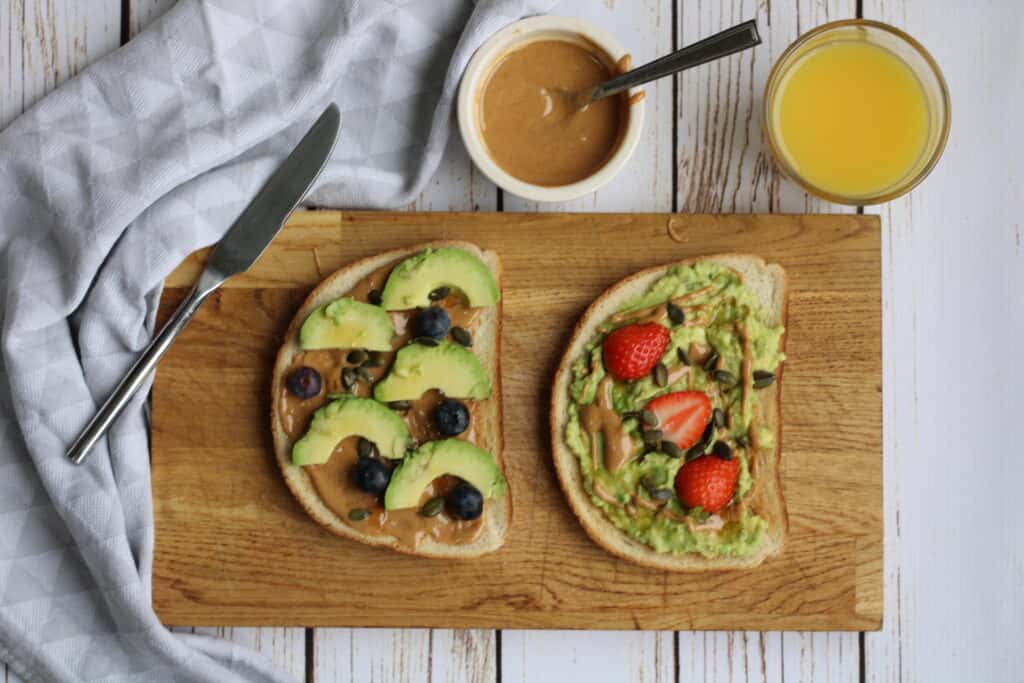 Vegan Chocolate Brioche
Sure brioche is traditionally made with heaps of dairy butter, however this vegan brioche recipe is sure to satisfy, with a golden taste and beautiful aromas. Even better, this egg-less brioche recipe doesn't call for any obscure vegan replacements.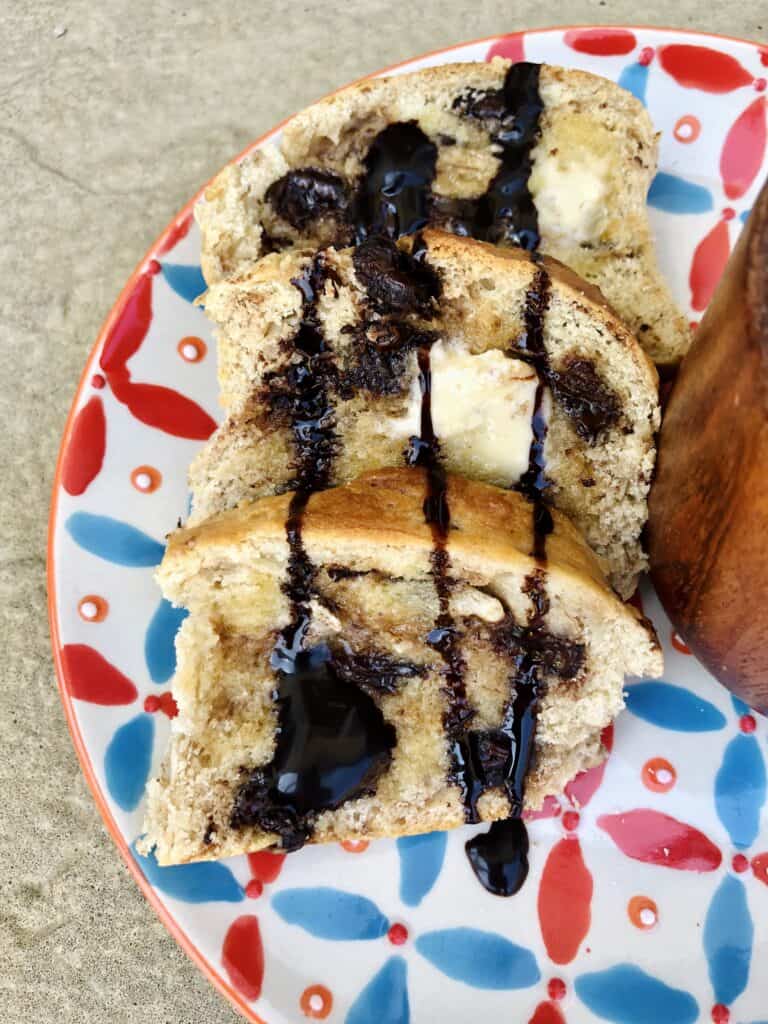 This vegan chocolate chip brioche is perfectly flaky and delicious. It makes for a delicious vegan brunch with a creamy cup of coffee or hot tea. Get the recipe here.
Vegan Babka
Granted, babka is an extremely decadent choice as a brunch food, but sometimes holidays and special occasions call for decadent options. This babka comes in chocolate or cinnamon styles and pairs perfectly with some vegan iced coffee.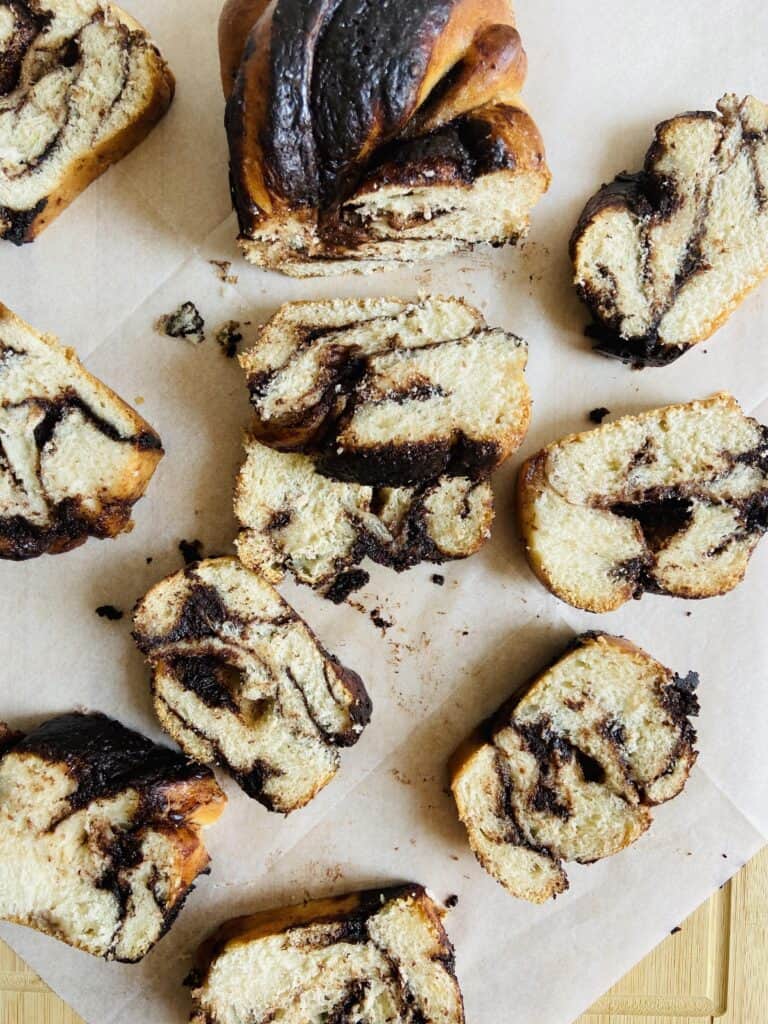 It also has a huge wow factor. Get the full babka recipe here.
Vegan Cinnamon Bread
This vegan cinnamon bread is fluffy and delicious, perfect for a special brunch option! Get the full recipe here.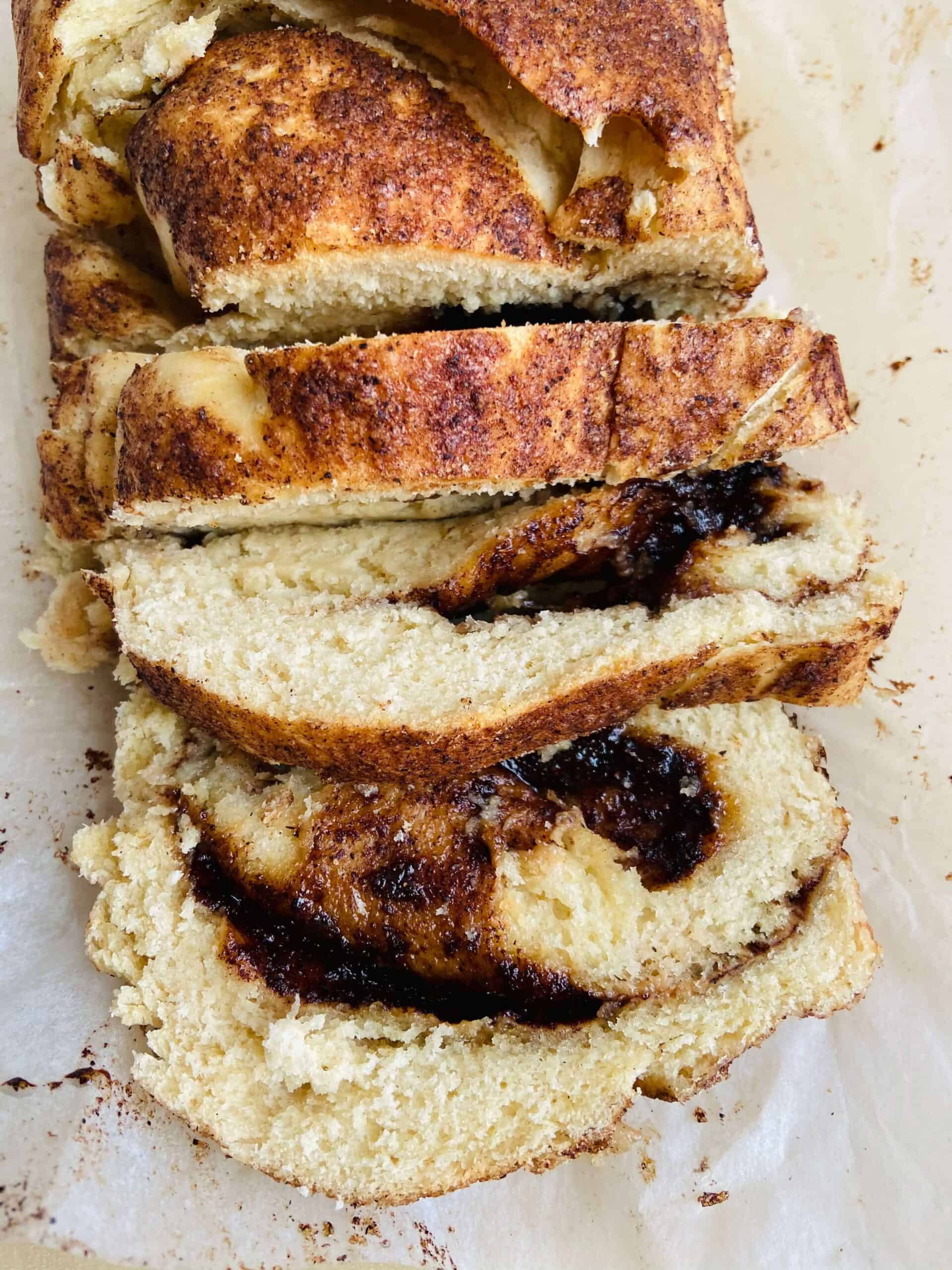 Vegan Shakshuka
Shakshuka is a Middle Eastern classic breakfast. It's bursting with flavors and naturally healthy, packed with fresh ingredients. It also gets made in big batches so that it's naturally perfect for a crowd.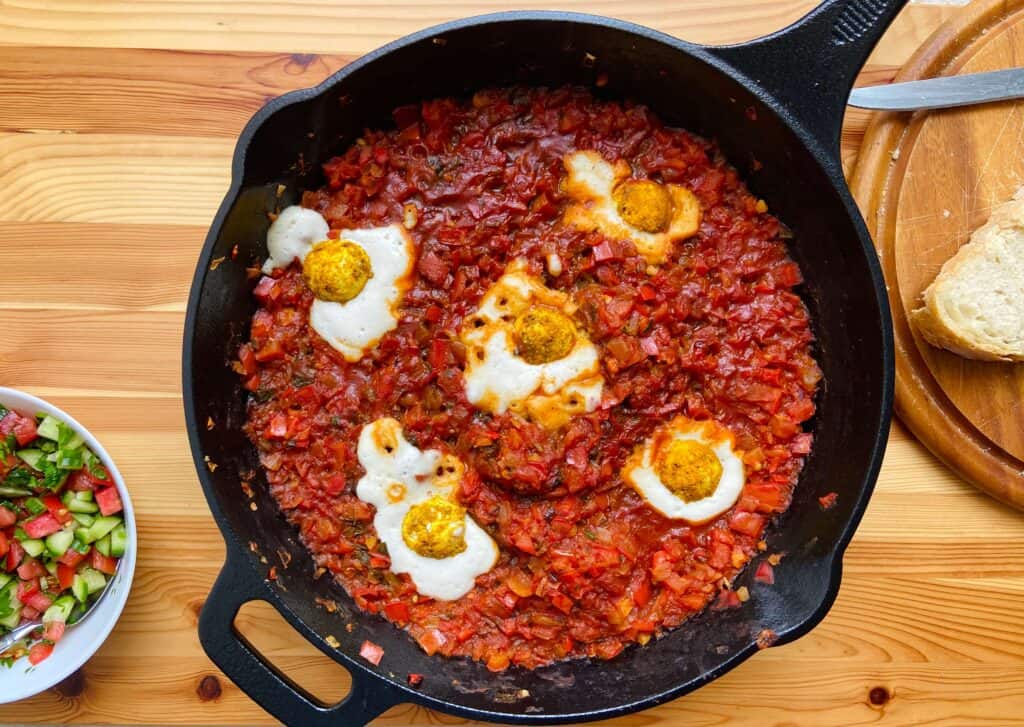 Our vegan shakshuka is made with tofu eggs but it's delicious, with or without the tofu. If you are a fan of savory brunch options make sure to add this one to your vegan brunch menu. Serve it with some thick crusty bread for optimal yumminess! Get the recipe here.
Vegan Cheese Bread
Vegan pao de queijo (Brazillian cheese bread) are so gooey and delicious and great for brunch. Who doesn't want some cheesey comfort food in the morning? It's also only three ingredient and minimal effort! Follow the recipe here.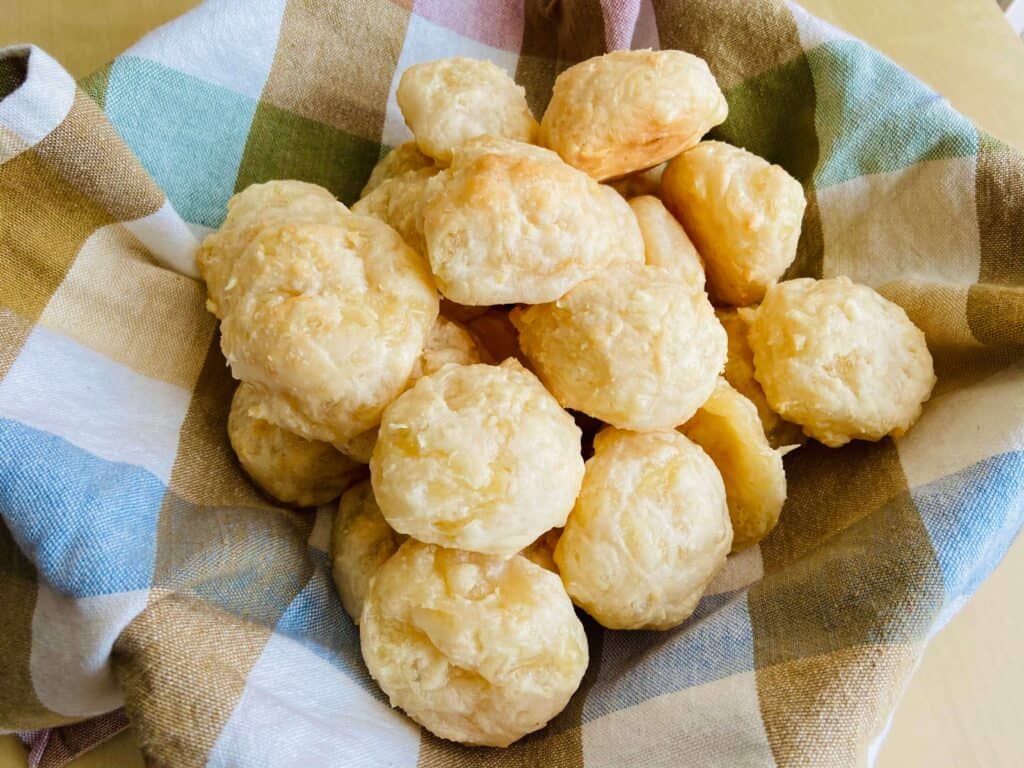 Vegan Waffles
Another brunch classic are of course waffles! Crispy and delicious, you can't go wrong with a good waffle breakfast.
Waffles are also great because you can freeze leftovers and have delicious, fast breakfast options in the weeks to come! We've got a few of our favorites waffle recipes listed below.
Belgian Waffles
These vegan Belgian waffles are the perfect dish for brunch. They are light and fluffy on the inside, with a crispy outside. The deep pockets are perfect for catching that maple syrup drizzle.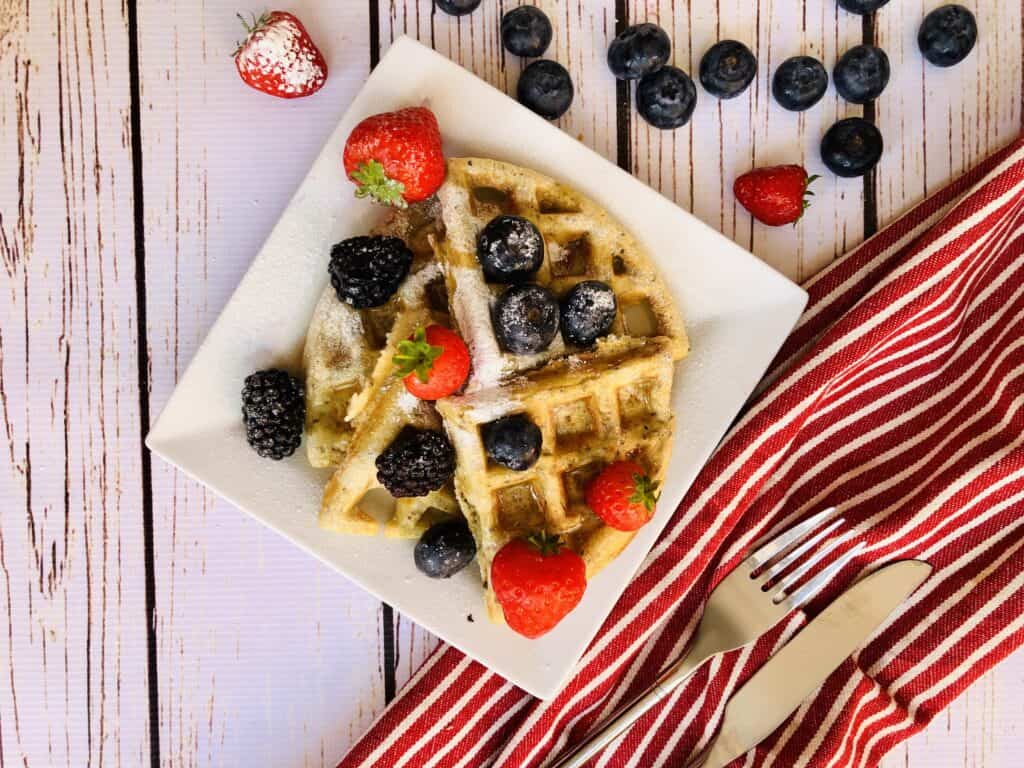 Sweet Potato Waffles
If you haven't yet tried vegan sweet potato waffles, let me tell you, they are awesome. They are a great way to add a punch of delicious nutrition into your regular waffles, while also bringing warming flavors into the mix!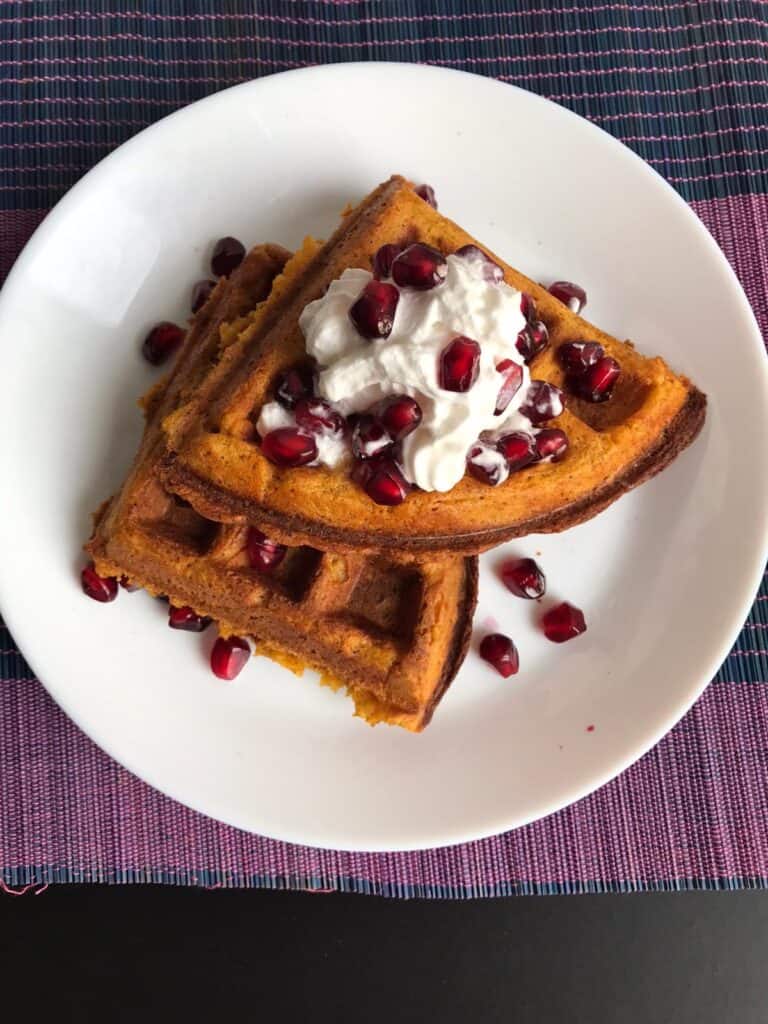 These vegan waffles are crispy and delicious. Even better, they are sneakily healthy with oats and sweet potato making up the bulk of the batter. Get the recipe here.
Chocolate Chip Waffles
If you like Belgian waffles and you like chocolate (who doesn't?) these waffles are absolutely necessary. It's all the goodness of our waffles, taken up a notch! Get the recipe here.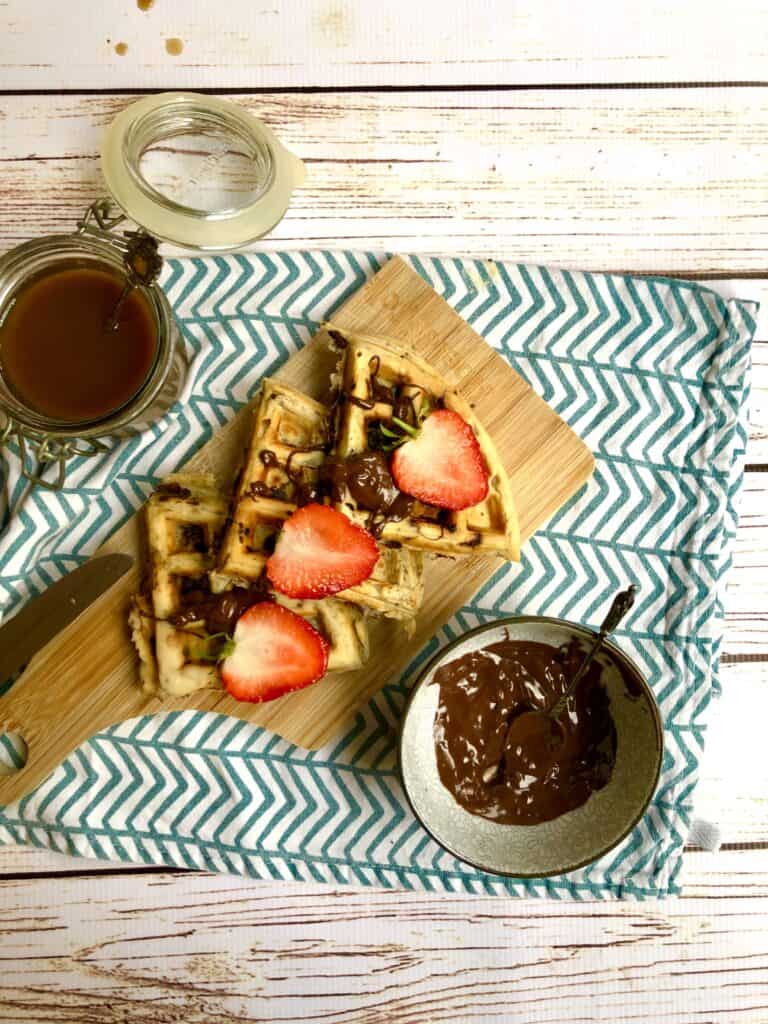 Chocolate Protein Waffles
These vegan chocolate protein waffles are a decadent vegan brunch. They have the added boost of a nutritious protein powder, loaded with extra vitamins and minerals.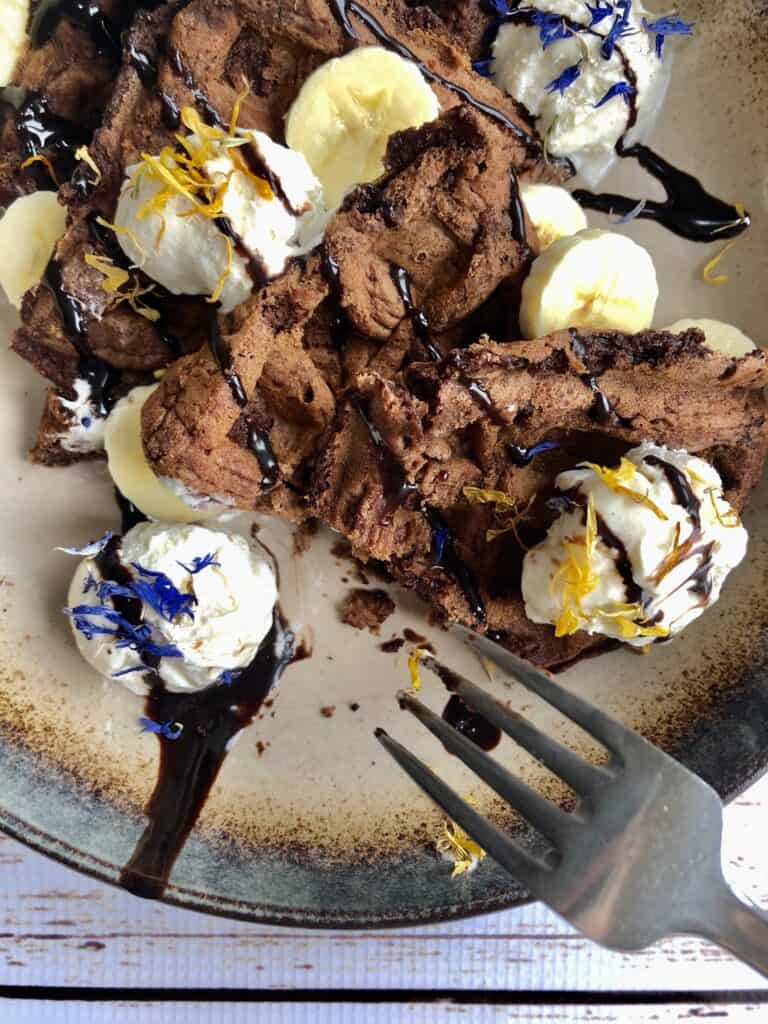 Chocolate upon chocolate is always acceptable for brunch, so why not load them with your favorite chocolate sauce, sliced banana or ice cream. Get the protein waffles recipe here.
Corn Fritters
In New Zealand, brunch means corn fritters! While they are usually served along with a bunch of non vegan toppings, they are easy to veganize and totally delicious!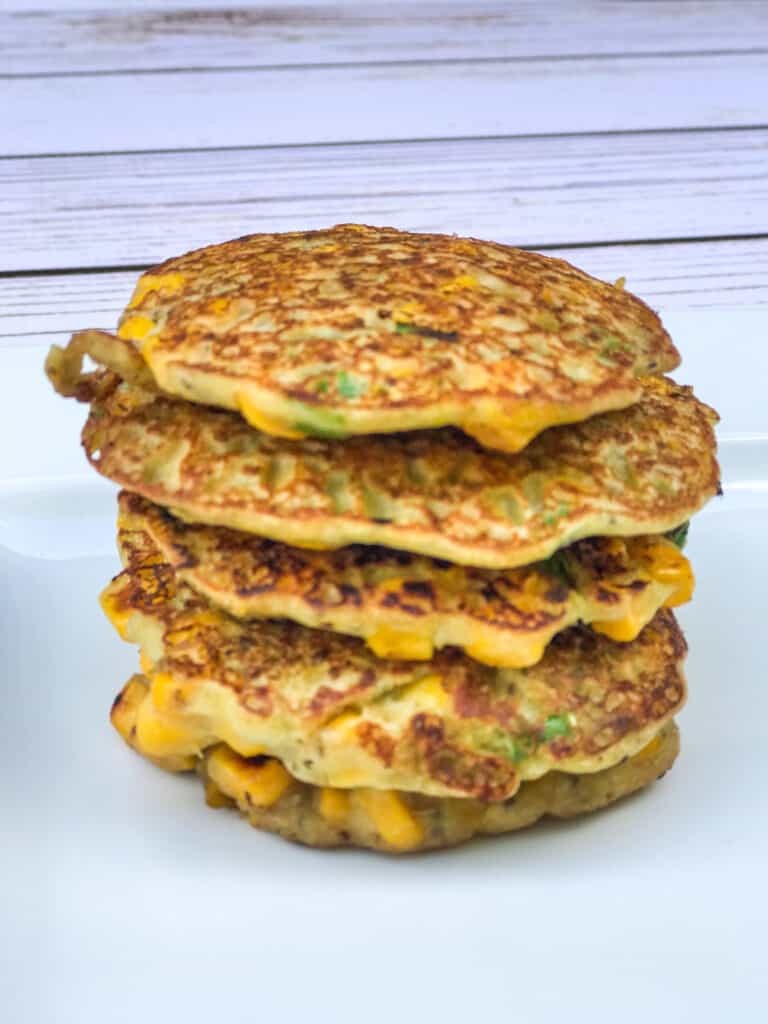 This recipe is super easy to make, with only a handful of ingredients, it's also a budget-friendly and a versatile meal. Check out the corn fritters here.
French Toast Casserole
This apple cinnamon vegan brunch casserole is perfect for family get togethers, holidays, or when you just want something warming and delicious.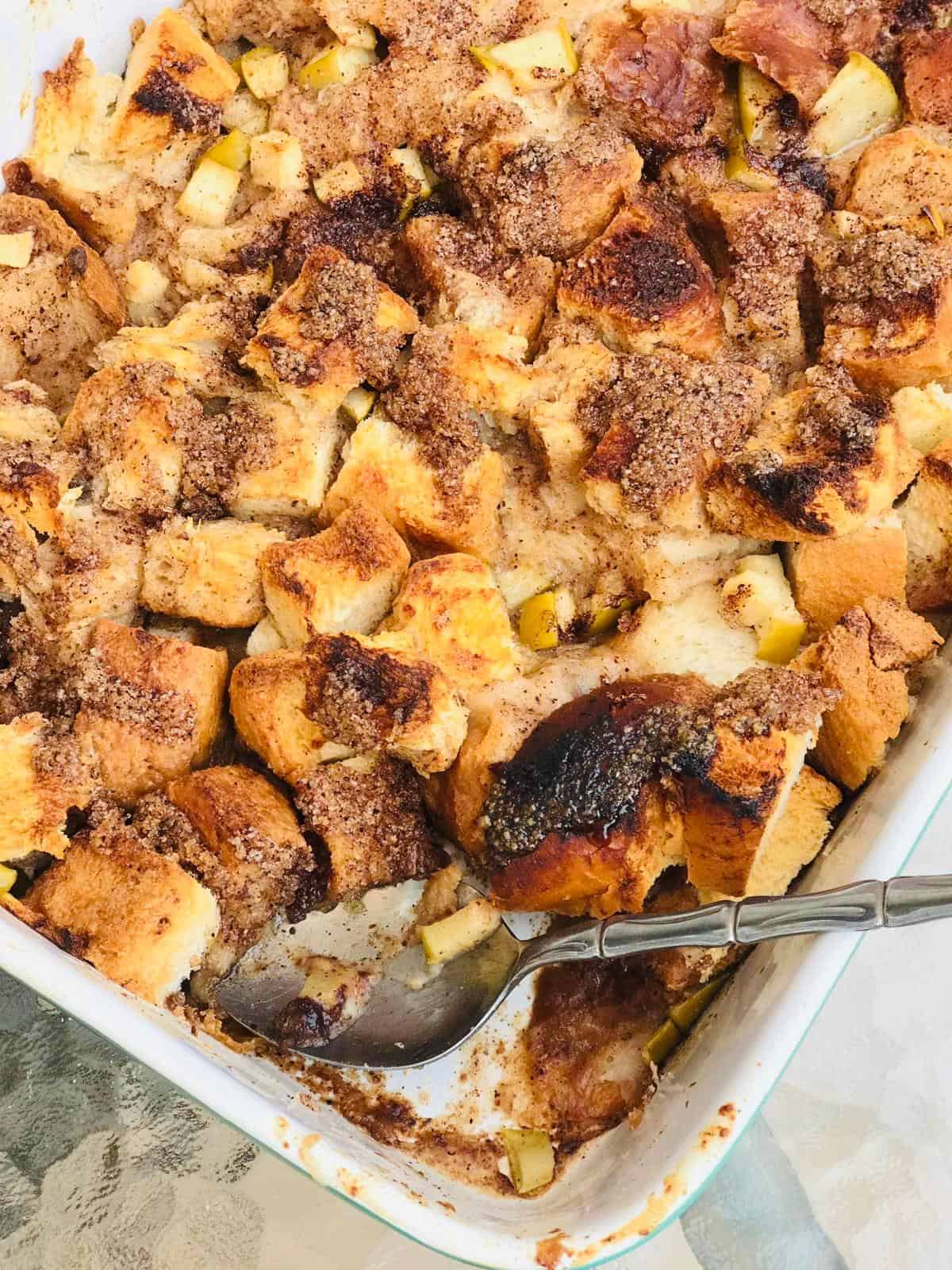 With all the yum factor of classic french toast, this french toast bake comes together much quicker and easier. Check out the recipe here.
Pop Tarts
Ordinarily, store bought pop tarts are a grab and go type breakfast. However, when you make these homemade, flaky and amazing frosted pop tarts, they will the the star of your vegan brunch buffet!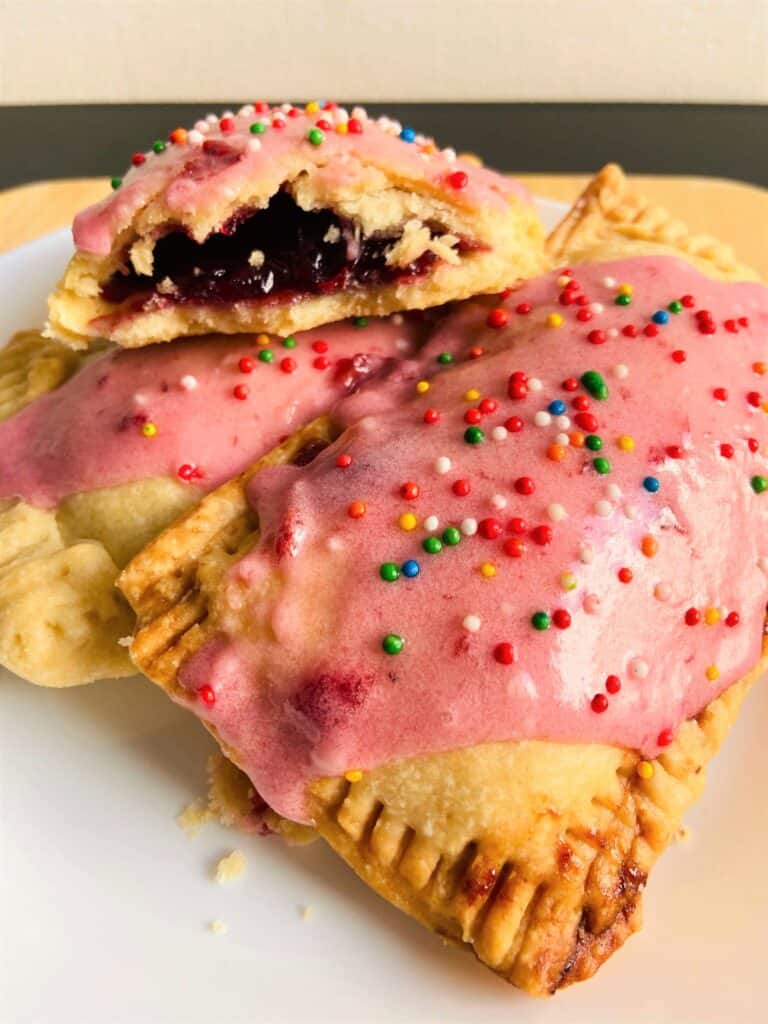 They are also deceptively easy if you have a food processor on hand! Check out the pop tarts recipe here.
Vegan Jelly Donuts
Another classic American, borderline dessert, favorite breakfast/brunch treat is of course delicious donuts! These vegan jelly donuts are crazy delicious. They take some effort, but if you are cooking for a special occasion they are worth the effort!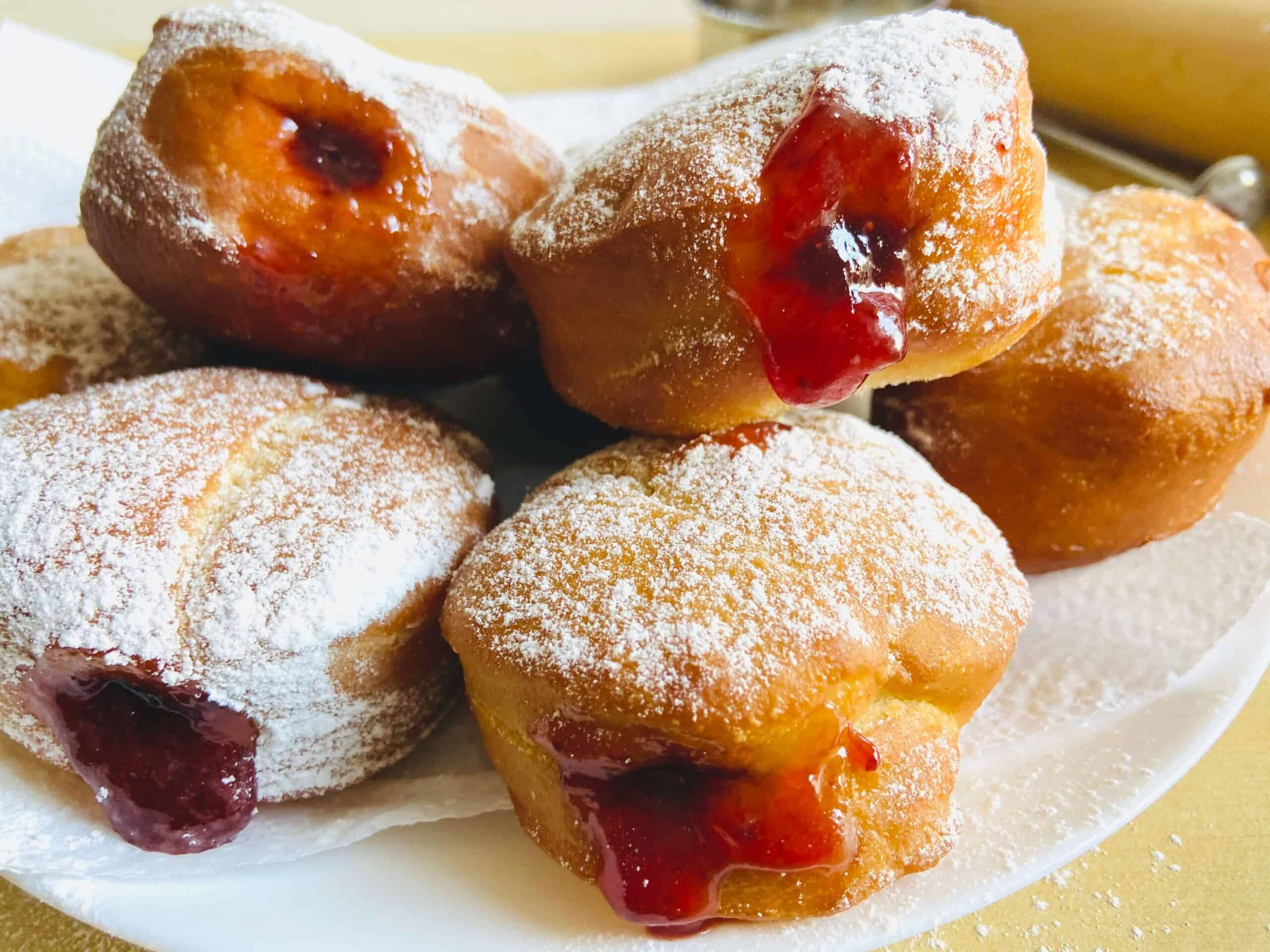 Vegan Cheese and Sweetcorn Scones
These vegan cheese and sweetcorn scones are deliciously savory, moreish and baked beautifully. They are a perfect vegan brunch option, serve them warm and people can cut them in half and spread on their favorite toppings.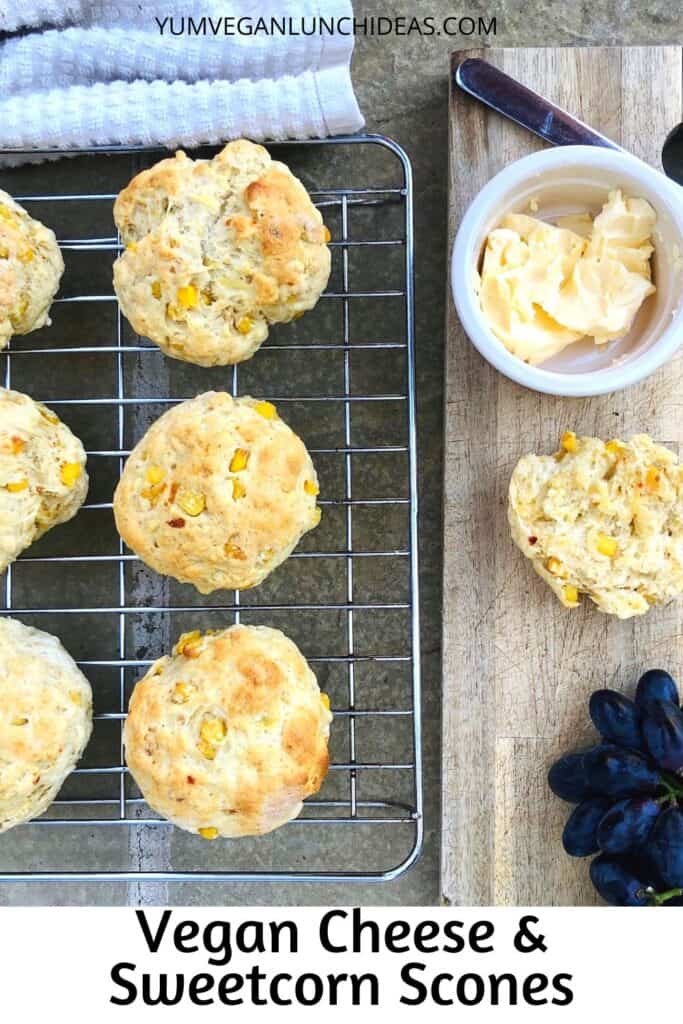 A delicious alternative to the usual sweet scones, these savory vegan cheese scones are a must try! They are super simple, with minimal ingredients. Get the scones recipe here.
Vegan Muffins
Muffins are always a fabulous brunch option, especially because they are such a great make ahead food. They freeze beautifully whether you are talking about making it in advanced or freezing leftovers.
Raspberry Muffins with Optional Cream Cheese Drizzle
These delicious vegan raspberry muffins, optionally drizzled with a vegan cream cheese frosting, are light and fluffy and bursting with delicious raspberry lemon flavors.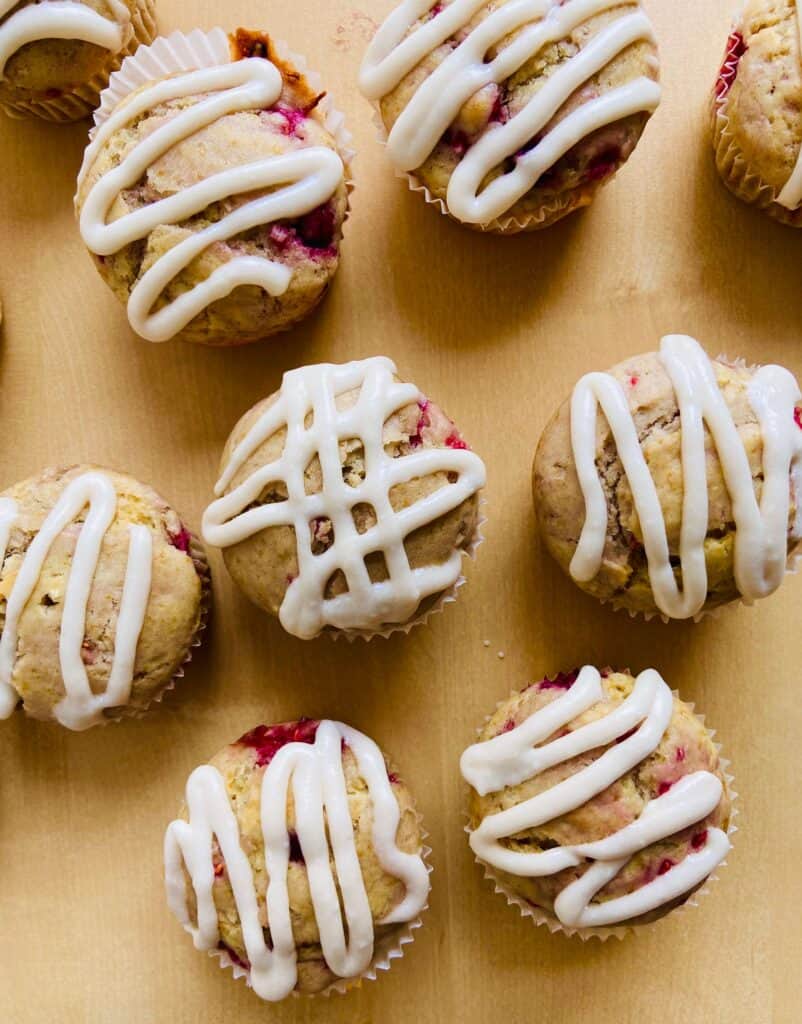 You can make these gorgeous muffins with fresh or frozen raspberries. Check out the recipe here.
Sweet Potato Chocolate Chip Muffins
These sweet potato vegan muffins are crazy moist and studded with chocolate chips. They are very easy to whip together and only use standard pantry ingredients so you don't need to hunt for any special ingredients.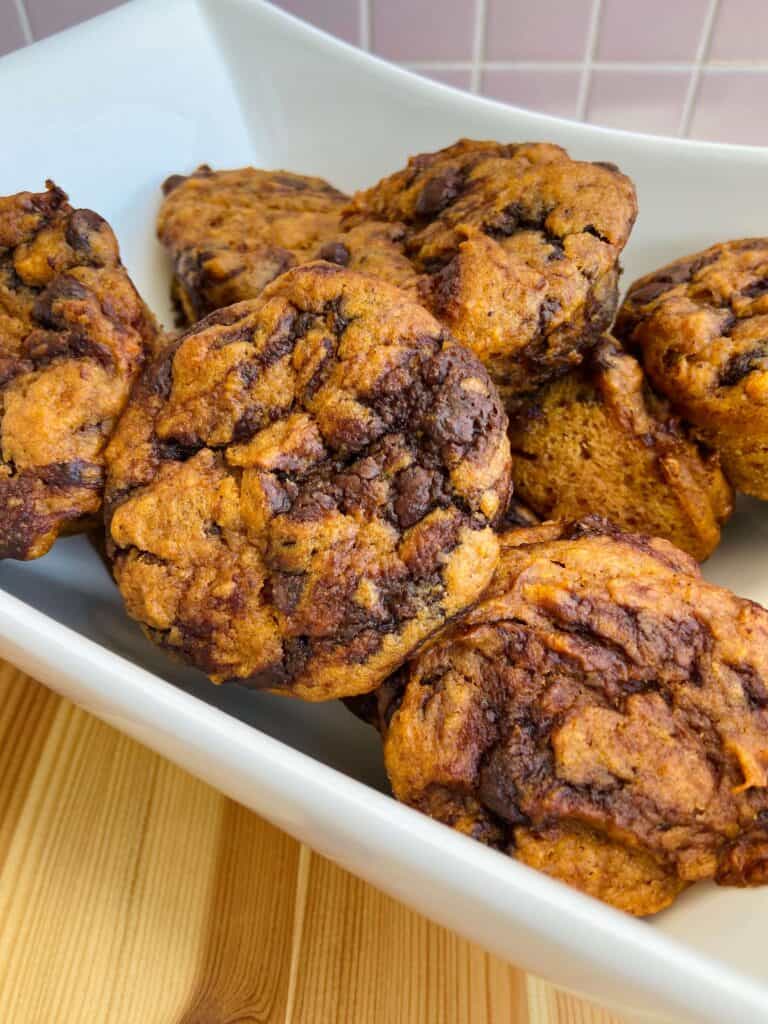 Let the chocolate chips get a little melty before stirring into the batter for a beautiful marbled top. Check out the full recipe here.
Vegan Dutch Baby
This vegan dutch baby recipe is so easy to make and the perfect vegan brunch option for weekends, special occasions and more. It only takes five minutes of prep work for delicious, crowd friendly results.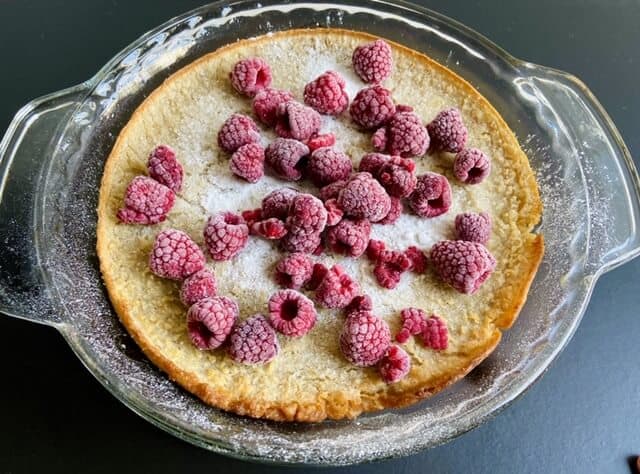 Warm and comforting, this vegan dutch pancake will become a family favorite. Dress it up or down with different toppings, you can even eat it as a savory dutch baby! Check out the full recipe here.
Vegan Brunch Sandwiches
Sandwiches can be an amazing brunch option. A nice brunch sandwich is a comfort food sandwich, with lots of flavors, colors and textures!
Toasted Bagel Sandwich
This delicious vegan bagel sandwich uses avocado, tofu smothered in BBQ sauce, creamy dill sauce and lots of veg on a toasted bagel to create the ultimate vegan bagel topping.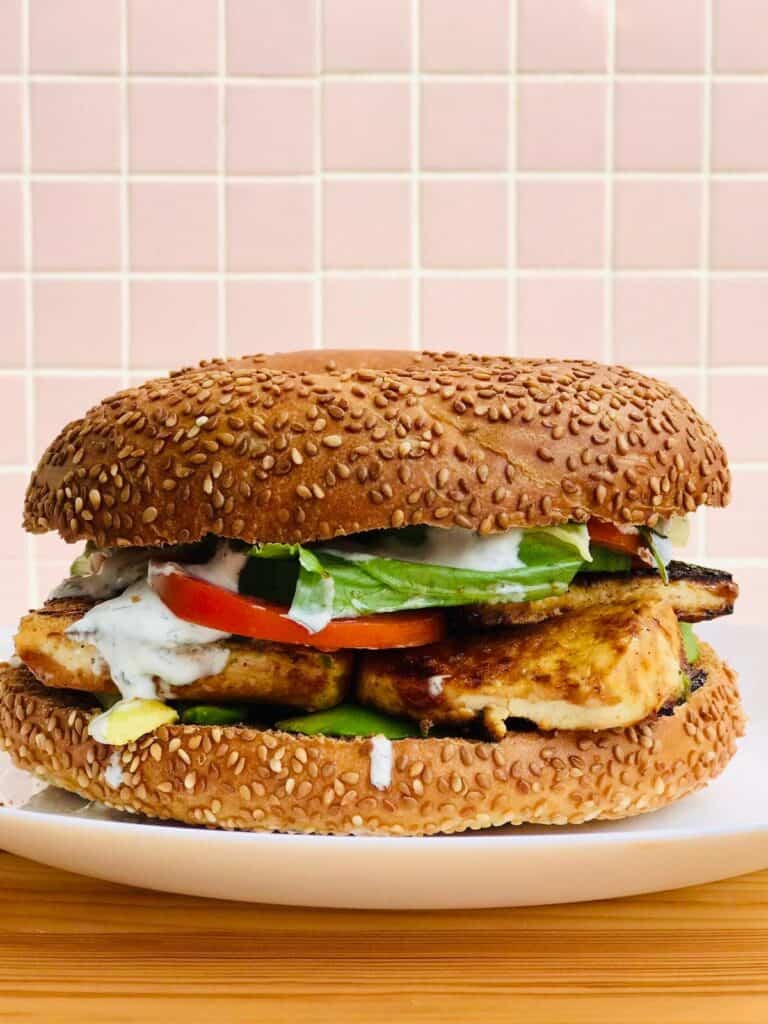 It's a fantastic, hearty, and indulgent feeling brunch option, and easy to make multiple servings of. Get the full recipe here.
Vegan Club Sandwich
With crispy rice paper bacon, vegan turkey slices and creamy mayo, this sandwich is the perfect brunch sandwich. Even if you want to skip the sandwich, make sure this awesome bacon makes it into your brunch menu!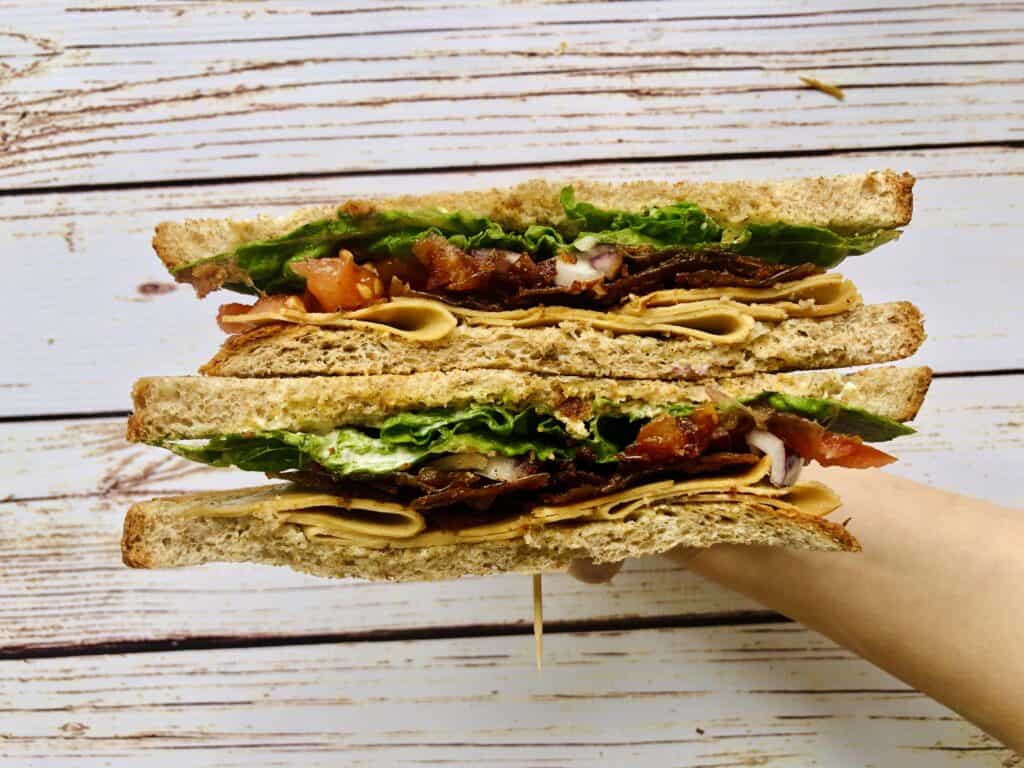 To make it even more crowd friendly, grab a long baguette and pile the toppings on. Cut into portion size pieces and you'll have a dish that's a sure crowd pleaser. Try out the recipe here.
Vegan BLT
There's a reason the BLT is a classic, and in case you weren't aware, it's a fabulous hangover cure. Our vegan BLT features crispy, baked eggplant bacon which is much healthier but equally delicious!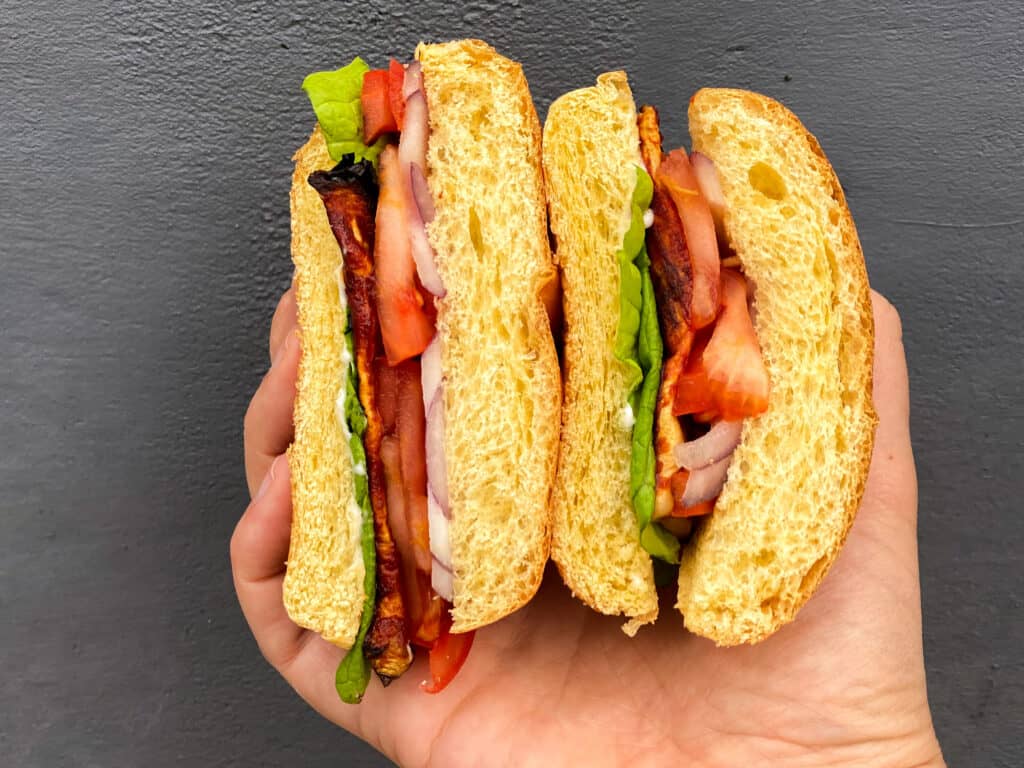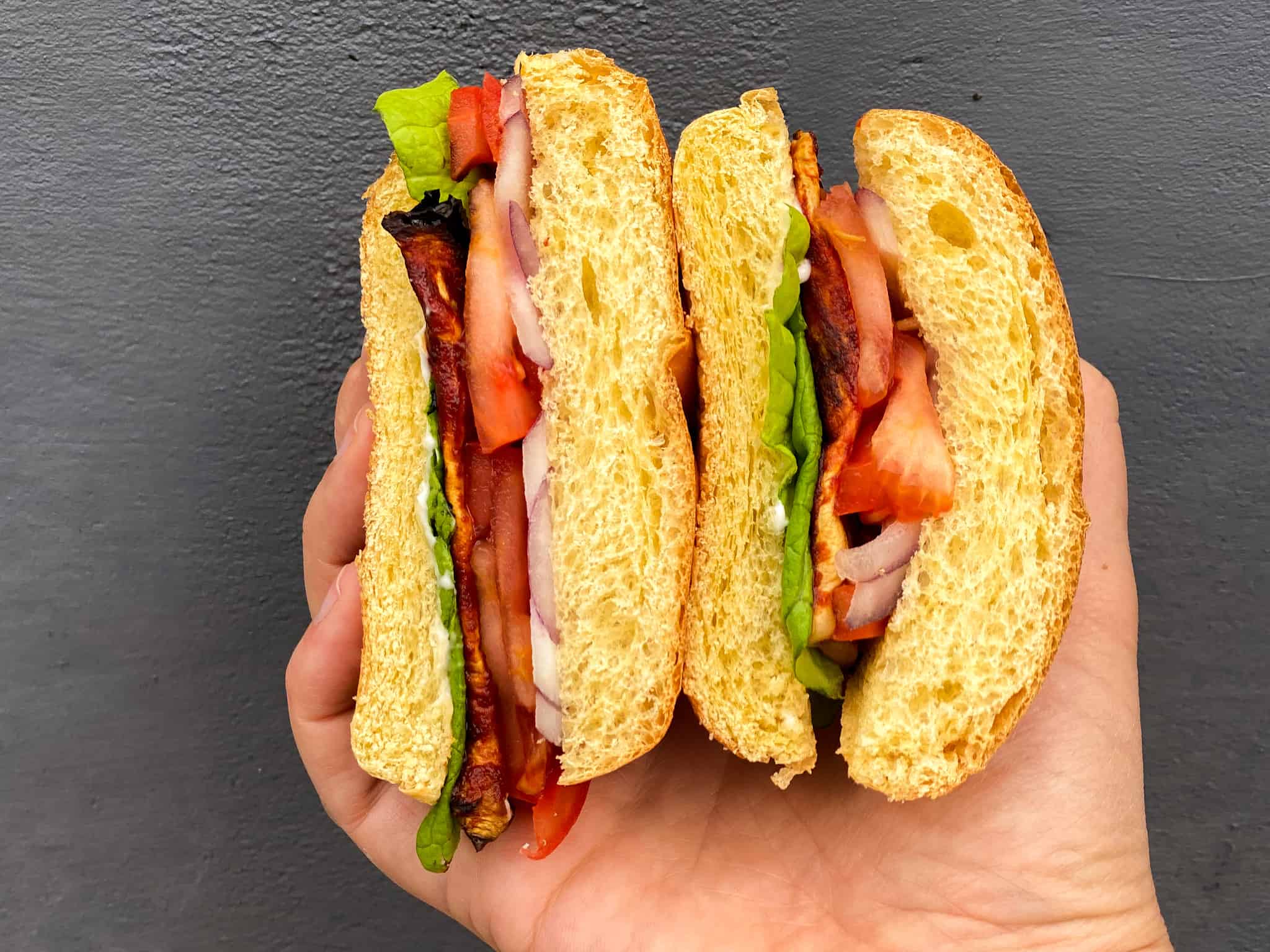 You can even make this sandwich more breakfast like by adding in some tofu scramble in. (Tofu scramble recipe below). Check out the full recipe here.
Vegan Cream Cheese and Lox Bagel
The non vegan version of a cream cheese and lox bagel has been present at almost every brunch I've ever been to. Get a nice crispy toasted bagel with nice creamy cream cheese and I'm in heaven.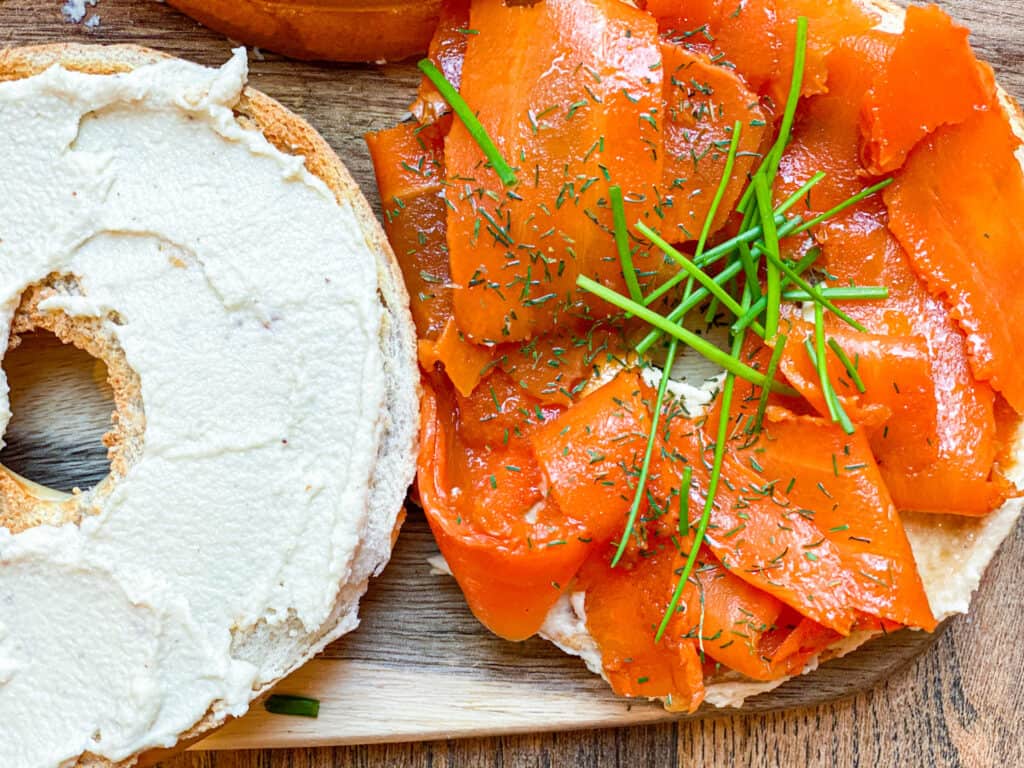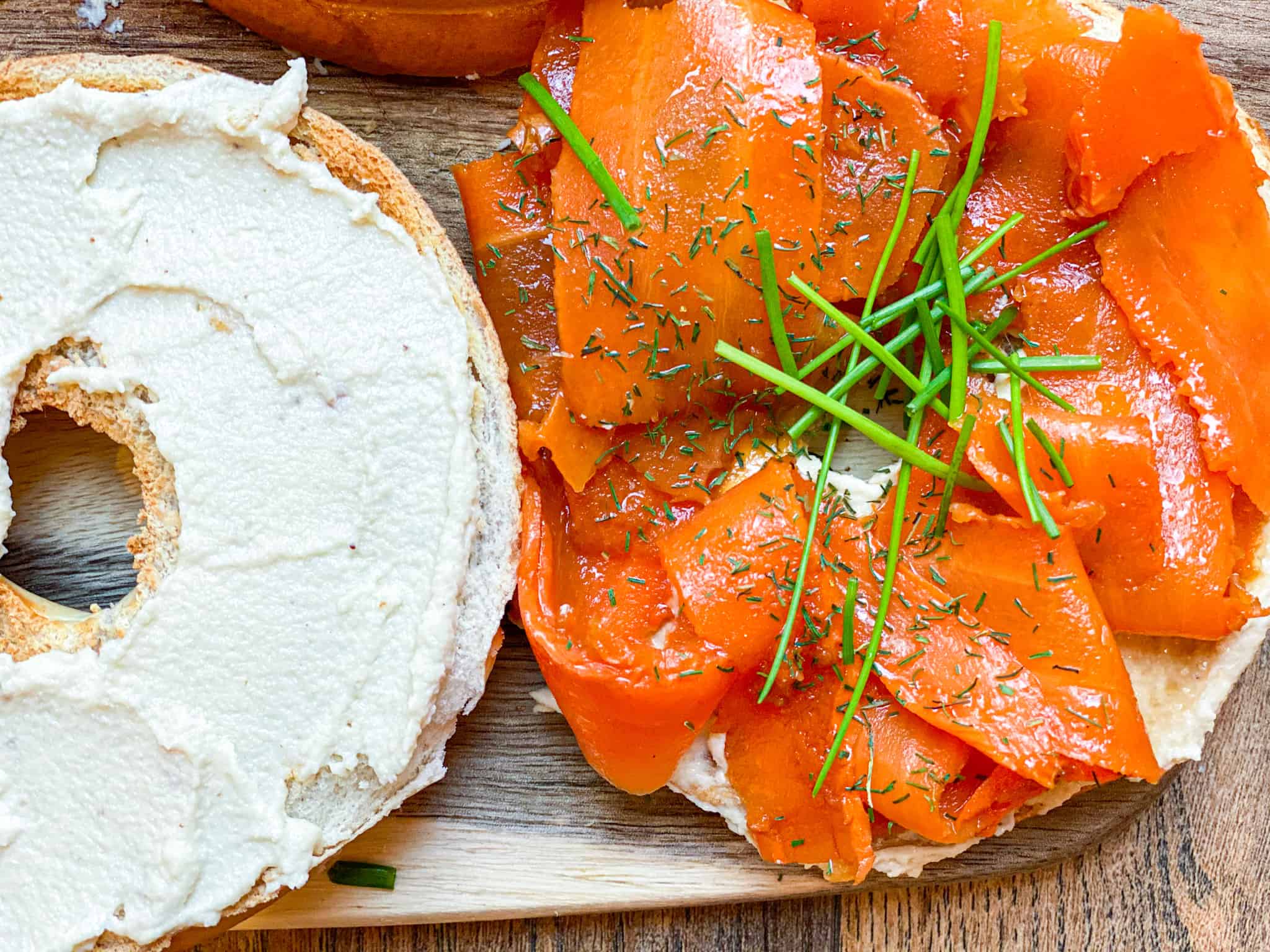 Lucky for you, we have this lovely plant based vegan cream cheese and a beautiful vegan lox to take it to the next level! Check out the full recipe here.
Vegan Tuna Melt
This chickpea tuna melt is bomb! The creamy chickpea tuna is smothered on buttered toasted ciabatta and topped with melted vegan cheese, sweet chili sauce and dill. Totally yummy and a must try.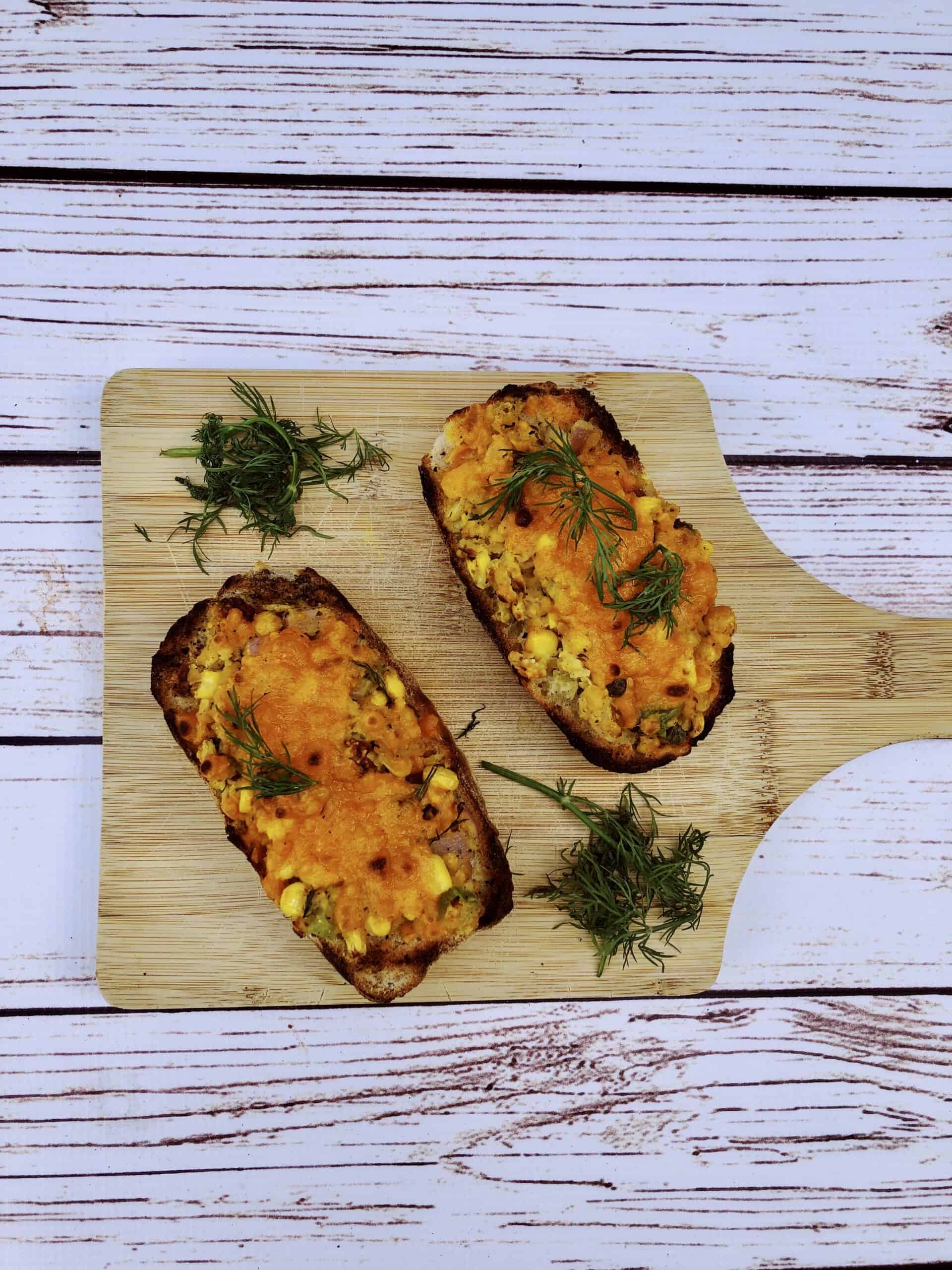 It's also incredibly quick and easy, which is always a bonus! Leftover 'tuna' is also perfect for re-purposing in sandwiches, as a bake potato topping, with pasta and more! Check out the full tuna melt recipe here.
Sabich
Sabich is a classic Israeli brunch food. It's a pita pocket stuffed with fried eggplant slices, Israeli salad, tahini, potato and more!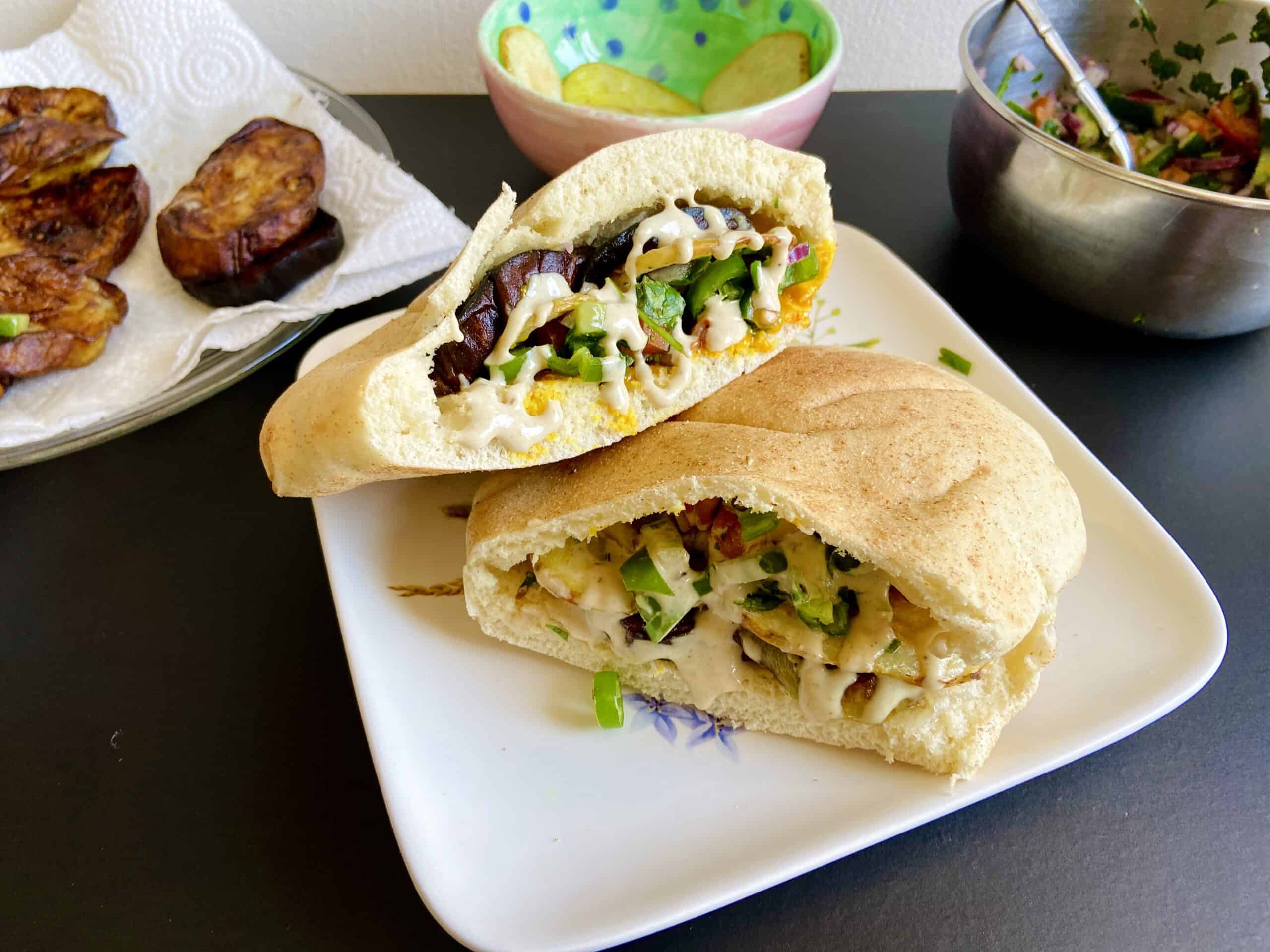 It's an explosion of flavor and a fun way to bring some international flavors to your brunch menu. Check out the full recipe here.
Vegan Blintz
This Jewish classic is a thin crepe that is then stuffed with a sweet vegan cream cheese and topped with a delicious, simple homemade raspberry compote.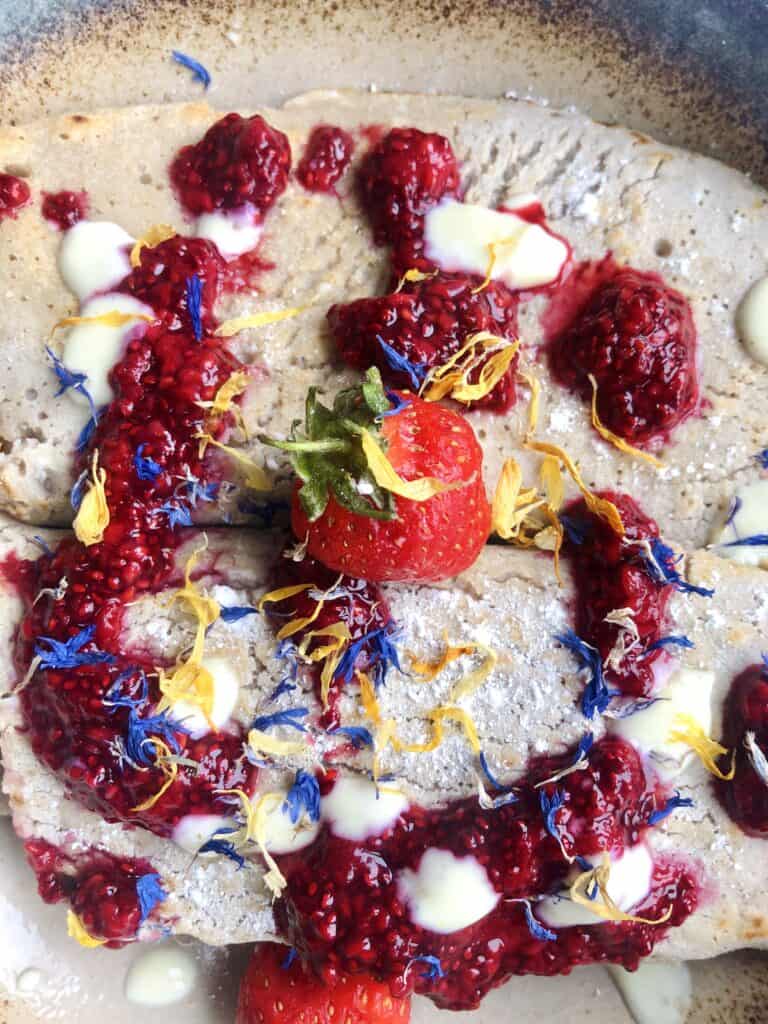 They are beautiful and amazing and our recipe is made with buckwheat flour, giving it an extra punch of health. Get the full blintz recipe here.
Tofu Scramble
Tofu scramble is a vegan classic that has me wondering why non-vegans don't eat it as well. It's so delicious and fun to customize with your add ins and spices.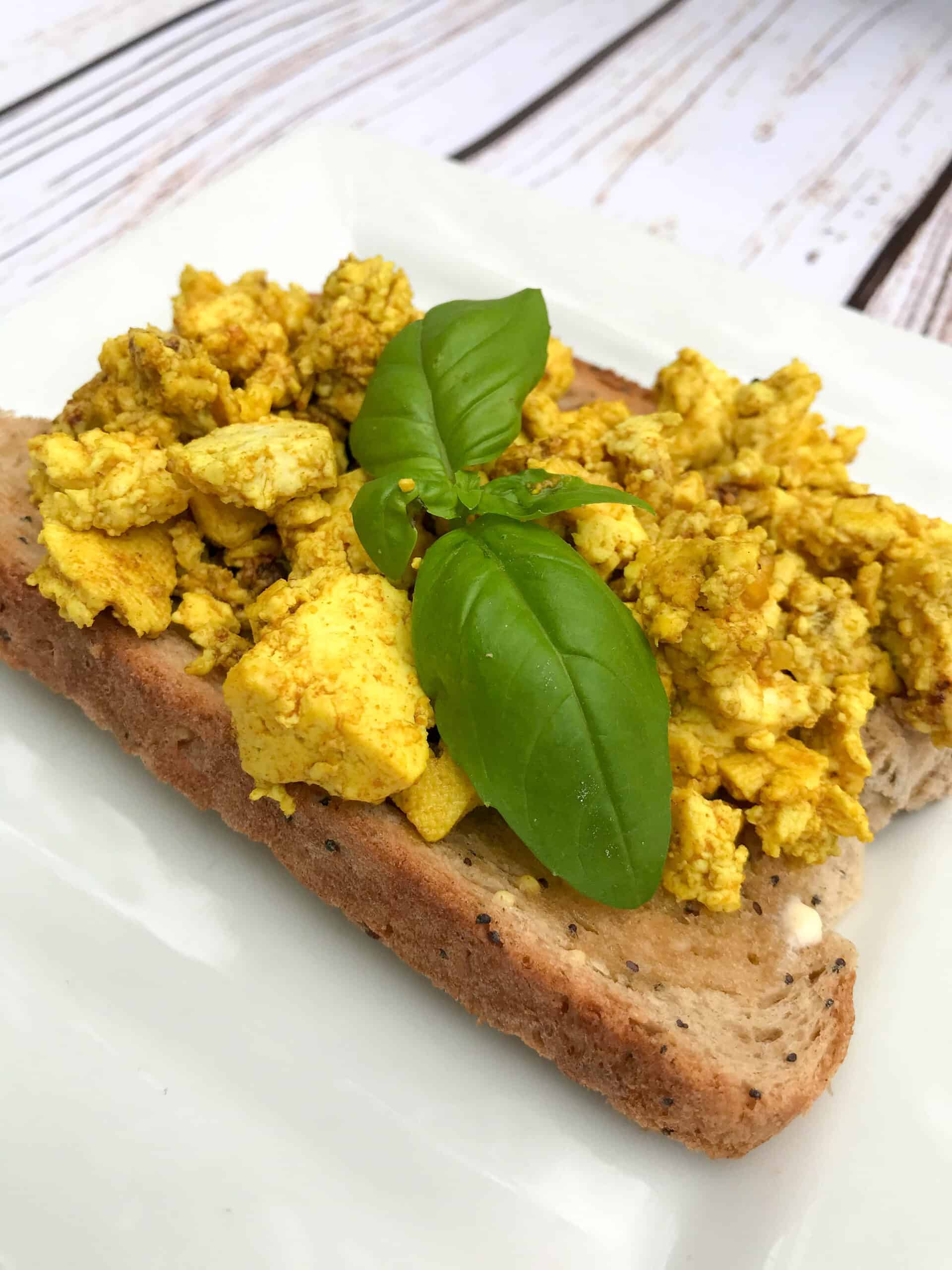 Our easy silken tofu is scramble is easy to make a huge batch for crowds. Mix in any of your favorite scrambled eggs add ins – anything from mushrooms to beans goes well in here! Get the tofu scramble recipe here.
Toast with a Variety of Amazing Toppings
Toast is really one of the most underrated breakfasts in my not so humble opinion. I recently watched watched the new Netflix series with Zac Efron and my highlight was watching scientists confirm that a high carb, low protein diet is a key to long life, not that I was holding back before that…
In any case, making a spread of delicious toppings with a stack of toast can be an awesome vegan brunch idea. Here are some of my favorite toppings.
Avocado Toast
No brunch roundup could be complete without avocado toast. Just saying, I've been eating avocado toast since before it became trendy.
All you have to do to make a good avocado toast is grab a ripe avocado and smash it onto some toast with a sprinkle of salt, garlic powder and nutritional yeast.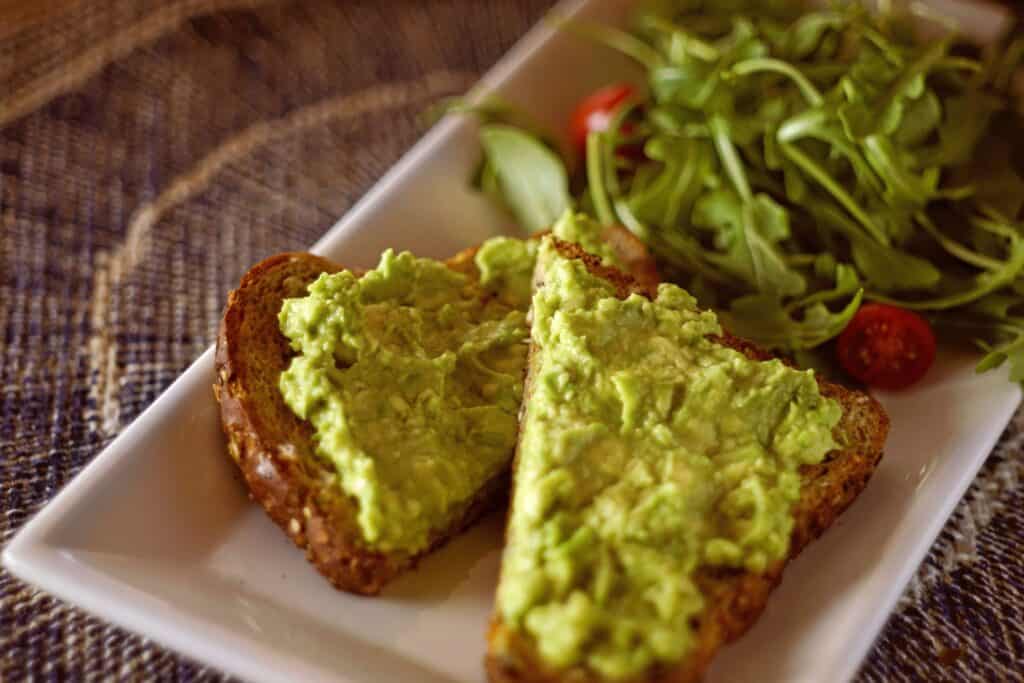 You can get fancier with it and make an actual guacamole for people to put on their toast, but the ball's in your court with that one.
Vegan Egg Salad
This vegan egg salad only takes five minutes to whip up. It's so good and eggy and perfect to use as a toast topping, especially with some sprouts and red onion slices.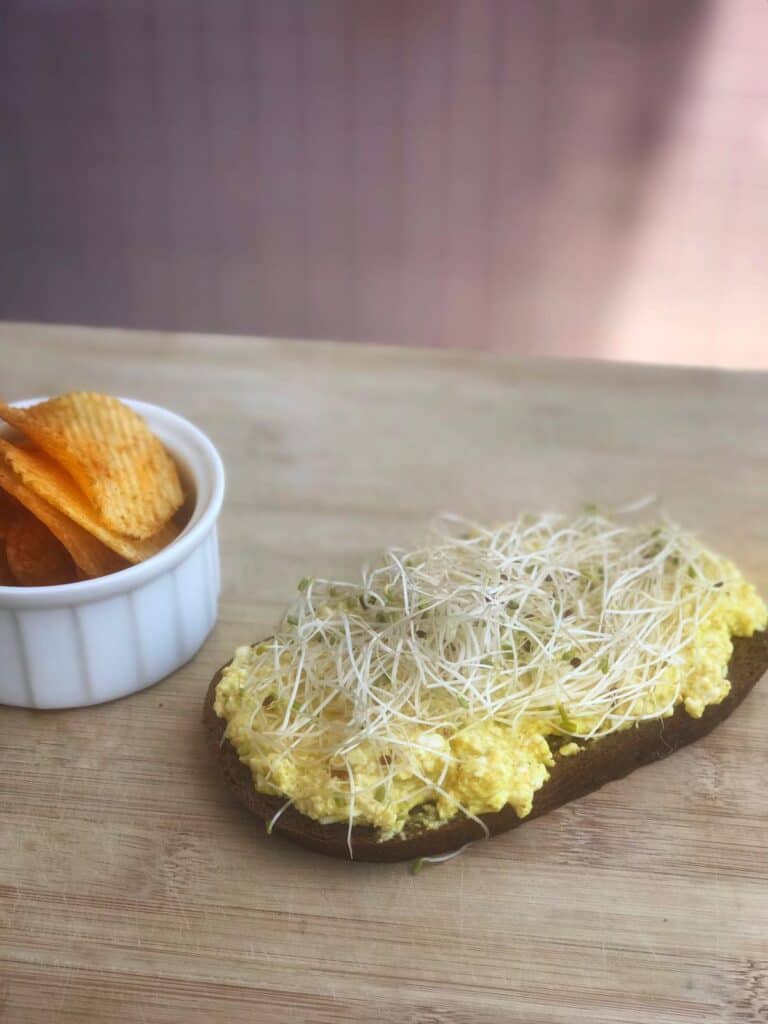 This is also a kid approved recipe, my toddler likes to eat it all as soon as it's done! Get the recipe here.
Hummus
Who doesn't love hummus? Grab a few fun flavored hummuses (yeah, that's a word) and have a delicious buffet of spreads. You can go with store bought or make one of our easy recipes.
We've got an easy, amazing naturally oil free, split pea hummus you can check out here.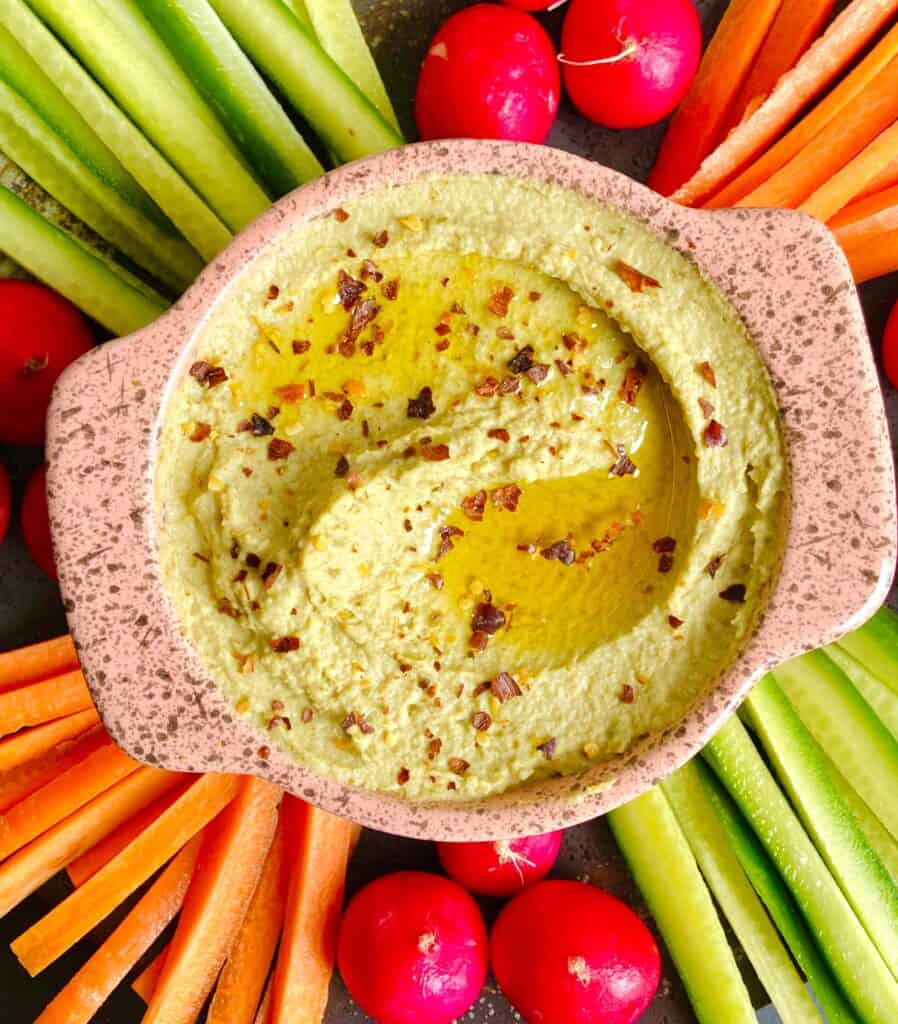 Or check out our vibrant, flavorful beet wasabi hummus here.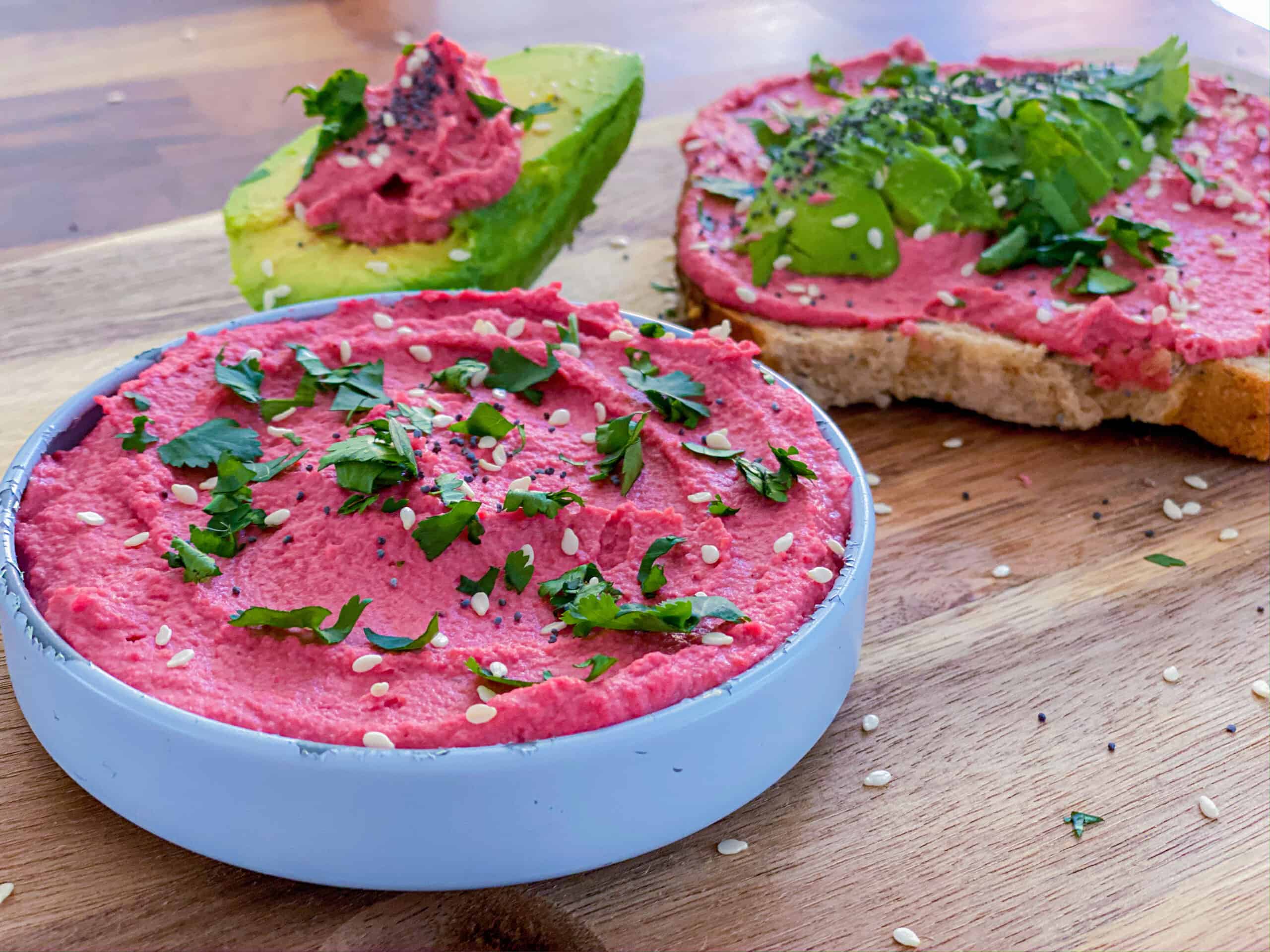 Chickpea Salad
This chickpea tuna is a light and refreshing option. It is creamy and satisfying, with the smashed chickpeas making the perfect texture.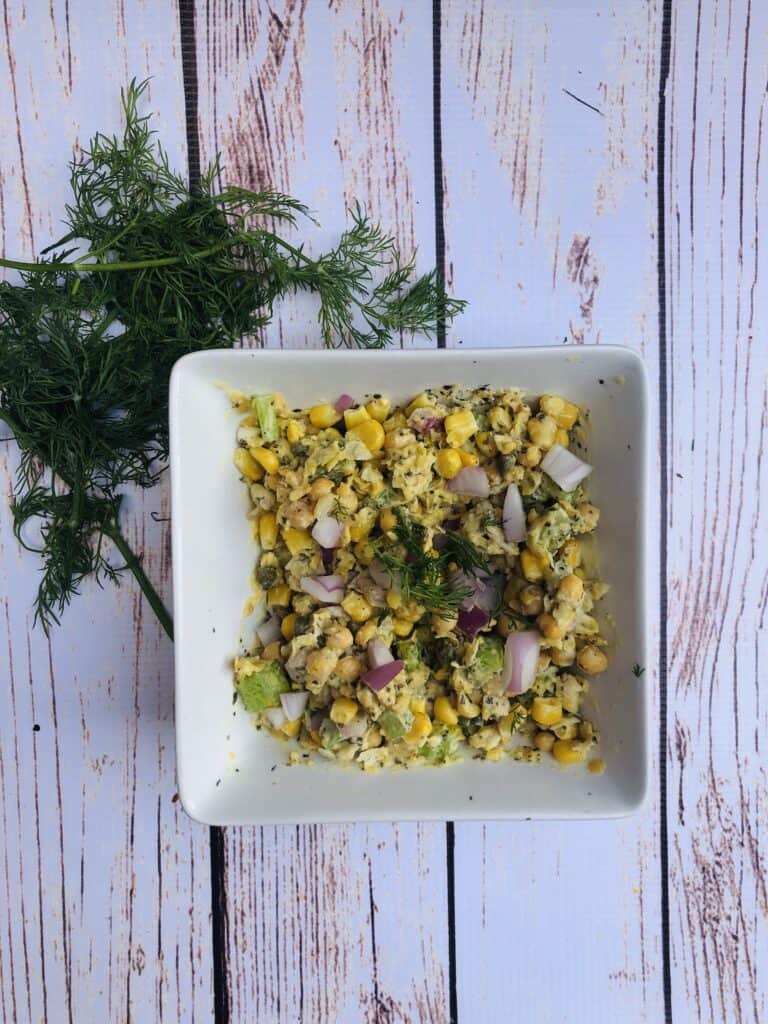 The addition of nori flakes gives this recipe an authentic marine like taste. If you miss tuna, this is an awesome toast topping. Get the full recipe here!
We also have a delicious vegan iced coffee recipe.
If you try any of the recipes, please leave us a comment or a rating. We love to hear your feedback!
Don't forget to pin these recipes for later!