This Salami Seitan recipe is a spin on the old classic. It is spiced and herbed to perfection and an absolute must try for that nostalgic taste. We have some great ways to use our homemade vegan seitan salami so be sure to try it out!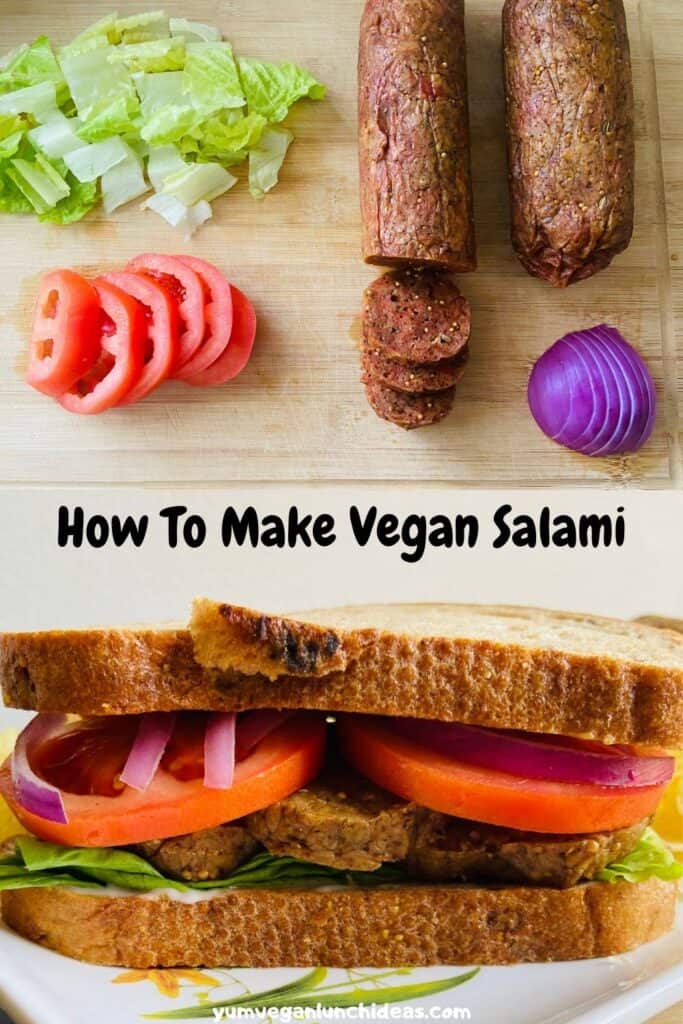 I get a lot of judgement for this, but my favorite types of meat back in the day was the highly processed kinds. I'm talking hot dogs, deli meats and chicken nuggets. Salami was a particular favorite.
Salami slices were amazing in sandwiches, fried as a breakfast food, in deli rolls and more, so I've worked on reproducing this deli meat, vegan style. At this point I've tried quite a few spice combos and ingredient variations and this is my favorite version of vegan salami.
It's very low effort to make this seitan salami, so there's no reason not to get cooking! Looking for more ways to make and use seitan? Check out the best seitan recipes! Or switch over to tempeh with these delicious miso tempeh wraps.
Vegan Salami Ingredients
Just like with real salami, you'll need quite a few spices to whip up this plant based salami. What you'll need is: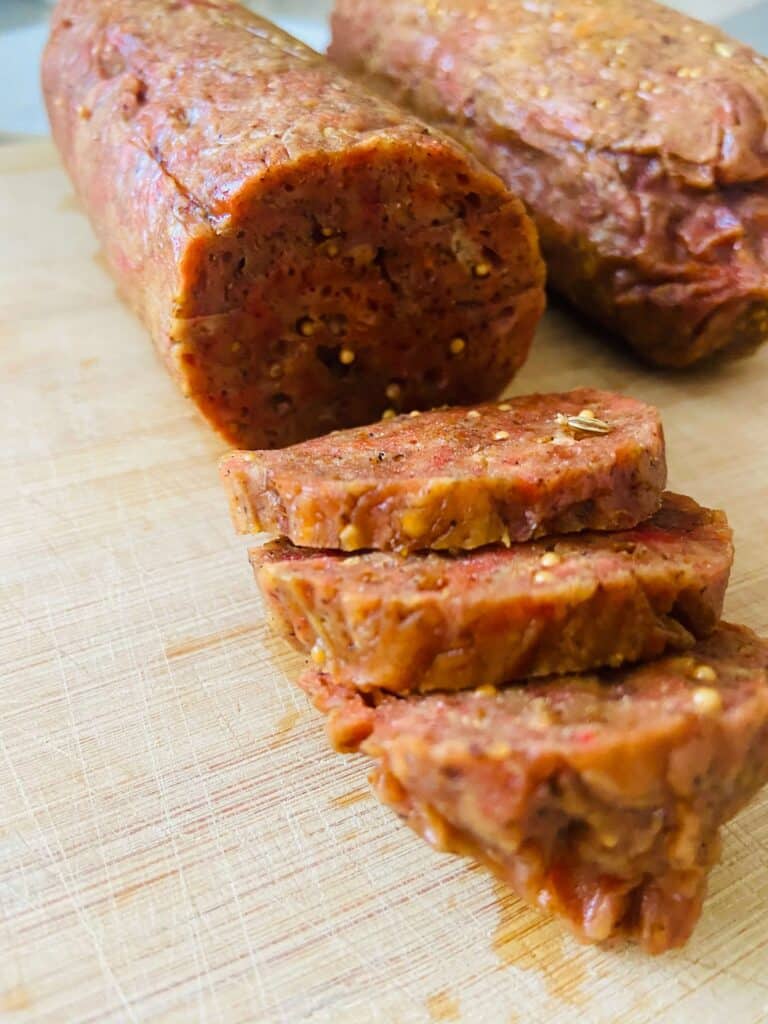 Vital Wheat Gluten
If you haven't worked with vital wheat gluten before, in short it's the gluten extracted from flour. It looks just like a little bit of a yellower flour. You can buy vital wheat gluten in many health food shops, or even easier grab it on amazon
.
If you need more inspiration for ways to use vital wheat gluten you can check out our seitan ribs, or seitan bbq chicken!
Red Food Dye
If you want it to have a more red hue you should add a few drops of food dye. Obviously it doesn't affect the taste but real salami is a very dark red and without any dye this vegetarian salami comes out brown.
How To Make Seitan Salami
To make the salami, mix all the dry ingredients together in a large bowl until well combined. In a medium bowl, mix together all the wet ingredients.
This also needs to be very well combined, especially if you are using the food dye, because as soon as the liquid hits the gluten it will start absorb it and become tough to redistribute ingredients.
Mix the wet ingredients into the dry ingredients until combined, do not knead and use the minimal effort until it's just combined. If you keep messing with the dough, it will change the texture of the final product.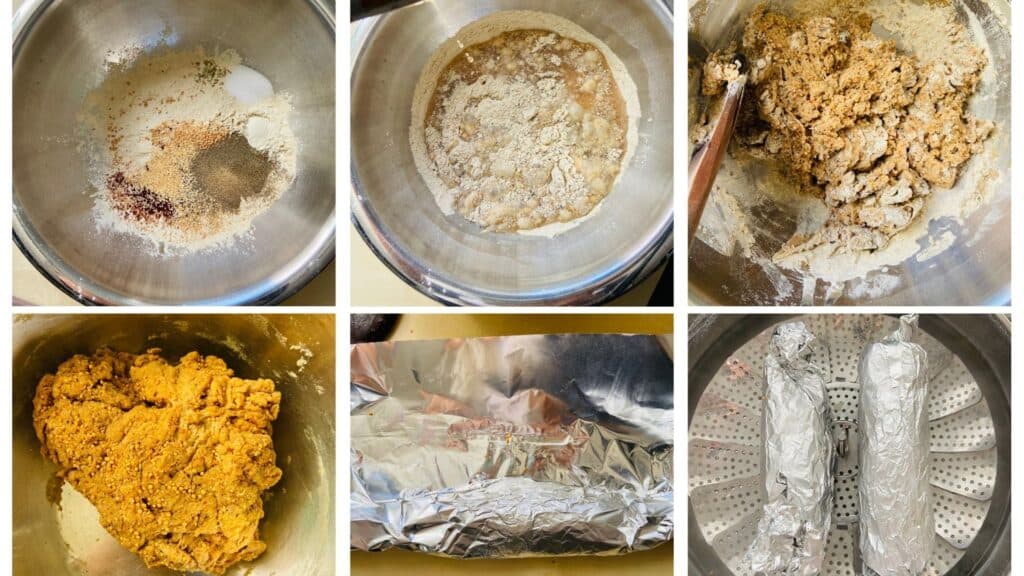 Start boiling some water and set up your steamer. Take two peices of tin foil and then cut your dough in half.
Roll one piece of your dough up into the tin foil to create a log, pressing the dough into the shape/width that you like while rolling the tin foil tightly around it.
Twist the ends of the foil to seal it. Repeat with the second piece of dough.
Place in your steamer and steam for 45 minutes. When it's finished remove from the pan, unwrap and allow to cool.
The texture will change as it cools, I always dig in before it cools down though. When it's fully cool enjoy as is, use in recipes, or wrap it up airtight and store in the fridge.
Need a steamer? This collapsible one
takes up almost no space and is super affordable!
Vegan/Vegetarian Salami Serving Suggestions
There are so many ways to use this vegan salami. Here are a few of my favorite: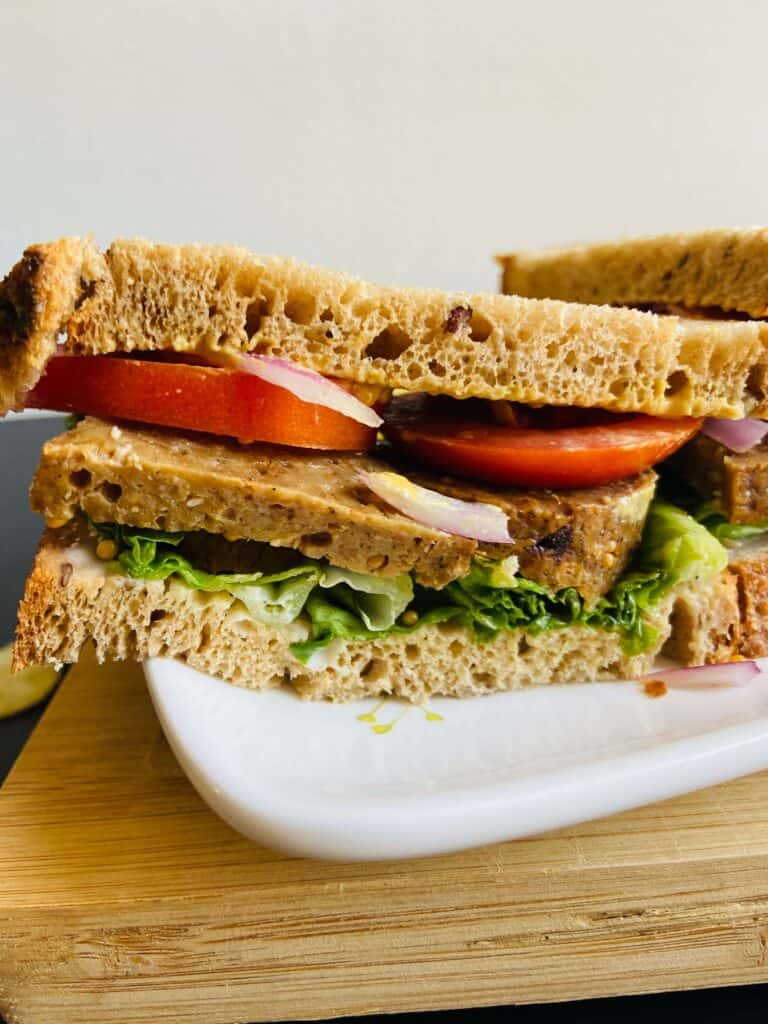 If you make a fatter salami roll, and then thinly slice, it's perfect for use in a vegan deli roll.
Fried Salami – If you haven't had this, think bacon and eggs but swap out the bacon for salami slices and fry until crisp. Serve up with some tofu scramble.
Paninis – Throw some salami slices into a panini with some vegan cheese and pesto. If you really want to level up the decandence of this sandwich, lightly fry the salami slices first.
Add it into soups in place of sausage, just add it at the end so it doesn't absorb too much liquid.
Chop it into small peices and add it to your favorite salad greens and top with some vegan ranch.
Don't Forget To Pin This Recipe For Later!
Yield: 2 Salamis
Vegan Salami (Seitan Salami)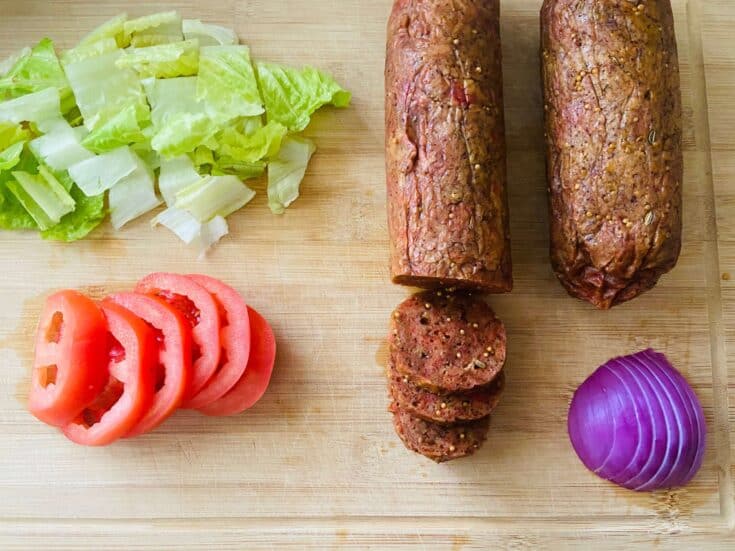 This vegan salami is easy to throw together and can be used in anything from sandwiches to vegan charcuterie boards to soups! Perfect for meal prep, you can make your salamis on a Sunday and enjoy this delicious seitan deli meat throughout the week.
Ingredients
Dry Ingredients
2 tsp Salt
2 tsp Ground Black Pepper (or use 1/2 tsp less if you are sensitive to spice)
Wet Ingredients
1 Cup + 1.5 Tbsp Water
2 Tbsp Canola Oil (Or other flavorless oil)
Instructions
Mix together all the dry ingredients in a large bowl until well combined.
Mix together all the wet ingredients in a medium bowl until well combined, especially if using the food dye it needs to be really well incorporated otherwise you'll get a streaky dough.
Mix the wet ingredients into the dry ingredients and using a strong wooden spoon or your hands mix until just incorporate, being careful not to overmix. If after a couple minutes there is still unincorporated flour, you can add extra water, a tablespoon at a time until it's done. Do not knead.
Set up your steamer and start bringing it to a boil.
Cut the dough in half and grab two large pieces of tin foil.
Roll one peice of your dough up into the tin foil to create a log, pressing the dough into the shape/width that you like while rolling the tin foil tightly around it. Twist the ends of the foil to seal it.
Repeat with the second dough/tin foil.
Place both salamis in the steamer and let them steam for 45 minutes.
Remove from the pan and when it's cool enough to touch, unwrap them and allow them to continue to cool. Feel free to taste a slice but know that the texture will change and the salami will firm up as it cools.
Once cooled, enjoy in sandwiches, on vegan charcuterie boards, and more - see full post for great ideas.
To store, wrap in plastic wrap or something similarly airtight and keep in the fridge.
Recommended Products
As an Amazon Associate and member of other affiliate programs, I earn from qualifying purchases.
Nutrition Information:
Yield:
12
Serving Size:
1
Amount Per Serving:
Calories:

173
Total Fat:

3g
Saturated Fat:

0g
Trans Fat:

0g
Unsaturated Fat:

3g
Cholesterol:

0mg
Sodium:

415mg
Carbohydrates:

7g
Fiber:

1g
Sugar:

1g
Protein:

29g
Disclaimer: This post may contain affiliate links.