Vegan babka is a favorite for me, especially around holiday time. Chocolatey swirls in sweet fluffy dough, it's such a decadent and delicious option.
Growing up Jewish, babka was a classic for holidays and special events. Serve it as a dessert or a holiday brunch option (or both!) either way it will be the star of the meal.
It is a bit of effort but it's definitely worth the time and elbow grease. As a bonus you can make extra dough and bake it into challah rolls so you get a double reward for your effort.
Vegan Chocolate Babka Ingredients
You can use the dough recipe as a base for many fillings, you can find further instructions below. The classic and best version, in my opinion, is the chocolate babka. The ingredients you need to make a vegan chocolate babka dough are:
The ingredients you'll need for the chocolate filling are:
And for the glaze on top you'll need:
Vegan Cinnamon Babka Ingredients
If you prefer cinnamon babka this is a close second for best filling option. The ingredients you'll need for it are:
You can also do an easier fold with a similar recipe – this vegan cinnamon bread.
How To Make Babka
Making The Eggless Babka Dough
To make vegan babka, the first step is making the dough. In a medium bowl, mix together the yeast with a pinch of sugar and warm water. Mix it gently and let it sit for around five minutes until the yeast starts forming bubbles.
This process is to activate the yeast. If it doesn't bubble, your yeast may be too old or not active for other reasons.
Also be sure to check the temperature of the water. Yeast needs warm water but it can't be too hot or it will scald the yeast and it won't activate. Check it on the inside of your wrist to tell if it's too hot, same as you might with a baby bottle.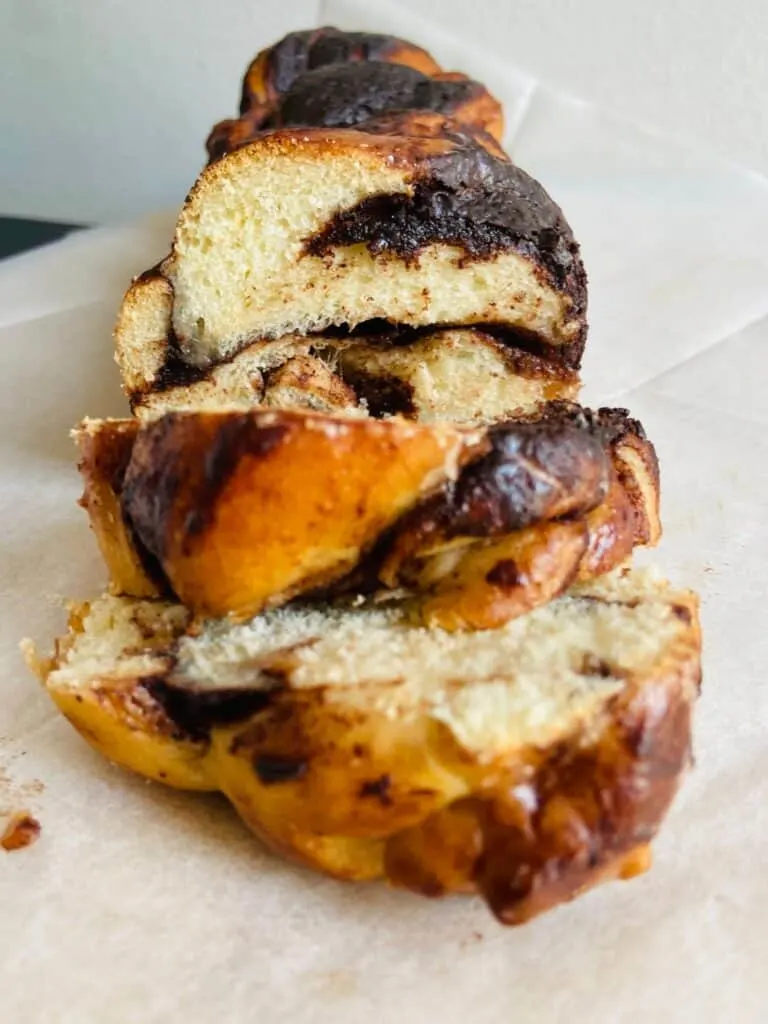 While your yeast is sitting, grab a large bowl and mix together the flour, baking powder, remaining sugar, and salt. Mix it well to incorporate.
Once the yeast is ready, mix in the oil and then add the whole wet mixture to your dry mixture. Start mixing, either by getting down and dirty using your hands or mix with a spatula until it's further incorporated.
Once it forms a loose dough, start kneading. You can do it by hand or by using the dough hook on a mixer. The dough will probably be on the stickier side to start. Add the extra flour little by little until the dough has become a smooth ball and is no longer sticking to the sides on the bowl.
Cover the dough with a damp towel and set aside some place warm to rise for around two hours, until it's doubled.
Making Vegan Babka Filling
Shortly before your dough is finished rising you can make the filling. You can also make it earlier, but warm it up a bit for easier spreading if you do.
You can make plenty of different babka flavors, the most common being chocolate or cinnamon, for good reason. I sometimes will do two filling flavors, as the dough makes two babkas. If you want to do one of each, just half the filling amounts of each.
To make the chocolate filling, melt your chocolate and margarine. I usually do each in it's own bowl in the microwave for ease, but you could also melt them in a pan. Whisk in the powdered sugar and cocoa powder until well combined. Set aside the chocolate chips if using.
If you are making the cinnamon filling, start by whisking together the brown sugar, flour and cinnamon. Then melt the vegan butter/margarine and whisk together the whole mixture until smooth.
Shaping The Vegan Babka
Cut the dough into two pieces. Roll it out into the shape of a rectangle. Spread the filling evenly on the dough, leaving just a bit of end for sealing it.
Roll it up, the tighter you roll it, the more swirls you'll end up with in your babka. Seal the edge and then take a sharp knife and cut the roll in half lengthwise, so that all your layers are exposed.
It's going to start looking like a huge mess now, but don't worry, it will shape up for the finished product. Create an ex with the two pieces of dough, chocolate layers facing up. Twist the pieces around each other, keeping the filling sides up the whole time and crimp each end.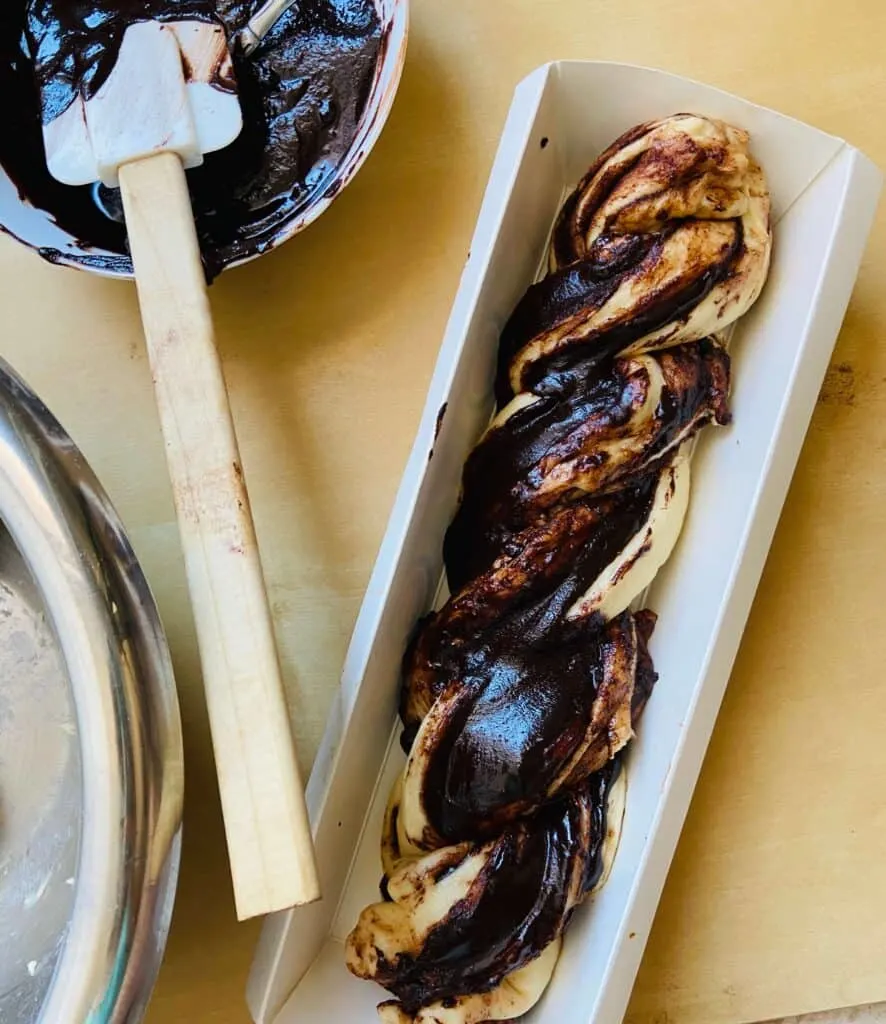 Move your babka to a loaf pan, lined with baking paper for easier removal. Preferably, it should be a low loaf pan, but any should work. You can even bake it without the loaf pan but the end product won't be as aesthetic.
Repeat with the second dough and then cover the babkas let them rise once again. This rising will only be for 45 minutes, it should have puffed up again and be taking up much more of the loaf pan.
Towards the end, preheat your oven to 350 degrees. Bake the babkas for around 30 minutes, or until the dough is cooked through.
Making the Vegan Babka Glaze
Before your babka finishes cooking, prepare the glaze. This is just a matter of simmering water and sugar together until the sugar has dissolved.
Once that has happened, set aside until your babkas come out. As soon as they are out of the oven, pour the glaze over them, distributing with a brush if necessary. It seems like a lot of glaze, but pour it anyways.
Let the glaze cool and solidify and then dig in!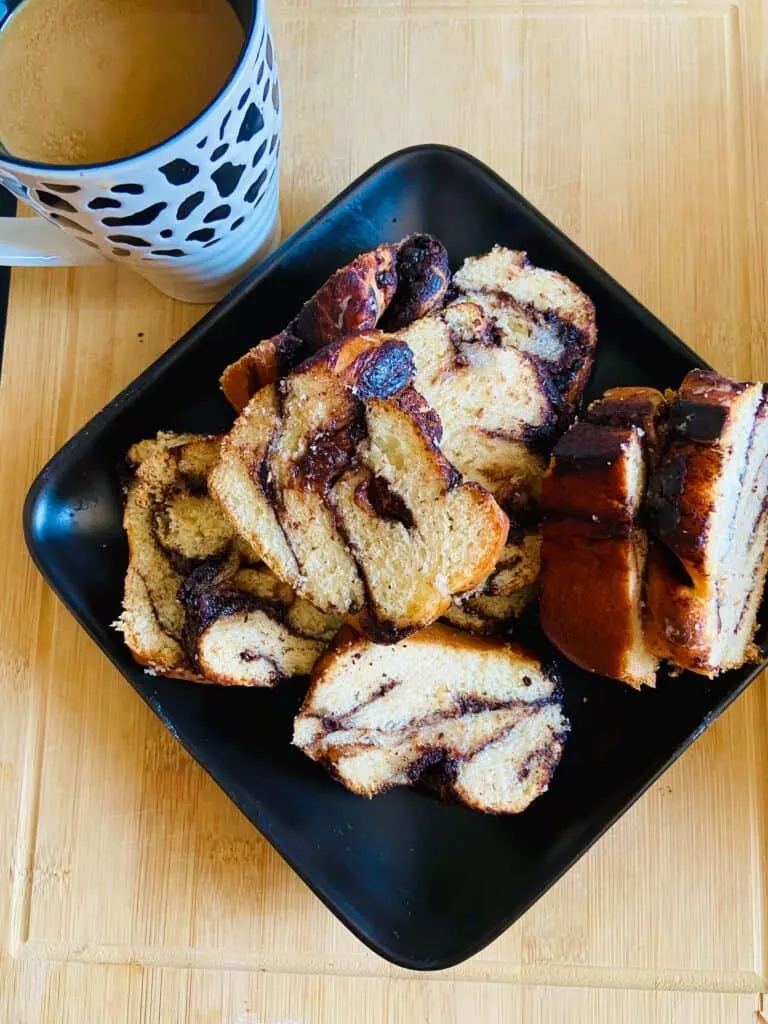 How to Serve Chocolate Babka
Babka is a very sweet treat, so it pairs perfectly with coffee, especially if you plan to serve it for a decadent brunch option. It can be enjoyed warm, once the glaze sets, or at room temperature.
Serve the babka loaf whole or pre slice it to make a beautiful dessert tray. It will stay fresher longer if you don't slice more then you plan to eat.
Storing Vegan Babka
Cover your babka loaf as well as possible, either in tin foil or an airtight container. It should not be refrigerated. For optimum freshness and doughy-ness it should be eaten within 24-48 hours. It won't go bad for a few more days after that though.
You can also freeze babka ahead of time. You can either freeze before baking or after. To freeze before, shape the dough and place in loaf pan and then double wrap with plastic wrap or freezer bags, with as much air removed as possible.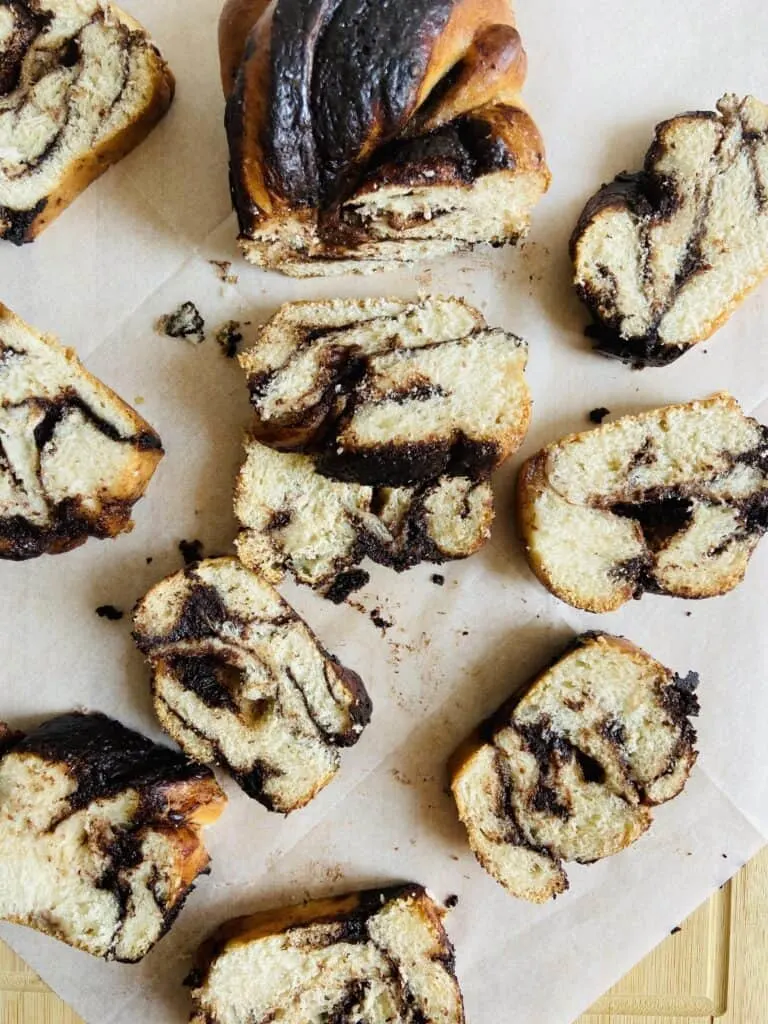 When you are are ready to bake it, take it from the freezer, remove the wrapping and allow to defrost completely at room temperature. Once it's completely defrosted allow it to sit in the warmth for another hour, until it's risen a bit. Follow the baking and glazing instructions from there.
If you want to freeze after baking, make sure to completely cool the babkas first. Once they are room temperature, wrap them first in tin foil and then in freezer bags, a freezer container or plastic wrap. You can freeze it like this for at least a month if not longer.
When you are ready to eat it, remove the plastic and let it defrost in the tin foil at room temperature. When it's mostly defrosted, pop it in the oven for seven minutes with the tin foil open to warm it through.
Looking for more dessert recipes? Check out this delicious creamy vegan biscoff cheesecake.
Don't Forget to Pin This Recipe For Later!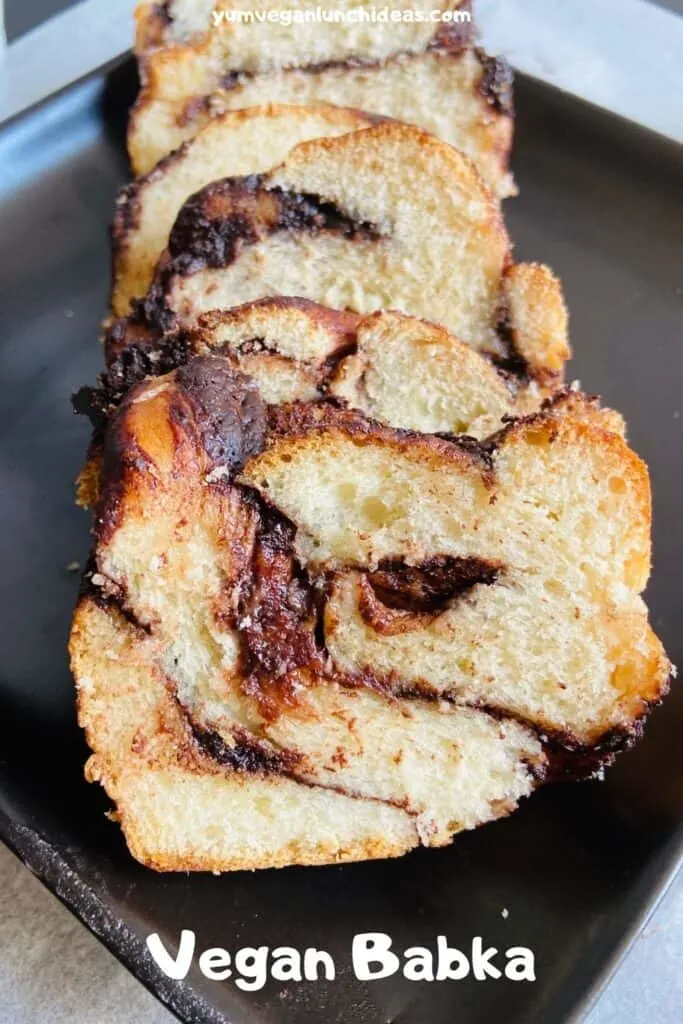 Yield: 2 Loaves
Vegan Babka Recipe - Vegan Chocolate Babka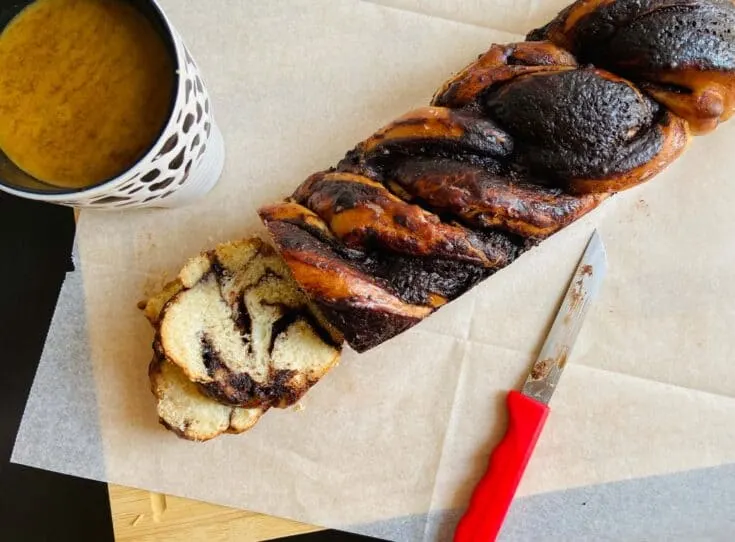 Get your vegan babka on with this delicious, fluffy, chocolatey sweet vegan chocolate babka recipe or our vegan cinnamon babka recipe. Either filling option makes for an absolutely amazing babka whether you plan on serving it for an amazing dessert or a sweet brunch recipe for special occasions and holidays.
Additional Time
2 hours
45 minutes
Total Time
4 hours
5 minutes
Ingredients
1 Cup + 2 Tbsp Warm Water
1 tsp Salt
Chocolate Filling
1/2 Cup Vegan Butter Melted (120g)(4oz)
Glaze
1/2 Cup White Sugar
1/2 Cup Water
Instructions
In a medium bowl, mix together the yeast, a pinch of the sugar and the water. Mix gently and set aside to activate for five minutes. It will be bubbly when it's ready.
In a large bowl or mixer, add all the dry ingredients (only 3.5 cups of the flour) and mix until well combined.
When the yeast mixture is ready, add the oil to the mixture and then pour the whole wet mixture into the dry mixture.
If you have a mixer, you can use the dough hook to do the mixing and kneading in the next steps.
Use a spatula or your hands to mix until a loose dough has formed.
Turn onto a counter and knead until the dough has formed a smooth ball and no longer sticks to the side of the bowl. You may need the extra flour to accomplish this. Add flour as you go if needed to make it less sticky. (This will depend on the brand of flour you use as well as the local humidity).
Once a nice dough ball has formed, return it to the mixing bowl and cover with a damp towel. Set in a warm place to rise for around two hours or until doubled.
Before the dough has finished rising, get the filling ready. To make the chocolate filling, whisk together the melted chocolate, melted vegan butter, cocoa powder and powdered sugar until smooth.
When the dough is finished rising, cut it in half and roll out one of the pieces into a rectangle.
Spread half the chocolate mixture over the whole rectangle, leaving a bit of room at the edge to seal it. If you are using the optional chocolate chips or chopped nuts, sprinkle it over the filling so that it's evenly distributed.
Roll up the babka dough, the direction that leaves you with a shorter, wider roll sealing it as best as you can.
With a sharp knife, cut the roll in half lengthwise so that all the chocolate layers are exposed.
Lay one half on top of the other so as to create an ex with the chocolate layers facing up. Twist the two halves around each other until you reach the ends, always trying to keep the exposed chocolate facing upwards. When you hit each of the long ends, pinch it together to seal.
Place in a loaf pan, ideally the loaf pan should be lined with and baking sheet so that you'll be able to remove it easily when it's finished cooking.
Repeat with the remaining ingredients.
Loosely cover the loaves again and set in a warm place to rise for around 45 minutes. By the end it should have risen up again quite a bit.
Before it finishes the second rise, prepare your oven by preheating to 350 F.
Uncover the loaves and bake for around 30 minutes, until the dough is cooked through and the top is golden brown.
While it's baking, make the glaze by simmering the water and sugar until the sugar has completely dissolved.
As soon as it comes out of the oven, pour the glaze over the loaves, even if it seems like a lot.
Wait until the loaves cool enough the the syrup has solidified and enjoy!
Notes
*Calorie count includes the using both the optional ingredients.
** Cinnamon babka filling on recipe card below.
Recommended Products
As an Amazon Associate and member of other affiliate programs, I earn from qualifying purchases.
Nutrition Information:
Yield:
20
Serving Size:
1
Amount Per Serving:
Calories:

454
Total Fat:

16g
Saturated Fat:

5g
Trans Fat:

0g
Unsaturated Fat:

9g
Cholesterol:

13mg
Sodium:

206mg
Carbohydrates:

87g
Fiber:

4g
Sugar:

17g
Protein:

11g
Yield: 2 Loaves
Vegan Cinnamon Babka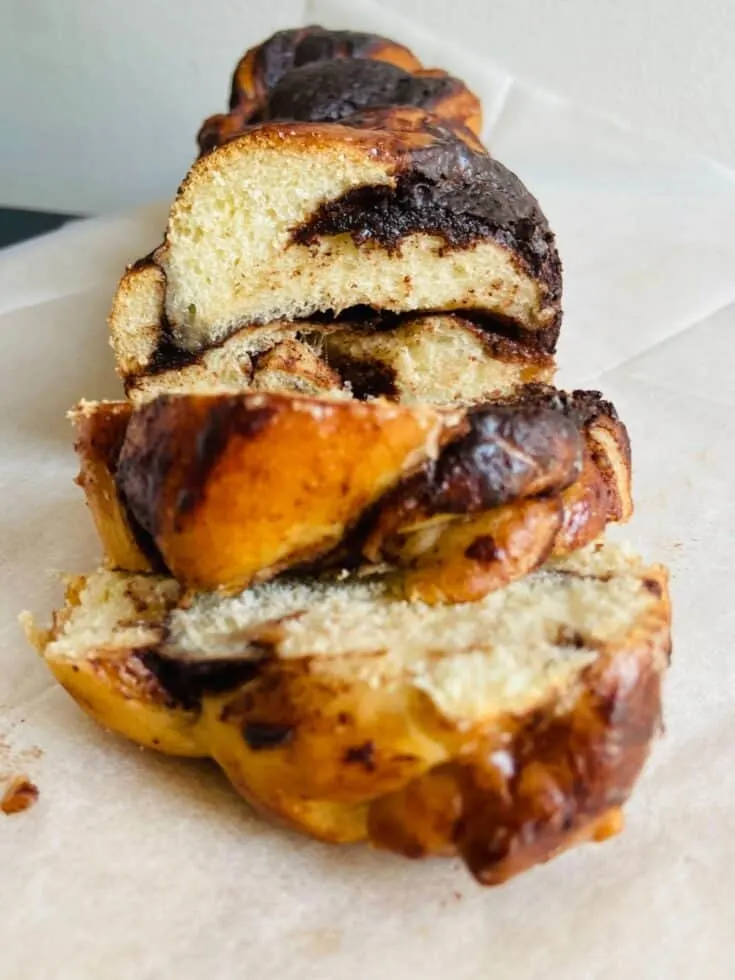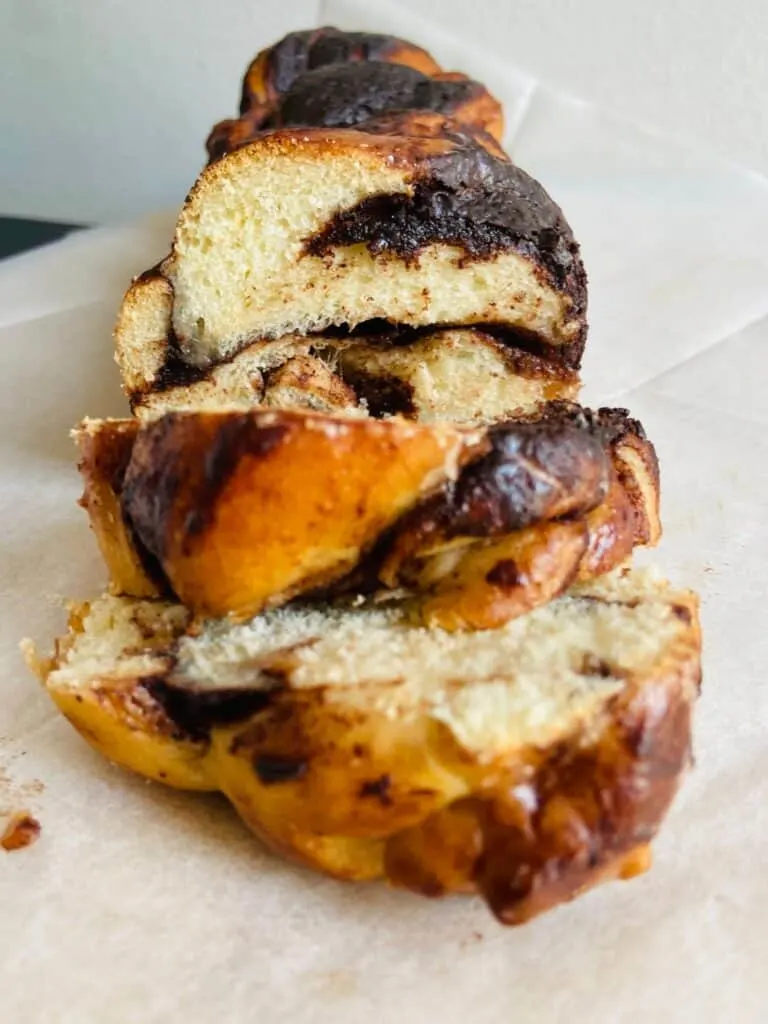 Swap in this cinnamon filling for the chocolate one above, or make half of each filling recipe to make one cinnamon babka and one chocolate.
Ingredients
4 oz Vegan Butter/Margarine (1/2 Cup)(114g)
Instructions
Combine the sugar, cinnamon, and flour in a small bowl.
Melt the vegan butter and whisk it into the dry ingredient mixture until well combined.
Use as the filling in place of the chocolate mixture above.
Recommended Products
As an Amazon Associate and member of other affiliate programs, I earn from qualifying purchases.
Nutrition Information:
Yield:
20
Serving Size:
1
Amount Per Serving:
Calories:

86
Total Fat:

5g
Saturated Fat:

3g
Trans Fat:

0g
Unsaturated Fat:

2g
Cholesterol:

12mg
Sodium:

39mg
Carbohydrates:

10g
Fiber:

1g
Sugar:

9g
Protein:

0g
Disclaimer: This post contains affiliate links. This means we get a small commission at no additional cost to you if you purchase anything through one of our links.