Vegan Greek yogurt is a brunch staple at my house. It's so creamy, delicious and healthy, plus it is great as the base of vegan cheeses like labneh, in baked goods, smoothies, parfait cups and more!
After the first time I made homemade vegan yogurt, I was sold. It takes almost no time, no fancy equipment and costs a fraction of the price of the store bought varieties, and you have total control on what ingredients are in your bowl.
When I discovered that all you had to do to make a thicker soy Greek yogurt was strain it, that's when things really got exciting!
So if you want to have more yogurt in your life, this is the way to go. I've collected some tips and tricks for making Greek soy yogurt and getting the best results, so make sure to skim the post, although I'll try and include as much as possible in the recipe card below.
Greek Soy Yogurt Ingredients
All you need to make soy yogurt is:
That's it! Three ingredients.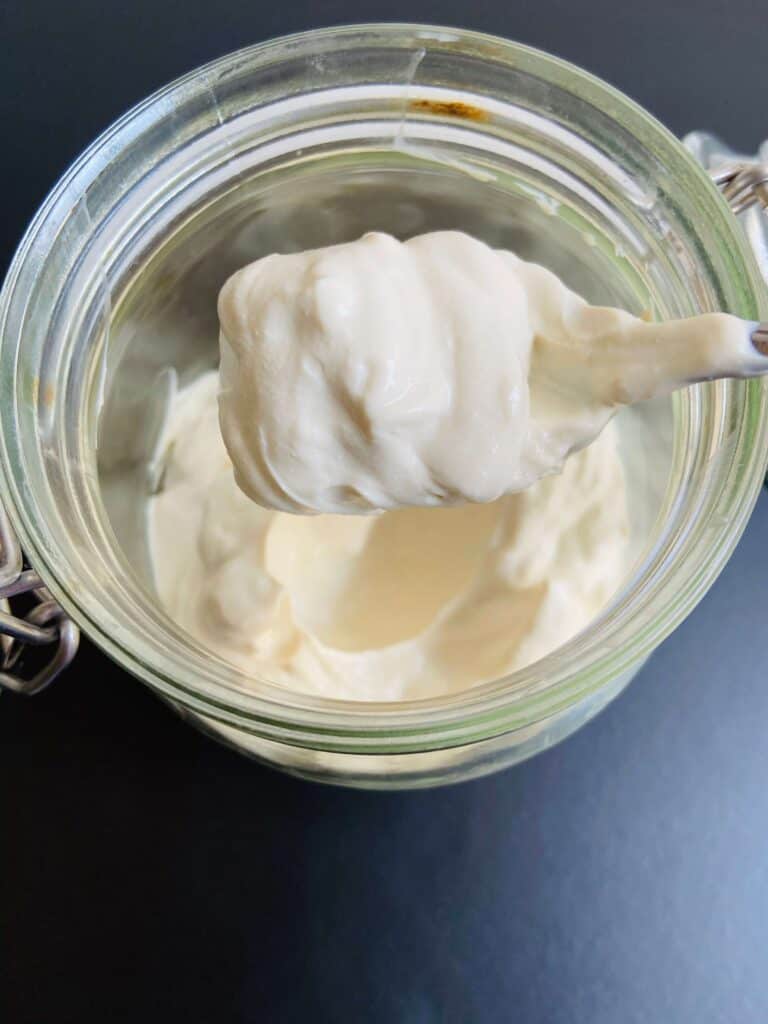 Soy Milk
The soy milk you use for this recipe must be plain, unflavored soy milk. No additives and no thickeners in the ingredients. No alternative milks, other milks don't have high enough protein content for the probiotics to work and properly thicken it.
You can order totally plain soy milk here.
Cashews
Adding cashews to the yogurt gives it more fat content and thus more richness. You don't need to include the cashews and you could swap them out for another nut or seed. I find cashews to have the most neutral taste and color in the yogurt though.
Leftover Vegan Yogurt Or Vegan Yogurt Starter
You can buy a vegan yogurt starter here
but you can also just use any vegan yogurt that has live probiotics in it. A small amount goes a long way.
After you make your first batch of this soy Greek yogurt, you can set aside some to use as a starter for your next batch.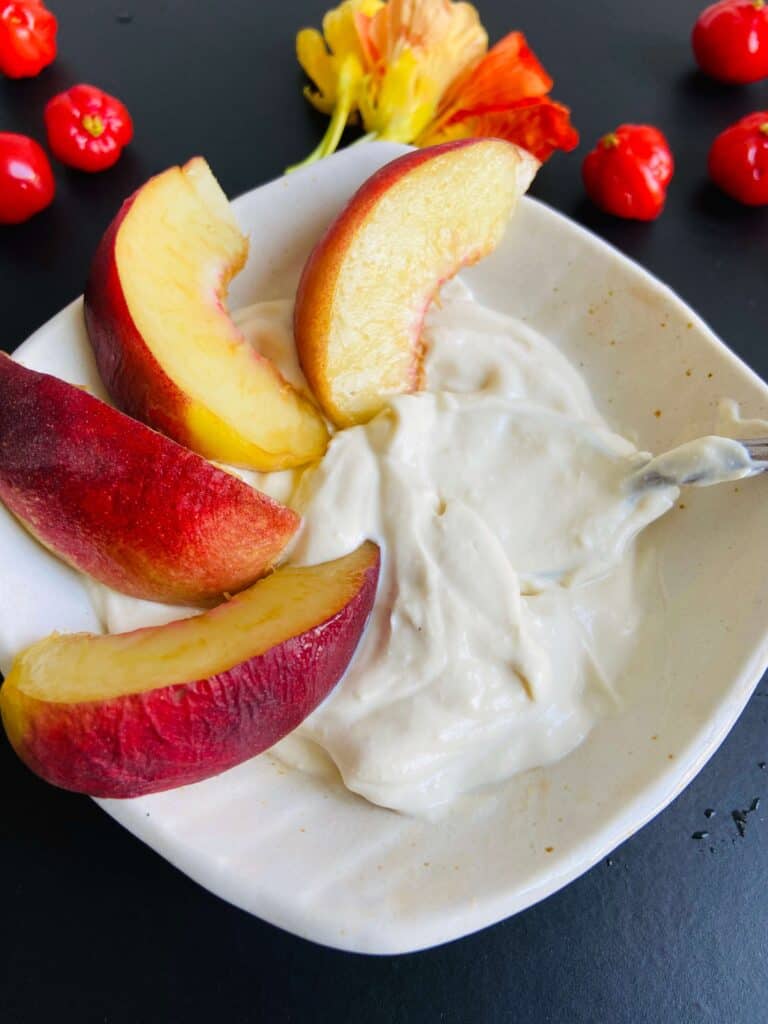 Making Soy Yogurt
To make the soy yogurt, first blend the cashews with just enough soy milk to cover it, until it's smooth. You can dump the whole soy milk in the blender but in my experience, it's harder to get the cashews one hundred percent blended if there is too much milk.
Warm the milk and the cashew/milk blend on a low heat on the stove, stirring so it warms evenly. If you have a kitchen thermometer
, use it to warm the milk to 110 degrees.
If you don't have a kitchen thermometer, you can test it like a baby's bottle, drip some on the inside of your wrist. If it burns you it's too hot but it should be very warm.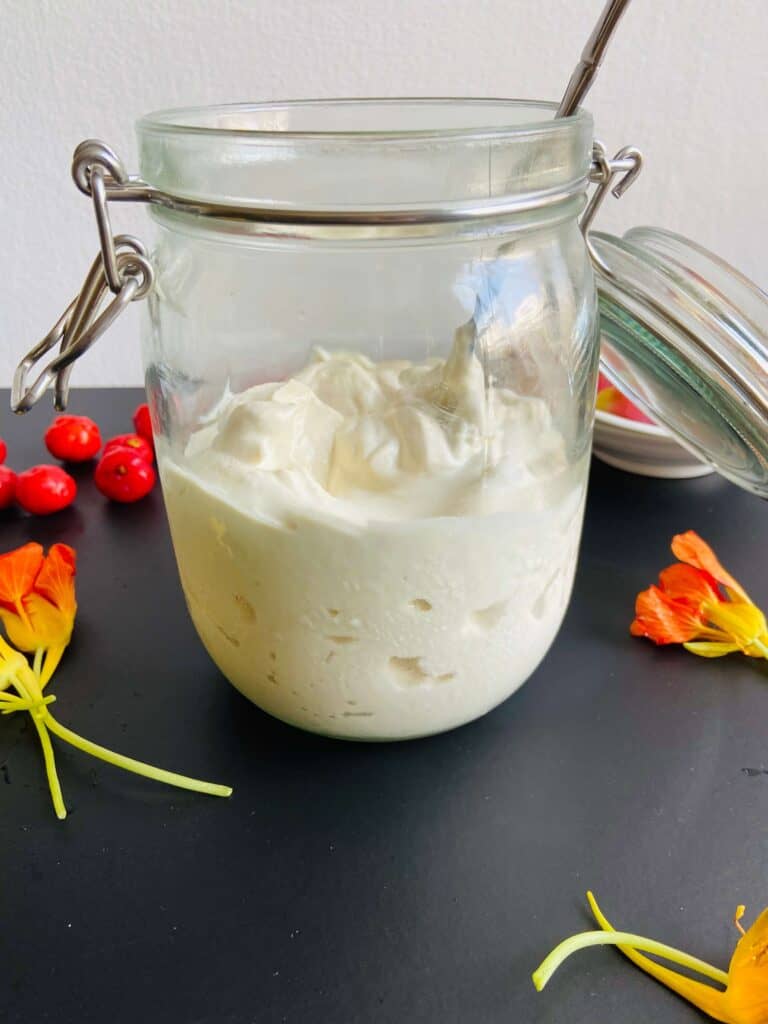 This is the only part of this recipe that requires some precision. The warm temperatures allow the probiotics to spread but if it's too hot it will kill them. Don't stress too much though, I usually err on the side of a little cooler to be safe if I'm not sure.
Once its warm, mix in the yogurt or yogurt starter and then pour into a large bowl or jars. Wrap the jars in towels to keep the warmth in and set them in the sun or anywhere warm. If it's winter, you can put it in the oven under the oven light.
Let it sit for 6-8 hours. When you unwrap it, you should have a big batch of plain soy yogurt! If you like a thinner yogurt, you can totally enjoy it as is, or flavor it at this point.
Straining Soy And Dairy Free Yogurt to Make Vegan Greek Yogurt
To turn it into soy Greek yogurt you'll need a cheese cloth
or really any thin breathable towel, without loose fibers. I actually repurposed one of our baby burp clothes we never used when I was short on a cheese cloth and it's now been permanently reassigned as a cheese cloth.
Take your cheesecloth or towel and spread it over a strainer or colander. Place the whole thing over a bowl to catch the liquid that is going to come out and then pour the yogurt into the cloth. Cover with the sides of the cloth and put the whole set up in the fridge.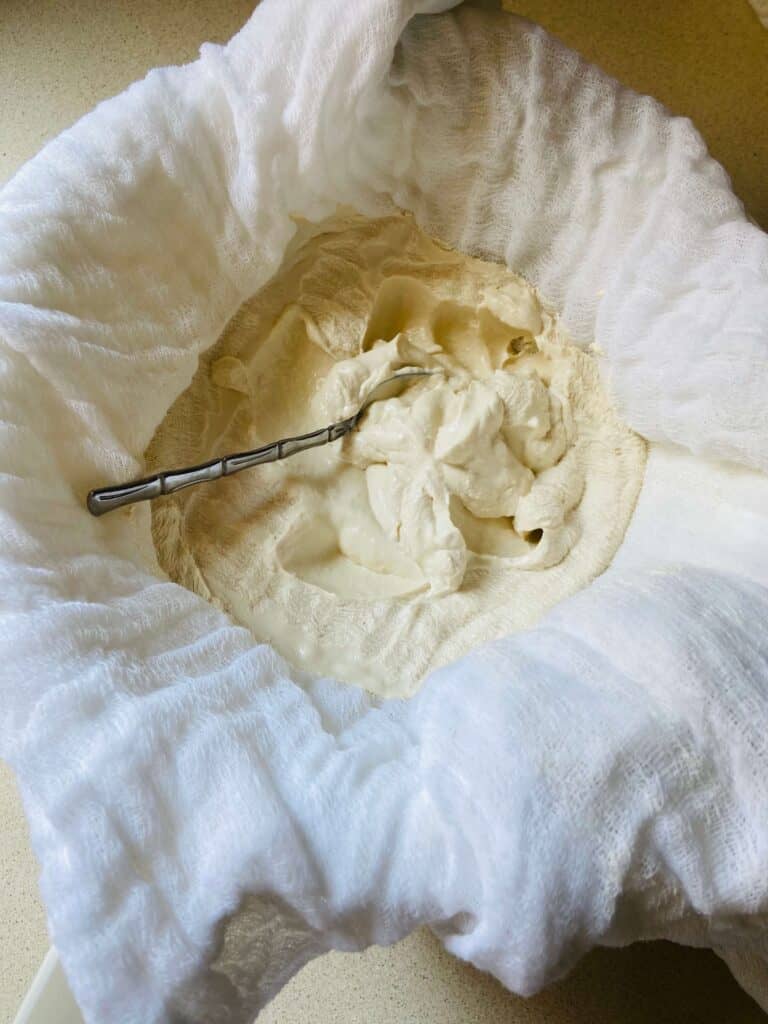 I leave it in the fridge for around four hours, at which point it's my favorite consistency. The longer you leave it, the thicker it will get, so the first time you make it you can check on it periodically until you figure out how long it takes to reach your ideal consistency.
Once it's done, transfer it to a jar and store in the fridge! If you prefer flavored yogurt, see below for some flavoring suggestions before you transfer it to the jar.
Soy Greek Yogurt – Flavoring Suggestions
Once you have the base, there is no end to fun flavoring possibilities. For most of these, you just need to stir the ingredients in. Liquid sweeteners like agave are the best to use. I tend to opt for quick and easy, so here are some of my favorites:
Stir in instant coffee and agave for coffee flavored greek yogurt.
A tsp or two of vanilla extract and sweetener of your choice for delicious vanilla yogurt.
Berry flavored jams or preserves are perfect for making 'fruit at the bottom' style yogurt cups or stir it through the whole batch to flavor the whole thing. Try this homemade raspberry apple jam.
If you plan on using some of your homemade yogurt as a starter for the next batch, be sure to leave some unflavored yogurt aside.
The Best Ways to Use Greek Yogurt
If you don't eat enough plain greek yogurt, here are some of my favorite ways to eat it!
Storing Greek Soy Yogurt
Yogurt should be stored in the fridge in an airtight container. It will last for around a week that way. If you have leftovers, you can freeze it and turn it into frozen yogurt.
Don't Forget To Pin This Recipe For Later!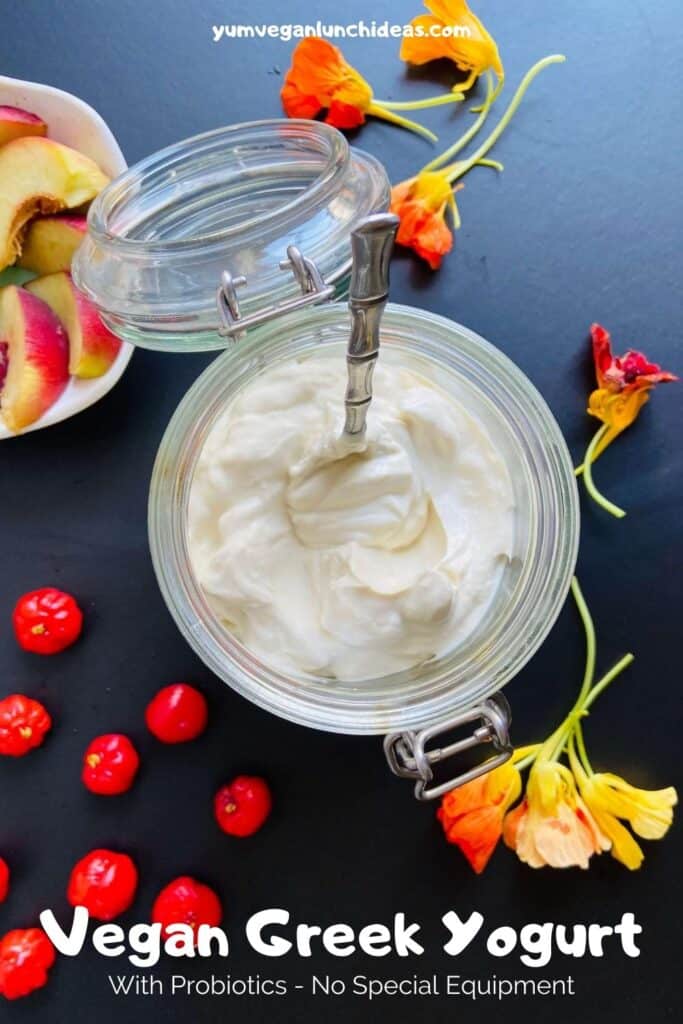 Yield: 4 Cups
Soy Greek Yogurt - Vegan Greek Yogurt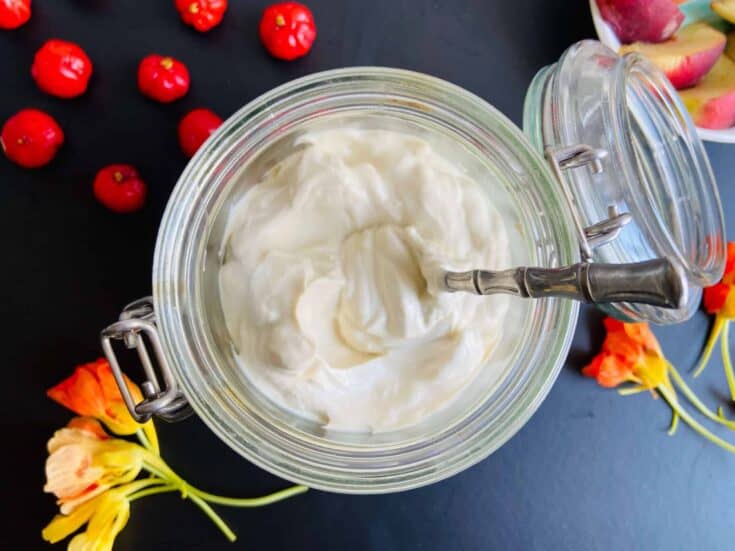 This delicious soy Greek yogurt is perfect for breakfasts, snacks, baking and more. It's super easy, only three ingredients and no special equipment required to make vegan Greek yogurt! With fun flavoring options as well, you wont get sick of this homemade vegan yogurt anytime soon!
Total Time
10 hours
15 minutes
Ingredients
1/3 Cup Soy Yogurt with Live Probiotics***
Instructions
Blend cashews with enough soy milk to cover it, until the mixture is smooth.
Add the blended mixture and remaining soy milk to a large pot or pan on the stovetop and warm gently over a low heat. Stir to ensure it evenly warms.
When it's heated to around 110F (See in post how to check temp without a kitchen thermometer), remove from heat and stir in the yogurt or yogurt starter.
Pour into a bowl or jar and wrap in towels to keep the warmth in and set somewhere warm for around 6-8 hours.
Once it's finished setting it should have thickened and be a regular yogurt consistency. If it's a little loose that's okay, but it should have thickened a considerable amount.
Place a colander or strainer into a large bowl**** and line with a cheese cloth or towel (breathable with no loose fibers) and pour in the yogurt.
Cover with loose ends of the cheese cloth and put in the fridge to strain for around 4 hours, or until it reaches the consistency you like.
If you want to flavor it, you can at this point (see flavor suggestions in post) or leave it as is if you like plain yogurt. Move it to jars or containers and store in the fridge.
Notes
* Make sure this is plain and unflavored without thickeners and additives, otherwise it may not thicken properly.
**You can leave these out altogether or choose another white nut.
***If you decide to start with a yogurt starter instead, use amount specified on the package.
****Make sure there is enough room for the liquids to drip out, the bottom of the colander should not be touching the bottom of the bowl or the liquid will have nowhere to go.
Nutrition Information:
Yield:
8
Serving Size:
1
Amount Per Serving:
Calories:

91
Total Fat:

5g
Saturated Fat:

1g
Trans Fat:

0g
Unsaturated Fat:

2g
Cholesterol:

0mg
Sodium:

97mg
Carbohydrates:

8g
Fiber:

1g
Sugar:

4g
Protein:

5g