Hannukka spirit is in the air, so I've started playing around with my vegan sufganiyot recipe! It's definitely takes a bit of work, but when you bite into this vegan jelly donut, it will all have been worth it as the jam oozes out of the sweet fluffy fried dough.
It's not the easiest to track down vegan jam doughnuts, ready made, and really what kind of Hanukka would it really be without them! So do you have a choice but to get to the kitchen and whip up these amazing vegan donuts?!
Whether you are Jewish and in the holiday spirit or you just miss these delicious fried vegan donuts, let's get cooking!
Vegan Donuts Ingredients
To make the vegan jelly donuts you'll need:
Alternate Vegan Sufganiyot Fillings
Strawberry jam is the most classic filling for the donuts, but it's fun to have a variety of fillings and to switch things up. Obviously you can choose other flavors of jams (like this homemade raspberry apple jam), but you also have some other fun options.
One of the yummiest fillings, in my opinion, is a cream filled donut. Whip up some of this vegan custard for a really creamy filling. If you are more into a chocolatey mood, just add cocoa powder to the custard before filing them.
Feeling more of a dulche de leche vibe, use this vegan salted caramel sauce as the filling. And of course apple or pumpkin butter always makes an amazing filling!
How to Make Vegan Donuts – Vegan Yeast Donuts
In a medium bowl, mix together the yeast with a pinch of sugar and warm water. Mix it gently and let it sit for around five minutes until the yeast starts forming bubbles.
This process is to activate the yeast. If it doesn't bubble, your yeast may be too old or not active for other reasons.
Also be sure to check the temperature of the water. Yeast needs warm water but it can't be too hot or it will scald the yeast and it won't activate. Check it on the inside of your wrist to tell if it's too hot, same as you might with a baby bottle.
While your yeast is sitting, grab a large bowl and mix together the flour, baking powder, remaining sugar, and salt. Mix it well to incorporate.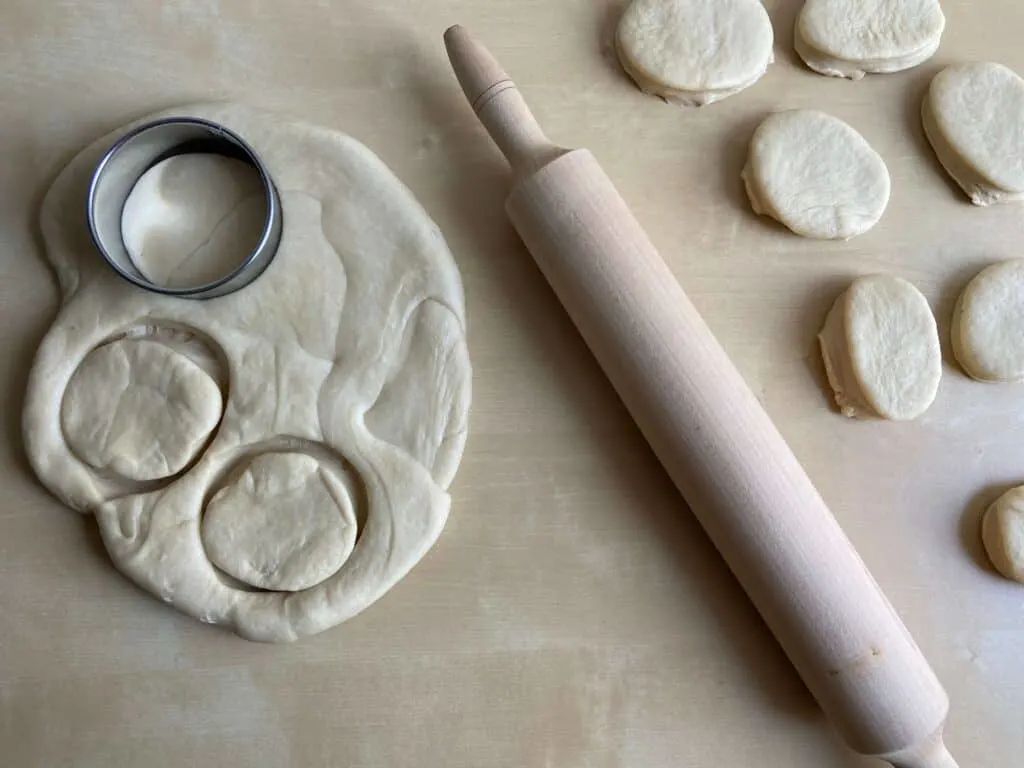 Once the yeast is ready, mix in the oil and then add the whole wet mixture to your dry mixture. Start mixing, either by getting down and dirty using your hands or mix with a spatula until it's further incorporated.
Once it forms a loose dough, start kneading. You can do it by hand or by using the dough hook on a mixer. The dough will probably be on the stickier side to start. Add the extra flour little by little until the dough has become a smooth ball and is no longer sticking to the sides on the bowl.
Cover the dough with a damp towel and set aside some place warm to rise for around two hours, until it's doubled.
Once the dough is finished rising, punch it down and roll it out. Using a circle cutter cut out peices of dough and until you are out of dough. Mash the scraps together and roll out again so you can make more circles. Continue until there is not enough dough left to make more cut outs.
Lay out the circles on a baking sheet, spread out enough for them to rise without touching, cover with a damp towel, and allow it to rise again for 30-45 minutes.
Fry the Homemade Vegan Donuts
Before the dough finishes rising, heat up enough oil to deep fry the donuts in a deep pot. The bigger the pot, the more donuts you will be able to fry at one time, the fewer batches you need to do.
If you have a candy thermometer, heat the oil until it's at around 350 degrees. If you don't not to worry, just drop a small peice of dough in to check the heat. It should start bubbling furiously when the dough goes in and take a few minutes for the dough to brown.
When the oil is at the right temperature, drop as many donuts as you can without crowding them. There should only be one layer with some room around the vegan donuts.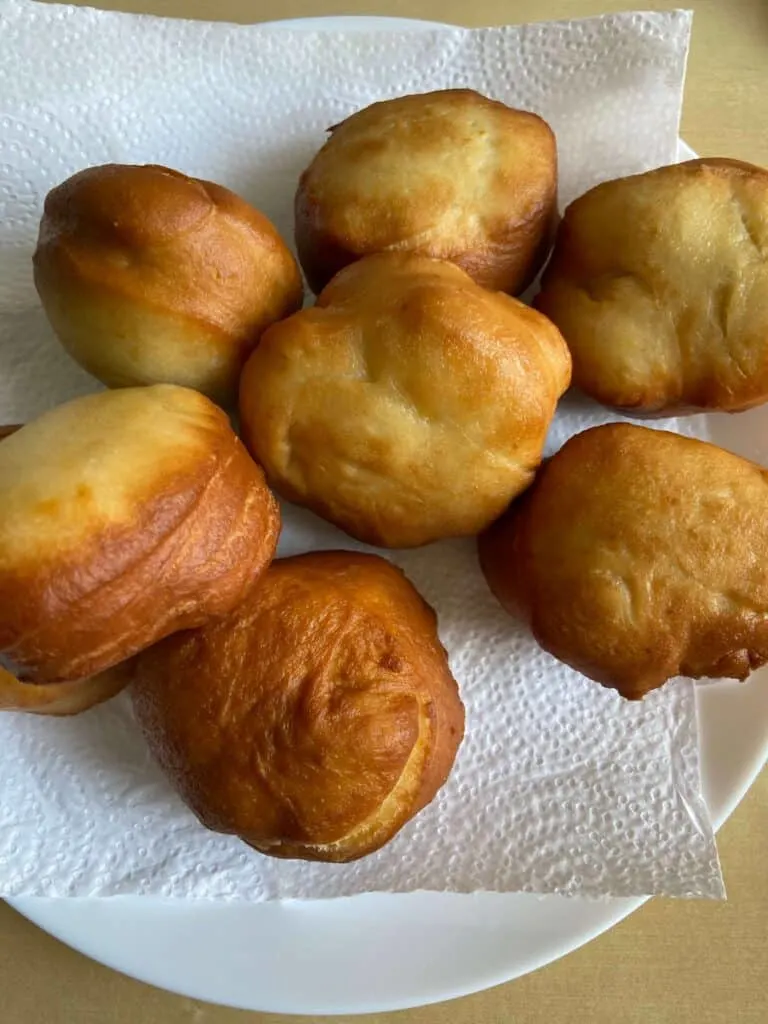 Take the first donut out and cut in half to check for doneness. If your oil was too hot, it might have browned before the centers had a chance to cook completely. If your donut is cooked through, continue on cooking. Otherwise adjust the heat.
It should take them around 5 minutes to cook. They will float to the top so if you want even coloring, you may need to flip them. When they are done cooking, remove with a slotted spoon and either place on a paper towel lined plate to soak up excess oil, or on a wire rack to let the oil drip down.
Repeat with as many batches as it takes to fry them all. Once you are finished, let the donuts cool enough that you can easily handle them.
Filling the Vegan Fried Donuts
Fill an icing bag, a squirt bottle, or a plastic bag cut with an icing tip and the end with the jelly or other filling of your choice. Shove the tip of bag/bottle as far into the donut as you can from either the top or the side.
If you are having trouble, take a skewer and make a hole by sticking it in a wiggling it to widen the whole and then put your bag/ bottle in it.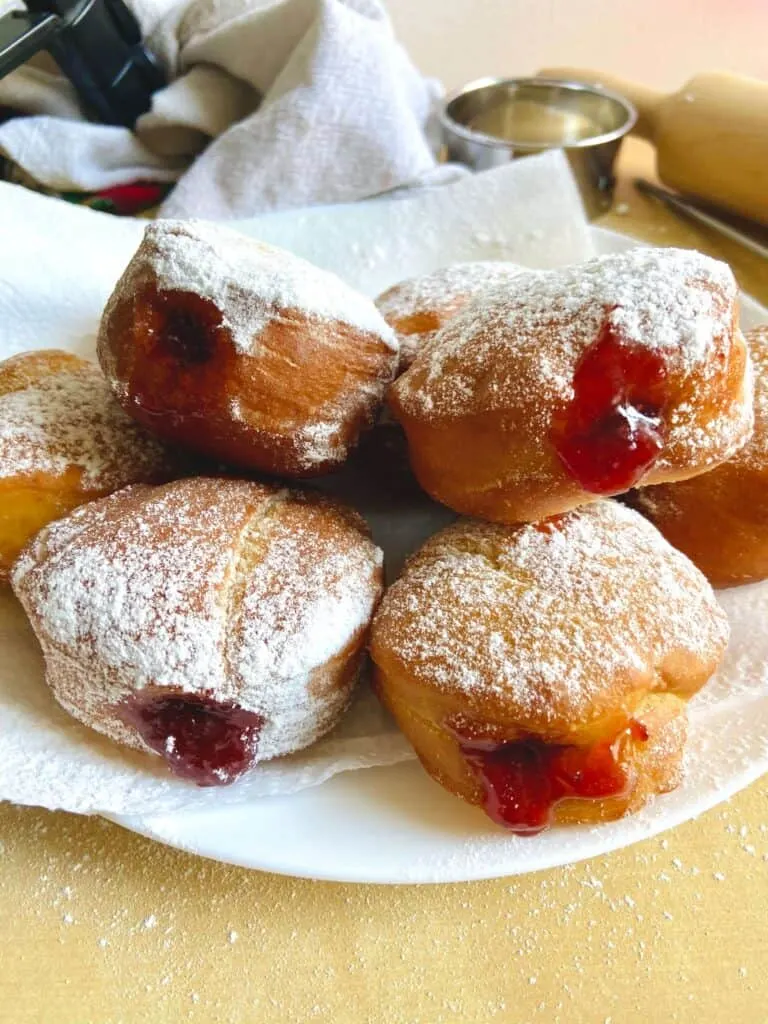 Squish the jelly in as you pull the bag/bottle slowly out of the donut, creating a nice fat stream of jelly. Dust the donuts with powdered sugar either immediately before serving or after they've cooled completely.
Prep the Powdered Jelly Donuts Ahead of Time
We all know that donuts are just not as good the next day so I wouldn't reccomend making them ahead of time. You can however make the dough, and cut out the dough rounds ahead of time.
Once they've been cut out, freeze them on a baking sheet until solid and then wrap them or store them in a freezer safe container until you want to cook them.
To use, allow them to defrost on the counter until fully defrost and they've completed the second rise (they should have puffed up again.)
Don't Forget To Pin These Donuts For Later!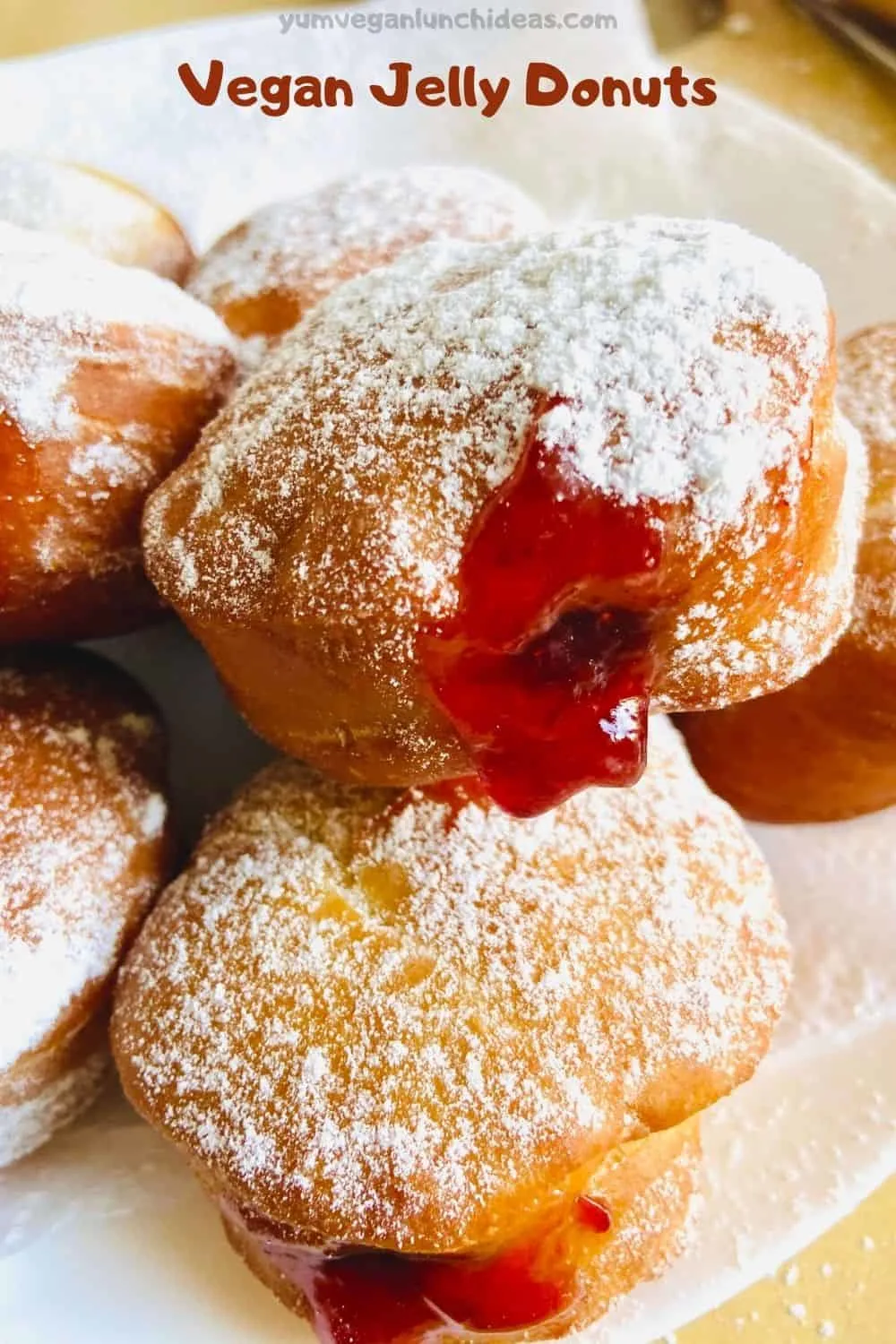 Yield: 17 Donuts
Vegan Jelly Donuts | Vegan Jam Doughnuts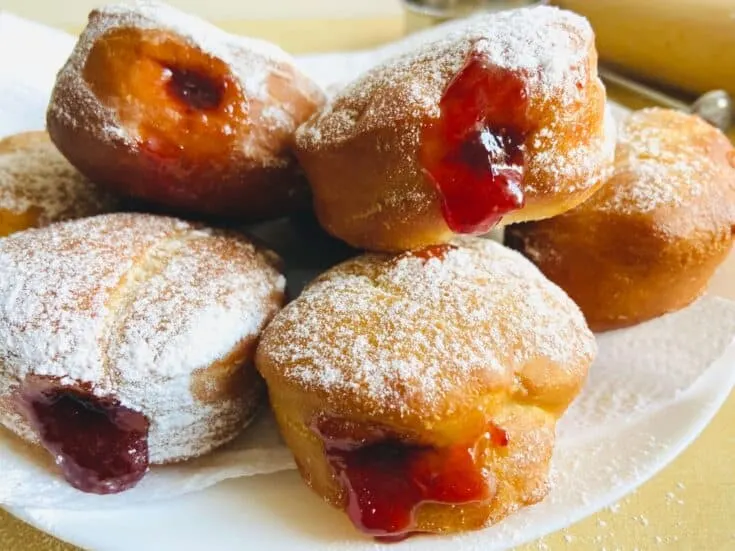 These amazing fried vegan jelly donuts are the perfect treat, whether as vegan sufganiyot for hanukka or for any day you need some vegan donuts in your life. You can whip these vegan jam doughnuts up with basic pantry ingredients, and try out different filling to keep things fresh!
Additional Time
2 hours
30 minutes
Total Time
3 hours
30 minutes
Ingredients
Instructions
1. In a medium bowl, mix together the yeast, a pinch of the sugar and the water. Mix gently and set aside to activate for five minutes. It will be bubbly when it's ready.

2. In a large bowl or mixer, add all the dry ingredients (only 3.5 cups of the flour) and mix until well combined.

3. When the yeast mixture is ready, add the oil to the mixture and then pour the whole wet mixture into the dry mixture.

4. If you have a mixer, you can use the dough hook to do the mixing and kneading in the next steps.

5. Use a spatula or your hands to mix until a loose dough has formed.

6. Turn onto a counter and knead until the dough has formed a smooth ball and no longer sticks to the side of the bowl. You may need the extra flour to accomplish this. Add flour as you go if needed to make it less sticky. (This will depend on the brand of flour you use as well as the local humidity).

7. Once a nice dough ball has formed, return it to the mixing bowl and cover with a damp towel. Set in a warm place to rise for around two hours or until doubled.

8. Once it's finished rising, punch it down and roll it out. Using a circular cookie cutter, cut out as many circles as possible and then ball the remaining dough, roll it out again and make more cut outs.

9. Line up the cut out dough on a baking paper and cover with a damp towel again and allow it to rise in a warm place for around 30 minutes, until it's puffed up again.

10. Heat frying oil to around 350 degrees. If you don't have a thermometer, drop a tiny piece of dough into the oil to check, it should bubble and boil furiously when the dough goes in. If you aren't sure of your temperature, do the first batch with only one sufganiya and when it's done, cut it open to check that it cooked through and is a good temperature. If it's undercooked inside, the oil is too hot, if the donut took way too long to cook, the oil isn't hot enough.

11. When the oil is ready, drop as many sufganiyot as you can fit without any overlap into the oil. It should take around five minutes to cook, they will rise to the top, flip them halfway through to get even coloring on both sides of the donut.

12. When they are golden browned remove them from the pot and place either on a wire rack to allow them to drain or on a paper towel lined plate to absord the excess oil.

13. Once the dounts have cooled enough to easily handle, fill an icing bag with a wide tip or a squeeze bottle with your strawberry jam. The wider the opening on either, should be wide enough to let a thick stream of jam out.

14. Jam the tip as far into the donut as possible and squeeze while slowly pulling it out of the donut so you are left with a thick layer of jam in the center. If you are having trouble getting it far enough into the donut, stick a skewer into the donut first and wiggle it around to widen the hole. Repeat with all the donuts.

15. Before serving or when the donuts have fully cooled, heavily dust with powdered sugar. Enjoy!
Recommended Products
As an Amazon Associate and member of other affiliate programs, I earn from qualifying purchases.
Nutrition Information:
Yield:
17
Serving Size:
1
Amount Per Serving:
Calories:

455
Total Fat:

2g
Saturated Fat:

0g
Trans Fat:

0g
Unsaturated Fat:

1g
Cholesterol:

0mg
Sodium:

206mg
Carbohydrates:

98g
Fiber:

3g
Sugar:

16g
Protein:

11g
You may also love
Disclaimer: This post contains affiliate links.