This avocado peanut butter toast is delicious and nutritious, packed with protein and good fats, it is sure to satisfy. Don't hesitate to try this creamy combination – it works deliciously together and you wont look back! This is an easy, satisfying toast topper that is vegan, nutritious and filling.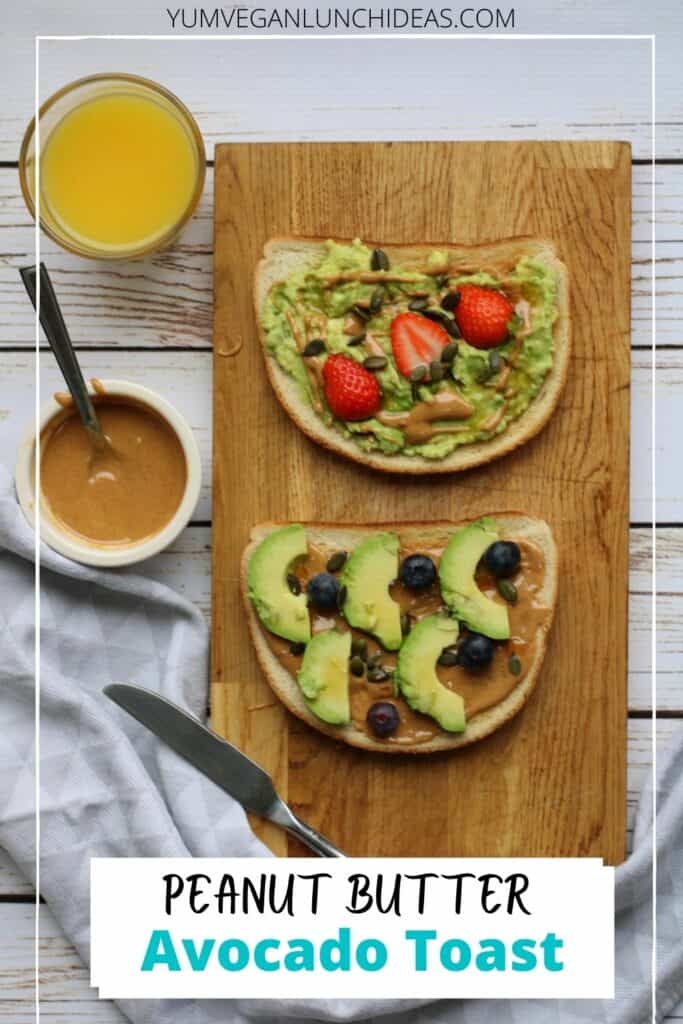 Theres so many great combinations with avocado toast – but peanut butter was one that surprised me. I absolutely loved this peanut butter avocado combination, topped with some juicy fresh berries and a little maple syrup.
Prep time is essentially minimal as you can cut the avocado as the bread is toasting. I also love the combination of avocado, peanut butter banana.
Peanut Butter and Avocado Toast
Does peanut butter and avocado go together? Yes, absolutely! I did question this initially when I first encountered the idea. I wasn't too sure about peanut butter avocado toast.
Then I gave it some more thought about how avocado is a bit of a blank canvas and can be adapted either sweet or savoury.
I dressed my avocado and peanut butter toast with some delicious fresh strawberries, blueberries and runny maple syrup. It was delicious! It's now one of my go to quick breakfasts or brunch recipes.
Avocado toast has never tasted so delicious!
Peanut Butter and Avocado Toast Benefits
Peanut butter is a healthy dose of protein and good fats. It has some essential vitamins and minerals. Avocado is another great source of fats – so together they make a particularly filling and nutritious breakfast, brunch or snack.
A bonus of fresh berries gives some added antioxidants and vitamin C to the peanut butter avocado toast.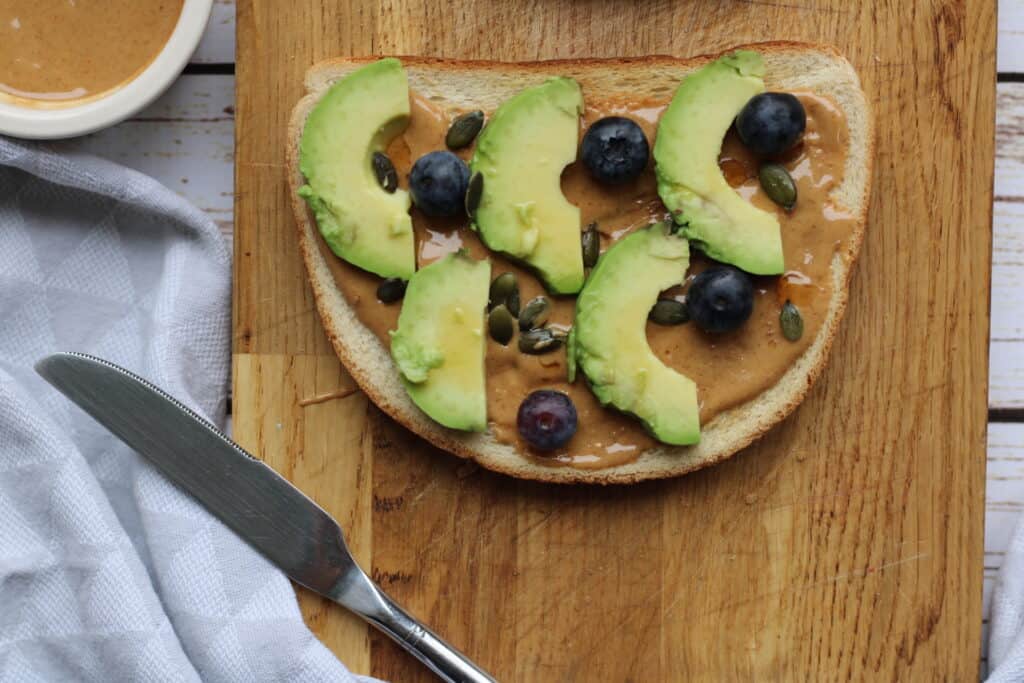 What type of bread to toast?
This is all dependent on your dietary needs, preferences and accessibility! I used a delicious soft white farmhouse loaf of bread for my peanut butter and avocado toast.
I absolutely love sourdough toast and a delicious tiger bread for my avocado peanut butter toast.
You could edge more towards the healthy side and opt for a seeded or wholegrain bread to boost its nutritional value.
Vegan Sweetener
There are literally so many alternatives to honey which are now easily accessible.
You can even make your own homemade vegan honey using this awesome recipe from the beautiful Sevenroses blog.
How To Serve Avocado Peanut Butter Toast
This toast dish is fairly versatile in terms of toppings. Here are some of our best suggestions:
Strawberries
Blueberries
Raspberries
Toasted coconut flakes
Pumpkin seeds
Sunflower Seeds
Chia Seeds
Peach slices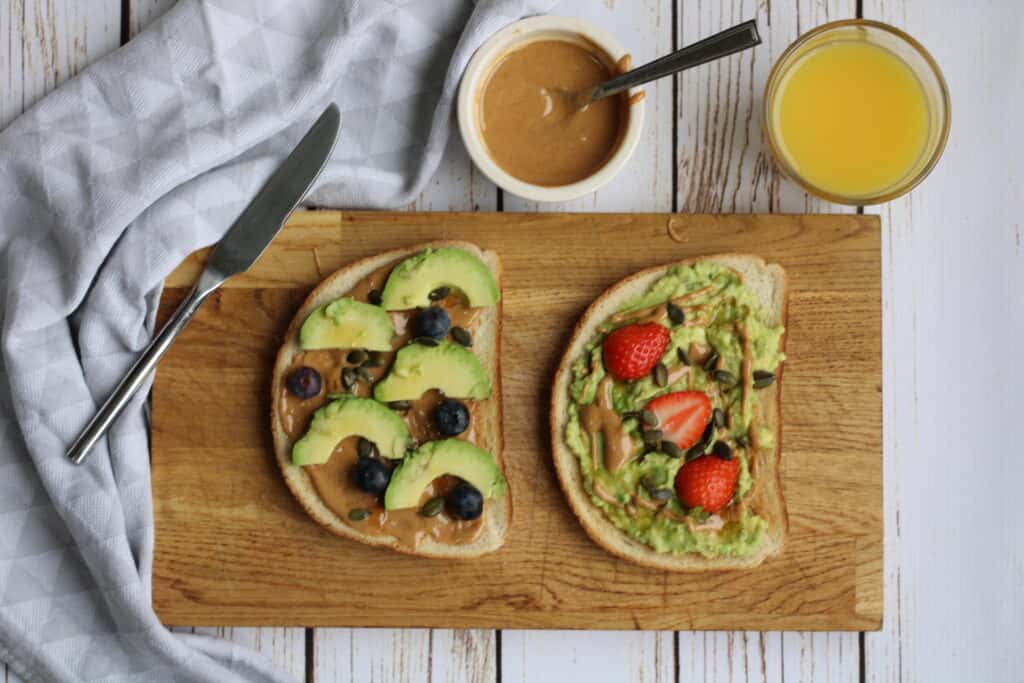 Yield: 2 slices
Avocado Peanut Butter Toast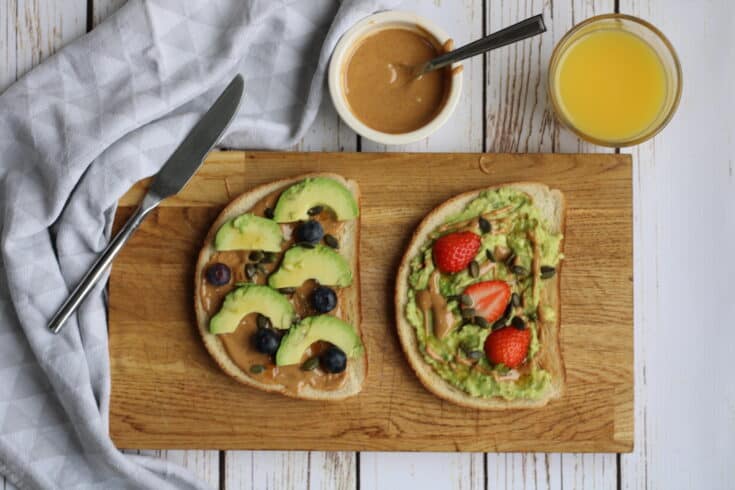 Ingredients
2 slices of bread
1 medium avocado
2 tbsp peanut butter
Optional
Handful of berries
Maple syrup
Instructions
Place bread in the toaster and toast to your desired
Whilst the bread is toasting, cut the avocado in half, mash one half and slice the other
Place the mashed avocado on one of the slices of toast, drizzle 1 tbsp of peanut butter over this one
With the other slice of toast, spread the other 1 tbsp of peanut butter on this one - then place the sliced avocado on there.
If using, sprinkle some fresh berries over the slices of toast with a drizzle of maple syrup - so good!
Recommended Products
As an Amazon Associate and member of other affiliate programs, I earn from qualifying purchases.
Nutrition Information:
Yield:
1
Serving Size:
1
Amount Per Serving:
Calories:

753
Total Fat:

48g
Saturated Fat:

8g
Trans Fat:

0g
Unsaturated Fat:

35g
Cholesterol:

0mg
Sodium:

474mg
Carbohydrates:

75g
Fiber:

19g
Sugar:

22g
Protein:

17g
this is an estimate
You may also love:
Sunflower Seed Cream Cheese Recipe