We are big fans of vegan mayonnaise over here but also conscious of the shop bought nasties. I have been experimenting (a lot ) with different ingredients and have come up with this really good plant based mayo recipe that does not sacrifice any of the usual flavours.
Mayonnaise is thought to originate in France and goes as far back as the 1700's. Typically, the original recipe, or the one we mostly see in supermarkets is egg based and full of many additives.
Vegan mayonnaise is such a common ingredient in so many recipes out there. Whether you're making potato salad, or vegan tuna and sweetcorn salad, it's just so good to have your own stash of healthy vegan cashew mayo.
This recipe is oil free, refined sugar and soy free. It's just full of goodness and keeps in the fridge for a few days too. I have to be honest, it's so moorish, you might end up literally eating it out of the blender.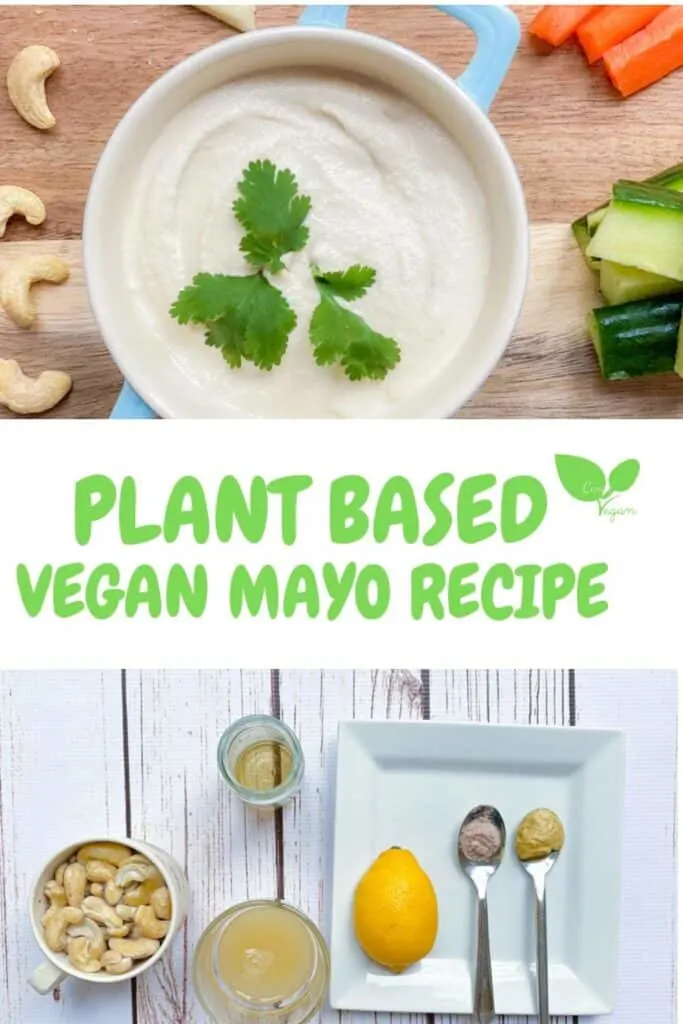 Vegan Mayo No Oil Recipe
The key to making your own vegan mayo is having a really good mini blender. There are two on the market that I really like!
The Ninja food chopper and the Kenwood mini chopper. I really like using a small blender for small amounts of ingredients so you don't end up with so much of it sprayed on the inside.
When working with small amounts of ingredients I love my mini chopper to reduce waste, especially where some ingredients can be expensive, namely cashews!
Oil Free Mayo
In this recipe we use soaked cashews as our main ingredient. We also use aquafaba which is the water drained from a can of chickpeas. Aquafaba is like liquid gold in the plant based community.
Aquafaba woks as a gelling agent, of course is completely healthy and such a great alternative to oil and worse, eggs! I've spent years straining this liquid and pouring it down the drain.
It's so great to find ways of using everything to minimise waste. The rest of the ingredients are likely to be in your pantry, these include a small amount of black salt AKA kala namak.
You'll also need a drop of lemon and apple cider vinegar, that's it! Aside from soaking the cashews, this recipe only takes 5 minutes to make.
This vegan mayo stores well in a sealed contained for 3 to 4 days in the fridge. You can use it with just about anything. From salads, to some good oul potato wedges as a dip, the options are endless.
This vegan mayo is:
If you like this recipe, you make also like:
Yield: 6
Plant Based Mayo Recipe (Vegan Mayo No Oil)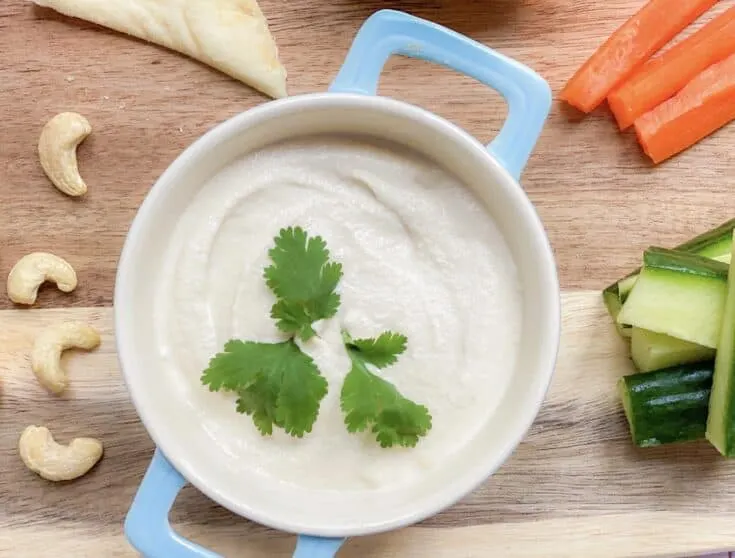 Try this delicious plant based mayo recipe. It only takes a few minutes to make and a handful of ingredients that you probably have at home! It's perfect for salads, sandwiches or alongside a bowl of warm potato wedges.
Ingredients
1 cup of cashews
1/4 a cup of aquafaba
1/4 tsp of black salt
1/4 tsp of mustard
1tbsp of apple cider vinegar
1 tbsp of lemon juice
Instructions
Soak the cup of cashews overnight, or if you don't have time, soak them in warm water for two hours. This will help to make them soft.
Strain the aquafaba from a can of chickpeas and add to the blender.
Next add the soaked cashews, mustard, black salt, apple cider vinegar and the lemon juice.
Blitz in the blender until creamy and smooth.
Refridgerate before serving.
Notes
Blending sauces that are traditionally smooth take time to get the right consistency. You really need to persevere and give it time. If you have the option to automate your blender, set it for ten minutes to begin with and then check the consistency.
Keep your chickpea water, you can freeze it if you can't find use for it straight away and of course you can make this yummy mayo at any point.
If you have a nut allergy, there are a tonne of other vegan mayo options, some use almond milk or silken tofu.
Keep in the fridge for roughly 4 days in an air tight container, see recommendations below.
Serve with veg sticks, on a sandwich or with a salad.
To make this into a vegan aioli, simply add a clove of minced garlice to the blender.
Nutrition Information:
Yield:
6
Serving Size:
1
Amount Per Serving:
Calories:

132
Total Fat:

11g
Saturated Fat:

2g
Trans Fat:

0g
Unsaturated Fat:

8g
Cholesterol:

0mg
Sodium:

246mg
Carbohydrates:

8g
Fiber:

1g
Sugar:

1g
Protein:

4g