We recently made a homemade vegan lox bagel with our very own vegan cream cheese recipe. It might sound like a difficult thing to do but I promise this vegan cashew cream cheese is actually really easy.
For many people that have chosen the vegan lifestyle, cheese was one of those things that was difficult to give up. Believe me, looking back now, I have no idea why I was so keen on cheese!
There are not very many vegan cheese options out there that don't really hit that flavour but I have to admit, I absolutely love this cream cheese recipe.
It doesn't taste like dairy but it is a really good replacement in my opinion. It has a smooth and creamy texture and is versatile in terms of adding preferable flavours.
If you want more soft spreadable vegan cheeses, you should also check out our easy labneh recipe.
Vegan Cashew Cream Cheese Recipe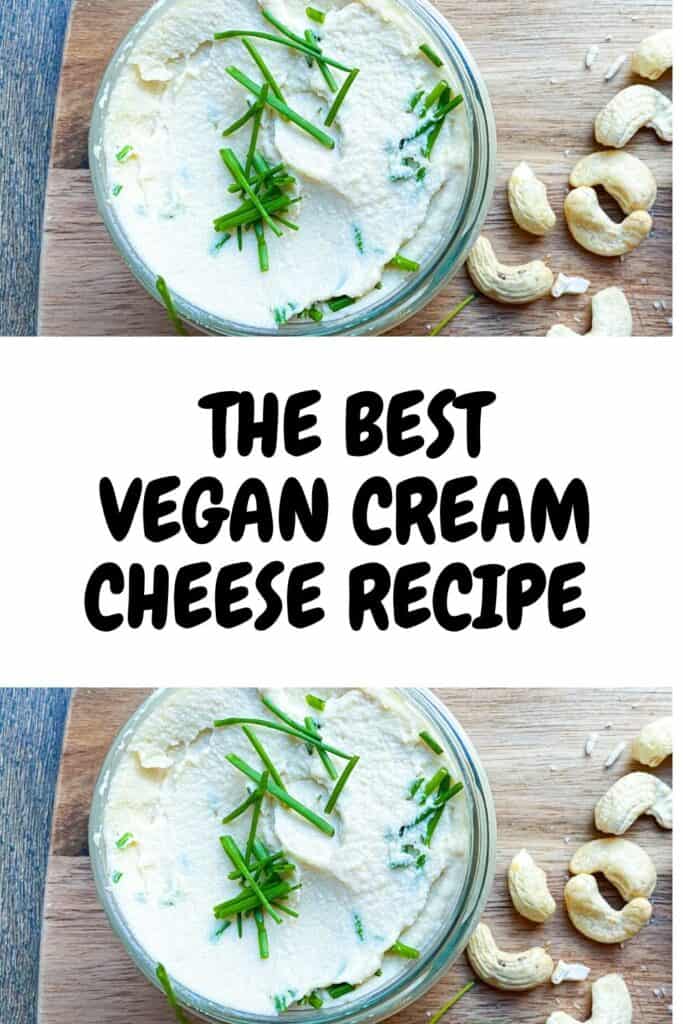 Cashews are the main ingredient and obviously are packed full of protein and vitamins. They are considered super healthy nuts.
They contain omega 3, calcium, zinc, iron, magnesium and folate to name a few incredible health properties.
Cashews are also thought to help reduce the risk of diabetes, boost the immune system and assist in the production of red blood cells, reducing the risk of anaemia.
I guess you could consider cashews to be a superfood, so it really is hard to believe you can make them into something as enjoyable as a vegan cream cheese!
Homemade vegan cream cheese is obviously preferable if you want to reap the health benefits. There are no additives or chemicals, just pure goodness.
This is actually a recipe kids can get involved with! It's so easy to make. With only a handful of ingredients and a blender required, there is virtually no mess, making it east for little ones to help out.
Homemade Vegan Cream Cheese
I find shop bought cashew cream cheeses expensive! Making a homemade vegan cream cheese is so much more affordable and I think anyone can try this out, even if they are not much of a whizz in the kitchen.
It's literally fool proof. The hardest thing you have to do is soak a cup of cashews overnight.
The longer you soak them the more creamy the consistency of your cashew cream cheese will be!
If you want to speed up the process you can add hot water to the cashews. I generally use a cup of cashews in a pot and add a cup of hot water.
I leave them to one side in the kitchen overnight with the lid on. The next morning they should look swollen and the colour changes slightly to a more white / beige colour from the water that's been soaked up.
Vegan Cream Cheese Recipe
After the cashews have time to soak, you will need to strain them and add them to the blender. They are very much the base ingredient, anything else you add is for different flavour notes.
in my opinion, a squeeze of lemon, nutritional yeast and onion powder are vital ingredients. This combination gives the best variety of flavours.
Nutritional yeast is another highly nutritious vegan food found in so many recipes. It's thought it has antioxidant properties, can boost immunity and lower cholesterol.
It's hard to believe a cream cheese has ingredients that have such a wide variety of health benefits. I am a big lover of nutritional yeast and the flavour it offers different dishes.
I quite often use nutritional yeast AKA nooch on as a parmesan replacement on pasta. It has a nutty flavour and the flakes easily melt into the food.
It also melts into the cream cheese leaving only flavour and nutritional goodness.
The lemon gives this recipe a sour note, whilst the onion powder provides the sharpness and a little sweetness.
Onion powder is no where near as pungent as fresh onions, it is a fine dry consistency and blends into the cream cheese perfectly.
The Best Blender To Make Vegan Cream Cheese
The last thing you want to do is waste your ingredients by putting small quantities into a big blender and spraying it around the inside.
There are two really good mini blenders out there that are perfect when working with smaller quantities of ingredients. The Ninja Food Chopper and the Kenwood Food Chopper are ideal for this scenario.
As a vegan, I feel I am forever making my own condiments, so my mini blender is truly my number 1 kitchen utensil.
Creamiest Vegan Cream Cheese
Once you've added all of the ingredients directly into the blender, you need to be patient. It takes time to get the creamiest consistency, I would say a minimum of ten minutes.
It's important to taste test intermittently. My secret ingredient is oat milk. Add small amounts to get an even better smooth and creamy consistency. You need to be careful not to add too much.
Cream Cheese Ideas
I actually love this cream cheese just as it is, but there are a tonne of things you can add to change the flavour to your preference. Here are a few ideas.
1/2 a tsp of truffle oil to make truffle cream cheese
1/4 tsp of sriracha to make a chilli cream cheese
1 tbsp of freshly chopped chives to make a chive cream cheese
Finely chopped walnuts and cranberries is another great idea to add crunch and chew
Add roasted garlic and black pepper if these are flavours you normally like.
Blend 1 small beetroot and 1/2 a tsp of wasabi for something really unusual but tasty!
Storing Vegan Cream Cheese
To store the cream cheese, add into an air tight container, preferably glass and store in the fridge. You can keep the vegan cashew cream cheese for up to 5 days.
Ways To Serve Vegan Cream Cheese
There are a tonne of ways you can serve vegan cream cheese. Our favourite way of using it is as a vegan bagel spread. However, here are some more ideas:
Cream cheese and crackers
Cream cheese and carrot battons for dipping
Tortilla chips with cream cheese dip
Cream cheese sandwich with lox
Grab Your ingredients
Keep reading on for the recipe, but if you've enjoyed this post, make sure to check out some of these recipes you may also like:
Yield: 4
Vegan Cream Cheese Recipe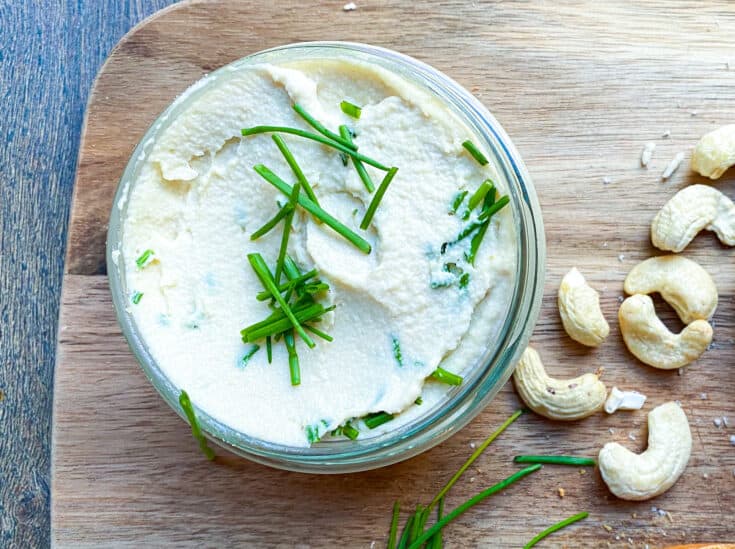 Try this delicious vegan cream cheese recipe. It's perfect for a vegan bagel spread or simply a dip with raw veggies. This is the most creamiest, smooth and health vegan cashew cream cheese EVER!
Ingredients
1 cup of raw cashews
2 tbsp of lemon juice
1 tbsp of nutritional yeast
1 tsp of onion powder
Chopped chives (optional)
1/4 a cup of oat milk
Instructions
Soak the cashews in a pot overnight. Add approximaltely 1 cup of cashews and 1 cup of warm water. If you don't have time to soak the cashews, add hot water and leave to one side for approximately 2 hours.
Once the cashews are ready, strain the excess water with a strainer.
Add the cashews to the blender with the other ingredients.
This includes the onion powder, freshly squeezed lemon and nutritional yeast.
Start blitzing, you need to be patient giving it around ten minutes to create a smooth cheese.
Add a few drops of oat milk if it's too dry. If you don't have oat milk, use water instead.
Taste test as you go to get the perfect flavour and texture.
If you decide to add chives, finely chop and fold in rather than blending into the mix.
When you are satisfied with flavour and consistency, add to an air tight container and refridgeratre.
The cream cheese is best served cold, straight from the fridge.
Notes
Dont forget you can add other flavours to your cream cheese. If you like chilli or garlic for example. This cream cheese can be easily adapted to your preferences.
I personally love truffle oil, it works really well in this recipe.
If you don't have onion powder, you can use garlic powder instead.
Dont forget to buy raw plain cashews. So many out there are salted but you don't want them for this recipe.
This recipe is perfect as it is and doesn't need additonal flavours, only add them if you have a preference.
Recommended Products
As an Amazon Associate and member of other affiliate programs, I earn from qualifying purchases.
Nutrition Information:
Yield:
4
Serving Size:
1
Amount Per Serving:
Calories:

198
Total Fat:

14g
Saturated Fat:

3g
Trans Fat:

0g
Unsaturated Fat:

10g
Cholesterol:

0mg
Sodium:

8mg
Carbohydrates:

13g
Fiber:

2g
Sugar:

3g
Protein:

7g
Disclaimer: This post contains affiliate links, by using them, it will not cost you any extra. We will get a teeny commission in order to keep on writing vegan recipes : )