I have travelled around the Mediterranean and Middle East extensively. One thing I hunt out time and time again is Baba Ganoush! It's my all time favourite dip. So with that in mind, it was time to create my own Baba Ganoush vegan recipe.
You'll find Baba Ganoush in Iraq, Armenia, Jordan, Lebanon, Israel, Palestine, Egypt, Syria and Turkey. It's a common appetizer in these parts of the world.
The dish varies slightly from place to place with alternative seasonings. For example, some will use coriander and cumin, whilst others garnish with fried onion and mix with mayonnaise.
Vegan Baba Ganoush is not difficult to make and is such a nice condiment with warm pitta bread, a salad or as a dip for vegetable sticks. Oh, and it's super good with falafel too.
It's a very simple recipe, the main thing is preparing the eggplant AKA aubergine appropriately.
Have you seen our beets and wasabi hummus recipe?
Vegan Baba Ganoush Recipe
Eggplant is a common vegetable originating from India. The skin can often be a deep purple colour and the flesh can often be bitter if it is not prepared properly.
The eggplant needs to be cut into appropriate slices in terms of thickness, otherwise it can crisp out when cooking.
Eggplant is a little water dense so it's important to squeeze some of the excess liquid out before cooking it.
You need to slice the aubergine in approx 1 inch / 2.5 cm thickness slices. Put them in a colander, with a layer of paper or tinfoil on top. Add some weight on top to squeeze the aubergine.
Apply the weight for 10 -15 minutes before laying the slices out on a lined baking tray. Rub salt and a small amount of oil into the slices on both sides.
Put the tray into the oven on the middle shelf on 450f / 230 c. Roast the aubergine turning regularly ensuring they do not crisp / dry out.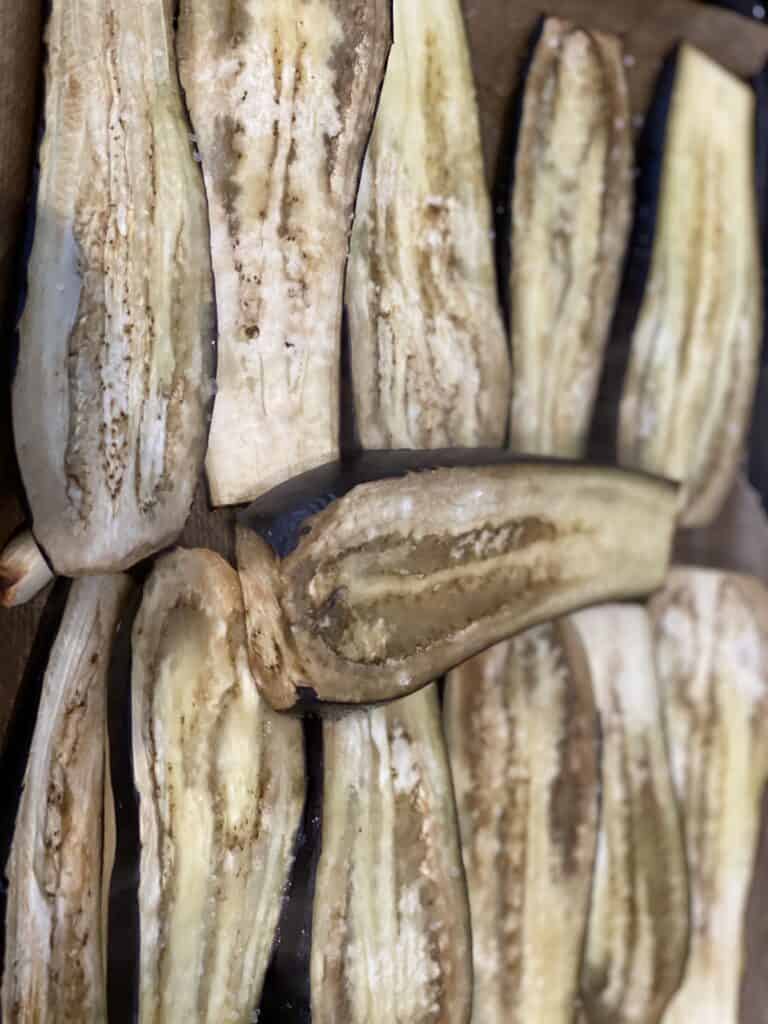 You want the centre of the aubergine to look wet, this is when you know it is ready. It will take approximately 35 minutes to roast. In the last 15 minutes, add a clove of garlic whole to roast.
Take the eggplant out of the oven and wrap in tinfoil to allow it to soften for around 5 minutes. This will make the skin peel off easily.
Once the eggplant is cool enough, peel the skin off. The skin is important during the cooking process for full flavour. It looks a little strange if it is blended into the mix, so it's better for it to be removed.
How To Make Vegan Baba Ganoush
Add the cooked / skinned eggplant to a blender along with the roasted garlic clove. You can also add lemon, paprika and tahini at this point and blitz.
I quite like having some texture in my vegan baba ganoush, so I don't blend it until smooth. However if you prefer it smooth, keep going with the blending until you are happy with the consistency.
Storing Vegan Babaganoush
I love vegan Baba Ganoush straight out of the blender, it's really good at room temperature but is also good from the fridge.
If you are not planning to eat it straight away, you can put it into a sealed container and store in the fridge for up to two days.
Serving Suggestions
Vegan Baba Ganoush is an amazing appetiser. It can be served with warm pitta or flat bread. You can serve it as part of a platter or sharing board.
It can also be used as a spread in a sandwich or with dipping veggie sticks.
Different Flavours & Ideas
With this recipe, I garnished with fresh coriander and a sprinkle of sesame seeds. However, as previously mentioned, there are a few different ways vegan Baba Ganoush can be prepared.
You can add a spoonful of vegan mayo to make it more creamy.
You can add crushed cumin during blending if that is a flavour you like.
Chilli powder is another option if you like a kick.
Fried onions on the top for an added layer of texture and flavour.
Grab Your Ingredients
Yield: 6
Baba Ganoush Vegan Recipe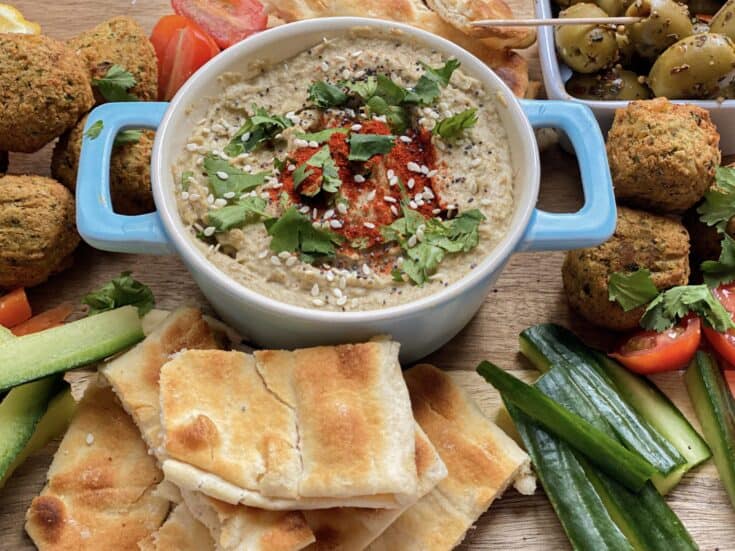 Try this delicious vegan baba ganoush recipe. From the comfort of your home you'll to exported to the Middle East with the flavours of this fantastic appetizer, it's literally the best Baba Ganoush vegan recipe out there.
Additional Time
5 minutes
Ingredients
4 large eggplants aka aubergine
1/2 a cup of tahini
The juice of one whole lemon squeezed
1 tsp of paprika
1 clove of garlic
Sprig of coriander for garnish (optional)
1 tsp of white sesame seeds for garnish (optional)
Instructions
Slice the eggplants in 3/4 inch thick lengthways. Keep the skin on.
Add the sliced eggplant to a colander, add weight to the top to squeeze the eggplant for approx 10 to 15 minutes.
Preheat the oven to 430 f / 230c and line a baking tray with foil.
Rub each slice with salt and a drizzle of oil.
Roast in the over for around 35 minutes, turning regularly and ensuring the eggplant does not burn.
Add the garlic clove for the last 15 minutes to the oven.
Turn the oven off and wrap the eggplant in tinfoil and set to one side. This will soften the skin and allow for easier peeling.
Once the eggplant is cool enough to touch, peel the skin off by hand.
Add the eggplant flesh, tahini, lemon, paprika and garlic clove to a blender.
Blitz to the consistency of your preference.
Serve immediately with warm flat bread, or chill in a a sealed. container for later.
Notes
See our notes above for additional ideas and flavours that can be added to this recipe.
You can add a spoonful of vegan mayo to make it more creamy.
You can add crushed cumin during blending if that is a flavour you like.
Chilli powder is another option if you like a kick
Fried onions on the top for an added layer of texture and flavour.
You can use babaganoush as a dip on a sharing platter, as a spread in a sandwich or simply with some pitta. It is such a great apetizer.
Recommended Products
As an Amazon Associate and member of other affiliate programs, I earn from qualifying purchases.
Nutrition Information:
Yield:
6
Serving Size:
1
Amount Per Serving:
Calories:

307
Total Fat:

12g
Saturated Fat:

2g
Trans Fat:

0g
Unsaturated Fat:

9g
Cholesterol:

0mg
Sodium:

37mg
Carbohydrates:

51g
Fiber:

13g
Sugar:

20g
Protein:

8g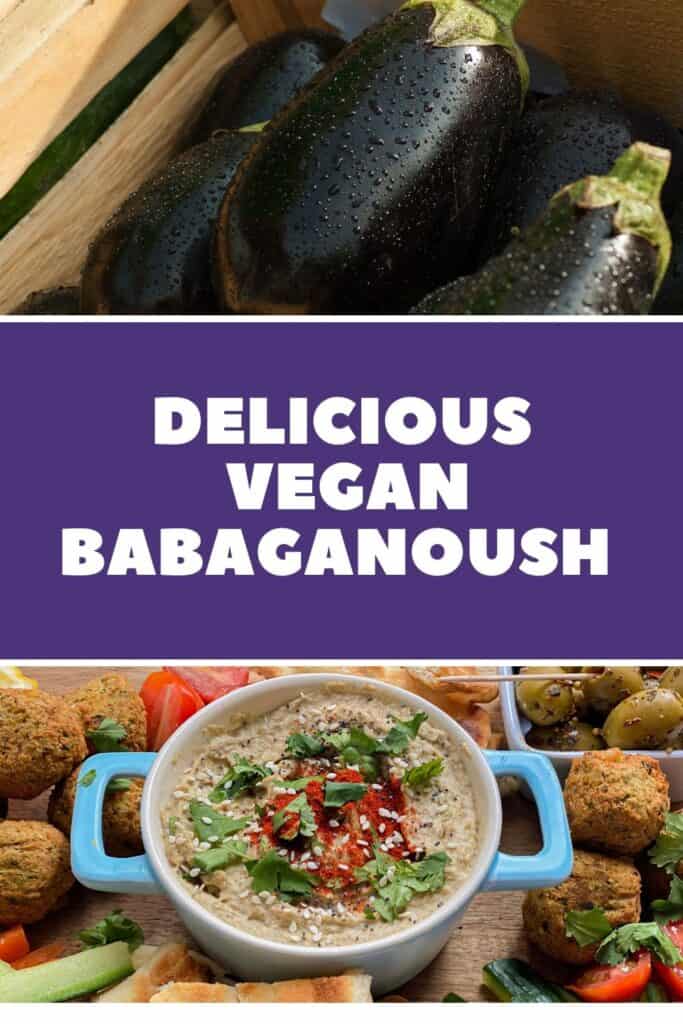 Disclaimer: There are affiliate links in this post. By using them it will not cost you any extra, we may get a small amount of commission. This helps us continue to write yum vegan recipes 🙂