As a wife that is constantly trying to convince my husband to go vegan, I recreate flavours he says he can't do without. Bacon flavours is something a lot of people say they enjoyed pre-vegan days.
I personally DO NOT miss bacon but I DO love these vegan bacon flavoured chickpeas! Also make sure to check out our vegan BLT.
What's more my hubby was absolutely loving this moorish snack that is so versatile. You can take it to work in your lunch box or a bowl of nibbles when friends come over, or simply sprinkled on a salad. These are a staple snack when we are planning our Vegan Camping Food.
We had these bacon flavoured chickpeas in a vegan Cobb salad recently, they really complemented the dish. They are so quick and easy to make and loved by the whole family, no matter how they are eaten!
If you love chickpeas, check out this chickpea salad or these flavoursome sweet and spicy chickpea samosas.
Vegan Bacon Flavour Chickpea Recipe
You will need to make the marinade and I would suggest the best thing is to pop it in the fridge overnight. This way, the chickpeas have time to soak up all the flavours.
The marinade is super easy to make and just need a few ingredients to whip it up.
1/3 cup of tomato puree
1 tbsp of vegan Worcester sauce
Tsp of onion powder
1 tsp of maple syrup
Tsp of liquid smoke
1 tsp of olive oil or aguafaba
Once you've blitzed your marinade up in the blender, you just need to strain the can of chickpeas and wash in cold water. Don't forget you can keep the liquid from the can, this is called aquafaba and is an amazing oil and binder replacement.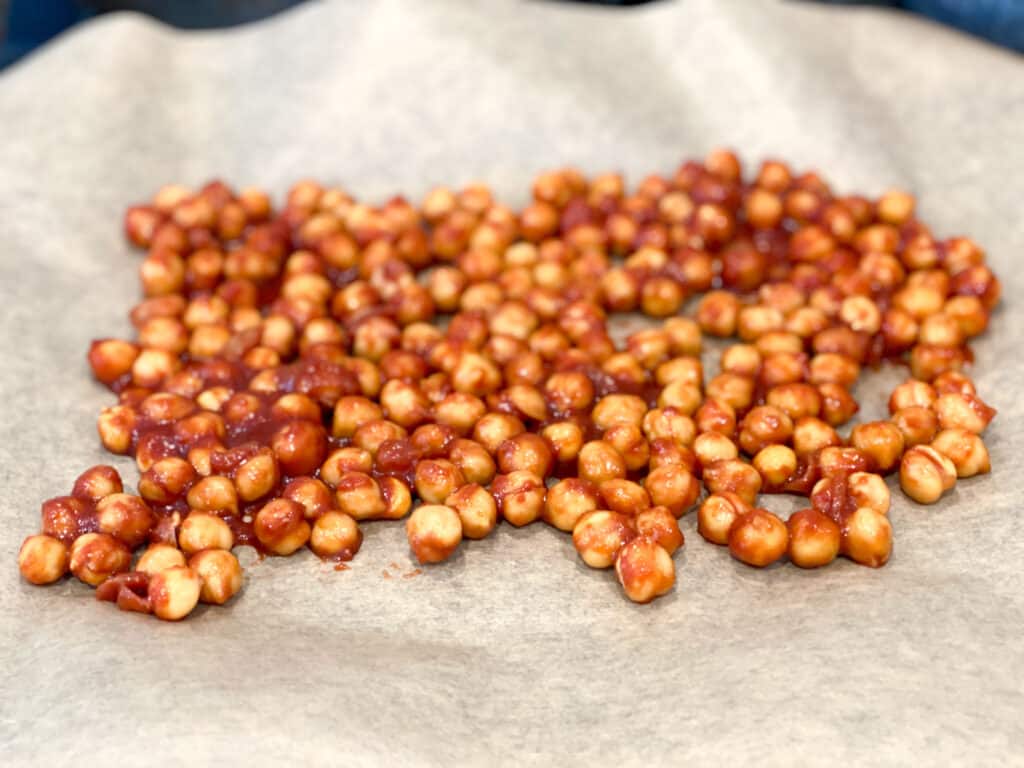 Put the chickpeas in a big bowl, add the marinade mix in until they are well covered in the sauce. If you don't have time to leave it overnight, you can leave it for a couple of hours instead. We absolutely love our Ninja mini
for making marinades.
It takes 30 to 40 minutes to bake the chickpeas. They are nicest once they've cooled down so allow some time for them to rest. Allowing the chickpeas to cool also gives them that extra crispiness.
Keep the chickpeas in a cold dry place. A lunch box for example and they can be kept for 2 to 3 days. They never last that long in this house, more like 2 or 3 minutes! Heres the full recipe!!
Yield: 4-5
Vegan Roasted Bacon Flavoured Chickpeas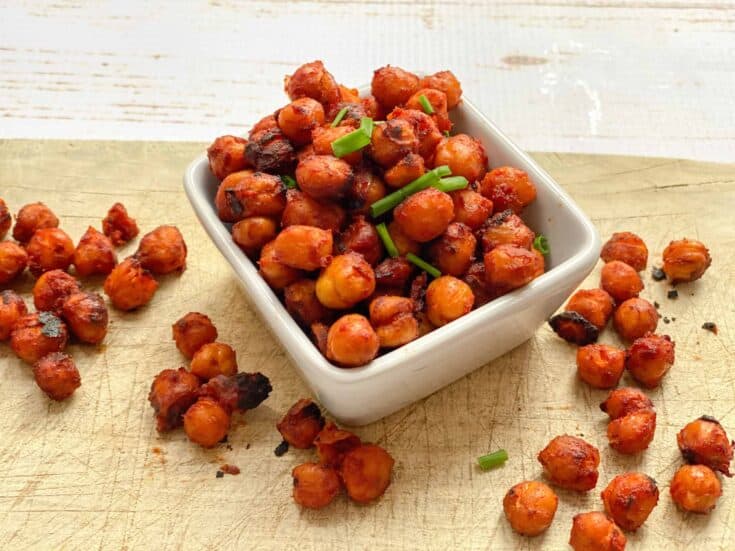 Try these incredibly tasty vegan bacon flavour roasted chickpeas. The perfect snack or sprinkled on top of a salad.
Ingredients
1/3 a cup of tomato puree
1 tbsp of vegan Worcester sauce
1 tsp of onion powder
1 tsp of maple syrup
1 tsp of liquid smoke
1 tsp of aquafab or olive oil
Instructions
Mix all of the marinade ingredients together in a mini blender, we use the Ninja, see below.
Strain the can of chickpeas and wash in cold water.
Add the marinade and chickpeas together in bowl. Cover the chickepas entiriely by mixing in the marinade.
Put into the fridge overnight to allow the flavours to soak into the chickpeas. If you don't have time, even a couple of hours in the fridge will enhance the flavours.
Pre-heat the over to 400 F / 205 C. Line a baking tray with baking paper.
Pour the chickpeas onto the tray and spread out evenly.
Cook for 35 to 40 minutes turinig regularly until crisp. Make sure to check regulary as they can burn easily if they are not turned.
Serve once cooled!
Recommended Products
As an Amazon Associate and member of other affiliate programs, I earn from qualifying purchases.
Nutrition Information:
Yield:
4
Serving Size:
1
Amount Per Serving:
Calories:

26
Total Fat:

1g
Saturated Fat:

0g
Trans Fat:

0g
Unsaturated Fat:

1g
Cholesterol:

0mg
Sodium:

26mg
Carbohydrates:

4g
Fiber:

1g
Sugar:

2g
Protein:

0g
You may also like: