This collection of vegan BBQ recipes are sure to impress you and keep you satisfied during BBQ season. We have tonnes of great mains, salads and condiments to tickle your tastebuds and impress your guests too!
We are so keen to inspire some of the most meat eating cultures to swap out animal products for delicious Vegan BBQ alternatives.
We have some super tasty, vegan BBQ dishes so you don't feel like your missing out on glorious munch. Whether you are hosting your very own vegan BBQ with guests to impress, or taking a dish around to a BBQ.
We have lots of vegan BBQ meals, including some vibrant vegan summer side dishes with our host of colourful salads. Included is some of our favourite vegan condiments to compliment the vegan BBQ dishes, taking the flavours to the next level!
Vegan BBQ Chicken
This vegan BBQ chicken is delicious and is great as a main vegan BBQ dish or simply chopped up in a salad. This meatless chicken recipe is super tasty and definitely one to try this summer.
Vegan Jerk Seitan Chicken
Sticking with the vegan chicken theme, this Vegan Jerk Chicken Recipe, made with seitan is literally the bomb! With Jamaican Jerk marinaded seitan, it has a meaty texture with perfect flavours.
It goes great with traditional rice and peas, corn on the cob and/or a yummy salad.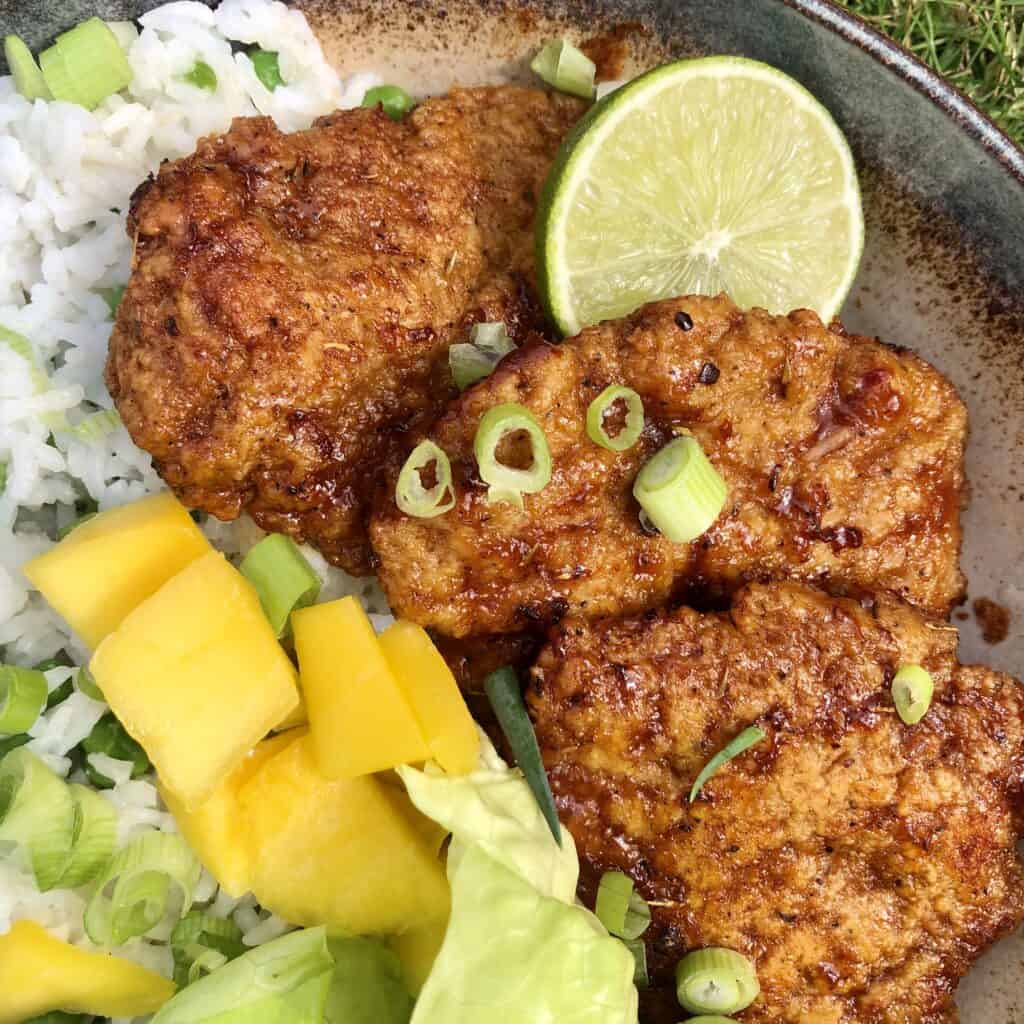 Vegan Buffalo Chicken Sandwich
This Vegan Buffalo Chicken Sandwich, made possible with the humble cauliflower and a delicious spicy batter.
You don't have to cook this on the BBQ, as initially is does need to be oven baked to get the batter crispy. However it can easily be popped on the BBQ for added smokey flavours to compliment the spice.
Vegan Seitan Burger
No BBQ is compete with a vegan burger, right? This Vegan Seitan Burger has the perfect blend of herbs and spices, made with a few simple ingredients, including beetroot, kidney beans and vital wheat gluten.
These seitan burgers are super easy to make and can be easily stored in the fridge or freezer if you and your guests don't devour them all!
Portobello Burger
The portobello burger is a vegetarian grilling classic for a reason! It's meaty, juicy and delicious and taken to the next level when paired with the vegan sun dried tomato spread and some vegan pesto.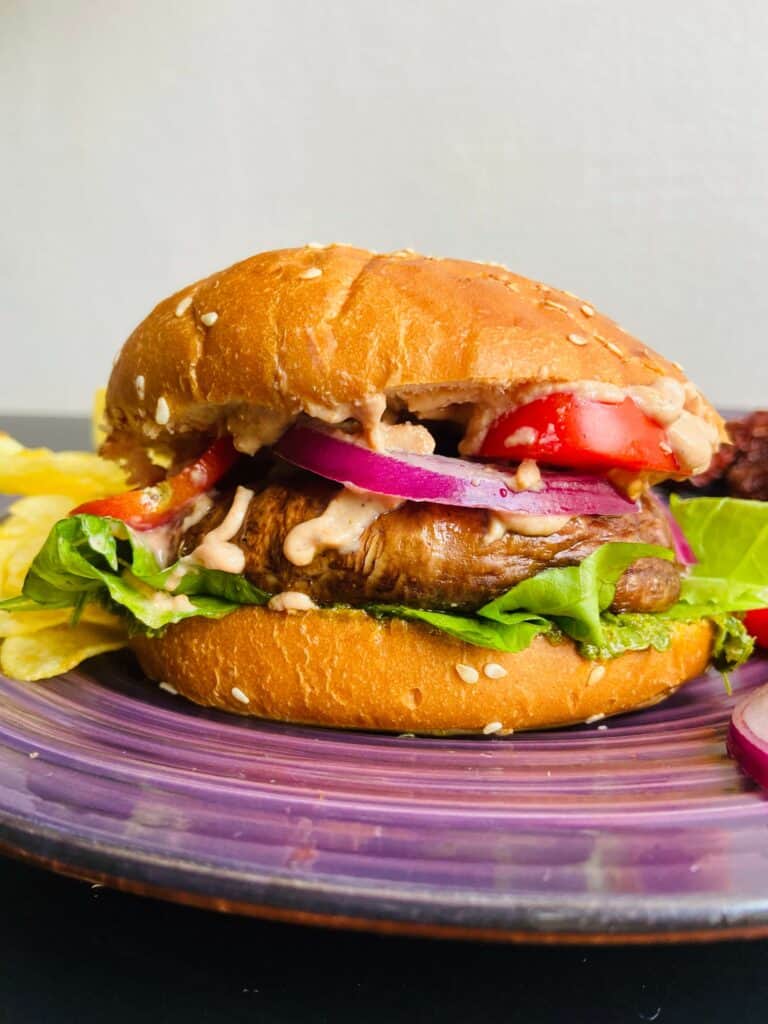 BBQ Seitan Rib Tortas
One of our all time favourite thing to make for our vegan BBQ cookouts is this vegan ribs recipe.
This BBQ Seitan Ribs recipe is an absolute game changer! Have the vegan BBQ ribs straight up or enjoy then in our delicious vegan Torta recipe.
Its an easy vegan ribs recipe to follow and does not disappoint.
These vegan/vegetarian BBQ ribs can make the ultimate rib sandwich too!
BBQ Seitan Sandwich
This BBQ Seitan Sandwich is just as tasty as its Torta counterpart mentioned above. Loaded with sticky vegan ribs, American mustard and all the trimmings – it is one of our favourite vegan sandwiches.
Vegan/vegetarian BBQ ribs are just delicious, especially with this sticky BBQ sauce.
BBQ Veggie Skewers
We have some awesome BBQ veggie kebabs which are always fun to have at a vegan BBQ. Skewers and kebabs are a must have in your arsenal of vegan barbecue recipes
Vegan Satay Skewers
These Vegan Satay Skewers are next level.They are super easy to put together and suitable for the pan or BBQ. Dunked into a creamy satay sauce, they are packed with flavour and feel somewhat indulgent!
Vegan Yakitori Skewers
Try these tantalising Vegan Yakitori Skewers which are packed with flavour and a deviation from the usual vegan BBQ meat recipes. With heaps of vegan and chunks of tofu, these are a tasty must try.
Vegan Beef Seitan Kebabs
Kebabs are a BBQ classic food. The Vegan Beef Seitan Kebabs are tasty and packed with flavour. They have colourful, crunchy veggies and a meaty bite. These are sure to impress if added to your vegan cookout recipes
BBQ Vegan Souvlaki
These BBQ Vegan Souvlaki are another favourite!! We've made our very own plant based tofu skewers with delicious flavours. Using some simple ingredients and a firm tofu, the BBQ adds a delicious depth of smokey flavours.
Sticking with the vegan Mediterranean theme – these BBQ Vegan Souvlaki skewers are complimented beautifully with this Vegan Tzatziki Recipe.
Vegan Side Dishes for BBQ
Every BBQ needs a good host of vegan side dishes! Its all about having different tastes and nibbles, delicious flavours to keep everyone satisfied.
Veggie side dishes for BBQ don't have to be just potato salad and leaves!
Easy Beet Slaw
No BBQ is complete without a banging slaw recipe. Check out this vibrant, gorgeous vegan Beet Slaw recipe. It is refreshing, crunchy and earthy – going great as a side dish or burger topping!
BBQ Moroccan Eggplant Salad
This BBQ Moroccan Eggplant salad is the perfect summer BBQ salad recipe. With delicate Moroccan spices, a smokey BBQ flavour, roasted chickpeas, fresh leaf rocket salad and a zesty dressing – this is a must try.
This could be served as a show stopping main or an impressive side salad.
Easy Israeli Salad Recipe
This Easy Israeli Salad recipe is a classic, tasty salad which is easy to put together. It is refreshing to eat with juicy tomatoes and crunchy, cool cucumber. It pairs well with all of vegan grilling recipes.
Vegan Chicken Cobb Salad
If you decided to make the BBQ vegan grilled chicken recipe, it can totally be transformed in this Vegan Chicken Cobb Salad. It's delicious with all the right additions.
Succulent BBQ Vegan Corn on the Cob
This juicy BBQ corn on the cob is quick and easy, with so much flavour. It has the essential rub of vegan butter – but the lime juice, paprika and cilantro really brings it to the next level.
Serve this delicious vegan corn on the cob with vegan aioli and your mind will be blown!
Easy Vegan Pesto Pasta Salad
This Vegan Pesto Pasta Salad is a summer classic. They are easy to throw together with minimal cooking and are perfect at picnics, cookouts, and gatherings.
Vegan Broccoli Salad
This Vegan Broccoli Salad is crunchy and refeshing. There is something so satisfying about munching down on raw broccoli – and it would be a great addition as a side salad for a BBQ.
Vegan Greek Salad
This Vegan Greek Salad is super refreshing, bursting with all the Mediterranean flavours. It would be a beautiful summer garden salad to complement your vegan BBQ.
Drunken Fruit Salad
This refreshing Drunken Fruit Salad obviously doesn't go on the BBQ but WOW it is refreshing. Fresh fruit doused in orange juice and rum, it is the perfect boozy fruit salad for after your vegan BBQ meals.
Vegan Condiments for BBQ
No vegan BBQ is complete without a stash of delicious, flavoursome vegan condiments and dips!
Vegan Burger Sauce
This Vegan Burger Sauce recipe comes together easily within a matter of minutes. Almost like a vegan Big Mac sauce – it is a must have for your vegan burgers this BBQ season!
It also goes especially well with fries and sandwiches if you have some leftover.
Vegan BBQ Sauce
This homemade Vegan BBQ Sauce is delicious and a classic vegan condiment! Its easy to make and goes amazingly on vegan burgers, vegan ribs, with chunky fries or as a marinade for mock meats.
Plant Based Mayo
This Plant Based Mayonnaise Recipe is a real winner and super easy to make. Lets face it mayo is an essential condiment in all aspects of life, not just for a BBQ. This one is all plant based and oil free which will be sure to satisfy all tastebuds. (Contains Nuts)
Baba Ganoush
For me, just as important as the vegan BBQ are the pre-nibbles while chatting with friends and family and waiting for the grill to fire up. I just love a load of chips, olives, veggie sticks and this creamy Baba Ganoush Recipe.
Beet Wasabi Hummus
This vibrant Beet Wasabi Hummus is sure to impress your guests – if you haven't chowed down on it all yourself. It is a delicious twist to the classic hummus flavours.
The beets offer the vibrant pink colour and earthy flavours, complimented by the hot wasabi, which can be adjusted to preference. This is another great addition to your pre-BBQ nibbles!
Green Split Pea Hummus
This Green Split Pea Hummus is another winning recipe, made with green split peas rather than the traditional chickpeas, it gives a delicious rich flavour. Homemade hummus is always a winner!
Vegan Ranch Dressing
Just hand me a bag of tortilla chips and this Vegan Ranch Dressing and call me done. It's super easy to make, refreshing and moreish! Another great vegan dip to add to your pre-BBQ nibbles.
Vegan Buffalo Sauce
This Vegan Buffalo Sauce is the perfect spicy kick. Vegan buffalo wings and cauliflower steaks are more popular than ever, with the help of this delicious hot sauce.
We hope you've loved some of our best vegan and vegetarian BBQ meals – and enjoy a happy BBQ season!
You may also love: