This vegan seitan burger is easy to make and super versatile. Made with seitan, beetroot and kidney beans – this is a vibrant vegan burger with the right flavours and spices. A perfect vegan BBQ burger for BBQ season or throughout the year.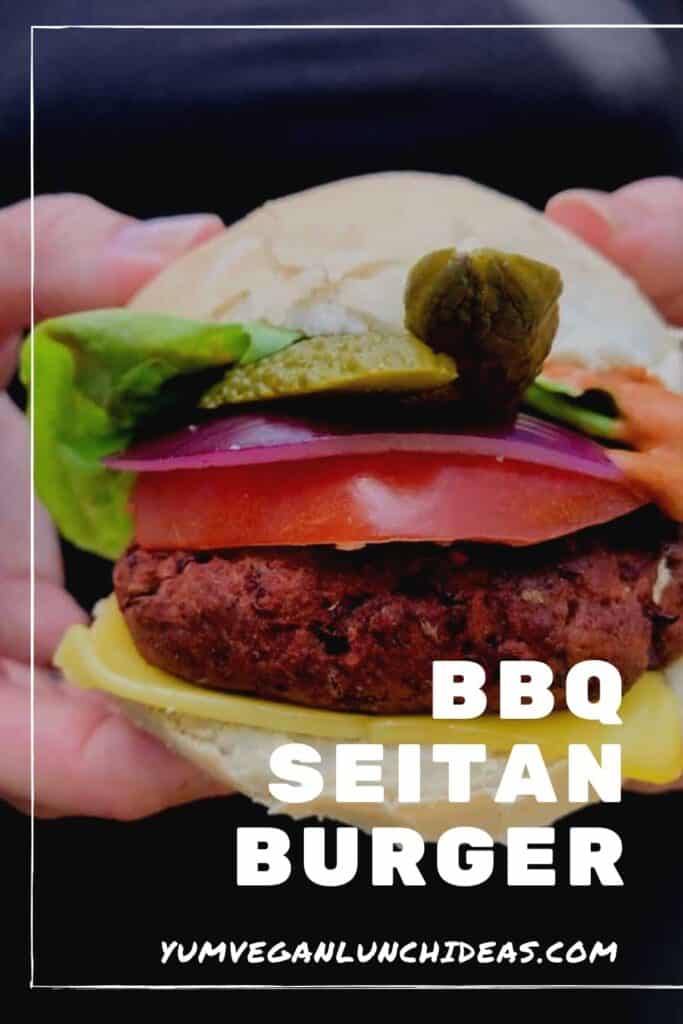 Vegan Seitan Burger
Seitan can seem a bit intimidating if you've not cooked with it before. I've had a great run of delicious successful recipes with seitan recently, including a vegan apple roast pork joint, vegan jerk chicken , vegan kebabs, and vegan spicy chicken fillets.
Seitan really is super versatile and was the perfect textural addition to this vegan bbq burger.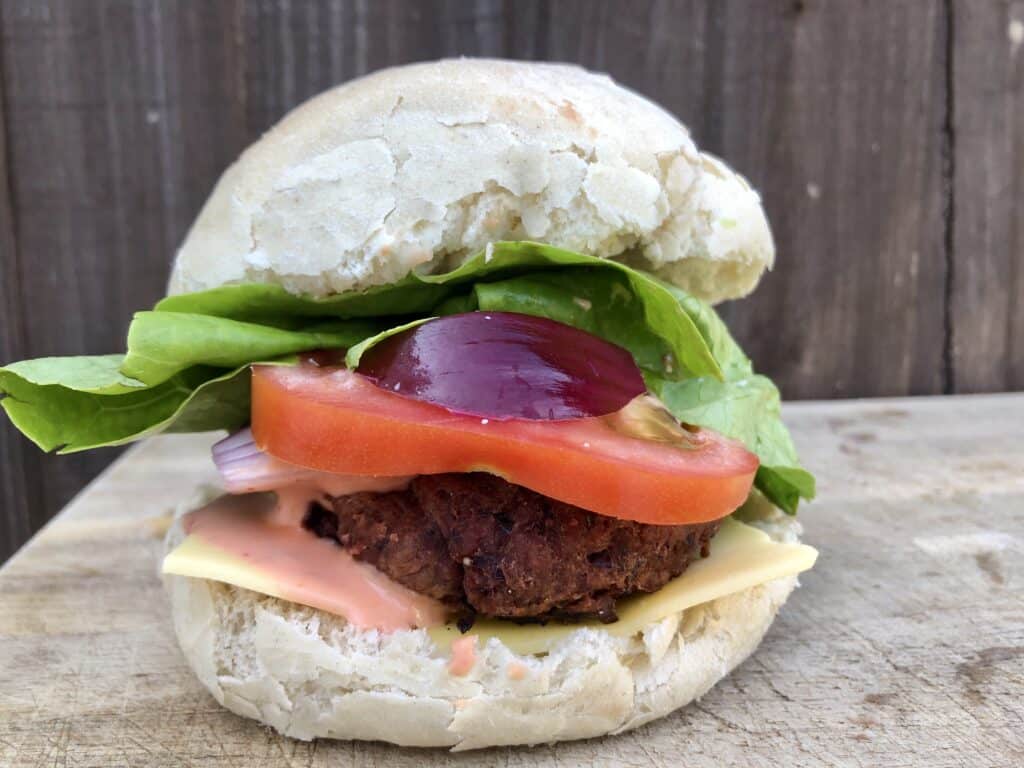 I really love the vibrant colour of beetroot and its earthy taste, so it seemed like a no brainer to include it in this seitan beetroot burger patty recipe.
With a combination of beetroot, kidney beans and seitan it also gives a freakishly similar appearance as a beef burger, but don't let this put you off! Although some omnivores might like this aspect if you are cooking for non-vegan family.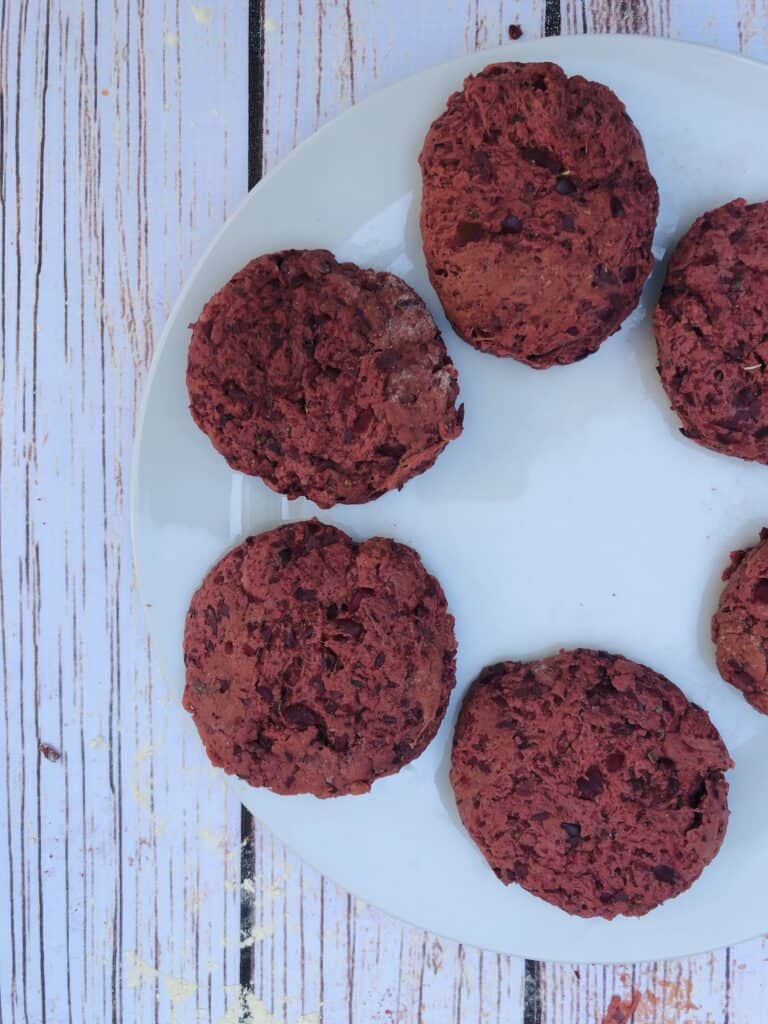 This burger does not however taste like meat – the beetroot gives a delicious juiciness, then the flavours of the smokey BBQ sauce, liquid smoke and other herbs/spices make it a winning vegan veggie burger.
This seitan vegan beet burger recipe is easy to make, with a few simple ingredients. The beets in this vegan beetroot burger recipe gives a level of moisture, the seitan gives the meaty bite whilst the kindey beans are barely noticeable as they are blended – but provide essential proteins and iron.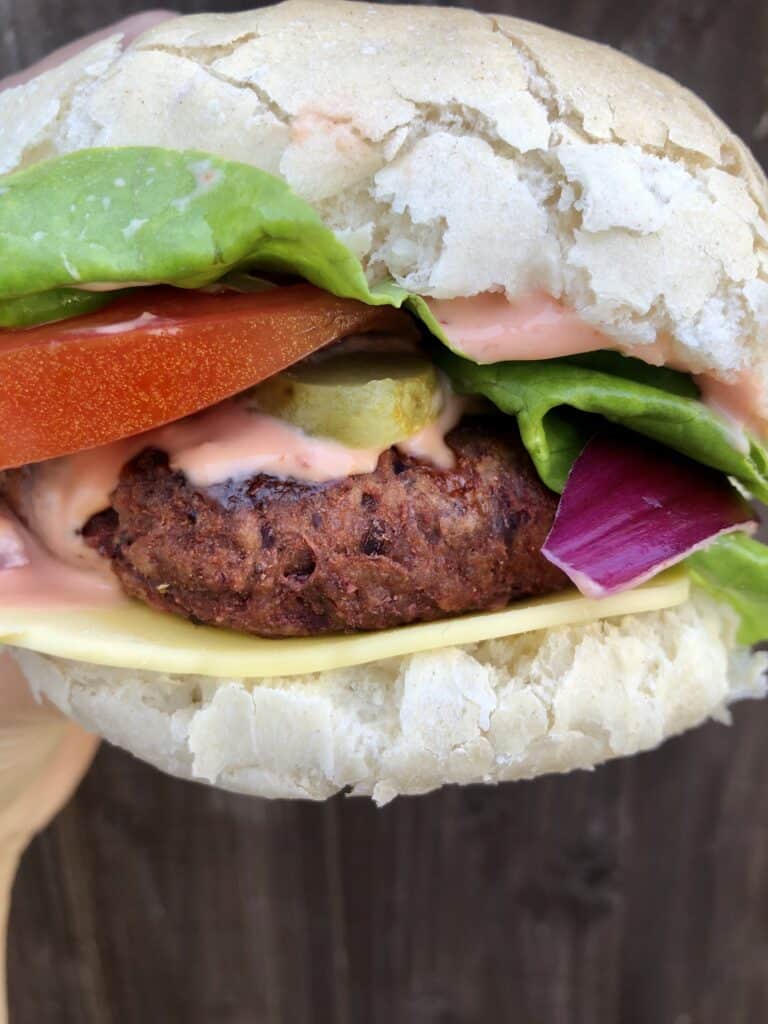 This seitan, bean and beetroot burger is
Juicy
Meaty
Flavoursome
Delicious
Moreish
Filling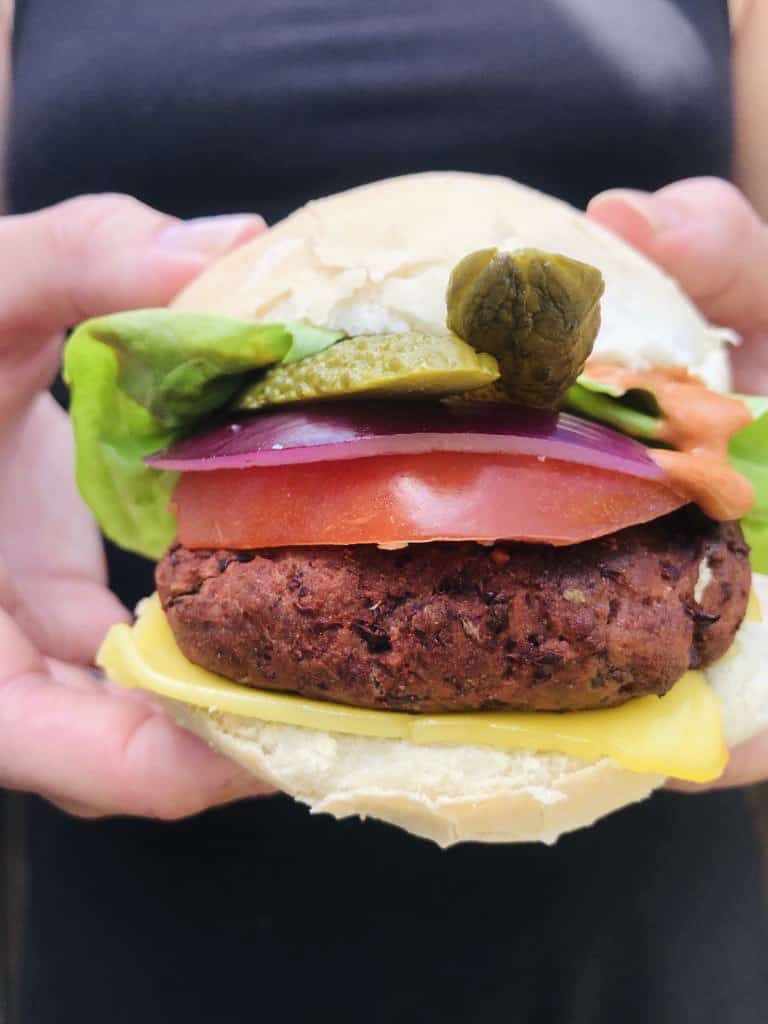 How to Cook This Seitan Beetroot Burger
We've opted for this seitan vegan beetroot burger to be cooked on the BBQ to add the delicious smoky, charcoal taste. We love BBQ season over here and are keen to have a collection of options, including great vegan BBQ burgers of course.
Additionally, these seitan vegan beet burgers are super handy to have in the fridge, pre-made to just pop in the oven or air-fryer if you choose not to have a BBQ.
The seitan patty is additionally suitable for frying as they have a firm texture which don't fall apart easily.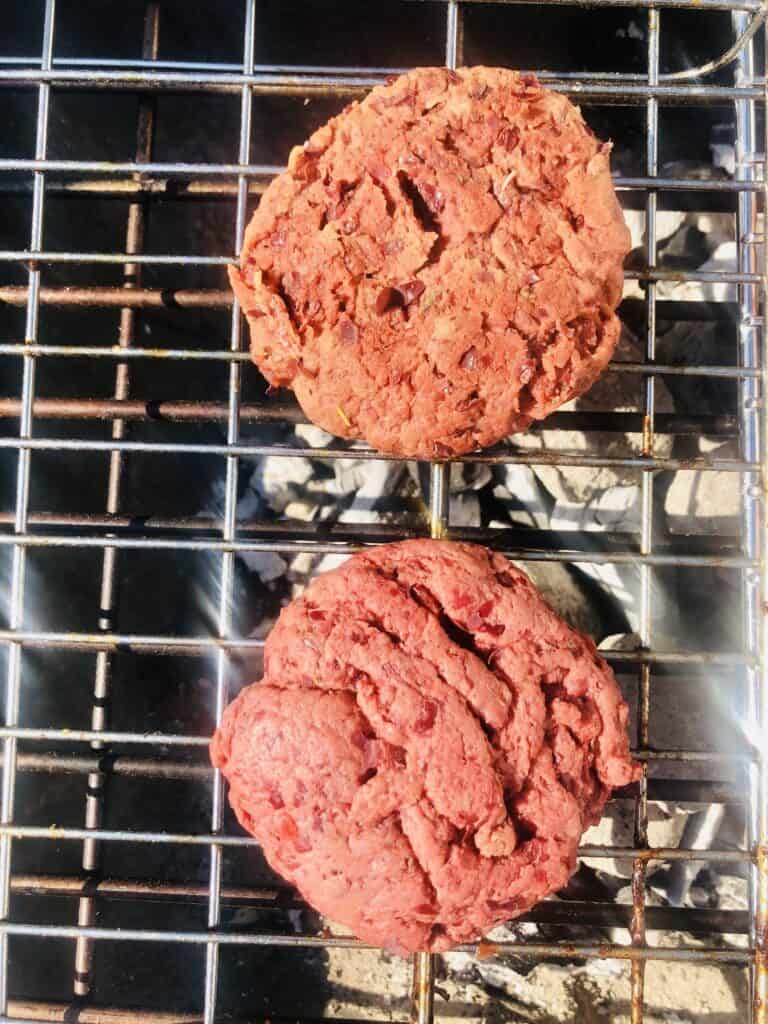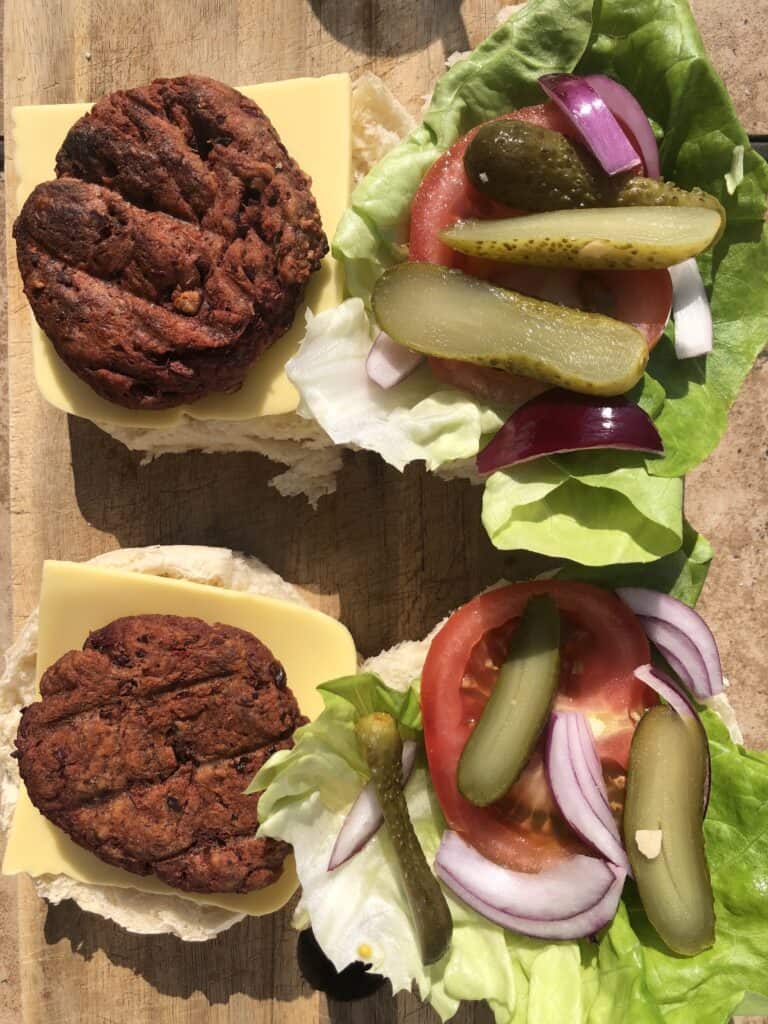 How to serve seitan vegan beetroot burgers
We all have our preferences when it comes to burger fillings. This vegan burger recipe is like a blank canvas to dress with all of your favourite burger toppings.
Here are some of our favourite additions to this seitan beetroot vegan burger:
Soft white bun
Tangy pickles, halved length ways
A slice of vegan cheese or this melty vegan mozzarella
Slice of beef tomato
Refreshing iceberg or cos lettuce
Red onion
And incase you haven't had enough beetroot in the mix, this vegan beet slaw is delicious and perfect as a side for summer BBQ's or as an additional extra to your vegan burger. We also highly rate this Chipotle Ketchup recipe.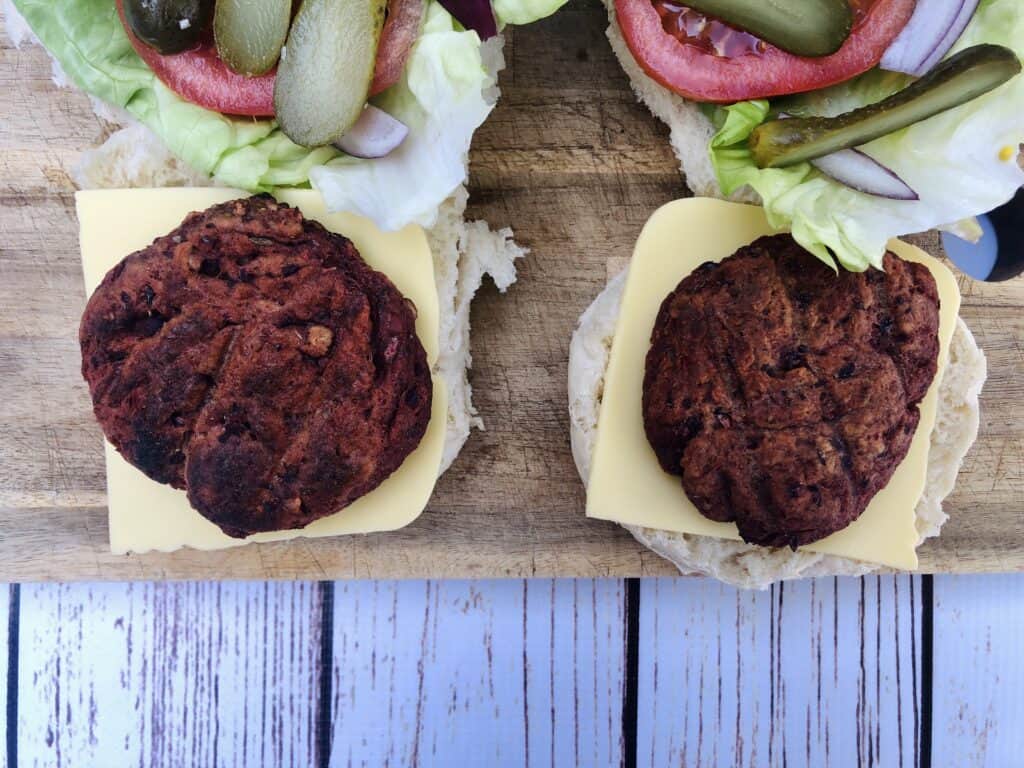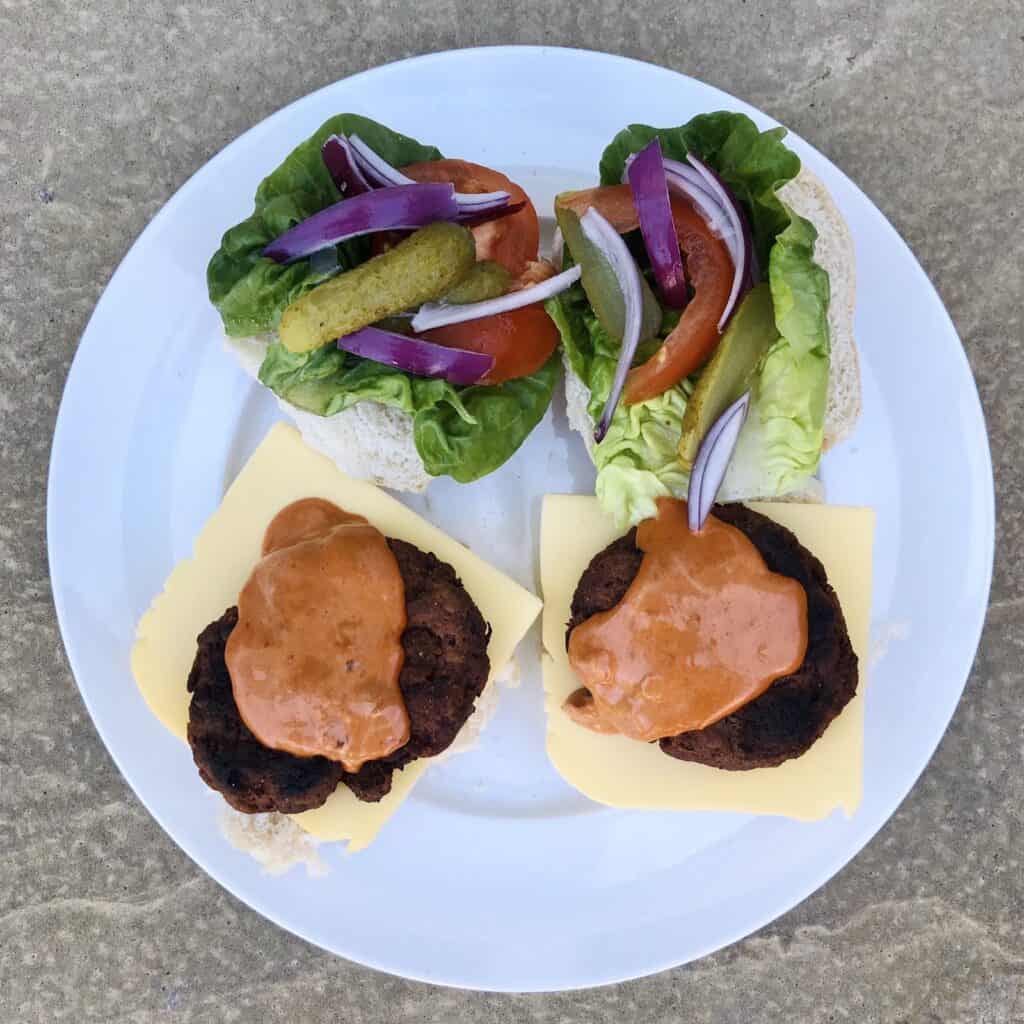 Another great thing about these seitan beetroot veggie burger is they store really well. They stay fresh in the fridge for up to 3 days, whilst easily freezable for up to 1 month.
It is a great, high protein easy beet burger recipe thats packed with flavour. Its also not highly processed like the usual go to vegan replacement meats from the supermarkets that are full of salt and refined oils. Instead it is made with whole foods and keeps you fuller for longer.
Store bought vegan beet burgers can be a little lacklustre at times additionally. so save money and make them at home!
This vegan patties recipe of course does not have to fit in your usual burger bun – seitan vegan beetroot patties would go deliciously chopped up on top of your favourite salad.
Yield: 6 patties
Vegan Seitan Burger Recipe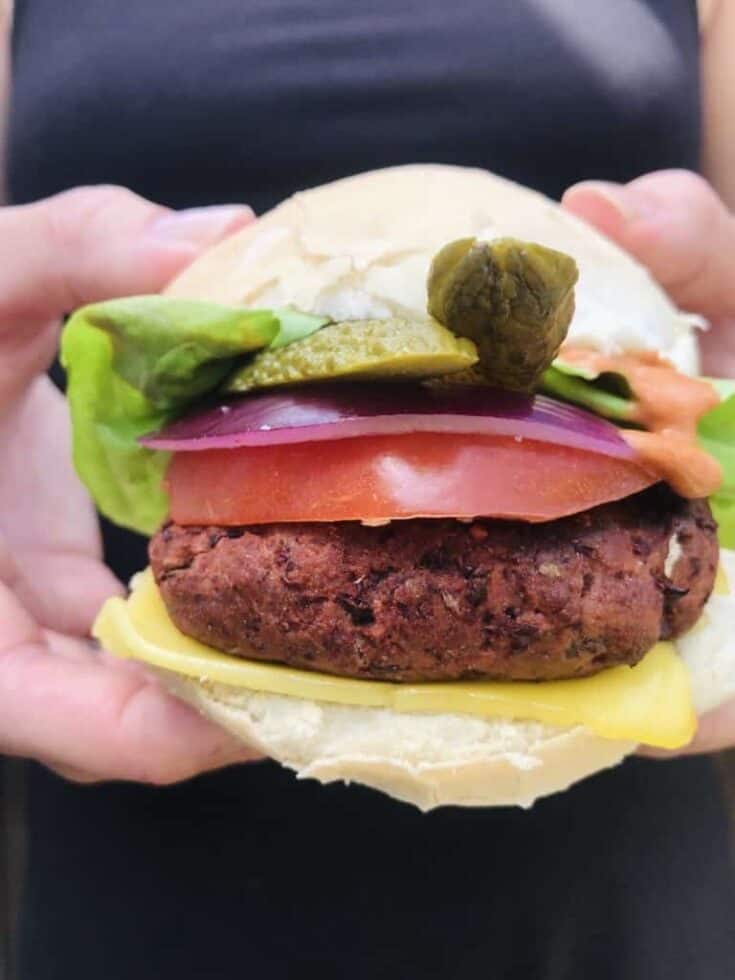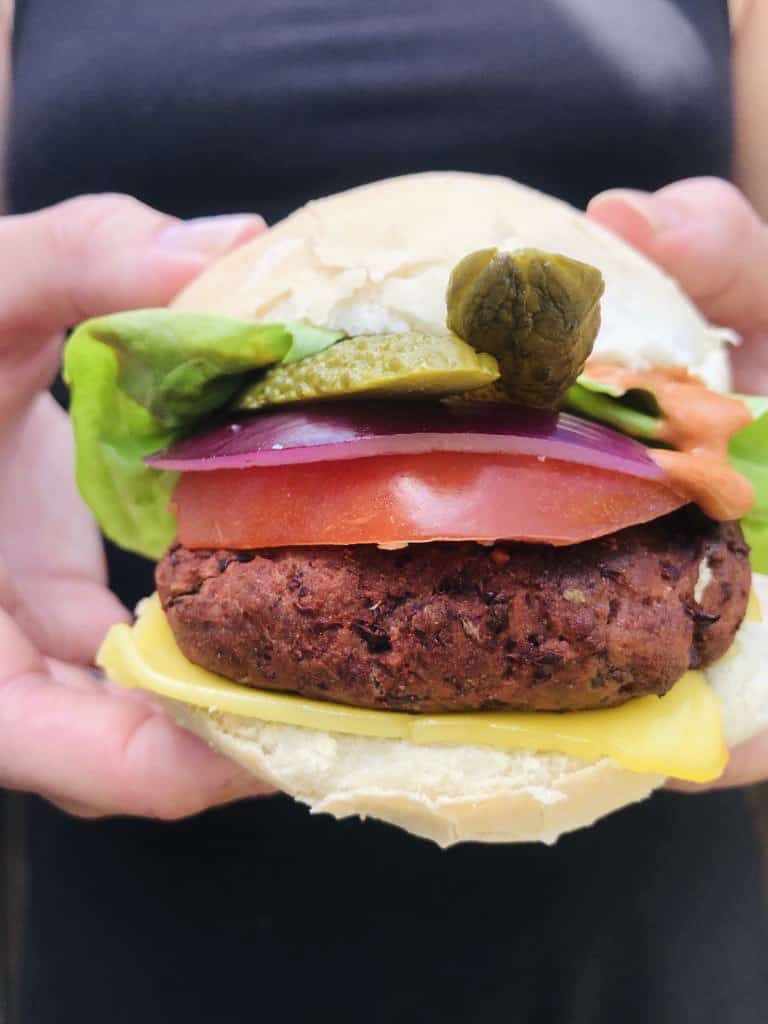 These vegan seitan burgers are a delicious blend of earthy beetroot, kidney beans and tasty spices and flavours. Perfect for a vegan BBQ - they are a must try.
Additional Time
20 minutes
Total Time
1 hour
5 minutes
Ingredients
1 can of cooked kidney beans, drained
250g cooked beetroot
110g vital wheat gluten
2 tbsp soya sauce
1tsp liquid smoke
1 tbsp BBQ sauce
1 tsp garlic powder
1 tsp onion powder
1 tsp smoked paprika
1 tsp salt
1 tsp ground black pepper
1 tsp mixed herbs
Instructions
1. Blend cooked beetroot, kidney beans in a food processer or blender


2. Fold in the herbs, spices and sauces.

3. Gently fold in the vital wheat gluten to make the dough.


4. Turn the dough out on a lightly floured surface (use the seitan flour for this) to smooth out. Be careful not to overknead the dough as it will become tough.


5. Divide mixture into 6 patties, shaping them into the size you want. Seitan can be quite springy, so you have the option of rolling them out thinner, in which you will need to roll them out a few times to maintain that shape or a smaller thicker patty is more easily achieved.

6. Using a steaming pot, place the patties with enough space to expand in a steaming pot for approx. 20 minutes. Do this in batches or use a multi-layered steamer if you have one. This helps the pattiies to firm up when its time to grill them.


7. Place the steamed seitan burger patties on a plate and place in the fridge for approx. 20 minutes - this will help them firm up further before cooking.


8. If barbecuing the burgers, don't place them on the hottest area of the BBQ, try for a medium heat and turn them regularly, cooking for approx 15 minutes.


9. If cooking these vegan seitan burgers in the air fryer, spray with a little oil if desired and cook at 180C/350F for approx. 15 minutes - flipping halfway.


10. If cooking these seitan beetroot burgers in the oven, preheat at 180C/350f and cook for approx, 35 minutes, flipping half way through.
Notes
* Cooking times varies depending on method of cooking
** The seitan beetroot patties stay fresh in the fridge for up to 3 days, or in the freezer for up to 2 months. Deforst fully before cooking.
Recommended Products
As an Amazon Associate and member of other affiliate programs, I earn from qualifying purchases.
Nutrition Information:
Yield:
6
Serving Size:
1
Amount Per Serving:
Calories:

154
Total Fat:

1g
Saturated Fat:

0g
Trans Fat:

0g
Unsaturated Fat:

0g
Cholesterol:

0mg
Sodium:

389mg
Carbohydrates:

19g
Fiber:

4g
Sugar:

6g
Protein:

18g
this is an estimated calculation
You May Also Love