I am a big fan of dishes from the Mediterranean and the Middle East. Tzatziki is one of those condiments that comes with nearly every meal in those parts of the world! I recently made vegan shawarma and vegan souvlaki, and well, it would be rude not to make a vegan tzatziki sauce recipe!
Vegan Tzatziki sauce is such a tasty addition to any BBQ, salad or Mediterranean style meal, especially if you are making our delicious seitan gyros. Traditionally it's made with yoghurt. However with so many great vegan yoghurt alternatives on the market nowadays, it's super easy to veganize!
There are only a handful of ingredients for this very simple sauce that can be used with a variety of foods, wether it's a salad or a kebab.
Vegan Tzatziki Recipe
I used a plain vegan soya yoghurt for this recipe. Like I mentioned there are a tonne on the market. Plain yoghurt, is, well, exactly as it says on the carton, so it's all about adding the flavours with seasoning and ingredients.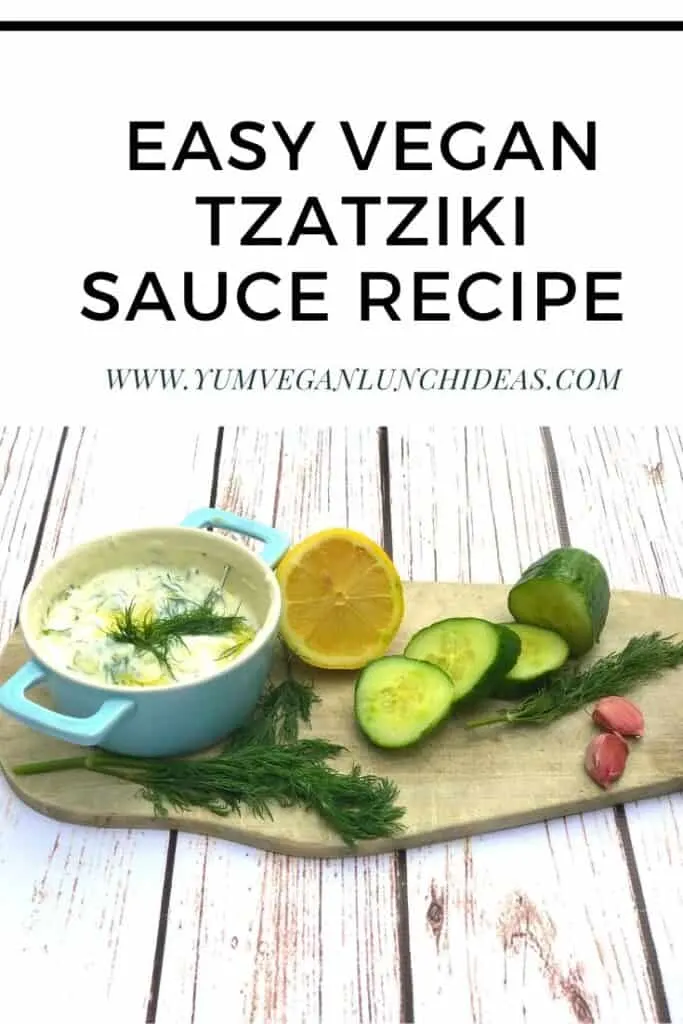 We started by grating the cucumber finely and adding a clove of crushed garlic. Followed by the yoghurt, fresh dill and half a lemon squeezed, it is full of flavour. It takes a matter of minutes to prepare all you have to do is mix it together.
As a mum with two kids that love to help in the kitchen, it really is a fool proof recipe they can help and get involved with. It doesn't involve any cooking so they can take all the credit when our friend and family come for a BBQ!
We love hearing from our readers so make sure to leave a comment if you get around to making this 🙂
Tzatziki Recipe Vegan
Yield: 4
Vegan Tzatziki Sauce Recipe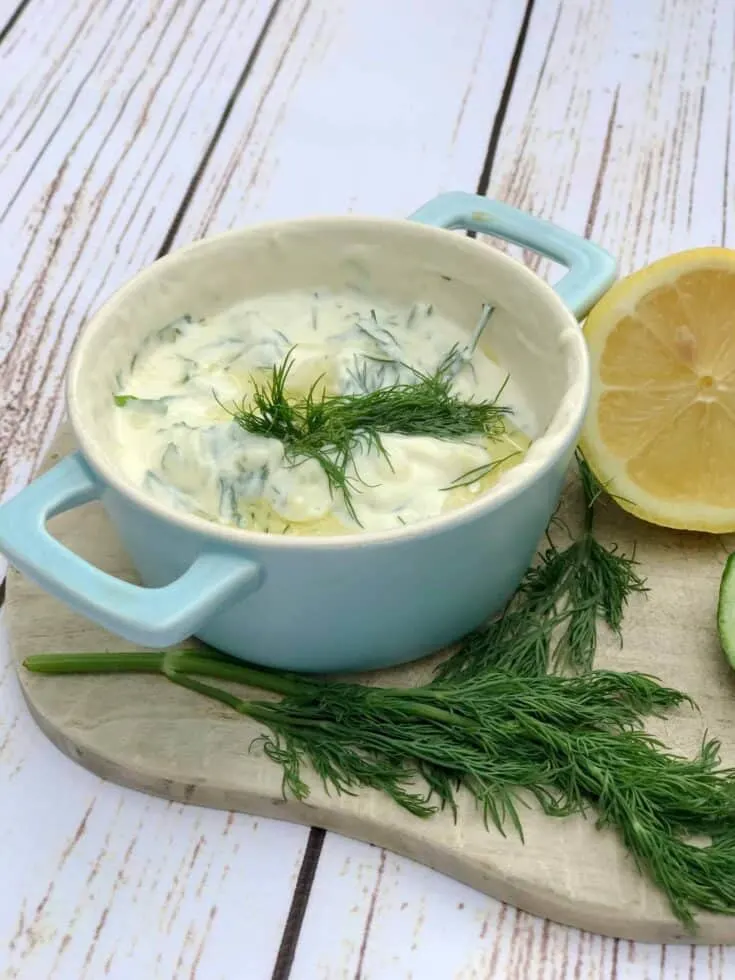 Add a dollop of this tantalisitng vegan tzatziki sauce to your food. It's the perfect condiment to our many Meditteranean dishes!
Ingredients
1 cup of plain vegan yoghurt
1 clove of garlic
1/2 a lemon juiced
1 handful of fresh dill
1/2 a cucumber
1 teaspoon of extra virgin olive oil
Instructions
Crush 1 clove of garlic and add to a bowl.
Add the cup of plain yoghurt
Grate the cucumber finely and add to the yoghurt
Tear up a handful of dill removing the stalks and add to the mix.
Squeeze half a lemon and add to the sauce
Mix well with a spoon, folding gently
Garnish the tzatziki with a final sprig of dill and a drizzle of oil
Serve with a spoon along with other dishes as an accompanying condiment.
Notes
This tzatziki recipe will keep in the fridge for 1-2 days. Store in an air tight container for later.
Although this sauce is well suited with Meditteranean and middle Eastern foods. it can pair with many salads, warm breads, or simply as a sauce inside a sandwich.
We've tried a tonne of vegan yoghurts but our favourite has to be Alpro plain yoghurt.
Some of our favourite dishes to serve this alongsidee are vegan souvlaki, vegan shawarma and vegan greek salad. It goes really well with any of these dishes!
If you can't get your hands on fresh dill, fresh chives could be a good alternative.
Likewise, vegan cream cheese could be used instead of plain yoghurt, but yoghurt definitiely works best due to its smooth more watery consistencty.
Make sure not to leave it out of the fridge for extended periods if you plan to keep some for later. As we know, yoghurt is best kept in the fridge.
Recommended Products
As an Amazon Associate and member of other affiliate programs, I earn from qualifying purchases.
Nutrition Information:
Yield:
4
Serving Size:
1
Amount Per Serving:
Calories:

59
Total Fat:

2g
Saturated Fat:

1g
Trans Fat:

0g
Unsaturated Fat:

1g
Cholesterol:

3mg
Sodium:

51mg
Carbohydrates:

7g
Fiber:

1g
Sugar:

5g
Protein:

4g