If you like fruit salad and you're ready for a drink, this drunken fruit salad will be your new best friend. Packed with fresh cut fruit and doused in rum and orange juice, this boozy fruit salad is perfect for summer cookouts, picnics, fourth of July or just a long afternoon!
Get ready for a burst of flavor and a slight buzz, just make sure to keep the fruit salad with alcohol clearly marked and away from any little ones!
Looking for some great vegan bbq options to pair this with? Check out our vegan ribs or seitan satay skewers.
Boozy Fruit Salad Ingredients
To make drunken fruit salad you can use whichever fruits are ripe and available! It's always best to shop seasonally, both for your wallet and for taste.
If you want more specific guidelines though, I used honeydew melon, peaches, pears, banana and strawberry. Melons are fun because you can use the peel as a serving dish for the fruit salad.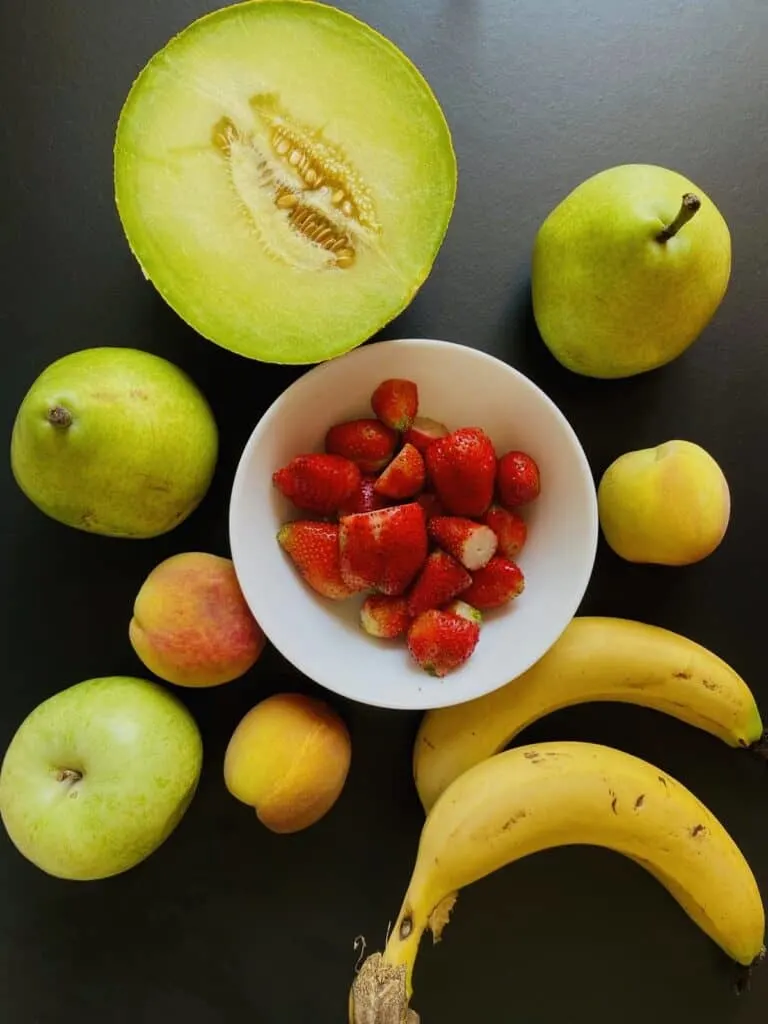 Aside from your chopped fruit, you'll need rum, orange juice
, lime juice
, and basil. You can use bottled or fresh lime juice.
Making Fruit Salad with Alcohol
To make the spiked fruit salad, chop up your fruit into bite sized pieces. You can go with larger chunks if you like it that way, but the smaller the chunks, the more alcohol will get absorbed into each piece.
Next, throw in your basil. You can put in the basil leaves whole to soak with the fruit if you prefer to remove them before serving, or you can chop them small and mix them in. I'm a big basil fan, so I leave mine in.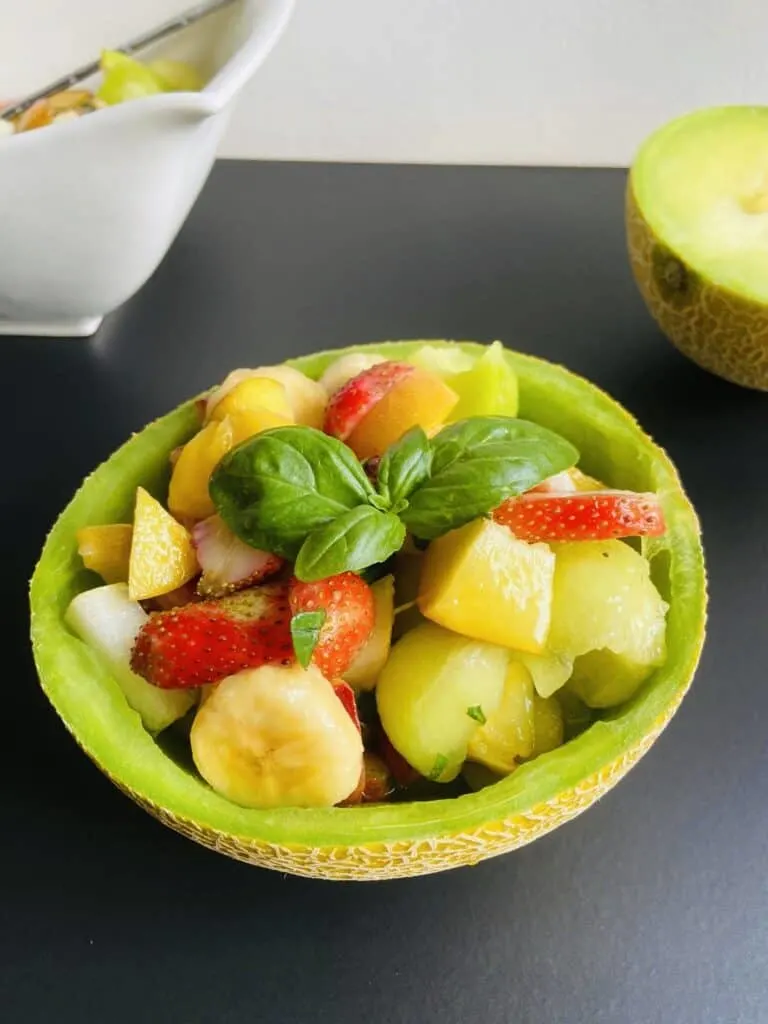 Next, pour in your orange juice
, lime juice
and rum to infuse the fruit with the delicious flavors and booze.
Cover and let your rum soaked fruit marinate in the fridge. Once it's finished soaking, it's ready to serve!
How Long to Soak Fruit in Alcohol
For optimal flavors, you'll want to soak your fruit in alcohol for around 3 hours. You can get away with soaking anywhere from an hour to overnight but I've found 3 hours is the best balance taste wise for an alcoholic fruit salad.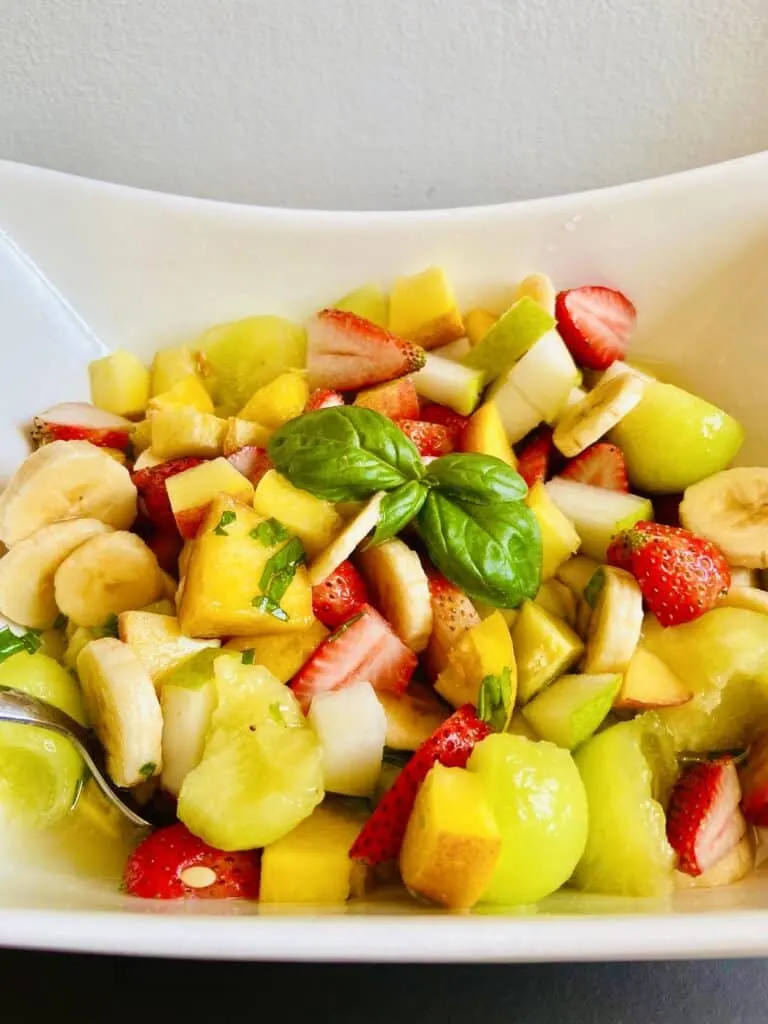 Alcohol Soaked Fruit Salad Variations
The alcohol in this fruit salad really comes through. If you don't like the taste of rum, feel free to sub in an alcohol that you do enjoy. A stand out option is cachaca but vodka and gin are also popular options for boozy fruit salads.
You can also swap the basil for mint. Especially paired with the rum and lime juice, it gives it a bit of a mojito vibe.
Don't Forget To Pin This Recipe For Later!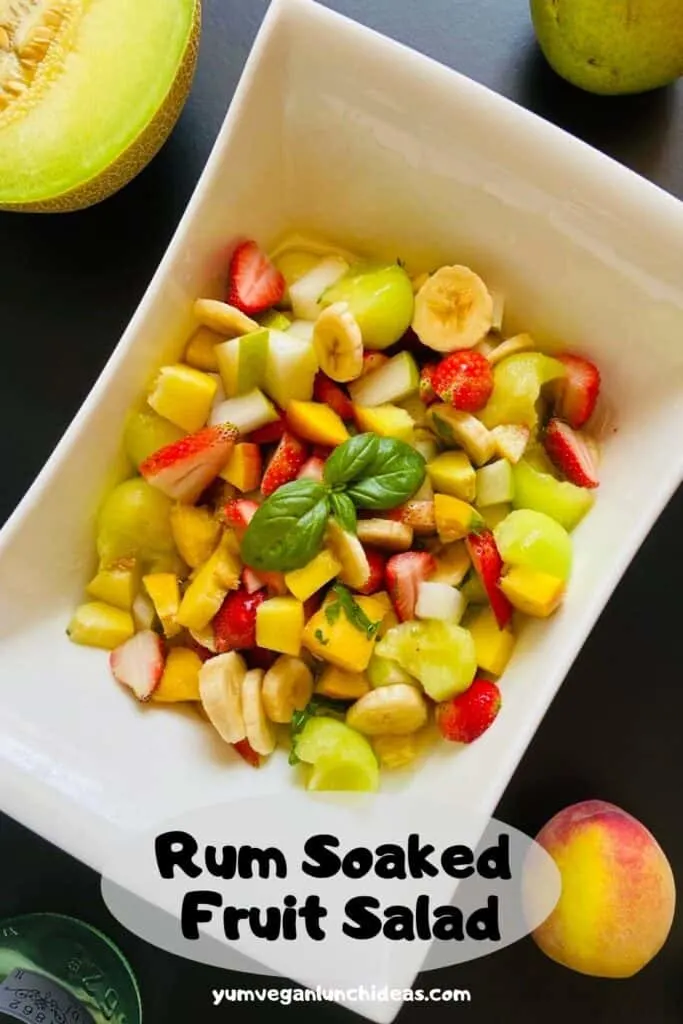 Yield: 5 Servings
Drunken Fruit Salad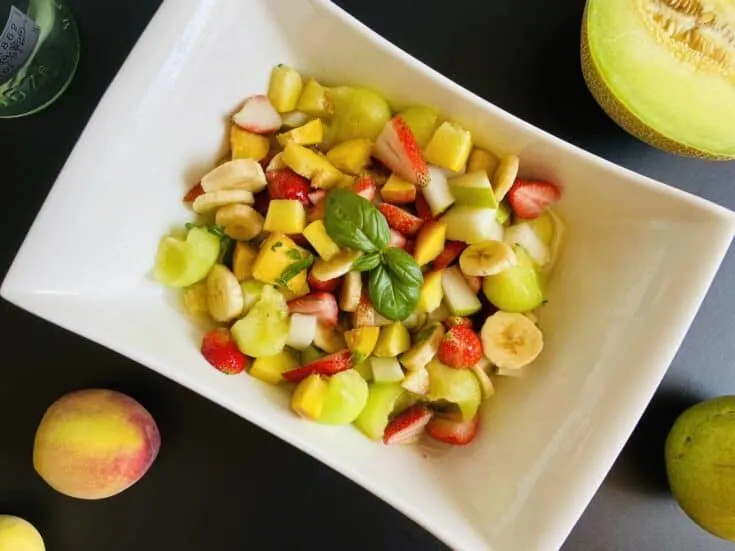 This drunken fruit salad is the ultimate grownup summer salad. Get your buzz on while simultaneously enjoying a refreshing fruit salad!
Bring this boozy fruit salad along to your next bbq, picnic, or just enjoy it yourself on a long summer day. Just make sure to keep it away from the underage crowd!
It only takes around 15 minutes to whip this fruit salad with alcohol up (depending on how fast you chop fruit) and then it just needs to marinate before it's time to serve.
Total Time
3 hours
15 minutes
Ingredients
4.5 Cups Fruit Chopped*
1/2 Cup Rum**
10 Basil Leaves Chopped***
Instructions
Chop your fruit into bite sized pieces.
Mix together the fruit and the remaining ingredients. Cover and refrigerate for a few hours (optimally around 3 hours) to let the fruit marinate and absorb the alcohol.
Enjoy!
Notes
*Use what ever fruit is seasonal and easy to find. I used honeydew melon, pear, strawberries, bananas, and peaches.
** Feel free to swap this out for an alcohol you prefer or have on hand, just make sure it's one you enjoy, because the taste definitely comes through!
** If you prefer not to have basil pieces in your fruit salad, put the full leaves in while marinating and remove before serving.
Recommended Products
As an Amazon Associate and member of other affiliate programs, I earn from qualifying purchases.
Nutrition Information:
Yield:
5
Serving Size:
1
Amount Per Serving:
Calories:

139
Total Fat:

0g
Saturated Fat:

0g
Trans Fat:

0g
Unsaturated Fat:

0g
Cholesterol:

0mg
Sodium:

3mg
Carbohydrates:

25g
Net Carbohydrates:

0g
Fiber:

3g
Sugar:

17g
Sugar Alcohols:

0g
Protein:

1g
You May Also Like: