We love all things barbecue over here, so it was only natural to create our very own vegan bbq sauce recipe. I mean who doesn't love those smoky tangy flavours, right?
I think it's safe to say barbecue sauce is more often than not associated with meat dishes, but us vegans love those flavours of the marinade just as much. Why not recreate it for some of our vegan dishes?
I recently made a vegan bbq chicken using seitan and this vegan bbq sauce was the ideas condiment with it!
This vegan condiment only takes a few minutes to whip up and can be used as a marinade or a dip depending on your preference.
We have a tonne of vegan bbq ideas here.
Homemade Vegan Barbecue Sauce
Barbecue sauce is thought to originate from the United States. It features heavily in cuisines around the states of Carolina, Texas, Memphis and Alabama. Within each geographical location the ingredients vary slightly.
It's been around for some 200 years and apparently it was previously called mustard sauce! Big brands such as Heinz and Kraft developed their own sauce back in the day, however as you can imagine they do include unnecessary additives.
Making your own vegan condiments is actually really easy and they don't contain any of the nasties. I am a big fan of making my own sauces, wether it's a salad dressing or mayo, they are always super quick to whip up.
Ingredients For This Vegan BBQ Sauce Recipe
This recipe contains 8 ingredients and a cup of water. In fact you may have quite a few of the ingredients in your kitchen pantry already.
The base for the vegan bbq sauce is tomato puree. Everything else adds flavour. The tomato puree gives the sauce a deep brown / red colour once the spices are added.
in addition to the tomato puree, you'll need:
You can modify the amount of each ingredient to your taste. For example if you really love the smokiness put a little extra liquid smoke in. If you like spices, turn up the chilli!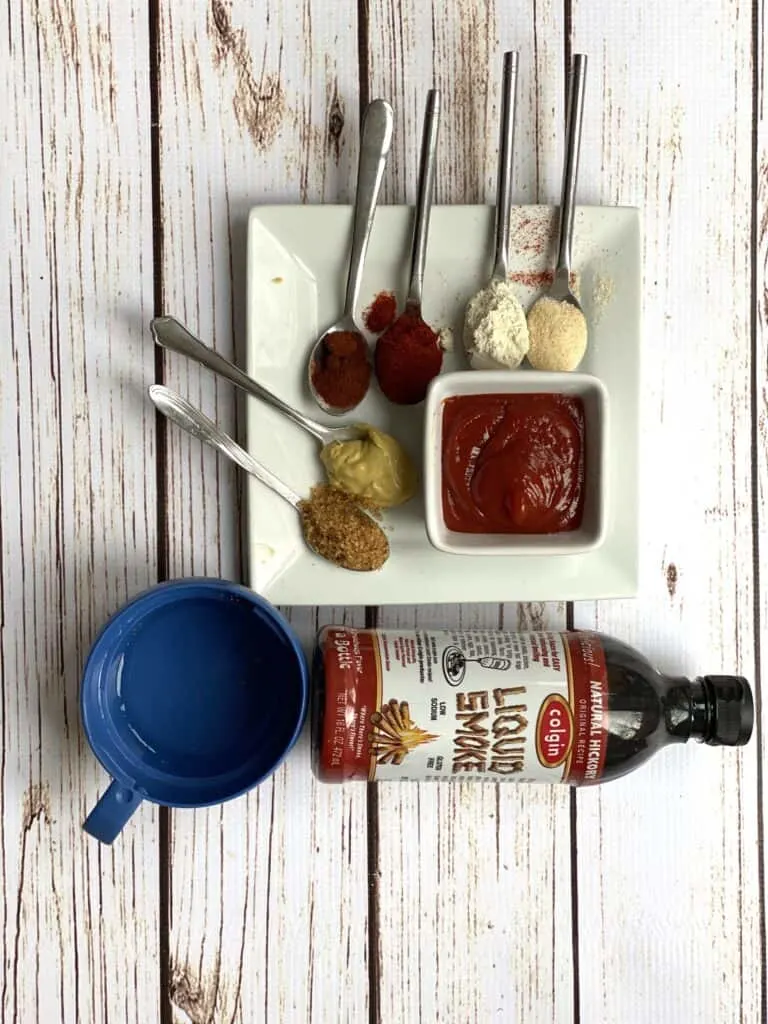 As you can see, you'll have most of these things in your cupboard. If you haven't got liquid smoke, it's definitely something worth buying in my opinion. I use it quite often and a big bottle goes along way, as it is pungent!
My favourite brand of liquid smoke is Colgin, it's inexpensive in comparison to others and comes in a big bottle. Check out Colgin liquid smoke here.
If you prefer not to use brown sugar, agave is always another option for sweetness.
Once you've measured each ingredient, all you need to do is place them in a blender and whizz for a minute! That's it, ready, in less than 5 minutes.
In terms of a blender, I use my mini blender as making vegan bbq sauce is such small quantities. Check out the Ninja Food Chopper here.
Ideas For Use of Easy Vegan BBQ Sauce
This homemade vegan barbecue sauce can be used in a number of ways. Here are a few examples of how to use it:
Chickpea marinade, you can then roast in the oven for a barbecue flavoured 'chickpea' snack.
Basting mid cooking
Pulled jackfruit marinade
Use like a ketchup on a burger
You can also use it as a dip. For example with warm chunky fries.
Storing Homemade Vegan BBQ Sauce
Once you make your vegan bbq sauce, put it in an air tight container. It will keep in the fridge for several days.
If you know a barbecue lover you could also gift the sauce in a nice jar with a homemade label!
Variations Of This Sauce
Add a splash of Jack Daniels to make the infamous Jack Daniels Barbecue Sauce Recipe! My hubby loves this sauce with a whiskey twist.
As previously mentioned, each state has different variations of barbecue sauce. The main difference is the base. In some cases, people may use, mayo, vinegar or mustard instead of tomato puree as a base!
I personally feel tomato puree works best for making the sauce more adaptable to basting, dipping and marinating.
Yield: 5
Vegan BBQ Sauce Recipe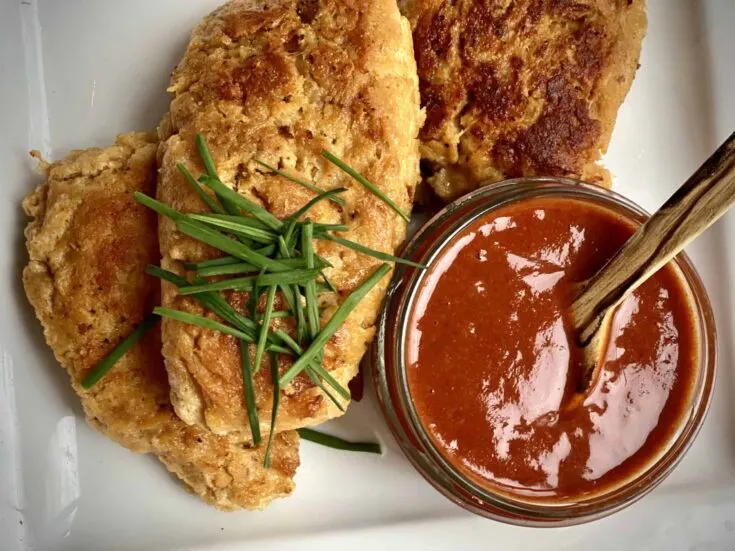 Try this delicious homemade vegan barbeque sauce recipe. It only has 6 ingredients likely to be in your kitchen pantry and 5 minutes of your time. It's perfect for basting, dipping and marinating too! It really is the best vegan bbq sauce recipe!! Dunk chunky chips or use with seitan recipes. You can even use to make a lovely bbq chickpea snack.
Ingredients
1/3 cup of tomato puree
1 tbsp of agave or brown sugar
1 tsp of dijon mustard
1 tsp of chilli powder
1 tsp of smoked paprika
2 tbsp of liquid smoke
1/4 cup of water
1 tsp of onion powder
1 tsp of garlic granules
Instructions
Measure each of the ingredients and add to the blender for one minute.
Once ready you can refridgerate or servie immediately as a dipping sauce.
Put in an air tight container if you are not using it straight away and refridgerate.
Notes
If you dont have agave, you can also use brown sugar or maple syrup. Each option works fine with this recipe.
Season to your taste preference. I love a smoky chilli barbeque sauce so sometimes add a little more of these ingredients to give the sauce more kick.
You can use this vegan barbecue sauce to baste, marinade, dip or spread on a burger bun. It's incredibly versatile.
This sauce has far less calories than shop bought barbecue sauce. There are no hidden additives and still packs a punch with the flavours.
In my opinon liquid smoke is what really makes this recipe taste great. It's an ingredient worht buying in my as it can be used in multiple dishes. A small amount goes a long way.
If you have normal paprika but no smoked paprika, don't worry, you can make up for this flavour with an extra dash of liquid smoke.
Recommended Products
As an Amazon Associate and member of other affiliate programs, I earn from qualifying purchases.
Nutrition Information:
Yield:
4
Serving Size:
1
Amount Per Serving:
Calories:

28
Total Fat:

0g
Saturated Fat:

0g
Trans Fat:

0g
Unsaturated Fat:

0g
Cholesterol:

0mg
Sodium:

58mg
Carbohydrates:

6g
Fiber:

1g
Sugar:

5g
Protein:

1g
Make sure to check out some of our other vegan barbecue ideas:
Vegan corn on the cob
Disclaimer: This post contains affiliate links, by using them it will not cost you any extra. We will receive a small commission which supports us to continue writing vegan recipes.