Kebabs are a bbq classic, and there's no reason to miss out just because you are vegan, vegetarian, or plant based. This flavor packed seitan kebab will become one of your vegan grilling go to recipes. The vegan kebabs are delicious, colorful, meaty, and addictive.
You can also cook them up on the stove top, on a skewer or stir fry style, for a vegan dinner. I like to make a big batch and then pan cook up the extras, for a quick dinner that even my three year old loves.
Loving seitan recipes? Check out these other grilled seitan options, our seitan satay skewers or our seitan burger.
Vegan Kebab Ingredients
There are a few components to these vegan kebabs. There is the seitan beef, the vegetables and the marinade.
Beef Seitan Ingredients
I always prefer to make my own seitan. In my opinion, it tastes better and the texture is better. However if you have a good beef style seitan that you can buy, feel free to use that instead.
That said, the ingredients for this seitan (homemade) are a little extensive, because to have a really flavorful end product, we are trying to really round it out with a lot of different tastes. You can also use this seitan recipe as the base of vegan gyros.
The ingredients are:
Vegetable Ingredients
Honestly, you can really use whatever you have on hand, or really enjoy, for the vegetables on the kebab skewers. I like to make them colorful, so I use as many color vegetables as possible, but if you aren't a fan of anything on the list, swap them out.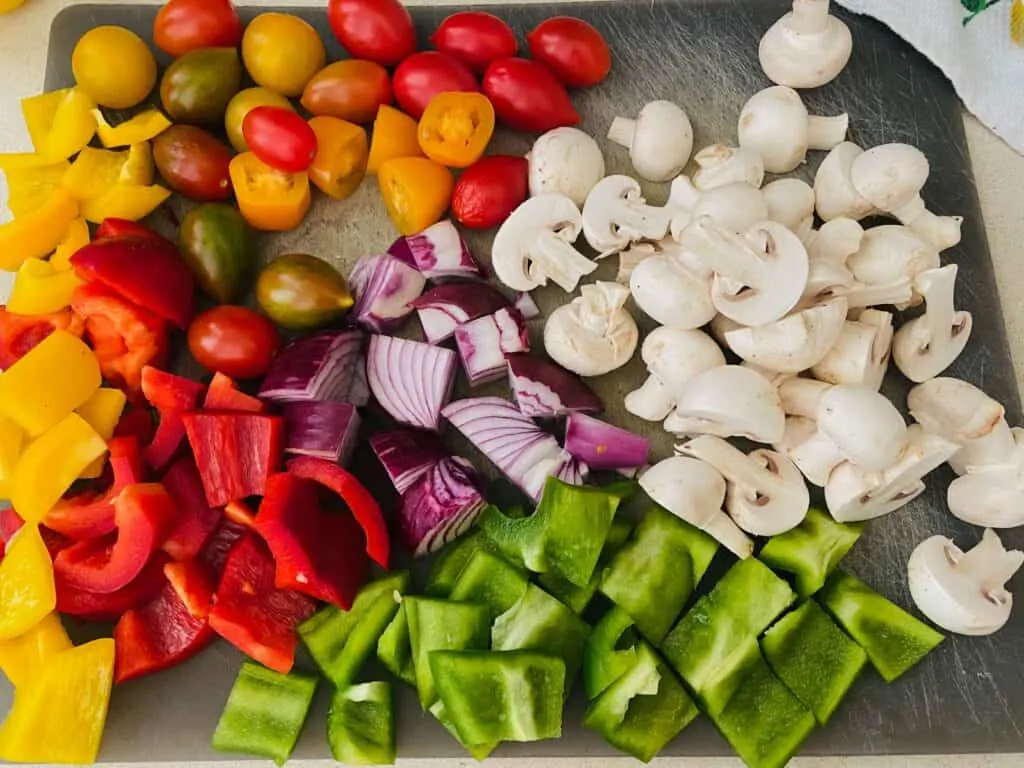 The vegetables I like to use on kebab skewers are:
Red Onion
Assorted Colors of Bell Peppers
Assorted Colors of Cherry Tomatoes
Mushrooms
Vegetable and Seitan Marinade Ingredients
Before we grill our skewers, we marinate all the components in the following delicious ingredients:
Seitan Meat
Seitan – How To Make
First thing you need to do to make this seitan beef is to make a stock. A little of the stock is going to go into the seitan itself and the rest we will use to simmer the seitan in until it's cooked.
To make the stock, you are going to combine the dried mushrooms, garlic, ginger, beef bouillon, and water in a pot and simmer for 20 minutes. Once that's done, turn off the heat and steep your tea bags in the stock for 5 minutes.
Remove the tea bags and put aside half a cup of the stock for later.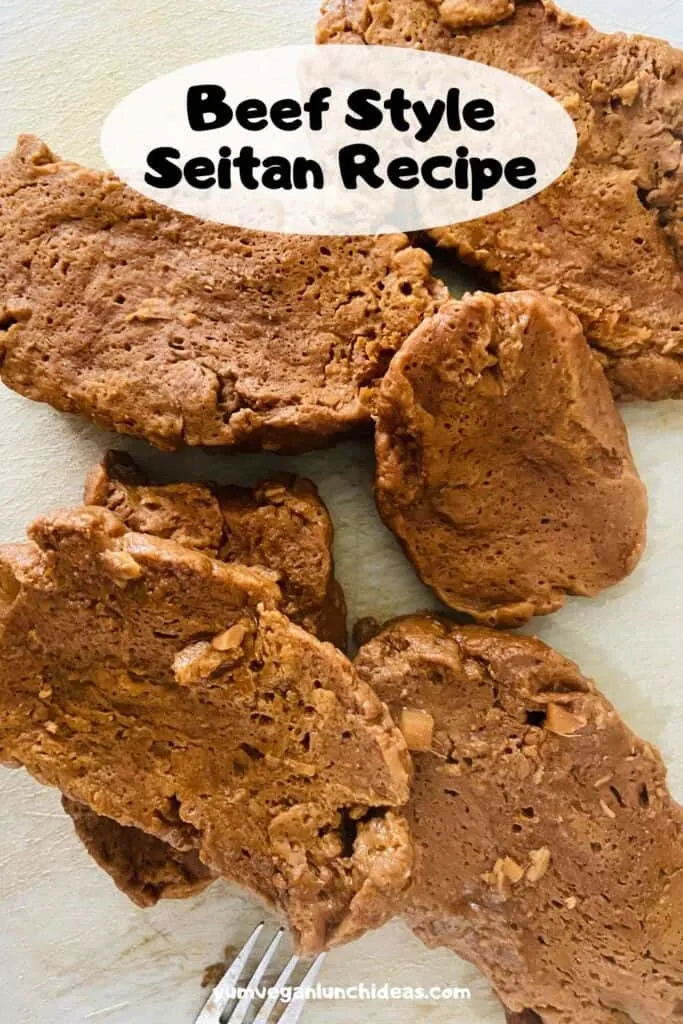 Next you are going to add the sake, mirin, and half the miso into the pot and whisk it together until well combined. Cover your pot and set aside.
It's time to make your seitan dough. If you don't have a food processor you can do this by hand but it will take some more effort. In a food processor or blender, combine the chickpeas, miso, soy sauce, tahini paste, tomato paste, sesame oil, and kitchen bouquet. Process until smooth.
Add the cooled cup of stock to the food processor slowly, as it runs, to create a smooth puree like consistency.
Next we are going to combine the vital wheat gluten and the garlic powder in a large bowl. Add in the chickpea mixture and mix it into a dough. Knead for 5 minutes to really help develop the gluten strands.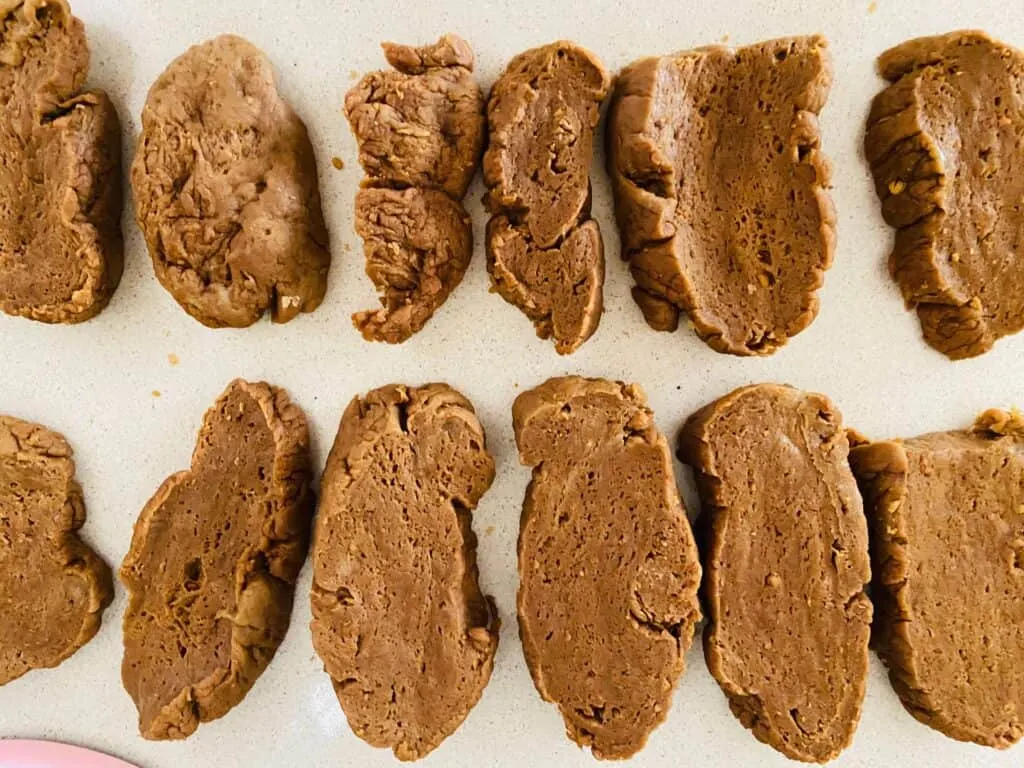 Once your seitan dough is ready, shape it into a log and cut it into 8 pieces. Try to pull and flatten them a bit before cooking.
Place the pieces into the broth and bring to a low simmer. Cover the pot and cook it for around an hour, until the pieces are firm. If you didn't flatten the pieces so much, it will take a little longer to achieve the firm consistency you want. While it's cooking, make sure to watch and make sure it doesn't boil.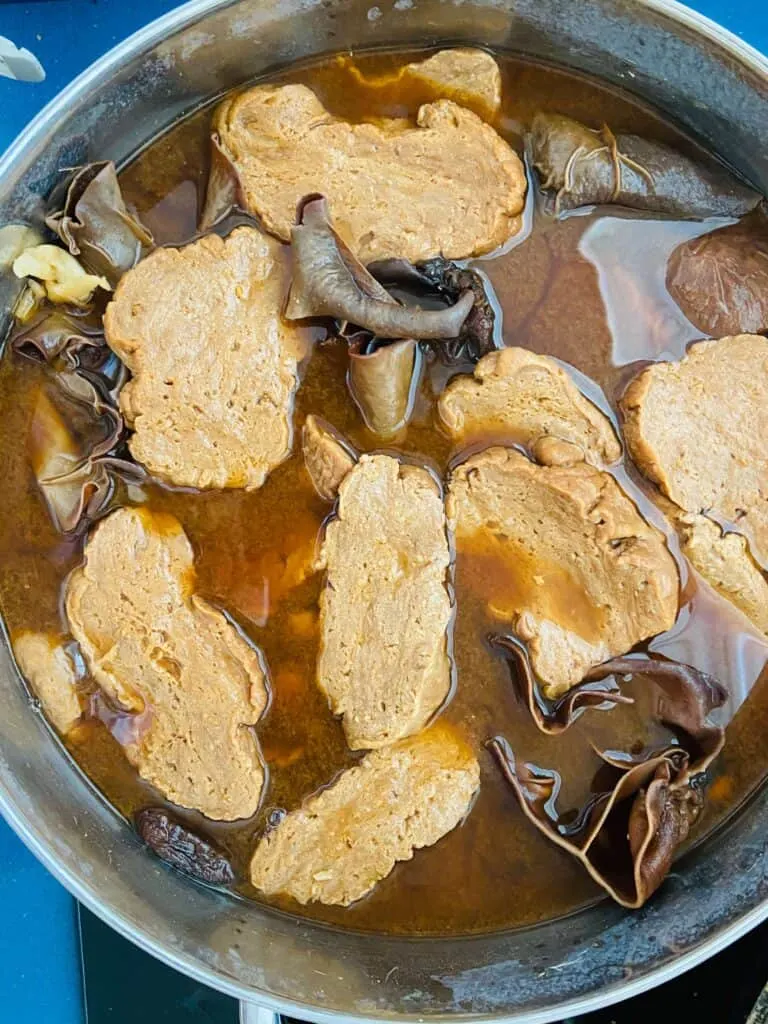 Seitan – Where to Buy
You can buy seitan in many regular supermarkets, as it is becoming more popular. It is usually stocked next to the tofu. If your local supermarket doesn't carry it, try to find the closest health food store.
Health food stores almost always have seitan, whether you are shopping in a small store, or in a large chain like Trader Joe's or Whole Foods.
Marinating the Seitan Kebabs
Once you've got your seitan, it's time to cut it into chunks and prep the marinade. To do that, just mix together the marinade ingredients and then add in your seitan chunks and vegetables. Combine it really well so that all the seitan and vegetables are really covered in the marinade.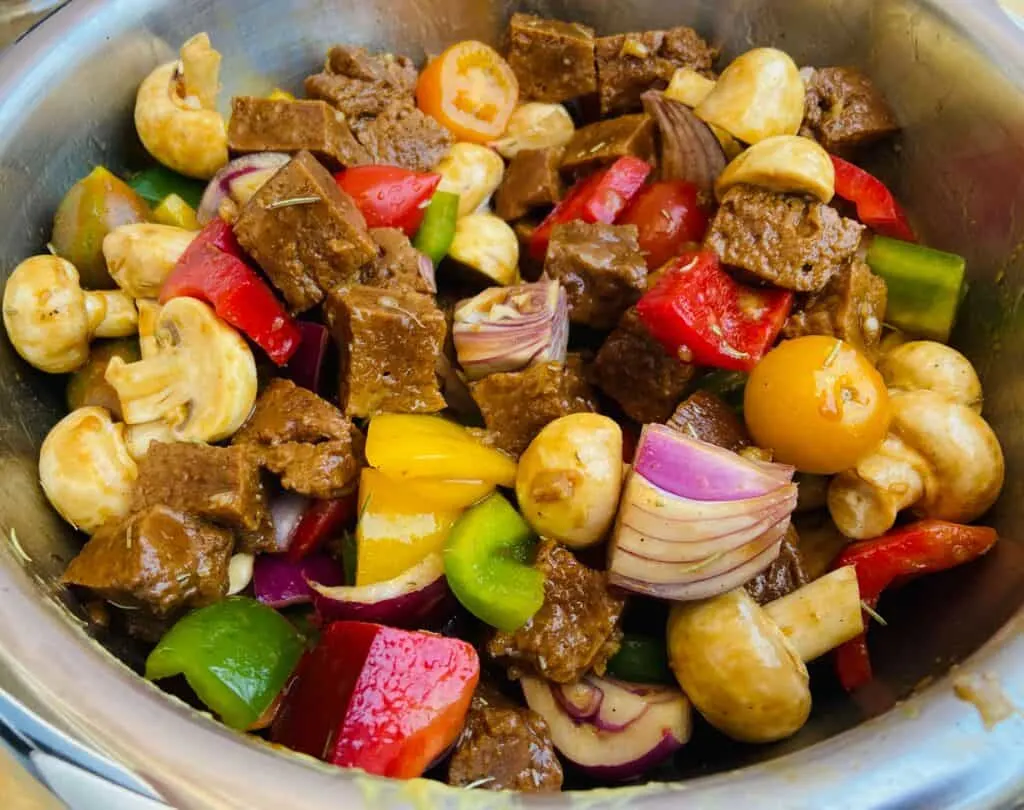 Cover and refrigerate for at least an hour. Now is also a good time to start soaking your skewers (if you plan on using wood skewers) so that they don't burn on the grill.
Grilling the Seitan Kebabs
Once they are done marinating, assemble your skewers. You don't have to follow a particular pattern, but mix and match the vegetables and seitan on your skewers.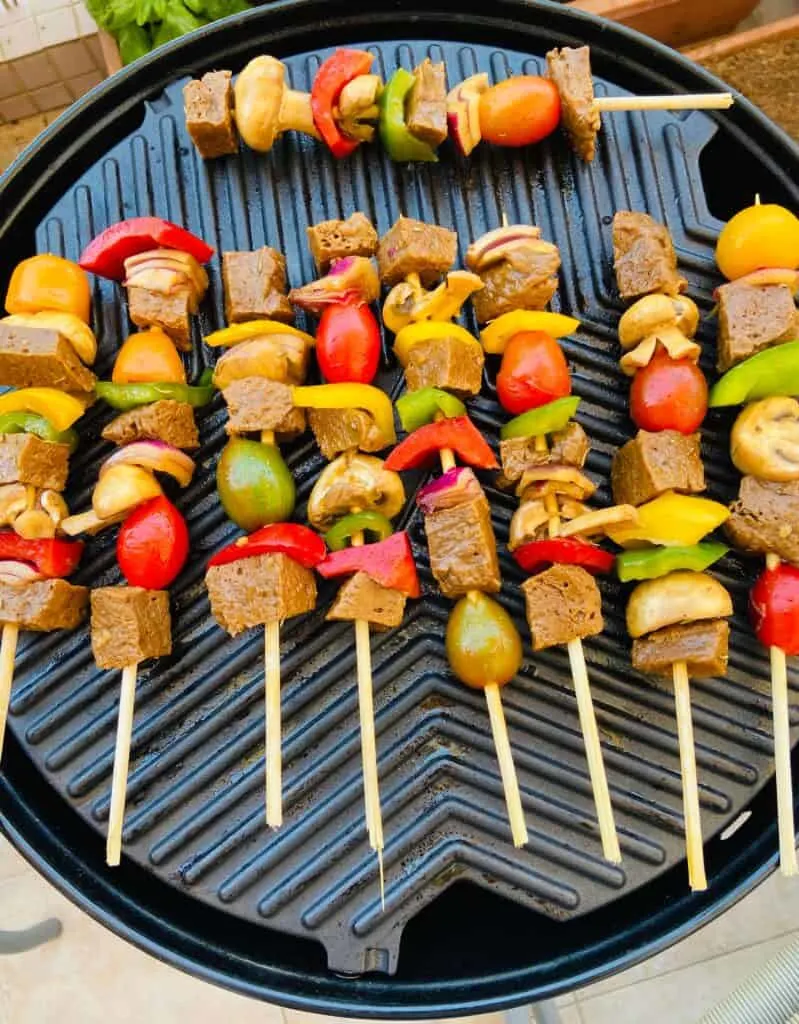 Heat up your grill, and lightly grease it. Grill the skewers on each side until the vegetables have cooked and everything has nice grill marks. The seitan was already cooked and edible before you skewered it so you don't have to worry about it staying too long/short on the bbq.
Once it's finished, enjoy it as is, or with your favorite condiments. I really like it with this honey mustard dip.
Making Seitan Kebabs For Dinner
To make it indoors, simply skewer it and cook it in a pan the same way you would on a grill. If you have a grill pan, even better. You may need short skewers to ensure they fit in the pan, or a very wide pan.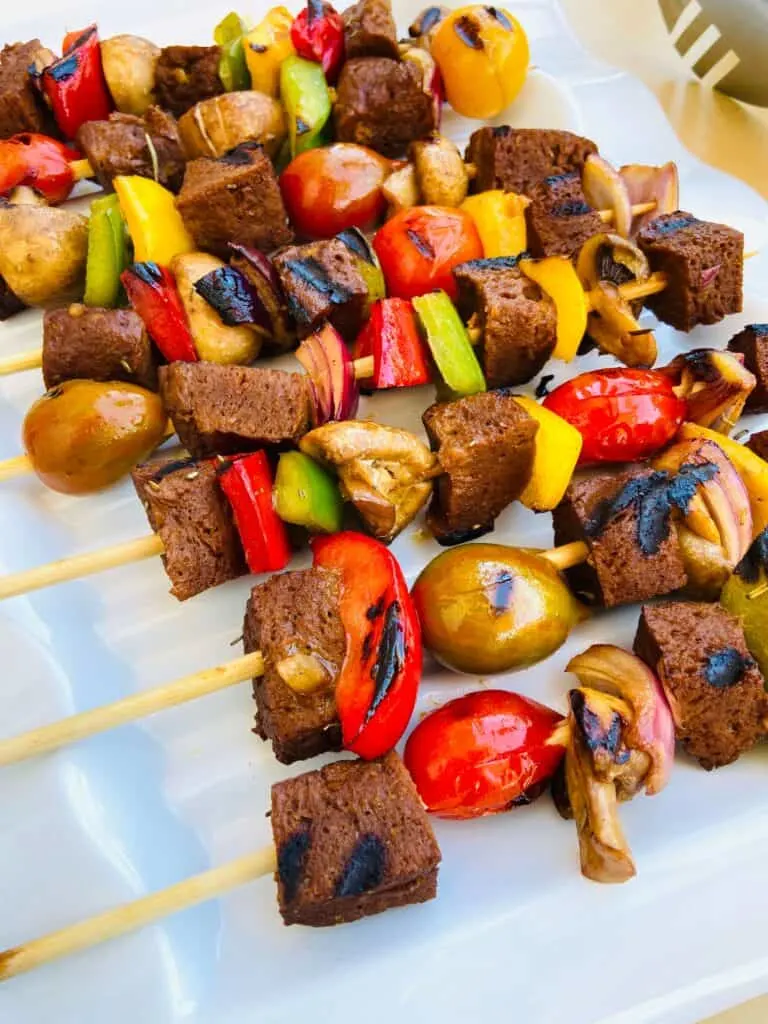 If you aren't working with a non stick pan, you may also need a little extra oil to make sure it doesn't stick to the bottom. Feel free to add a drop of liquid smoke to the marinade as well, to mimic the smokey flavor it gets from a grill.
If you plan to make it for a well rounded dinner, it would pair well with some rice and a green salad.
Make Ahead Options
If you want to prep this recipe early you can make the seitan ahead of time. I highly recommend making a double batch of the seitan to have on hand for other recipes or the next time you want to make these kebabs.
Homemade seitan will last a little over a week in an airtight container in the fridge, covered in the cooking liquid. You can also freeze it for up to six months.
You can also get the kebab ingredients ready and marinating and leave it overnight, or even for a few days in the refrigerator. This way you only have to assemble the skewers and cook when it's time to eat.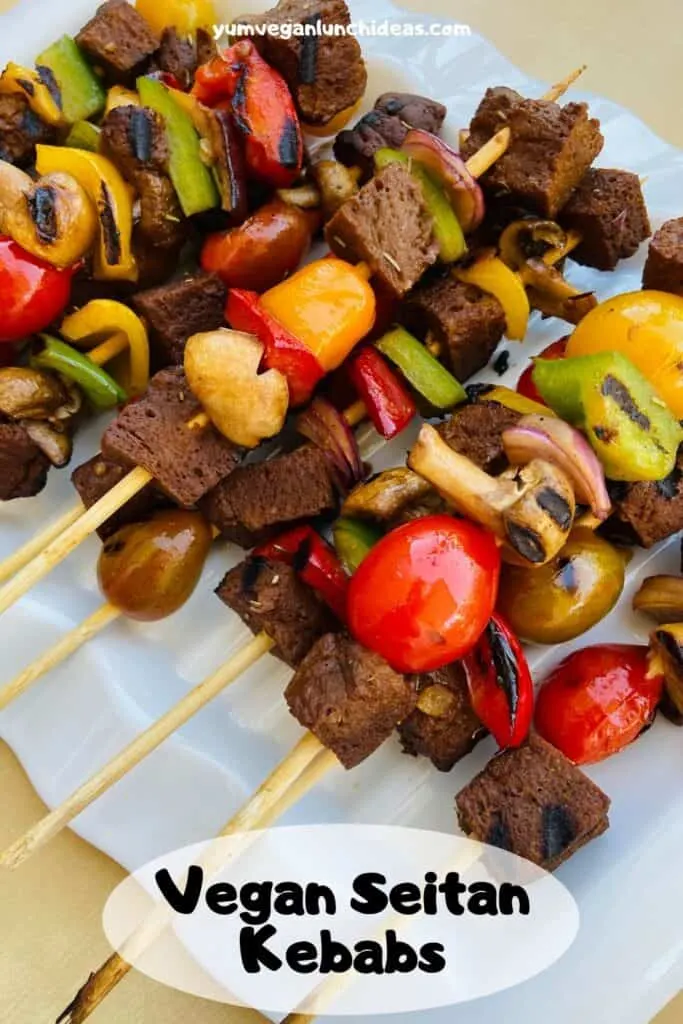 The marinade will get stronger the longer it marinates, especially the rosemary flavor, so if you know you'll be storing it for a few days, you may want to use a little bit less of the rosemary or anything else you aren't too keen on.
After it's cooked, you can reheat leftovers in a pan or in the microwave. You could also heat in the oven, but make sure to only leave it there as long as necessary so that you don't dry it out.
Yield: 15-17 Skewers
Colorful Seitan Kebabs - Vegan Kebabs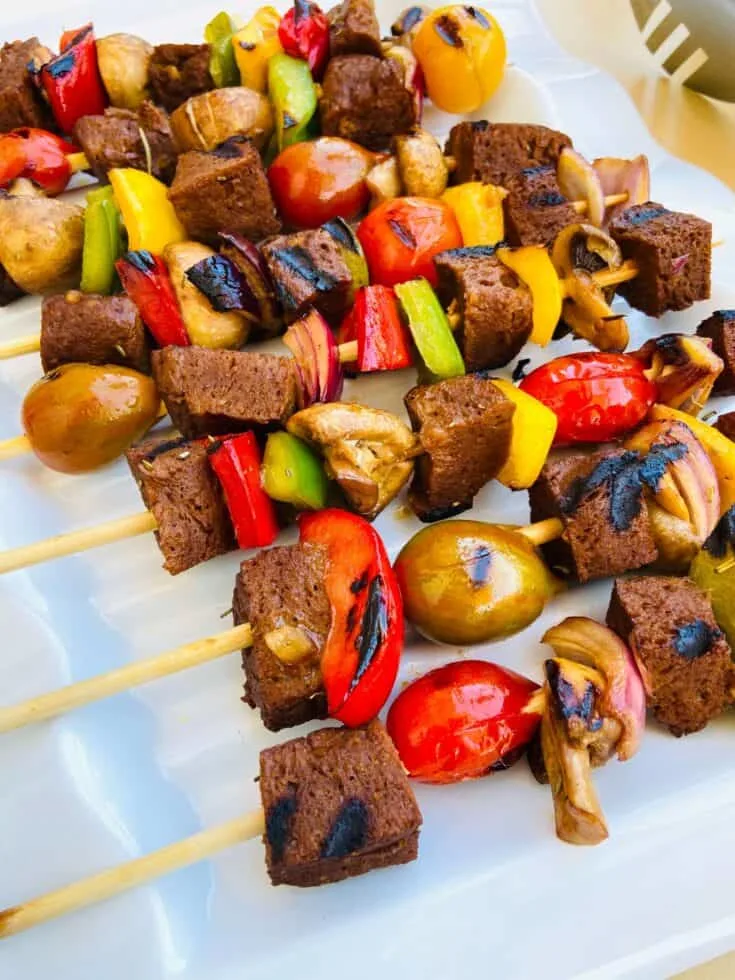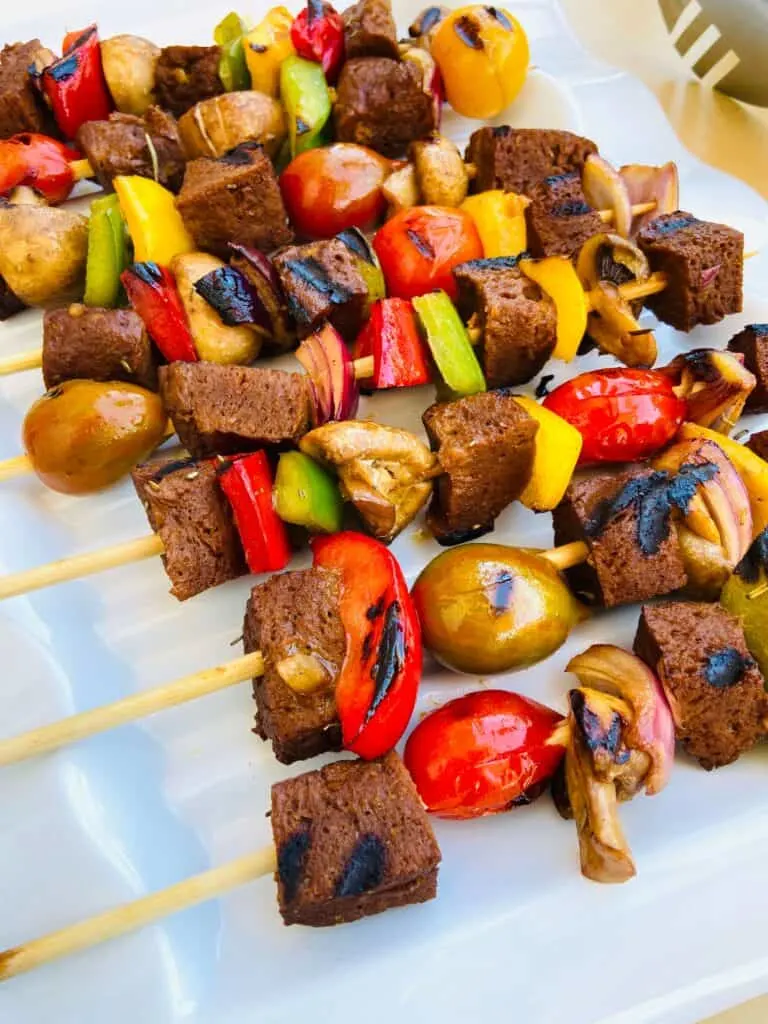 These vegan kebabs are colorful, delicious and a perfect vegan grilling option. Make the seitan kebabs with our homemade seitan recipe, or use store bought seitan.
Bring them to your next vegan bbq or cookout, or just have them for nice vegan summer dinner!
Cook Time
1 hour
35 minutes
Total Time
2 hours
5 minutes
Ingredients
Beef Seitan Ingredients*
4 Cloves Garlic, Halved
1/2 inch Fresh Ginger, Peeled and Sliced
3 Tbsp Sake
1/2 tsp Granulated Garlic
Kebabs
1 Container of Mushrooms
1 Red Onion
20 Cherry Tomatoes of Assorted Colors
1.5 Large Bell Peppers**
Marinade
1.5 Tbsp Lemon Juice
4 Cloves Garlic Minced
Scant 1/2 tsp Dried Rosemary
1/2 tsp Salt
Dash of Pepper
Instructions
Homemade Seitan Beef***
Add the dried mushrooms, garlic, ginger, vegan beef bouillon, and 4 cups of water to a pot. Cover and simmer on low for 20 minutes.
Turn off the heat and add the tea bags. Let them steep for 5 minutes.
Remove the tea bags and set aside half a cup of the broth.
Add the sake, mirin, and 1.5 Tbsp miso to the broth in the pot. Mix it so that the miso becomes incorporated into the broth. Cover the pot to keep it warm while you make the seitan dough.
Add the chickpeas to a food processor or blender and mince them.
Add in the half a cup of stock that was set aside, remaining miso, soy sauce, tahini, tomato paste, sesame oil, and kitchen bouquet. Process until smooth.
In a large bowl, mox together the vital wheat gluten and garlic powder. Add in the food processed puree and mix until it forms a dough. Knead for 5-7 minutes.
Shape a log from the dough and cut it into 8 pieces. Try and flatten them a bit before cooking.
Add the seitan pieces to the stock and bring to a low simmer. Cook covered for around an hour, but be sure to watch and make sure it does not boil. It may take slightly longer to cook if your pieces are fatter. When it's finished, it should feel firm

Prepping the Veg and Seitan
If your mushrooms are small you can use them whole, otherwise cut them in half.
Cut peppers into chunks large enough to be threaded onto skewers
Small cherry tomatoes can be used as is, large ones should be halved.
Cut red onion into chunks, you don't need to peel the layers apart because they cook nicely in little stacks.
Cut your seitan into chunks.
Marinating and Cooking Your Skewers
Whisk together all marinade ingredients in a large bowl and, once it's combined, add in all the vegetables and seitan pieces.
Mix well so that all the ingredients are covered in the marinade.
Let it marinate for at least an hour, see post for overnight instructions.
Thread onto skewers.
Heat up your grill and brush a bit of oil on the grill.
Grill on each side until the vegetables are softened and everything has nice grill marks, around 5 minutes for each side.
Enjoy!



Notes
*If you are using store bought seitan, you'll need around a pound of seitan.
** I used half of three colors of bell pepper (green, yellow, and red), you can do this for a colorful result or just use whichever color you like.
*** If you are making the seitan instead of buying ready made, I highly recommend making a double batch. Seitan freezes really well so you'll have leftovers for stir fries and other seitan recipes on hand the next time you need it.
Recommended Products
As an Amazon Associate and member of other affiliate programs, I earn from qualifying purchases.
Nutrition Information:
Yield:
5
Serving Size:
1
Amount Per Serving:
Calories:

455
Total Fat:

16g
Saturated Fat:

2g
Trans Fat:

0g
Unsaturated Fat:

13g
Cholesterol:

0mg
Sodium:

2082mg
Carbohydrates:

37g
Fiber:

4g
Sugar:

14g
Protein:

41g
Disclaimer: This Post Contains Affiliate Links
You may also like: