I love making condiments myself, and I have to say, vegan aioli recipe is very easy to whip up. All you need is a handful of ingredients and a good blender.
We are a big lovers of aioli in this family. Whether it's for dunking chunky chips, or drizzling over our BBQ corn, we make it quite often around here! The creaminess with that garlic flavour, make it a really good condiment, with almost any meal.
The best thing about making your own vegan garlic aioli is there will be no hidden nasty additives, the ingredients are all super healthy and likewise, it's gluten free.
You can also easily make it vegan chipotle aioli or vegan sriracha aioli, it's just a matter of a couple of extra ingredients.
Vegan Aioli
The word aioli a compound of 'garlic' and 'oil'. It originates from the Mediterranean , in particular it is used in French, Spanish. and Italian cuisine. Typically it is compared to the texture of mayonnaise and traditionally it is made with garlic, oil and an emulsifier such as egg white.
Interestingly, since the 80's all flavoured mayo's are often called aioli! Depending on where you are in the Mediterranean, traditional aioli is served quite differently.
For example, in Malta, aioli is served with bread and crushed tomatoes. Whereas in France, aioli is served with boiled vegetables. On a personal level, I love to have aioli as a condiment at a BBQ. I also love to drizzle vegan aioli sauce on salads and corn on the cob or corn fritters.
However my absolute favourite is a big blob of creamy aioli sauce vegan style with warm chunky chips!
Vegan Garlic Aioli Recipe
I was looking at a tonne of videos and articles on how to make vegan aioli and have essentially come up with my own take on the Mediterranean classic.
All you need is a bag of raw cashew nuts, garlic, lemon juice gluten-free dijon mustard and water. The best thing to do is soak the cashews in water overnight. It's a simple easy preparation you can do in advance.
For this vegan aioli sauce recipe I used my Breville
all in one processing station. It is one of my essential kitchen items for making vegan homemade goodness!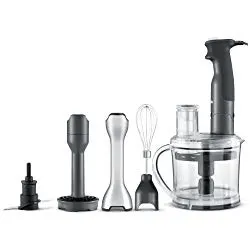 Once you've soaked the cashews overnight, strain them and give them a rinse in a colander with tepid water. They should be quite soft and have soaked up a lot of the water overnight.
The next steps are super easy, all you need to do is minus 2 to 3 cloves of garlic. Use a really good garlic press
, ensuring it comes out properly minced. You can put as much or as little as you like, but remember raw garlic is pungent. Less is more in my opinion so it does not become overbearing.
However, if you are anything like my sister, she literally has garlic with everything and so she'd probably be the sort of person to load as much as is humanely possible without having dragon breath after.
I use lemon in this recipe to give the vegan aioli, vegenaise as some call it, a bit of a zing. You can use apple cider vinegar if you don't have any lemon.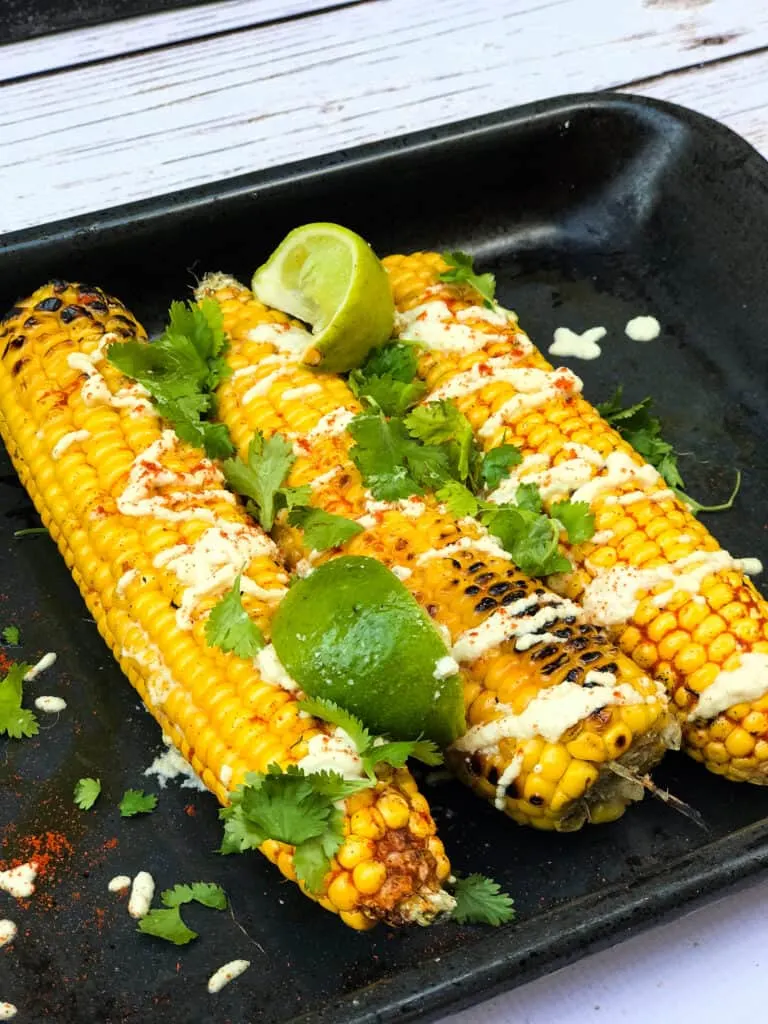 I also use Dijon Mustard in this recipe. It packs vegan aioli recipe with a lot more flavour. Make sure to choose a gluten-free Dijon Mustard. Most big brands in the U.S are gluten free anyway.
It's just a matter of blitzing everything in the blender together. You can add salt and pepper for seasoning. Likewise you can add water to get the consistency right, depending on how you like it.
You really need to give it a good amount of time in the blender to get the consistency right, like all sauce and dip recipes, it takes time for the cashews to become truly like a butter.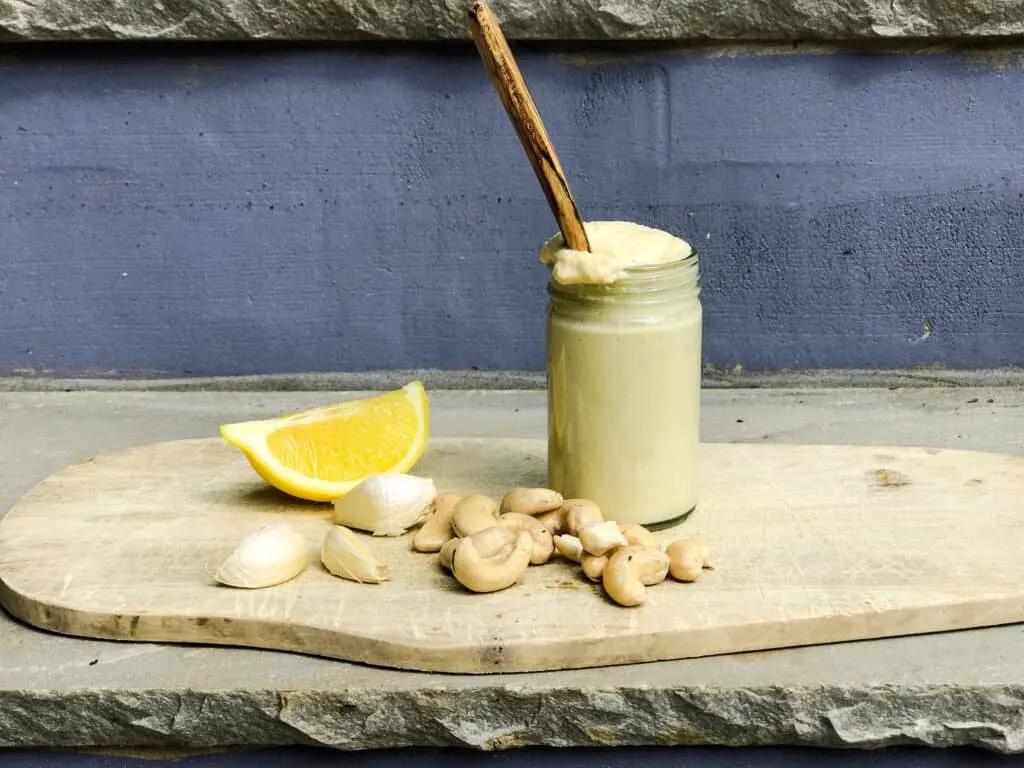 Sriracha Aioli Vegan
The great thing about this recipe is, it's so versatile. All you have to do is add a teaspoon of sriracha to the mix, and it will make it a sriracha vegan aioli! I must admit I do like a bit of spice.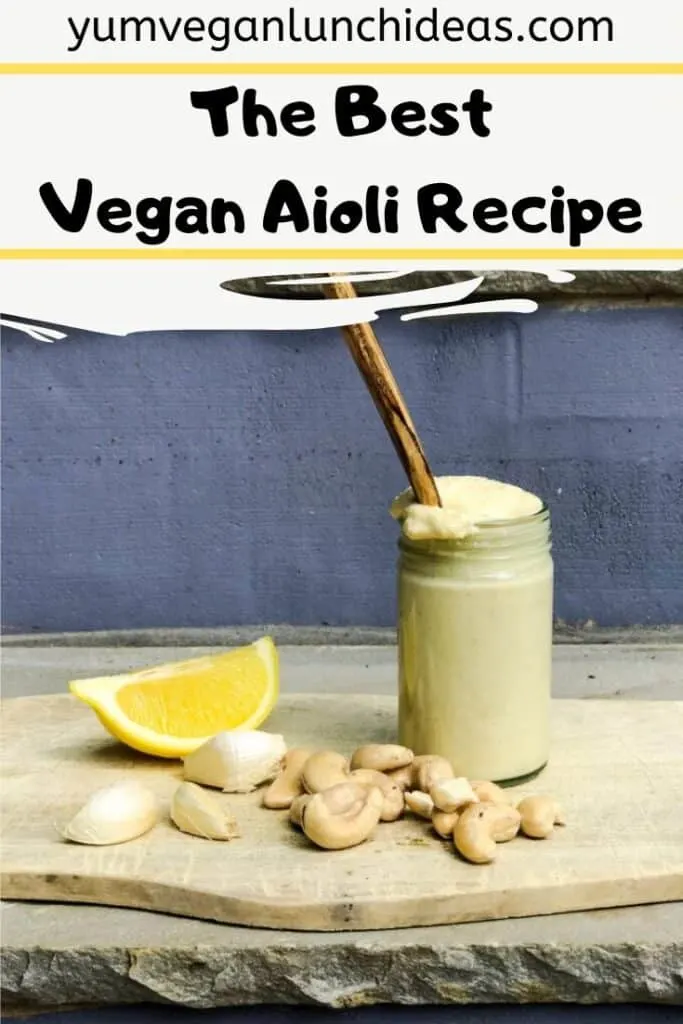 Yield: 110
Vegan Aioli Recipe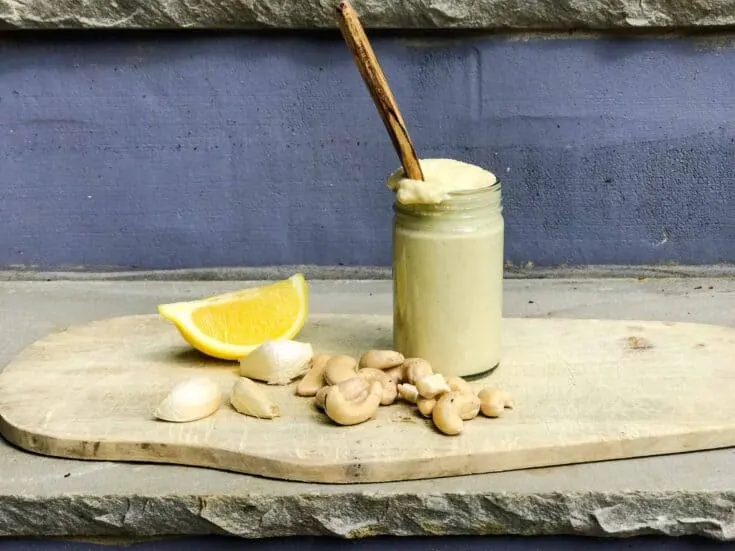 Try this creamy vegan ailoi packed full of flavour, drizzled on salad, or simply used for dunking warm chunky chips! This is simple and easy to make with only a handful of ingredients.
Ingredients
1/2 a cup of raw cashew nuts
2 cloves of garlic
1 lemon
1 tablespoon of gluten free dijon mustard
Instructions
Start with soaking half a cup of raw cashews overnight. i usually put them in a pot with the lid on. Put enough water in so it just barely comes above the surface of the cashews.
The next morning, strain the cashews and rinse with cold water in a caldron. The cashews should be soft and have soaked up plenty of the water.
Put the cashews to one side and prepare the other ingredients.
Measure out one tablespoon of gluten-free dijon mustard.
Squeeze half a lemon, or measure out three table spoons of apple cider vinegar depending on what you have available.
Mince 2 cloves of garlic with a manual garlic press / crusher.
Add all of the ingredients to a blender with a shot of water.
Blitz in the blender until the ingredients become like a butter cream. You can add more water to your preference. Leave it blending for as long as possible to get a truly smooth consistency.
Add seasoning such as salt and pepper whilst it is being processed.
If you plan to make the aioli spicy, dont forget to add a teaspoon of sriracha into the blender as well. Totally optional!
Once the mix is ready, add to a jar or a small bowl if you are using it straight away.
You can store it in the fridge in an air tight jar or container for three to four days.
Notes
Serve this creamy aioli dip along with warm chunky chips, or with warm pitta bread. It can form part of a Medditeranian mezze plate, with carrot and cucumber sticks, hummus, flatbread and vegan kofte kebabs. It's so versatile and can be used as a condiment with so many meals.
Recommended Products
As an Amazon Associate and member of other affiliate programs, I earn from qualifying purchases.
Nutrition Information:
Yield:
10
Serving Size:
1
Amount Per Serving:
Calories:

41
Total Fat:

3g
Saturated Fat:

1g
Trans Fat:

0g
Unsaturated Fat:

2g
Cholesterol:

0mg
Sodium:

43mg
Carbohydrates:

3g
Fiber:

1g
Sugar:

1g
Protein:

1g
You May Also Like:
Soy Silan (Date Syrup) Salad Dressing