I have been trialling a tonne of vegan BBQ chicken recipes and finally set on this one as my favourite. It's my hodge podge creation of a tonne of different seitan and tofu recipes. All of the ideas are mixed into this mouth watering master piece!
This recipe is now one of my favorites; it's great as a main dish, cut up in salads, served on a bed of rice (or cauliflower rice), as a sandwich and more. It would also taste really great paired with this tomato and artichoke salad.
I have always loved a good BBQ and LOVE recreating all of the classics into vegan meals. It's great to do corn on the cob, veggies burgers and tofu skewers on the BBQ. However sometimes my omni family think I'm missing out!
As a vegan I never feel like I'm missing out but I love convincing them vegan is just as good. I have to admit this meatless chicken has convinced a number of my omni loved ones that they could go vegan!
Make sure to check out all of our vegan BBQ recipe ideas like these vegan yakitori skewers!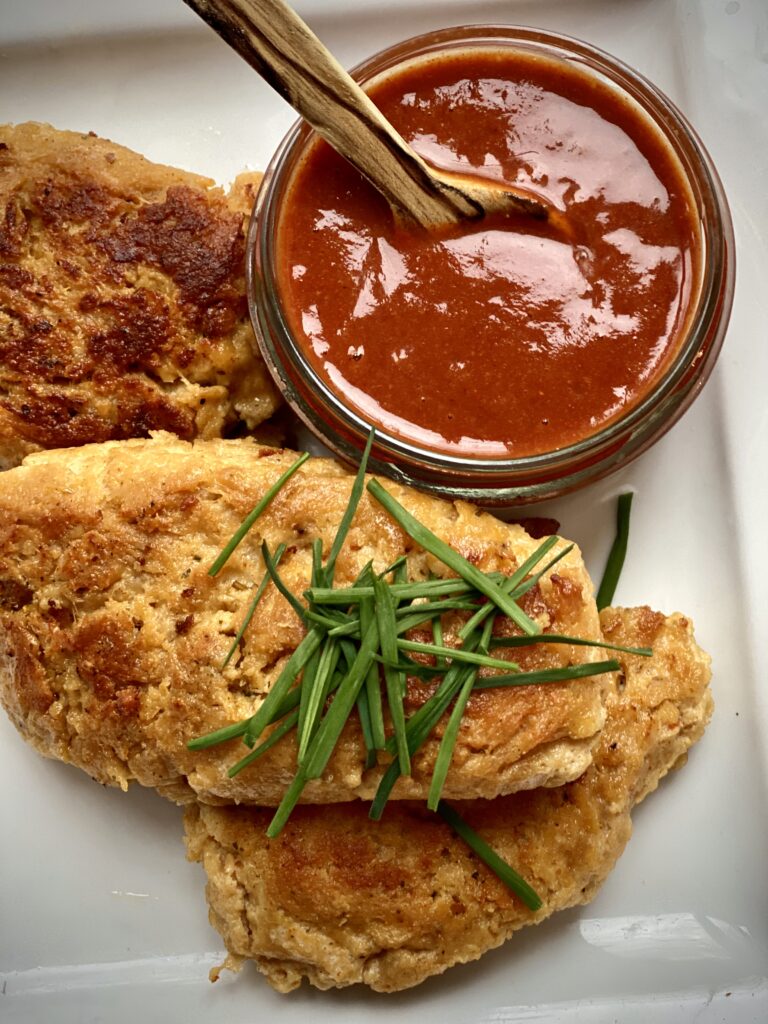 Vegan Barbecue Chicken Recipe
I have loved experimenting with seitan, the options are seriously endless when it comes to making mock meat with this amazing product. It's all about the flavours and spices you add to the mix.
For this recipe, you'll need vital wheat gluten which is essentially seitan! It comes in the form of flour and through adding your flavours and some water, you are going to make an amazing dough.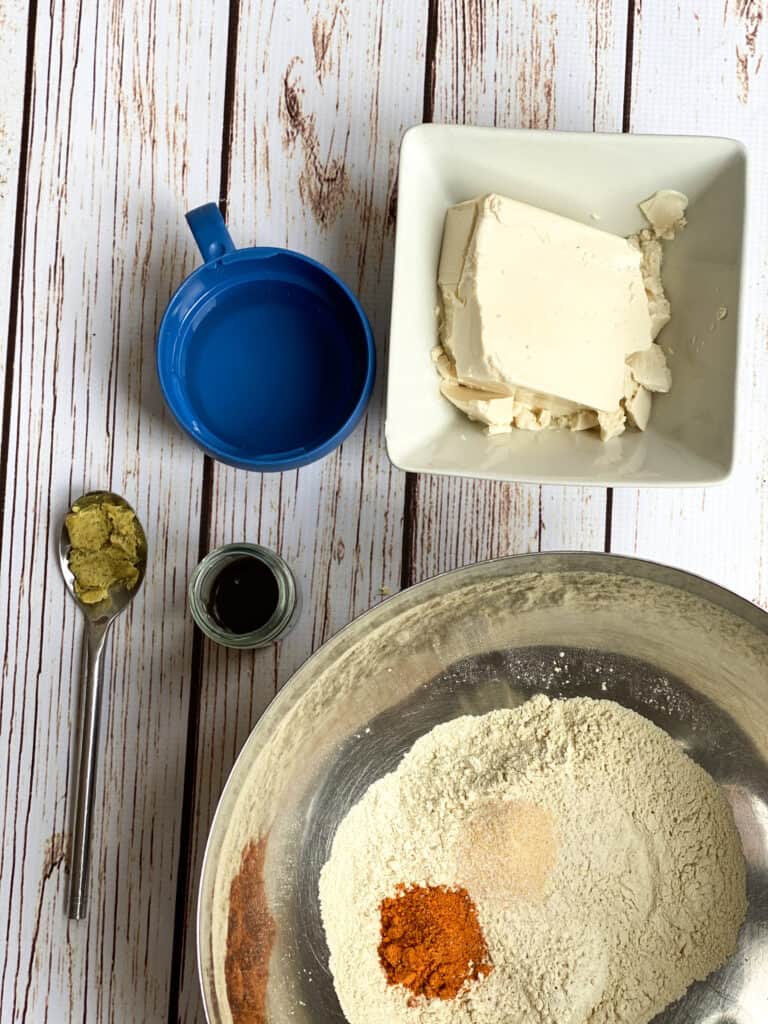 The consistency of the dough is stretchy and fibrous. We added some silken tofu to our mixture to create more of a soft texture, perfect for mock chicken.
Our only other ingredients were onion powder, vegan Worcester sauce, garlic powder, a cup of water and vegan chicken seasoning, we created an amazing dough.
How to Make the Seitan
Starting off by whisking all the dry ingredients together, I then added the wet ingredients in a well in the centre of the bowl. Again I mixed until all of the contents began to form.
Next you need a surface to knead the dough. It's important not to over knead as the dough can become too tough. I know! It's hard not to play with stretchy dough right?
Once you have a good doughy consistency, you can start cutting it up into cutlets of your desired size. If you are struggling with the consistency add a touch more water if it's too dry and a touch more flour if it's too wet.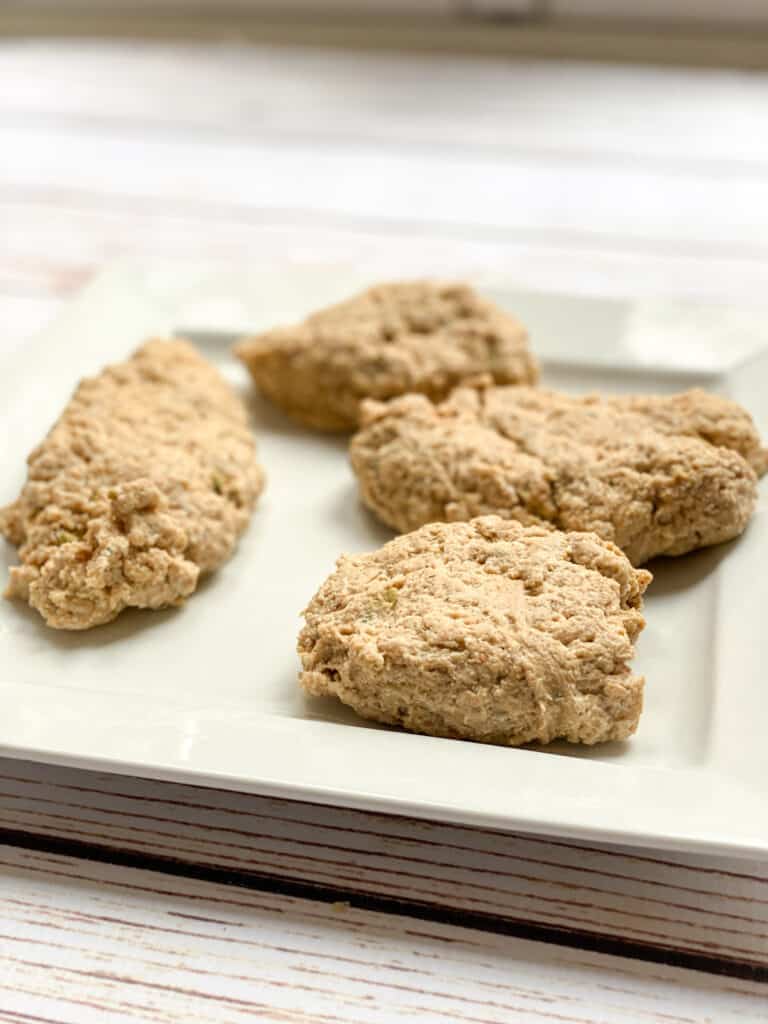 Each cutlet needs to be wrapped in boil safe tin foil. Then gently submerge in boiling water for 30 minutes in a pot. Keep it on a medium heat. After the 30 minutes, remove the parcels, unwrap and place the seitan on a cold plate.
At this point you can either baste the chicken in the bbq sauce. Or if you prefer to keep it plain. BBQ it on a low heat until golden, turn regularly.
if you decided to keep the seitan chicken plain, it could be added to a Cobb Salad or a Caesar salad or used in our vegan satay recipe.
Alternatively serve it alongside a dipping bowl of the yummy vegan bbq sauce as shown in the recipe card below. It's just a matter of blitzing all of the ingredients together and you'll have a really flavoursome vegan bbq sauce!
Yield: 4 -5 people
Vegan BBQ Chicken Recipe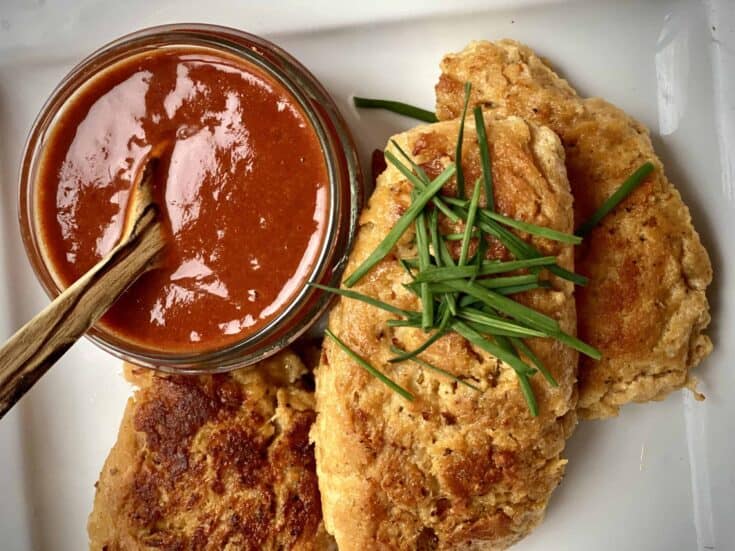 Try this delicious vegan bbq chicken recipe. Perfect for vegan bbq ideas.
Ingredients
2 cups of vital wheat gluten
1/2 a cup of oat milk
1 tsp of onion powder
1 tsp of garlic powder
2 tbsp of vegan Worcester sauce
1 tbsp of vegan chicken seasoning
1 no chicken bouillon cube
1/4 a cup of silken tofu
For the vegan BBQ sauce
1/3 a cup of tomato sauce
1 tbsp of liquid smoke
1 tsp of chilli powder
1 tsp of smoked paprika
1 tsp of dijon mustard
1 tsp of brown sugar
1/4 a cup of water
Instructions
Add the vital wheat gluten, onion powder, garlic powder, vegan chicken seasoning, and a crushed bouillon cube into a bowl and whisk together.
Make a well in the centre of the mix and add the oat. milk, Worcester sauce and the silken tofu. Make sure to strain the tofu first.
Whisk everything together until it becomes a dough. Once you have a doughy consistency, gently knead the mix on a flat surface.
If the consistency is too wet, add more vital wheat gluten in small amounts. If on the other hand the mixture is too dry, add more oat milk to the mix.
Don't over knead the mix, it will make it too fibrous and tough. Roll out the mix with a rolling pin and cut the dough into strips or cutlets.
Wrap each individual piece in tin foil that is safe to boil. Submerge each parcel into boiling water for 30 minutes.
Once they are ready, take them out and let them rest for a few minutes on a cold plate. They should be well formed at this point.
Put the BBQ on a medium heat and begin charring the seitan chicken until golden. If you do not have a bbq, you can also do this on a gridle pan, or underneath a traditional grill until golden, turn regulary. Serve warm or cold. The chicken can be added to salads or main meals too!
To make the vegan bbq sauce, add all of the ingredients into a blender and bltiz until smooth. The bbq sauce should only take a few minutes to make.
You can baste the chicken breast during the barbequeing phase, or serve it on the side for dipping.
Notes
If you are not a fan of bbq sauce, try this chicken with something like a caesar or cobb salad.
You may also like: