This Succulent BBQ'd Vegan Corn recipe is an absolute must try. Dripping with vegan butter and lime, drizzled with garlicky vegan aioli, it is the perfect addition to your barbecue lunch or dinner.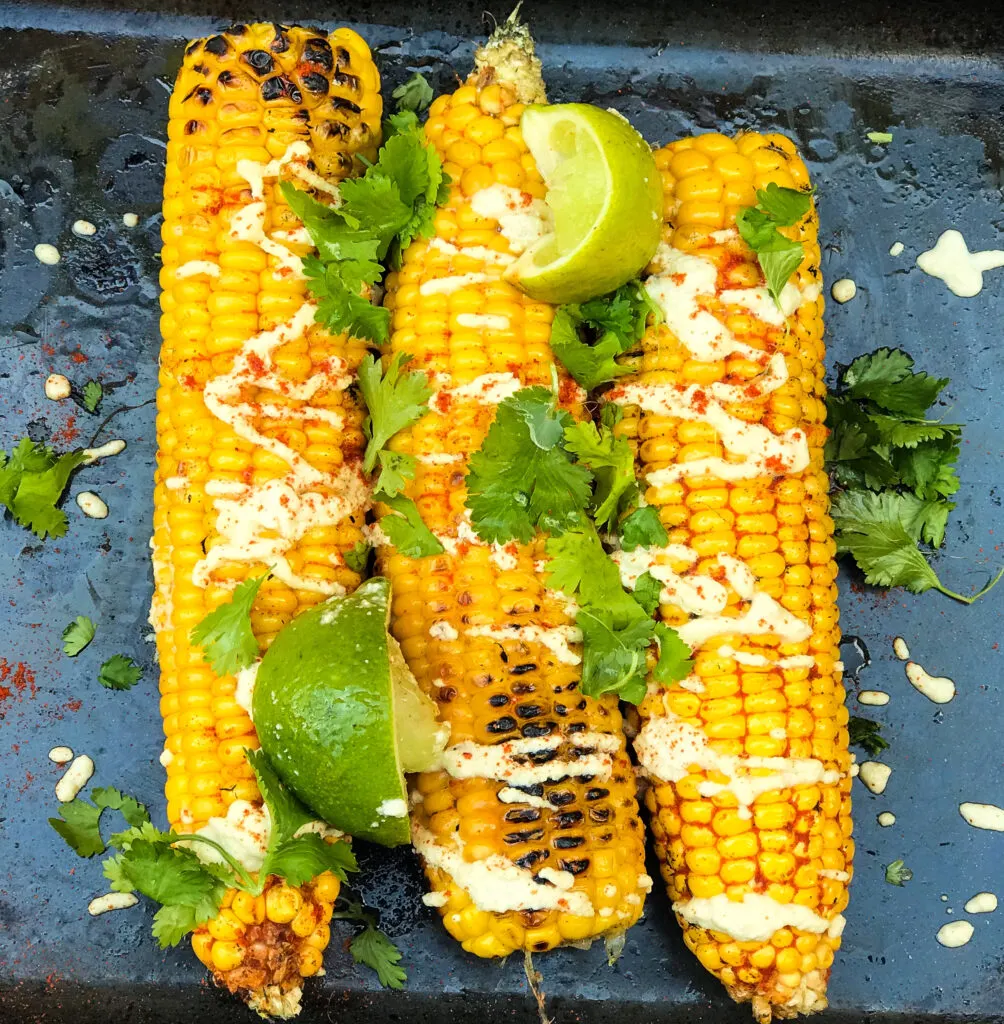 There is nothing more tasty than a BBQ Vegan Corn on the Cob recipe. Imagine the end product straight off the grill! Dripping with vegan butter and lime, drizzled with vegan aioli!
The inspiration came from a trip I made to Bali. We were on a beach watching the sunset, and many food vendors were on the shore with carts full of corn on the cobs.
They were roasting on the fire, the haze and aromas along with the glowing orange sunset are forever etched in my mind.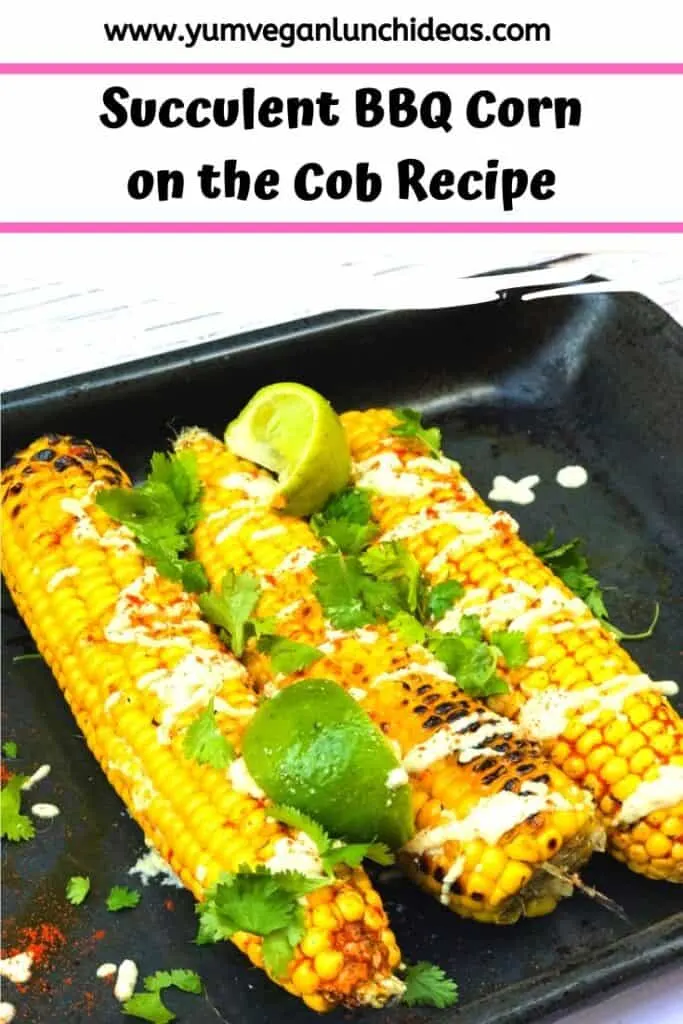 Ive been wanting to recreate a version of this tasty snack for as long as I can remember, and today I finally made it today on my barbecue at home. We use a Weber BBQ, if you are looking for a new one, I can highly recommend it.
Click here to see prices and deals on Weber BBQ System
.
A lot of people will be familiar with Mexican corn on the cob and I guess the Balinese version is not too different.
Generally they are cooked on on a fire, soaked in butter, lime and dressed with chilli flakes. It's a really easy recipe to change to vegan due to the limited amount of ingredients required.
My husband is a New Zealander and BBQ'ing a huge part of his culture, as a vegan I am forever trying to create BBQ recipes that taste good to them and keep the meal really interesting.
Without doubt this recipe went down a treat with my BBQ loving family. Even the kids loved it. If you are looking for more vegan BBQ options, check out these delicious vegan yakitori skewers!
You can pair the corn with this drunken fruit salad to finish off your meal with flare!
BBQ Vegan Corn On The Cob
I'm a big fan of BBQ'ing corn in husks
. It really locks in all of the juices and flavours. I've always used a gas BBQ, we are big fans of the Weber BBQ.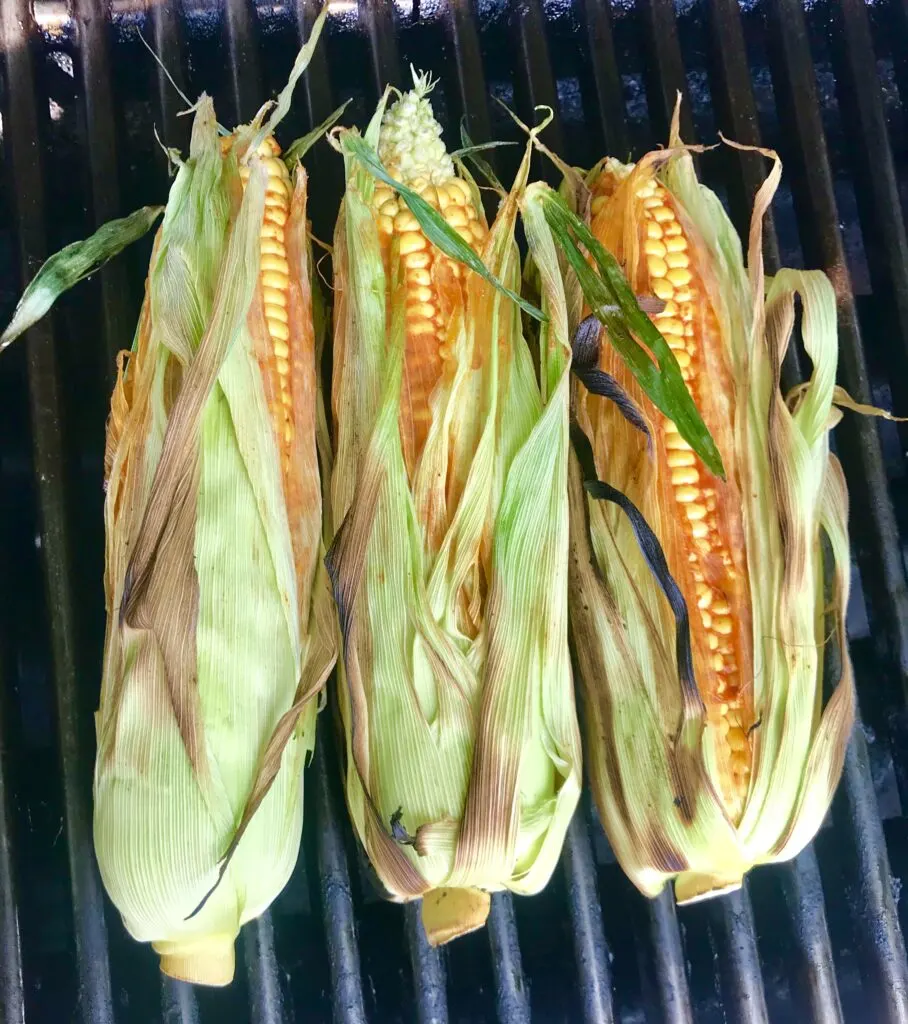 They are incredibly efficient whilst also having perfect temperature settings for a variety of different ingredients. The husks will become crispy throughout the barbecuing time, so it's important it's not too hot as they can catch fire.
When buying the corn, make sure they are fresh, the leaves should be green and intact. The kernels should be plump and yellow.
In this recipe I keep the husks in place for the cooking process, however if you have ready made corns, you could also cook them in the same way without the husks for a reduced period of time.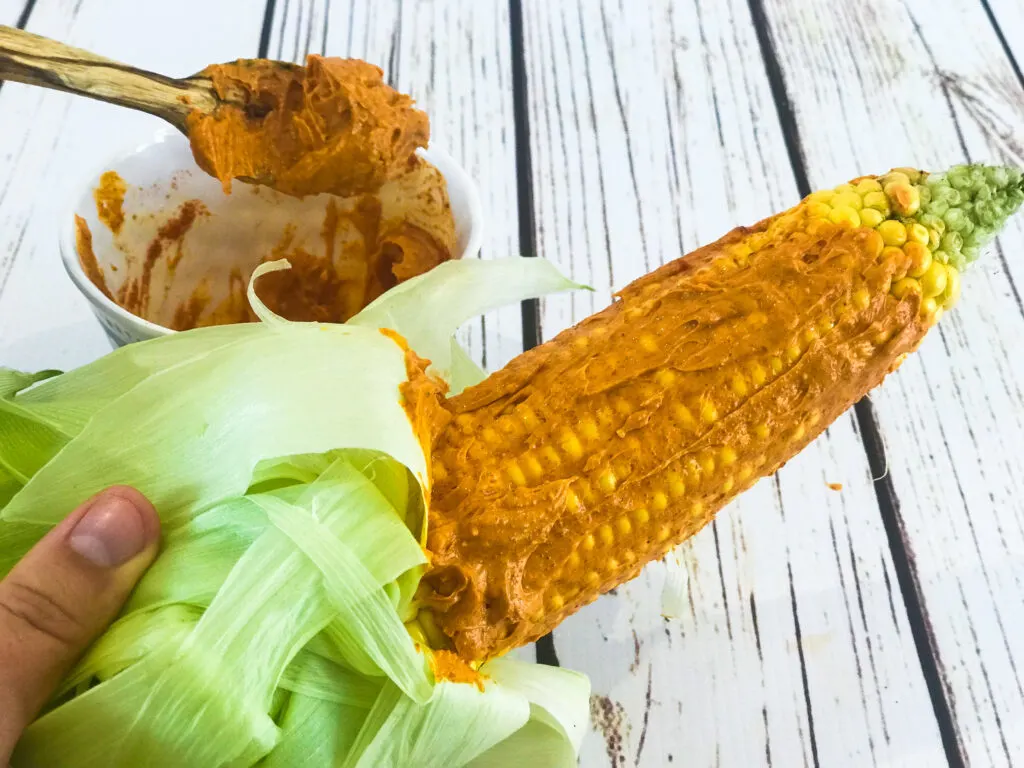 Grilled Corn On The Cob
If you don't have a BBQ you cold also part boil the corns out of their husks, add the butter and put underneath the grill turning regularly. The final dish can be dressed and garnished in exactly the same way.
Perfect Corn Garnish
Cilantro is widely used in asian cooking and is the perfect added flavour to corn. We also use a squeeze of lime and a drizzle of vegan aioli for the ultimate presentation, not to mention punch in taste! See the vegan aioli recipe here.
What else can I serve with BBQ vegan corn on the cob?
BBQ Corn on the cob can be served with a side salad, roast potatoes, or simply with other canopy style nibbles. We love vegan bbq chicken!
What to do with leftover corn on the cob?
Once cooled, corn on the cob can be frozen for later. Alternately use a sharp knife and cut the kernels off to add to stir fry, curry or salads later. Or checkout our last vegan corn fritters.
Yield: 4 persons
BBQ Vegan Corn On The Cob Drizzled in Vegan Aioli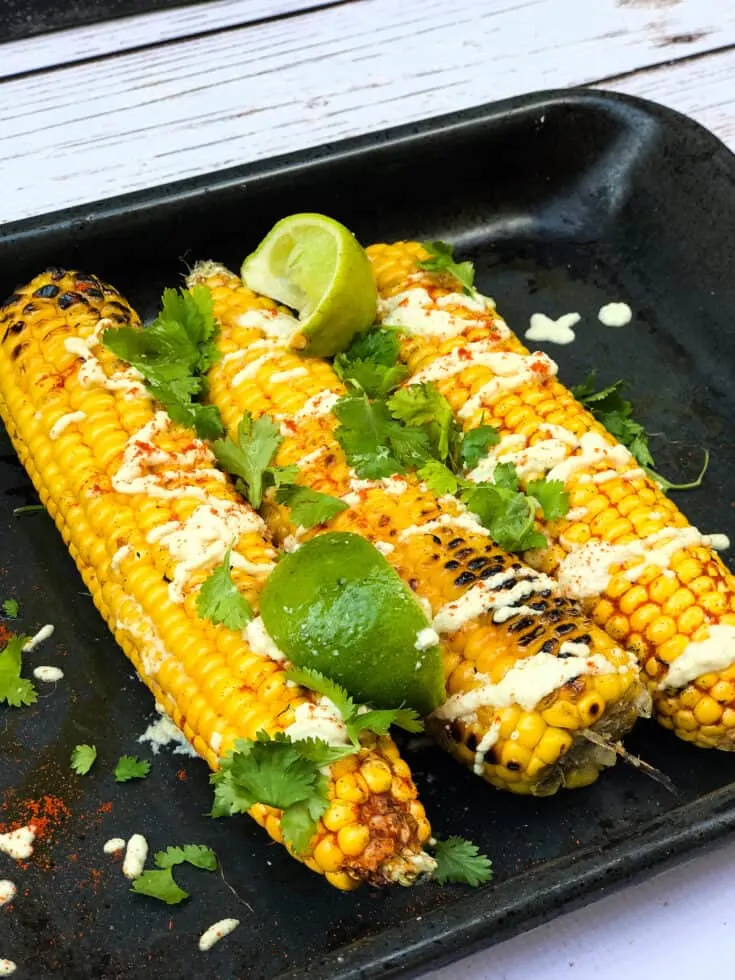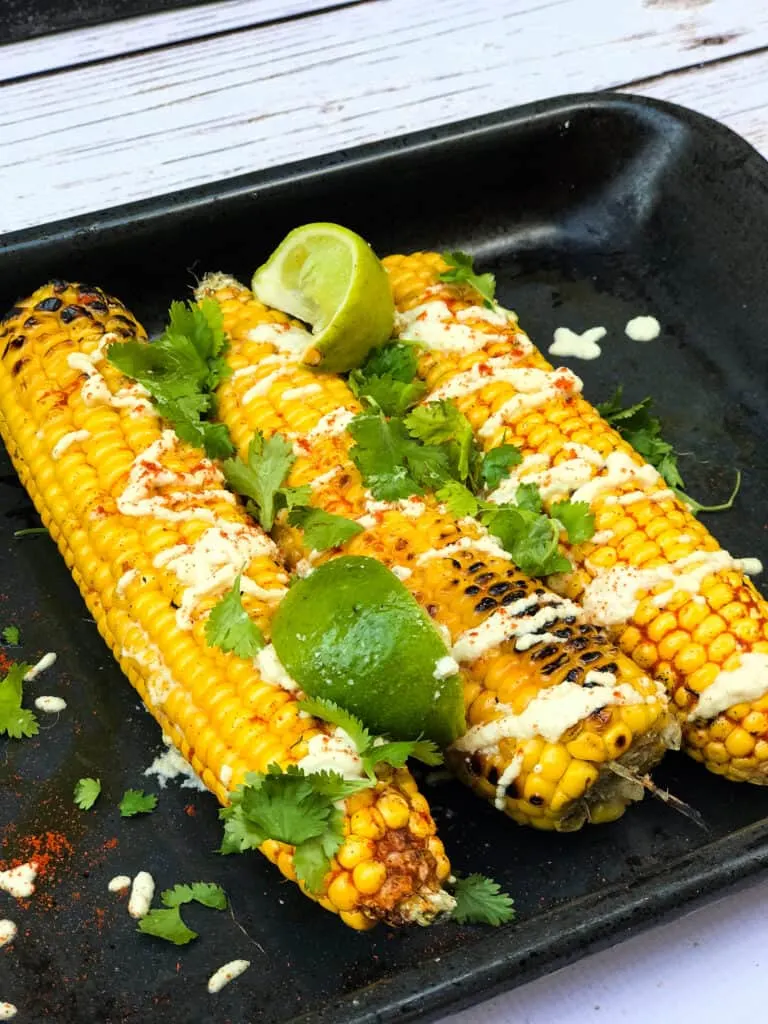 This BBQ vegan corn on the cob recipe is the perfect addition to a meal or as a stand alone snack. It's Balinese street food with a western twist is simply delicious and easy to make with limited ingredients.
Additional Time
15 minutes
Ingredients
4 corn on the cobs in husks
3 tablespoons of vegan butter
1 lime juiced
1 teaspoon of paprika
Half a cup of cilantro
2-3 wedges of lime for dressing
Vegan aioli (optional)
Half a cup of cashews (soaked overnight)
2 cloves of garlic
Half a lemon juice
1 teaspoon of dijon mustard
Instructions
Preheat your BBQ to 250 F (125 C). If you are not using a gas BBQ, make sure your heat is low to medium.
Begin by preparing the butter. Mix the butter, parika and lime together. It should become a red / brown colour.
Gently peel the husks back leaving them still intact at the bottom. Remove all silk threads at this point.
Use a brush to paste the lime / paprika butter onto the corn generously. Make sure to get good coverage.
Re-cover the corn with the husks, trying to keep them as compact and neat as possible.
Slightly dampen the leaves before putting them onto the BBQ
Once on the BBQ turn regularly. The leaves will become crispy. After around 20 minutes, peel the leaves will easily peel off.
Give the corn one more full rotation to brown.
Place in a tray, drizzle the alioli
Squeeze lime over and sprinkle the cilantro
Serve warm.
To make the vegan aioli
Soak the cashews overnight, they should be soft by the next day
Crush the cloves of garlic
Add the cashews, lemon juice, crushed garlic and dijon mustard into the food processor. Blend until smooth. It can take some time to get the perfect consistency.
refridgerate until the corn is ready.
Nutrition Information:
Yield:
2
Serving Size:
1
Amount Per Serving:
Calories:

330
Total Fat:

22g
Saturated Fat:

8g
Trans Fat:

0g
Unsaturated Fat:

12g
Cholesterol:

25mg
Sodium:

546mg
Carbohydrates:

35g
Fiber:

5g
Sugar:

7g
Protein:

7g
You may also like