BBQ season is just starting up, and there's no reason to think that just because you are vegan means you can't enjoy tons of amazing vegan bbq options. From vegan satay skewers to Balinese corn to this vegan yakitori recipe, there are plenty of great options.
This mushroom and tofu yakitori packs tons of flavor that vegan and meat eaters will love. Pair it with this delicious Shanghai bok choy stir fry, to really round the meal out.
Check out more vegan tofu recipes here. Or check out our favorite vegan mushroom recipes here.
What is Yakitori?
If you've never had Japanese yakitori, allow me to introduce you. Yakitori is a classic Japanese bbq skewers. It is traditionally made with chicken, occasionally with some yakitori vegetables like green onions, and cooked in tare sauce over a charcoal grill.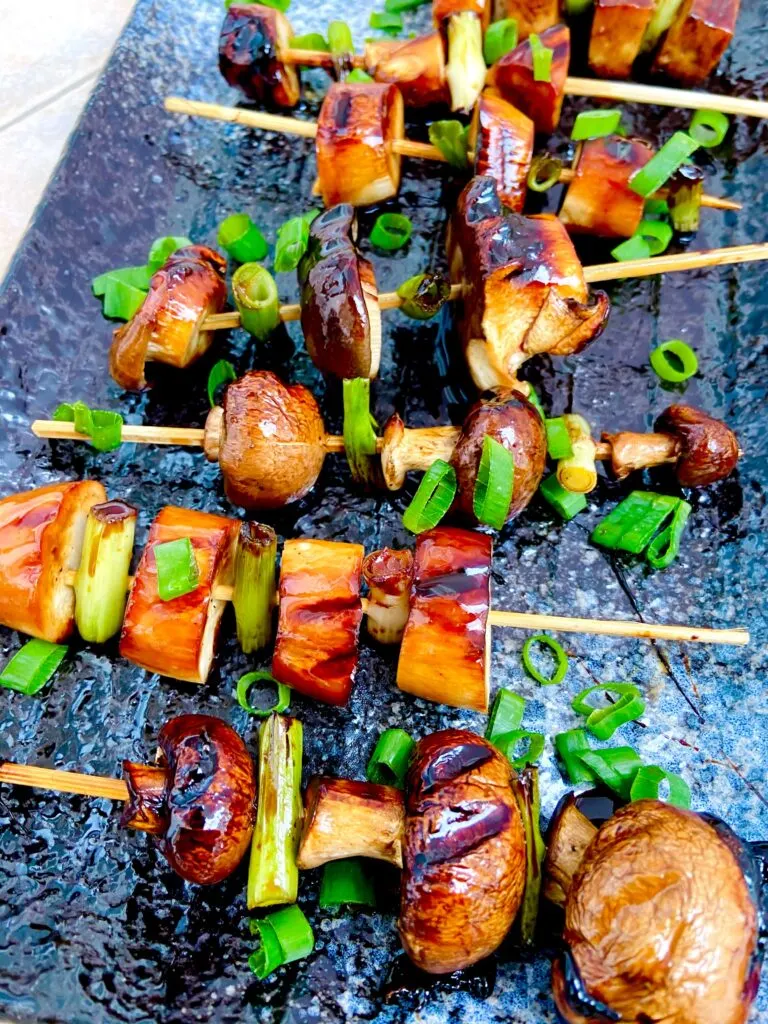 To make this yakitori vegan, we are going to make tofu yakitori and mushroom yakitori, but more on that later!
What is Yakitori Sauce?
The sauce used to coat Yakitori is called tare sauce. Tare sauce is more commonly know in the English speaking world as teriyaki.
For this recipe we make our own tare sauce because it's more flavorful and delicious then the store bought version but if you are short on time you can buy some premade teriyaki or make this super quick teriyaki recipe.
Yakitori Grills
Yakitori is usually cooked on a charcoal grill with a wire grate. The charcoal provides special flavor and the wire grate helps avoid the skewers sticking and allows excess sauce to drip down.
If you don't have a grill like this, it's okay. I used my regular gas grill and still got great results. However, if you want a more authentic feel, you can try the following options.
The first option is to diy a yakitori grill. There are plenty of tutorials on the internet using simple things like clay pots.
The second option is to purchase a yakitori grill for as little as 25 dollars (like this one here
), or go more high end with a bigger and better quality one, like this one
.
Some grills (like the 25 dollar one above) are even small, portable and perfectly table top sized, making it a vegan dinner option where everyone can make their own skewers and grill them right on the table!
How To Make Yakitori Vegan (Tofu and Mushroom Yakitori)
With traditional yakitori skewers, they actually make skewers with different parts of the chicken. I won't get too graphic because, gross, but I figured that I could also do different of my favorite chicken-ey vegan substitutes and try them all out.
I made skewers with tofu, button mushrooms, oyster mushroom tops, and oyster mushroom bottoms. It would be better if I could tell you that one was the best but we all had different opinions on our favorites, and they were all great.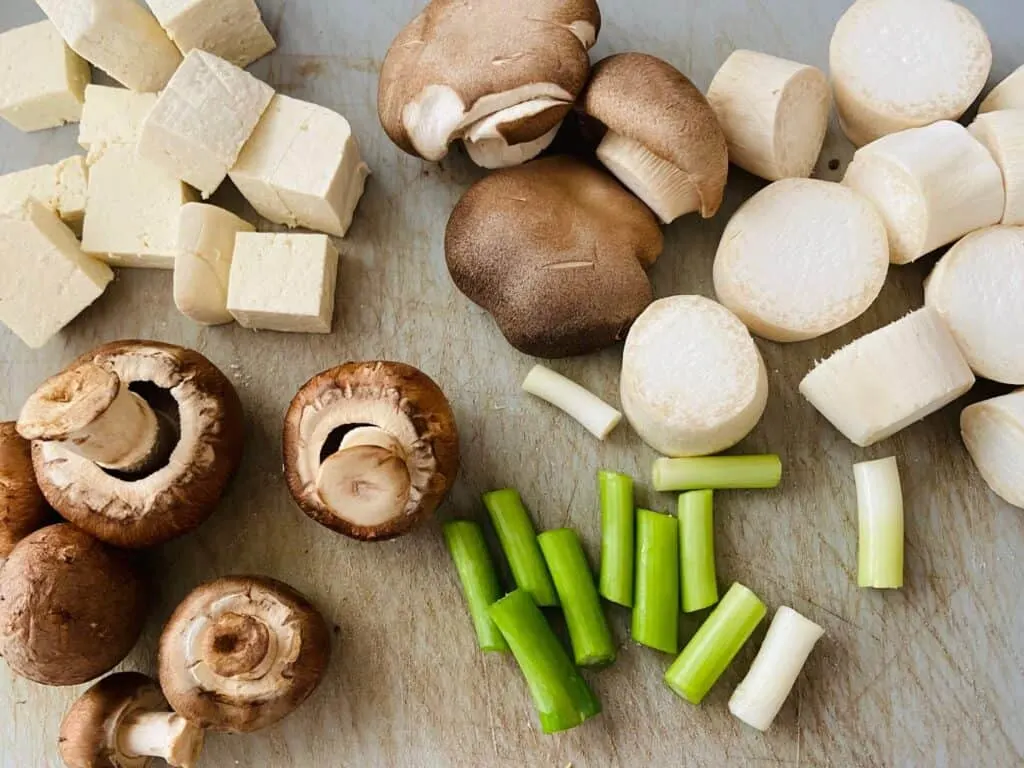 If you want, you can choose one ingredient and make them all from that ingredient, or you can test out some other options like tvp or seitan. It's all good, just follow the cooking method!
The only thing I did differently with the ingredients, is that with the tofu I marinated it for 20 minutes before using it. Otherwise they were all cooked the same.
I also added green onions to the skewers for additional flavor, but thats not mandatory either.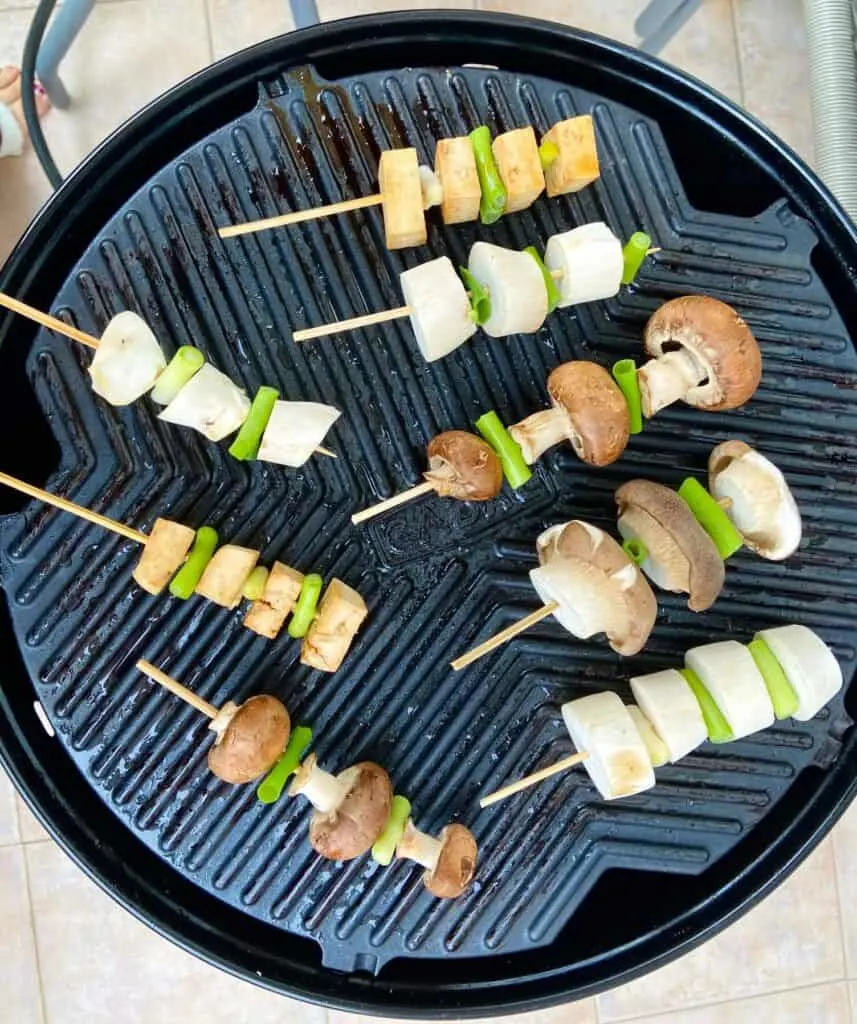 Once you've got your skewers and your sauce ready, you throw them on a greased grill and brush with sauce. Flip them every few minutes, brushing with sauce everytime you do.
Once you've flipped them around four times, they should be done.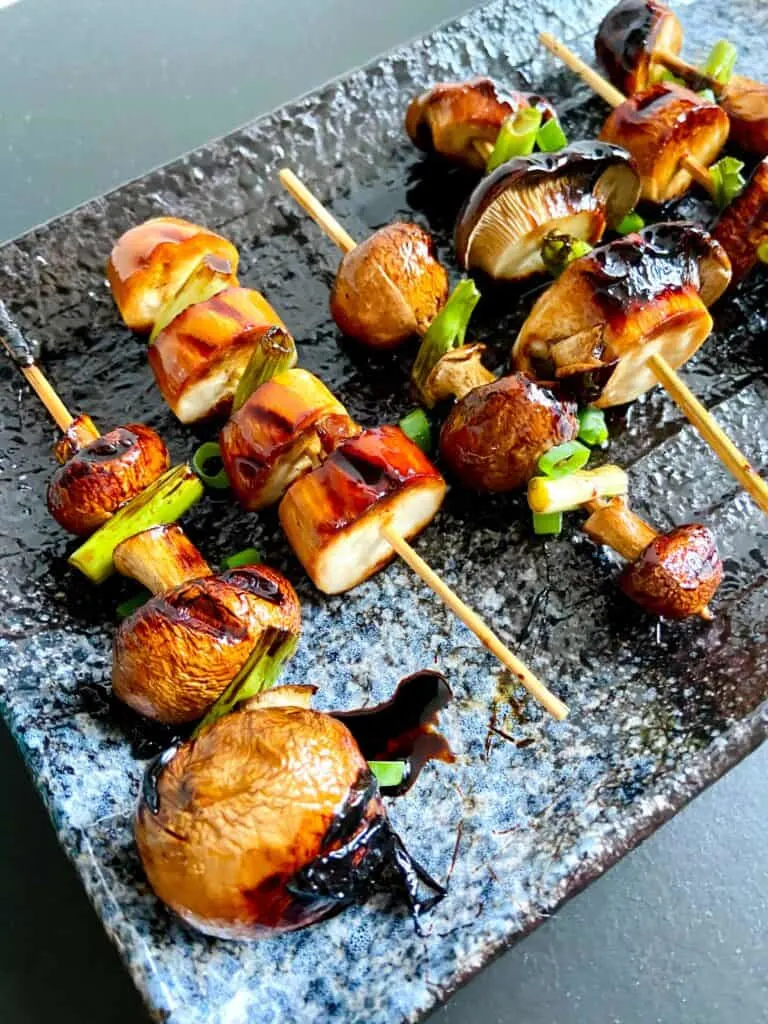 How to Make Yakitori Sauce
It's really not hard to make the yakitori sauce, although it does take some time so as I mentioned, if you are short on time you can buy ready made teriyaki
.
To make your own, you just put the ingredients in a pot and simmer until thickened. Strain to get the garlic, ginger and green onion pieces out and it's done. I like to make a big batch because it tastes so good on everything.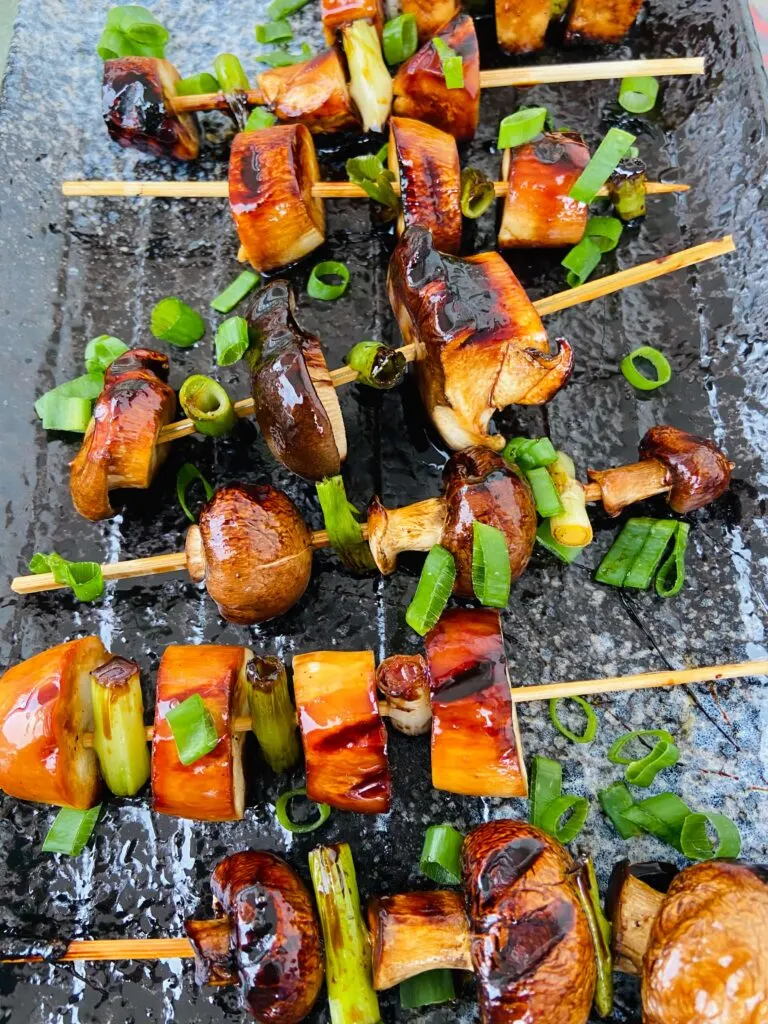 Prepping Vegan Yakitori Ahead of Time
You can make the tare sauce up to two weeks ahead of time so that you are ready to go when it's time to bbq. Store it in an airtight container in the fridge.
Don't Forget to Pin This For Later!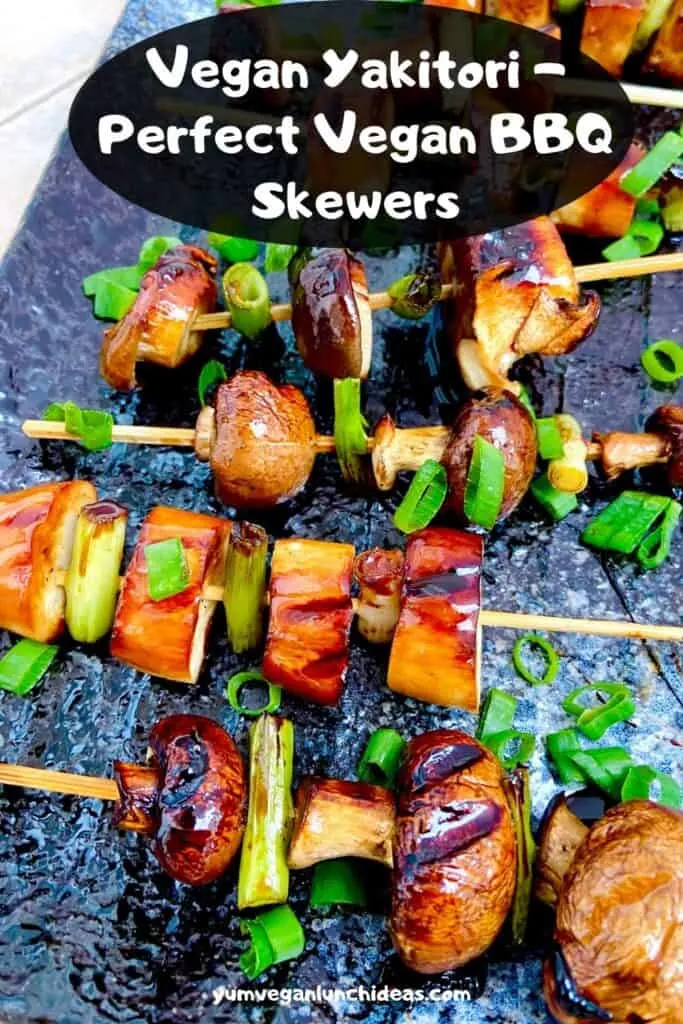 Yield: 12 Skewers
Vegan Yakitori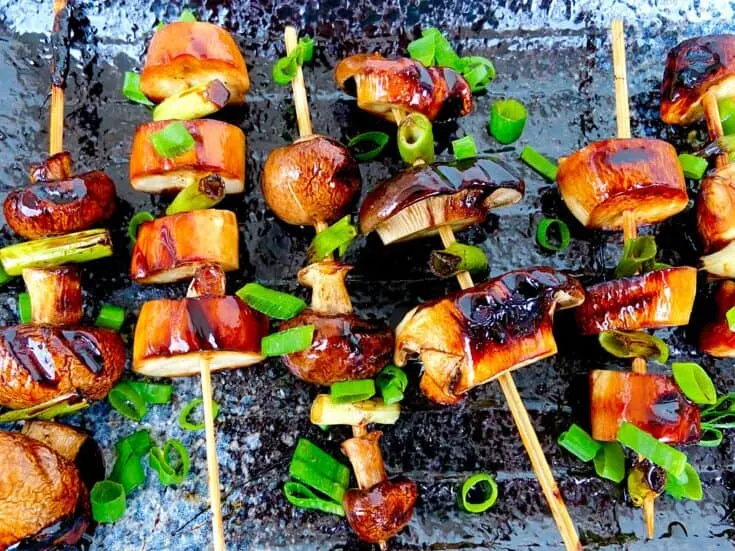 This vegan yakitori is the perfect vegan bbq option. It's completely flavorful, covered in tare sauce, also known as teriyaki.
We make our yakitori vegan by making mushroom and tofu yakitori but you can get creative with it and use whichever chicken replacement is your favorite to make these awesome vegan bbq skewers!
Additional Time
10 minutes
Ingredients
Tare Sauce*
1/4 Cup + 2 Tbsp Sake
5 Garlic Cloves
5 Green Onions
1.5 Inch Piece of Ginger
Black Pepper
Skewers**
3 King Oyster Mushrooms
9 Small Button Mushrooms
4 oz Tofu
Instructions
Tare Sauce
Smash and peel garlic. Roughly chop the green onions. Peel and slice the ginger. They can all be in chunks since you'll be straining the sauce.
Add all ingredients to a sauce pan and whisk together.
Bring sauce to a boil and then lower the heat to simmer for 15-20 minutes, until the sauce is reduced and has thickened enough that when you stick a spoon in it, it evenly coats the back of the spoon.
Strain sauce to remove the chunks of garlic, green onion and ginger.***
Skewers
Soak skewers in warm water for 20 minutes before using so that they won't burn.
Cut tofu into chunks and marinate in the tare sauce for at least 10 min.
Cut oyster mushrooms and green onion into chunks.
Put your skewers together, alternating green onion with tofu/mushrooms/oyster mushrooms. I did dedicated skewers for each main ingredient but you could mix it up and put all of them onto one skewer.
Heat up your grill and brush with oil.
Place skewers onto grill and brush the top side with teriyaki.
After a few minutes flip and brush with teriyaki again. Repeat flipping and brushing every few minutes until they are done cooking. They cook quickly so you will probably only need to flip around 4 times.
Remove from the grill and enjoy!

Notes
* The sauce makes a bit extra. If you don't have time to make the tare sauce you can use store bought teriyaki.
** These are the ingredient proportions I used to make 12 skewers. You can choose to make only tofu or only mushrooms or mix and match.
Usually the skewers used for Yakitori are short ones with rectangular edges.
*** These chunks also taste really good, my husband ate them out of the strainer but I think they would taste awesome rolled into homemade sushi rolls.
Recommended Products
As an Amazon Associate and member of other affiliate programs, I earn from qualifying purchases.
Nutrition Information:
Yield:
4
Serving Size:
1
Amount Per Serving:
Calories:

248
Total Fat:

2g
Saturated Fat:

0g
Trans Fat:

0g
Unsaturated Fat:

2g
Cholesterol:

0mg
Sodium:

2655mg
Carbohydrates:

41g
Fiber:

5g
Sugar:

28g
Protein:

12g
Disclaimer: This post contains affiliate links.
You may also like:
A guide to cooking and preparing tofu
Vegan Jerk Chicken