This delicious jerk seitan chicken is perfect for a vegan BBQ. The seitan gives a meaty texture and the delicious spicy, zingy jerk marinade provides an explosion of flavour. This vegan jerk chicken is a must try!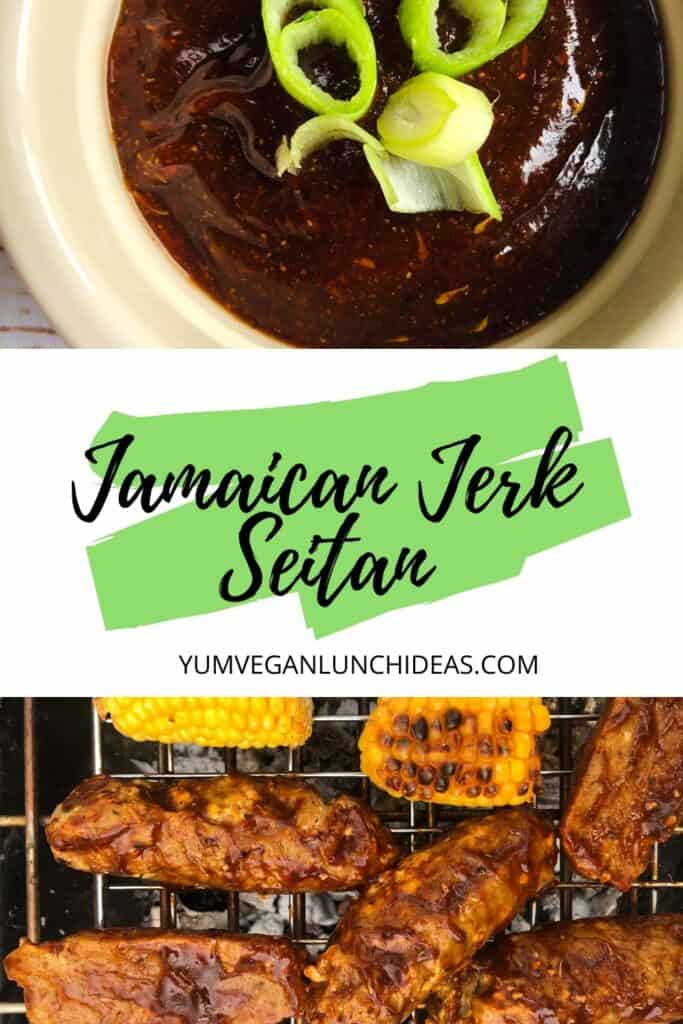 What is Jamaican Jerk?
Jerk seitan or vegan jerk chicken is a wonderful vegan take on the Jamaican classic marinade. Jamaican jerk seasoning is packed with delicious flavours and the right amount of heat.
Jamaica's Rastafarian's have a history of vegan food culture known as "Ital" and would use the jerk marinade for tofu and vegetables.
The flavours of this seitan jerk chicken is thanks to all spice and chilli peppers. Traditionally, scotch bonnet peppers are used to achieve an intense heat on the jerk chicken or veggie alternative.
Jerk is a savoury and sour type flavour with that spicy kick from the scotch bonnet peppers.
Traditionally in Jamaica, jerk seasoning can be used to dry roast meat and vegetables or alternatively it can be made into a marinade, which is what we use here.
Having a vegan/vegetarian alternative to jerk chicken is really easy with this tasty jerk seitan recipe.
This vegan jerk chicken recipe would be a perfect showstopper, finger licking treat for a plant based BBQ.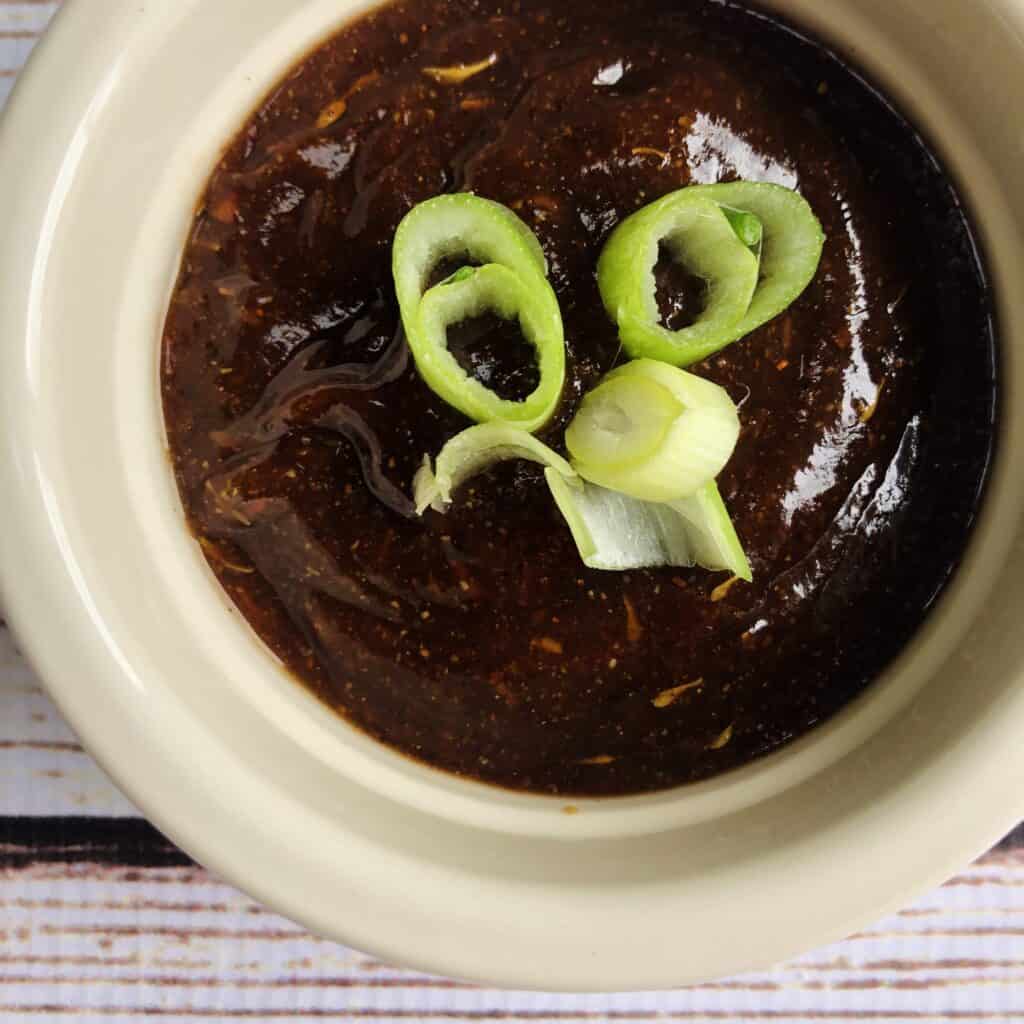 Inspiration for Jerk Seitan
Living near Brixton in London many moons ago, I would love weekends kicking back in this Caribbean hub South London. It is blessed with a high population of Caribbean folk, who bring their delicious food and beautiful traditions to the area.
I would often enjoy the Carribean cuisine and celebrations during Notting Hill carnival. So when I figured I could try and replicate the authentic jerk sauce I once devoured, I had to give it a go.
The zingy flavours of jerk is just unforgettable and even better if I can make a vegan jerk chicken version.
This jerk marinade is:
Tangy
Spicy
Zingy
Sweet
Sour
When combined with the barbecue seitan it was a delicious mouthful of marinated bite, with beautiful charred edges.
What Is Seitan?
Seitan, also called vital wheat gluten is the primary protein of wheat. It is made by ridding or washing all of the starch from the wheat, leaving a sticky elastic dough.
This dough is then a blank canvas for all sorts of flavours to be added and various ways of cooking. This means its a vegans dream in recreating meat like foods, if that is your thing.
Seitan has been around for centuries and was called "wheat meat" – however with the exponential rise of veganism and vegetarianism, it is slightly more mainstream.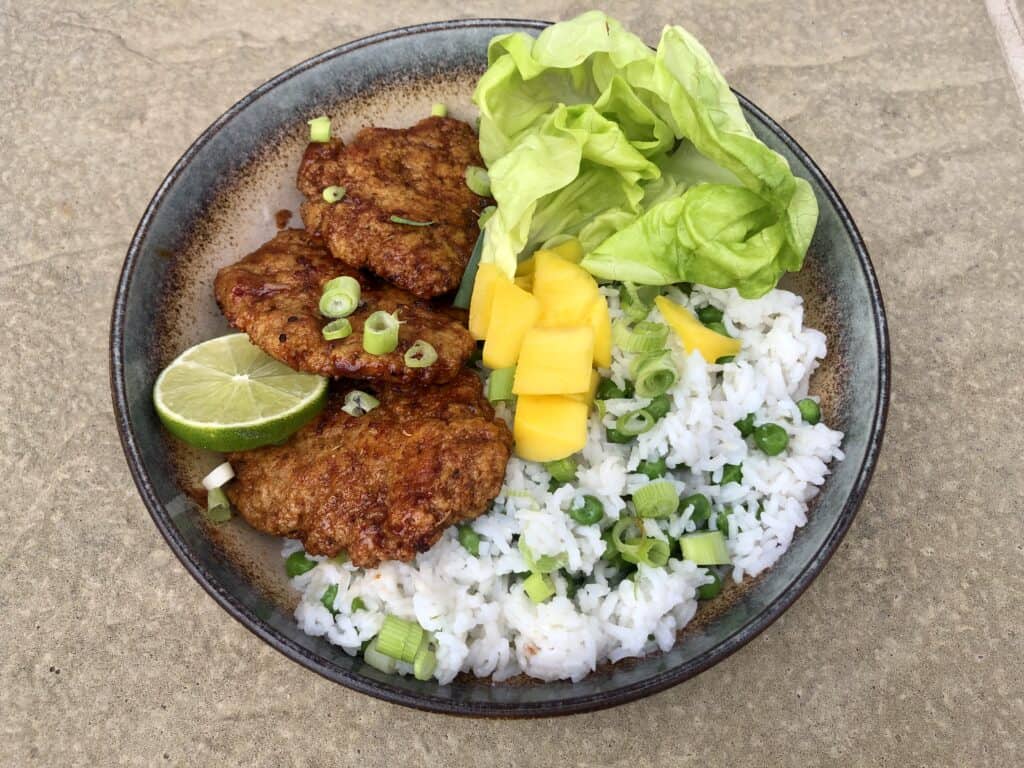 What are the characteristics of seitan?
Seitan itself tastes quite bland and is more popular for its meaty texture than its flavour. It is definitely a savoury food – however can be brought to life with whatever herbs, spices or marinades it is cooked with.
The elastic texture of the dough gives this meaty bite, however if overworked it can become tough so work with caution and gentle hands, avoid kneading it.
How To Make Seitan
Seitan can be bought ready made in the supermarket. Some people choose to make their own seitan from actual wheat flour which is a laborious process.
Vital wheat gluten comes readily available prepackaged as a flour. For this recipe, you'll need vital wheat gluten which is essentially seitan!
It comes in the form of flour and through adding your flavours and some water, you are going to make an amazing dough.
When made from fresh, it is usually a case of firming the dough up through boiling then it is ready to go on the grill, BBQ, or in the oven. When you BBQ seitan, it only enhances the beautiful flavours adding that smokey taste!
This vital wheat gluten jerk chicken certainly does not disappoint!
How To Cook Seitan
The base of this seitan chicken recipe means it is super versatile and like a blank canvas for marinating goodness.
Once the vegan chicken patties have been formed and steamed, they are left to cool slightly to firm up a bit. Marinatting them in this jerk sauce brings them alive.
They can then be cooked in various ways, whether on the BBQ, in the oven, under the grill or in the air fryer.
Another great marinade is this vegan BBQ sauce.
How To Serve Jerk Barbecue Seitan
Another traditional dish of Jamaica is the delicious rice and pea combination. This goes perfectly for a hearty BBQ lunch. As I've made this a few times before, I've eaten it in different ways.
Vegan jerk chicken goes great with a big green salad and BBQ Corn on the Cob. An extra squirt of lime is always a bonus.
You can make the seitan cuttings a little smaller and have them replicate vegan jerk chicken wings.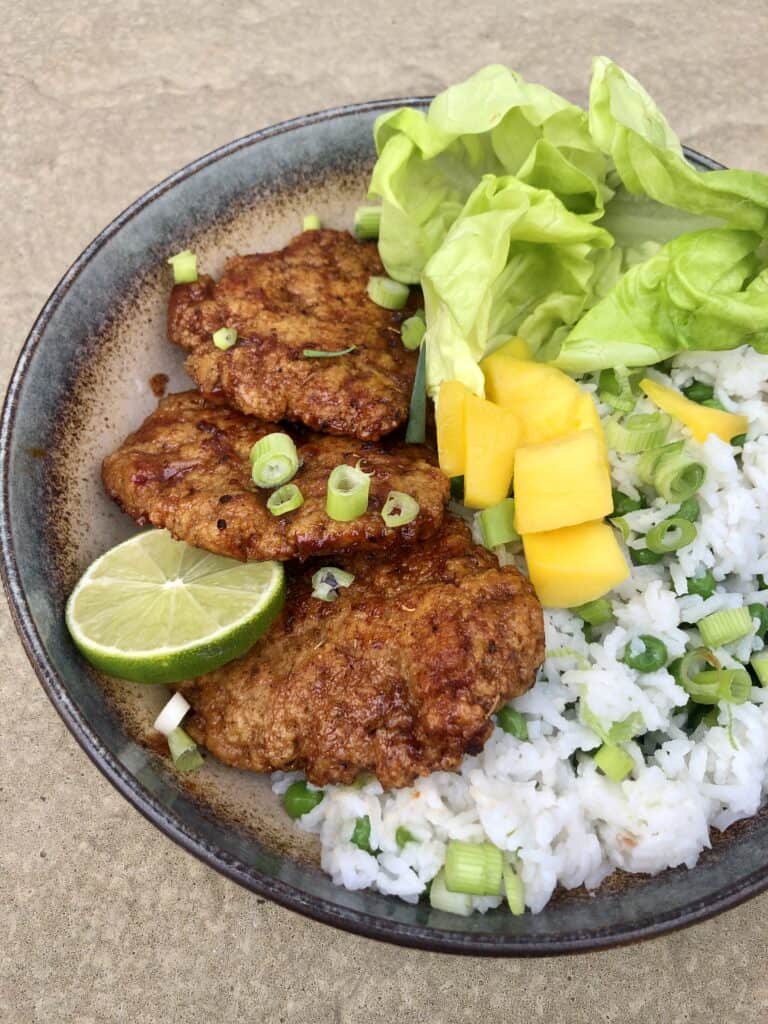 Vegan Jamaican Recipes
Jamaica was originally known as Xaymaca, is famous for having nutrient dense soil and perfect conditions for growing an abundance of fruit and vegetables.
It is well known that many Jamaican Rastafarians have adopted a vegan diet, with some exceptions to eating fish.
This means many thrive on the island on a predominantly plant based diet – providing inspiration and wonderful recipes for us to try.
I must be clear however – this vegetarian jerk chicken recipe is the best version we had access to – with easy to source ingredients.
We would never claim to be the authentic Jamaican recipe. However the flavours here certainly do not disappoint!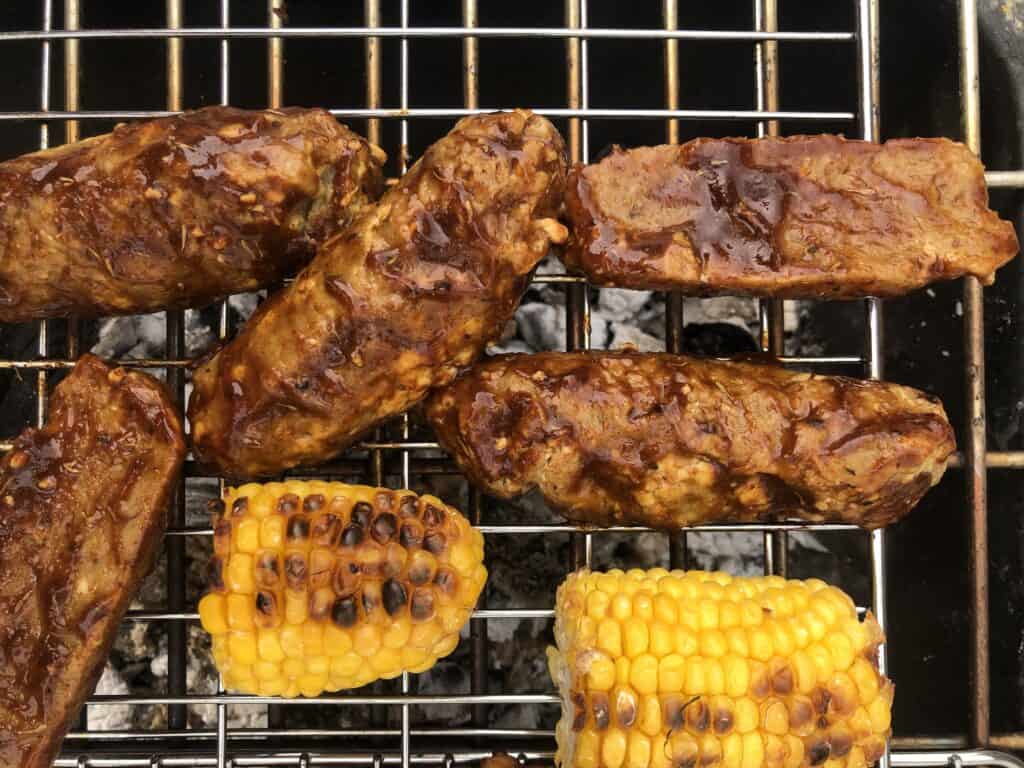 Yield: 2-3 servings
Jerk Seitan Recipe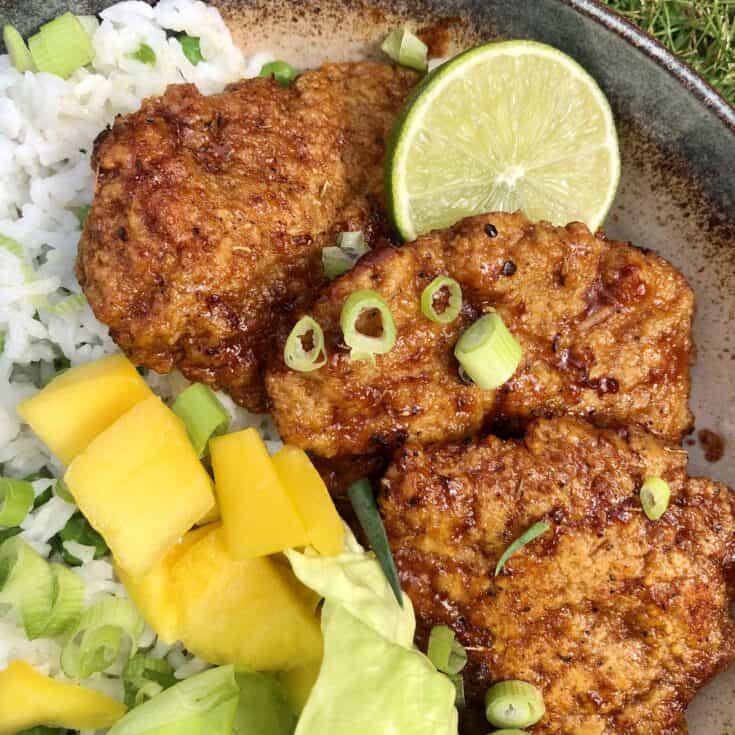 This jerk seitan chicken is perfect for a vegan BBQ. The seitan gives a meaty texture and delicious zingy jerk marinade, vegan jerk chicken is a must try.
Ingredients
Vegan Chicken Fillets
170g of vital wheat gluten
170g silken tofu
2 tbsp water
1 tbsp of garlic powder
2 tbsp nutritional yeast
1 tsp dried sage
1/2 tsp salt
1 tsp of vegan chicken seasoning
1 tsp vegetable or vegan chicken bouillon powder (or 1 stock cube)
Jamaican Jerk Marinade
3/4 cup BBQ sauce
1 tsp Jerk seasoning
1 tsp thyme
1 tsp garlic powder
1 tsp soya sauce
1 tsp all spice
1 tsp soya sauce
1 tbsp maple syrup
1 squirt of fresh lime
Instructions
Add tofu, water and herbs/spices to the food processor and blend until smooth. Add the vital wheat gluten and pulse until a dough is formed.
Turn dough out onto a surfave that has been lightly floured with vital wheat gluten flour, this reduced stickiness.
Don't knead the mix, it will make it too fibrous and tough. Roll out the mix with a rolling pin and cut the dough into strips or cutlets. This recipe makes 6 nice sized cutelets (remeber they expand when steamed)
Lightly oil a steaming pan and place vegan chicken cutlets in the baskets. If they are touching one another, lightly oil the cutlets to prevent sticking.
Steam on a low heat for approx. 30 mins - flipping half way through.
Remove from pan and place on a cold plate or in the firdge to cool down. They are now a well formed, firm vegan chicken fillet.
For the Jerk Sauce Marinade - mix all of the ingredients together until a beautiful jerk sauce is formed.
Coat each indivual piece of seitan with the jerk marinade, ready for the BBQ
Put the BBQ on a medium heat and begin charring the seitan chicken until golden. If you do not have a bbq, you can also do this on a gridle pan, or underneath a traditional grill until golden, turn regulary.
Serve warm or cold. The jerk seitan chicken can be served with rice and peas, added to salads or main meals too!
Notes
* Do not over-knead the seitan dough as this will make it too tough
** This recipe was designed purposefully for smaller servings. It dished 6 small vegan fillets, enough for 2-3 people.
*** The recipe for the jerk marinade is more than needed for the vegan fillet recipe - it is good to store in the fridge for future use for up to 3 weeks. It also works great for dipping.
Recommended Products
As an Amazon Associate and member of other affiliate programs, I earn from qualifying purchases.
Nutrition Information:
Yield:
2
Serving Size:
1
Amount Per Serving:
Calories:

1005
Total Fat:

31g
Saturated Fat:

4g
Trans Fat:

0g
Unsaturated Fat:

25g
Cholesterol:

0mg
Sodium:

4524mg
Carbohydrates:

109g
Fiber:

6g
Sugar:

70g
Protein:

80g
This is an estimate