Veganuary Meal Plan Week Four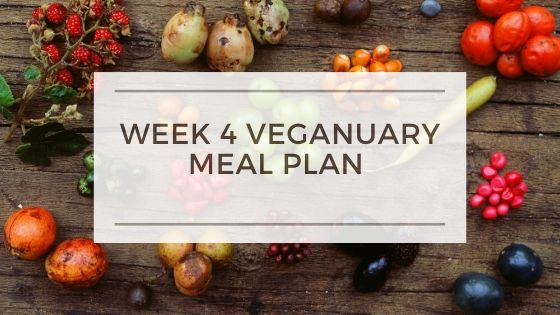 Welcome to the fourth and final week of this free and easy vegan meal plan. We hope you have found tonnes of inspiration and ideas from the meals and snacks provided.
They say it can take up to two months to create new habits, so you are well on your way if veganism is something you wish to continue. Its all about finding your flow with your favourite dishes and seasoning. This veganuary meal plan has been purposely varied to demonstrate how vibrant this life can be.
We often have people ask us for low calorie vegan dishes, in which this article may help you to mix it up. We have purposely not restricted calories in our meal plan however, as making the step to veganism is big enough already.
Perhaps you're needing to revisit some vegan resources to compliment this veganuary meal plan. In which this article is a staple.
Aa always, remember to stay well hydrated and follow you intuition with how much you eat.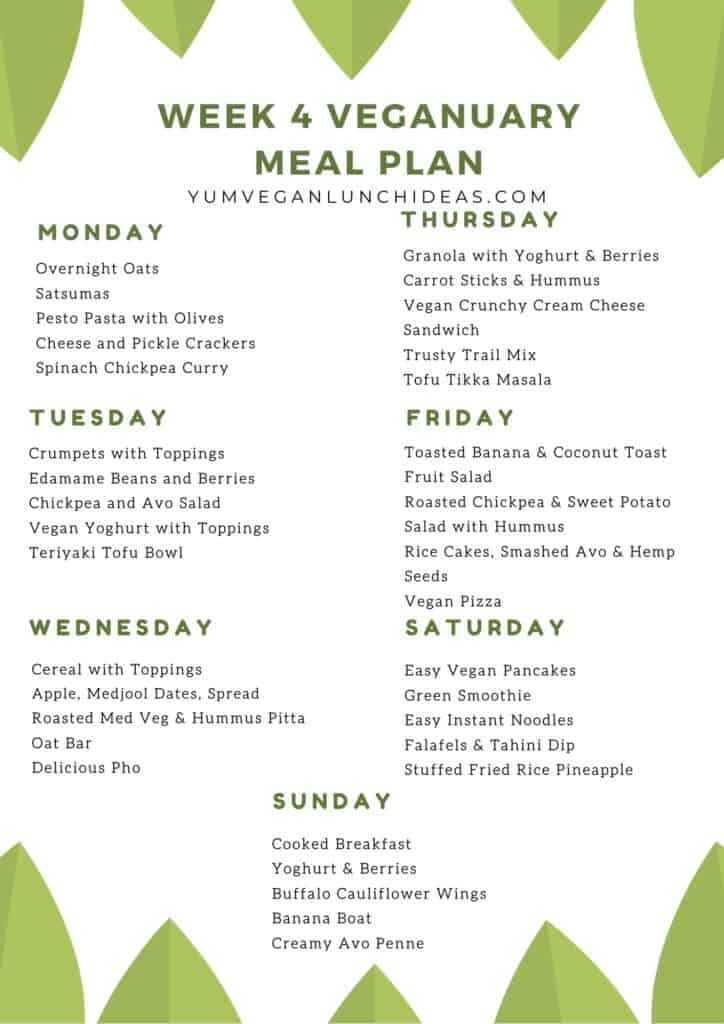 Veganuary Meal Plan – Day 22
Breakfast
Overnight Oats
Lets kick this week off with a satisfying breakfast of overnight oats. Hopefully you saw the note on day 21, but fear not.
If you have steel cut oats and haven't prepared them the night before, thats ok! Steel cut oats are more ground than rolled oats, so popping some cold milk on them is just as good.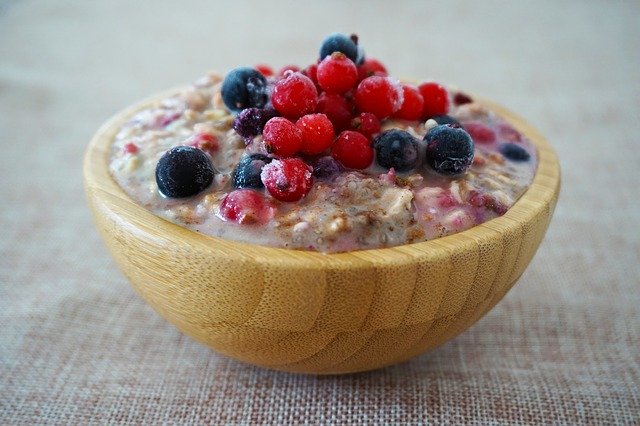 What you will need
1/2 cup Oats
1/2 cup non-dairy milk
1 tsp Chia Seeds
1tbsp maple syrup
Handful frozen blueberries
1 tbsp nut butter
1/2 tsp ground cinnamon
Mix the oats, chia seeds, milk, blueberries and cinnamon together in container/bowl of choice. Pop in the fridge and leave overnight. The next day, loosen the mixture with a little more milk. Add the nut butter and maple syrup to taste. Add any of the toppings below if you fancy.
Here are some other great additions to overnight oats:
Berries, fresh or frozen
Fresh, juicy mango
Sliced banana (best added just before eating)
Seeds such as hemp, chia, sunflower, pumpkin
Nuts such as cashews or almonds
Nut or seed butters
Tahini
Cacao nibs
Maple syrup, agave
Jelly/jam
Toasted coconut
Snack
Satsumas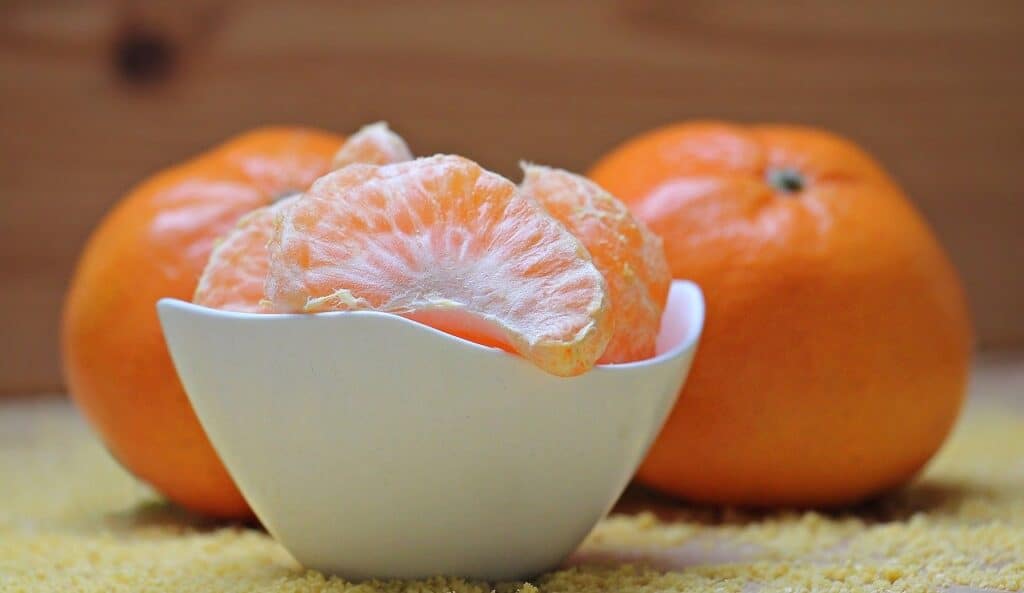 Lunch
Pesto Pasta with Olives
This is a quick and easy, tasty lunch which can easily be taken on the go. Please note, most pestos are not vegan – as they contain parmesan traditionally.
Vegan pesto is now readily available however, simply check the free from aisle or visit an alternative food/health store. Vegan Basil Pesto
is also available online.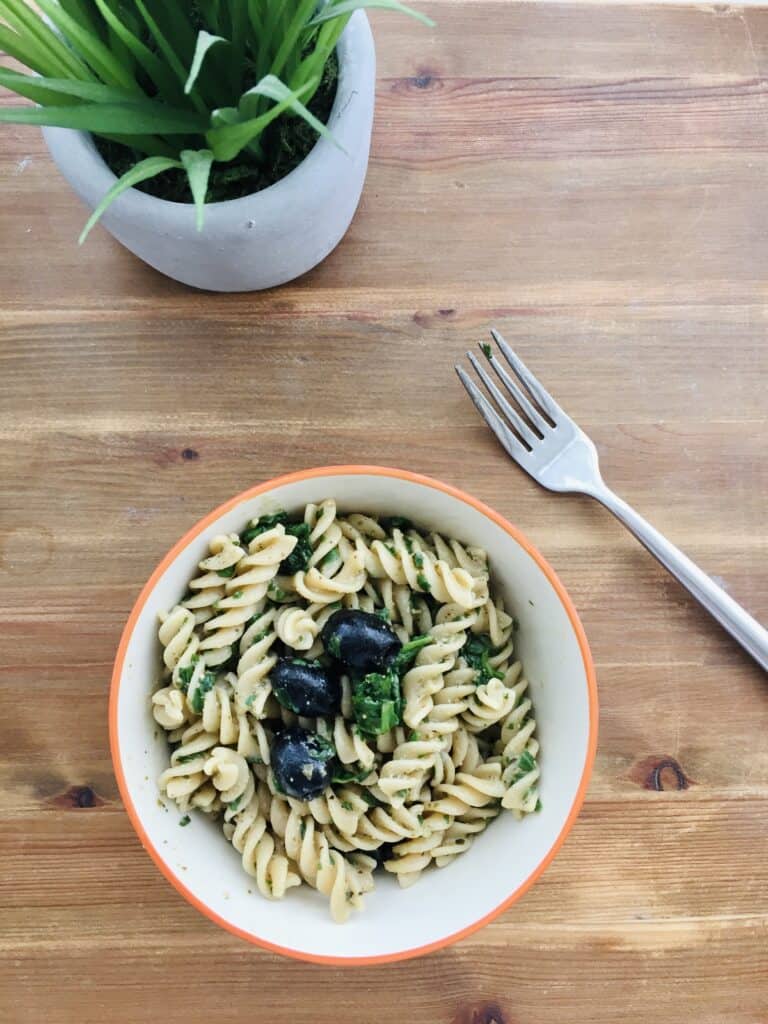 What you will need
1 cup pasta of choice
1 tbsp Vegan Basil Pesto
1 small handful spinach, chopped finely
A few olives
A sprinkle of nooch
Salt and pepper to taste
Cook pasta as per instructions. Stir through pesto and chopped spinach after draining pasta and still hot. Add olives, seasoning and enjoy! Or simply put in a takeaway container to take on the road.
Snack
Cheese, Pickle and Crackers
A quick and easy snack to satisfy any nibble needs before dinner.
Dinner
This awesome chickpea curry is a quick and easy meal, ready in under twenty minutes. Exactly what we all need for the beginning of the week, right? Packed with flavour and goodness – it is also a real crowd pleaser if you are cooking for others.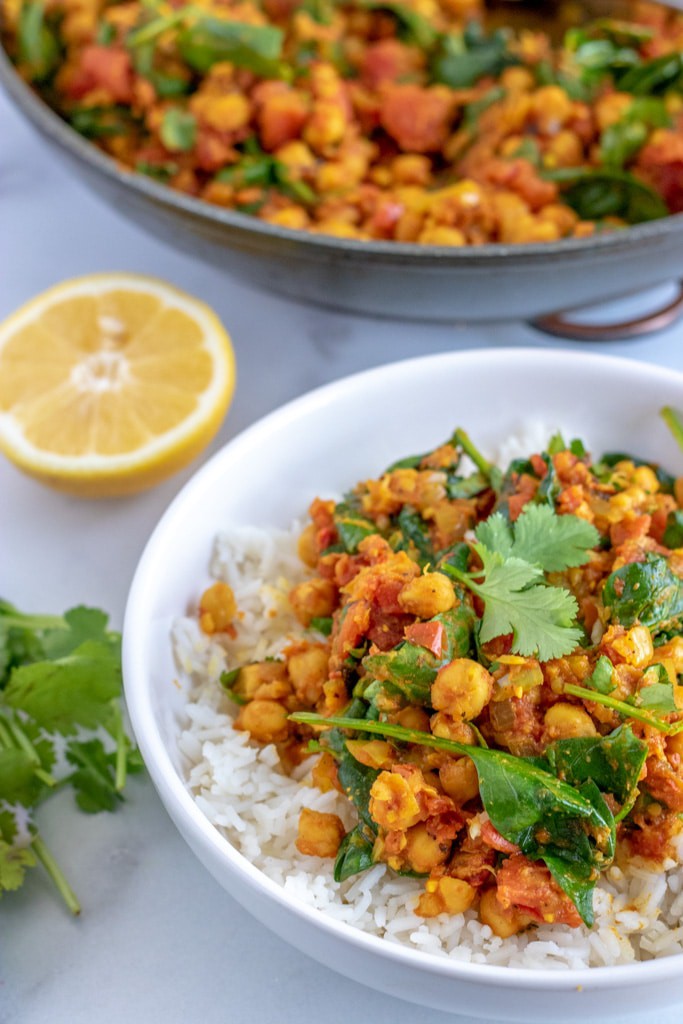 Veganuary Meal Plan – Day 23
Breakfast
Crumpets with Toppings
Crumpets can be super versatile and so quick to make. Simply pop them in the toaster until golden and add your toppings. They somehow always taste better with some melted vegan butter dripping into all the little pockets!
Here are some great toppings
Marmite/vegemite
Jelly/Jam
Nut/Seed butter
Vegan chocolate spread, like Vego
Vegan cream cheese
Melted vegan cheese
In the US, Duffys Crumpets are a good option. In the UK, Warburtons are a popular brand.
Snack
Edamame Beans & Berries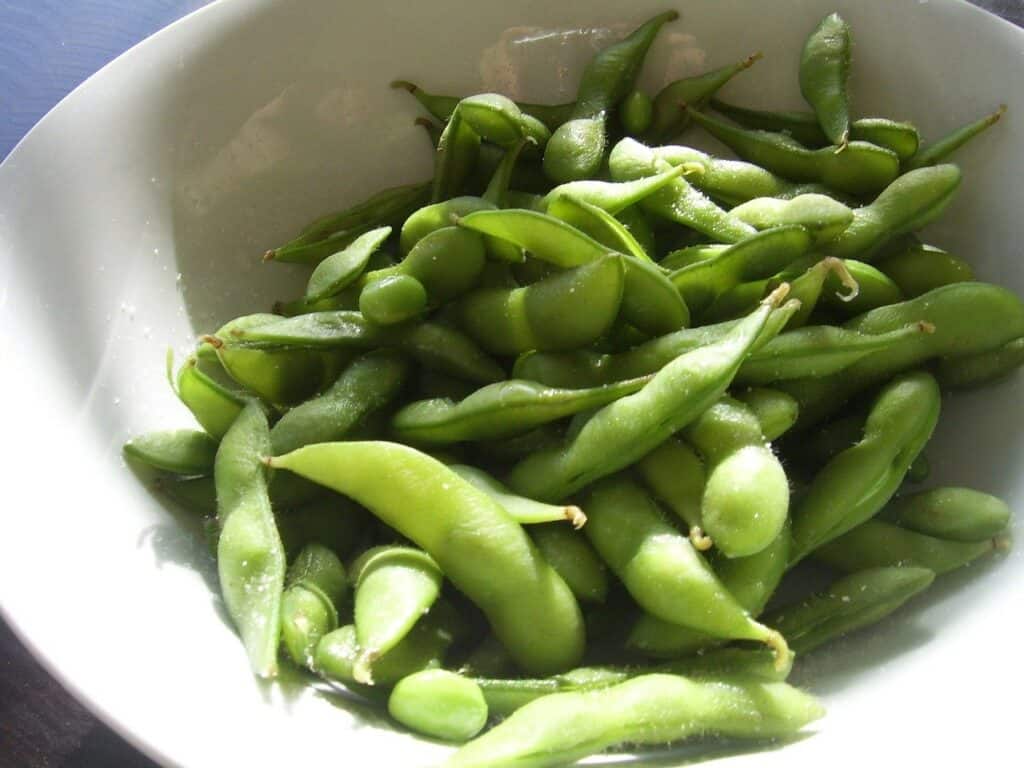 Lunch
Vegan Chickpea and Avocado Salad
A vibrant and delicious, whole foods lunch. Please note to add the avocado just before eating in case this is a take away lunch.
Snack
Vegan Yoghurt with Toppings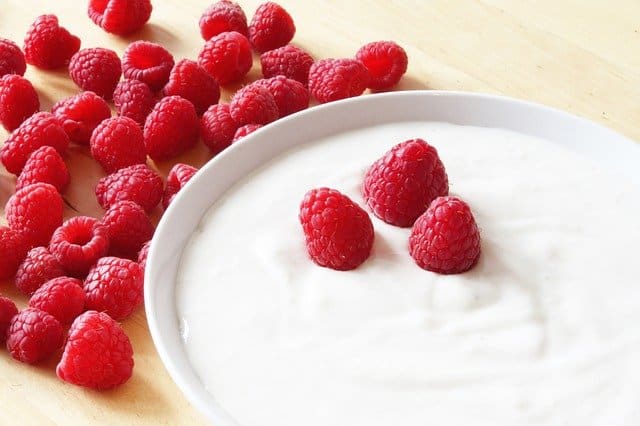 Some great toppings on yoghurt include:
Berries
Chopped banana
Trail Mix
Cereal
Granola
Dinner
You may recognise this from week one – but it is too good not to include again. Super tasty with lots of fresh ingredients for goodness.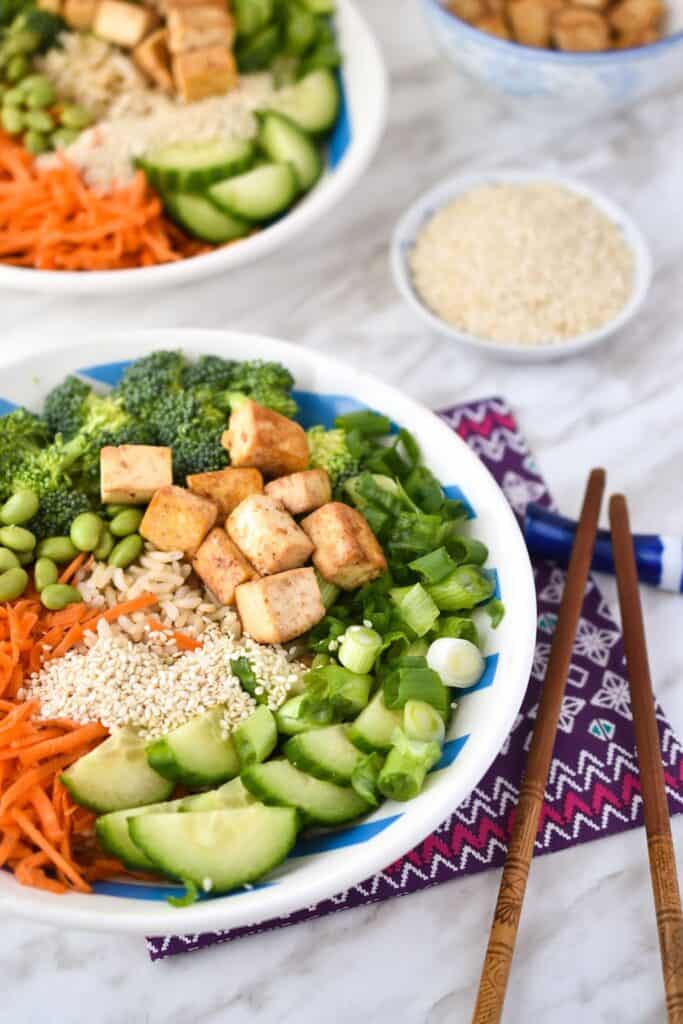 Veganuary Meal Plan – Day 24
Breakfast
Cereal with Toppings
An easy and quick breakfast that can be totally satisfying, once drenched in ice cold vegan milk and your favourite toppings.
You can easily get vegan, low sugar cereals in the supermarket. From various flakes and wheat based cereals, to rice pops and more. Just be sure to check the ingredients as different brands may vary. There are also many gluten free cereals on the market if this is a dietary need.
You can always add a vegan muesli or some fresh fruit, seeds and/or nuts to boost the nutritional profile. Many cereals are fortified additionally. Using fortified cereals and milks helps ensure you are meeting your daily nutritional requirements.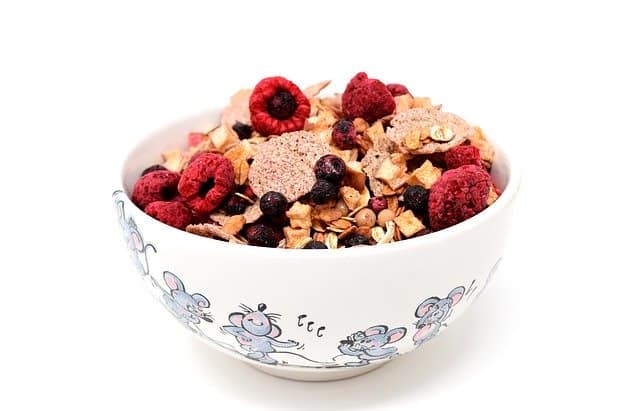 Snack
Hopefully you have discovered sticky, caramel Medjool Dates
by now! Either dipped in tahini or stuffed with a nut/seed butter – it makes for the perfect snack! Always delicious combined with a refreshing apple.
This also goes great with a cup of tea!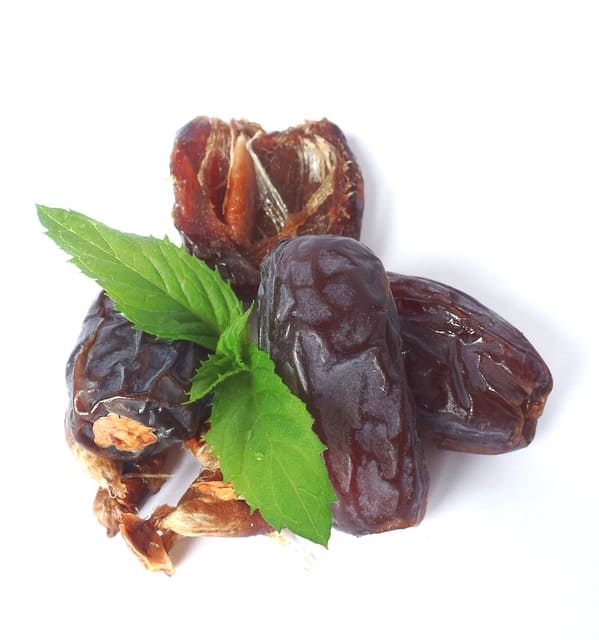 Lunch
Roasted Mediterranean Veggies and Hummus Pitta
This is a delicious and light lunch, as the pitta breads are quite thin. It is super easy to prep the mediterranean veggies the night before if needed and they are great eaten cold too.
What you will need:
1-2 pitta breads (depending on your appetite)
1 cup roasted mediterranean mixed veggies (peppers, red onions, aubergines/eggplant, courgette/zucchini)
1 handful rocket/arugala salad
1tbsp hummus per pitta
Salt/pepper to taste
Mixed herbs
1 tbsp olive oil
How to make the roasted vegetables:
Preheat oven to 356f/180c. Prepare vegetables of choice, chopped and place on a roasting tray with a drizzle of olive oil, herbs, salt and pepper. Roast for approx. 25-30 mins until cooked through.
They will go great warm in a freshly cooked pitta bread with the salad and hummus. However they are also good chilled if you are making the vegetables the night before.
To take out, assemble the pitta on the same day to prevent sogginess, as the water content is high in the veggies!
Other great additions to this pitta is chilli sauce or balsamic glaze.
Snack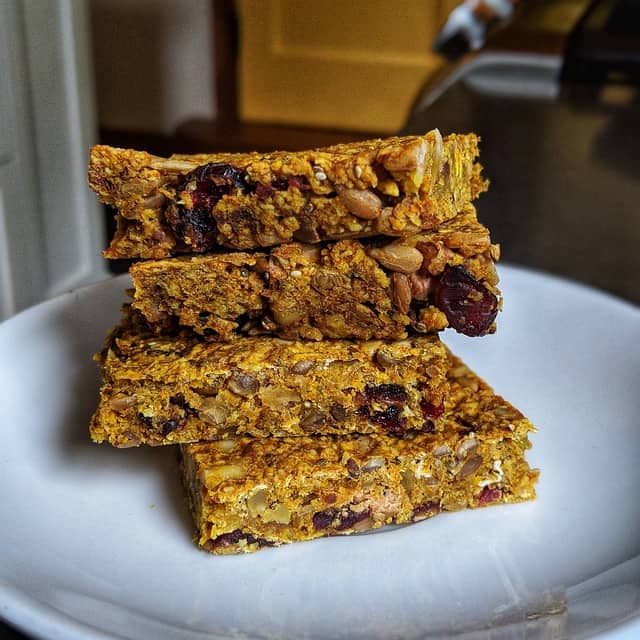 Dinner
Delicious Pho
A really delicious soup recipe that is packed with flavour. Who doesn't love Vietnamese Pho?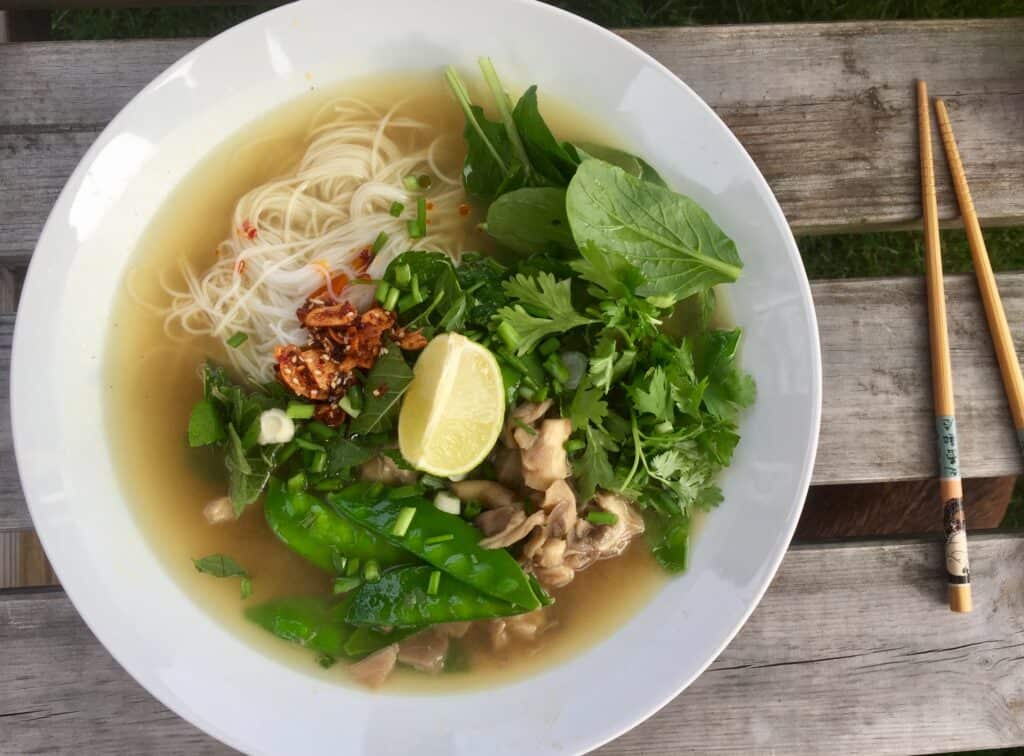 What you will need to make pho (serves 2)
3 cups Vegan Broth or stock (note – broth is better)
2 star anise
5 cloves
3 garlic cloves
1 medium white onion
1 thumb fresh ginger
2 cinnamon sticks
Black pepper
2 bay leaves
Some great additions to pho
Rice noodles
Fresh lime juice (lots of!)
Chillies
Panfried veggies such as green beans, mangetout, various mushrooms
Crispy pan fried firm tofu (cooked in sesame oil – amazing!)
Fresh herbs (a must!) – coriander/cilantro, mint, Thai basil
Torn spinach
Spring onions
Soya sauce
To make the broth
Chargrill a white onion, garlic, fresh ginger, cloves and star anise (or simply dry roast in an oven).
Add 3 cups of vegetable stock to a pot with the chargrilled veg and seasons. Add two cinnamon sticks, two bay leaves, and some black pepper. Leave to simmer for approx. 30 minutes. Then strain, leaving a delicious broth. Taste test to see if you fancy any more water/seasoning.
Prepare your toppings
Choose from the toppings above. You can start prepping these as your broth is simmering. It is quite common to have all of these toppings on a Pho – but pick what you like. Noodles and herbs would be essentials with the broth. The rest is a bonus but make for an explosion of flavours.
Add the toppings gently to your bowl of hot broth and enjoy.
Veganuary Meal Plan – Day 25
Breakfast
Granola with Yoghurt and Berries
A delicious, satisfying and easy breakfast to grab. That crunch on top of the creamy yoghurt never gets old.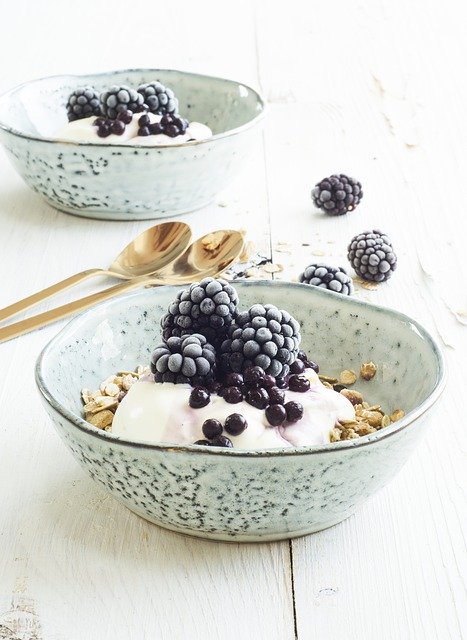 Snack
Carrots Sticks and Hummus
A quick, easy and satisfying snack. Have you identified your favourite flavour hummus?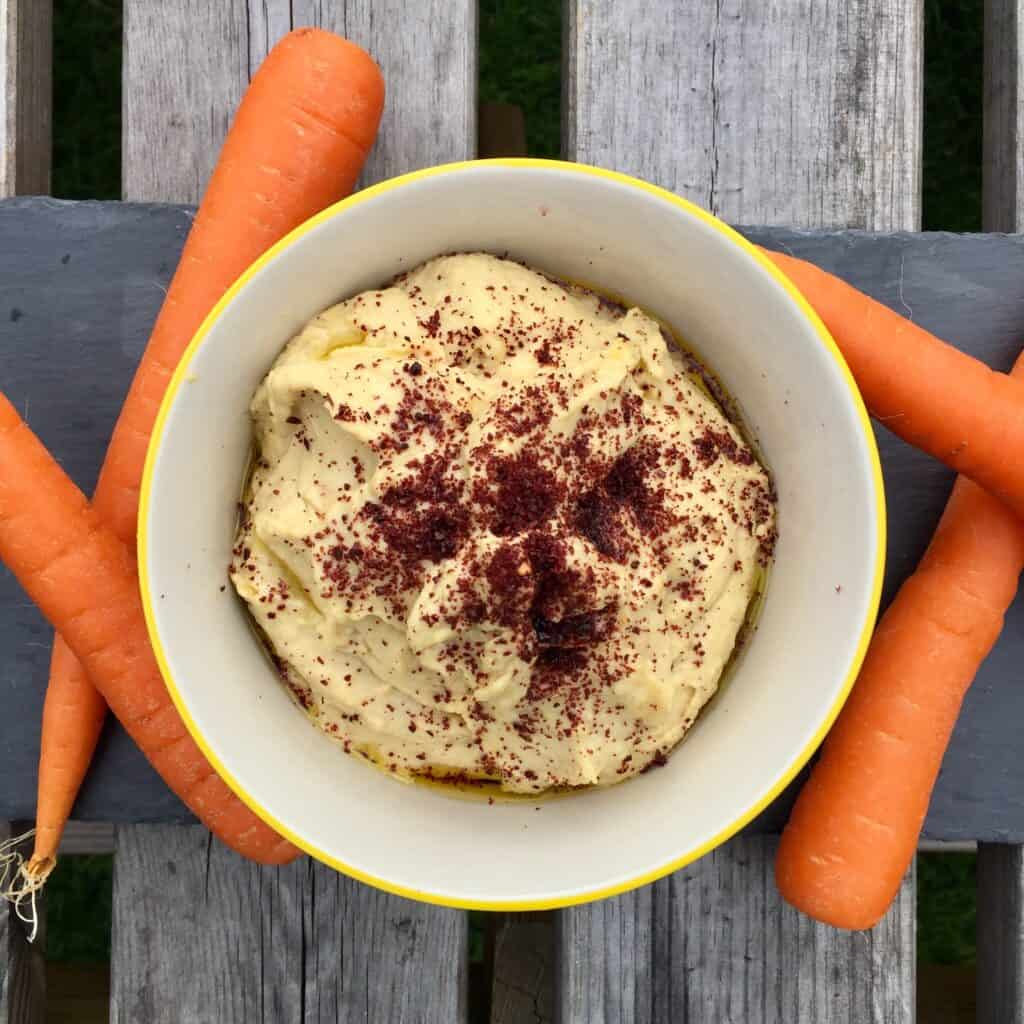 Lunch
Vegan Crunchy Cream Cheese Sandwich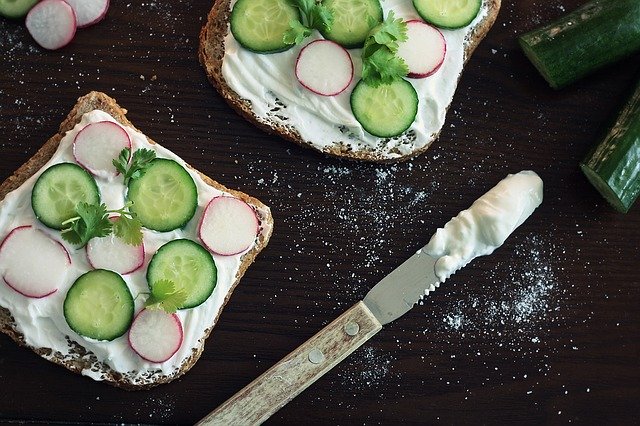 What you will need
Bread of choice
1-2 tbsp vegan cream cheese
2 radishes
8 cucumber slices
Salt and Pepper
Snack
Trusty Trail MIx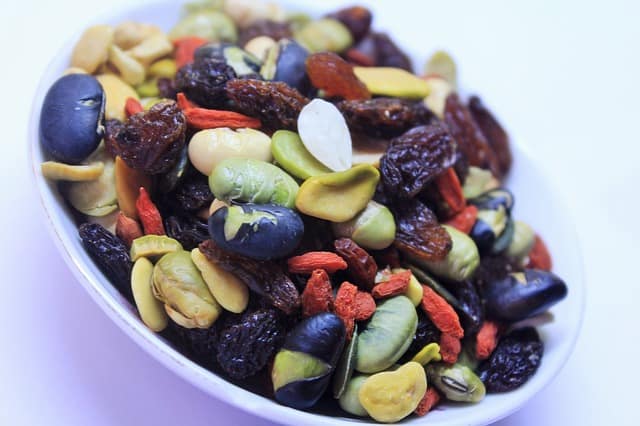 Heres a reminder of some great trail mix concoctions – pick and mix your favourite.
cashews
almonds
hazlenuts
coconut chips
sunflower seeds
pumpkin seeds
walnuts
raisins
dried banana chips
dried mango
dried berries or cherries
dried peas/legumes
roasted chickpeas
date pieces
chocolate chunks
various cereals
granola
pretzels
popcorn
Dinner
This was a hit in week one – so we had to include it again. Tofu Tikka Masala – this tantalising and creamy number is a take on the classic chicken tikka massala version. The creamy rich sauce is achieved with cashews and the firm tofu chunks provide that bite. This can be frozen in batches. Perhaps you saved some from week one?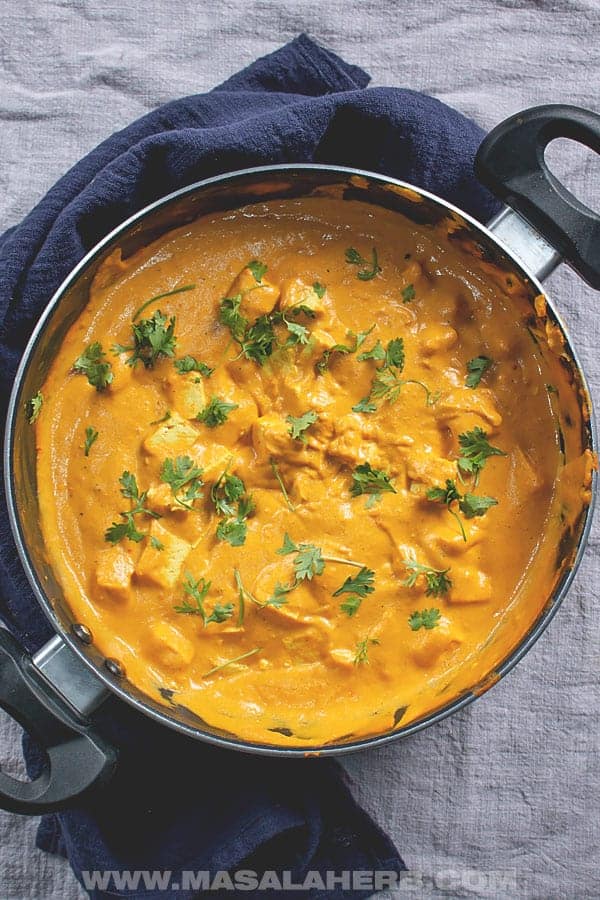 Veganuary Meal Plan – Day 26
Breakfast
Toasted Banana & Coconut Toast
What you will need
2 slices of bread of choice
2 tbsp of spread of choice (smooth nut/seed butter – vegan chocolate spread – tahini)
1 chopped banana
Sprinkle of desiccated coconut for each slice
Preheat grill on a medium heat. Toast your bread in the toaster – but not too much. Remove and place spread on, followed by chopped banana, then sprinkle desiccated coconut on. Light grill until coconut golden. Enjoy!
Snack
Fruit Salad
A refreshing and reliable snack – chop up your favourite fruits with a squirt of lemon or lime to eat fresh or on the go.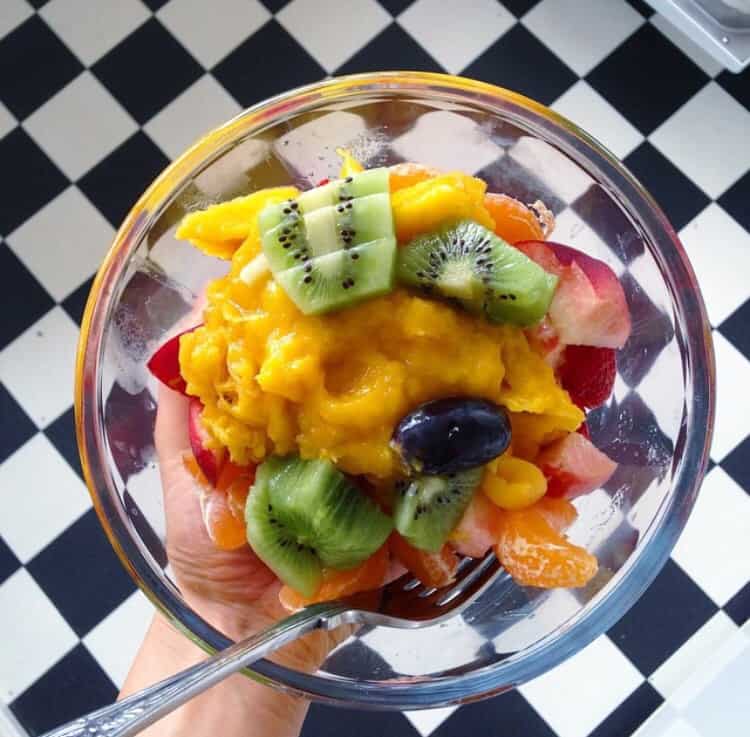 Some great options
Melon
Grapes
Satsumas
Ripe mango or pear
Kiwi
Berries
Pomegranates
Nectarines/Plums/Peaches
Lunch
Roasted chickpea and sweet potato salad with hummus
What you will need
1/2 cup roasted sweet potato cubes
1/2 cup roasted chickpeas
A good blob of hummus
Salad leaves
Plum tomatoes
Chopped cucumber
Spring onion
Beetroot
Sprinkle of seeds
Preheat oven to 180c/356f and chop sweet potato into cubes. Toss in paprika, a little oil and a sprinkle of salt. Cook for aprrox. 25 minutes until cooked through.
Assemble salad with other ingredients, add sweet potato once cooled if taking out. Maybe you like a little extra dressing? We love this Soya Silan dressing.
Snack
Rice Cakes with Smashed Avocado, Sea Salt and Hemp Seeds
Dinner
Vegan Pizza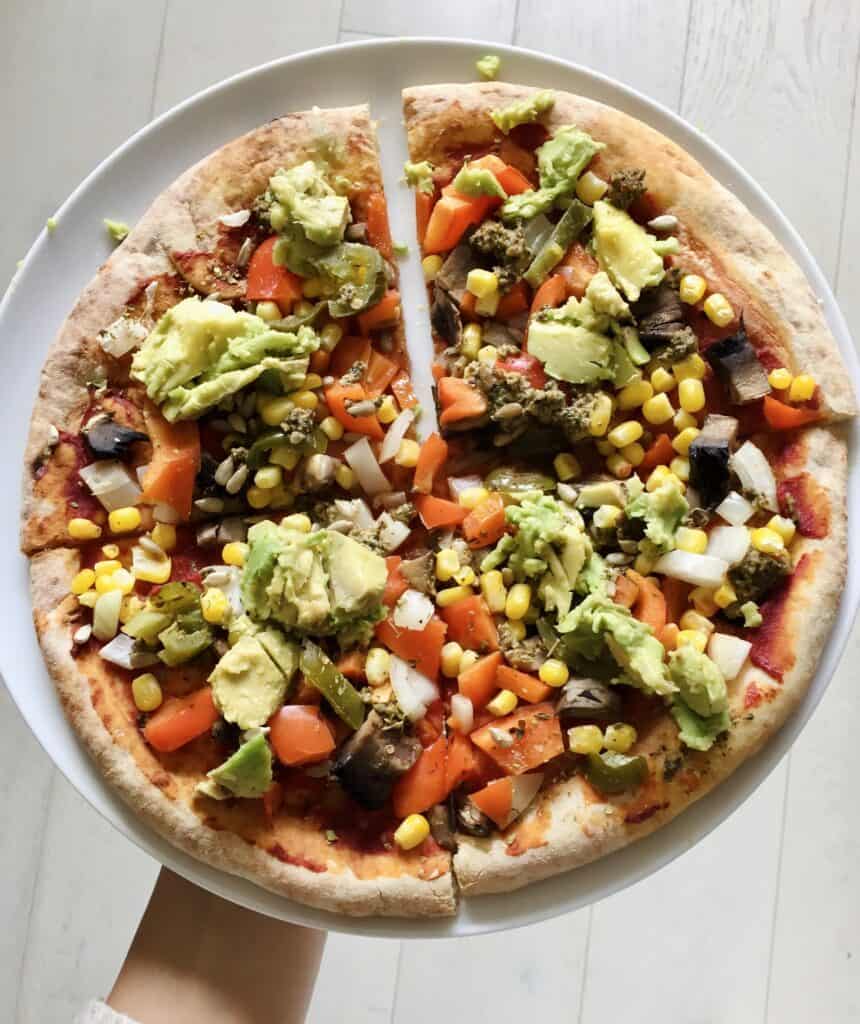 Many highstreet supermarkets stock vegan pizza bases (always check ingredients). Pizza dough should essentially be flour, water and yeast – maybe with some oil and salt.
It's super easy to create you're own homemade vegan pizza with your own choice of toppings. However supermarkets are even increasingly stocking ready made vegan and gluten free pizzas – it just depends what your preference is.
Also, don't fancy cooking? Most pizza chains now do a vegan cheese pizza with toppings. However, it's important to know that some don't – add even use dairy in their bases! It's always good to ask or check their information.
Luckily, many traditional Italian pizzerias would use a straightforward vegan dough. But it's always good to ask. Even a vegan cheeseless pizza can be delicious!
Some great toppings and sauces:
Sun-dried tomato paste
Vegan Pesto
BBQ sauce
Sweetcorn
Mushorooms
Peppers
Olives
Gherkins
Onions
Tomatoes
Pineapple (controversial!)
Chillies
Jalapeños
Various vegan cheeses
It's also really nice to add some fresh rocket/arugala salad or avocado when the pizza has been cooked!
Veganuary Meal Plan – Day 27
Breakfast
Easy Vegan Pancakes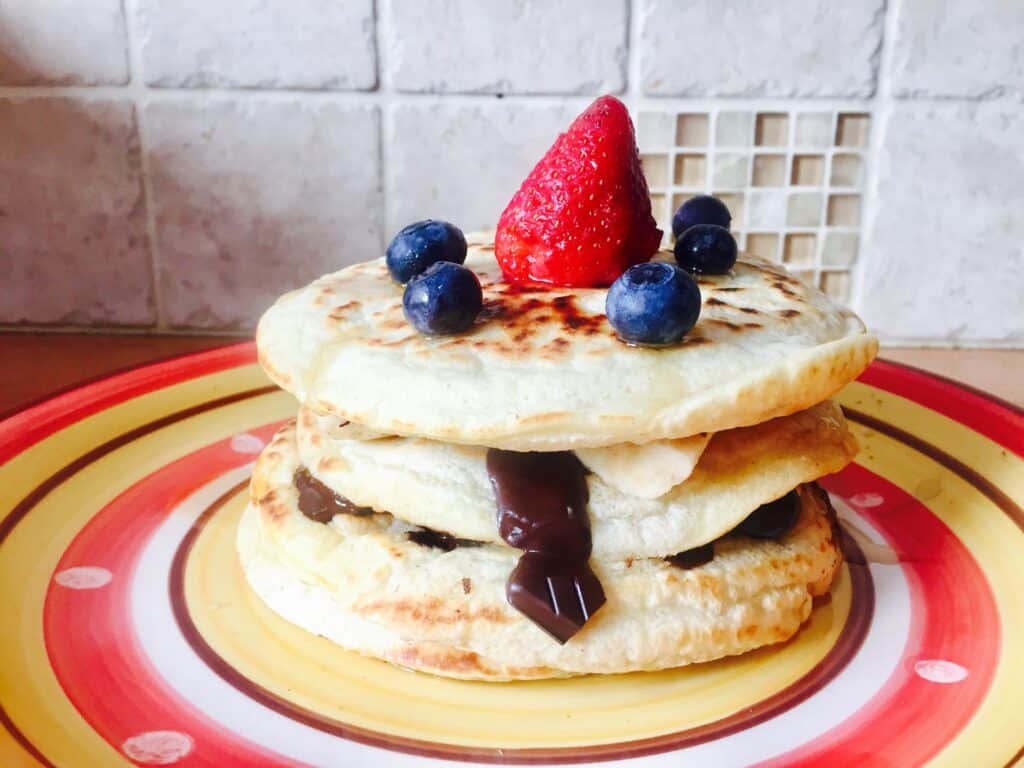 What you will need
1 cup plain flour
1 tsp baking powder
Pinch of salt
1 tbsp vegetable
1 cup non-dairy milk
Whisk altogether, heat a little oil in a non-stick pan and use around 60mls of batter at a time. Cook for approximately 2 minutes on each side until a golden colour is achieved. Start stacking them up!
Choose from your favourite toppings – here are some great options:
Berries and maple syrup
Maple and lemon juice
Banana, toasted coconut and maple
Almond butter, banana and maple
Dark chocolate melted in between
Ripe mango and maple
Berries and dark chocolate
Snack
Green smoothie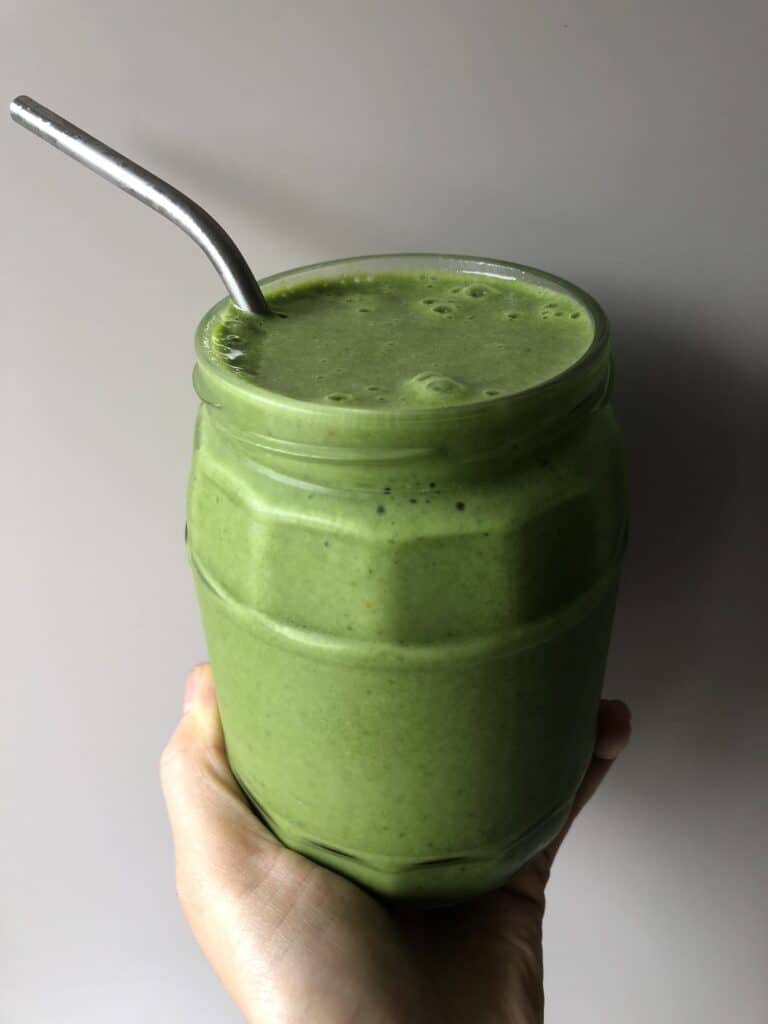 Simply blend and enjoy. The frozen bananas gives it a beautiful refreshing taste. Add more liquids/banana if you prefer a thicker or thinner smoothie.
Lunch
Easy Vegan Instant Noodles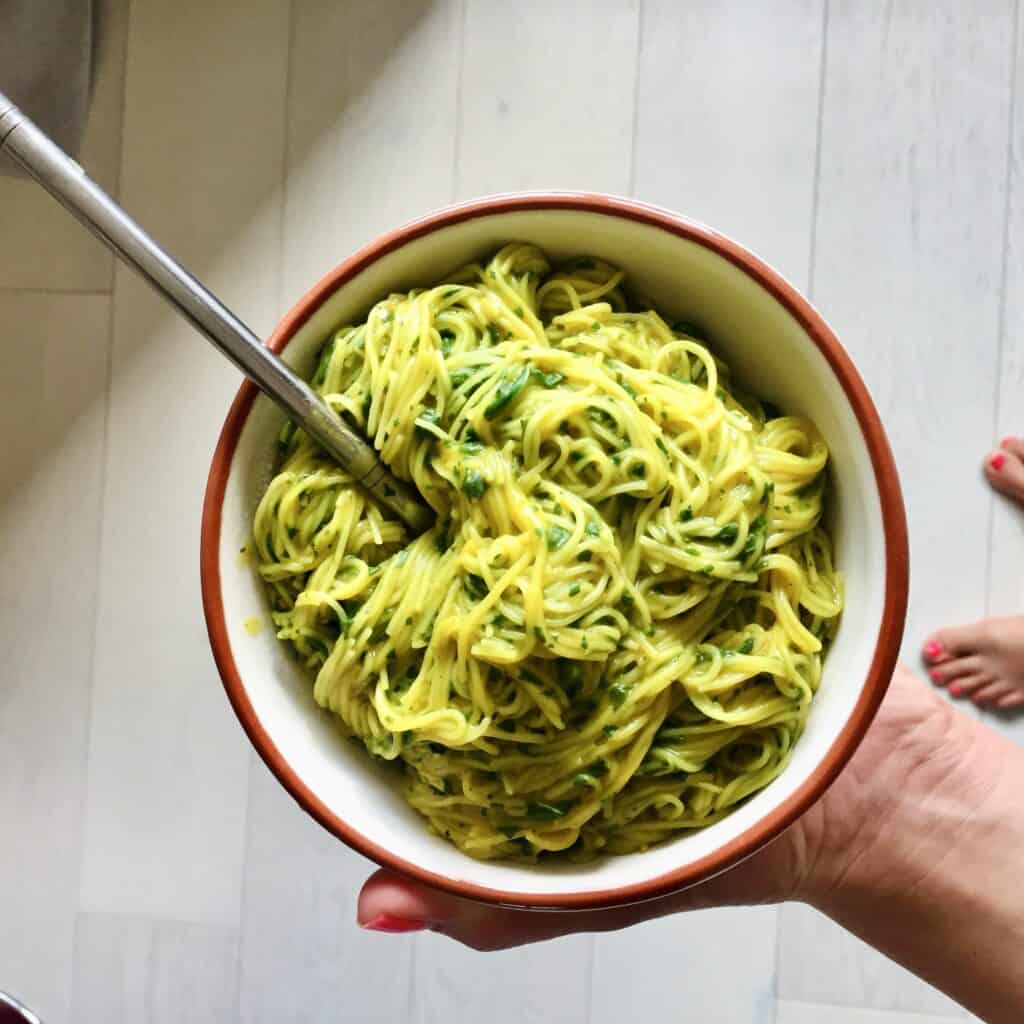 What you will need:
1 nest of rice noodles
1/2 tsp tumeric
1 tsp curry powder
200 mls veggie stock
1 handful of peas
1 handful shredded spinach
Optional: Soya Sauce/Tamari
How to make
Most rice noodles are fairly instant! The great thing about this recipe is it contains no nasty chemicals like some packaged noodles. With most rice noodles, you soak in boiling water and rinse after 3 minutes – however with these to absorb the stock and spices, we will gently simmer for around 5 minutes on the hob. Add the peas and spinach for the last couple for minutes.
Snack
Falafels and Tahini dip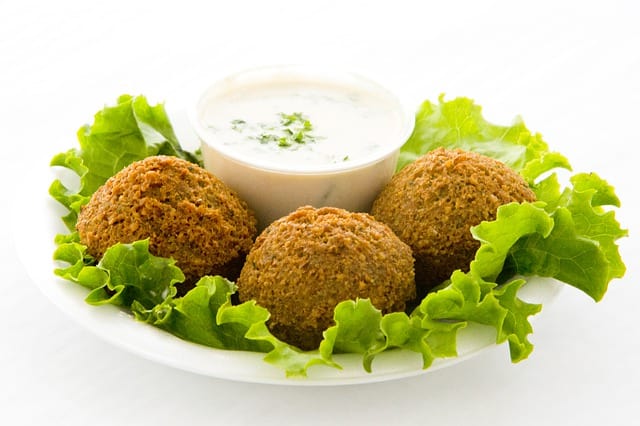 This is a real simple and fulfilling snack. Tahini
is just ground sesame seed paste and readily available from most supermarkets. It is fairly affordable, packed with protein and calcium. There are also many pre-pared falafels you can purchase from the store.
To make a tahini dip – simply whisk together the following:
1/4 cup Tahini
Sprinkle of sea salt
1 tsp garlic powder
2 tbsp warm water
Dinner
Stuffed Fried Rice Pineapple
(Serves 2)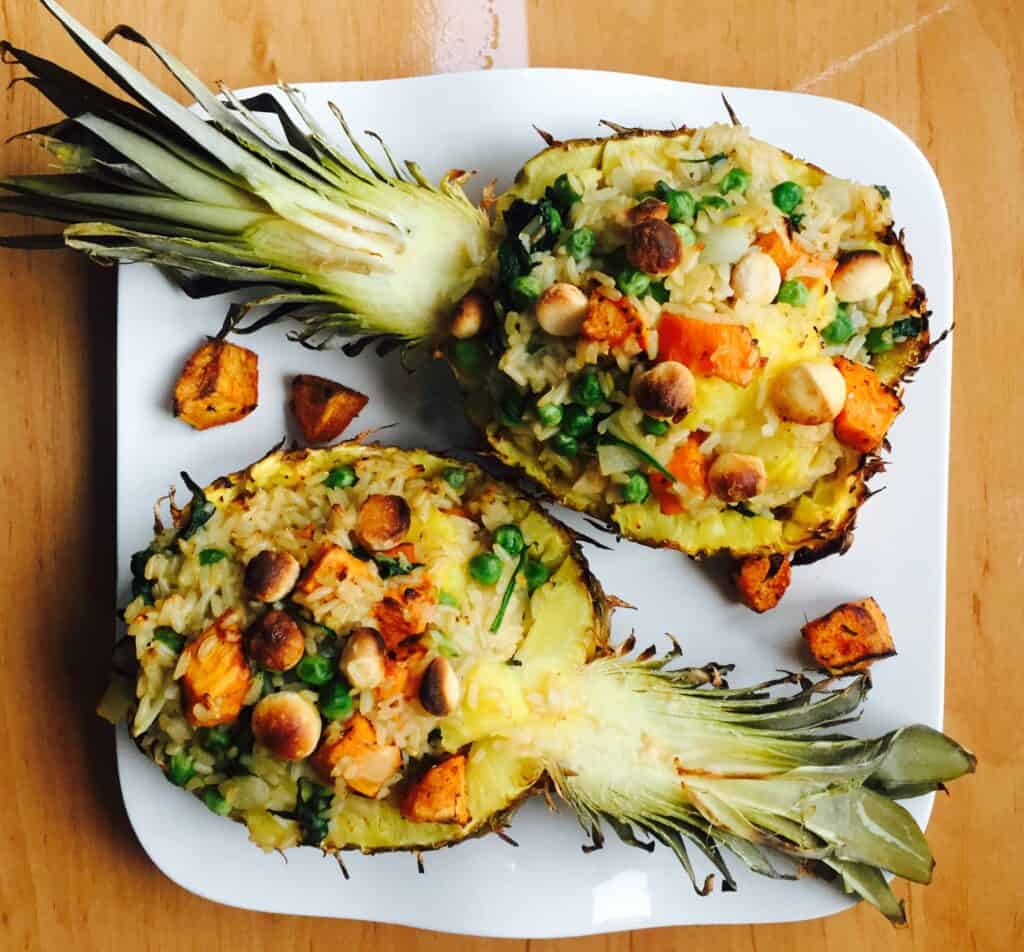 What you need
1 medium sized ripe pineapple
1 tbsp vegetable oil
1 cup of cooked rice
1 handful macadamia nuts
1 white onion
2 cloves of garlic
1/2 cup of garden peas
1 handful of chopped spinach
Optional: Soya Sauce/Tamari/Sweet Chilli Sauce/Sriracha Sauce
How to make:
Preheat oven to 180c/356f. Cut pineapple in two. Cut/scoop out the centre and dice the pineapple this part into chunks. Discard of any hard parts (or keep them for your smoothies!). You should be left with the shell of the pineapple and leaves still on – wrap the leaves in tinfoil. Place this in the oven to bake on a tray for 5 minutes to help dry it out.
Fry your onion in vegetable oil for a couple of minutes, then add the garlic. Add the cooked rice and cook through. Towards the end, add the cubed pineapple, peas and spinach. Remove the pineapple shells from the oven and fill each half with rice mixture.
Top with macadamia nuts and bake the stuffed pineapple for a further ten minutes. Remove from oven and enjoy as a show stopping dinner!
Enjoy alongside other vegan yummies, like these cinnamon roasted sweet potatoes or your other favourite sides, such as these awesome tofu souvlaki skewers. Top with condiments of choice like soya sauce/tamari, sweet chilli sauce or spicy sriracha sauce.
Veganuary Meal Plan – Day 28
Breakfast
Vegan Cooked Breakfast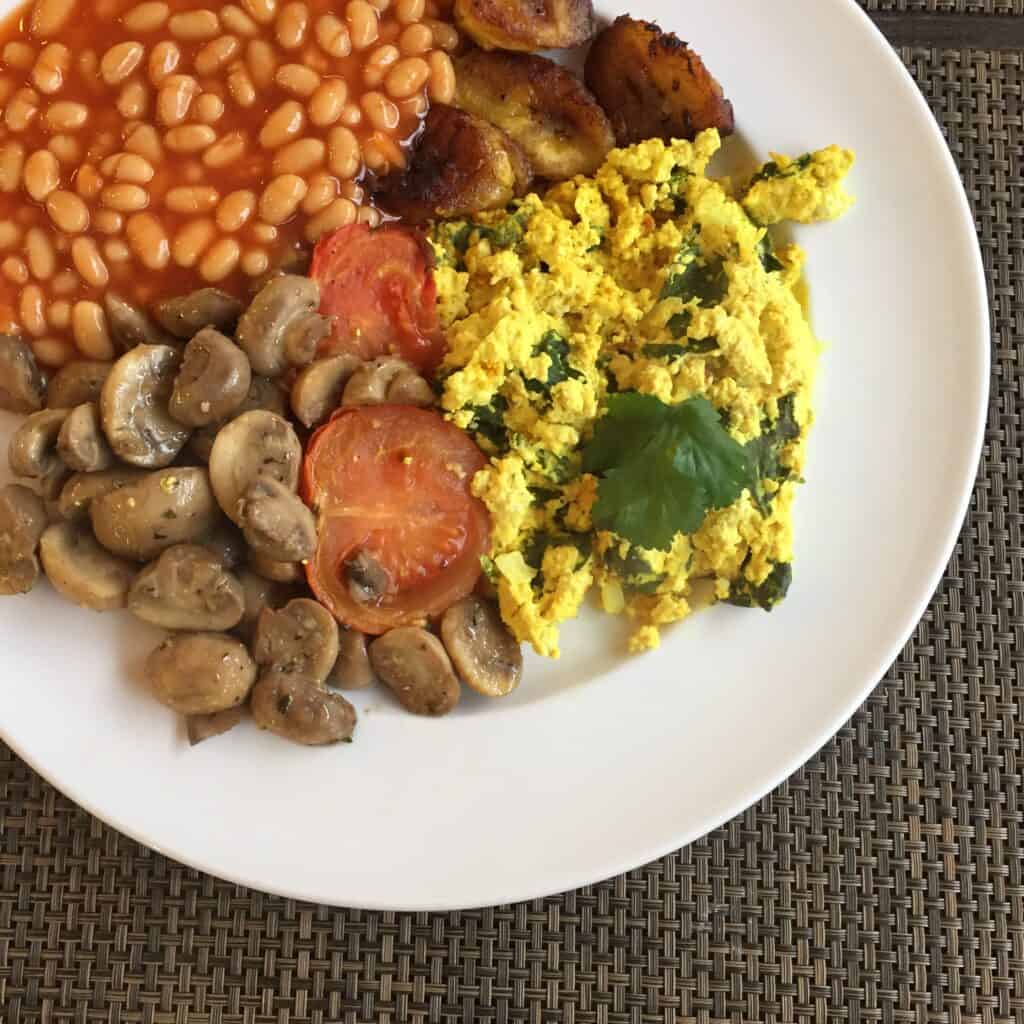 There are so many additons you can add to a vegan cooked breakfast. It is hearty, filling and so nice to have a mix of savoury deliciousness.
Here are some ideas of what you can add to your vegan cooked breakfast:
Vegan Sausages
Tofu Scramble
Grilled tomatoes
Garlic and herb fried mushrooms
Fried plantains
Potato rosti's
Hash browns
Potato waffles
Baked beans
Wilted garlic spinach
Snack
Vegan Yoghurt with Berries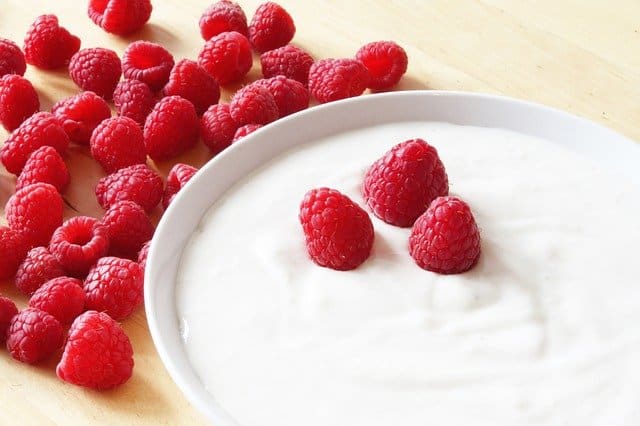 Lunch
Buffalo Cauliflower Wings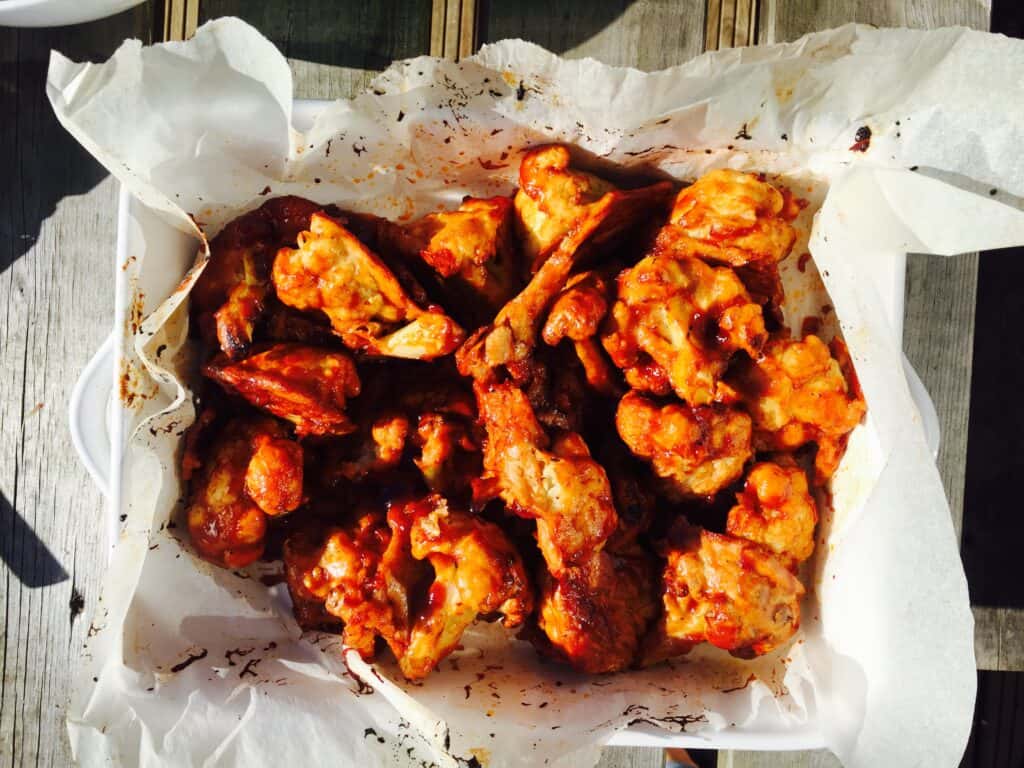 These sticky cauliflower wings are so tasty. They are a must try for any former wing lovers. It's all about achieving the rich sticky sauce! This recipe works great for BBQ flavoured or hot flavour cauliwings. They work great as a lunch alongside some salads or for your vegan BBQ.
What you need
Batter:
1/2 cup almond milk
1/2 cup water
3/4 all purpose flour
1 tsp each of onion and garlic powder
2 tso paprika
Salt and pepper
Sauce:
1 tbsp non-dairy butter
1/2 cup sauce of choice (BBQ or Hot)
How to make
Preheat oven to 200c/392f. Line a baking tray. Chop cauliflower into florets. Mix the milk and water with flour and seasoning – whisk out all the lumps.
Dip each floret of cauliflower in the batter. Spread out on the baking tray. Bake for 25 minutes, flipping half way through.
Make the BBQ or Hot sauce by melting the vegan butter in a pan. Add the sauce to the melted butter and stir through. Remove from heat.
After 25 minutes in the oven, remove florets from the oven and dip each one in the sauce mixture. Return to oven for a further 15 minutes.
Serve and enjoy those delicious, sticky cauliwings! If it is BBQ season where you are at – for an authentic smokey flavour – these can be popped on the BBQ for a few minutes once cooked.
Enjoy these wings with a nice crunchy brocolli salad or with a side of grilled corn.
Snack
Banana Boat with Nut or Seed Butter
A simpe and satisfying snack. Simply cut a banana down the middle, filling it with gooey nut or seed butter of choice. Sprinkle some cinnamon on top if desired.
Dinner
Creamy Avo Penne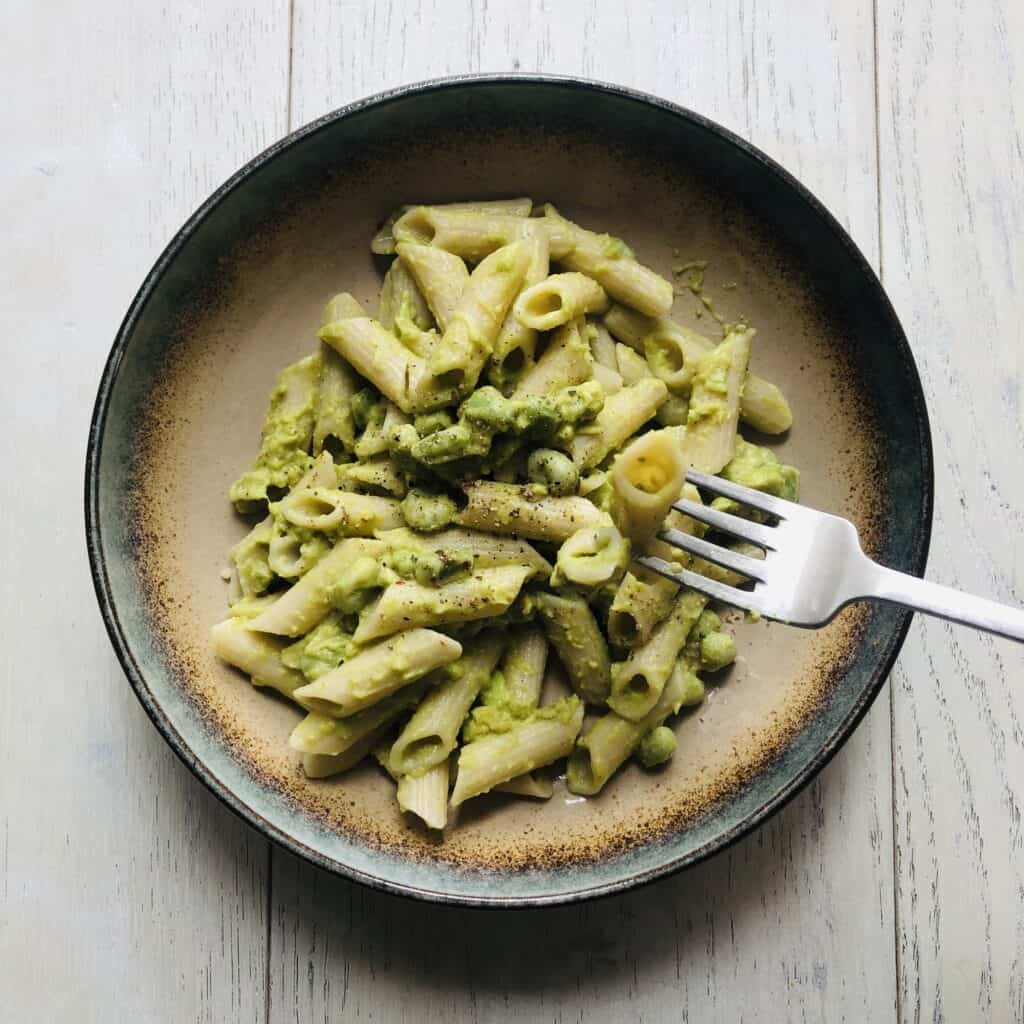 An easy dinner to end the veganuary meal plan. This creamy avocado penne pasta is so easy to make and deliciously filling.
You will need:
1 cup penne pasta
1 medium avocado
1 tsp dijon mustard
1 tsp garlic salt
Squirt of lemon juice
1/2 cup of frozen peas or broad beans
Sprinkle of Nutritional Yeast (nooch)
Sprinkle of hemp seeds (optional)
Cook penne pasta as per instructions. Add the frozen peas or beans for the last two minutes of cooking. In a bowl, mash the avocado with dijon, garlic salt and lemon juice. Remove the pasta and stir through the creamy avocado.
Once served, add some nutritional yeast for a cheesy flavour (this maintains the nutrients by not heating). Top with some hemp seeds for added Omega 3.
Finale – Veganuary Meal Plan
If you have made it this far – congratulations! We want to thank everyone who has participated and enjoyed any of the food from our easy vegan meal plan. We would love to hear whether this veganuary meal plan has helped along your way.
Any feedback is thoroughly welcomed as we are always trying to improve!
Get Awesome Monthly Vegan Snack Boxes!
Had enough of homemade snacks and want to mix things up? There is a range of awesome sweet and savoury vegan snacks from Vegancuts. They have delicious avocado chips, dried tropical fruit to new and unique nut butters – all brand new to the market vegan friendly goodies. This includes free shipping additionally.
Order Veganuary Meals To Your Door
Whilst our meals in this Veganuary meal plan are quite simple, we understand some people just don't have the time to do anything. So with that in mind, we can reccomend Veestro. They are an incredible company that will deliver freshly made nutritious plant based meals to your door Come home to Delicious fully prepared, gourmet, plant-based meals delivered to your door. Order up some happiness today at Veestro.com
Vegan Grocery List
Another super helpful post to help you on your way is this Vegan Grocery List – featuring some vegan essentials for your pantry.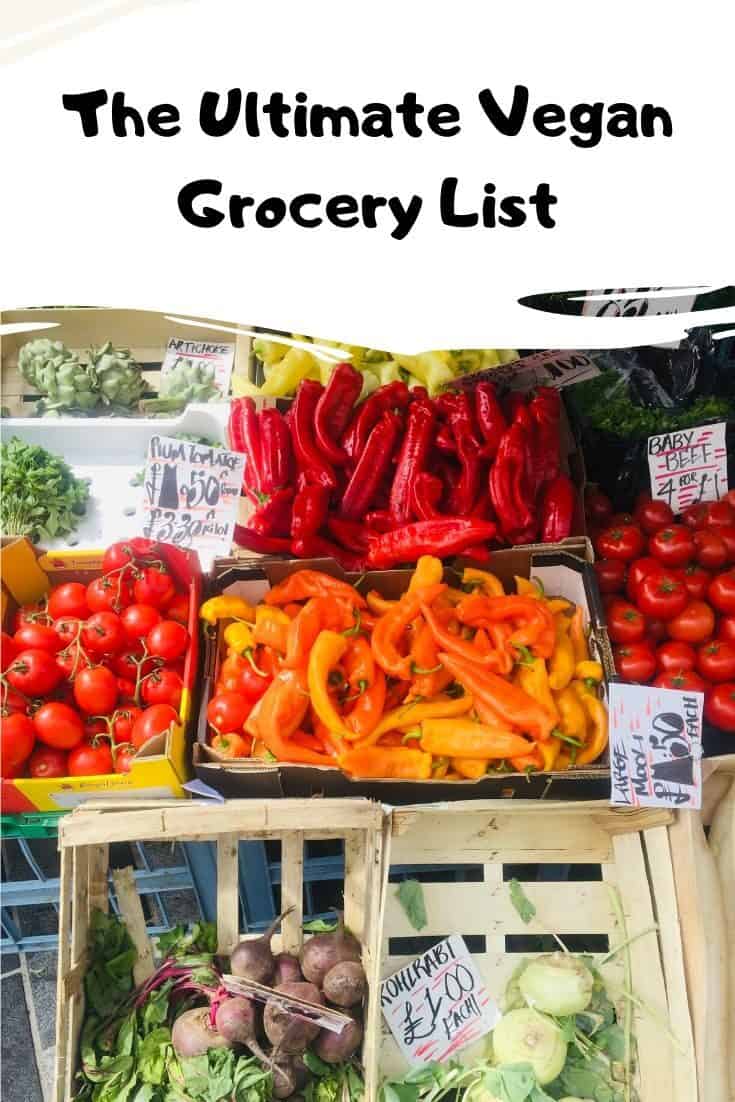 Disclaimer
This post contains affiliate links.
---
---