With so much vegan products on the market, it can be tricky to know what vegan alternatives to go for. Sometimes you will spend a lot of money trying to find the right replacements to suit your palette and dietary needs.
I will let you in on a little secret right now. Some of the most superior vegan alternatives don't always come pre-made! Some of them do – like oat milk of course. So here is a list of the ultimate vegan essentials, that won't break the bank!
If you need help with meal prep, make sure to check out our guide to meal prepping like a boss!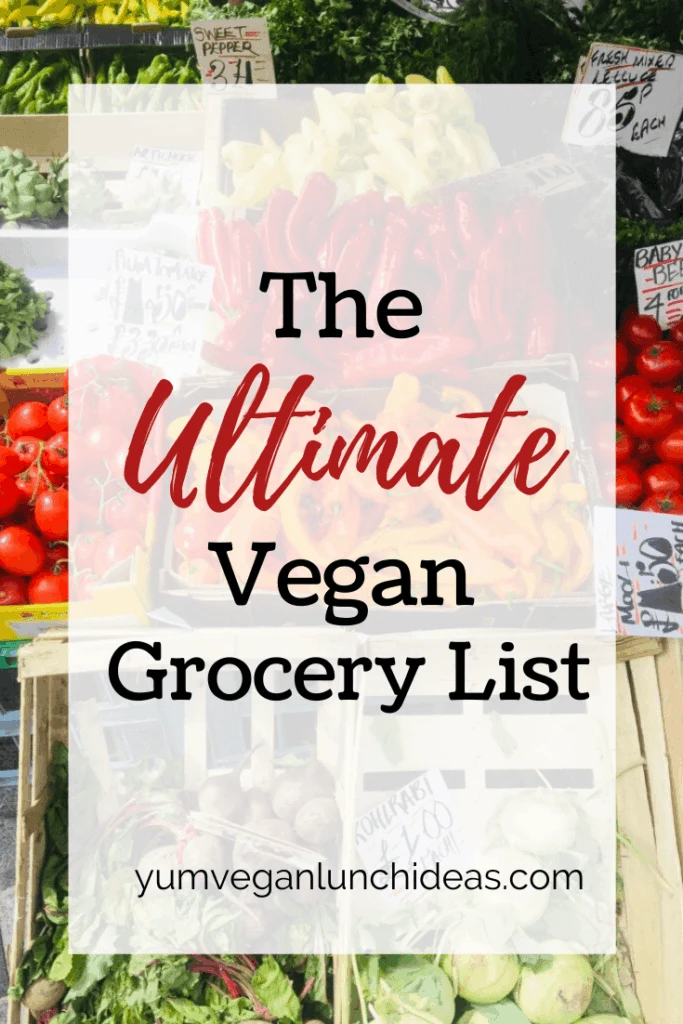 Vegan Shopping List
Rainbow Food
Straight up, I'm going to start by saying the first place we head to in the grocery store is to the fruit and vegetable aisle. Ensuring you eat a variety of of colours amongst fruit and vegetables will help you get optimal nutrition and fibre.
Firm favourites and staples are cauliflower, eggplant, spinach, potatoes, sweet potatoes, beetroot from the veggie aisle.
When it comes to fruit, bananas and berries are an absolute must then alternating between others like watermelon, pineapple, mango is the bomb. But obviously you will have your favourites too!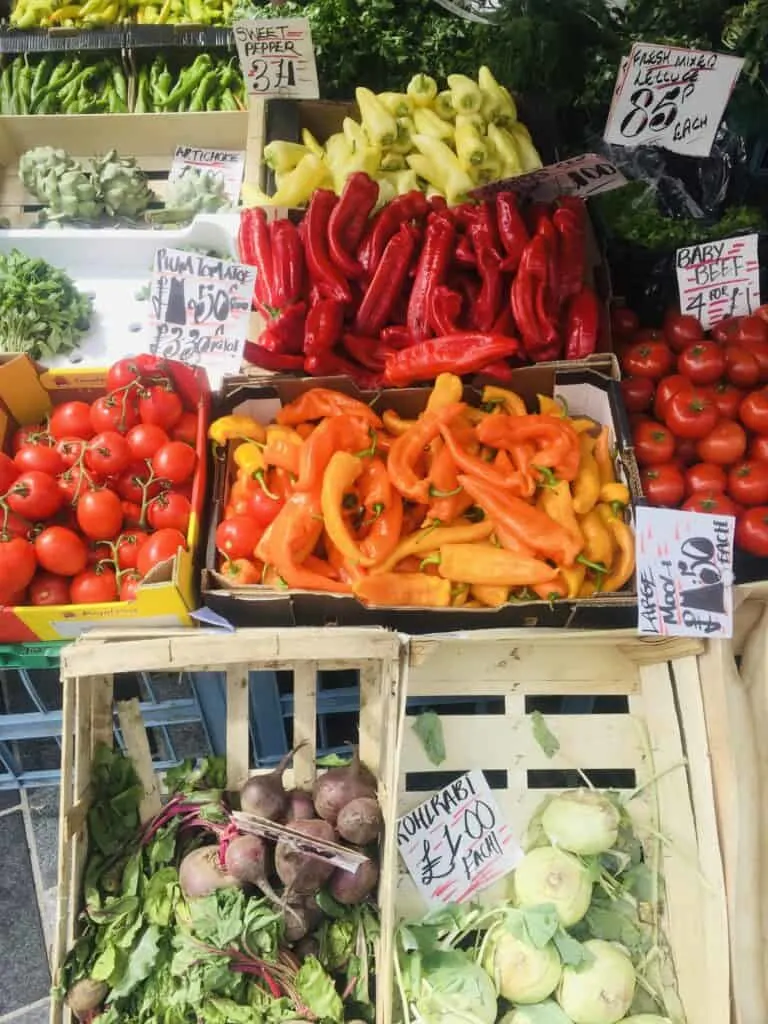 Frozen Berries
Some further vegan essentials which you must add to your vegan food list is frozen berries. They are usually more cost effective this was and keep for long periods of time.
I love stocking up on frozen wild blueberries and raspberries. They make great additions to smoothies, compotes and stirred through a warm bowl of oatmeal in the mornings.
Berries are rich in antioxidants, low in sugar and high in vitamin C – which makes a winning combination with iron rich foods to help absorption. They re also obviously a tasty treat.
Cashews
These bad boys are packed with good fats and are extremely versatile. Whether you are munching down on them as a snack – or blitzing it up into a creamy vegan cheese.
Vegan cashews will easily up skill you to vegan cheese monger or cake frosting connoisseur. You must check out the utterly delicious vegan aioli recipe made with cashews.
Even making fresh cashew milk, they go a long way as they are so creamy! Roasted cashews add another layer and depth to dishes like stir fry.
Although cashews can be on the slightly pricier side, they certainly go a long way. Buying them in bulk helps also, we love the Jiva Organic brand.
Buy your Raw Organic Cashews here!
Garlic Powder
OK. Doesn't seem revolutionary, does it? If you're a garlic fan like we are here at Yum Vegan Blog – then garlic is a fundamental addition! Especially when going vegan, it often encourages us to experiment more with herbs and spices.
Add this one to your spice rack pronto! Garlic in powder form makes cooking from scratch so much easier.
Garlic powder adds amazing flavour easily and quickly. I often buy bigger batches of it as a more cost effective way.
Buy your Garlic Powder
here!
Oat Milk
It goes without saying, finding the right non-dairy milk alternative can be tricky. Sometimes it's trial and error to find what suits you. However our absolute favourite and essential has got to be Oatly Barista.
This is the creamiest and most superior non-dairy milk we have come across. It makes the perfect frothy coffee and a great all rounder for cooking.
Oatly barista has been so popular, they can't keep up with the demand and often the shelves are emptied because people stockpile!
It is important to have fortified foods as a vegan, luckily this is fortified with calcium, vitamin D, B12 and Riboflavin – all essentials for a balanced diet. We love that Oatly are a conscious company and even label their carbon footprint.
Buy your Oatly Barista Oat Milk
here!
Tofu
Tofu often gets a bad rep for being bland and bad for you because it's made with soy. Nothing could be further than the truth. Soy can actually be really good for you, hence why buddhist monks thrived on it for centuries before veganism became more popular.
It is true however that if not prepared in the right way, you can have a BTE (Bad Tofu Experience). It is essential you find the right consistency for the dish you plan to make, as it ranges from silken to firm.
Some need pressing, some do great when oven baked for extra sponginess, others make great creamy dishes. One thing is for sure is that you need to season that tofu for sure – and marinading for a period of time is always a winner.
Here at Yum Vegan Blog, we use tofu for a number of dishes. Check out our delicious and creamy vegan egg salad recipe. We also love to make vegan egg scramble and sticky tofu bowls. Tofu can even be fashioned into sweet desserts due to its neutral taste.
Stock up on our favourite all rounder Firm Tofu
here!
Jackfruit
This has been one of our most revolutionary discoveries. Jackfruit is such a delicious addition to our meal plan. Especially when making pulled BBQ Jackfruit dishes. So good!
From jackfruit glow bowls to crispy hoisin jackfruit – this is one of our essentials for sure. It's also a great way to lure your omni loved ones away from BBQ pulled pork as it mimics the texture.
Buy Jackfruit
right here!
Legumes and Beans
These are hands down an ultimate essential for your vegan pantry. Having a variety of beans and legumes means you will always have an easy and nutritious meal at hand. Whether its chickpeas, red split lentils or black beans – make sure you stock up so you have a instant source rich in protein and iron.
There are literally so many varieties of beans and legumes – these are just some of our favourite and always on our vegan grocery list.
Red Split Lentils
These are my absolute favourite and essential. Whether it's a comforting dahl or pumpkin lentil soup, these are a must. I particularly love these for a vegan bolognese, alongside all the veggies as it creates a wonderful texture whilst absorbing all of the flavour.
I recommend Jiva Organic Red Split Lentils which you can buy now!
Chickpeas
Chickpeas are another staple. These are an all rounder for meals and snacks. Whether its roasted, spiced chickpeas for on the go, homemade creamy hummus, chickpea tagine or this delicious vegan chickpea tuna melt.
These Eden Organic Garbanzo Beans are certified organic and cooked in purified water, these are always recommended!
Buy Eden Organic Garbanzo Beans now!
Black Beans
Black beans are an absolute power house. Packed with iron, protein, magnesium, calcium and zinc. They are super versatile and we use them for sweet and savoury treats.
Whether it's black bean burritos, addition to glow bowls or black bean brownies – they are a firm favourite on our grocery list.
Like most legumes and beans, you can buy them dried or canned. Buying them dried is often more cost effective but takes a little preparation to soak them prior to use.
Add Dried Black Beans
to your ultimate vegan grocery list
Coconut Milk
Coconut milk is literally what dreams are made of. It is an absolute essential for your banging vegan curries, dahls and even good for some dessert recipes too.
Coconut milk provides good fats while also giving a delicious, sweet taste to whatever you are making. Thai green curry and lemon bars are some of our favourite things to make with coconut milk.
Add Coconut Milk
to your vegan shopping list and fill that pantry up with greatness 🙂
Maple Syrup
This liquid gold goodness will help replace the use of honey. Whether that's in baking or on top of pancakes.
We recommend buying Organic Maple Syrup (A Grade)
Vegan Pesto
Vegan pesto is definitely underrated – but a total must have. It's suitable for lots of different dishes, whether straight up on some warm toast, stirred through your favourite pasta dish or splashed on top of your vegan pizza.
Vegan pesto is a firm favourite over here and always on our vegan grocery list.
Buy your Mr Organic Organic Basil Pesto
right here.
Rice
This may seem super obvious, but rice is a must. It complements so many dishes, from vegan chilli, curries to stand-out vegan paella. When rice is combined with a bean or legume it is known as a whole protein sources.
Buy Long Grain Brown Rice right here as a vegan essential!
Extra Virgin Olive Oil
Extra virgin olive oil is the superior liquid gold. It drizzles perfectly on top of salads, within bruschetta, as part of a dipping board or blended in homemade dips.
Extra virgin olive oil makes a great base for salad dressings and for infusions of garlic or chilli – perfect for vegan pizza!
We love Organic Extra Virgin Olive Oil – add it to your vegan grocery basket now!
Avocado
It's super important to ensure you get good fats in your diet. This is why avocados should be on your vegan grocery list. They are packed with nutrients and the "good fat" as in monounsaturated fatty acids.
I mean, who doesn't love avo on toast? With a pinch of rock salt, pepper and of course a sprinkle of garlic powder and a juicy tomato – this makes the perfect brunch! Avocado can also make a great base for desserts like raw key lime pie and chocolate mousse.
And how can I not mention the delectable guacamole that is just a god send to earth? I love home mad guacamole so much so always have some avocados on hand.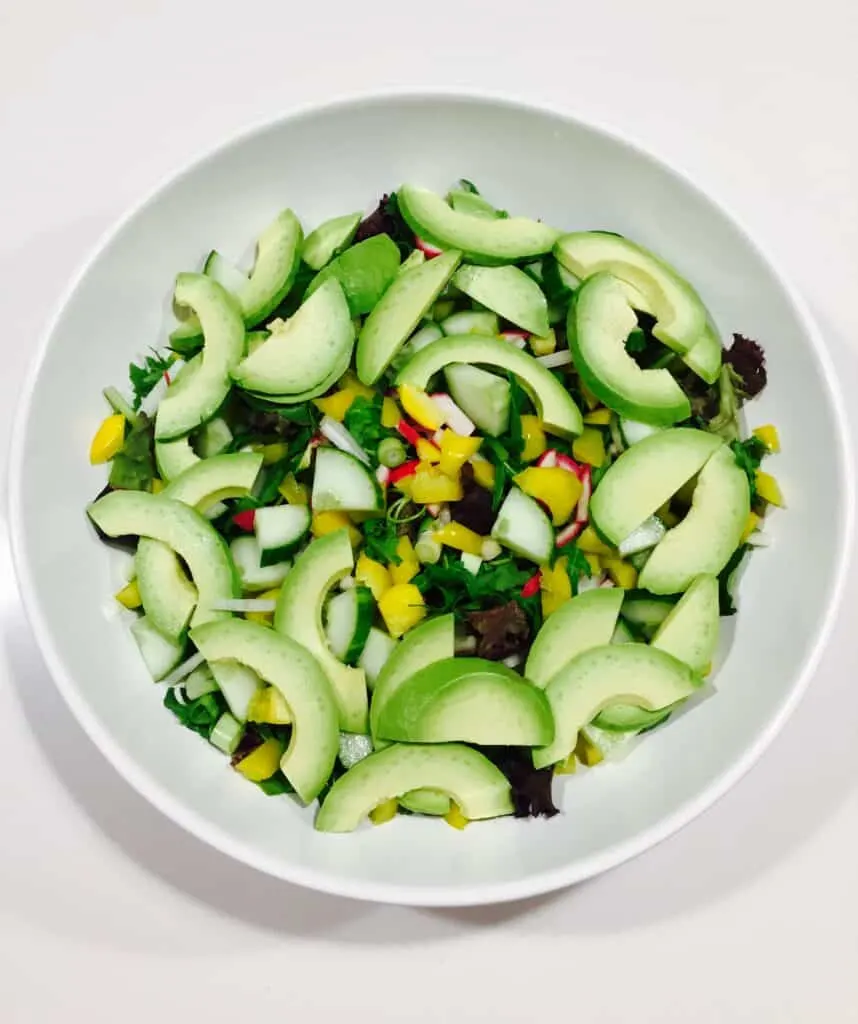 Chia Seeds
Seems like the ultimate vegan cliche – but chia seeds are super useful when it comes to replacing eggs. They are nutritional power houses and very absorbent, expanding up to 12 times its size in liquid.
1 tbsp of chia seeds mixed with 2.5 tbsp liquid makes a chia egg. This works great in pancakes, muffins and cakes. Chia seeds are a great addition to smoothies and puddings.
Add Organic Chia Seeds to your vegan shopping basket now!
Nutritional Yeast
Would this even be a vegan grocery list without nutritional yeast aka "nooch" aka vegan crack? This can be found in most health food stores but is gaining popularity and increasingly appearing on the shelves in supermarkets.
Nutritional yeast is basically tiny flakes of gold that resemble a cheesy flavour. It can work magic when combined for cheese sauces (hello mac and cheese), vegan pesto, cheesy crumble or on top of any dish you fancy. It is a good source of Vitamin B12 also.
Add the tasty Bragg Premium Nutritional Yeast to your basket now!
Vitamin B12
Vitamin B12 is so important for a healthy brain and nervous system. Damage from a B12 deficiency can be irreversible and can take up to five years for deficiency to develop in adults.
It is super important to take a Vitamin B12 supplement when vegan, as it is not naturally found in plant foods.
This is also a reason not to diss fortified foods as often they are a back up measure for what we might lack.
If you are not checking your fortified foods for B12, then you should supplement. If you are unsure, you should definitely seek support from a professional.
Buy LiveWell Vegan Vitamin B12 Drops right here.
Snacks
Oat Bars
These are a great energy booster and source of nutrients – especially when puckishness begins mid morning. My absolute favourite has to be Clif Bars, which come in so many different flavours and are fortified
Its pretty exciting in the vegan world to have so many options and alternatives. With the ever increasing rise of various products, especially pre-packaged, it's nice to have some of these healthy whole foods as part of your vegan grocery list.
Stock up on Peanut Butter Clif Bars right here!
Medjool Dates
The king of dates and dried fruits – medjool dates are sticky, caramel like, pure gold! Whether you pile some peanut butter in there or simply add to a chocolate trail mix, dates are the perfect sweet treat when that prang for sugar calls.
Buy Californian Medjool Dates right here!
Peanut Butter
I think this is a staple in most homes, unless allergies are involved right? There are so many choices of nut butter out there now, which is great but I'm firmly in the crunchy peanut butter side.
Peanut butter makes the perfect topping or filling for any of the following:
PB and Jelly sandwich
Stuffed medjool dates
PB on toast, crackers
PB flapjacks
Or simply on a spoon out of the jar 🙂
We love spooning Organic Crunchy Peanut Butter – add it to your basket now!
Seaweed Snacks
Seaweed is a super nutritious snack that every vegan should consider chowing down on. It is rich in nutrients, omega-3 and importantly, iodine, in which our diets can sometimes lack.
We can recommend buying Organic Seaweed Snacks – so good!
Popcorn
Popcorn is the perfect go to snack for most occasions. Most popcorn is vegan friendly, however some establishments such as the movie theatre put butter or melted cheese on there.
Go prepared with your own big bag of delicious vegan popcorn! Add some rock salt and nutritional yeast and you have a delicious cheesy flavour. Or mix it up with some salt and sugar for the ultimate sweet and salty popcorn.
Right now, I'm wondering who else is a fan of putting chunks of chocolate in their salty popcorn? 🙂
This is all for now folks. Hopefully this vegan shopping list of plant based essential will help you either transition or add some fundamentals to your shopping cart.
Do let us know what else you feel is an absolute vegan essential by commenting below.
Disclaimer: Please note this post contains affiliate links. This list is not intended to be medical or dietary advice. Please seek support from a professional if you are unsure you are meeting your dietary needs.
You may also enjoy browsing this vegan gift list and hilarious vegan memes! 🙂